Two homeless guys sharing a beer behind the dumpster in Springfield while I touched up the front of the bus.
"HEY. YOU. . . . YEAH, YOU. BUY US A BEER."
"No."
"Do you know what I AM?"
"No."
"IMMA VET."
"Whi. . ."
"VEETNAM VET."
"Did you serve w. . ."
"THEY SCREWED ME."
"HeeeEEEEYYY, let me talk do they guy. Whass your bush's year?"
"It's a 19. . ."
"DON'T TELL ME. . . . . "
"Are YOU going to buy ush a beER?"
"WAIT LARRY, I NEED TO DO THISH. . . I ushed to own a VW shop right here in . . . . Eugene, TEN YEARSH!"
(note to self- this business may not be the retirement nest egg I was hoping for)
"I WASH A VET, I GOT BACK IN 1972, DO YA THING THEY CARE ABOUT ME? HEH?"
"IT'S A NYENTEE SEVENTY TWO, isn't it, I USED TO WORK on them you know."
"It is a 1973 with those big bumpers plus fuel filler door being your easiest tip off."
"They DIDN'T GIVE A SHIT, THAT'S WHAT. NEITHER DO YOU. I LOST MY SISTER LAST MONTH. DID THEY TELL ME?"
"I lost my dad in January. I can't tell you why, but it left me with this joy."
"I know WHAT you are SAYING. I KNOW wha. . ."
"That's CRAZY, Dick,I miss her. She was the last one I had, the others don't care, they're millionaires, they don't give a shit about me. Dick, I need a beer."
"WAIT, I LIKE THISH GUY. HANG ON. Whaddaryoo doi here anyWAYS?"
"I am travelling around the country showing people how to work on their VWs. You were like a plant, your business dried up and here are your roots. I am like an animal, I am going to different watering holes."
"I REALLY LIKE THAT."
"Dick, I am leaving, good-bye Dick. I need a beer."
"HANG ON LARRY I LOVE YOU BUJ YER TOO DAMN . . . . . .IMPATIENT."
"Are you gonna buy me a beer, mister whatever?"
"Yes."
So, I paid them $5.00 for a beer and Larry shook my hand and Dick was almost crying, " I love THESE cars, where'd they ALL GO?"
"I am famoush and you dint even guess" says Larry.
"Who are you in the big world, Larry?"
" I . . . AM. . . . Larry Schindler."
"Pleased to meet you, Larry Schindler, I don't get out much and I do not know of you."
"You DO NOW. Dick here is my best friend."
"I love you Larry, we have to shtick out for EACH ohhher."
And off they lurched to the convenience store for another break from their reality.
Colin
(meanwhile, my car looks fine from 20 feet: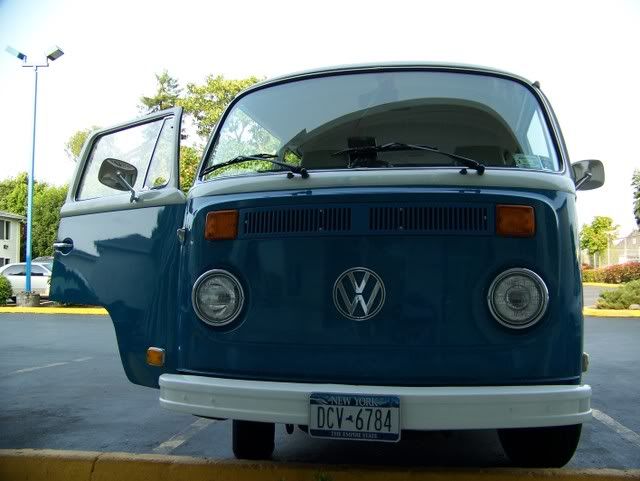 but you should know that I have several thousand touch-ups from the past 110,000 miles after I painted it in 2001. It is almost like a planet going through asteroid belts: