. . . yes, Glasseye, I
did
try to re-magnetize the speedometer. I drove for a couple of hours to cool down and the whole time, that speedometer was taunting me, "oh so you think I was too slow to get up to speed? Here, try this! I will never ever get up to speed." So I indeed did pull over at a Texas roadside rest area (thank-you, Ladybird Johnson) and pulled the speedometer apart again. I got the magnetic dish magnet off the dish, and rubbed it over the speedometer magnet. The dish magnet could actually pull the rotating magnet around. That was good enough for me. Reassembled it and set the needle to the 30 mph mark where the tachometer had been telling me that the car was doing a true 60, held the drum securely and triumphantly cranked the needle clockwise "now you SHALL read 60 mph!" Put it all back together.
"Hey mister, that's a nice van, what are you doing?"
"Calibrating the speedometer."
"No kidding, you can do that?"
"Not really, I am learning as I go."
"All the way from New York?"
"Yep."
"WILL YOU JUST GOD DAMN WAIT A GOD DAMN MINUTE?"
. . . and he moseyed back to his apparently hot and irritated companion in the Jeep Cherokee.
I hit the road and glared at the speedometer, "now you shall do my bidding!!" Nope.
Oh, I just forgot to insert the speedometer cable, "now you shall do my bidding!!" Nope.
Now the speedometer refuses to do anything at all at any speed.
"You're DEAD," I hiss at it. I am sure it would have said, ahh duh.
Without a grossly erroneous speedometer annoying me now, I found driving to be more enjoyable. I had not been on an interstate at any point between Lousiana and here just outside of Austin. Chloe has won me over with an incredibly polite demeanor and willingness to plod along in hypo-drive mode while passing motorists seem to suck towards the horizon. Who needs a speedometer? Shift into fourth, floor it while counting to sixty, and you're doing sixty, or so, who cares?
Arrived in Austin with the realization that I am multiplying itches and bubbles of exploding dermatological warfare and sweat. My socks have glued themselves to my insteps, and my tank-top (never an attractive sight to begin with) has pizza-colored dots at every raging bug bite. Forecast is calling for high humidity and temperatures in the mid-90s. Perfect recipe for insane irritation.
Had an excellent day with jblair630 Jeffrey ("feffwy" see prev post) and Grateful Phred the bus with the razor-blade align-bored dual port rebuild now at 30,000+ miles. This guy is a walking encyclopedia of historical information. His mind is a feast after the famine of modern American convenience store/gas station stop interaction.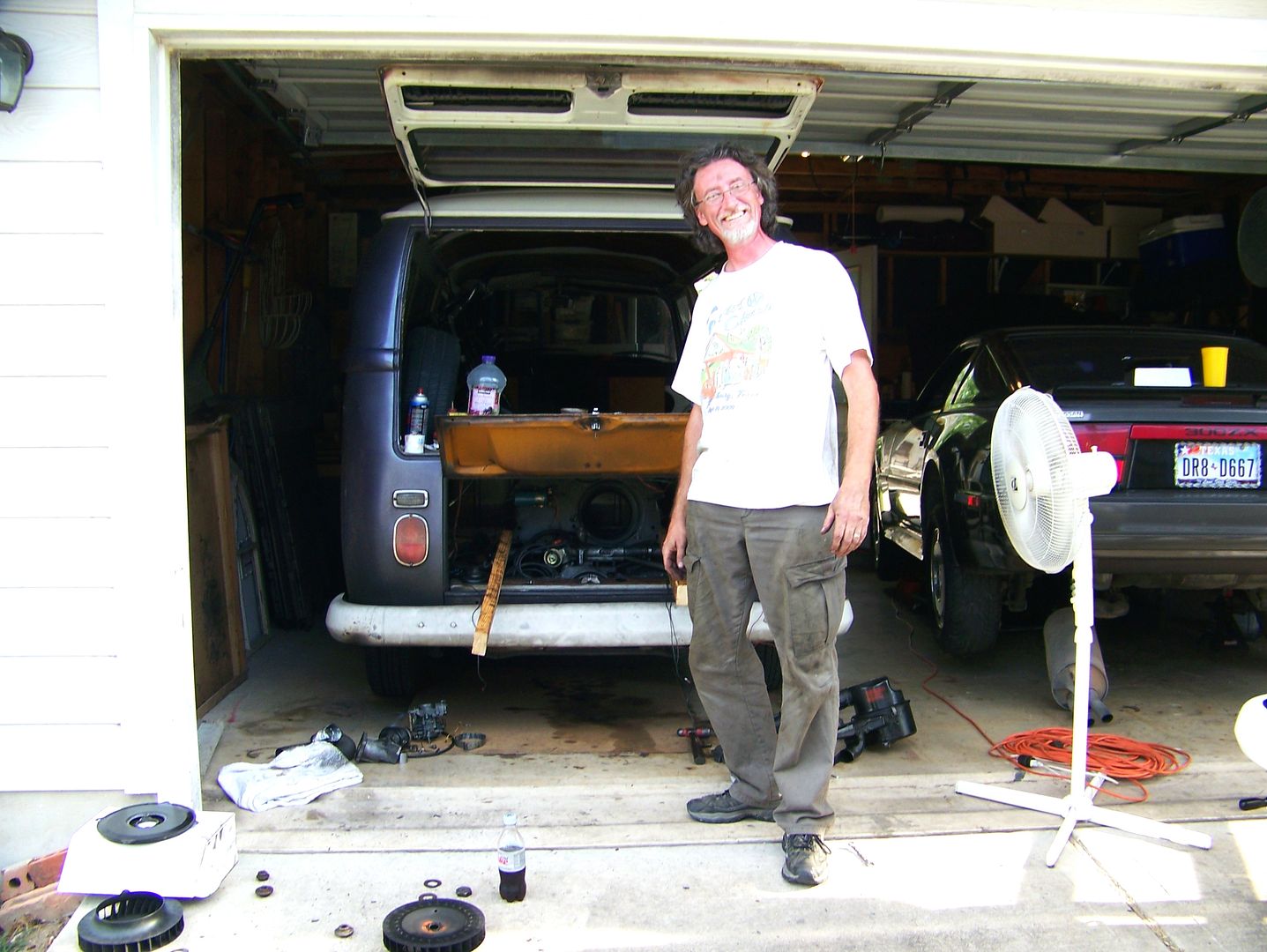 We decided to put Chloe's original 38a generator into Grateful Phred after discovering that its "professionally rebuilt" generator had a shorted wire in the field windings:
But, Chloe's original generator I had yanked in October at Barb/Elwood's because of a bad bearing.
"Not to worry," said Jeffrey," I've got spares."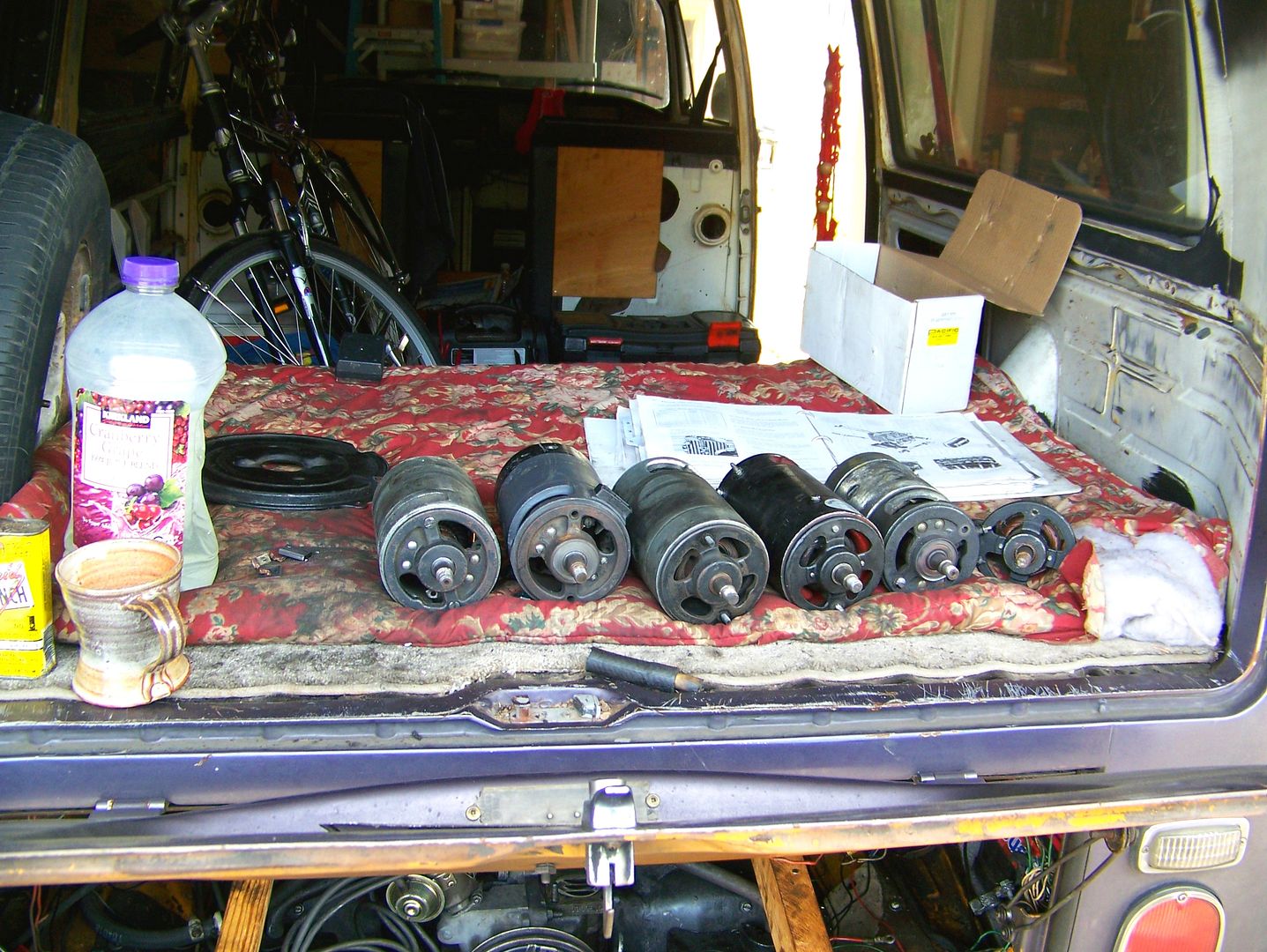 With his handy little puller, we did a bang-up generator bearing replacement and got wholly mired in great Mysteries of Mis-fitment. The 38a generator would not fit with any of the fan housing plates at our disposal (concave for 38a and flat for 30a and neither would let us shim the fan close enough)
So I thought to pull out my generator too, to both see why my fan fits and what the heck, see about the high frequency vibration that has gnawed at me since last October:
Yes. The mystery turns out to be a different fan mounting hub. 30a generators have a little collar that the doghouse deals do not. And Jeffrey doesn't even know it yet, neither did I at the time, but I actually fixed that horrible high speed vibration in Chloe's engine just by taking off the paint on the fan where it mounts to the hub and cleaning the shims and hub flanges. I fancy that I see fretting here, near the rust spots:
Our day evaporated into dark, ushering the appearance of Texas Flying Bugs About The Trouble Light, and I left Jeffrey with his old 30a generator back in his bus and a shopping list for a doghouse fan hub and track down why cylinder #3 wasn't firing.
I was so damn sick of the itching humidity that I swore to get west NOW! here at 10:30PM after a twelve hour work day! and hit I-35 north for a couple of exits . . . until my Speedometer Neurosis inflamed me to make a rueful decision. I decided I just had to buy a used speedometer at Austin Veedub before heading out west. I camped out in the exact spot (not a hundred yards from Austin Veedub) where I had painted the deflector tins in October trying to resolve those insanely high CHT readings (the last operation before I finally pulled the heads in Dallas). What a terrible decision.
Texas doesn't like it when I say "what a nice soft evening with the crickets singing." That was a call to mosquito arms and they arrived in squadrons after midnight to assist in the torment of my every bite and poison oak bubble Don't-Scratch! But Scratched Anyway night itching. I finally gave myself a sponge bath of Chlorox and water to alleviate the itch with the pain of mild chemical burns. Then a big big airplane flew overhead on the approach to Austin Bergstrom International Keep Colin Awakeport. The heat and the humidity and the bugs and the itching and the heat and the loud Harleys out on US 283 and the whine of mosquitoes and why is Jeffrey's engine running on three cylinders? and I gave it up at 4:50AM. Packed up and hit the road up towards the airport. Well guess what? Everybody and His Contractor Brother was out there at 5:00AM. The traffic was fast and impatient, I was tired and crabby and not in a safe driving state, so I dived into a Quality Inn parking lot and lay down on the floor with all windows open and took a nap. Woke up and bought a wreck of a speedometer for $15.00 and drove 290 West for six hours free . . . free . . . free at last . . . free! of the humidity! by Junction, Texas! My first pure blue sky! Stripped nekked (a more horrendous assault against aesthetics than usual since I am getting old and tubby) and let the sun dry me and the car out. Beautiful breezy sunny dry day in West Texas! I am beginning once more to remember what it is like not to be in a state of constant irritability.
Stayed in a motel that night. Enjoyed the air-conditioning!!!! Took a non-Chlorox shower with Real Fresh Water Rinse (what luxury). Gotta remember not to smoke in bed when I am tired!
The next morning, I drove into the headwinds on the way to my next call in Albuquerque, and because I had just given away my genuine Continental 900 x 15 spare fanbelt to Jeffrey, wouldn't you know that mine went bad not 24 hours later? on Interstate 10? in the 110* afternoon heat? 108 miles out of El Paso?
Colin