Oh, it was an adventure all right...
We had left off with a new and nasty generator bearing rumble and a developing oil leak and the vibration in the low 1,500 rpm range as I came down the Nevada-California border. I called Cindy to please PM satchmo and Elwood for help, seeing as they were at the fringe of the teeming Los Angeles metropolis. I done did chose Elwood so I could camp under the quiet stars and watch over the twinkling lights of inland valley below, but as importantly, I chose Elwood because of her sympatico with early baywindow buses and maybe even some spare parts.
Woke up happy to be above that stupid Pacific Ocean's penchant to dump foggy cold moisture all over the poor damp people below:
I was in glorious early morning sunshine that warmed me up from a chilly night. I was so looking forward to getting Things Taken Care Of with TBRRD. Pulled in to the driveway and paid my annual You Actually Did That Arctic Circle Trip Respects to the Elwood VW itself. We chatted for a while and then it was let's get that engine out, the sun is warm: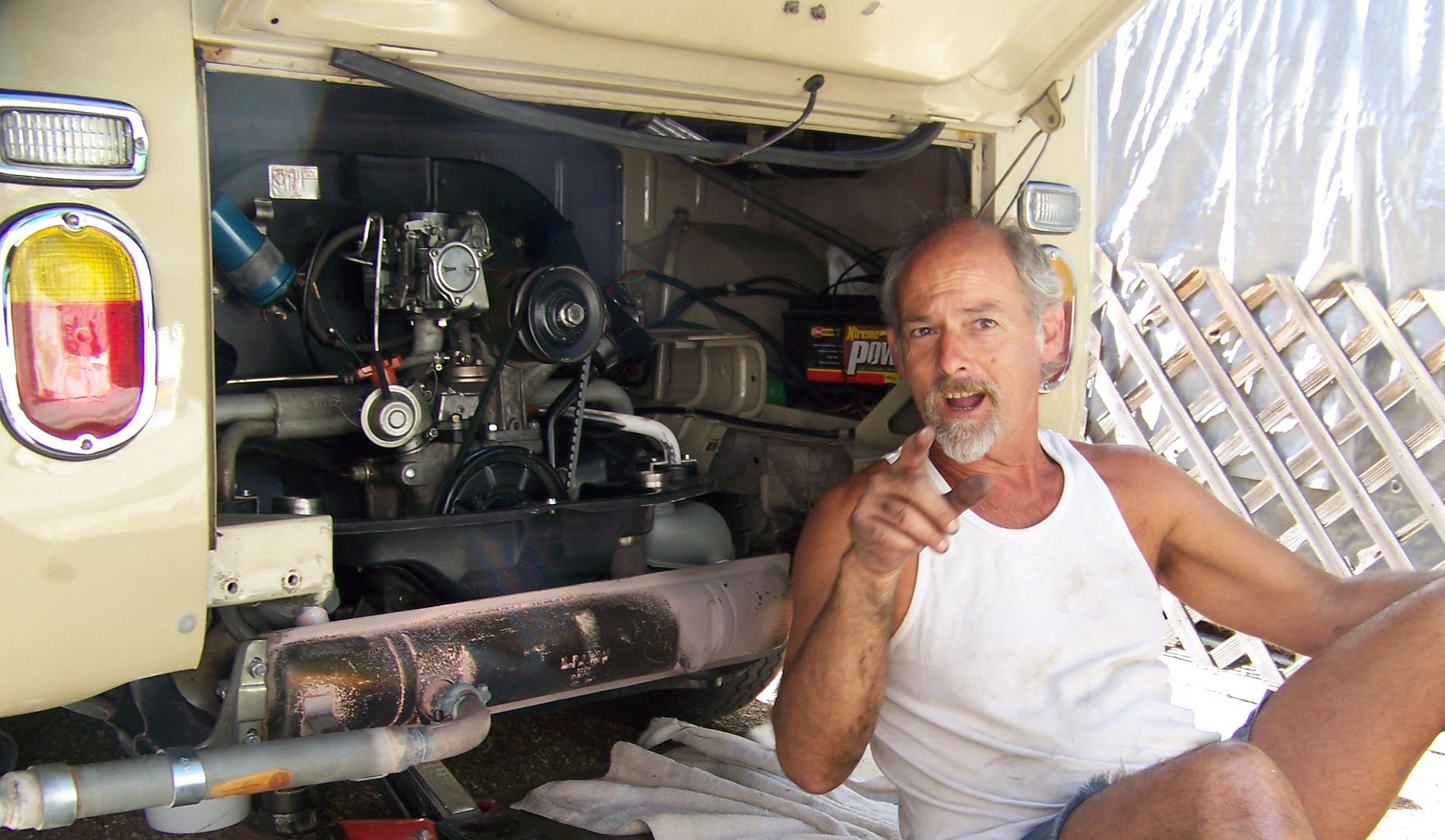 I love these cars, they are so easy to work on but they are serious engineering, too:
Engine is out and I am in a high state of anticipation - what has been causing that leak?? We read up on Mike's rebuild in the Hambone engine overhaul thread, and saw that the case had indeed been welded (as I vaguely remember mentioning to Hambone back in July when Neal, Hambone, and I had taken out the engine to try to reduce the vibration):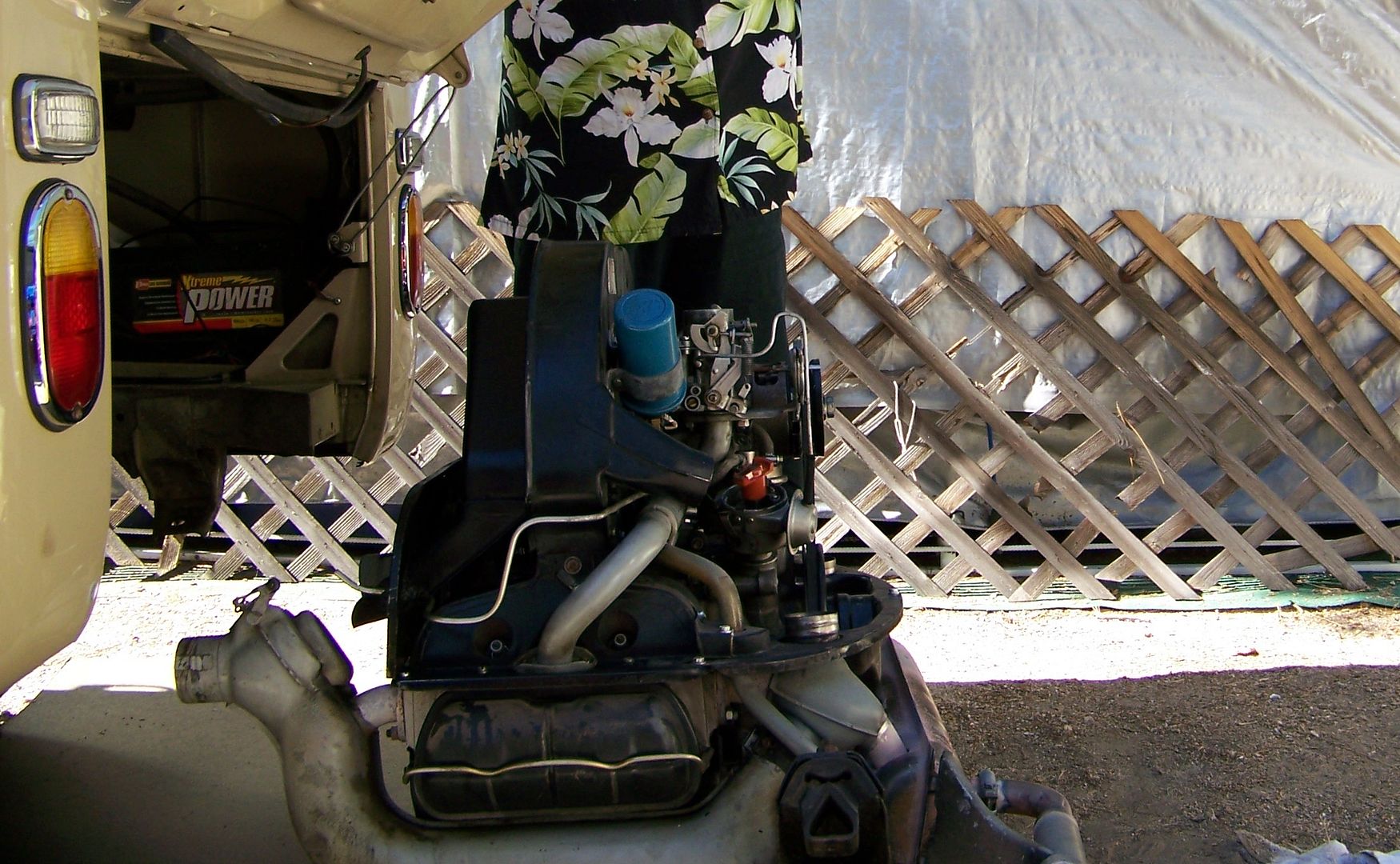 Then we practiced with the timer on the camera, us old Volkswagen enthusiasts scrambling our creaky joints over to pose next to the car:
Removed fan housing and generator and looked at the carefully foam sealed cooler. Mike was fastidious:
Here's the weld job on the magnesium case: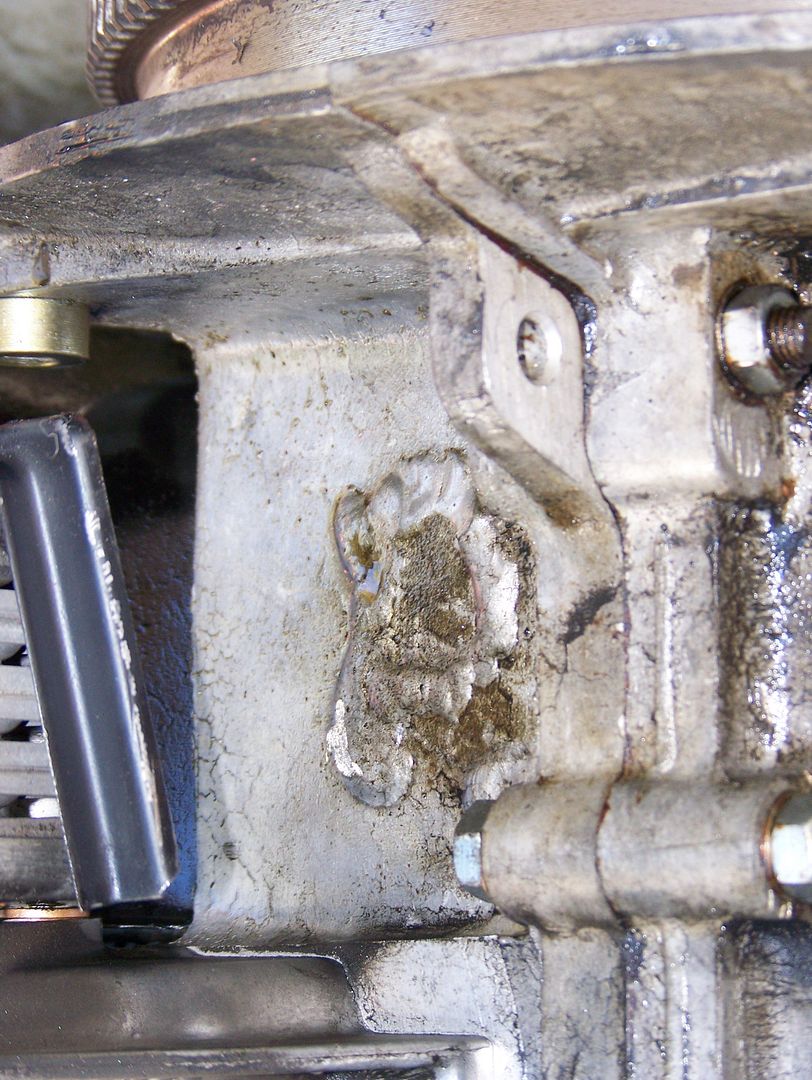 I scraped and cleaned and scratched and etched and carb-sprayed the weld repair area again and again. Then I blobbed the whole area with JB Weld, like that 170,000 miles of JB Welded gallery plug on the Road Warrior. This was primarily to remove any doubt that the repair area was responsible for the oil leak:
I took apart the fan and generator asembly, and installed the new generator with focus on rotational integrity, even banged the fan a little to reduce runout. I had purchased a new generator pulley with woodruff key to get rid of any play, any play at all will set up a vibration and knocking around that wallows out the key slots and cracks the pulley over time. No sir ... I respect these poor little generators spinning at crazy rpms for their entire lives. Had to take out the brushes and sand the commutator smooth with 1000 grit sandpaper, good grief, the rebuilt generator had brush-eating roughness. Also tightened the slots where the brushes ride so they would not wiggle or cock sideways. Set the fan housing plate-to-fan clearance at just over a millimeter:
Had a chilly night (35*) camping in the car anticipating the next day's work. We went out for breakfast in Elwood and returned to good late morning sunshine where the engine released its gland nut so I could Hail Mary Guess the flywheel onto a different location on the crankcase. Since the vibration was sooo obviously horrible, I thought 180* would have to be an improvement. Then I remounted the pressure plate 120* in the opposite direction to be 60* back from the 180* that Hambone and I had mounted it to get rid of the vibration in July! That split the assumed heavy spot , it has to work! please! Had it all clean and together by 5:00PM. Engine started right up. Generator was fresh brush shrieky smooth. Vibration was seriously diminished, back to a sort of usual vibration of a not-professionally-balanced engine. Looking good ...
Elwood and cat!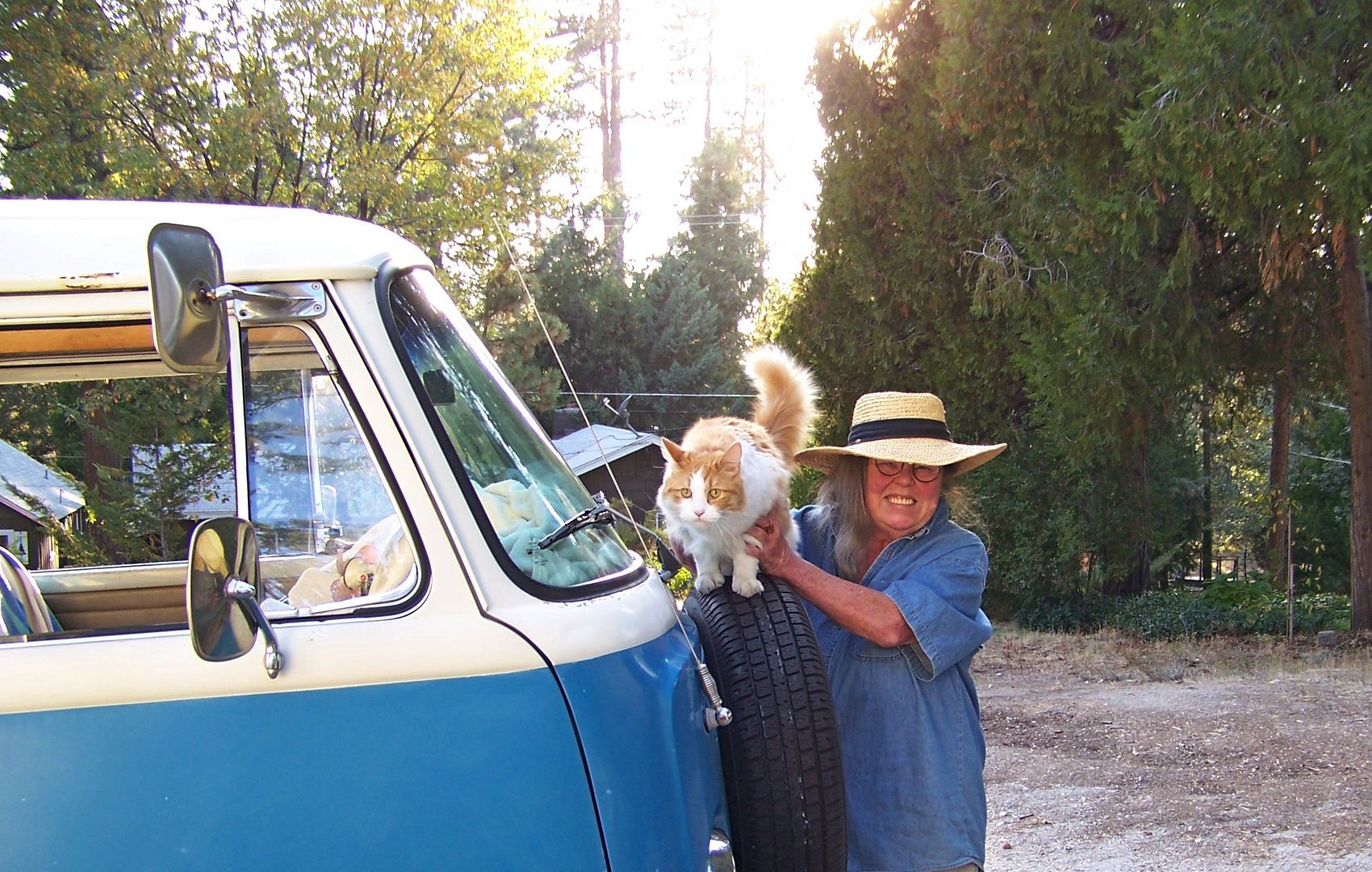 Colin and cat:
Thank-you, Elwood, for hosting this emergency engine pull. You are one of the great Original VW Spirits.
Six miles down the road, I pulled over to check the engine. Oil is dribbling under the car.
Adventures-R-Us
(to be continued)