.... it did not cool down hardly none after I left that rollicking Monday Night At MickyD's outside of Eastland(?) TX. It was too dark to see what campsite might I find that would let me strip nekked and allow me to wake up unbothered in the morning, guaranteed. I did not want to hear rustling and police flashlights in the middle of the night:
"...kswagen van, license plate Edward Umbrella Boy Two Sev, hoa! there's someone in there, oh geeze, I did not need to see that, no nevermind. no. no, I didn't see anything. no, no van. I just thought I saw one. Just ... didn't see anything ... no really. I don't want you to ever bring it up again."
Found a little access rut along the interstate frontage road when exhaustion said "Now! Sleep!" alongside a big Lamar double-sided hurricane-certified billboard where my side must have had the dead-beat advertiser, because the lights were shut off. The illuminated side did a nice job of attracting the billions of bugs. I woke up at dawn and was hot before the sun fairly came up. Not a mile down the frontage road was this beautiful new home of mine:
Even had a wry scarecrow, "I have nothing to scare around here!"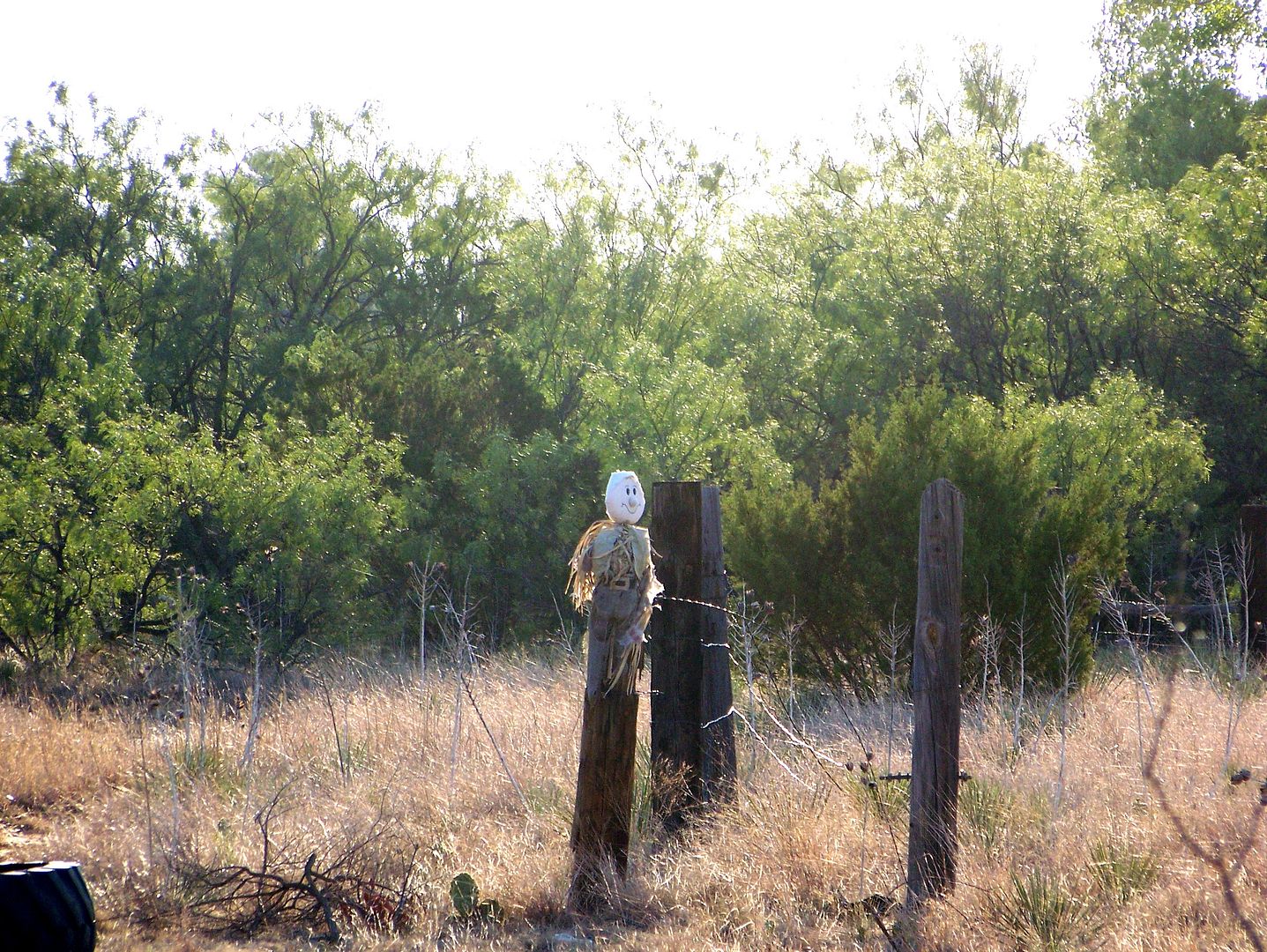 Beat down the weeds and moved a piece of non-charred plywood to serve as my new garage floor and jacked up the back of the bus:
It was 8:30AM and I had only an hour before the heat of day exceeded the paint can's maximum allowable temperature, but fresh factory tins fall right off. Washed them in three drops Tide laundry detergent per quart of water, then sanded, then washed again, then sanded with 320. Looked for my wire coat hanger parts hook. No find. Hung a tin on the end of a dead branch. Branch let go. Hung it on another branch. Branch let go. Hung it on another branch. Branch let go. Stress-test pushed tree. Whole tree fell over. It had been done with life for many many years. Found a live tree with a dead branch (I ain't painting live branches):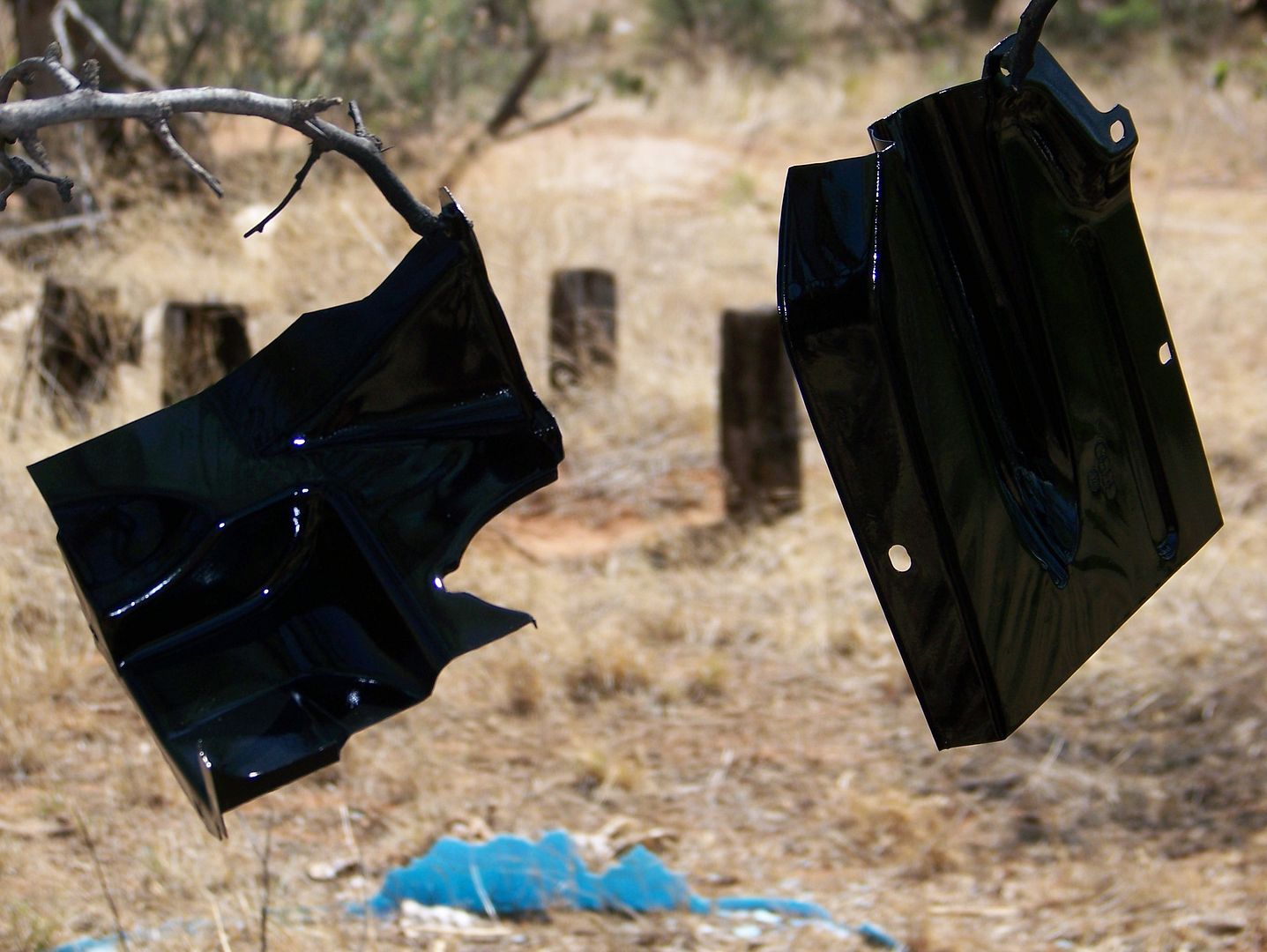 The new Rustoleum Gloss Black Engine Paint is actually a pretty good subsitute, now that Duplicolor has gone to the dogs AND raised their prices:
Discovered quite a bit of crud blocking the head and barrel fins under the intermediate front tin, so I spent a nice broiling noon under the engine picking out each cylinder and cylinder head fin with the finally discovered coat hanger painting hook. Crud of strange ingredients was raining upon me. So were the biting flies. So were the glad ants. I had visions of radically diminished CHT readings. Finished the job at 2:30PM: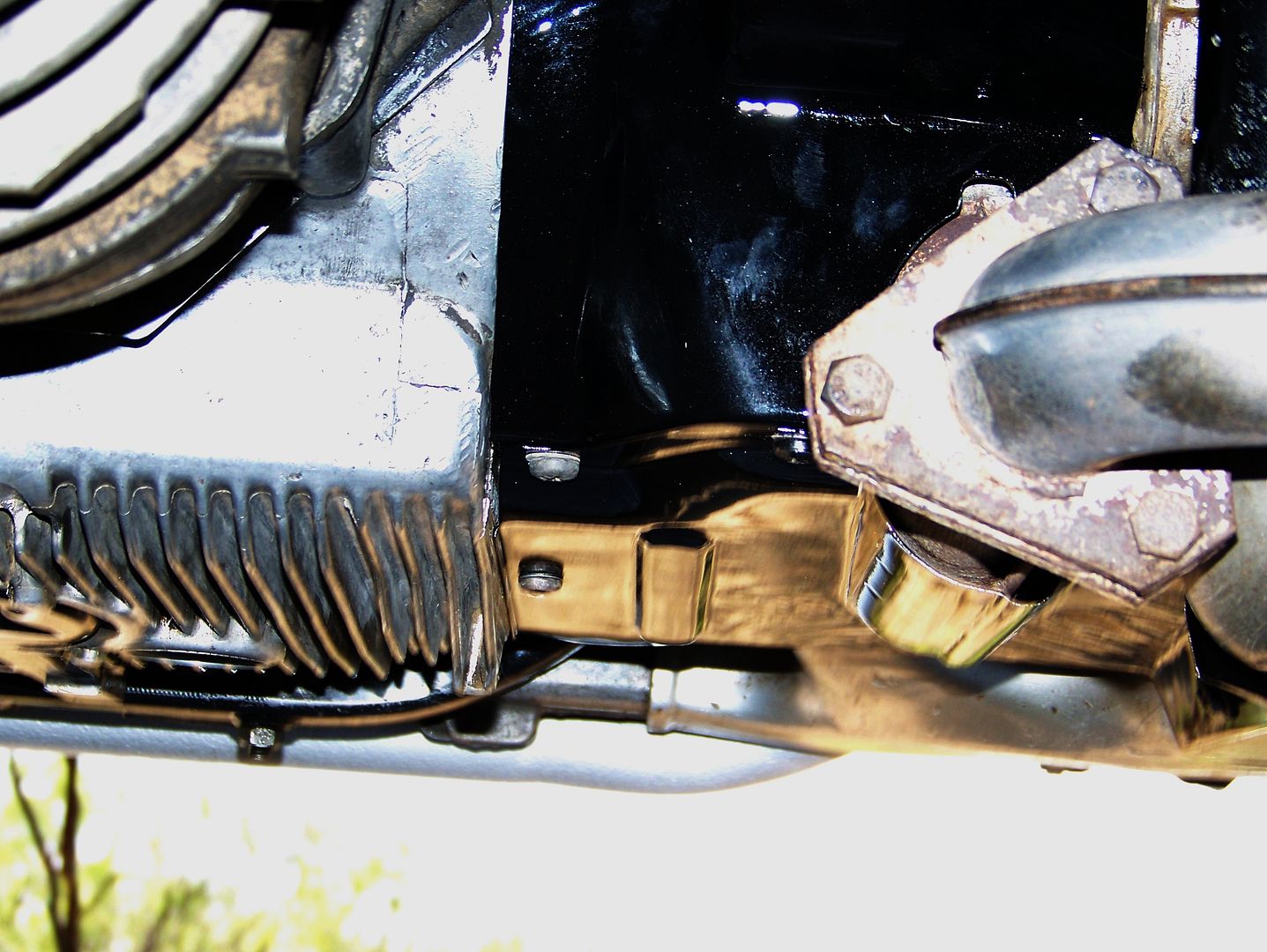 Hit the road again, good-bye house. Not an hour later, I went off on another frontage road and spied a time/temperature marque, "3:30 113*" it said in the sun.
Scoffed I, "it is only 107*."
Between towns, this frontage road had a little path dive down off the pavement under the highway overpass. "Shade!" I cried, "with the option of sun to my liking." The car skidded down the path. "Oops, that was steeper than it looked."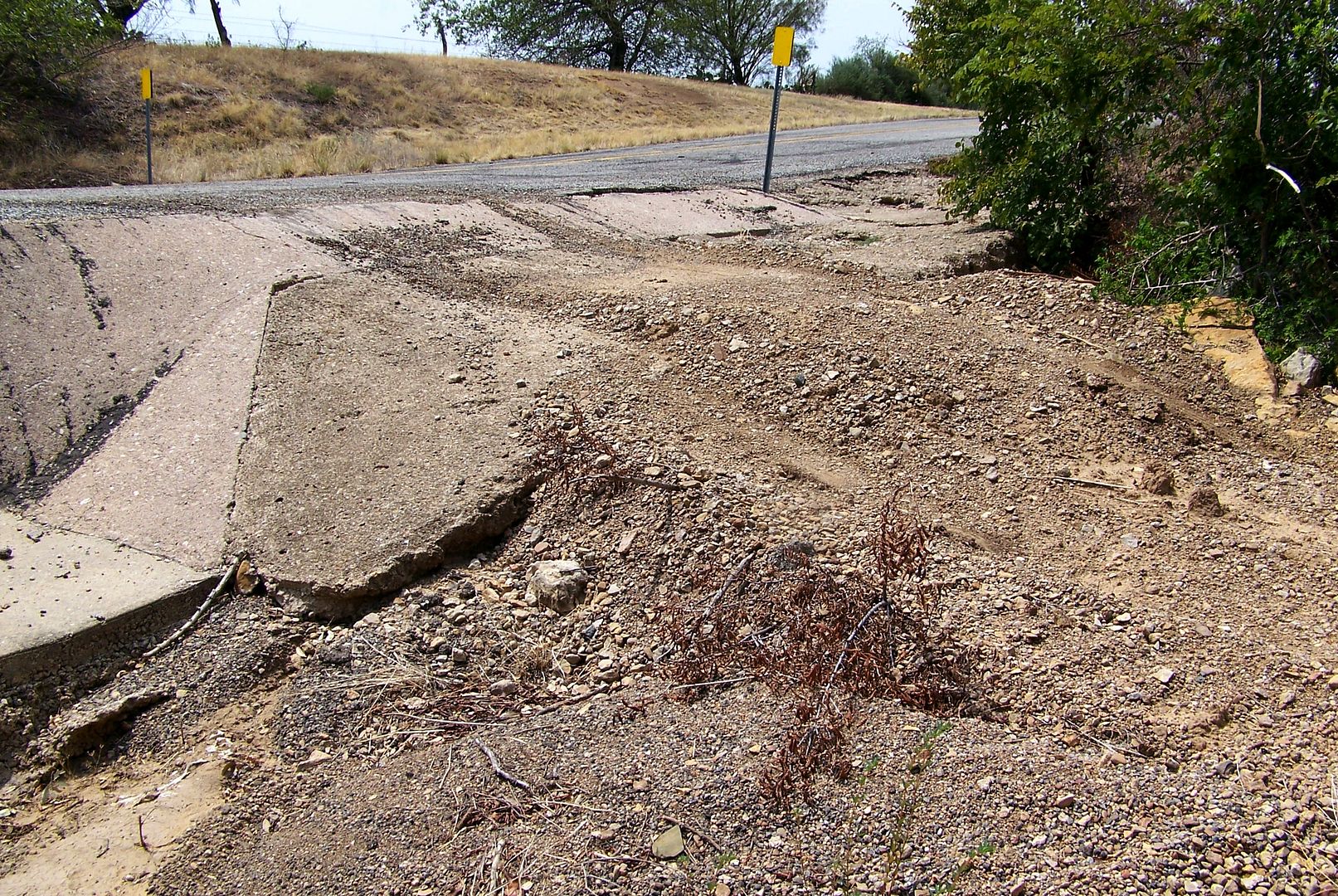 Set the car to be at the edge of the lengthening bridge shadow and waxed that poor paint thoroughly while I drank an entire gallon of water in six ten-minute increments: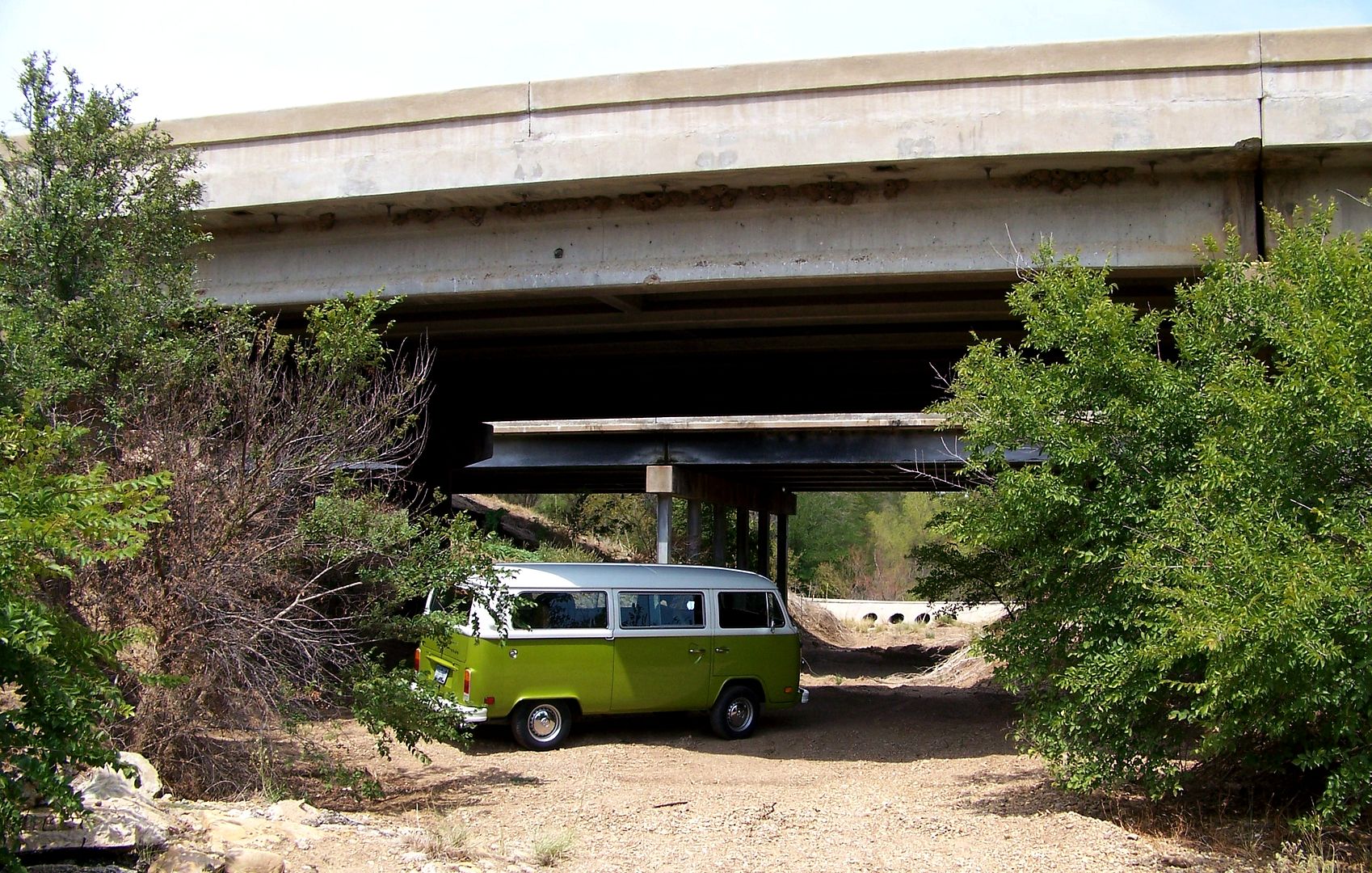 But, something was creepy. The underside of the bridge was so black: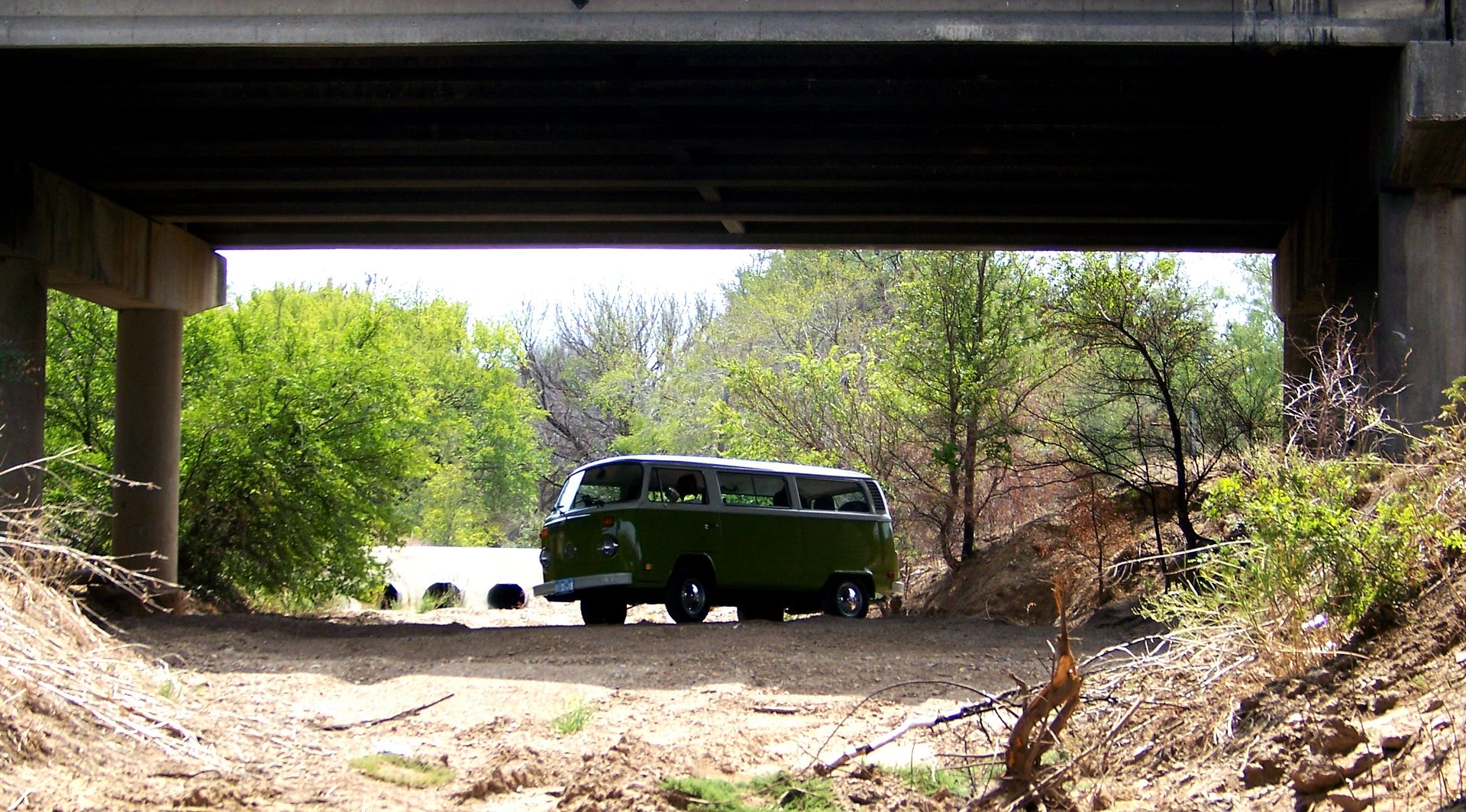 Man. This had been the scene of some horrible crash-and-burn plummet:
There were bits of molten aluminum in the dirt where firetruck water spray had carved deep channels along the bridge pilings trying to keep the bridge steel cool, I guess:
And, at some point not much earlier, the bridge had endured some raging flood run-off because all the support pilings across from the crash site were exposed with huge debris piles jammed along them: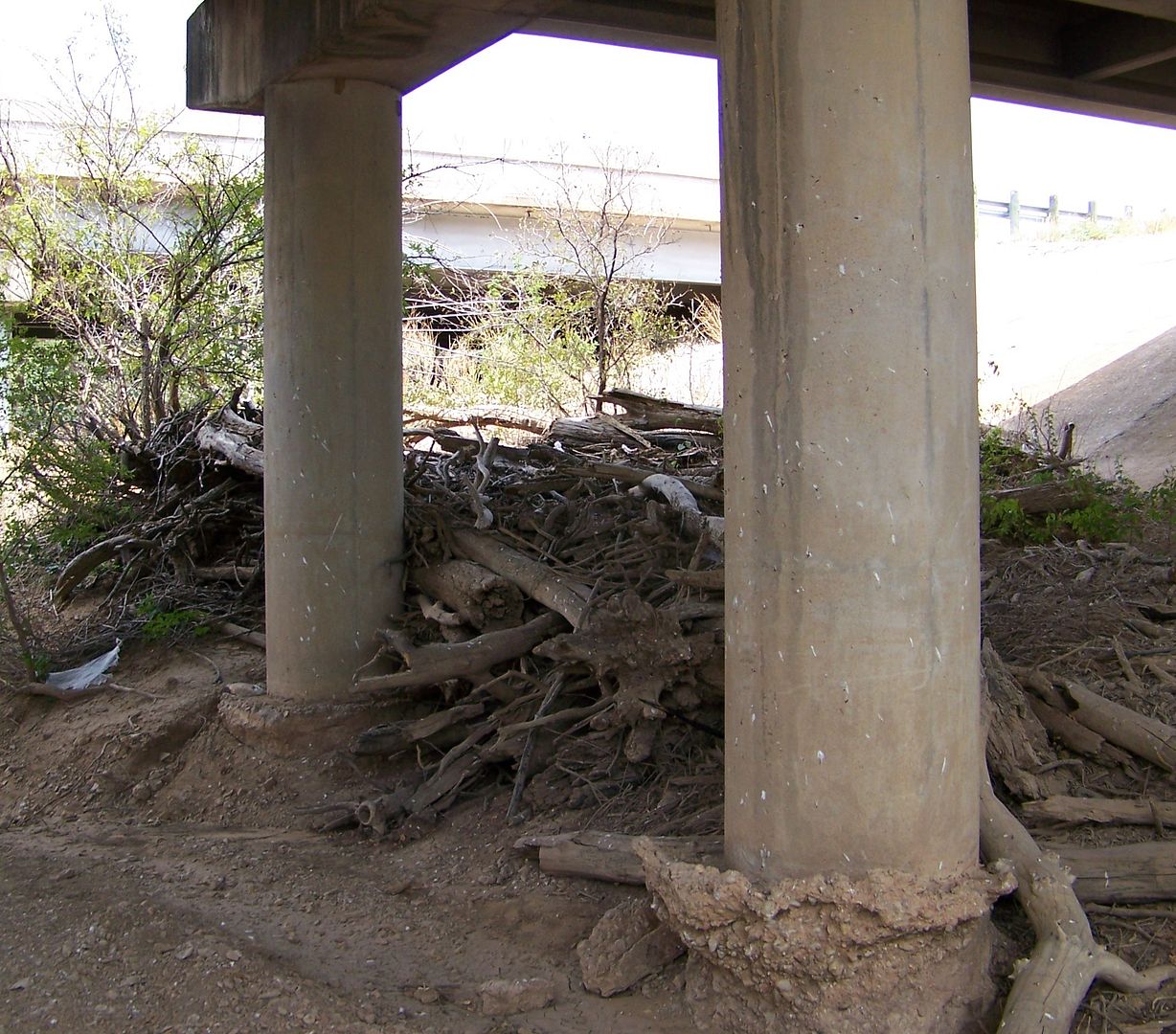 After a little prayer for any souls that departed Earth from this spot, I myself had to now figure out how to depart this spot. As I took a little run up the path, I realized that I was fully committed to this attempt because the left wheels were too close to the edge to ever be able to back down (that skid when I came in would be a skid backing down in too). The left rear tire started peeling out and my momentum was evaporating, so I just had to put more into it. Sounded like hot-head teenage stoplight drag. That was close. The smell of tire smoke as I puttered onto the frontage road just made me laugh.
More Woozy Walkabout to come: