Holed up in the Starbucks not a mile from where I "lost" my virginity and gained a lifelong beautitude, here in Storrs Connecticut, home of UCONN.
It has been a tripping down the stairs feeling since Atlanta. Had to drive hard up the seaboard to catch the Maryland calls.
Look who now has a baby blue/white interior/gorgeous engine soulmate to the Squareback!
That would be Cheesehead, one of the perennial IAC customers and a fellow journeyer through Time. We're doing good, Cheesehead, these cars will keep us vital.
Had a deep deep scare on frenetic I-95 in Virginia, a cop had pulled a car over to the shoulder with his Crown Vic's rump right at the edge of the roadway. I was tooling along in the left lane at 65 after having slowed 10 mph, the car to my right got spooked and slowed dramatically and then decided to pull into my lane at about 25 mph. Well dammittohell you idiot, the signs say "pull over OR slow down for emergency vehicles"! If you cannot safely merge to the other lane, then slowing down is the option.
I had to slam on the brakes violently while looking in the rear view mirror to see who might not being paying attention behind me, and seeing if I could clear this idiot in my lane now. People were locking up brakes behind me, but thankfully no one hit anyone else. The BobD looked like it had been in a crash in the interior, everything strewn about, but what excellent brakes. I had to sit at a gas station to bleed down my anxiety.
"HEy, that's a rad van!" someone calls out
"If you want to die, punk."
"Say what?"
"If you want to dye it pink."
"Oh . . . yeah."
Here in Connecticut, I worked with Iwantmybustorun's beautiful 1973: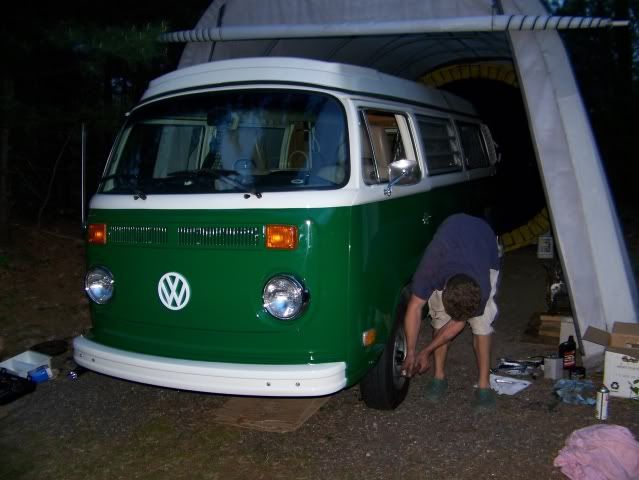 We had an exciting day of rear backing plate replacements and pushrod tubes and at 7:23PM we decided to replace front calipers before it got dark: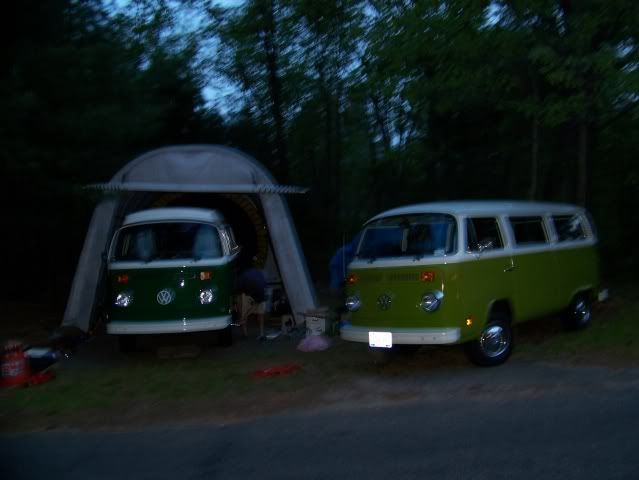 And right under the wire, we got it done: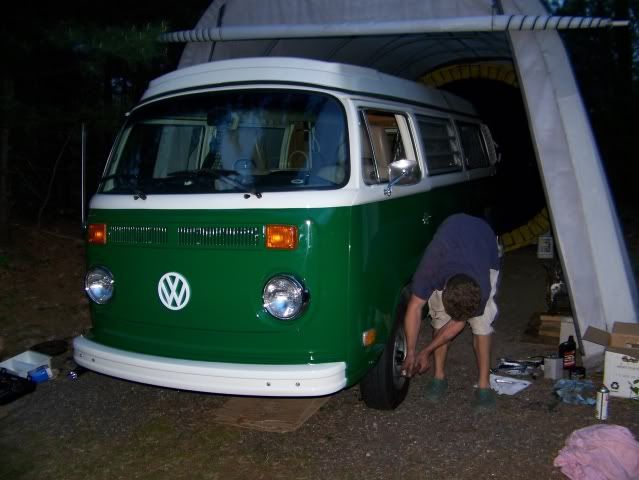 This is the visage of a man in his youth who expects a lifetime of bonding with a car he prefers above all others who has discovered that we might have replacement part dimension creep disease with those backing plates that are grinding against the brake drums: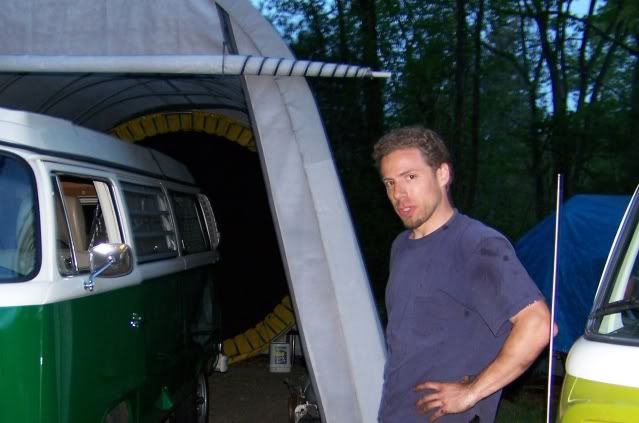 I look forward to your update, Christian, and I owe you $20.00 for that scale!!!!
Reflective in the chill here in Storrs today . . . this is where I started my adulthood. Though I deeply and sensorily loved life as a nineteen year-old, and my back hurts today, I could not give back a day.
Colin