"We took the valve cover off, and all hell broke loose" - C.K. 7/29/2019
As a first timer to the Itinerant Air Cooled process, I was looking forward to (and somewhat nervous about) Colin's visit for many months. I am on my 2nd VW bus but first one that I am taking care of myself. The original was passed to me by my father, and though I learned to drive on it, I had never handled the upkeep and eventually we did sell it in the 90s.
With age came regret of selling the original one and so my wife and I purchased our darling 2nd VW bus, 'MaryJane', about one year ago and I vowed to learn as much as I could in order to keep it together and preserve it for many trips to come. I do not wish to part with another classic VW.
Enter Itinerant Air Cooled.
In the garage holding my newborn child (5 weeks) and up pulls the stunning Naranja. Stunning for real. Like off a movie set.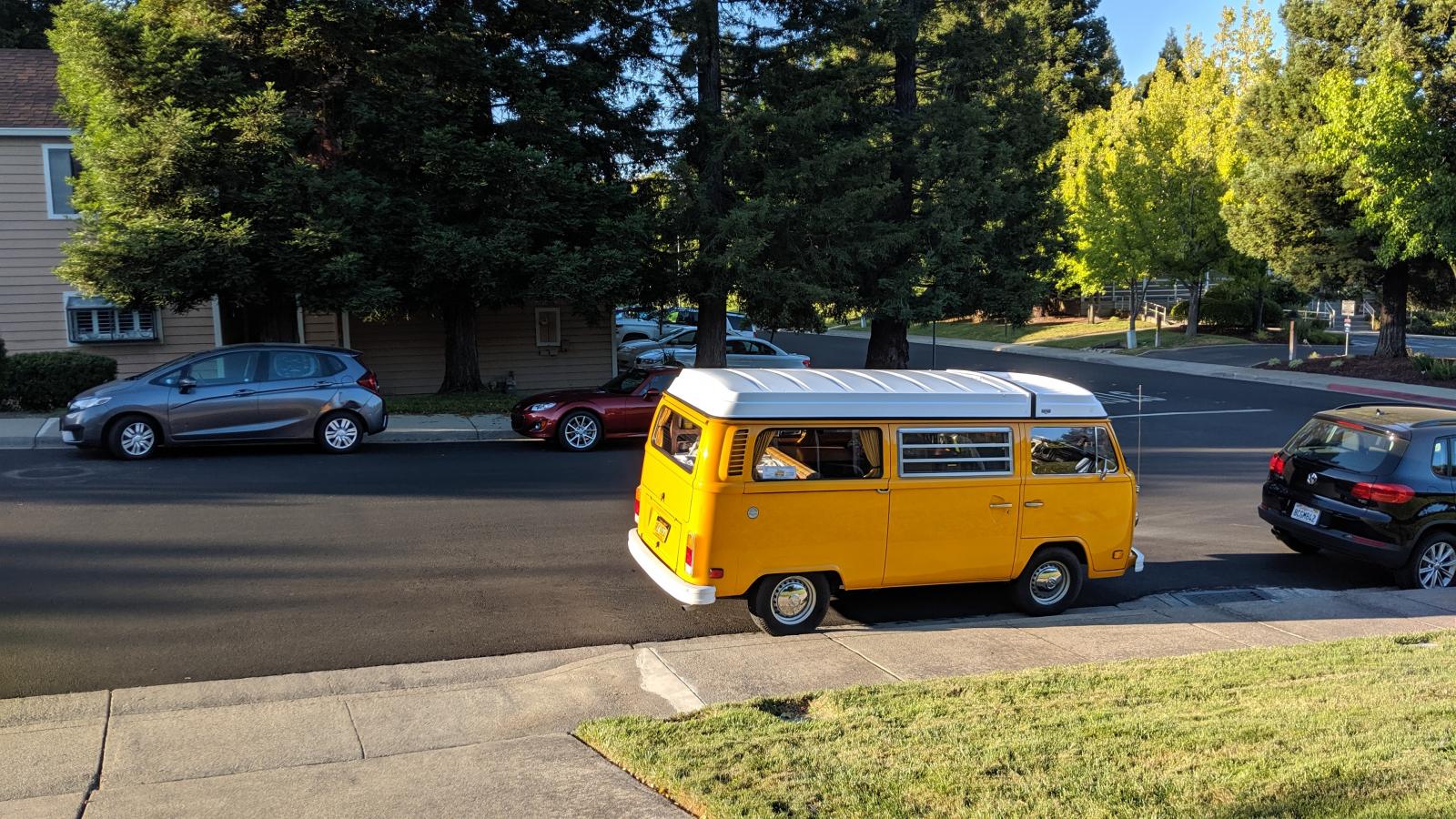 Introductions- then donuts and coffee as we discussed the IAC trip thus far and game planned for the day. My list had grown as I had questions about everything from a squeaky accelerator pedal to a possible main seal replacement. I'm sure CK was giggling a little inside at the gamut of this list. More coffee.
But #1 on my list was the IAC 101 + 102 itinerary and my goal: to sponge it up.
We started at the table, on paper, as Colin quizzed me to find out my mechanical aptitude (and it's basic, but I was about to level-up today!). I nervously answered questions wrong... corrected myself and sometimes corrected my corrections. Discussion went on: Valve adjustments, how a coil works, breaker points, dwell angles, and ignition timing diagrams. Sketches and visual were made.
To the garage for our first hands on lesson for the day: Hydraulic valve adjustment.
Pop the valve covers off-- hmm ok. Looks nice... but hmm?
That's when "all hell" broke loose.
We quickly discovered a couple issues.
1) the first valve would only turn in 1/2 turn from zero before stopping...huh--what? that's odd.
2) the point where my valve stems and adjusting screws met were damaged. why...no idea. Dirty engine? poor adjustment? did someone think this was solid lifters? wait--was this solid lifters?
3) the wrong rocker arm spacers were installed on the rocker shaft for a hydraulic lifter engine-- they are springs but should be solid spacers-- wait, was this solid lifters?
Let's double-triple-check whether we are dealing with hydraulic lifters or not. We checked the pushrods-- steel shaft. Ok hydraulic lifters. Let's see if we can get another valve turned in past 1/2 turn from zero. Ok we can.
Boy, was information flying at me fast as we dove into "hell" and Colin sorted it out on the fly. Glad I did not try this valve adjustment on my own for my first valve adjustment.
The adjusting screw surfaces were all kinds of uneven and pitted grossness. Unexpected- and no replacement screws on hand. So we hit them with the Dremel grinding tool and re-sculpted (or as Colin put it "re-dressed") them the best we could and then polished the shit out of them to make them smooth as possible. We cleaned, we sanded, we cleaned, we re-greased, we reassembled. This took ~4 hours to do them-- all the while Colin is recalling seemingly insurmountable past IAC experiences, personal life stories and lessons, and unfiltered cynicism on the world at large.
(adjustment screw surface as we found it)
But hey...instead of just learning a valve adjustment, I learned a full rocker assembly breakdown and installation as well as the valve adjustment! 1.5 turns for this one and we will check again in 1000 miles when I go to install the new adjustment screws, the correct rocker arm spacers, and valve lash caps (yes I learned what these were too and had no idea they were something that existed). Also I learned the joys of the serpentine spring. I forget how we got the first valve past its original stopping point of 1/2 turn-- but we did.
Onto the next project: Timing check and adjustments. Relatively simple and quick-- minor adjustments, check distributor lube, use special grease on the rubbing block, etc. Then! onto exploring the AFM and learning about this magical device. Some explanation and experimentation on the main cog adjustment and we richened the mixture which the engine seemed to agree with and we were almost ready to drive the bus for the first time since Colin arrived...(it was about 5pm now?).
Before the test drive and on my list was "shifting into second is clunky". Colin quickly found out all about this as we left the driveway. 1st to 2nd did not happen on the first try for him. Nor on the 2nd. But the 3rd time he got it...and every time after as he mentally made the connection of exactly what was wrong and translated the corrections to his flick of the wrist. My stop plate was in need of some adjustment-- which we did on the side of the road in about 10 minutes. A few adjustments later and we are shifting in a smoothness equivalent to room temperature butter spread onto bread.
Unfortunately, upon returning from our test drive we were met with a new oil drip beneath the bus. Looks like the quality valve gaskets we installed were perhaps not so quality.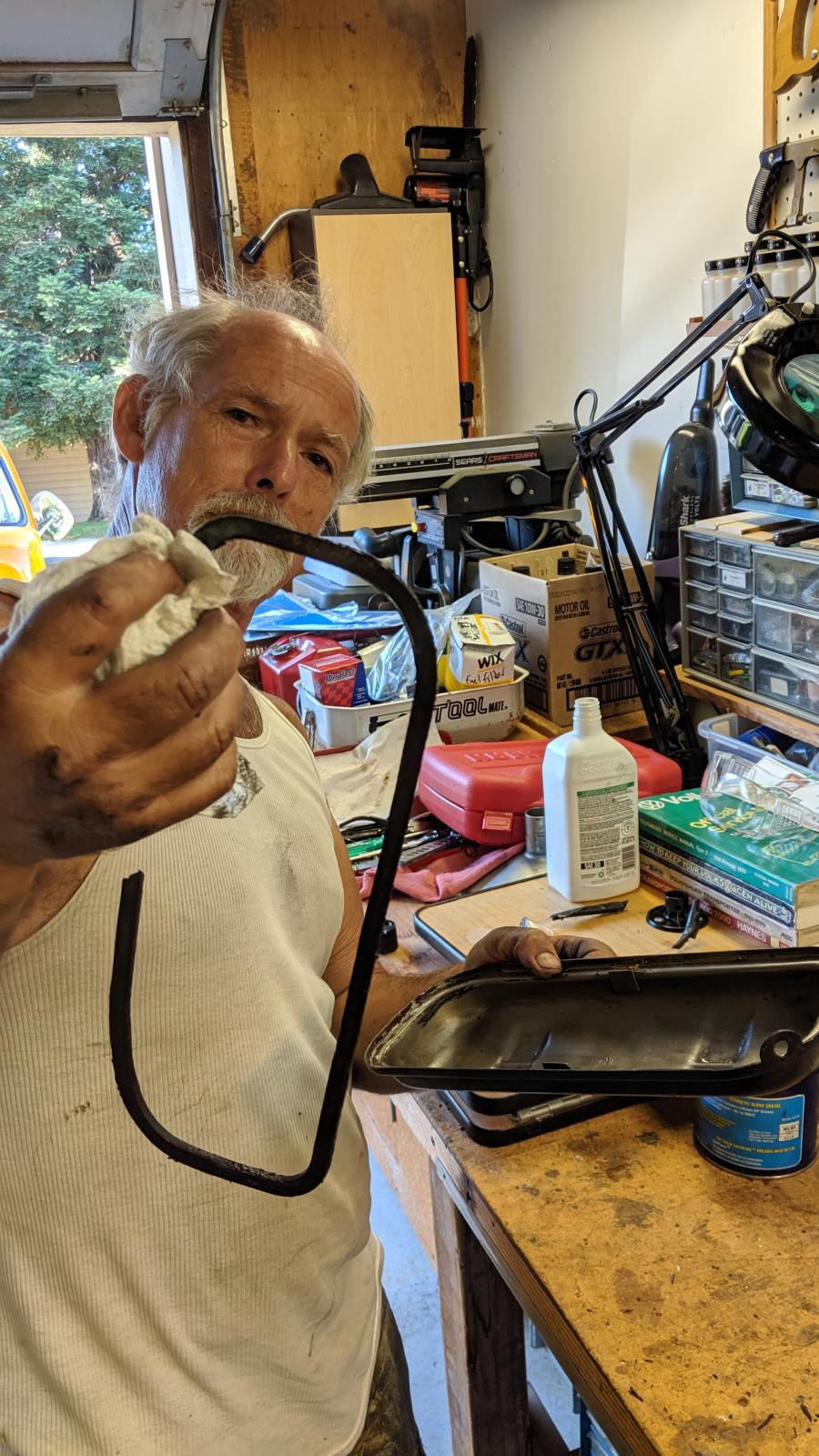 (fun with valve gaskets- this is the old one which disintegrated as we pulled it out)
Dinner break- as we let the engine cool. (now 7:30pm) Great conversation, wine, and pulled pork sandwiches and an "interesting" squash recipe brought forth by my folks who also hit it off with Colin...swapping stories about almost getting arrested? (yes, a story I had never heard before from my parents).
Full bellies, back to the garage where night had long fallen. The rest of the visit spent trying to make adjustments to shore up that valve gasket leak. This included reseating the gasket with some stronger adhesive as well as removing the bail, bending it to make it hug tighter on the cover, and re-installing it with the 3 hands it needed. I am sad to report, Colin, that the leak still exists. New gaskets will be on order soon. Anyone with suggestions much appreciated.
All told, I woke up the next morning with a sore jaw from smiling so much, a sore neck from cranking it below the bus, sore fingers from sanding and cleaning etc, an ever-present scent of Gumout, and a hell of a lot more confidence and knowledge to dive in all over again.