The reason I have not been around is ... three appointments in a row plus a thousand miles of rain and bugs gnats mosquitoes and rain too.
I arrived in the rain to grifftenstein's house. It is quite a spread and I was appreciative of the two-car garage. His Westy is back from the body shop with new paint that bears spooky resemblance to the Road Warrior's blue and white with factory dual carburetors: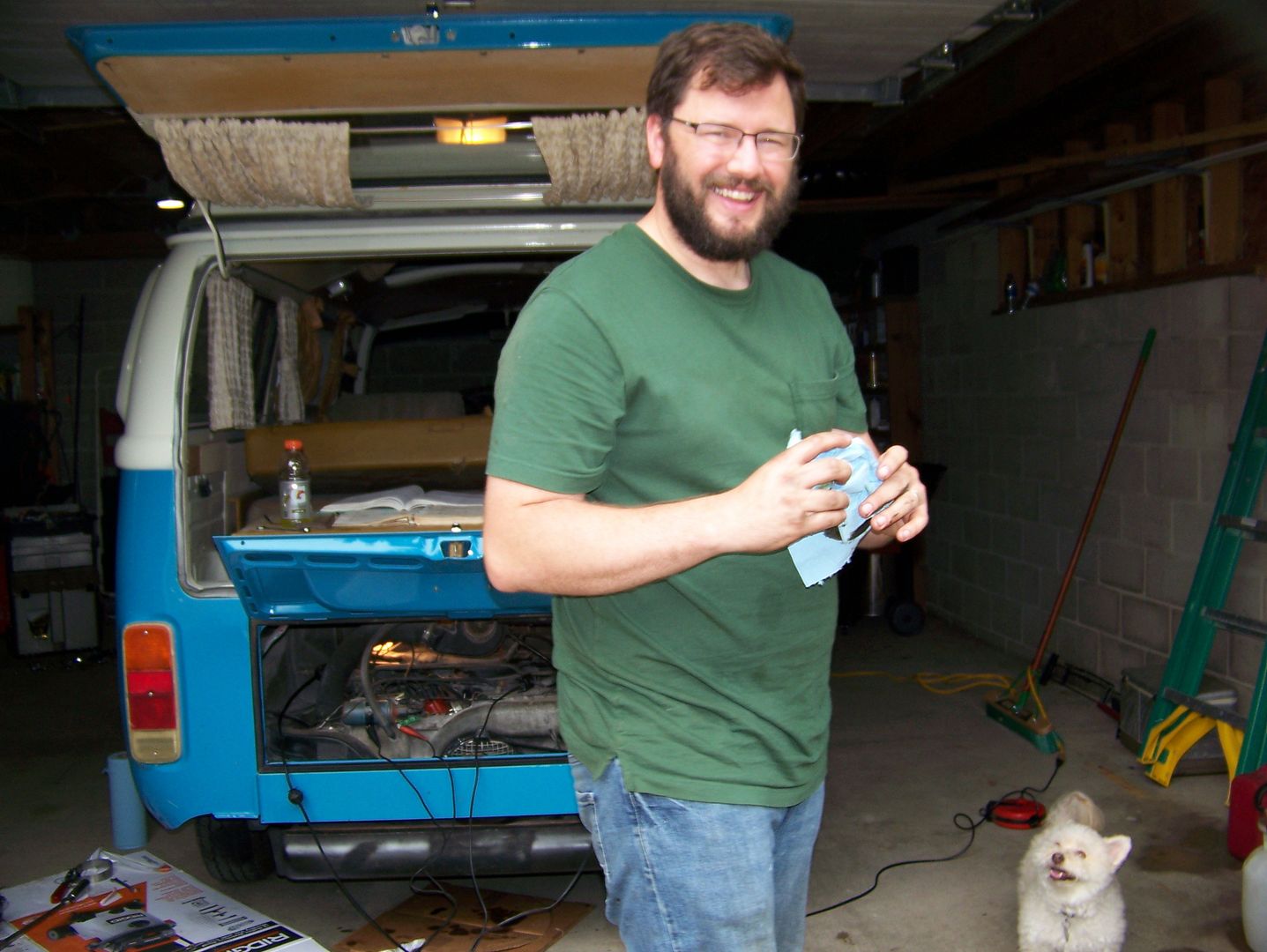 "It'll be an easy day," said grifftenstein, quite unaware that I can make any easy day an exceedingly vexing one. We did manage to get through a tune-up with his favorite annoyance (breaker point gap setting) annoying me, too. We let it go, we just let it go at 40* dwell. I say that 40* dwell will only go larger over time, "all you have to do is drive it!"
Well sure, if it wants to drive you might "drive it". But really, these carbs which I championed so mightily so many years ago, have been annoying. Today's visit gave us an utterly dead spot right off idle. The only way through it was to rev the engine stupidly against the protesting clutch. So, we decided to emark upon a Volksbitz rebuild process. We did other things too. Like I can remember any more, but I think we did something with a sliding door and a turn signal switch that used not to cancel. And it rained.
Drove to the vicinity of my next appointment. It rained. I camped across from the highway department's squadron of highway trucks. I did not know this, of course, I only knew that it was "dark" at the time of my decision to camp out. Did you know that the Belle Plaine highway department has some early birds who show up at 5:30AM, get in their trucks, start them with their headlamps on, then sit in them doing paperwork I guess, while I scramble to wake, break camp, and stare at the carpet of dead mosquitoes on the front of poor NaranjaWesty? I mucked the mosquitoes off the front of NaranjaWesty and drove to McDonalds for electricity for my laptop. No electrical outlets. Arrived at Belle Plaine's house and marvelled at his new garage. Man, it is an open airy two car garage now. Belle Plaine has stepped up a quantum level and even has a heater ready to go.
(get in touch with Busboytom, he might be able to supply you with a hoard of parts from that Larry guy we met)
Today's project was drive forward the windshield channel repair. I took one look at the welding job in progress and suggested that he was done with the welding phase. You don't have to worry a windshield channel to death with water-proofing weld-up when a nice application of rust-catalyzing primer and bondo will do .... :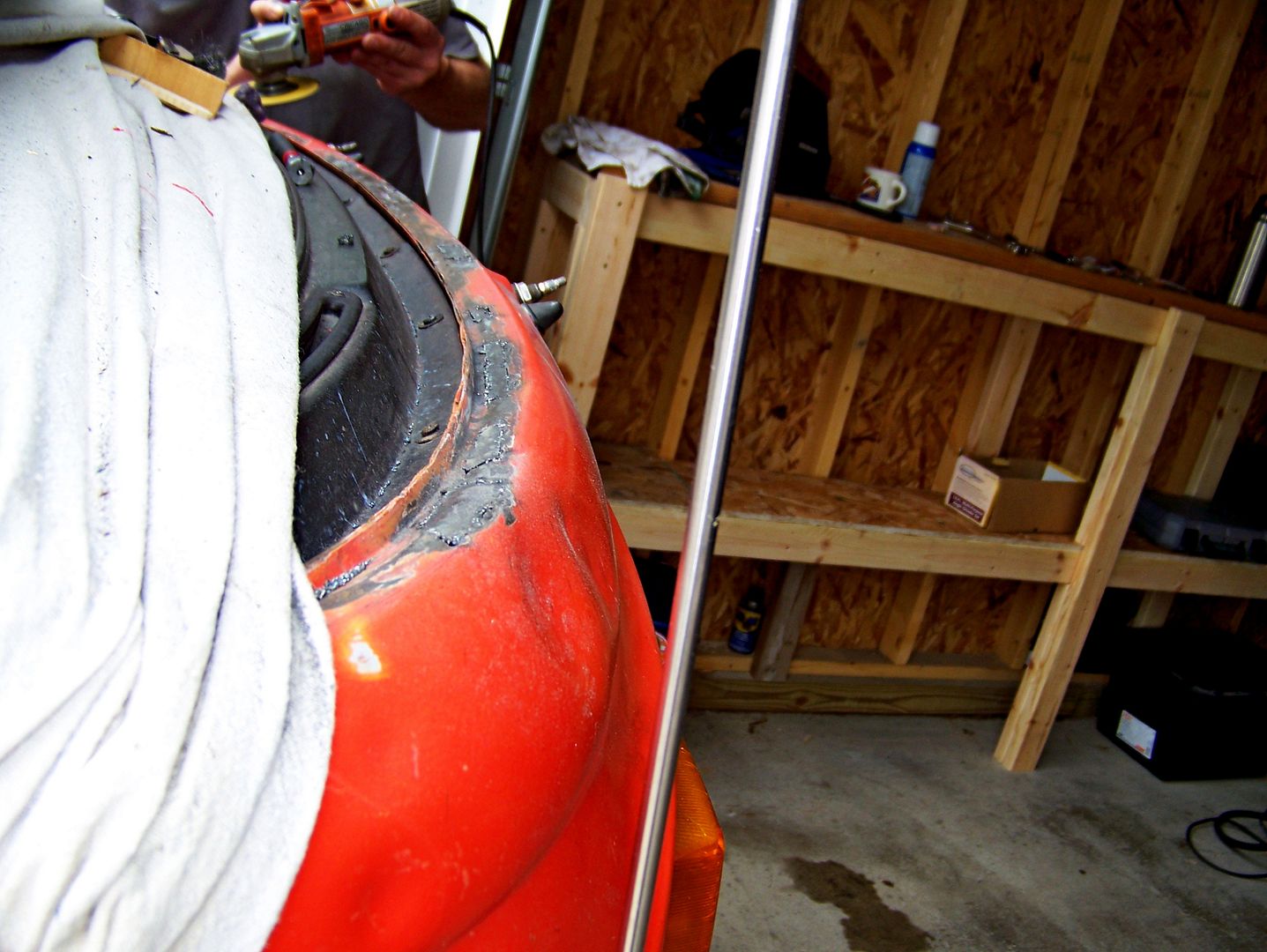 We ground down the proud weld spatter and tried to follow the contours of the original channel with fealty, fealty, by God: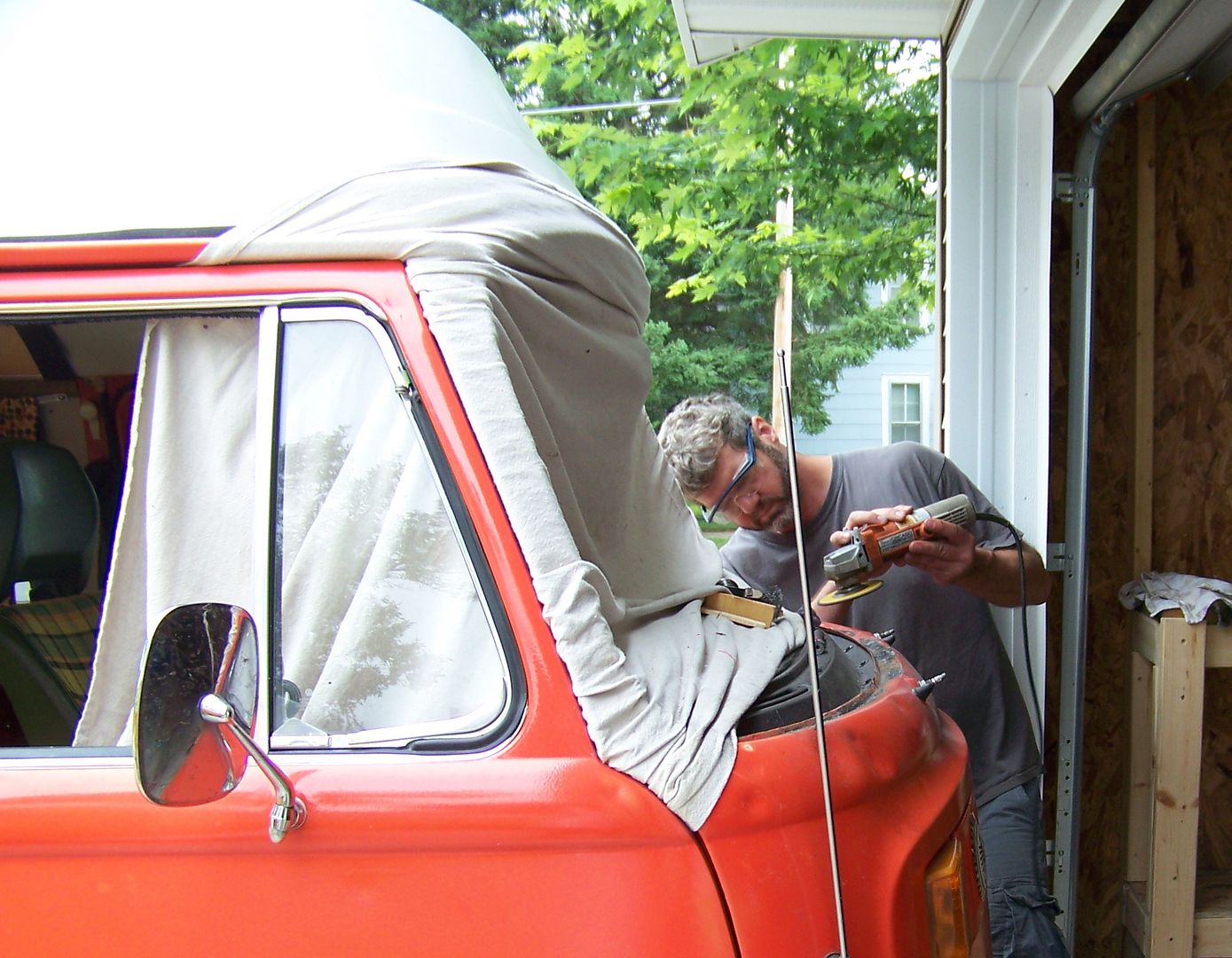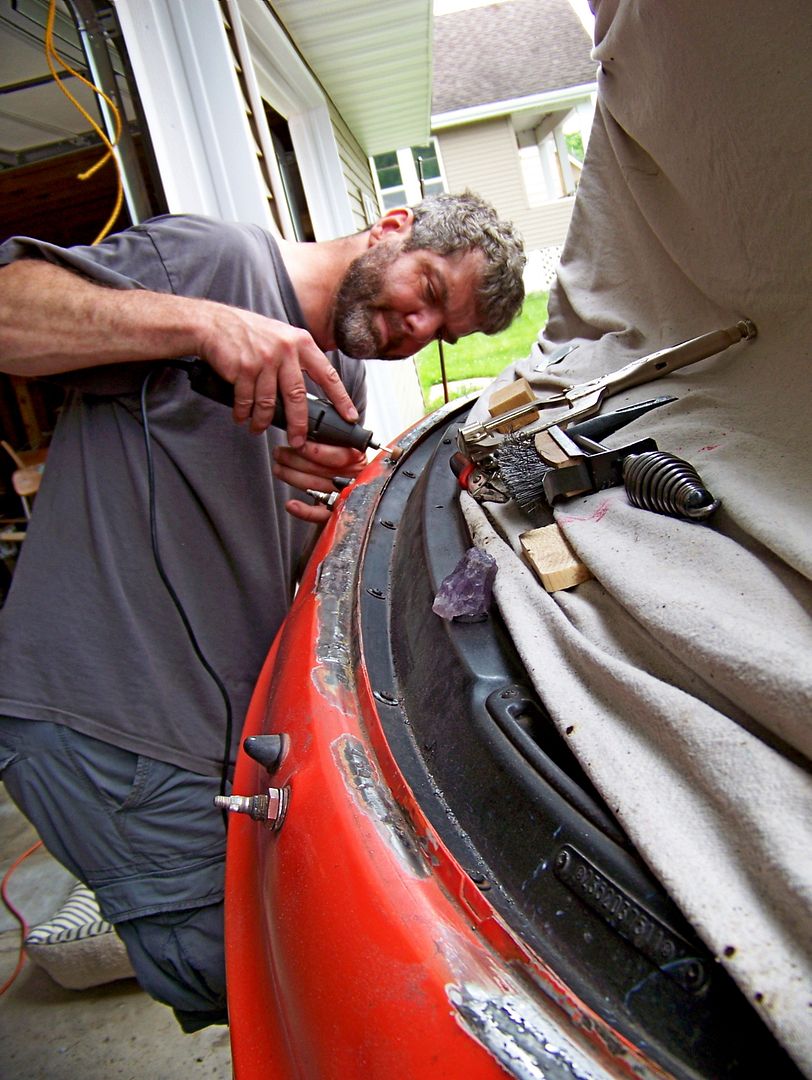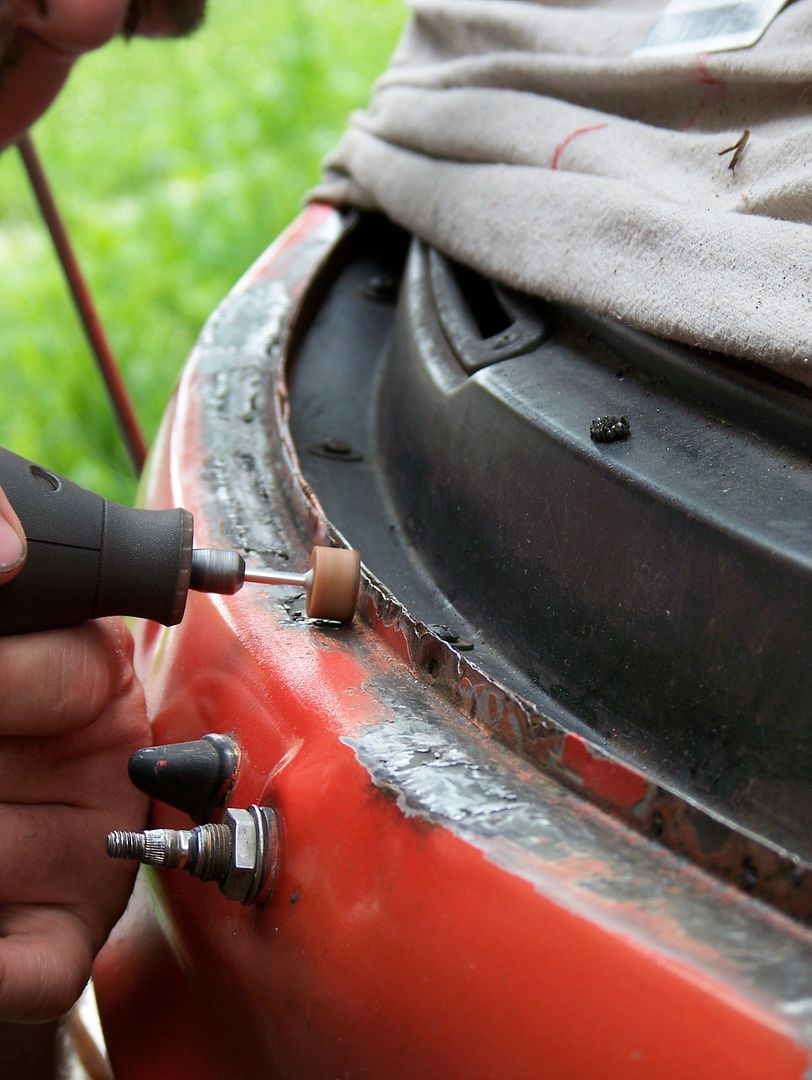 Meanwhile, I sort of tore down the headliner. The bows would not hold it up. Having done Chloe's windshield, I knew exactly why the bows would not maintain their positions.
Yep, the front bow is shorter than the next one because the front of the car actually tapers in as it approaches the windshield.
We swapped the bows around and now we have a headliner that arches nicely:
Meanwhile, the windshield channel was taking shape, bondo'd, sanded, bondo'd, sanded: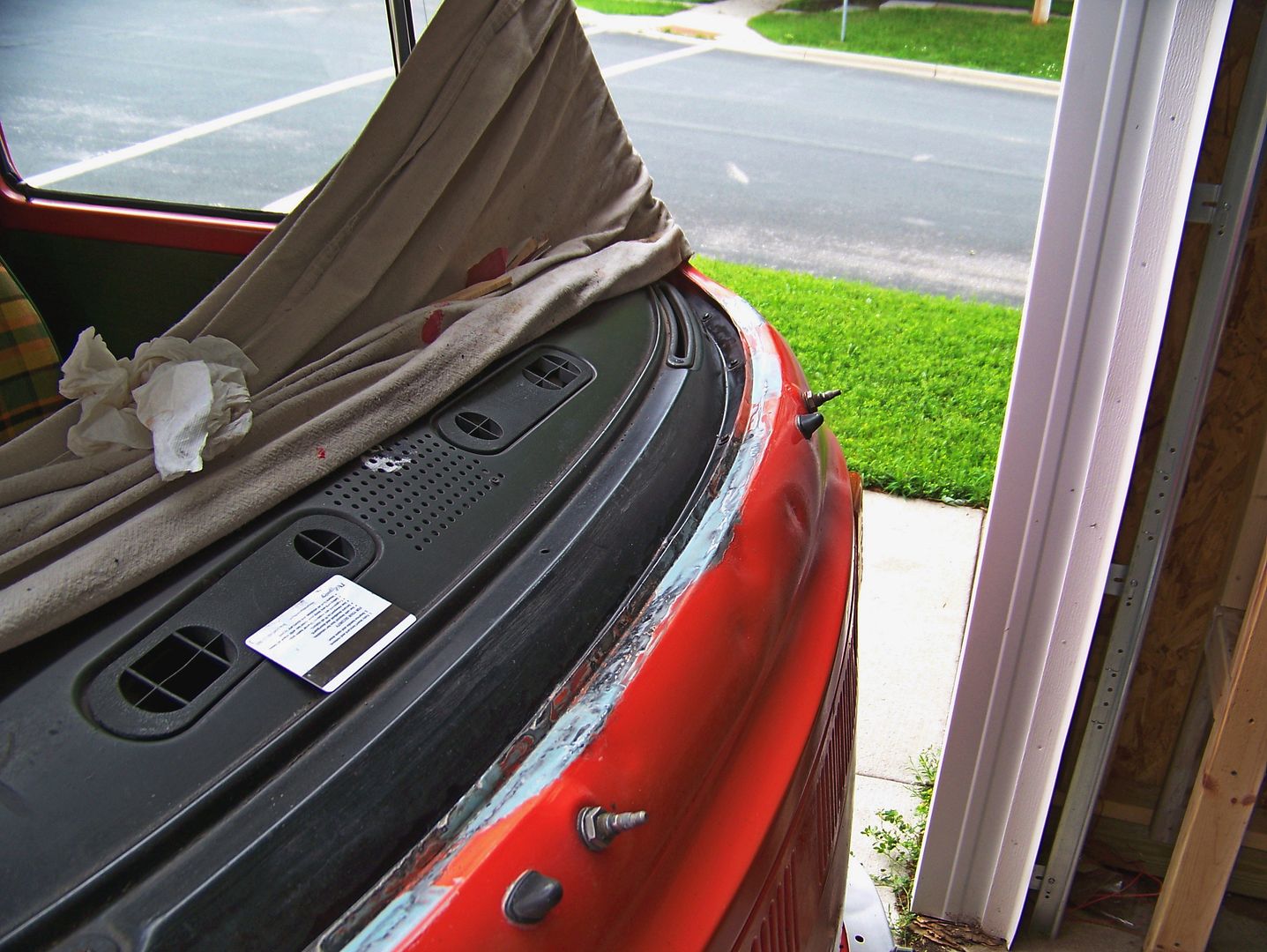 At the end of the day, we had a coat or two of primer. Belle Plaine changed my life in an instant. All of these years, I have battled brush stripes that required several color-sanding steps. Belle Plaine? He just used those nice little tapered foam "applicators" that leave no stripes. A DuhGreatIdea, thank-you, Belle Plaine: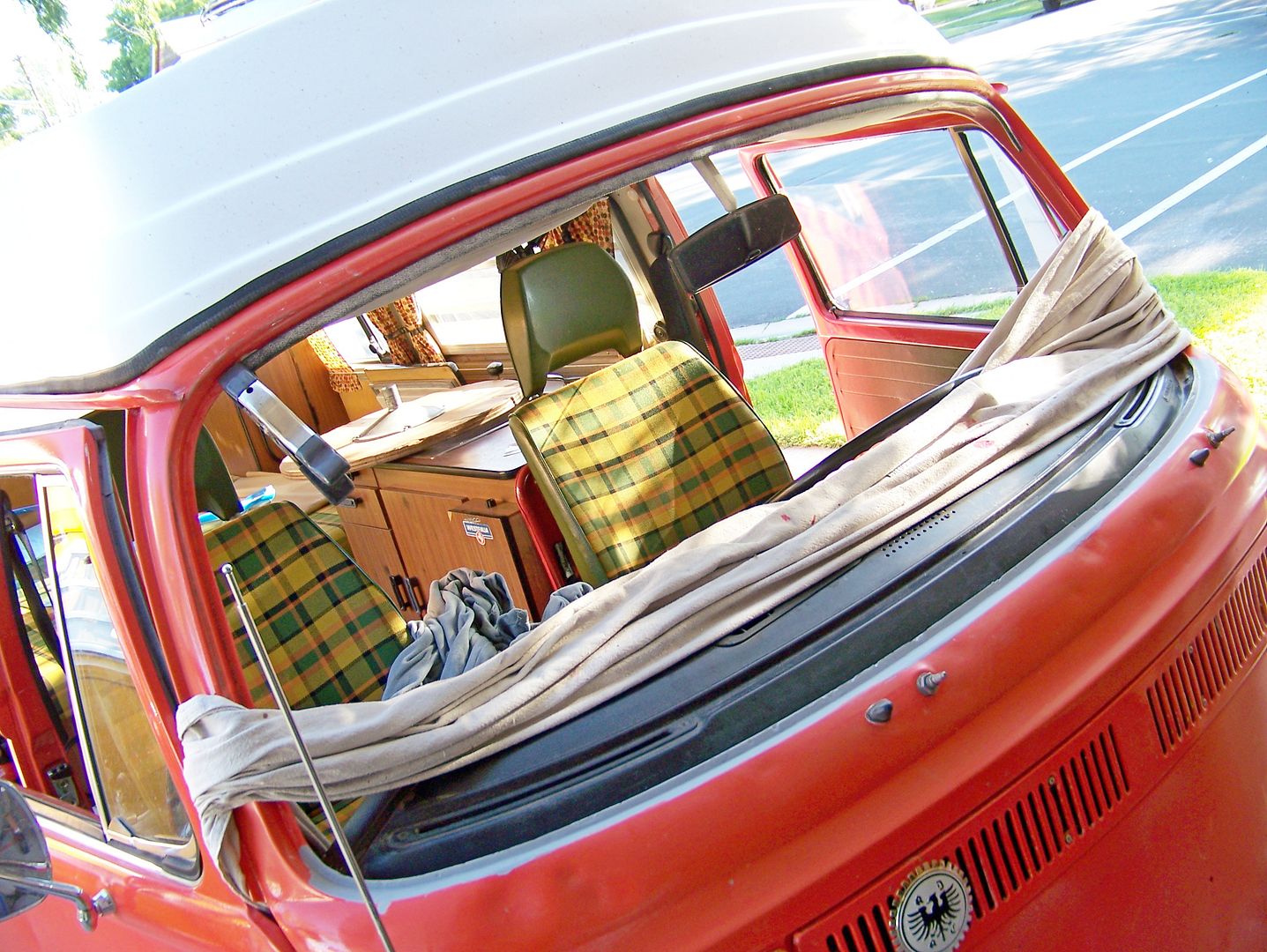 See the trim being used to hold the headliner to the windshield opening? Learned while doing Chloe. You don't need a million clamps: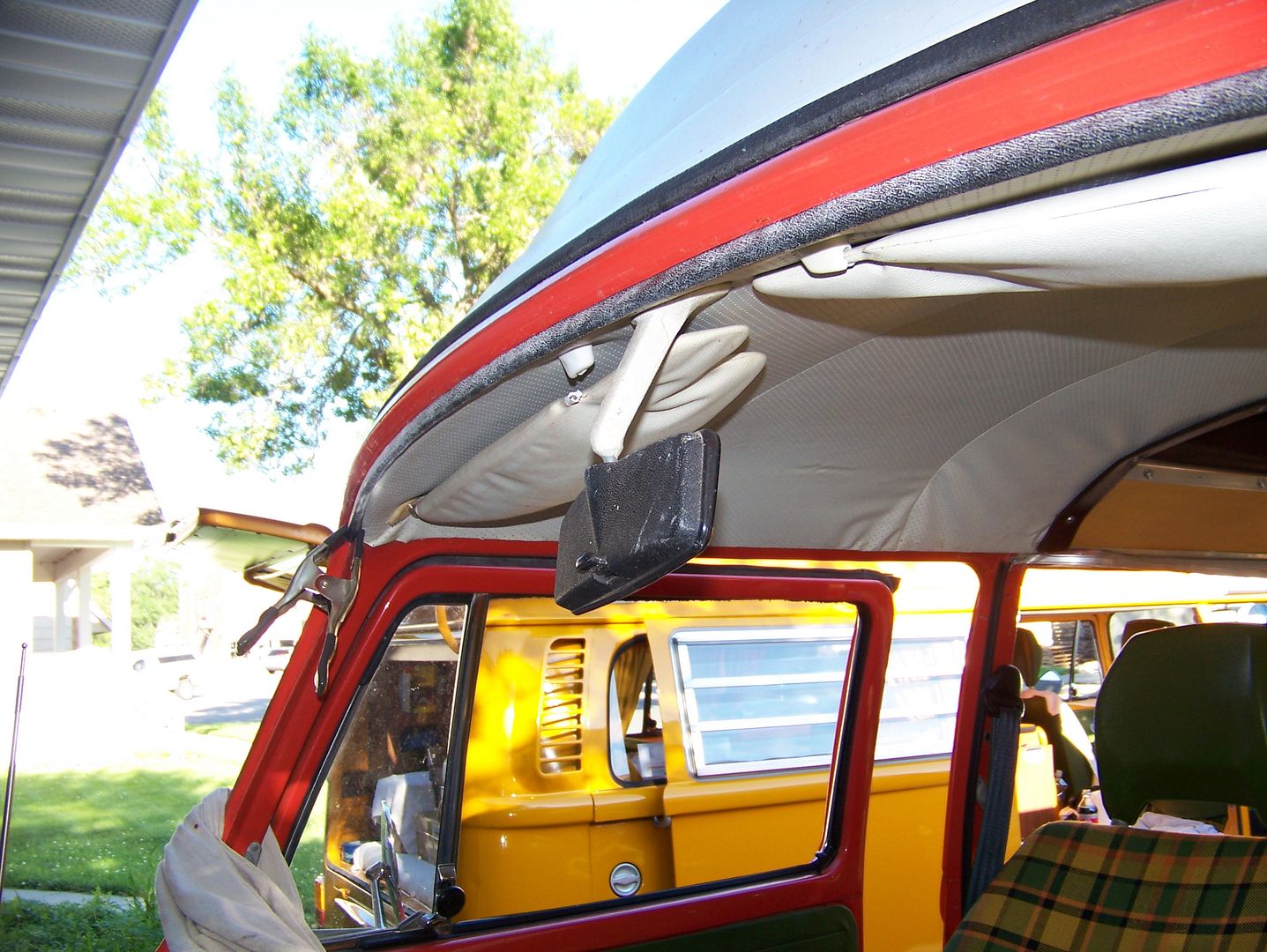 Drank beer with Belle Plaine while the now strapping lad rode his bike on the street in the afternoon sunlight. Belle Plaine is a good man: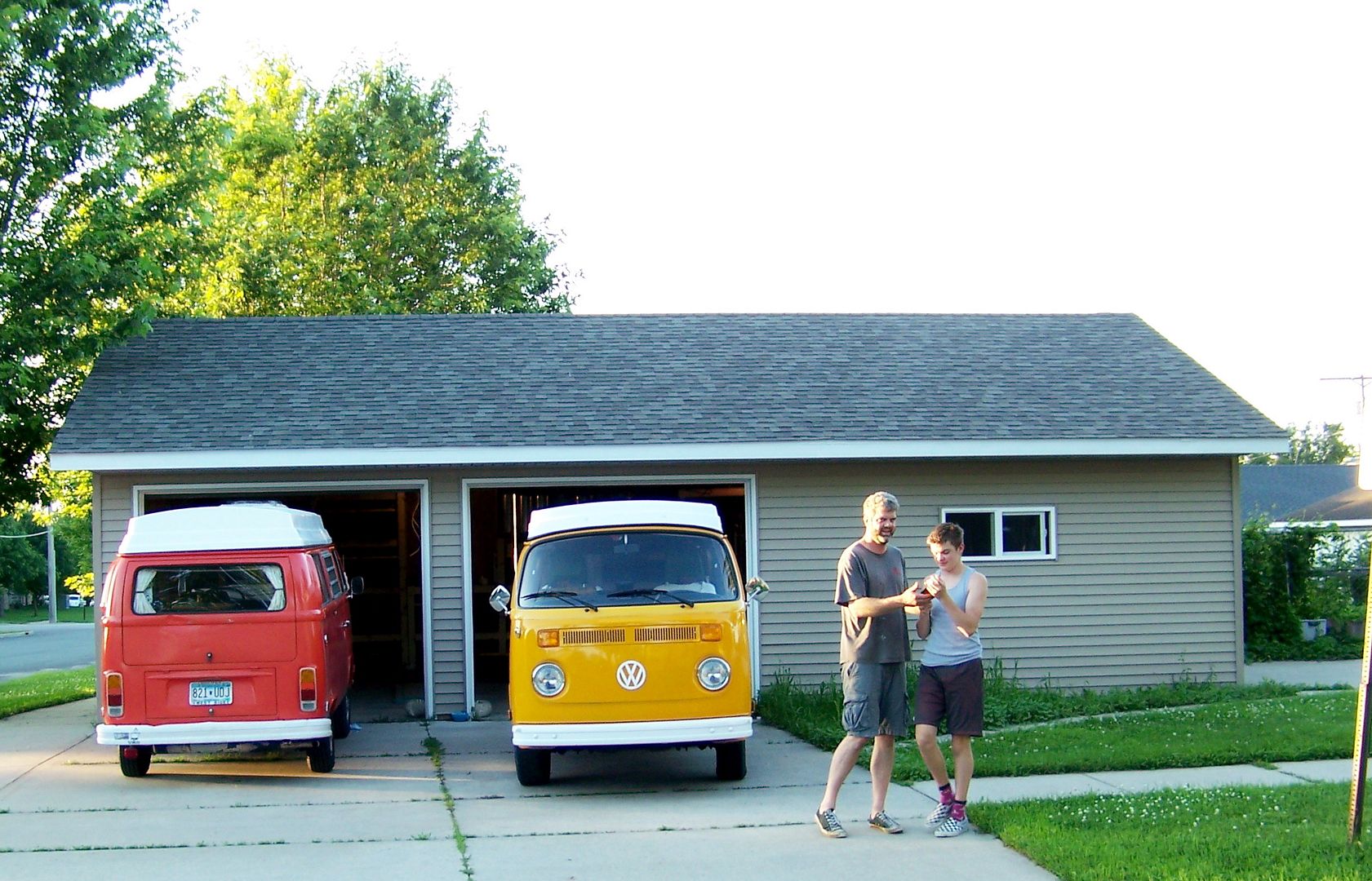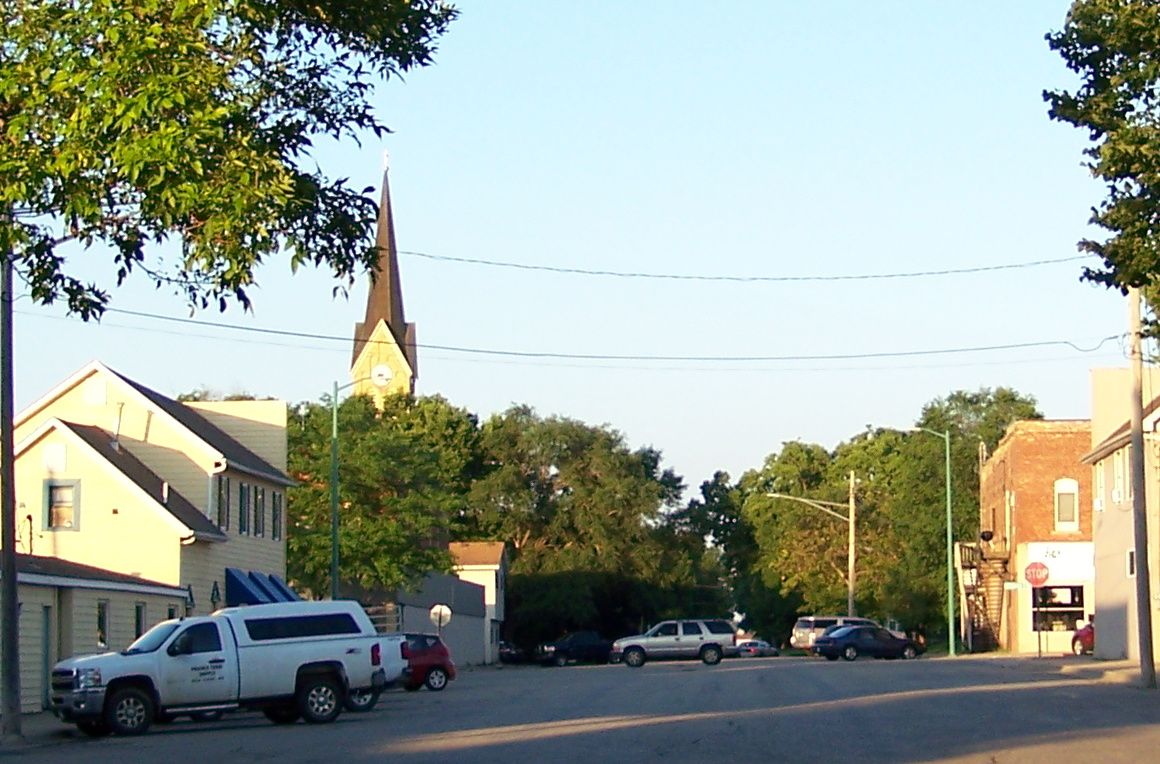 It was no simple little drive up through Minnesota to visit EskimoTom. Good grief. Maps make it look so easy. County Road This, Highway That, Number ThisThatAndTheOther, hey a street name tacked onto a road number, gone! look, this road changes name and number here at that tree ... it was finally impossible to follow my own directions, so I collapsed in exhaustion in some little town "close" to the morning's appointment:
Got my self lost on MN 21/9 when one of the two branched off on the other, and my despised MapQuest said "turn left on 176th". There was no "176th". Called Tom. Barked at him, "just the names and numbers, I cannot absorb landmarks!" Showed up oh, around, I dunno, lunch time? 10:30AM.
EskimoTom has that native blood circulating in him, so do I, it shows up as a certain sensitivity to the world:
Quickly, I discovered that his poor Volkswagen was not feeling well. It was running on two cylinders, but it had this insanely frisky idle that would not go down! Well what? Turned in the idle speed screw, turned in the idle mixture screw, crazy idle speed. Eventually decided that the #3#4 manifold must be leaking gobs of air AND gobs of unconsented fuel must be pouring in there at a just right mixture for crazy idle speed: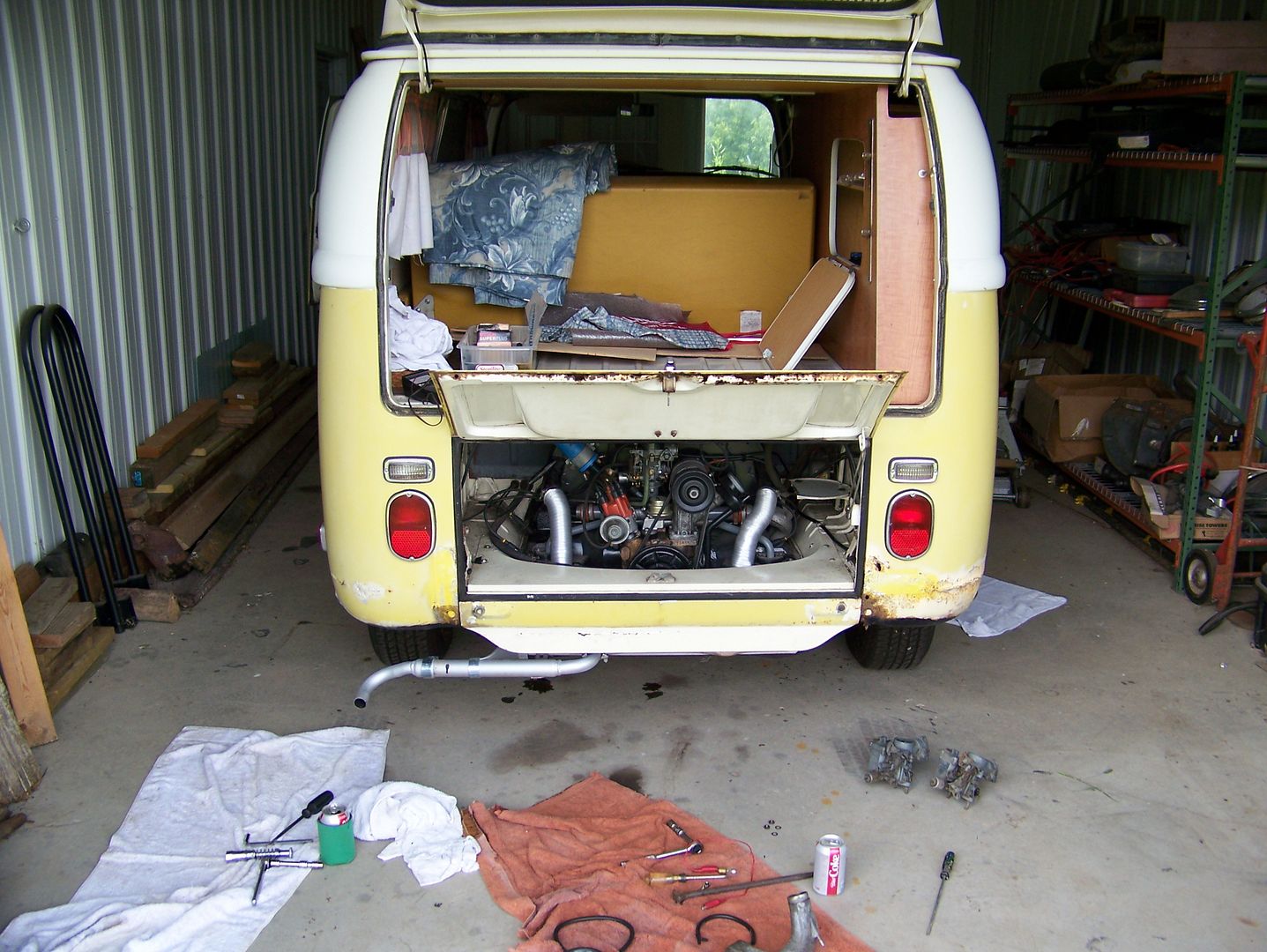 Well, we did get rid of the intake leak after a battle with fitting the left manifold onto the intake pipe and the head studs. #3 and #4 were participating once more. Smooth idle, only when cold. Then it died and died. Too much fuel now, not enough air to go along with it. Swapped out the carburetor with a very used carburetor. "Your chance to shine after long sit, don't let us down!" Well, it was a rather balky little carburetor after its long sleep. So, another Volksbitz client is made. We did get to drive it up and down the area roads, though, and that was a morale boost. Came back to the house before the threat of rain delivered more rustitupevenmore. Fixed the brake lights! Just needed a fuse! Fixed the turn indicators! Just needed lubrication but it was a junky new switch that had cheap plastic detents that got beaten into stops before our life-saving lubrication could save it. We stretched the detent spring to relieve the plastic, and it sort of works ... like my life. It was a pleasure, Tom, and I hope I was not too sharp with the elbows and attitudes: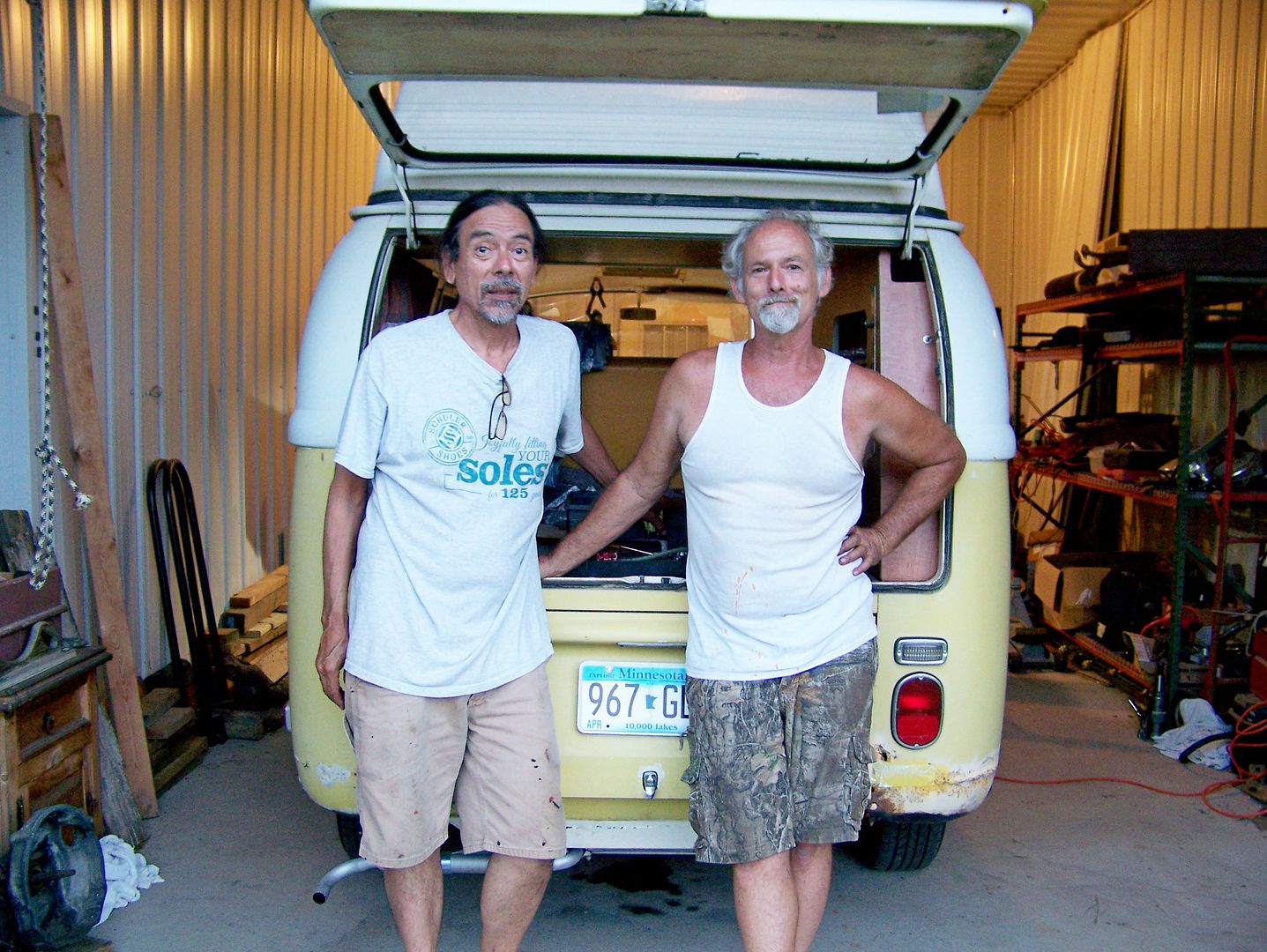 Drove off in the darkening night to meet my fate ... more rain and bugs.