Everybody got mauled. But I will say here that such perseverance and pluck as I witnessed does not happen all that frequently these days, you know why? Because rarely do circumstances align such that we are sorely tested in the ways that we were tested. And this is all to the good, All To The Good.
Long ago I had received a phone call from our very own Jivermo that asked if I could call JR of Idle Bus Theory fame. Apparently, a valve adjustment on their bus "Sunshine" had displayed an anomaly where the feeler blade would get trapped between the rocker arm and the valve spring retainer. This is indicative of valve recession bad news and I needed to impress upon the travelers that it was dire, even if the engine was running otherwise well.
"We want to go to the Everglades."
"OK but . . . if bad noises happen, yer out, do not try to start it or drive it."
Jivermo and I decided to enfold an emergency upper engine overhaul into the schedule of replacing ball joint boots and investigating a running issue in Valentina, the Westy of our other intrepid travelers, Marc and Eliana of Birding By Bus fame, and a ball joint boot replacement in Jivermo's dakota beige Westy before I was due to run to Panama City for an engine check appointment for jtauxe.
(do you like compound sentences? Good)
Since I had JUST ordered TWO sets of Len Hoffman cylinder heads as back-ups for the BobD and NaranjaWesty, I called Len Hoffman to up the order one more set.
"I have a set of heads ready to go right h..."
"SEND IT."
They showed up the day before I was to leave for Miami.
I arrived the evening of February 13th to meet JR and Kit, the intrepid wanderers whose Volkswagen had fallen ill. The engine was already out, poor little dusty sick engine.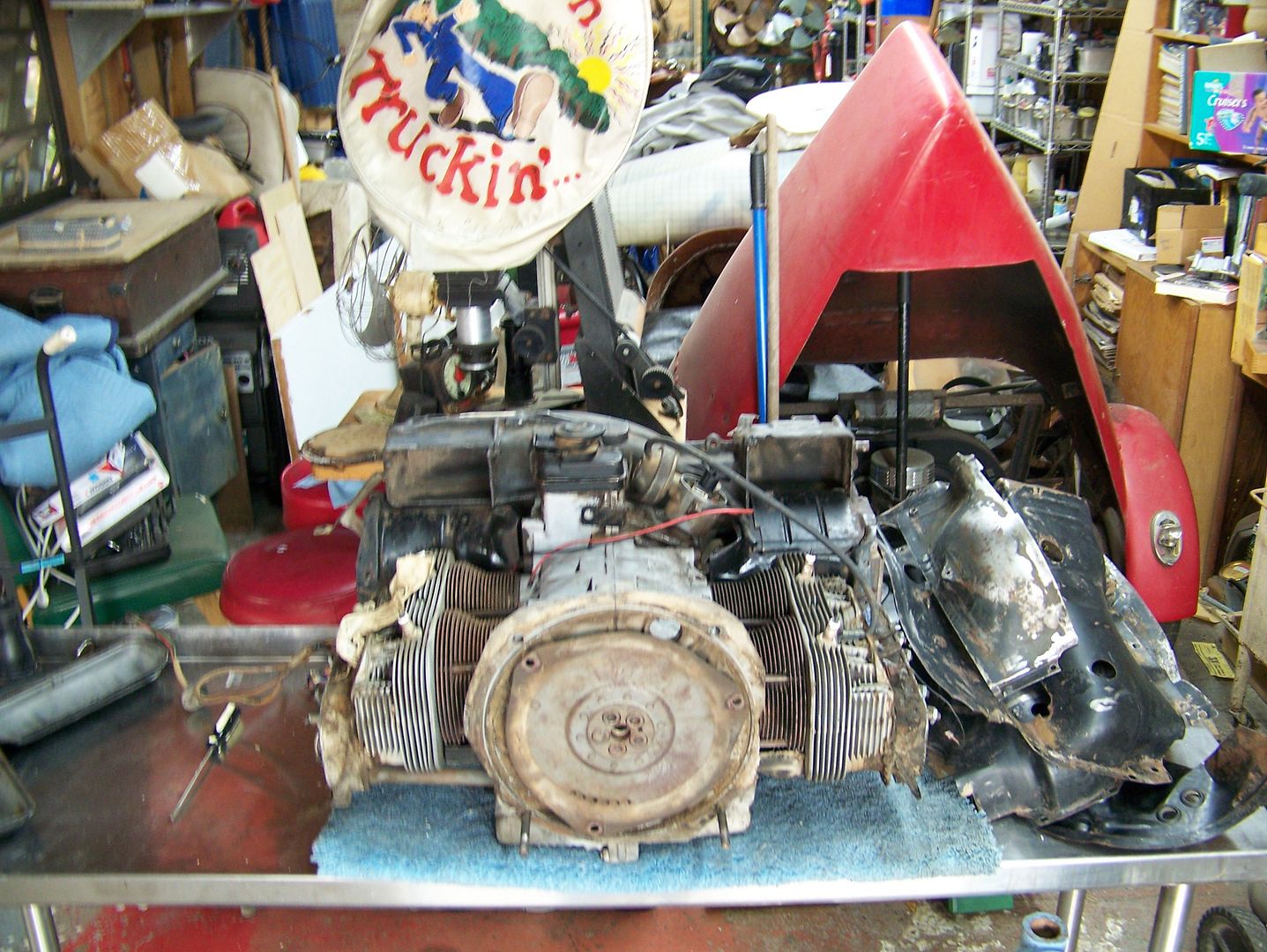 JR Switchgrass and Kit Whistler, the very picture of vital young adventurers were bright-eyed and enthusiastic to get going on disassembly. I thought to myself, they may not know of the Journey Through The Valley Of Obstacles And Despair that I have traveled so very very many times before . . . ah, they'll be all in it, soon enough, soon enough, my little pretties.
February 14th, Valentine's Day, Valentina's namesake day,
Day One Valentina Appointment, my overarching goal was to eradicate the intermittent bucking that had plagued Marc and Eliana since somewhere back west on their way back from Alaska. This needed to be solved. Our test drive ginned up a couple of little bucky hesitations, but nothing terrible, so I helped Marc to adjust the mixture across the fuel map from lean to rich, to see if we could "poke the bear". The engine seemed to be happier with a richer mixture and it refused to buck on our way back to the McIntyre Home For Wayward Volkswagens. Nobody believed that a simple adjustment was the final cure (and it wasn't). But at least we were able to forge ahead and tear apart the front suspension to install new ball joint boots: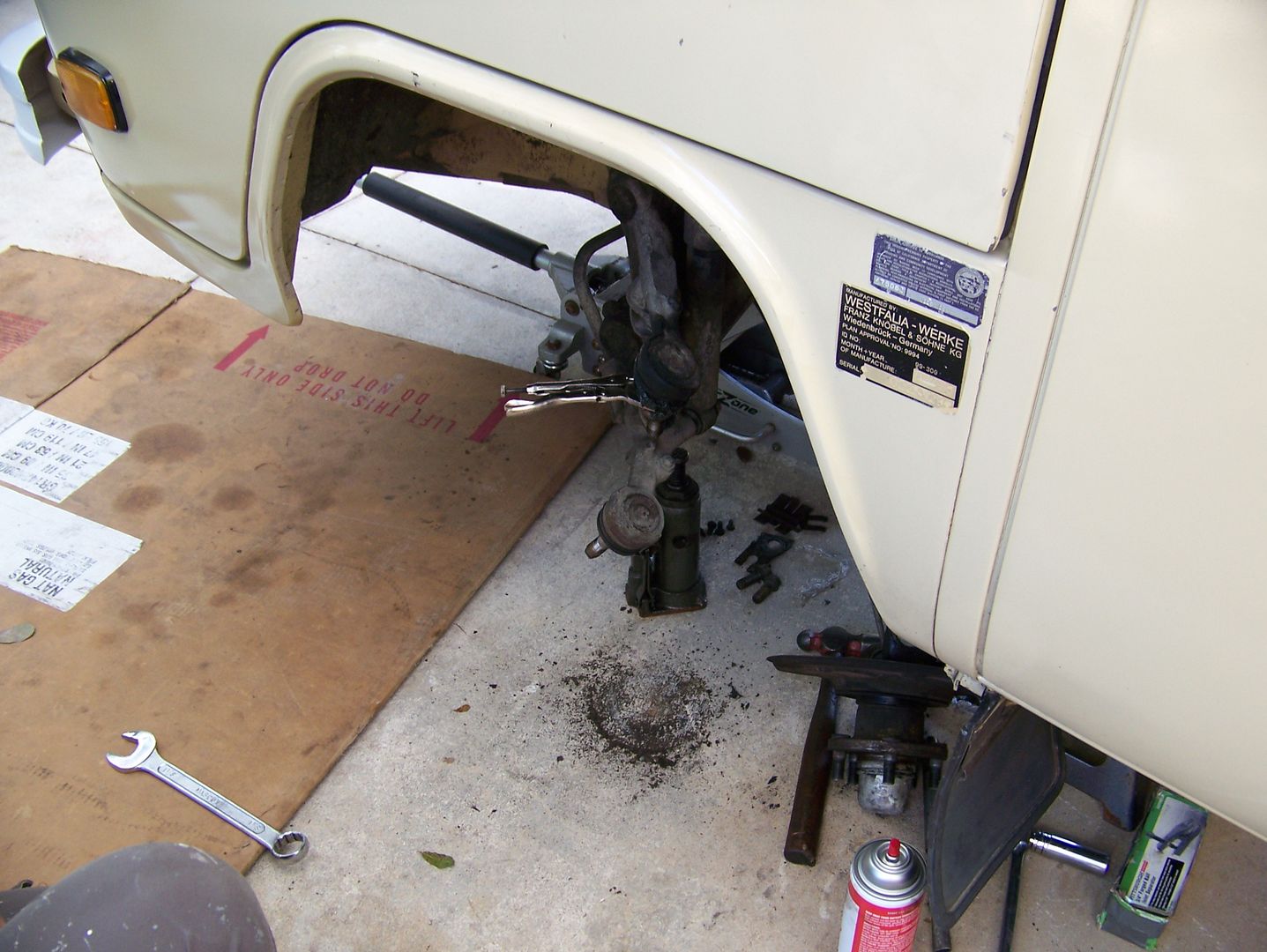 Here is Eliana pensively considering our surgery, mid-operation.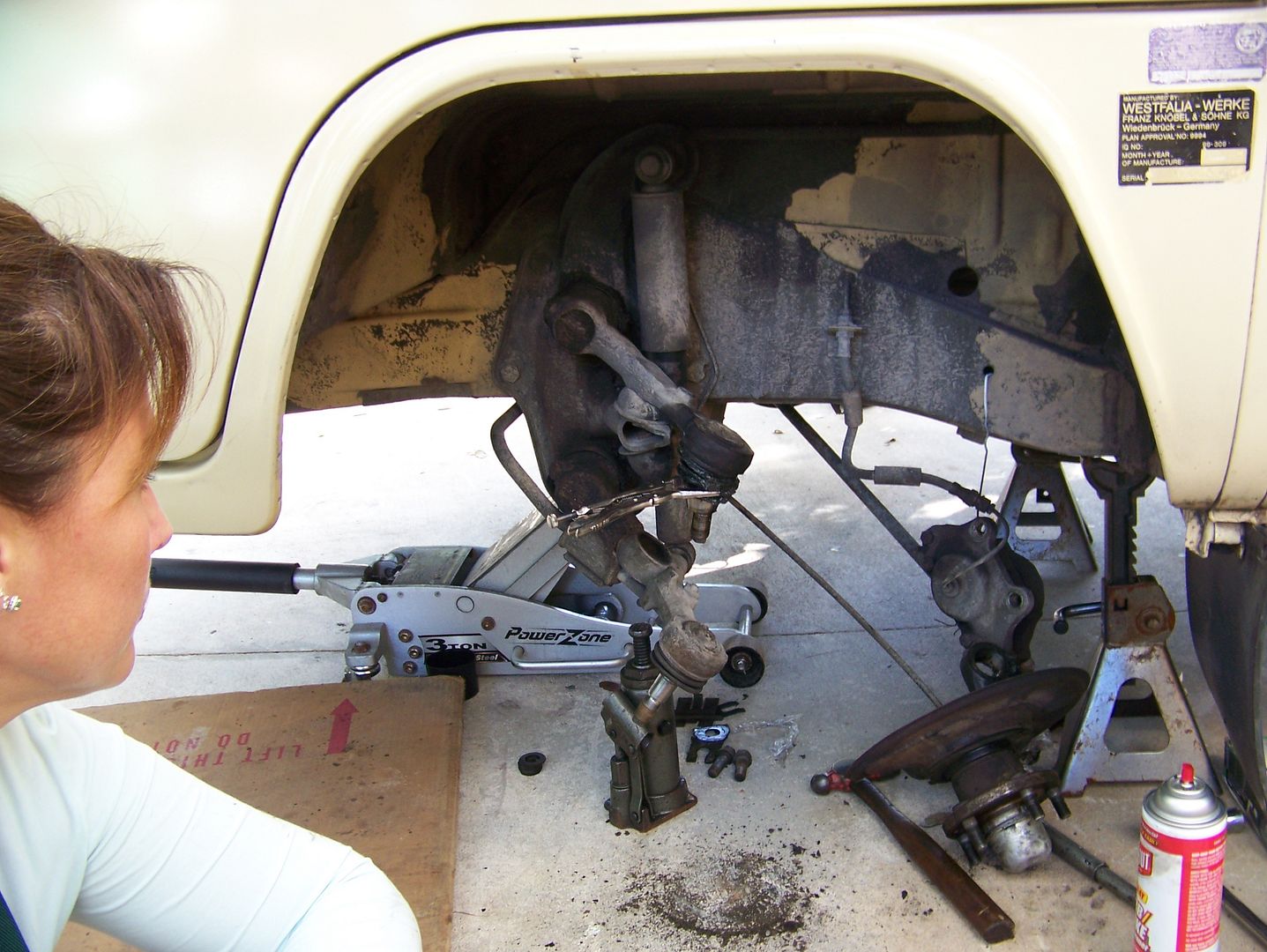 Valentina was so cooperative, it was like a Bentley procedure come-to-life. Everything came apart easily and went back together easily:
You know, these Birders By Bus, they even feed each other like birds:
MEANWHILE, I was surreptitiously trying to nudge the Idle Bus Theory JR n' Kit kids with pre-op notes like, "your engine mounts are broken, you need to remove the fan housing":
Then back to Valentina's ball joint boots.
JR and Kit were continuing on with cleaning and even sanding the tins for paint. I was concerned that any of these operations could blow the schedule to bits, but you know what? They somehow managed to scrape, wash, sand, and paint the tins and the intake manifolds all in a day: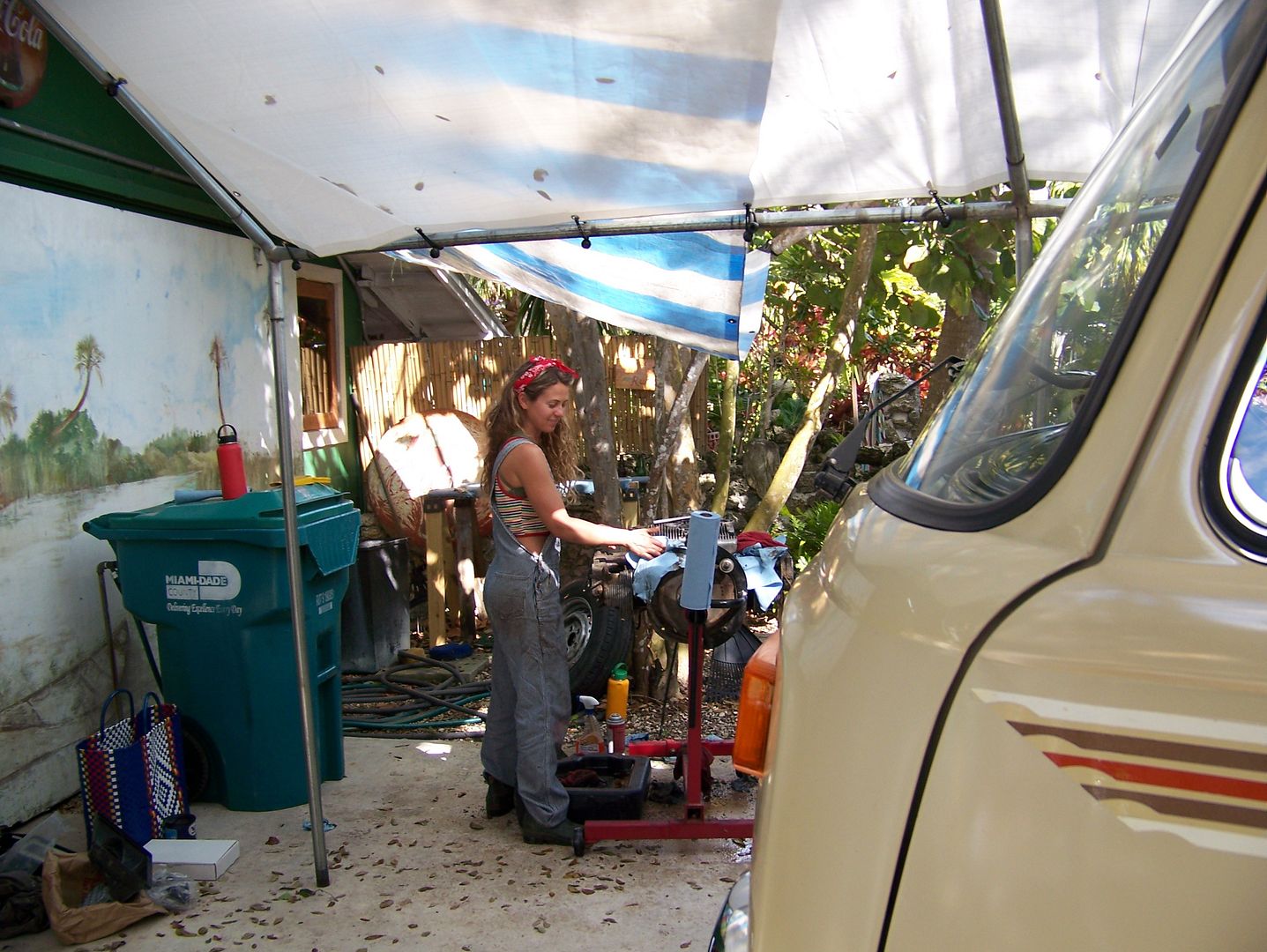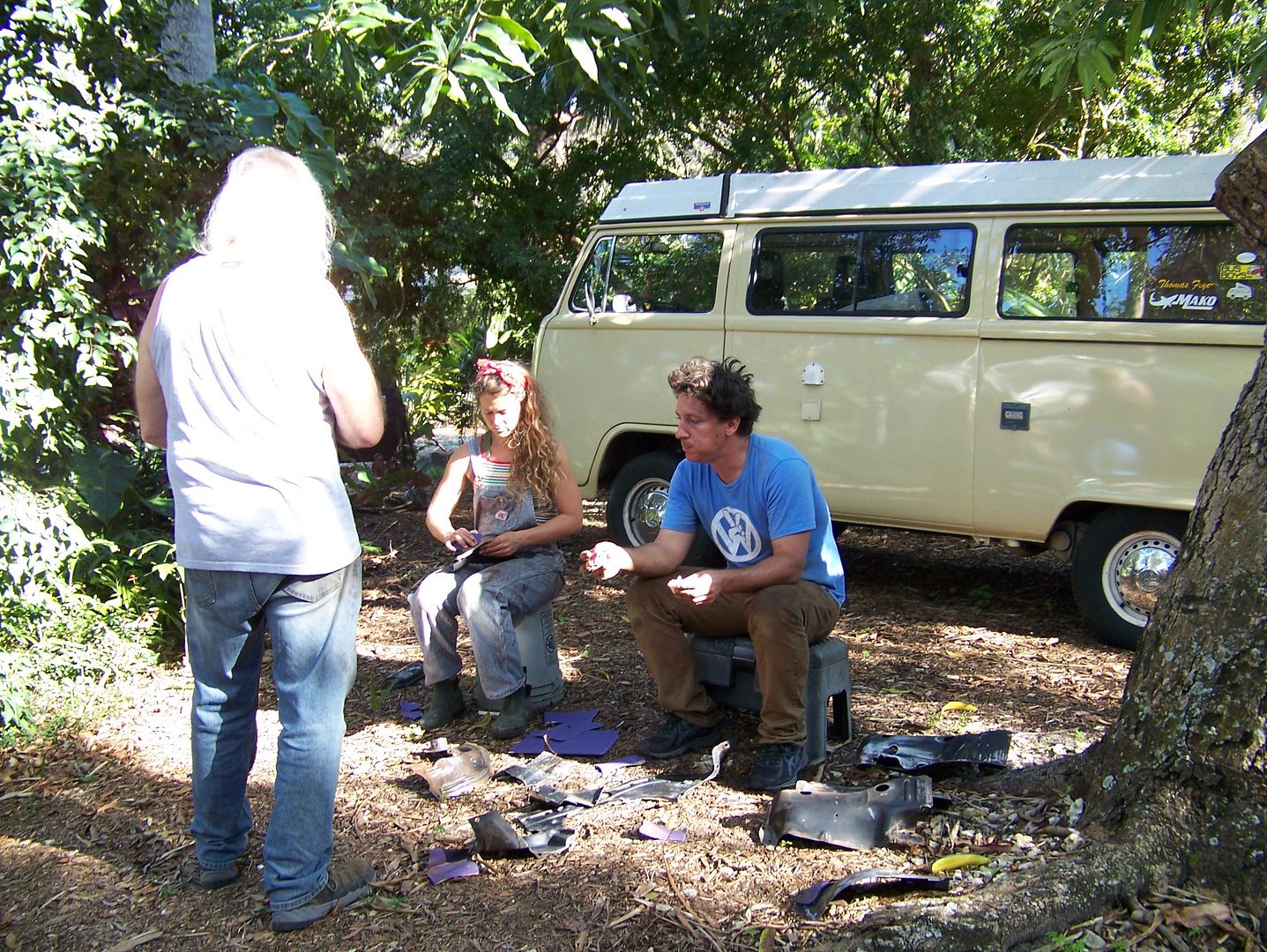 Meanwhile, Kit and JR were filming all of it in little bouts of narrative that I only peripherally caught: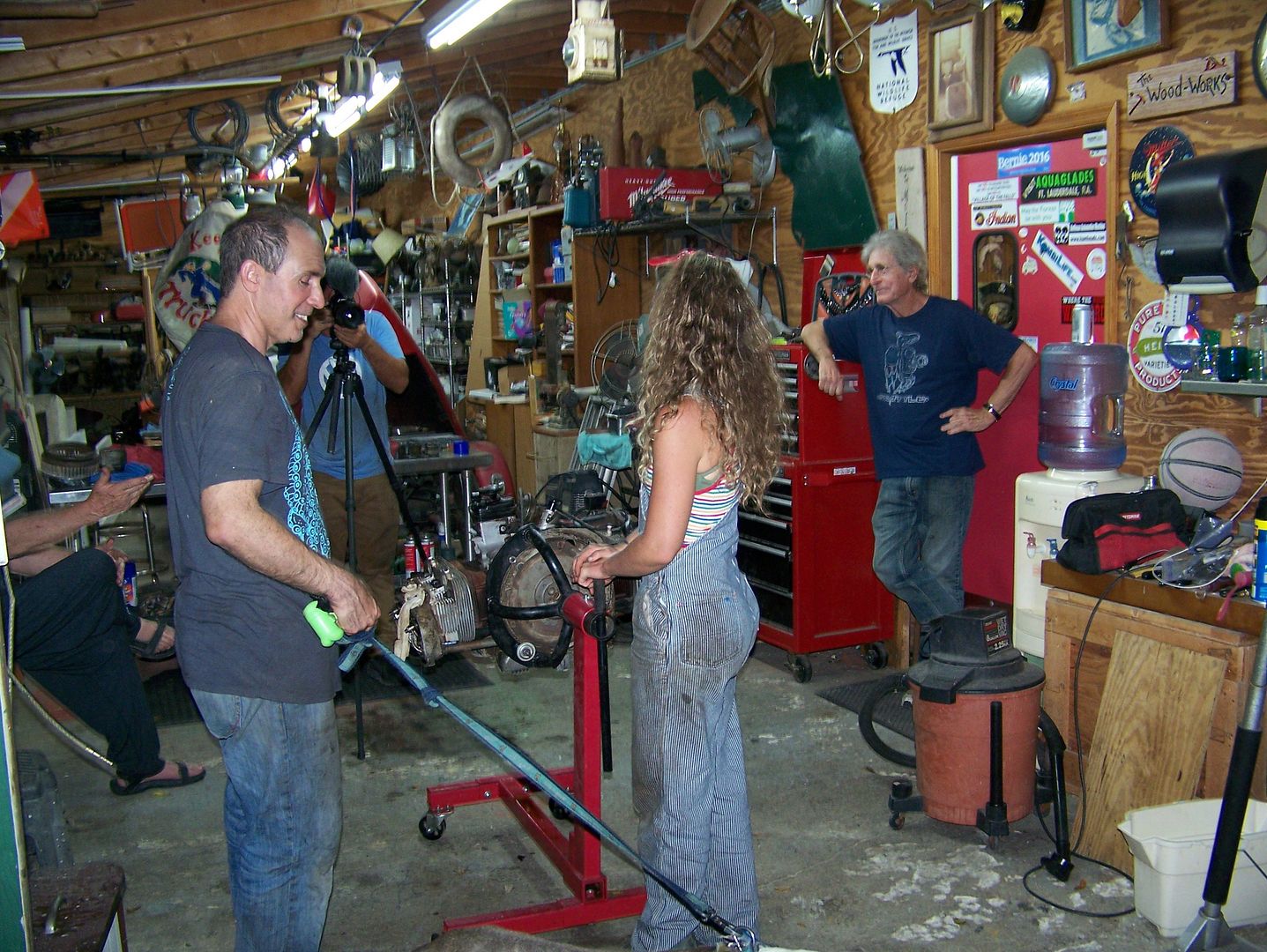 See how happy everybody is? Don't worry. I take my job seriously. They needed to know the Panic of Unforeseen Obstacles, and I delivered:
First Day Idle Theory Bus Upper Engine Overhaul:
a) I panic upfront. I have to map out the operations. I have an idea of the time it takes. I know that there are pitfalls as yet unknown. I need to gather all the data as to why this engine failed, and I need to know the extent of it. Thus, I am tight and relentless. Right, JR?
b) Everybody else was enthusiastic and organizing bolts and nuts and parts in labeled bags and devoted to getting it recorded for a video story. Plus, they were enjoying each others' company while I was deep in churlish inner strategy thought. Any time they attended to the videography or tediously cleaned a relatively insignificant part super immaculate, I was panicky about time management. Here's the happy videographer before I broke his spirit: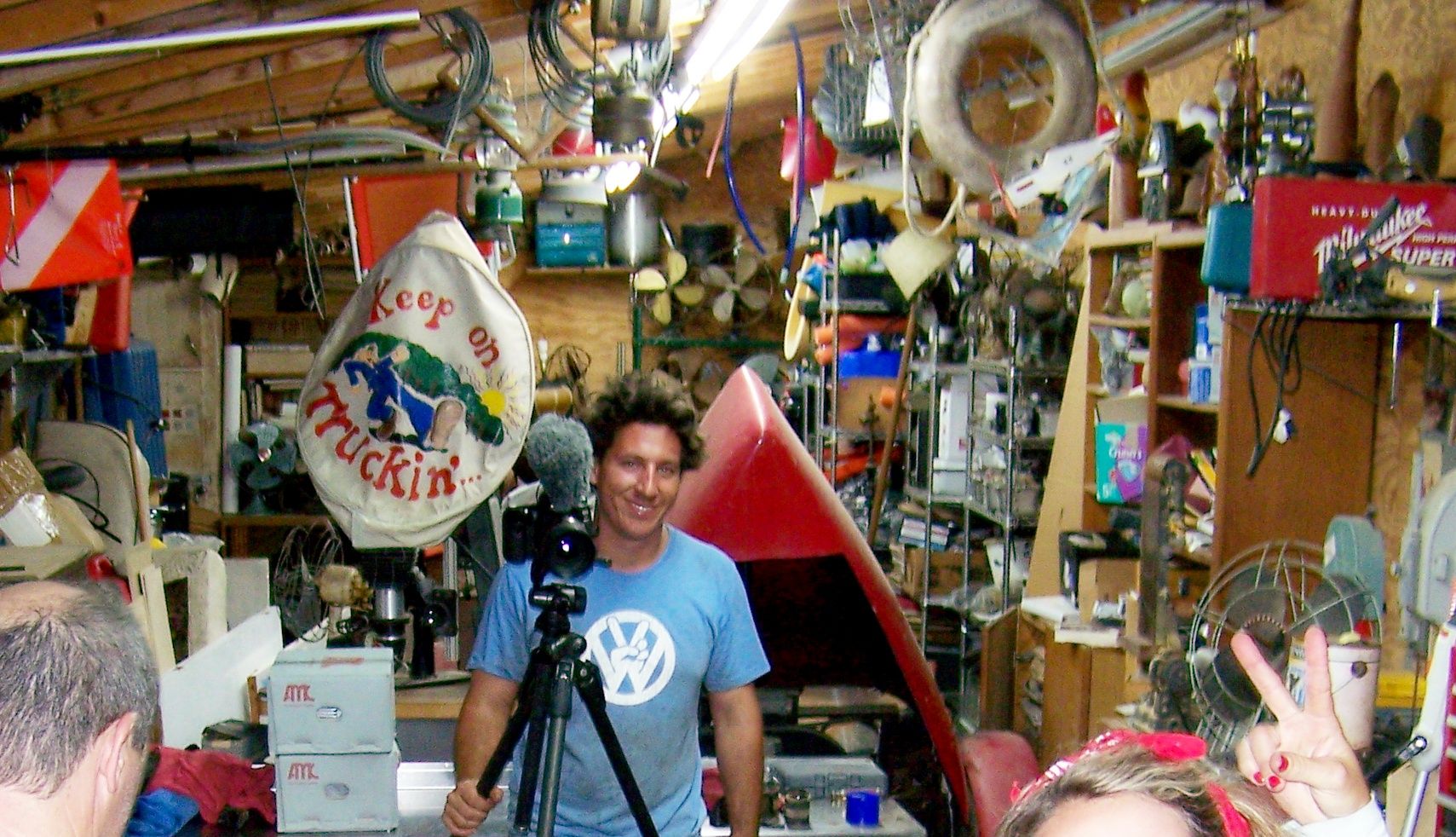 Meanwhile Valentina Day Two, the report is that the bucking was still evident. We went on a next day test drive, and I pointedly informed Marc and Eliana that my credibility is thoroughly shot. Anything I say has no weight. Explanations useless. Mixture is not the cause. We did a crazy test drive with the timing light pointing at the ceiling to watch every ignition pulse from the coil to see if it would "stutter" when the engine would buck. It did not. My intuition said, "change the air flow meter". Marc did. Bucking gone! Nobody believes it. "Drive," said I, "trust will slowly return, drive!"
With relief, I mauled the front carpet. That mauled Eliana's confidence. I would brook
no resistance. The carpet was underneath a big Wolfsburg West rubber floor mat, and it was so lovely, really, look at it:
Would you tear it off the floor? Would you watch the carpet loops suck under the surface of the carpet as it tore free of the floor? Would you jab underneath relentlessly tearing little bits of brown fuzz of this perfect carpet that has been undisturbed for the life of the bus? Eliana was pleading.
But THIS: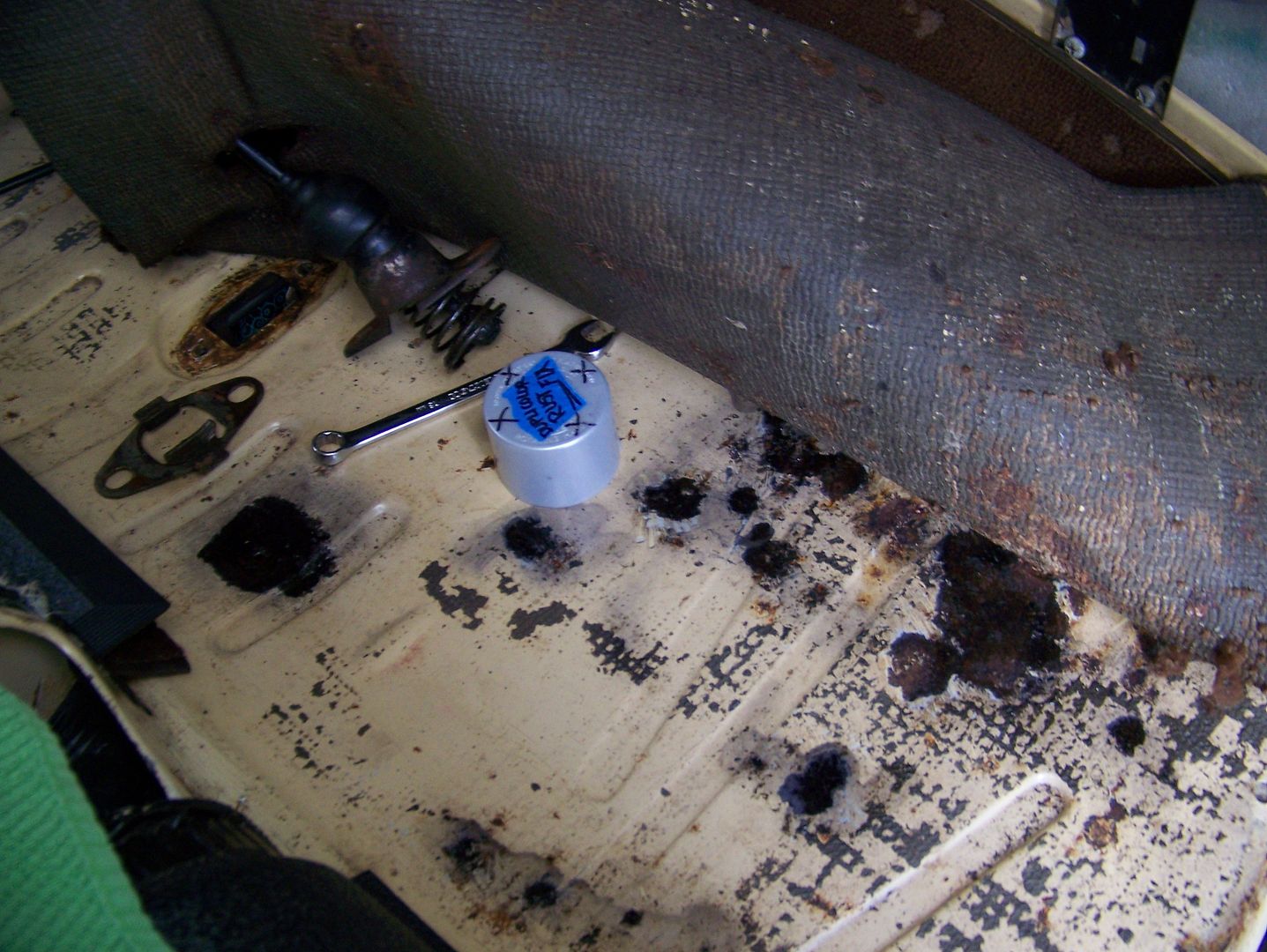 We painted the rust spots with rust-catalyzing primer and installed a new shift rod bushing and the floor is now protected and the shifter is precise and the carpet looks fine, all hidden under that black rubber mat. After a little work on the horn and turn signals, and a conversation with their engine rebuilder in Calgary regarding the odd compression readings we noted, I sent Marc and Eliana on their way. Perhaps they will give us a report here. My mind was turning quickly to the Idle Theory Bus Upper Engine Overhaul.
Second Day Idle Theory Bus Upper Engine Overhaul,
a) I now know the status of the engine, I see that parts have been cleaned (and I can rebuild an entire engine even if all the nuts and bolts are dumped willy-nilly in a bag and tossed about, but I ain't gonna tell them that), and I can better predict the Moment of Reckoning, and I am feeling more relaxed, BUT:
b) Everybody else is woozy with the chaos of parts strewn about (but I can rebuild an entire engine even if all the nuts and bolts are dumped willy-nilly in a bag and tossed about, but I ain't gonna tell them that) and they have no idea if this entropy is going to resolve and they are stressed-out at the loss of order and the march of time.
Like Life Itself, time rears its head, and we have work to do, and our intrepid adventurers are knuckling down to work. They are beautiful, these adventurers, and they have the heart I need to infuse their engine with. Time torments when you need it, and time spreads out endlessly when you don't. We needed time, and here we are laboriously scraping carbon off the pistons so we can measure the deck height so WE CAN GET THE COMPRESSION CORRECT (< shade thrown at Calgary shop) and I have run out of time here. Ironic . . .
(to be continued)