An admission, one of many to come, that regardless of the wonderful synergy of many human beings in an urban setting all networking and interacting with each other like neurons wiring up in a developing brain, I find cities ever more an experience only to endure.
You know why?
Because cities illuminate the promise of humans, but they display the glaring failures of humans at the same time. Take Portland/Seattle. At night, I see the lit buildings, the reflections off the waters, the white and red circulation of their traffic arteries, and the child in me thrills to it all (I used to love coming in to New York City as a child).
Now, as an adult, I know the costs of my car being beaten half to death on crumbling heaved streets, the incessant and sometimes angry energy of those who find me in their way, the homeless people and their encampments a glaring example of our societal failure to *take care of each other*, the trash, the trash, the trash, the pell-mell growth of these housing blocks with no attendant improvement of the surrounding infrastructure, the trash, did I mention the trash?, and the new infection of zombie textcell drivers and pedestrians, but worse for my own crumbling infrastructure, the incessant noise is invading my ability to take in the city energy.
The northwest Portland-to-Seattle I-5 corridor required my full attention at all times. I know this about the northwest, it is very much the same as the northeast, the density of habitat is reflected in the behavior of drivers. At a gas stop, I spied a perfect replica of the first car I ever illegally owned, this one was a 1971, but it was original and red:
It was a member of the family, and it sat for a long time, and it is to be restored with fealty to originality, and its new owner should be showing up on this forum: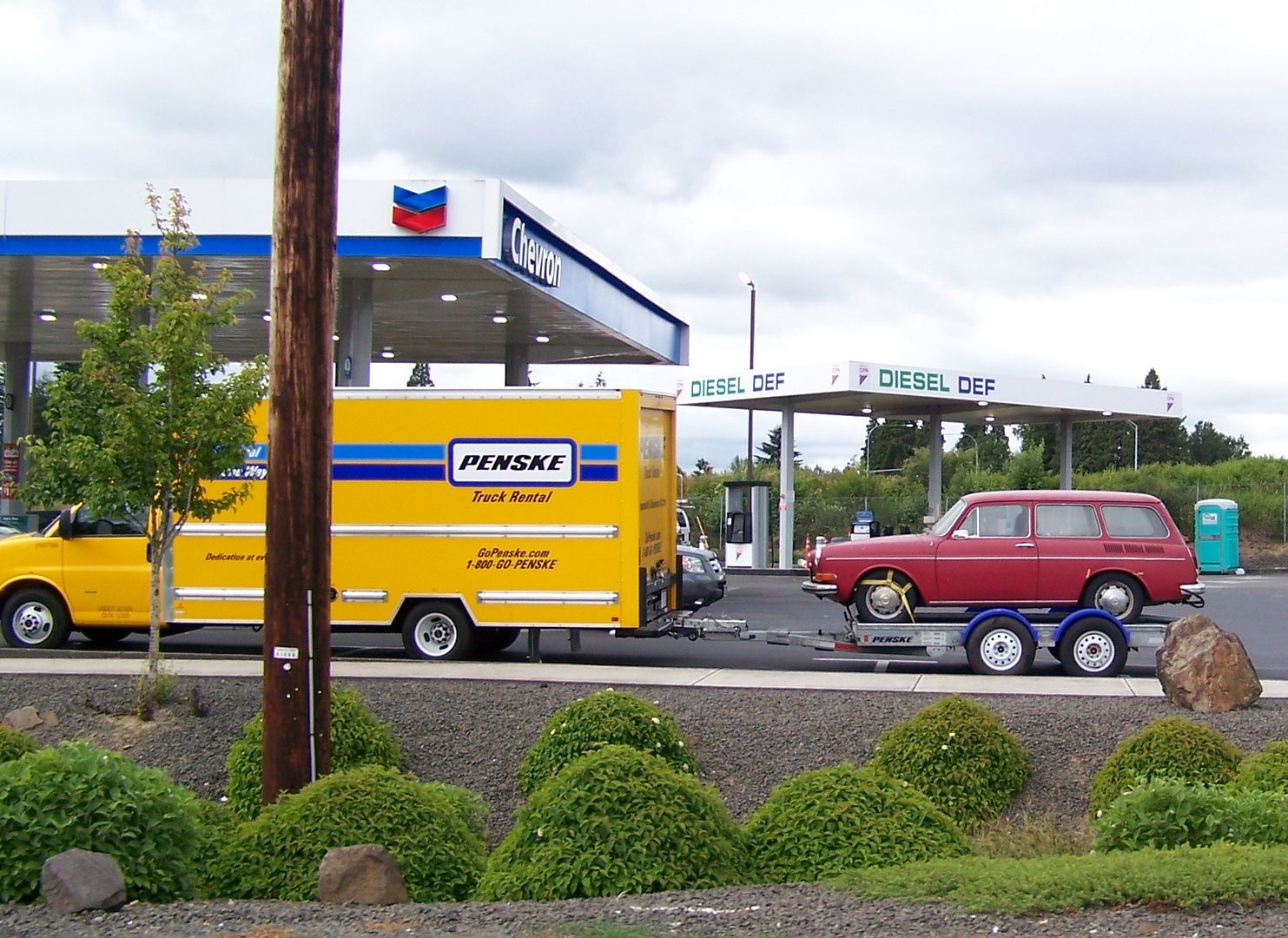 A couple of miles up the road, I pulled off and decided to remove the Four Strand Clutch Cable for a new one provided by I think it was pdlrofdrms (?) . The pedal was getting tickier and tickier, and you do not do Seattle traffic with an impending clutch cable failure.
It was such a nice windy day behind the Walmart, I decided to do the throttle cable too. Good thing. It was down to TWO strands but the boot was still intact:
Arrived in Seattle at sunset for the next morning's appointment with Ronin10. Could not find my favorite cityscape campsite. Finally conceded defeat behind a Thai restaurant as the rain fell and greased up the streets and pot holes and loud exhaust systems from the current crop of kids who must somehow love their claptrap Hondas a great deal. Pulled the curtains and sank into my 1970's orange plaid cocoon, grateful for the flimsy filter from the din of the city. Woke up to a sprinkley grey chilly morning and an equally chilly stare from the Thai restaurant morning trashbag-toting employee. I loved seeing his disdain. I could imagine what he was thinking about this homeless camper squatter emerging from his camper to shave with his jalousie "mirror". On his third trashbag toting trip to the smelly dumpster, he sees that I am washing my car in the rain with the rain and I am losing the battle against avoiding bug guts on my thoroughly over-saturated paper towel.
"You don't litter here. You understand?"
"Of course. That is why I made sure to park near a dumpster."
"You leave soon?"
"I leave soon."
Don't know how I found Ronin10's house, so disoriented was I from prior visits from a different direction. The reason I love visiting Ronin10 is that he has a sense of humor underneath at the ready. You don't get to see it until it is triggered. It is only triggered when it decides to get triggered. This avoids the all too usual annoyance of people trying to be funny. Don't try. Let it happen. And it was not funny anyways that Seattle decided to drop the temperatures a good 15* or so and dump a misty welcome on my tattered sweat-shirted self and my taped-up long pants that date back to 1983, yes, they do. We replaced the brake booster and master cylinder. We did a fine job of it. We removed the old reservoir with professional coolness captured for posterity under the video supervision of Bleyseng (um, NSFW):
https://www.facebook.com/groups/3247809 ... 937360155/
It was decided that the front brake pads might need replacement soon. No really, I have NEVER seen the spreader spring trapped by the pads because they were so close to each other: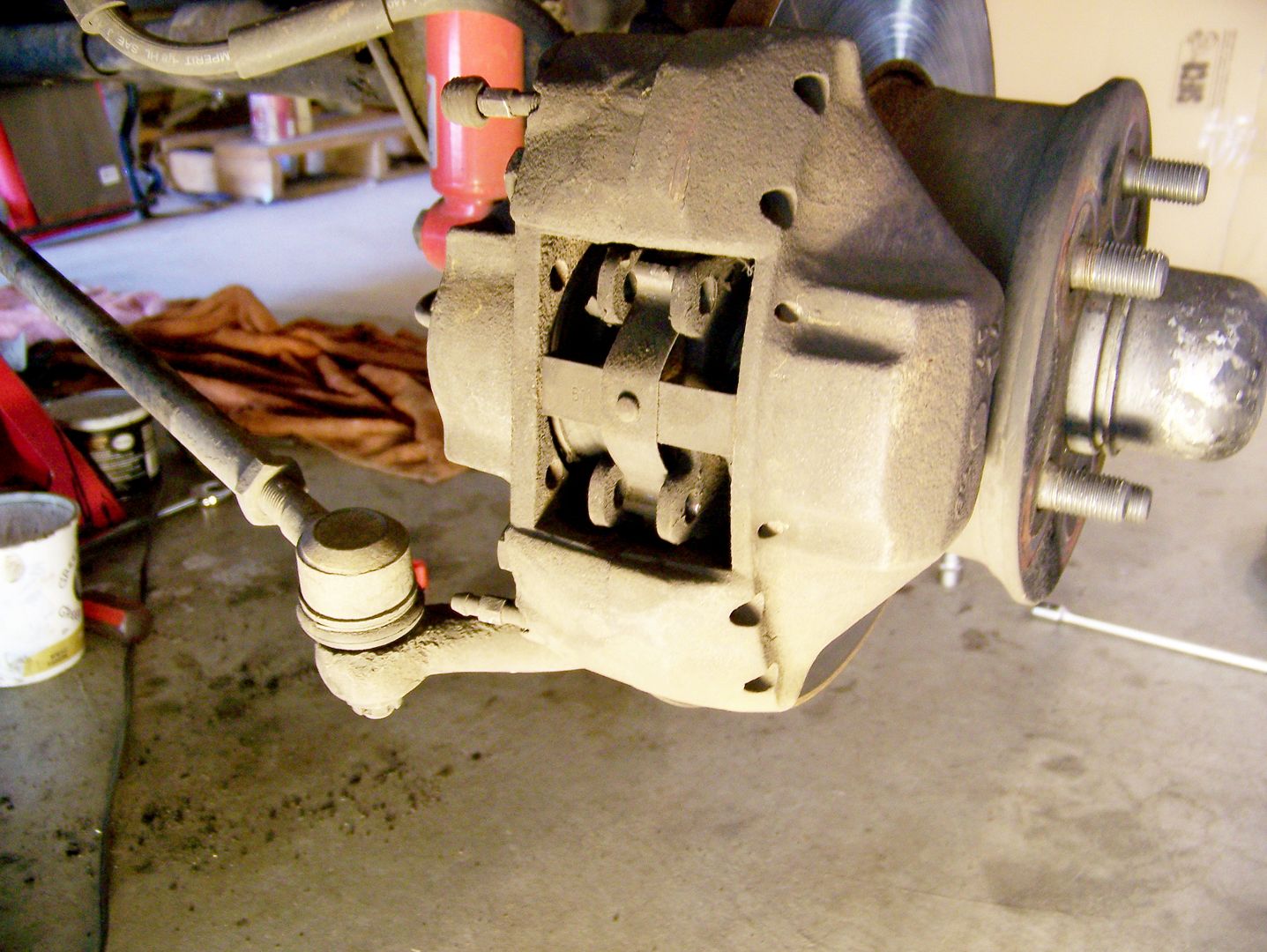 You knew this was coming, Ronin10, suck it up. Did I already mention that your whole family was depending on these brakes all the way to Maupin and back? I think so:
Ronin10 graciously agreed to a whole nuther day of abuse hosting my next customer, Zelten. What both of these poor suffering pupils did not realize was that Seattle had beaten me down pretty good by the time I showed up the next morning after getting lost AGAIN.
(yes, to be continued)