Middle of the winter here, I am like a fat lazy house cat padding to the coffee maker in the morning, a brief saunter through the neighborhood, and suddenly an Itinerant Air-Cooled Appointment scheduled in Miami. Fat lazy house cat had to suddenly wake-up to not only a three day marathon of intense mechanical involvement but an unexpected summer heat wave. 83* and sunny sunny sunny, I tell ya, it was rough, man.
Drove I-10 eastbound to I-75 south then cut over on FL 192 because I clearly forgot what a traffic light scrum that road is through Kissimmee's Winter Playground of garish entreaties to amuse yourself at water parks and miniature golf, then took I-95 on down to Miami. Got barely 15-16 mpg and had some 425* CHTs, but this hoss was rarin' to go, so we broke out in a canter for about 765 miles . . . :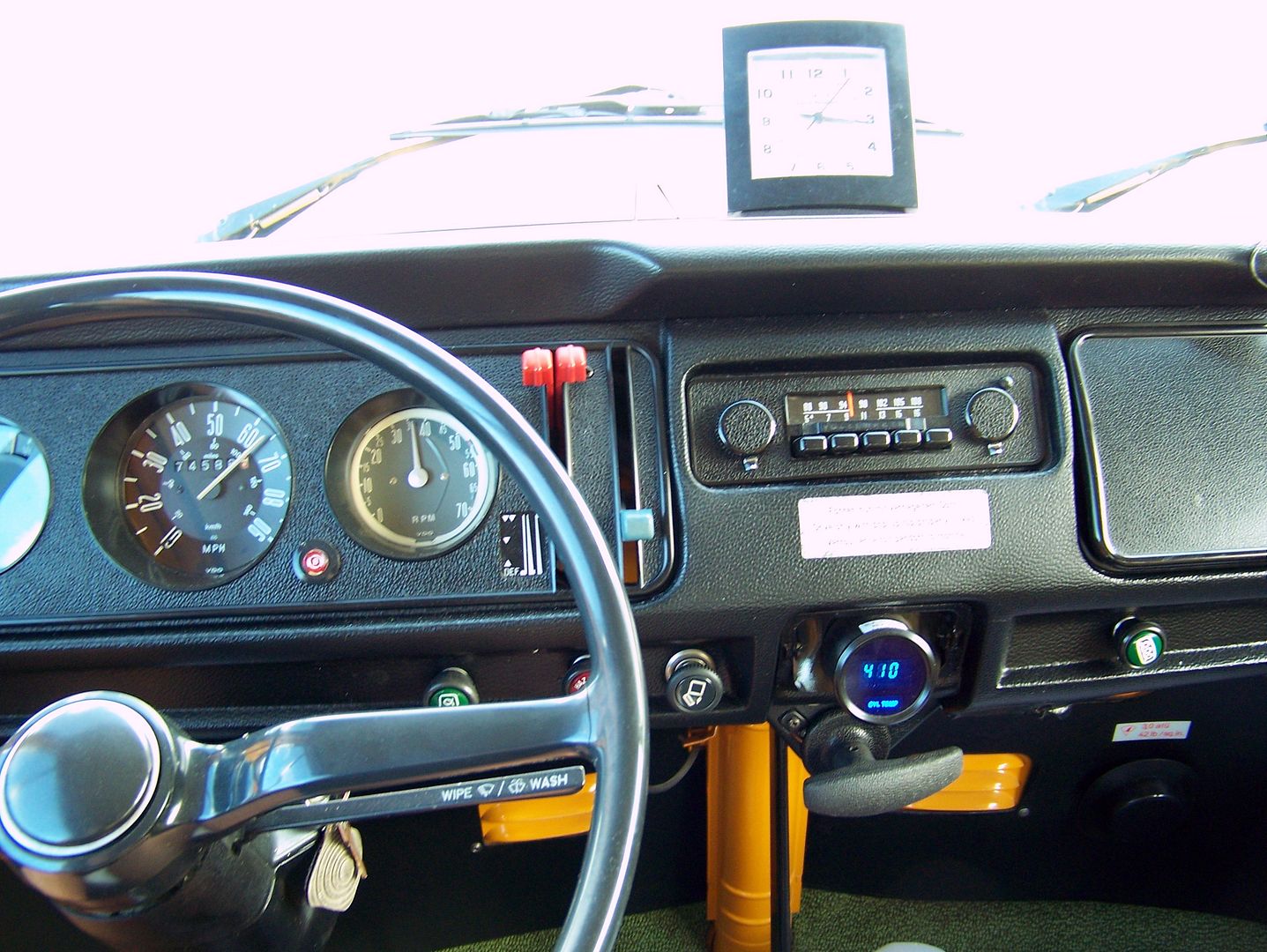 Miami of course said "hello! we have been waiting for you! Here's a traffic jam!" Unlike December's visit, the car did not play games with me on US 1 in evening traffic. Camped down below the city in Manny's Palm Tree Nursery and enjoyed the warm humid air and late night breezes and hideously twittering exhaust system.
Next morning, I showed up here:
Now that is a proud gaggle of Westies flocked at Jivermo's Bus Emporium. Coffee! News! An outline of the visit's goals. We are here to make sure that the Westy in the middle can make it to Alaska. Alaska? Yes, Alaska: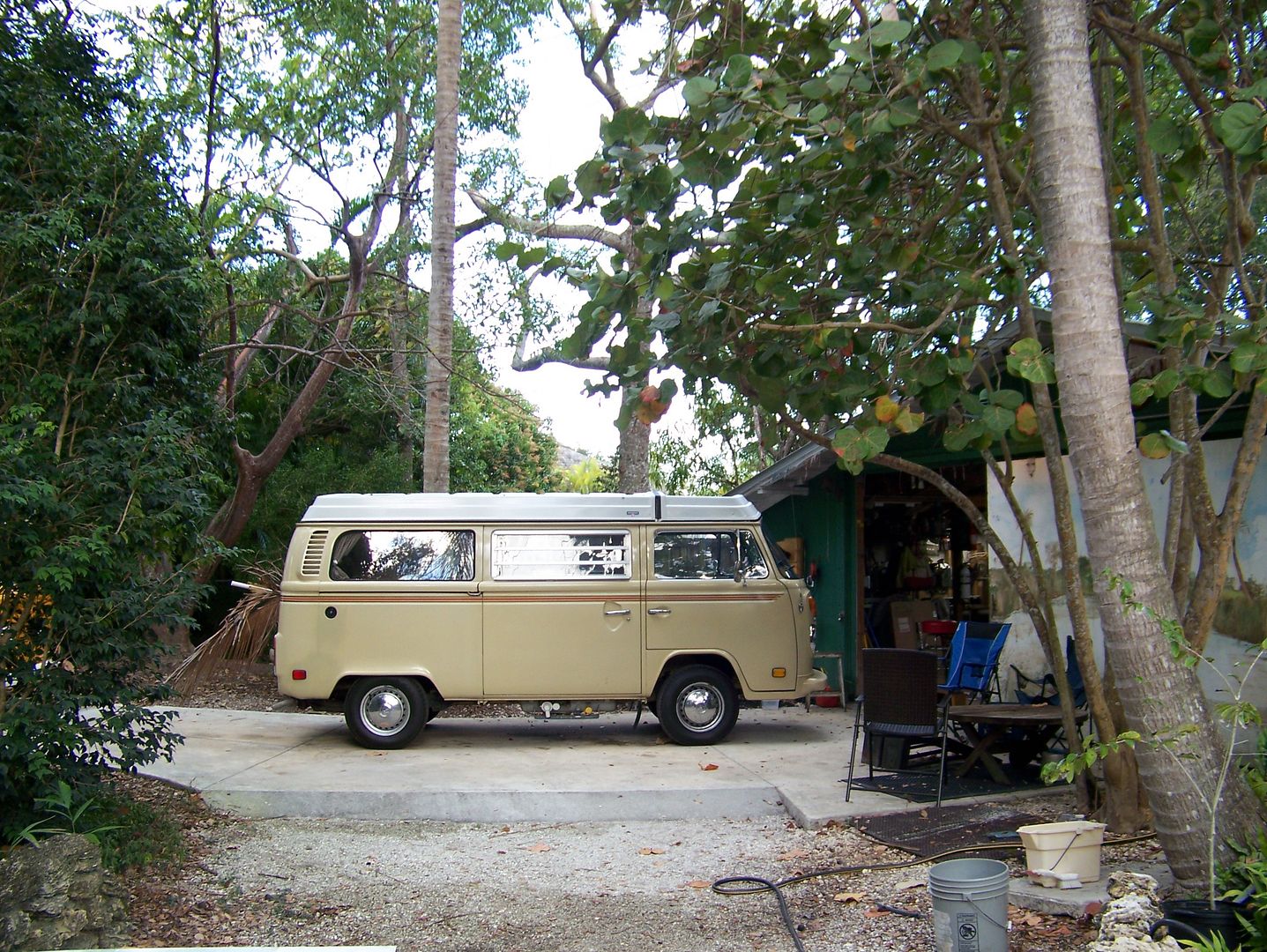 This bus has to get to Alaska so that its owners can get married up there. No pressure. Noooo pressure. Exoticdvm and I had put in a new front main seal and JB Welded the gallery plugs just a year ago and noted "orange RTV around one of the gallery plugs". Well, we had an oil leak slowly develop over the past year. This continuing oil leak was of grave concern for love birds who want to drive across the country and beyond to tie the knot. I was tied in knots already.
Meanwhile, everybody was put to work. Eliana painted bumpers while Jivermo removed the exhaust and exoticdvm removed front wheels: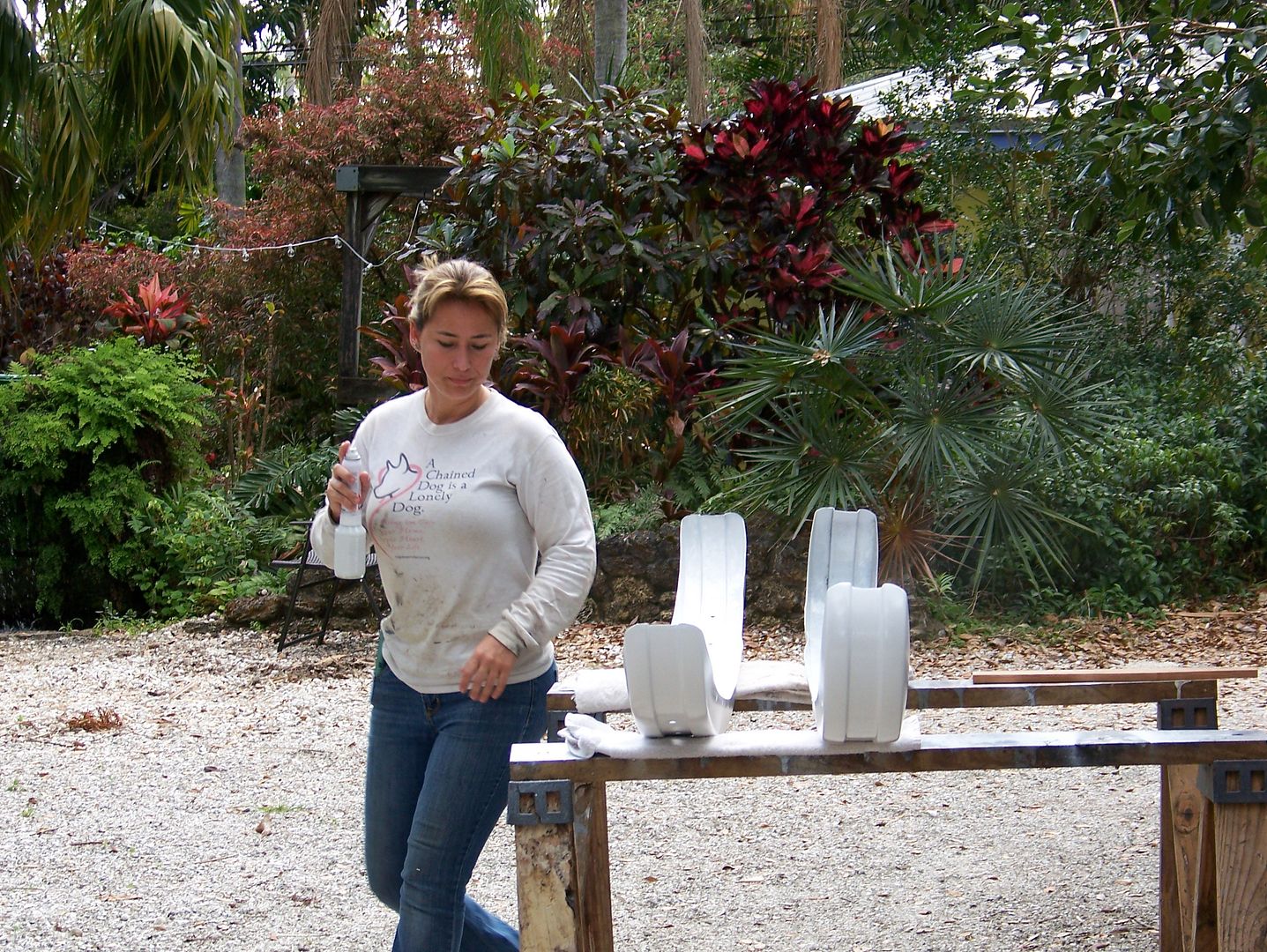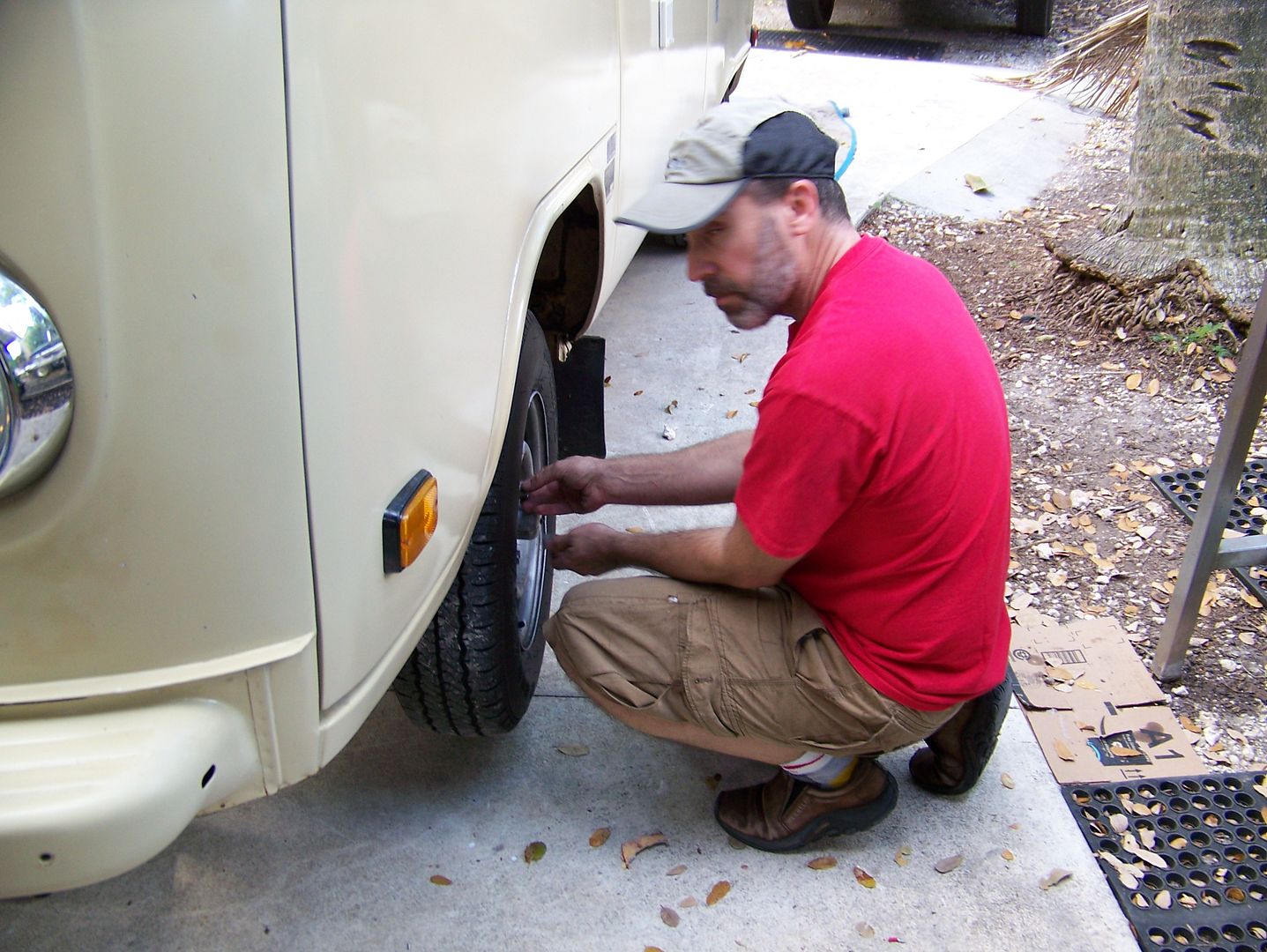 Then, exoticdvm sanded brake rotors while Jivermo worked paint recipes and Eliana prepped exhaust parts: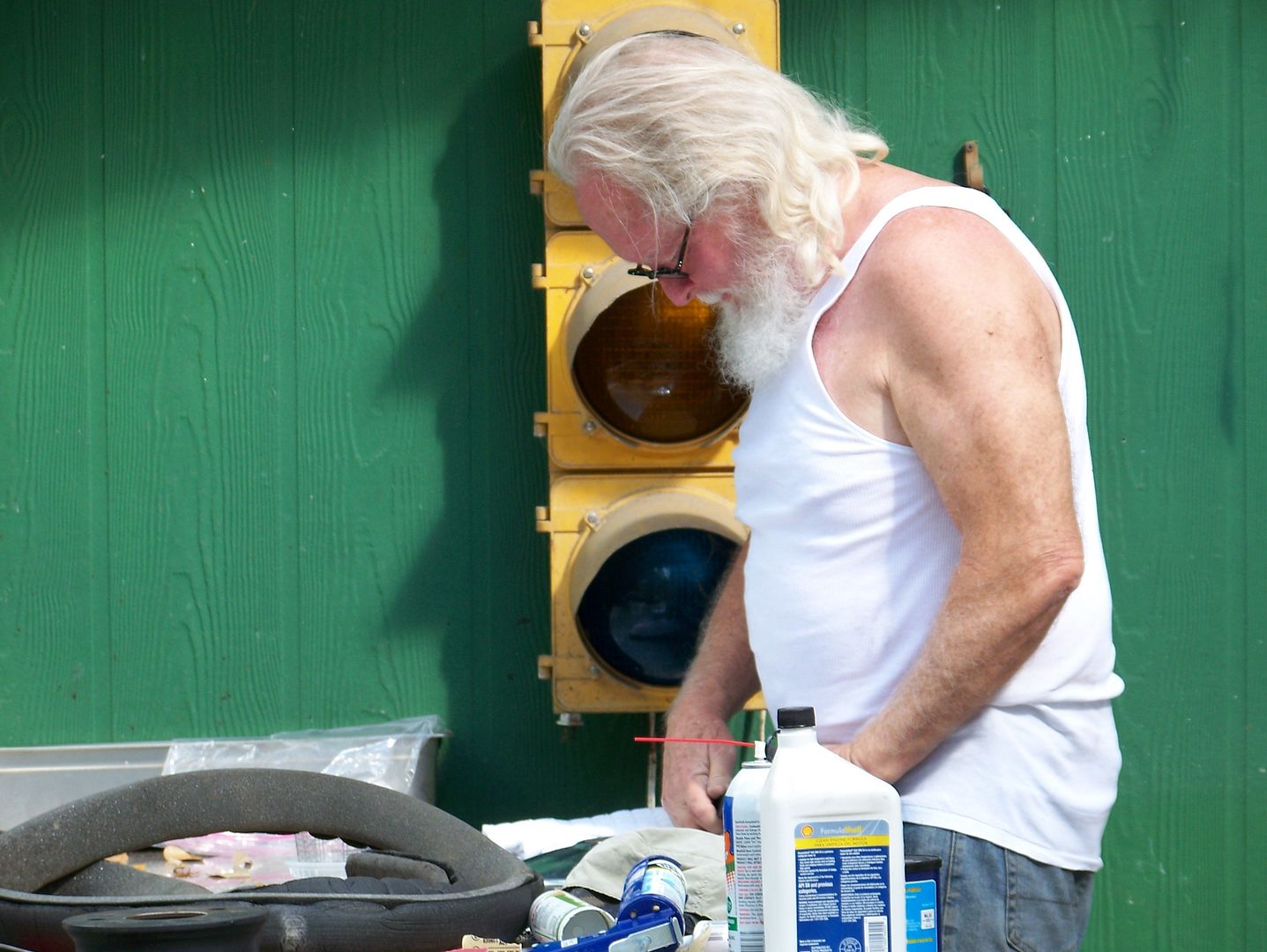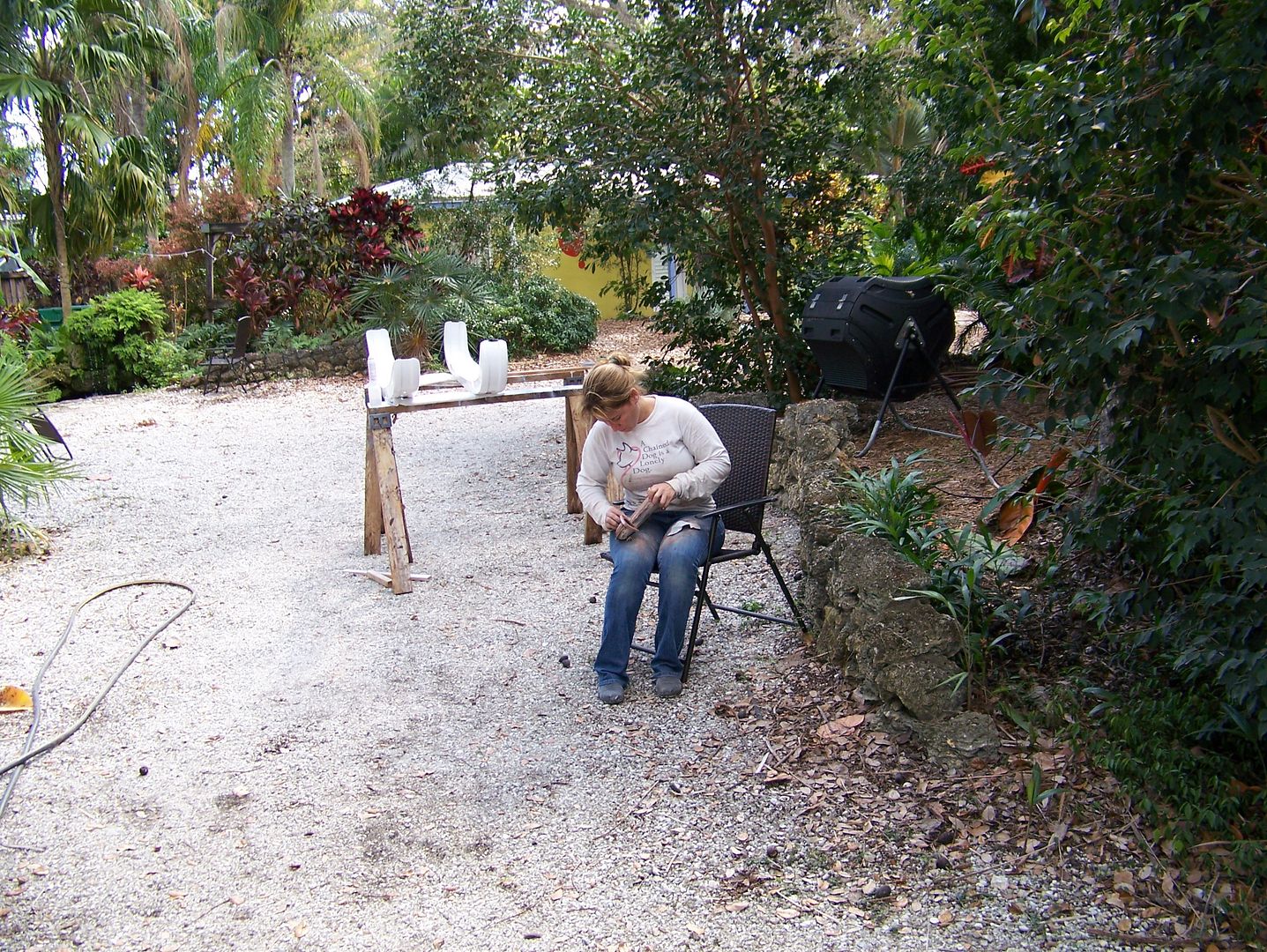 We did a bearing repack that turned into a full front wheel bearing replacement, because the professional shop that did the last bearing repack over-tightened the r/s bearings and toasted the outboard bearing and race:
Exoticdvm ponders the predicament: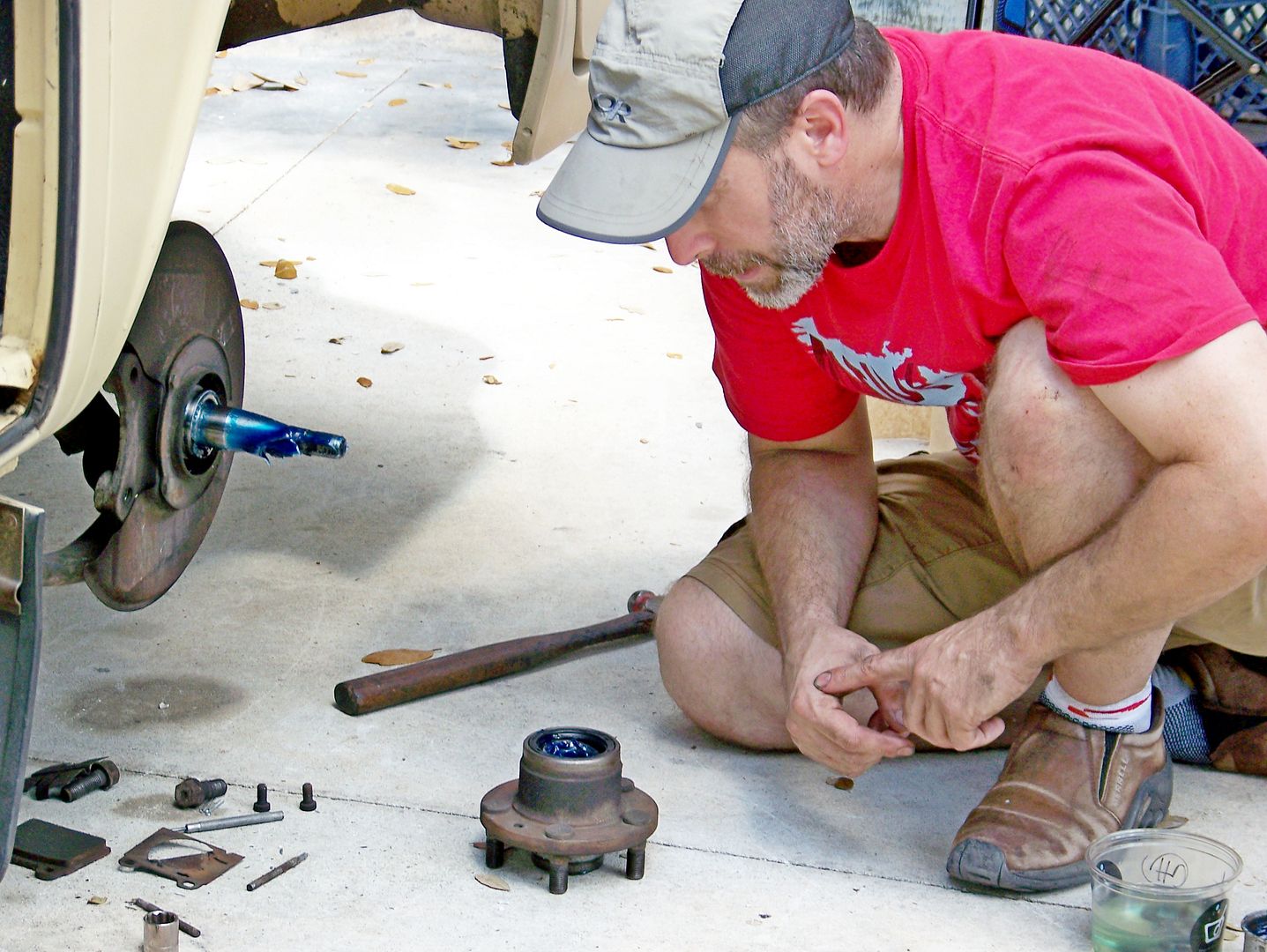 Jivermo and I amassed all of our failed Permatex caps. I think that they are doing this to ruin product prematurely. I have already contacted Permatex and threw a pretty good fit only to hear "no, we sure haven't had any complaints.":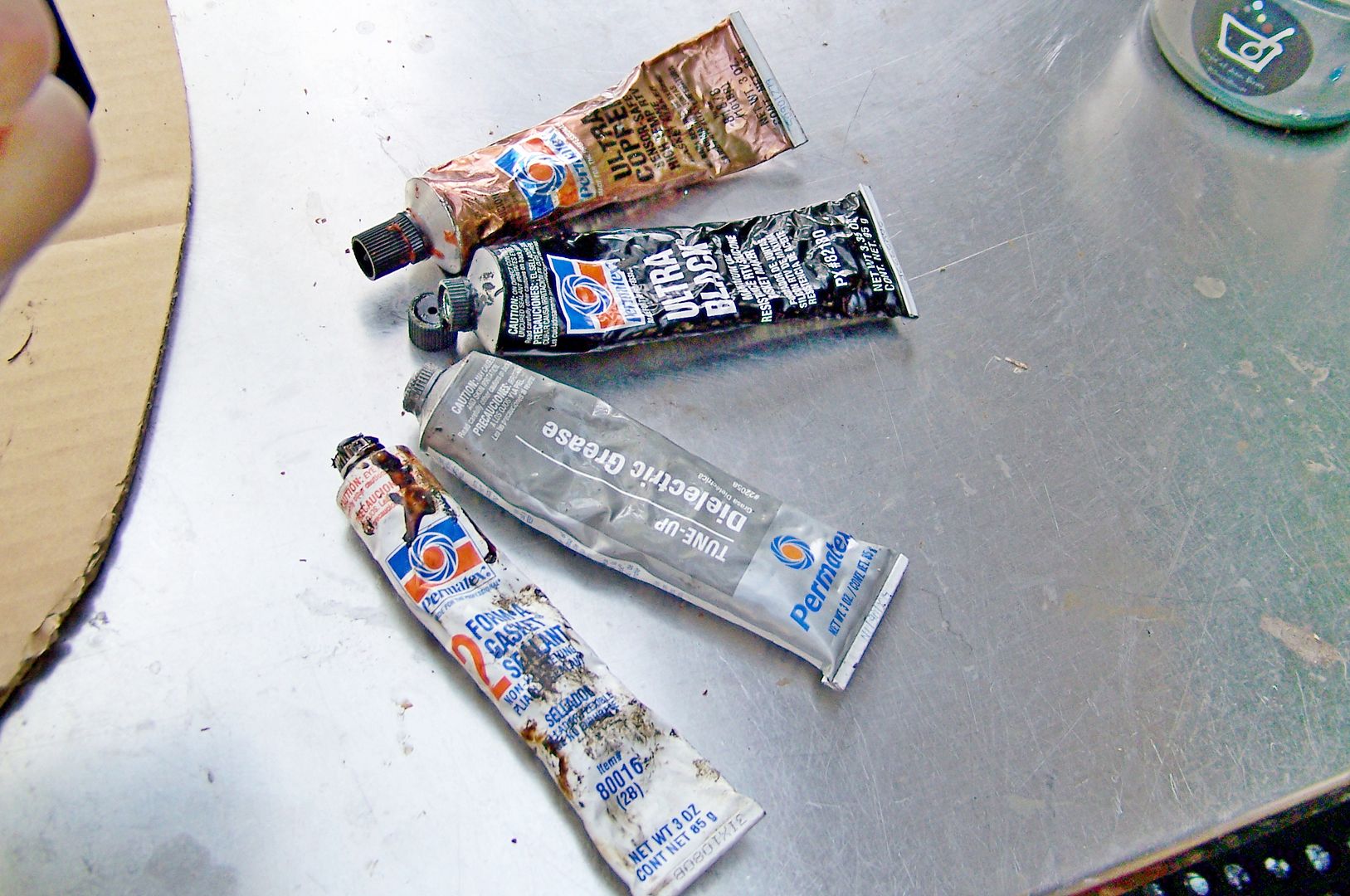 Did I mention that we removed the engine and replaced last year's Victor Reinz seal with a GoWesty Sabo seal, cleaned the flywheel and pressure plate, re-torqued the head nuts and exhaust nuts, replaced the push rod tube seals, re-seated a rocker stand stud, adjusted the valves, replaced the fuel injection hoses and filter, replaced the fuel sender unit with a new improved-but-equally-terrible-judge-of-fuel -level sender, painted the exhaust crossover pipe, rehung the muffler, changed out the transaxle oil to see if any more chunks of transaxle parts were shedding, lubricated the front suspension, and did several "trouble-shooting" sabotages to see how exoticdvm would figure out what was wrong, and take a test drive to see if the engine was holding its oil? Yeah, we did that: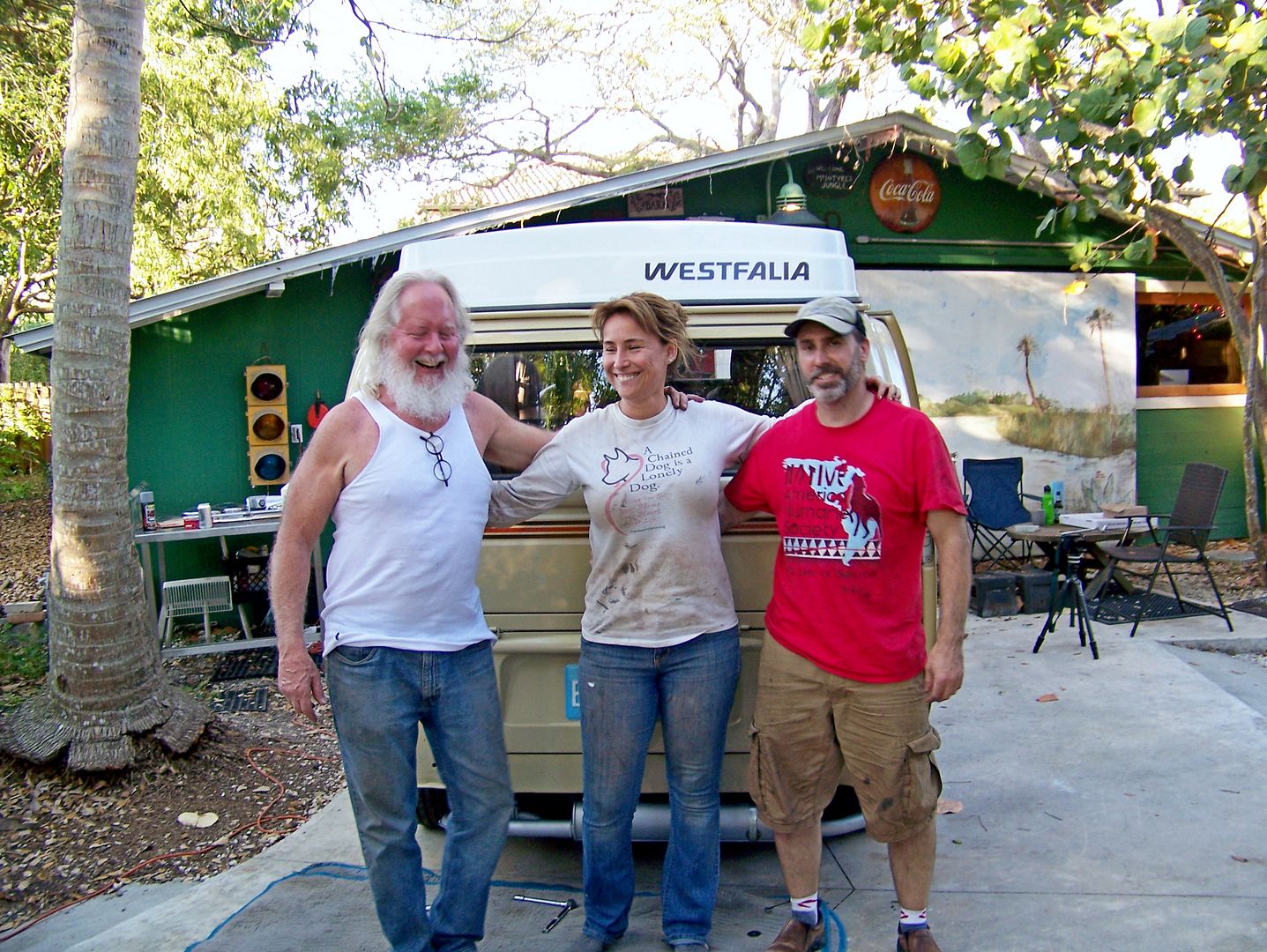 Do I think the car will make it to Alaska and back? Yes, I do. Exoticdvm is a calm driver and shows the sort of mechanical sensitivity that air-cooled Volkswagens appreciate: