A) No pictures from the markannenorton call in Snow Camp NC.
B) No pictures from the JP6210 call in Beaufort NC.
C) No pictures at the bclark357 call in Savannah GA, but a couple on the way in.
D) No pictures when the enraged Georgia cotton farmer took offense at my weak little joke.
a) The markannenorton call was a mostly all-day effort to find out why it could not wrest itself awake at higher rpms. The vacuum gauge would sink to "0". The exhaust was certified to be "not blocked". The compression and leakdown tests were judged "acceptable". The wiper tomfoolery was powerless to increase the vacuum either rich or lean. We removed the intake runners and LOOKED at the intake valves, only #1 was weird with a lot of black soot on the back of the valve. We did the best we could with filling the intake ports with gasoline to see if an obvious leak was evident, but none was. I weakly declared that I was sort of mostly sure that the intakes valves were "not behaving". I await an update with great anticipation.
b) Beautiful area, the Almost Outer Banks of North Carolina, and a beautiful dirt road to jp6210's work space, an old barn within which was a '76 Westy with some real southern patina. We performed a pretty serious leaning operation on the AFM and found that the engine was a bit lacking in power. JP6210 has a journey ahead of him to stop the rust and get the car ready for the road. His kids have memories to be made in this thing. We had a made-for-reality TV moment with re-positioning the distributor drive gear, hair-raising.
c) by now, I am getting woozy from lack of sleep. Drove to Savannah and found a "perfect" dirt road under lovely southern foliage under the moon with a humid ocean breeze in view of the lovely suspension bridge that leads to downtown Savannah.
the next morning shot: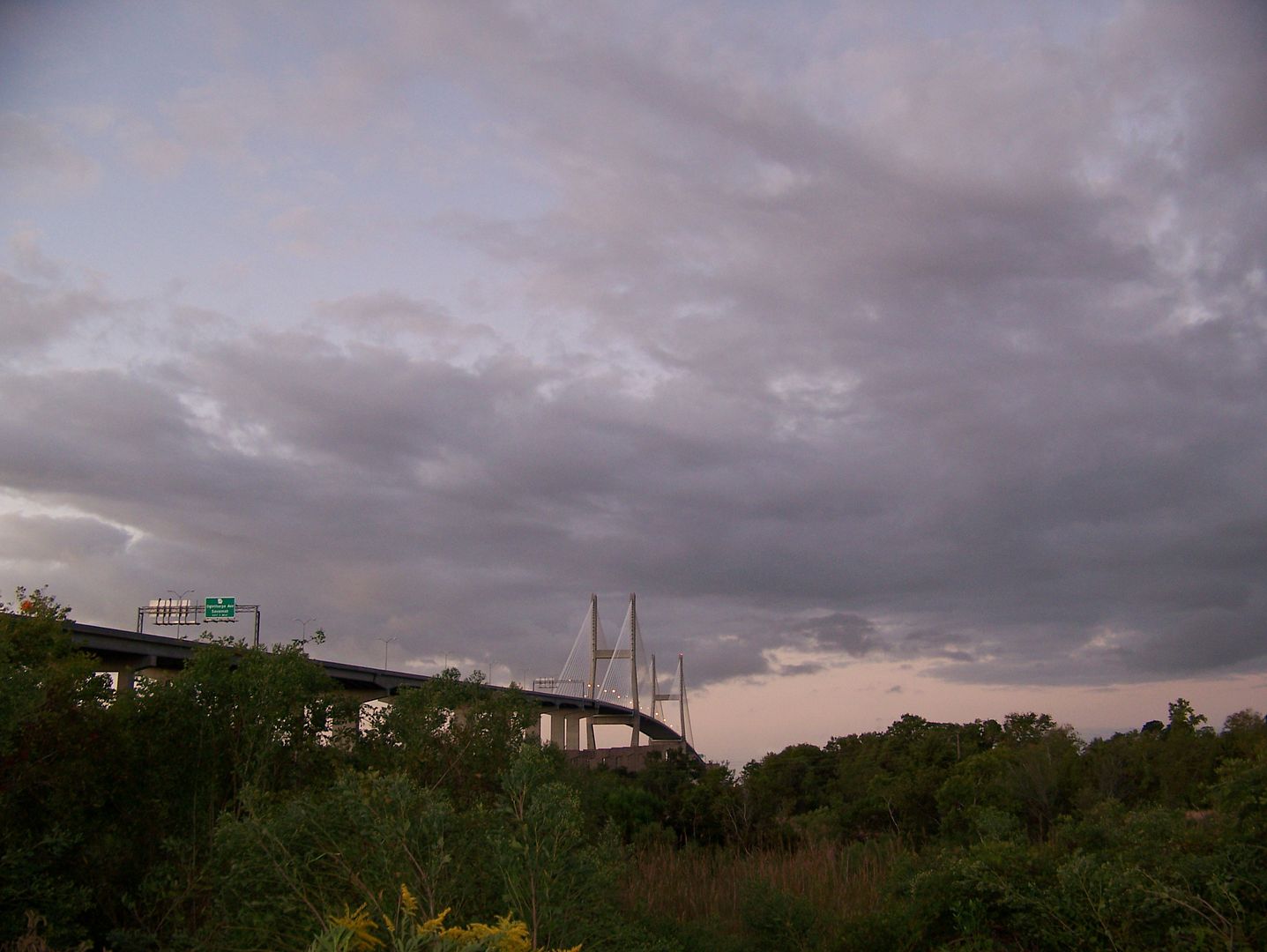 The mosquitoes found me, so I slathered on that greasy repellent (Deet?) and dozed off only a while before the repellent attracted to my comforter and the mosquitoes revisited my nose and ears and ankles. Re-applied the greasy gross repellent some time around 2AM and had a brief three hour nap until I discovered that the "perfect" little hideaway dirt road was actually the main access for a big refinery. A parade of pick-ups came bashing down the dirt road starting at about 5:00AM. The last truck came by at about 7:00, clearly late, because he was going damn close to 60 when he cracked my windshield. Yeah, so here's the bridge on my way to bclark357's house:
That is the morning sun over Savannah as I went over the bridge: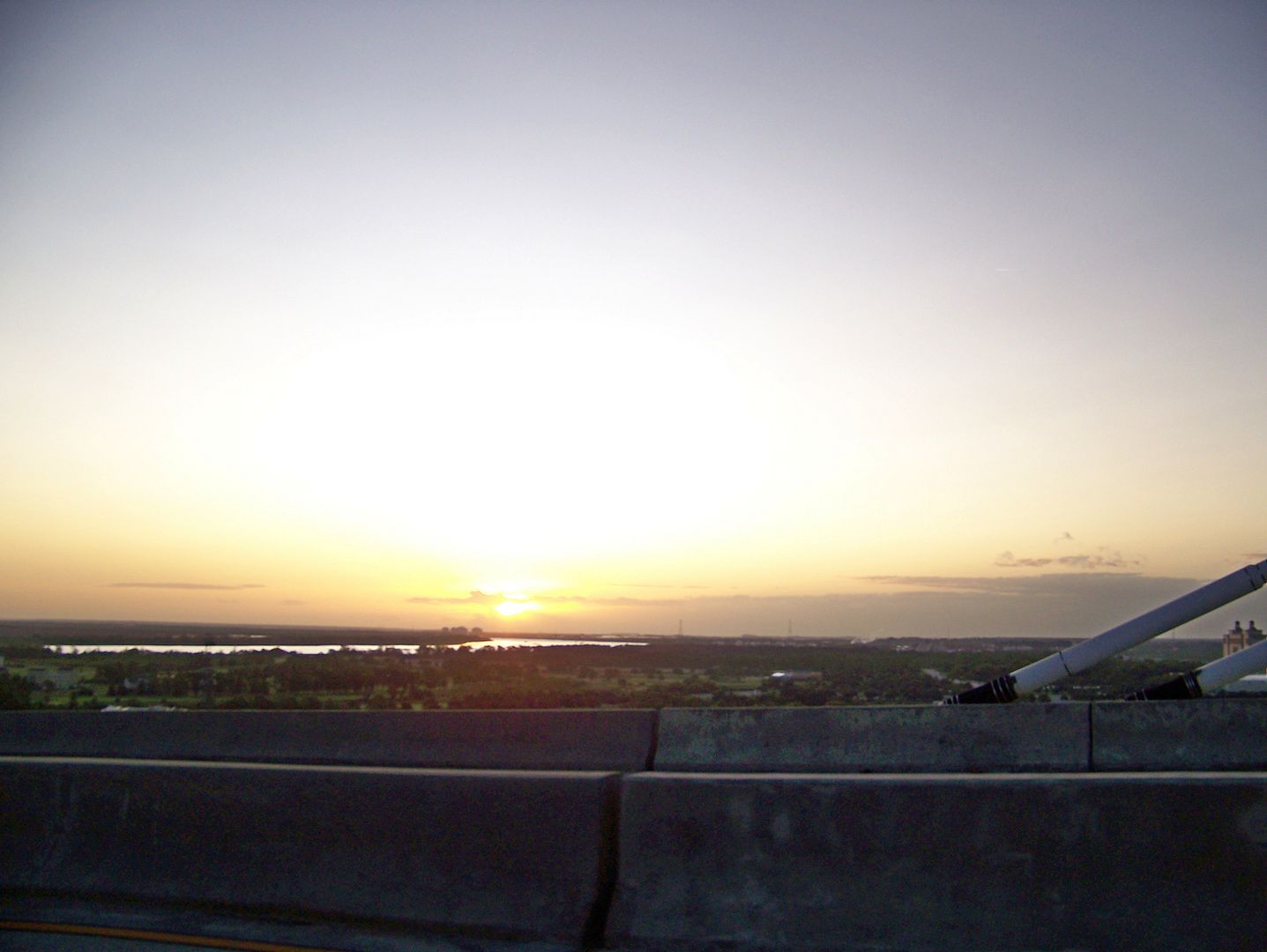 The view from the center of the bridge: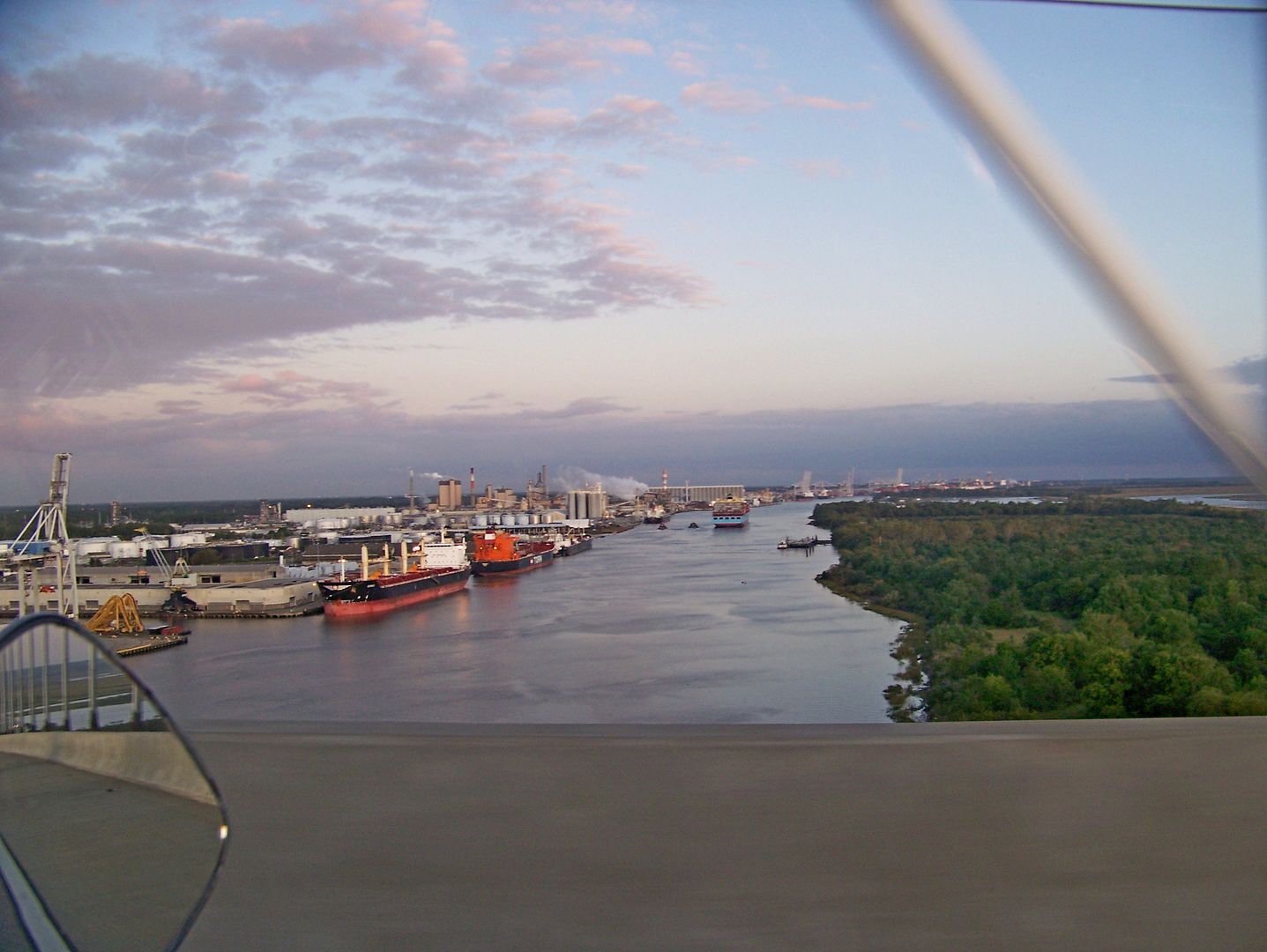 Lost my keys in Savannah. Had gone in to stock up on water and Diet Coke. Looked in the car. Finally retraced my steps and decided that the most likely place for the keys was in a plastic bag stuffed in the old mashed-flat Diet Coke container crammed in the trash can just outside the door of the Publix supermarket. Yeah folks, I am a trash can picking New Yorker in hideous cut-offs at 8:00AM in Savannah GA just trying to pick up a few quarters from aluminum can recycling, but I DID find my keys in the bottom of the plastic bag stuffed in the mashed-flat Diet Coke container stuffed in the trash can just outside the door of the Publix supermarket, so there. Savannah has a decidedly old downtown: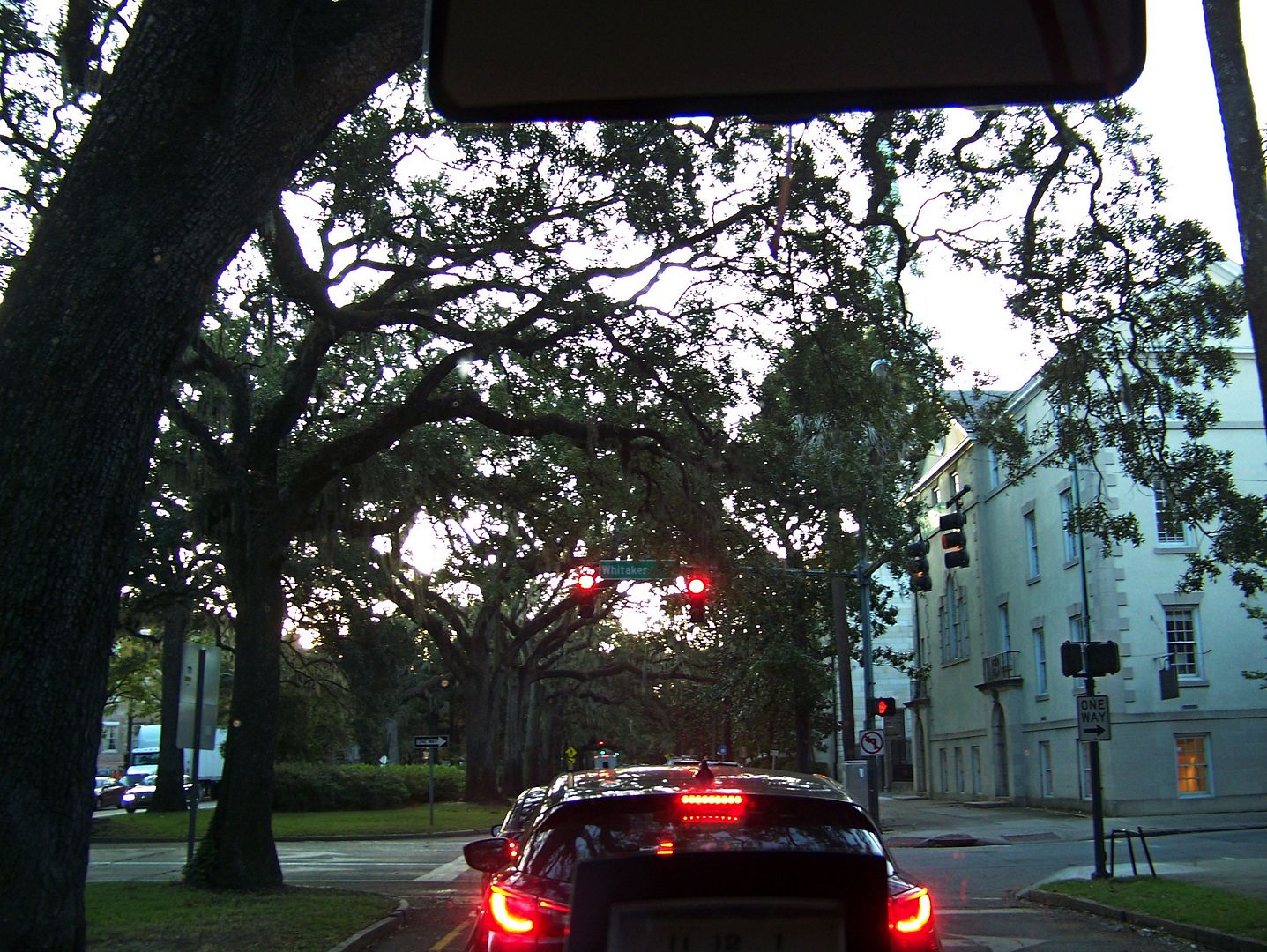 Enjoyed meeting bclark357, his wife, and his spirited brood of kids. We quickly ran into issues. Lash caps falling off of two valves, what is up with lash caps on an engine with less than 200 miles? How about that tall battery with the positive terminal just an inch from shorting out against the ECU and no hold down because the new battery tray has nothing to hold a battery down with?? And I opened Pandora's Box when I demanded that the timing be set to a factory 28* BTDC @ 3,400 rpm (I was promised that the camshaft was "stock"), rather than oh about 40-45*. The engine spit and coughed and bucked and acted like it was running out of gas, and I was dialing the mixture screws all over the place and making things worse by the second. Finally, we reverted the timing to the horrible over-advance to see if it would hide the symptoms I had unleashed. Why, no. Reset the timing to 28* and I suggested that bclark357 have a chat with his engine guy who I think left the timing way advanced so he could "sign off" on his incomplete work. Another customer whose report I anxiously await.
d) Then I drove to a field in Georgia, somewhere near Dublin. Woke up to a tickle in my eyelash. An ant. An ant and a billion or so of his little friends. The entire interior was overrun by ant trails. All night, they had been coming in through the drain hole I have near the center aisle heater outlet. They were everywhere. I have never seen such a thing. Swept and Chlorox-wiped the interior down, especially under the floor mats. Just a little irritated. Was shaving and washing off the damn mosquito repellent when Mr. White Pick Up came in the overgrown driveway.
"Get the hell out of here, this is MY land, who said you could park here?"
"Sorry, I did not see any 'no trespassing' sign, I'll be on my way in a few minutes."
"Well just what the hell makes you think I have to have 'no trespassing' signs, this is my land and I told you to get the hell out of here."
"Did you wake up angry?"
"Oh, you're from New York? You're from New York. New York . . ."
"Yes, I am from New York, I am here to apologize for being from New York just like I apologize for New York unleashing Donald Trump on all of us."
"What the hell did you just say you son of a bitch? You are going nowhere now, you don't move you son of a bitch."
He backed his truck up to block the overgrown driveway, I could not see any other egress.
"You need to get it straight. You told me to get the hell out of here, now you are telling me not to move. Well, I am planning on getting the hell out of here, and this is America, and I apologized to you for a couple of things. Number one, I apologized for trespassing. Number two, I apologized for New York unleashing Donald Trump upon this great Nation. This is America, I have my opinions, you have yours. You decided to take my lame little joke personally. It was not personal."
He sat in his truck and leveled a stare on me. I was sort of fascinated to be in this predicament. He was not an unattractive angry hardly-old white man, but he was angry . . . but I was having no part of it.
"I come from six generations of Buck Corbin, this is Buck Corbin Road, I own this road, I own this land."
"Six generations. So your daddy gave you a leg up and a career, and his daddy gave him a leg up and a career, and here you are in God's great country, and you're angry as hell why again?"
"Aw, get out of here."
Oh, I did too, me and six million ants.
Colin