When I felt stupid driving all up the western United States to catch a two-minute eclipse, I reminded myself,
"This is a business call to upsimba." Yes, my next call was only 263 miles from where I caught the eclipse.
When I arrived in his town on the evening before the appointment, I just kept driving . . . to Nebraska.
Yes, I did.
I drove to Nebraska to get away from the local cow concern that had stunk up the air with an especially odious aroma of too much BS.
Nebraska, you see, was only seven miles from his house.
Nebraska celebrated my visit with an unbelievable noise party.
First, as I was dropping off to a badly needed sleep, a loud obnoxious pick-up truck with a multi-colored running board neon light show skidded into MY Rest Area. An especially obnoxious loud female cackle filled the air, something about, "in your dreams! you think I would? Oh HA! No WAY. No WAAAAAY. You can just forget it!" And a mirthless laugh bitterly broke the crickets song. Eventually, they tore out of there.
As I was dropping off to sleep yet again, a proud BNSF diesel locomotive came thundering through, blaring its dual horns in an almost constant blast as it crossed Highway 26. This occurred with five more trains carefully scheduled to disrupt any chance of REM sleep. But wait, there's more.
At 7:00AM, a turbo-diesel pick-up woke me up as it impatiently accelerated from having to wait through the last blaring train horn crossing that had blocked the road after trying out its eight hundred squealy brakes. As I tried to orient myself, I heard yet ANOTHER engine coming in like a truck or a train directly overhead, geeze, the onslaught, the onslaught of internal combustion, but what/where/why is this latest torment? Oh. It was a bright yellow biplane crop-duster doing bombing runs right over my head where it dispatched its ordnance just across the road on some noise crazed corn crops.
Upsimba and I had missed an appointment last summer up in Washington, so it was a pleasure to be able to visit him this year and deduct the entire fuel expense. He got to just walk out of his front door to see the eclipse. And he did, as did his spouse and daughter (lucky girl, on this planet barely eight months and shazaam look at THAT) My picture of his family was a FAIL due to sudden onset myopia in the Kodak EZ Share 612 Can't Shoot At Dusk camera.
(Upsimba, post yours)
We enjoined his wife to a couple of valve adjustments, timing, and a couple of no-start diagnoses. She accounted for herself well. The day evaporated too quickly of course as always, but we are hopeful that we addressed the main points on his list, namely:
a) hot running engine seems cooler with the timing dialed back
b) no-start issue may be controlled now by a judicious leaning of the fuel mixture, but we might have a leaky injector as it seems to flood during heat soak
c) horrendous sliding door action has been tamed to latch fully open and engage the front receiver without a terrible crash with the front latch, by virtue of shimming the door and the horizontal lower roller
Upsimba and spouse have owned this bus for fourteen years, and it is a daily driver, which I love, because you can just tell when driving it that it is fully alive.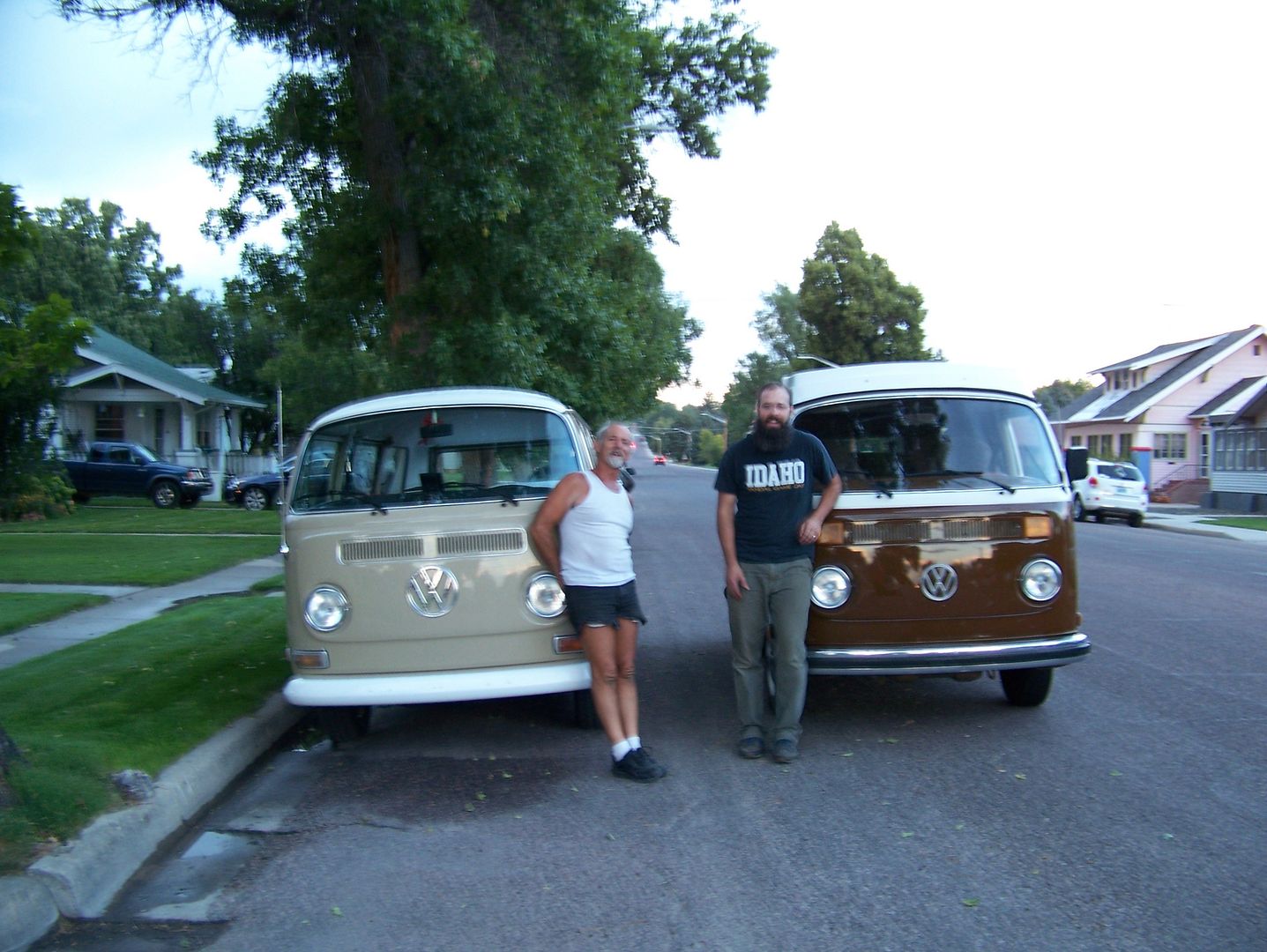 Drove south on US 85 after the appointment. Camped on a beautiful overlook while a thunderstorm picked on Torrington WY in the distance. I was so happy to see the moon again, a little crescent on the western horizon. I have been missing my eclipse, my moon, my celestial muse.
I thought we now had a three week lull before my next appointment in Los Alamos with pmaggiore and jtauxe in mid-September, yet Denver is only 176 miles away, and Greg73 is on the list for September 17th. Why not move him to August 28th? Why not? said Greg73.
Project #1 Clean The Interior
I took everything out of the car and wiped down every surface with Dash Away! interior cleaner. Then I put everything back in the car. That took a day:
No more dust and dead leaves under the seats: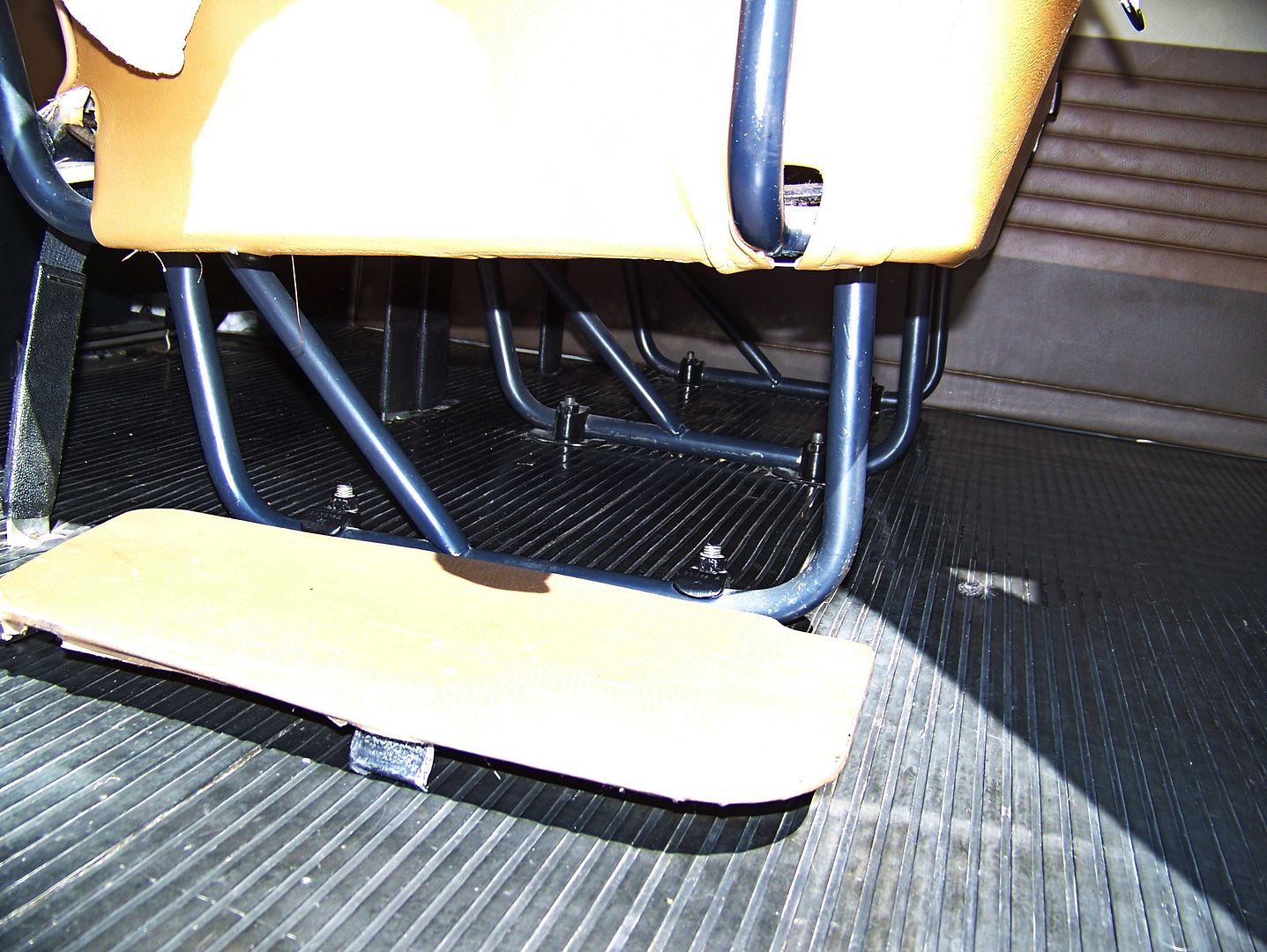 Project #2 Eradicate Ghost In The Electrical System Here:
Hambone said it was the voltage regulator, and it was:
See the toasty contacts (fourth red coil up to the right):
Sanded all three of the contacts (cut-out, field/voltage, and B+/current):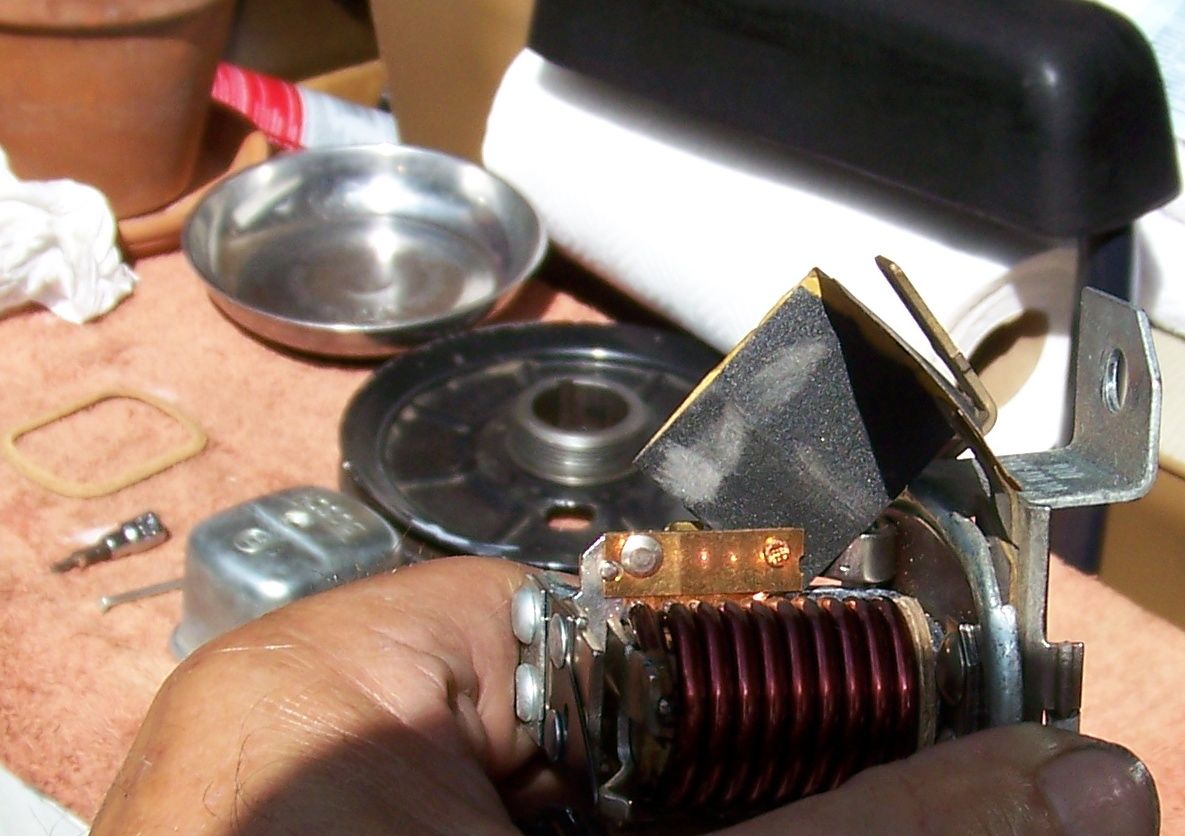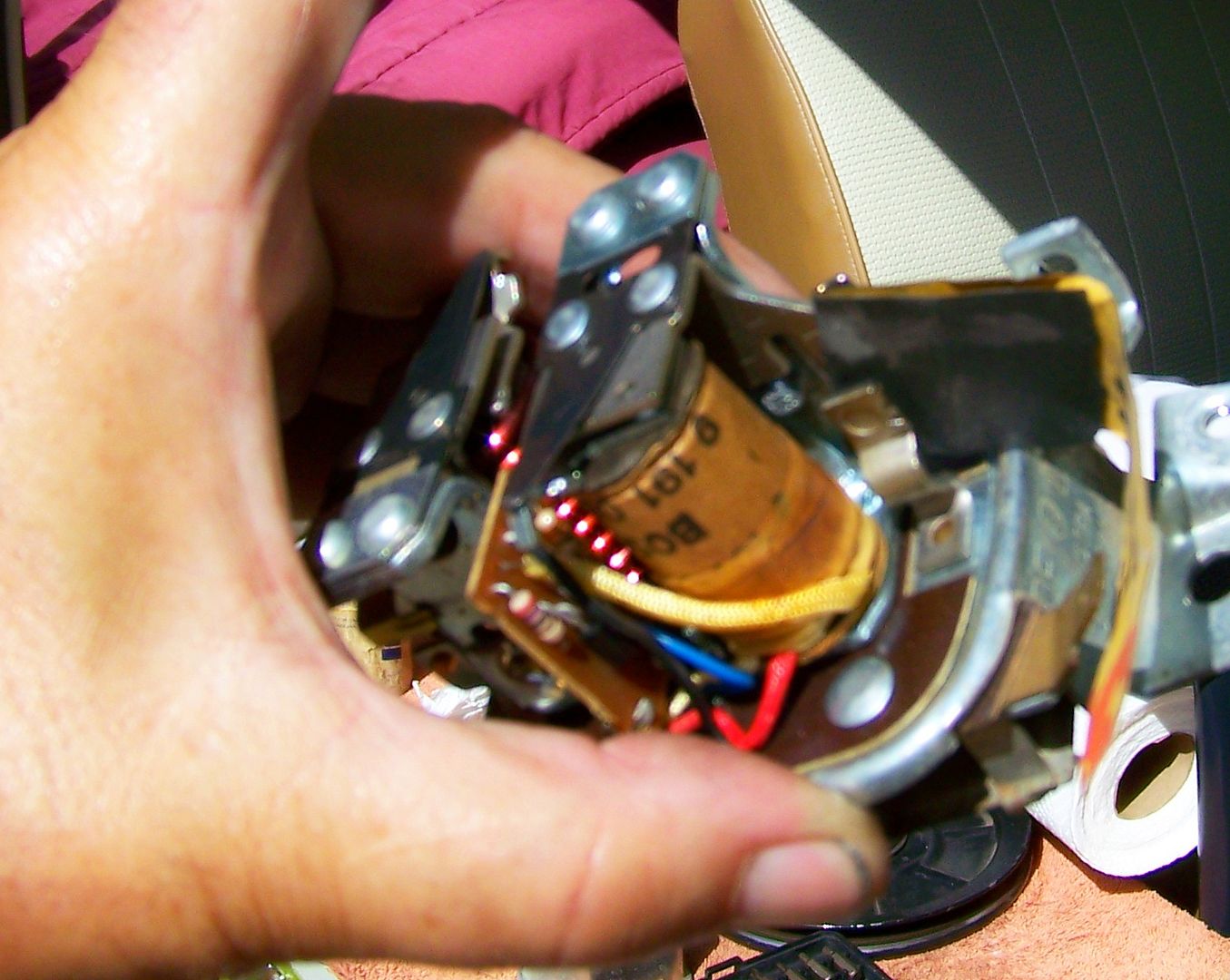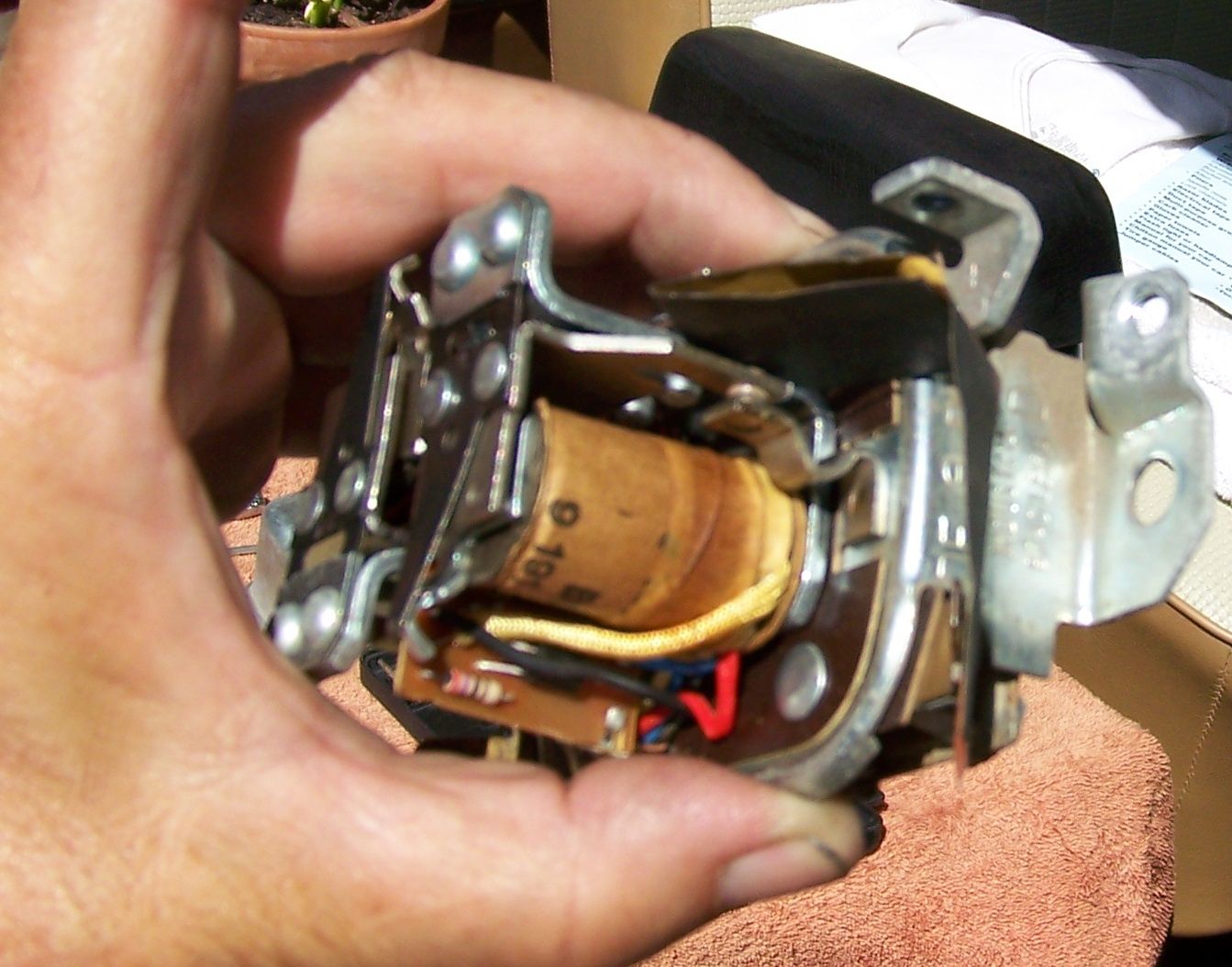 Used a razor blade to give only a targeted application of dielectric grease to each contact: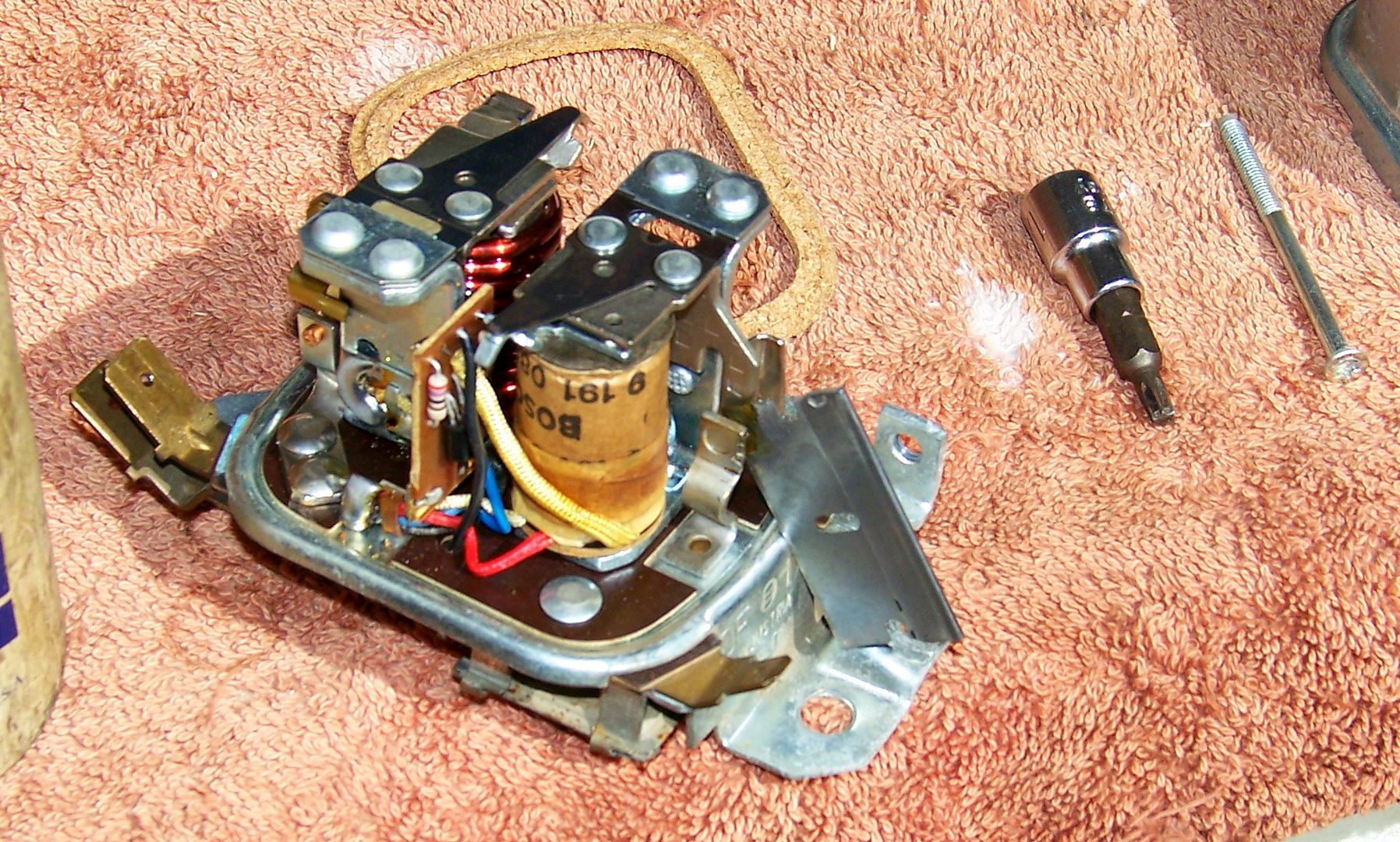 Put a dab of orange RTV on the cap hold-down screw and a little grease on the cork perimeter gasket: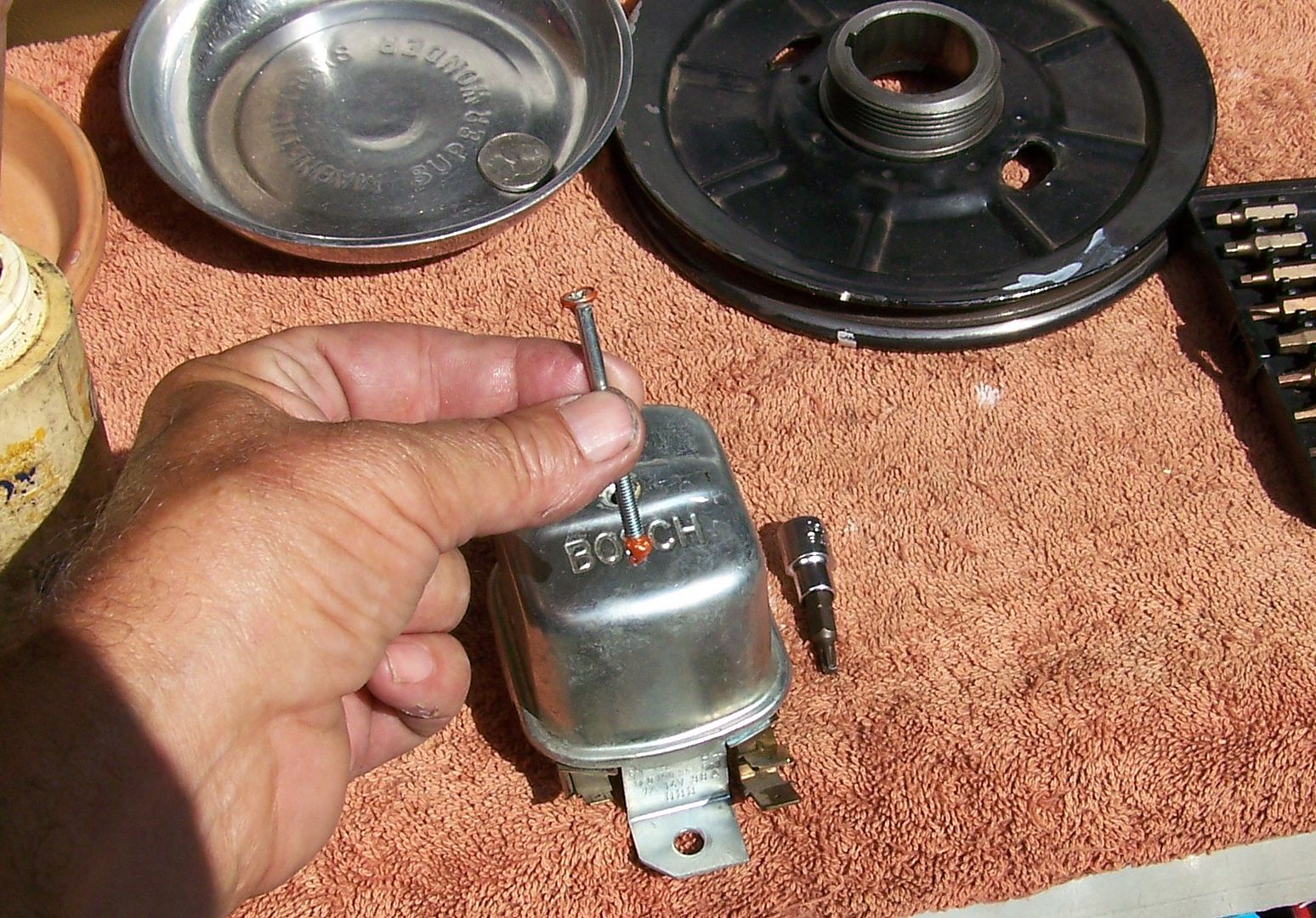 Now the ghosty weird intermittent two second brightening of all the lights is gone. No, now we have a noticeable dimming of the lights at idle than progressively get brighter as the revs climb. I attribute this to the grease. The grease is not letting the contacts lift off cleanly. You know the voltage regulator contacts vibrate rapidly in operation, right? So why would we grease them? I am asking myself the same question.
Tomorrow. I post the door latch spring/window felt replacement photos.
Colin