Missoula was just up the road a ways from Ludwig. Had a day with mtcamper, blessedly drama-free and lusciously hot. No backing up the interstate trying to find a LM-1 exhaust pipe clamp. No hurtling down the exit ramp with no brakes. No Montana pick-ups cracking the windshield with gravel chips. Just a nice easy day of brakes in the broiling afternoon sun, maybe some re-running of a DD gauge harness, and a light attack against impending rust with a putty knife. And yes, mtcamper's engine startled us with a 444* CHT reading in that 96* heat using an untouched Fuel Injection Corp AFM.
Then I hit the road for Washington in that 96* heat in Chloe and could not get the engine over 375* CHT. And we ask, why? Why does one engine run hot and another engine run cold when they do essentially the same work with essentially the same vehicle? I cannot answer this question save to say that Chloe's engine went from flat pistons to dished pistons and lost a good 10 psi compression as a result, but it runs cool. Too cool. I gots carbon build up. But I also have challenged valve seats, so we stay too cool for now. By sundown, the ambient temps had dropped to 83* and Chloe's CHTs dropped to 364*:
Drove to Helena to say hi to Montana's own body-slammer representative, Greg Gianaforte, at his big house:
Felt the need to visit a church after that:
Then I took US-12 to the Big Pass, the MacDonald Pass, to warm up my engine and burn off some carbon:
It was tougher in the olden days:
Maybe it was tougher in the olden days, but it isn't exactly easier in 2017 to have no more horsepower than those pictured above and to have deal with cars and large trucks that do: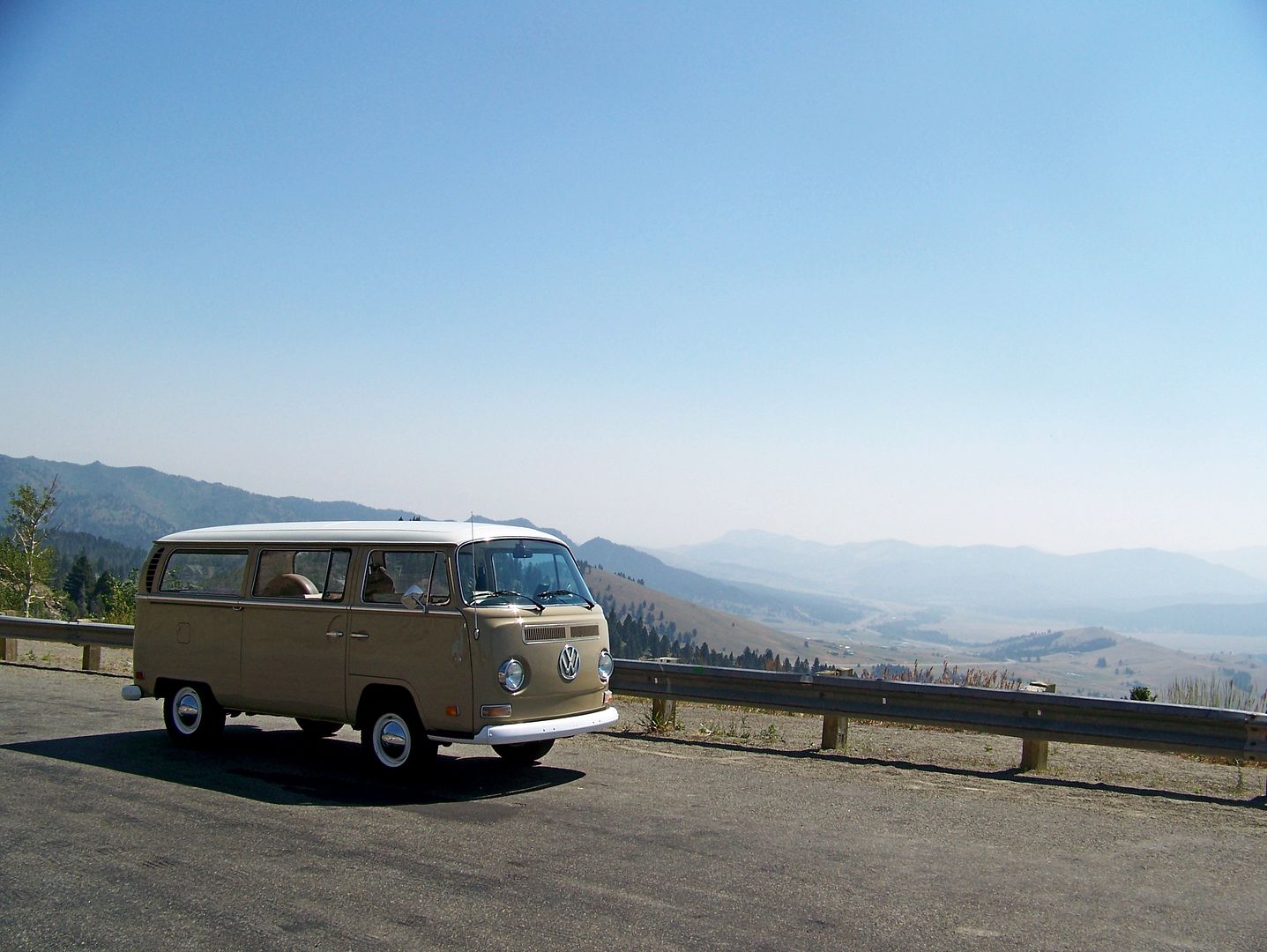 Crested the summit at 6,325 feet and stared long at that laughable "speed limit" sign (sure, invert the numbers and divide by two, there ya go, MY speed limit) now we have to enjoy drum brakes all the way down: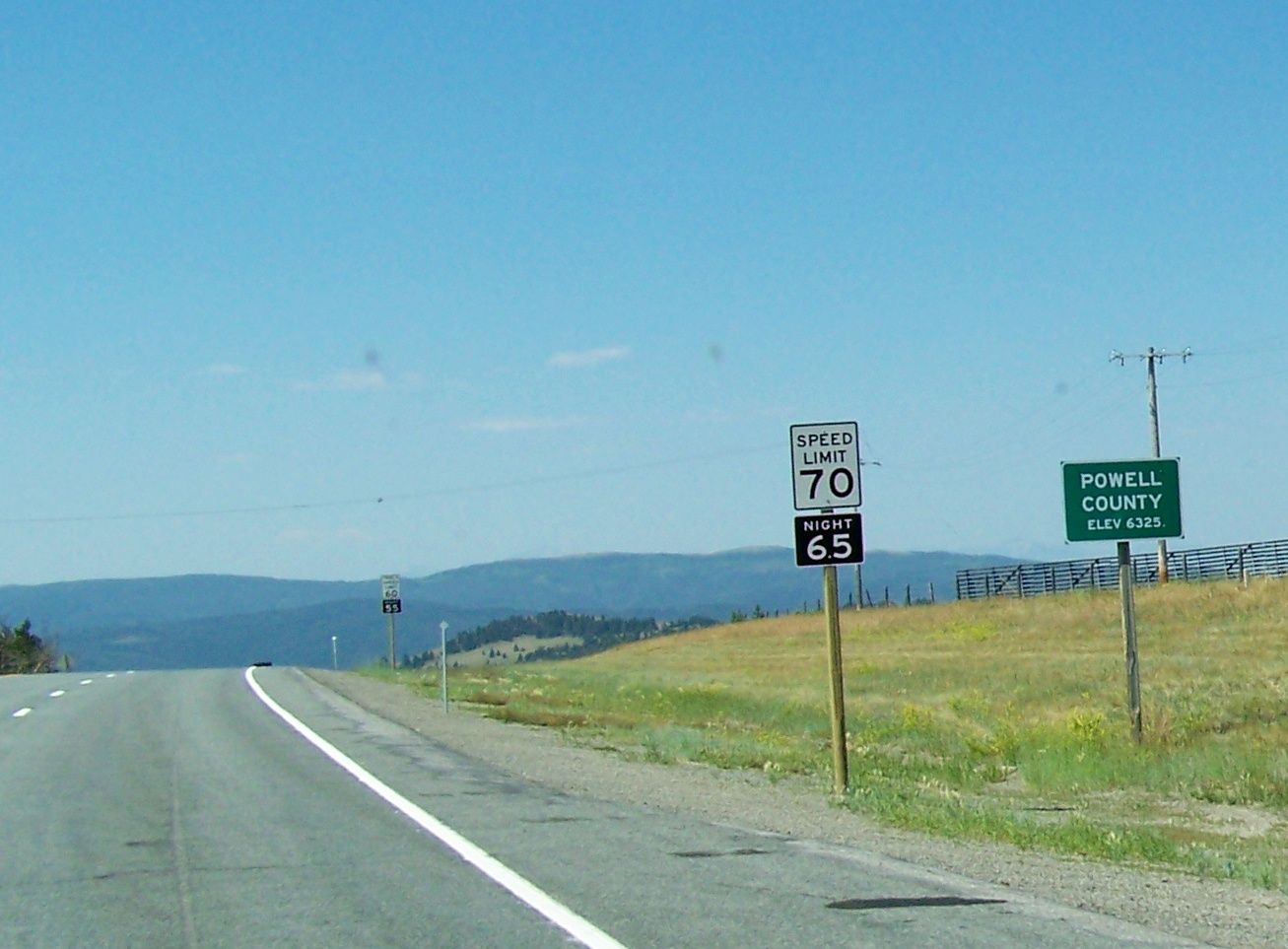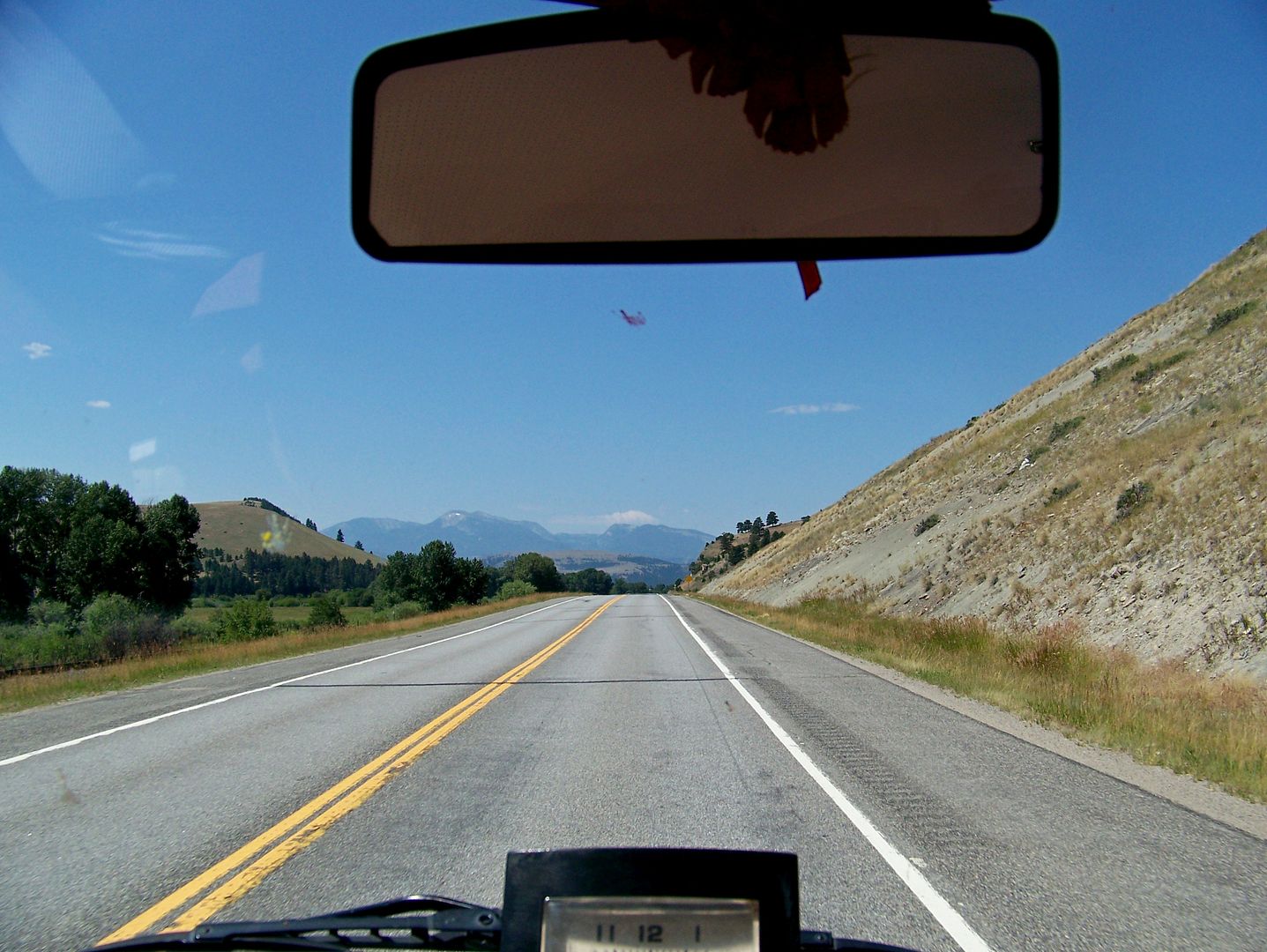 Parked on a hidden dike and stripped out the front of the car to deep-clean. Do you think I have enough fan belts?
Waxed the floorboards, washed the mats, treated the wheel well mats with Gummifledge:
Uhhhhhhhhhhhhhhhhhhh . . . duh:
I have a rash of broken seat springs all of a sudden. Fatso Itinerator is hitting the scales hard these days, and the driver's seat has had to handle some pretty burly butts in its past. I could only put some wire nuts over the ends of the broken springs ( 2 coils and two serpentine springs just busted):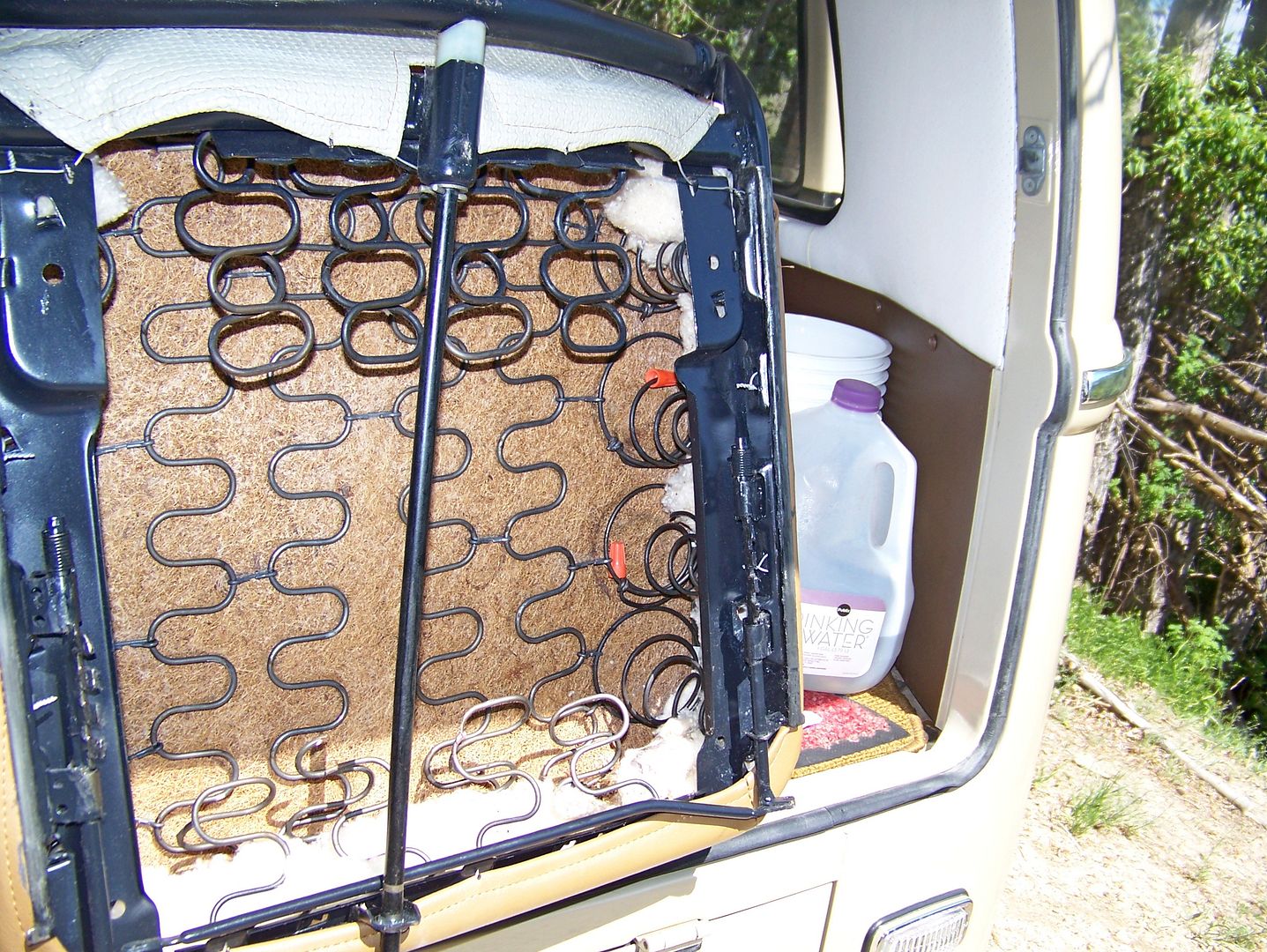 Considered this view a while:
Telephoto'd right through and out the other side:
Spied a bug sitting there with a bunch of other cars and thought that that bug should really see another day out on the roads, there's engineering lurking under that thing:
Drove directly from Missoula MT to Spokane WA after the mtcamper appointment, right into the Pacific Time Zone. We are officially in the west West now. Here's looking down into downtown Spokane from the bridge that took me to my "projects campsite":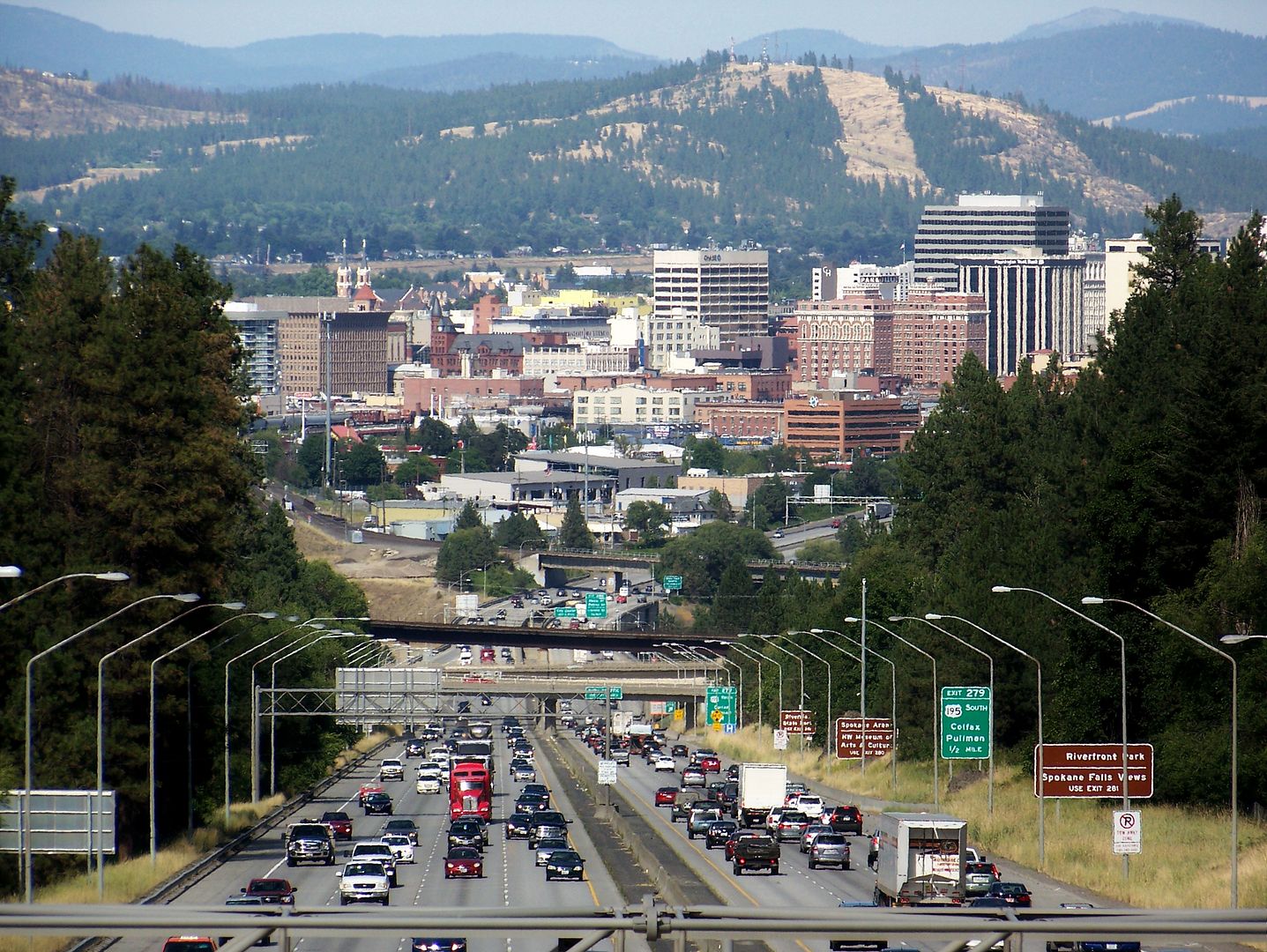 Can you see how each lamp assembly has been removed, washed, dielectric-greased, and the body waxed underneath each seal? I can't either:
This to give us every single lumens available from our big quiet 38 A generator with the newly balanced fan (balanced with a tinnerman nut stuck on a fan blade, it really does help):
Ripped the felts out the doors to refit them more carefully so I might get rid of a wind whistle that is just totally not acceptable in an air-cooled Volkswagen. That is 3M yellow weatherstrip adhesive for the shark bite clips to try to hang on to the felts more successfully :
Couldn't stand the bleached-out crap felts, so I painted 'em:
It's fraud, but I don't care. If someone asks, "wow, are those new window fuzz thingies?" I'll just answer, "heck yeah, the best."
Gummi-Pfledged the vent window seals and the scrapers:
Tomorrow, it is Off Towards Seattle Until The Pacific Chill Stops Me. Engine is running fine, I had to back off a couple exhausts AGAIN, but hey, it sure goes up the hills:
Colin