. . . as in, "no longer Midwest-bound" but rather here, here in the midwest with a failing generator bearing.
I'm sorry, Michiganers, but I was happy to leave your caved-in interstate slabs. Does it not sting to read that I was actually grateful to hit the Ohio state line on I-75 southbound for an immediate relief from being banged and tossed and clunked and sprayed with chunks of the roadways by the trucks in front of me? Ohio? Singing the praises of Ohio's roads? They were not better roads, but they somehow are more successfully patched than you Michiganers' penchant for splicing in billions of concrete repair patches that never meet the elevation of the surrounding roadway. My final stinging indictment is that Michigan's roads were sooo bad, how bad were they? they were sooo bad that they knocked the damn hour hand off my 18 year-old Walmart-issue travel clock that
endured a head-on collision
with nary a loss of function. At least Detroit was pretty here and there: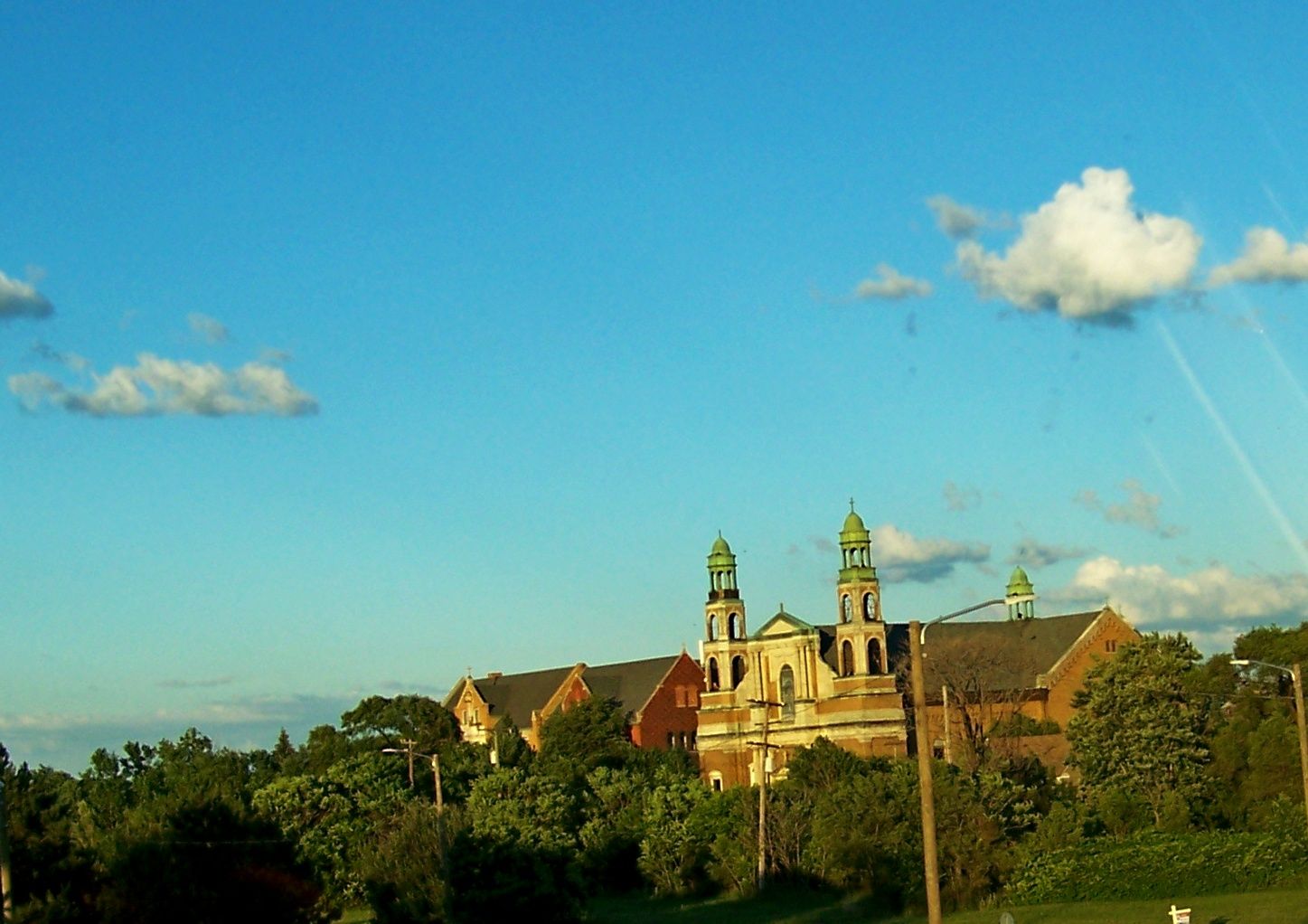 You ask how this brilliant composition was composed. I'll tell you. See, I was parked at a stoplight and this General Motors Generic SUV was in front of me, and the rear window was unusually reflective, as was I, so I took a picture just as the light had turned green:
Outside of Toledo, I stopped at a dirt road feeding to a gravel pit or something, and I waxed the rear of the car, the rear quarter panels, the bumpers, and one wheel, before the afternoon rains reliably found me. The flag was enjoying the final few minutes of sun, flapping all proudly back there with compelling wind-driven waves marching across the stars and stripes:
This is Indianapolis: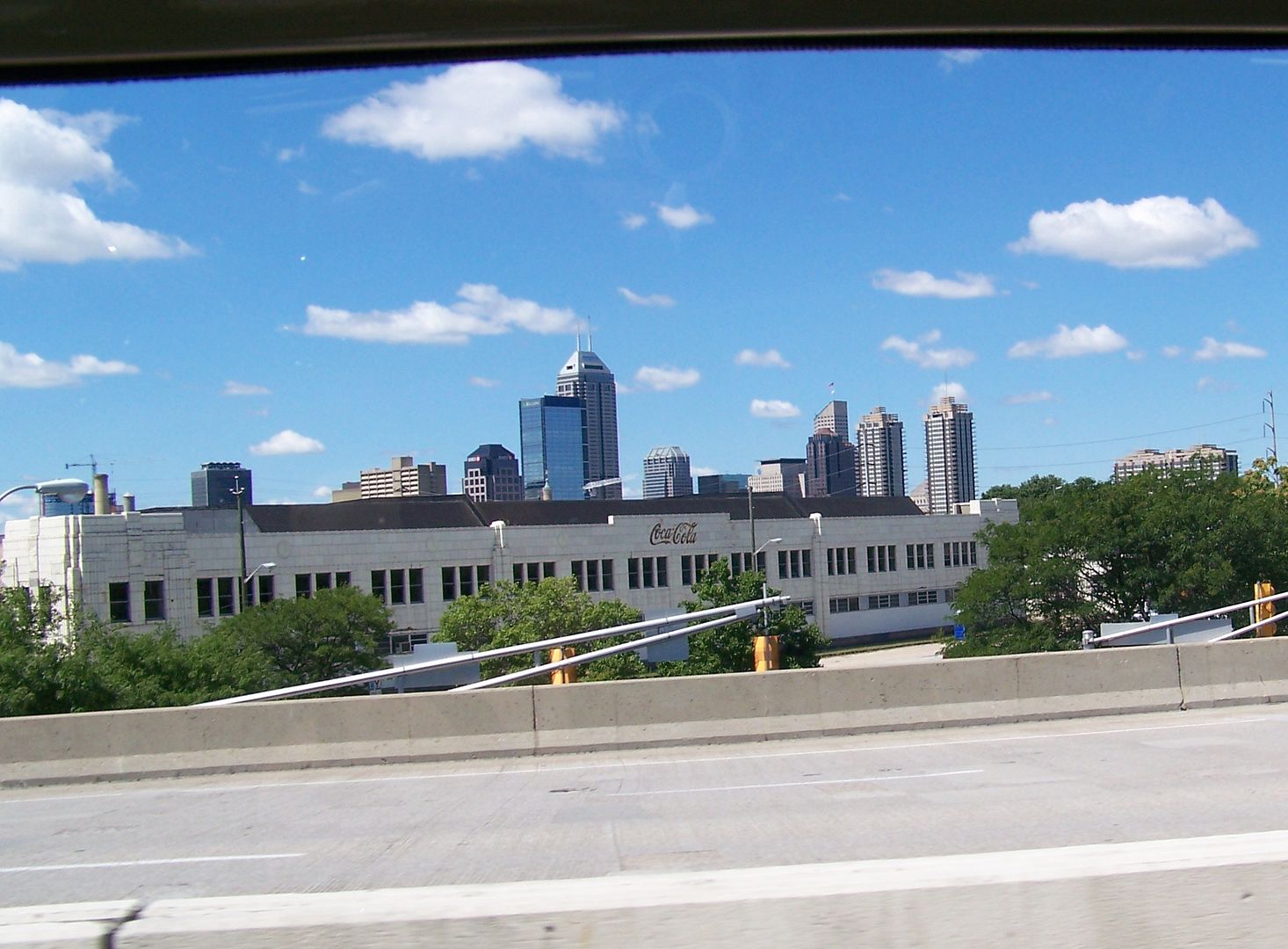 Indianapolis has the worst color contrast imagineable between the lettering and the bricks on its stadium-that-celebrates-the-Colts. The name of the stadium is "Lucas Oil Stadium". Just as well that the contrast is so terrible, I say: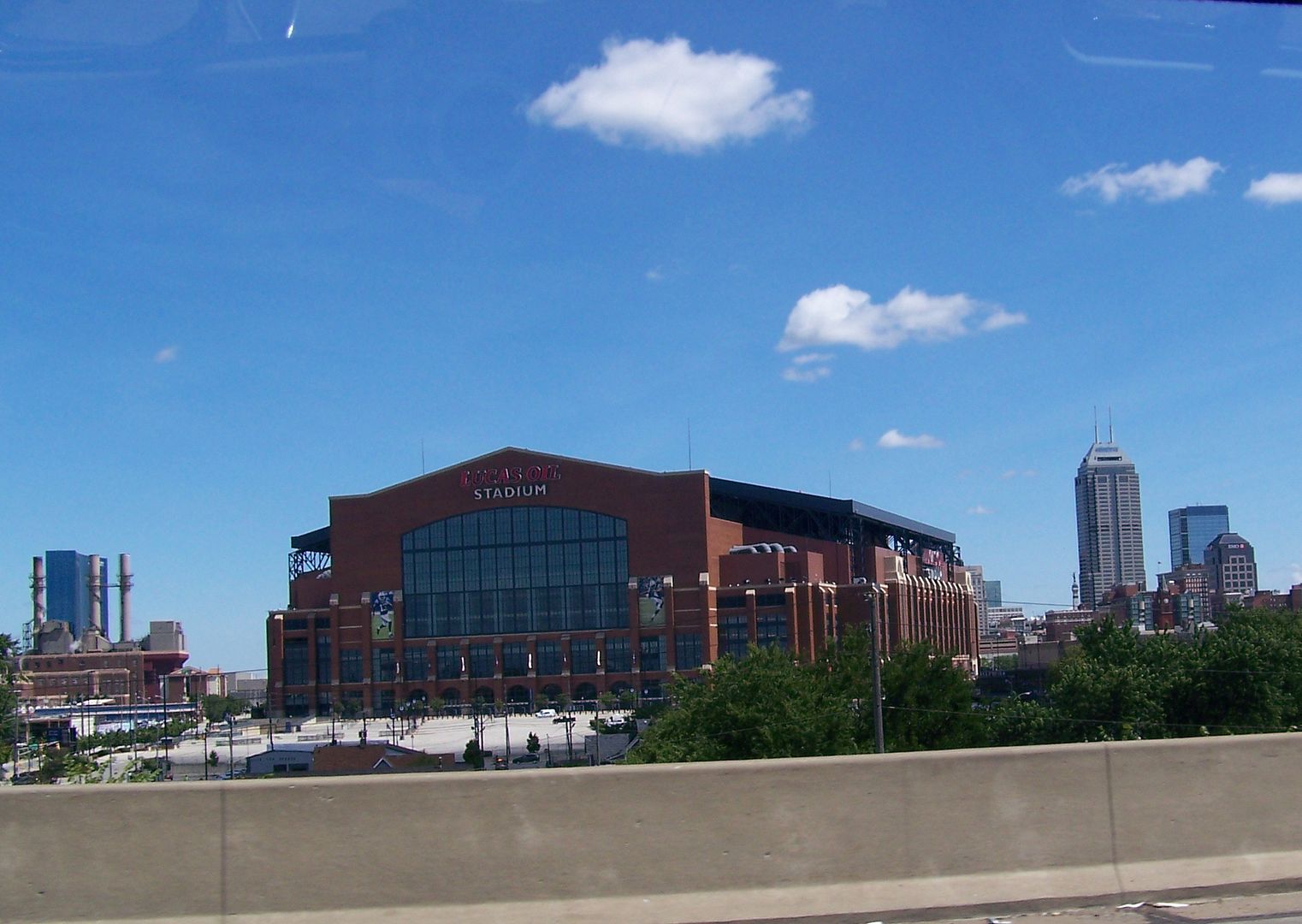 The reason I was going through Indianapolis was to get to the capitol city of Illinois. Here is the little capitol in Springfield with its little "pewter" dome. Heck, even Charleston has a gold dome, people:
I was complaining to Mr. West, the next customer, about the little pewter dome and the recently discovered fun factoid that Illinois has the second worst roads in the Nation, just behind Michigan. It's close, actually. Illinois knocked the hour hand off my clock once more on an especially brazen
F-U Your gas/highway Taxes Go To "Administrative Salaries"
pothole in the middle of the interstate. He offered a moving and spirited defense of Illinois' roads and state capitol domes as he offered a cup of coffee. His bus needs work. It really does. It seems daunting in the entirety, but I have a better sense of the process now, and he will do fine with a little multi-channel planning. The rust is galloping along, but there is a VW logo on the windshield. The automatic transmission stopped slipping with the addition of a quart or so of ATF, the valve cover leak only took three tries:
Mr. West is an entrepreneurial business owner and has a keen quick mind. I used to. The day's conversation was sprawling, and the day's project (make this bus stop being so friggen weird) was a success. You do NOT want a brake booster leak with an automatic transmission oh my, such weird lunging and fighting. we tamed it by just blocking off the brake booster hose leading to the centermount carburetor. Did I mention that you do NOT want a brake booster leak with an automatic transmission and a centermount "progressive" carburetor. No kickdown! The centermount had no provision for allowing the kickdown to do its thing. We had a challenging wrestling match with the wiring. Totally bollixed by the prior owner , we had noooo alternator light, no fuel gauge, no oil pressure light, and some orphaned wires behind the fuse box. At the engine end, we had the oil pressure light wire plugged into the voltage regulator, the coil wire plugged into the black test plug connector, the coil was wired backwards, it goes on. He'll do fine, but there is a lot of work in front of him. We said our good-byes at about 7:30PM, and he asked if there was anything I needed. "Why no, Chloe is running fine, thanx" .. .. .. SEE? :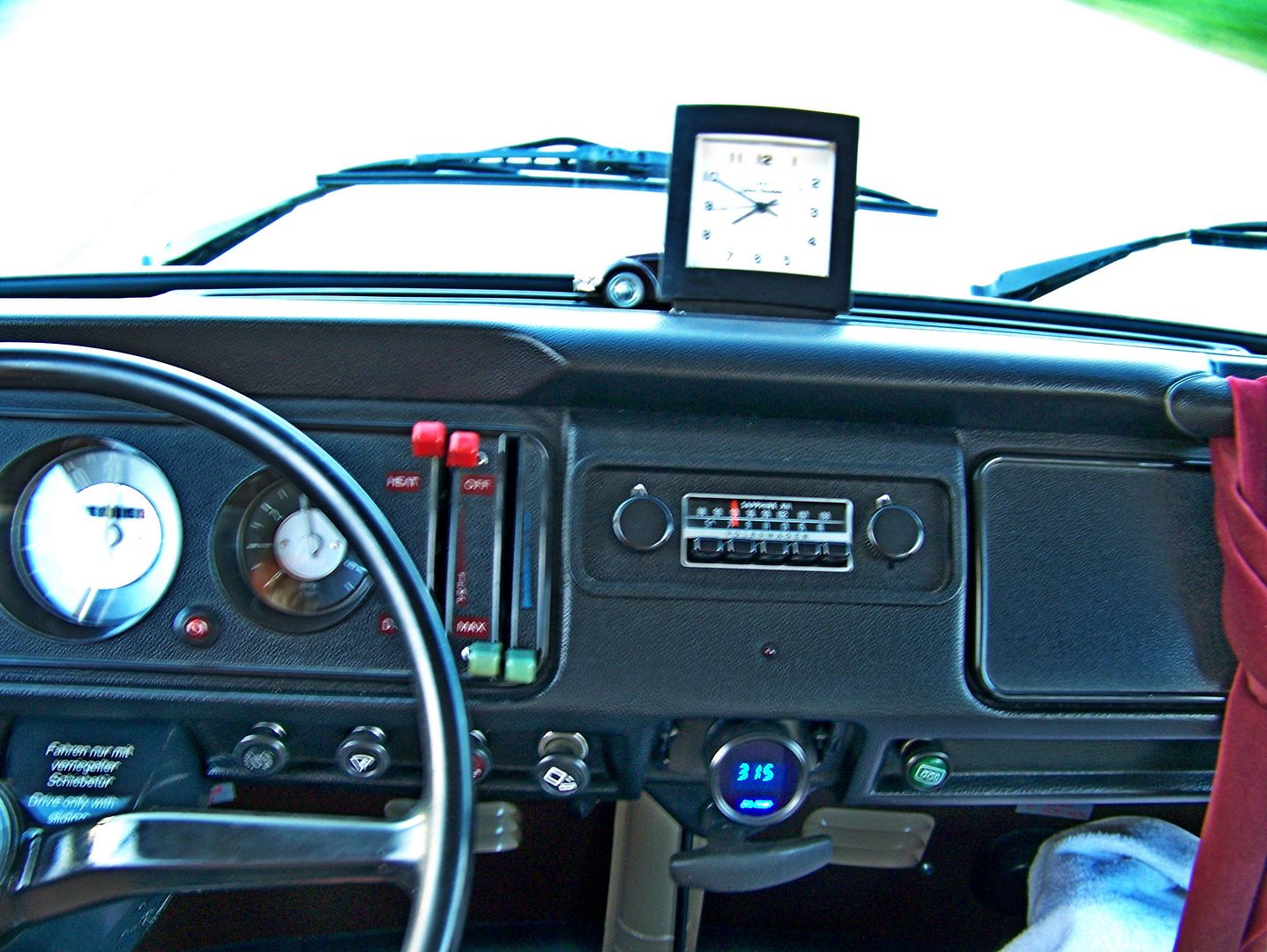 .. .. .. at 8:30PM, one of Chloe's generator bearings gave out in some little Illinois town. A racket of rumbling and popping sounds, I really thought I was hosed. Took off the belt and ran the engine, it was thankfully quiet ( as in "maybe it is actually the camshaft gear spitting up teeth" ). Put the belt on SooperSloppy to give the bearings some rest, right here, in fact, at a sleepy intersection of IL-29 and IL-10: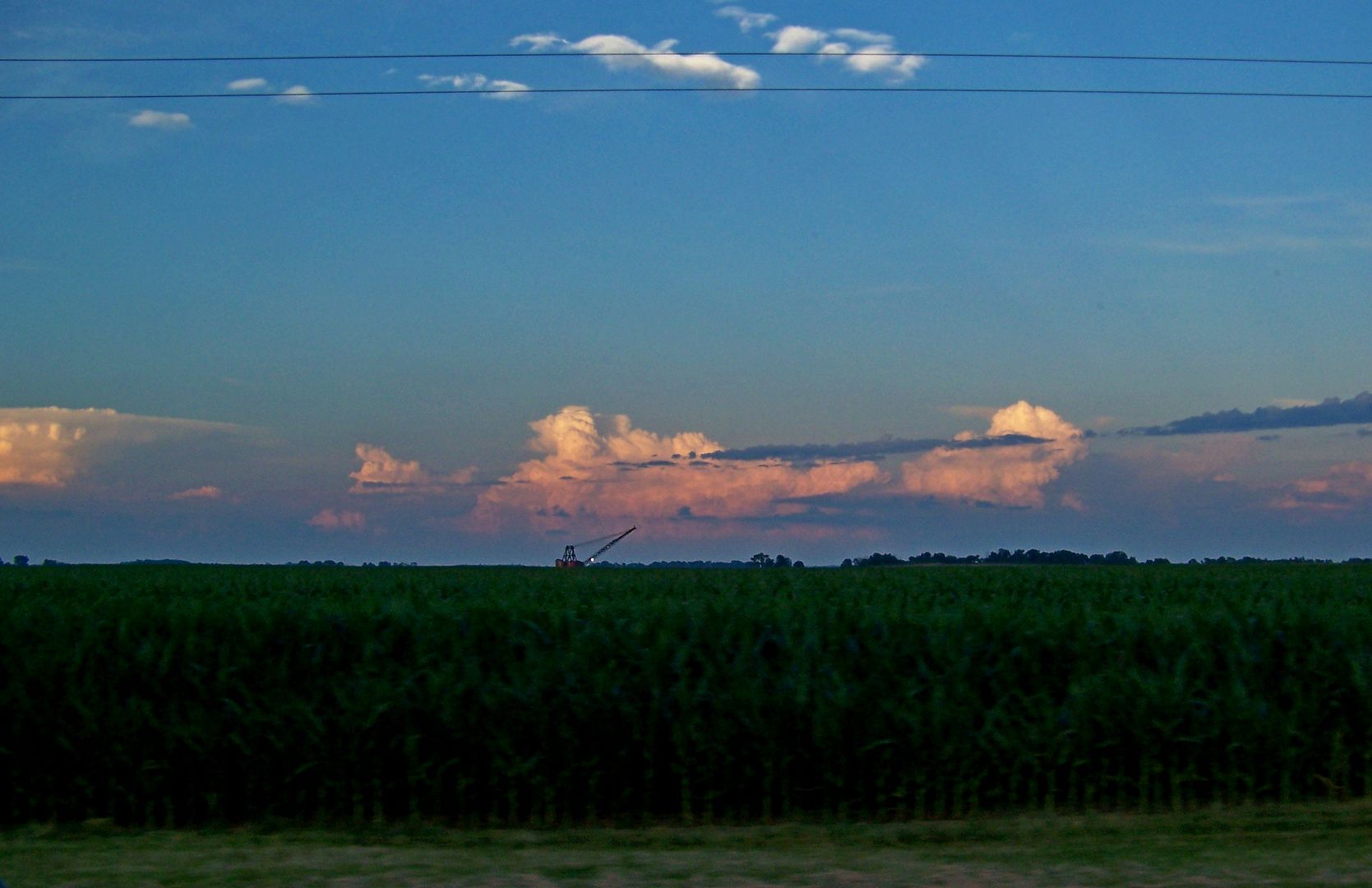 I rumbled and rattled to I-55 wondering if I should call Mr. West, and definitely planning to call locoqueso. Took it apart at a truck stop to look for metal shavings, powder, extreme hot spots, anything that might suggest that it will grenade. Removed generator pulley off the generator and sort of hopelessly helplessly hopefully squirted 20-50w oil on the rear bearing knowing full well that it is a sealed bearing, stupid: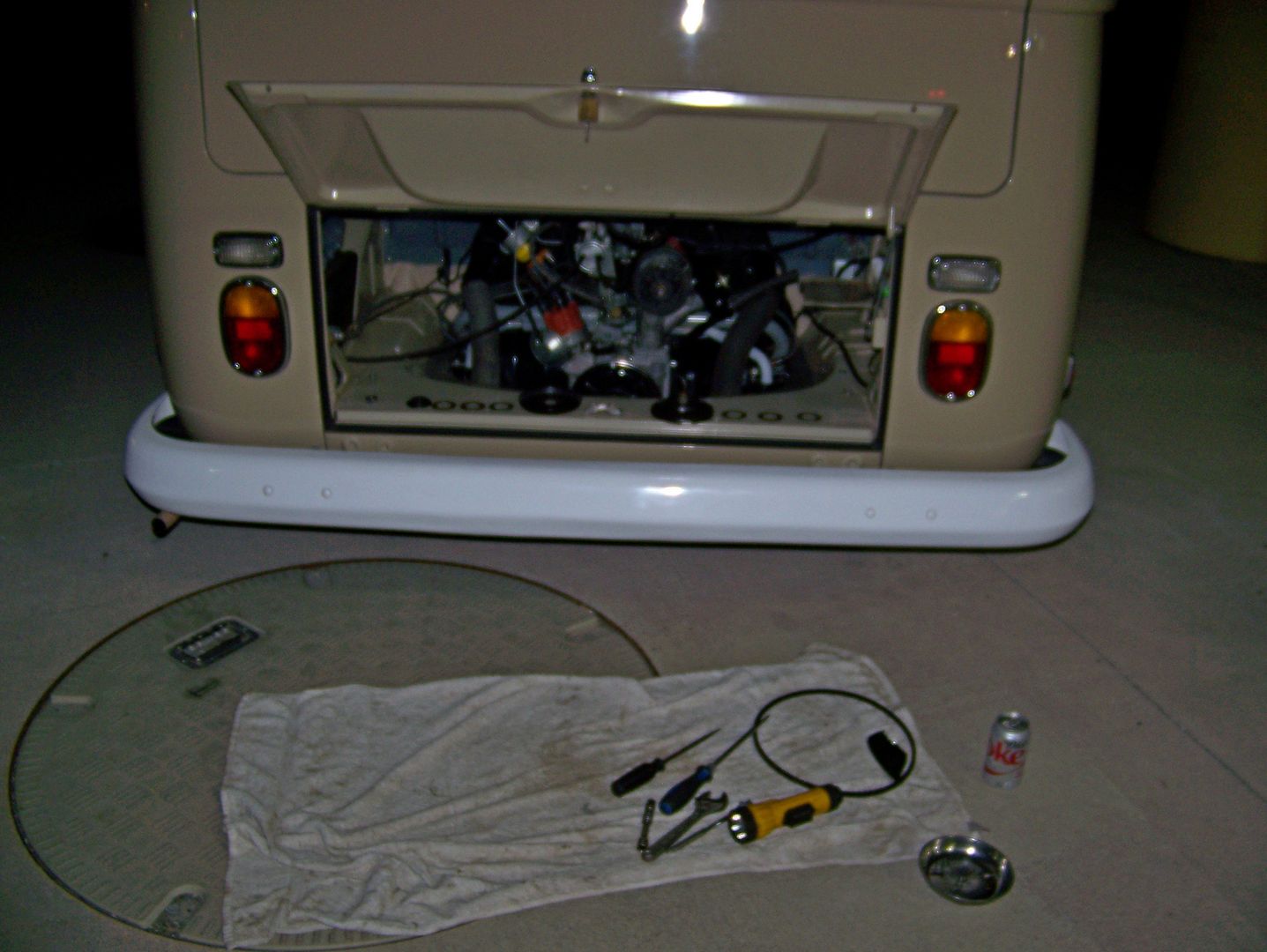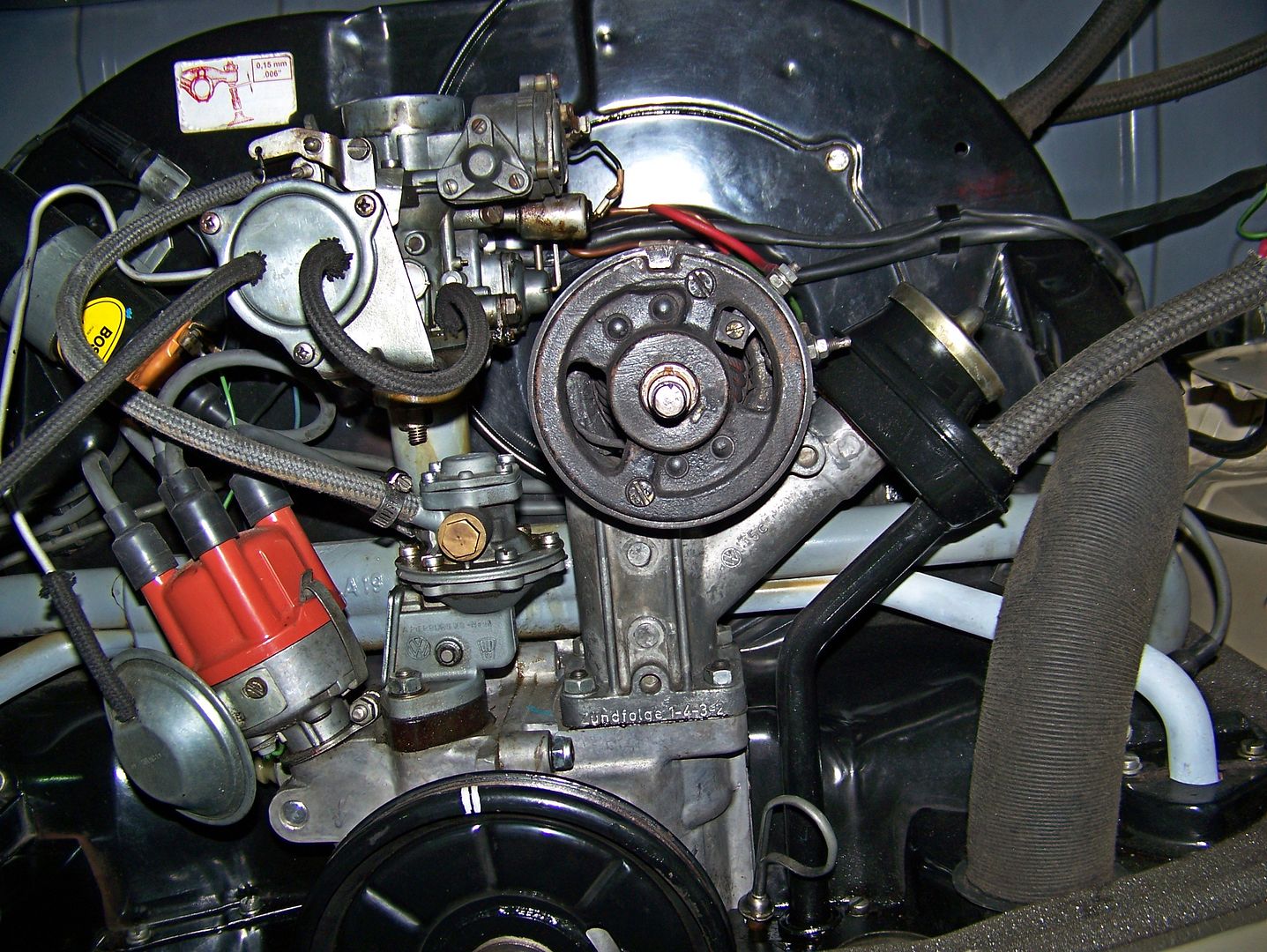 Taking the generator out and swapping out bearings is a full day for me, am I ready for this? Who knows if my Jblair630 spare bearings are any good any way? Put it all back together by 1:00AM, and the noise was still there, threatening me, mocking me, testing me, tormenting me, poor Chloe really has been flogged for too long on this trip, and I gently told it, as I flipped the engine hatch down, "deal with it."
I guess it did.
Yeah, so I am thirty minutes driving time from locoqueso. We have an appointment tomorrow, July 1st, and I might broach the notion of tearing my engine apart in his garage and borrowing his truck for a trip to the machine shop if I need to to press the old bearings off the armature/end plates, but I have to find my spares first. Meanwhile, weirdly enough, with the floppy floppy belt, the generator seems to have settled down from a ballsy rumblini with dangerous popping sounds to merely a yowl.
Colin