. . . that's "49" in Arabic numerals. For all of you who follow the Itinerary schedule, I have a bunch of "Done!"s piling up before the main lap. All of these Done!s were accompanied by Chloe's recently rebuilt engine sitting on the floor of NaranjaWesty with my toolbox stationed on top of the sink (!), in a most crowded interior.
We did Tynes Stringfellow in Alabama on April 18th, a nice late model Westy sitting on a concrete slab in the middle of an organic blueberry farm that would not start until we got the fundamentals squared away. Unfortunately, the engine was not putting out much once it did run, and it had some questionably high compression readings (161 psi in #4?) that precluded any efforts to utilize a bump in timing. He is already pondering a replacement engine so he can get out there and hit the road.
Drove back to Pensacola for a very brief very painful interlude with NaranjaWesty's steering lock that had surrepticiously decided not to work all of a sudden. I couldashouldawoulda let it go, just let it go, but no, the garage had a radio and I had a stubborn streak: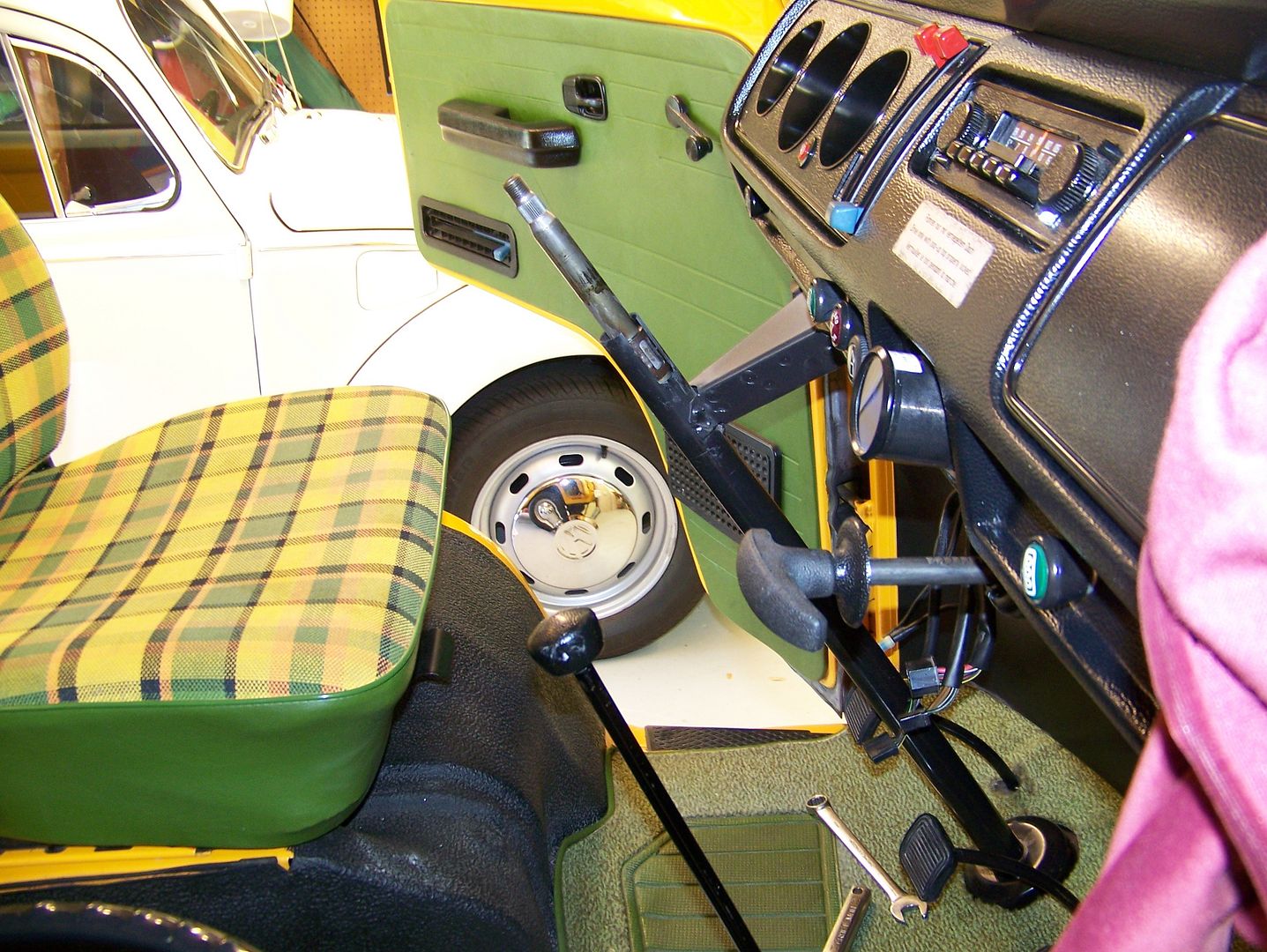 Used a quicky diamond point chisel to whack the tamper-proof screw a good one, then tapped in one of those square bits driven by a 1/4" socket into the diamond pointed screw head, came out easy:
Here is just before irritable hell broke loose. I drilled the ignition housing as per Bentley: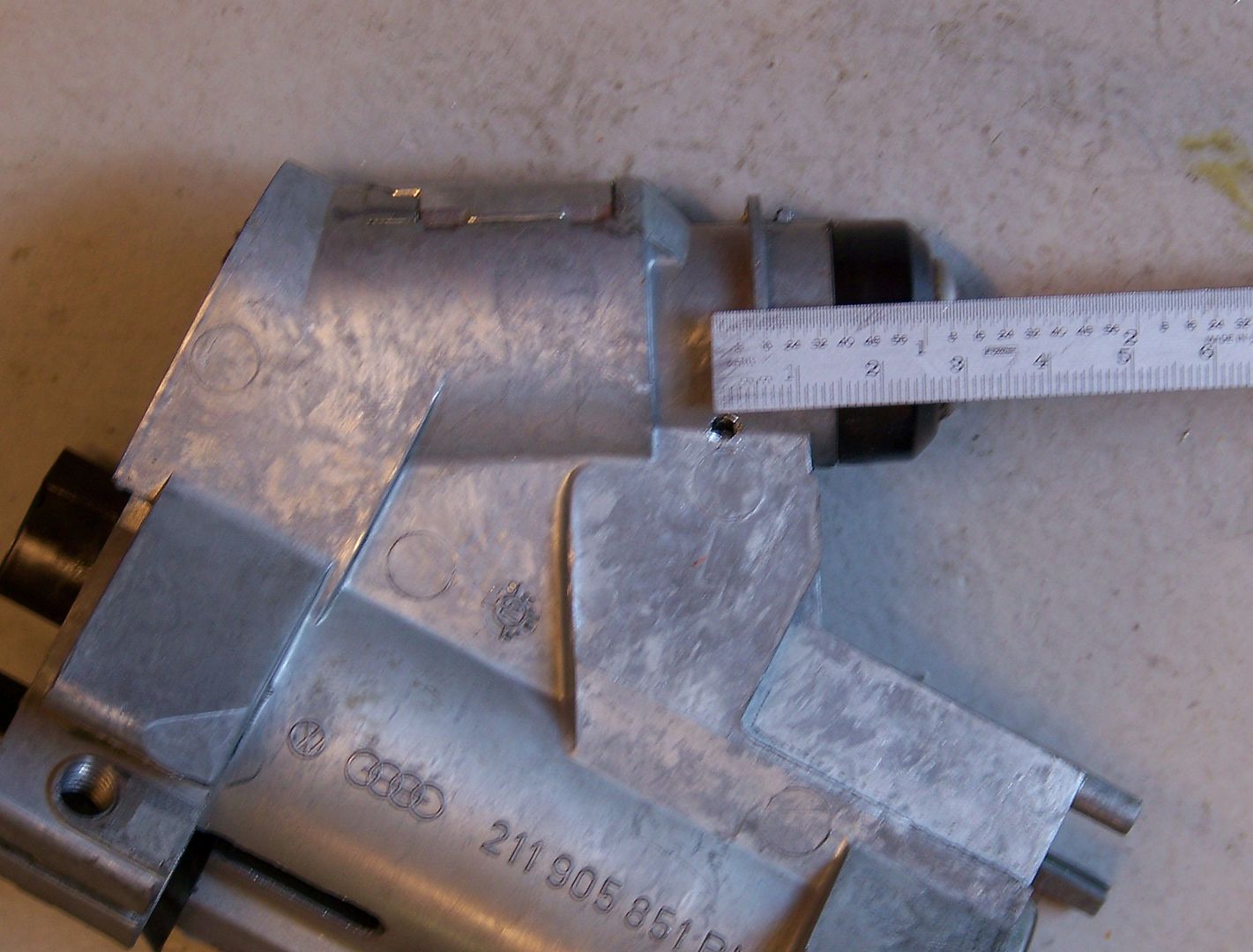 My little coat hanger wire found the spring-loaded release for the lock cylinder, but that little bugger absolutely refused to leave the housing. Things got pretty ugly, the hole tore oval, the spring-loaded release got bent, and I accidentally drilled right through the housing, and still . . . that lock cylinder would not leave. Somewhere in this exertion, the dead bolt sprang free. A little judicious lubrication, and it's back, ready for another forty years.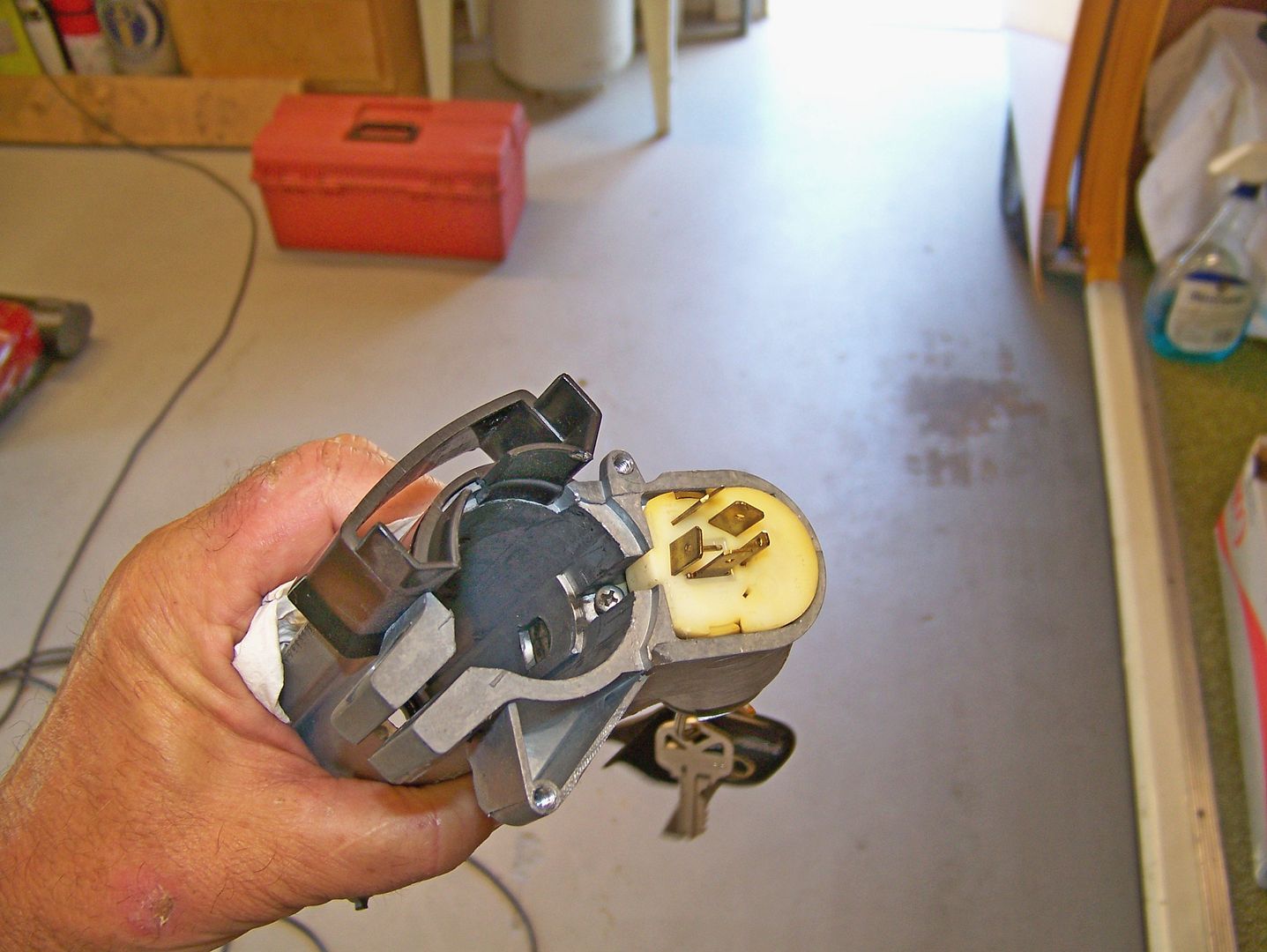 Thus "repaired", I did not need to torment the lock cylinder any more. No, now it was time for the bus to torment me:
a) the washer switch hoses couldn't figure out which quadrant of the plastic steering column surround they wanted to emerge from. That was three or so r & r & r & r's.
b) the wiper/turn signal switch wiring decided to "de-laminate" from the long plastic wire holder that has to be stuffed down aforementioned plastic steering column surround, and this dis-indexed the wires' orientation to the connector that is supposed to plug into the plastic wire holder when everything is assembled. The new Bentley had lousy diagrams with missing wire colors on the poorly printed pages, and it took forever to get it straight and plugged in.
c) most heinous to my failing mental health, the four small long screws that hold the switches in the aforementioned plastic steering column surrounded ignition lock cylinder would only accept three screws but never the fourth. No matter the orientation of the last screw I would try to start, it would not. I had to disassemble the whole mess back down to see WHY these screws refused to start, of course the de-laminating wires in the plastic holder jumped the hell back out of order at the very first chance they got.
You know why the switches only wanted three screws but not four? Because when I was hauling off on that damn spring-loaded lock cylinder release, I must have bent one of the pot metal "ears" that take the screws when I was desperately trying to hold the thing secure in a vise. That's why. I had to guess-bend one of the four ears to some guesstimate of trueness, then reassemble the whole wiring/plastic surround/washer switch 'n'hoses all back together again to see how I did. Horrid. But the steering lock works.
Took off for Flagler Beach FL to visit with my fellow New Yorker, wdollie6 and his hurricane-avoiding Super Beetle convertible. You might not believe this, but this visit was the first time I have seen Atlantic ocean breakers since high school: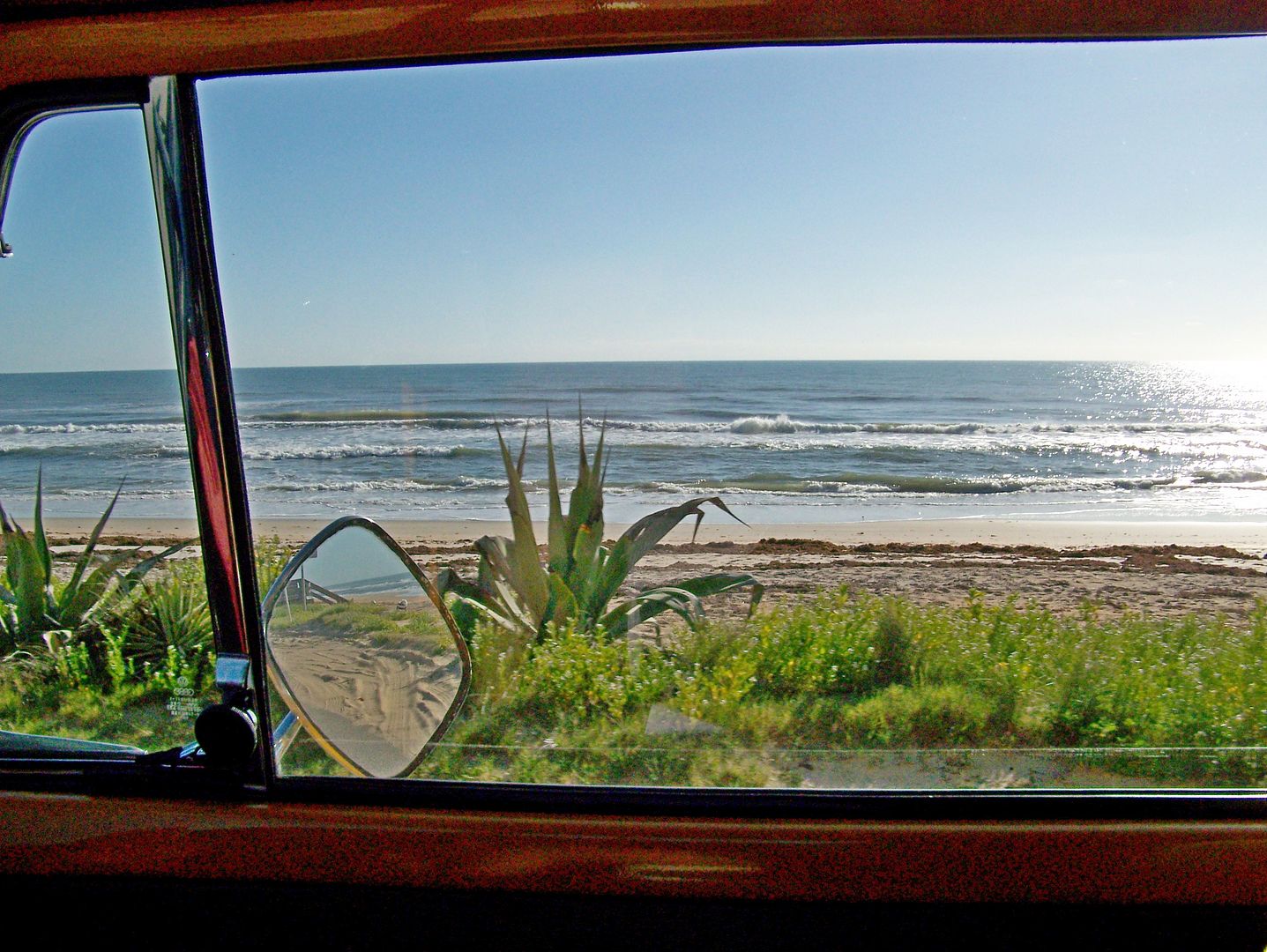 I am sure that everybody in this ugly building enjoys their view of the beautiful beach and ocean, but what about us at the beach or in the ocean?
At wdollie6's charming beach house, still standing, we worked on the thankfully-never-flooded bug. Here's a new no-name tie rod end with 60 miles on it. The boot was toasted. The threads were toasted: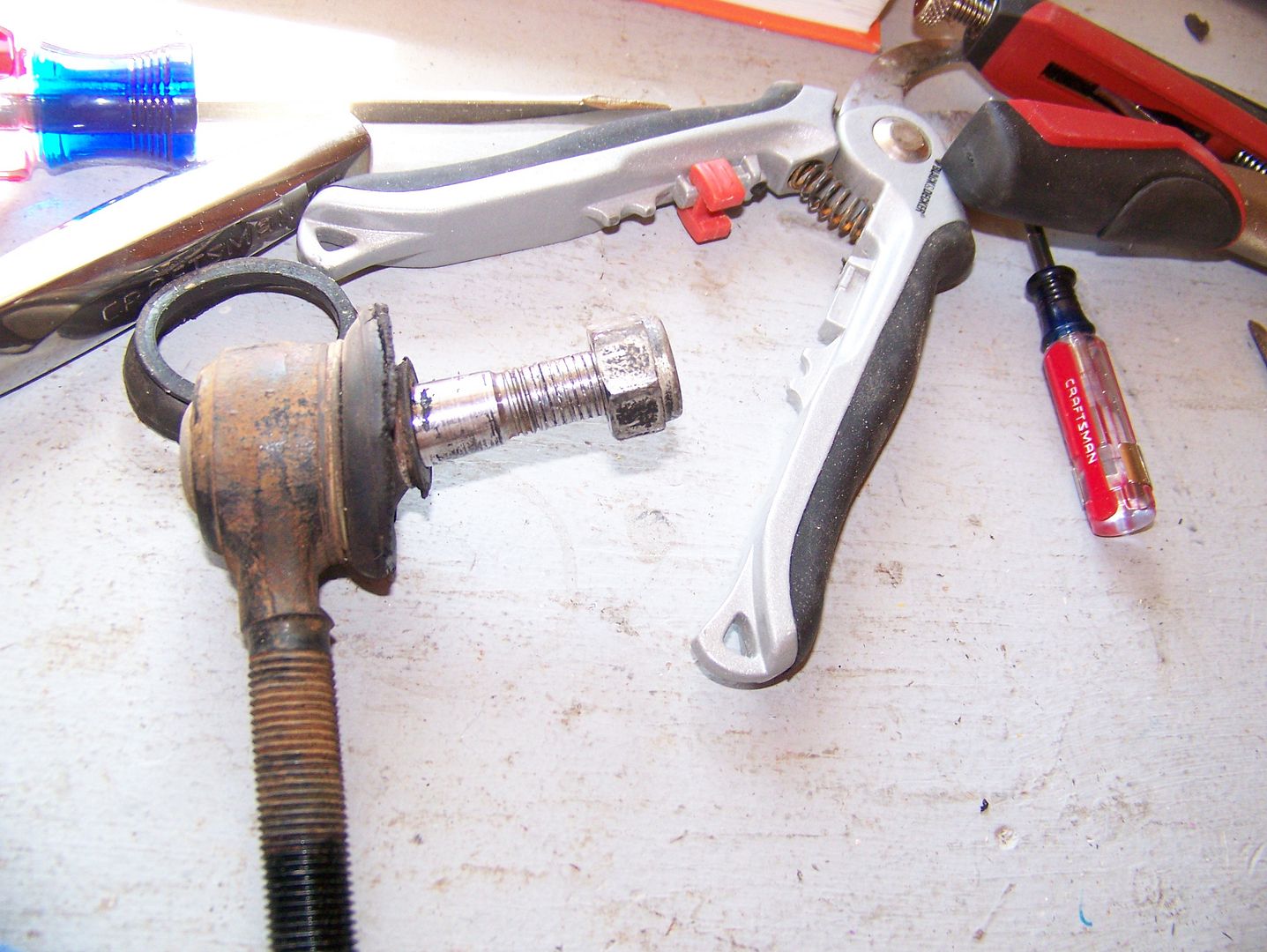 Here is a 60 mile no-name wheel cylinder, leaking brake fluid:
I stuck in a new tie rod end and we "honed" the wheel cylinder and the brakes do work and the car does steer.
Took Chloe's engine for a ride up to Jacksonville next. Poor thing belongs in an engine compartment but here it is sitting forlornly on the floor while we all wonder how the balance is going to be, how the cam gear is going to be, how the valve seat inserts are going to be, and whether or not the exhaust guide boss is going to crack any further.
(to be cont)