I think I last left off (Itinerant Air-Cooled Election Season) with an unsettling morning in a beautiful wildlife preserve.
Hit the road for my Vanagon Mystery appointment in Naples. Was dysphoric with realization that my fear and loathing of the human race had been amplified by the dawn's early visit. Did not know that the evening would bracket the morning . . .
Well, that was a quite a day. The evening event was mostly about mosquitoes and shotguns. I had made it down to Naples with its creepy subdivisions all barricaded by artifice, big bloated architectural monstrosities that heralded your easy retirement living. I couldn't find a campsite in such a manicured layout. I was exhausted and bleary. Took some boulevard east, to get away from the neon lit gateways into the subdivisions. Finally found an escape that dove into the excessively luxuriant foliage crowding the car. It was hot and muggy. The dirt road was a mess of hollowed-out dried potholes. Civilization finally fell behind. I could see water to either side. This is a swamp. The path deteriorated.
"You can't just stop and camp on the path," I miserably exclaimed to myself, "someone will assuredly come bumping down this damn thing right when you fall asleep."
Finally discovered a turn-around and parked at the very edge of the embankment. Gratefully slid out of the driver's seat and stretched and took a moment to take in the swamp scene with stars overhead. Took in a nose full of mosquitoes while another attack squad lit into my legs. Ran down the path to clear myself of them. Ran back to the Westy and jumped in, closed the front windows and took stock of how many mosquitoes had made it in with me. About sixty seven thousand million. Turned on the fluorescent light. Methodically dispatched the flying ones, one at a time. There were thirteen hundred forty seven thousand billion of them on the inside of the poptop. Got a towel and committed atrocities against the poor clean fuzz. About an hour later, an hour of miserable humid muggy sweaty exhausting killing, the interior seemed to be mostly clear of mosquitoes. The screens were double-checked for integrity of fit, and the jalousie windows were opened. Such a refreshing breeze didn't waft a damn bit. No way I could sleep yet, and it is about 1:00AM, stuck in a swamp. Thought to bail to a Walmart where I could trade in mosquitoes for fluorescent parking lot lights. At least it is peaceful here.
Then voices. WTF? Laughter. Well, at least it is laughter, not some horrendous angry diatribe of a swamp killer dispatching his hapless victim. The voices are getting closer. Then BLAM! About six more. More laughter. Then I hear a muffler-challenged V-8 engine cough to life. I hurriedly "break camp" and dress for impending visitors. Two sloshed guys in a Chevy pick-up come bounding down the path. "Thash a great veek, veehick, veHICKEL, wahzzizz?"
Spent the night at the Walmart.
The Naples call with Manaman was a challenging diagnosis of an '82 Vanagon that had:
Leon Hoffman heads AMC's reworked blueprint specials

New Mahle Pistons and Cylinders

Reworked OEM VW case and cleaned

Web Cam

http://webcamshafts.com

NEW Manton 3/8" Chromoly Pushrods, Straight

Gene Berg 26MM old pump

Re-machined and built Throttle body from Whip618

Clean and Reset Fuel injectors from witch hunter

New fuel pump,filter and lines

New exhaust system from Air-cooled.net Stainless steel

New XR700 IGNITION SYSTEM with PS20 PERFORMANCE COIL
"I love a good challenge" I had written back. After a rueful discussion of the current election season as of October 23rd, we set to diagnosing the Vanagon.
It would not run for more than a few seconds. Because it *would run at all* told us that the starter worked, mostly, the ignition system worked, mostly, the fuel system was delivering fuel, mostly, but it would not run. Manaman and his mechanic friend had been working this problem for months. With this being a rebuild, I was pretty sure that I could skip age-related issues like recessed valves, lousy compression, intake leaks and the like. I did, however, go straight to the essentials like valve adjustment and timing. We had some hydraulic lifters that were soft. Set them to 1 1/2 pre-load. Engine would not fire worth a damn. Pulled spark plugs and saw black plugs. Cleaned and gapped plugs. Set up a cold start valve jump off a 9 volt battery. Cranked and cranked. Tried a little capful of gasoline down the decel valve hose. Nada.
At this point, it had spark. It had fuel. It had air. It would not run. Did a compression test. Down in the 60s and 70s. Was it because the lifters were all soft? Decided to *bottom out all the soft lifters* and back them out to an equivalent of .006". That meant that they were all preloaded about 8 turns down. This, just to see if it would start now that the valves were opening and closing more efficiently. It was during this process that I caught the problem. You have heard me mention that the only guarantee that you are on your cylinder-in-question's compression/power TDC, is if the opposing cylinder is at overlap, where you can see the intake valve just opening while the exhaust just closes. This overlap normally occurs at about 4* BTDC. While I looked at #3's rocker arms for overlap, I asked Manaman to rotate the engine and yell out the degree mark on the scale that corresponded with the mark on the crank pulley. He told me there was no degree mark near the mark on the pulley. That was true. It was about 50* off.
"This camshaft is not indexed correctly."
That is a big bad better-be-correct diagnosis. So we went over to NaranjaWesty and checked its reading at #3 overlap. Yeah, about 4* BTDC.
"Maybe the hydraulic camshaft has different timing," hopefully suggested Manaman's mechanic friend.
We discussed the possibilities of how the camshaft might be indexed incorrectly. Marks not lined up between the crank gear and the cam gear? Gear incorrectly bolted to the camshaft billet?
I took off for cegammel's appointment and implored Manaman and Friend to update me as soon as possible.
"If I am wrong, I will come back down here to Naples and help you reassemble the engine."
Got a phone call two days later, "yeah the marks weren't lined up between the crank gear and the camshaft gear."
Revisited my favorite Florida wildlife preserve on the way back up I-75. I had to reset the last memory of that place.
Decided to get rid of the sticky accelerator issue once and for all. Vwlover77 had mentioned in another thread that lubrication of the lever/return spring would restore smooth action, and he is right if lubrication is indeed the issue.
But, if you have a sticky accelerator pedal (especially if you experience it primarily at the first application in the morning) AND everything is well lubricated, you need to:
Remove throttle body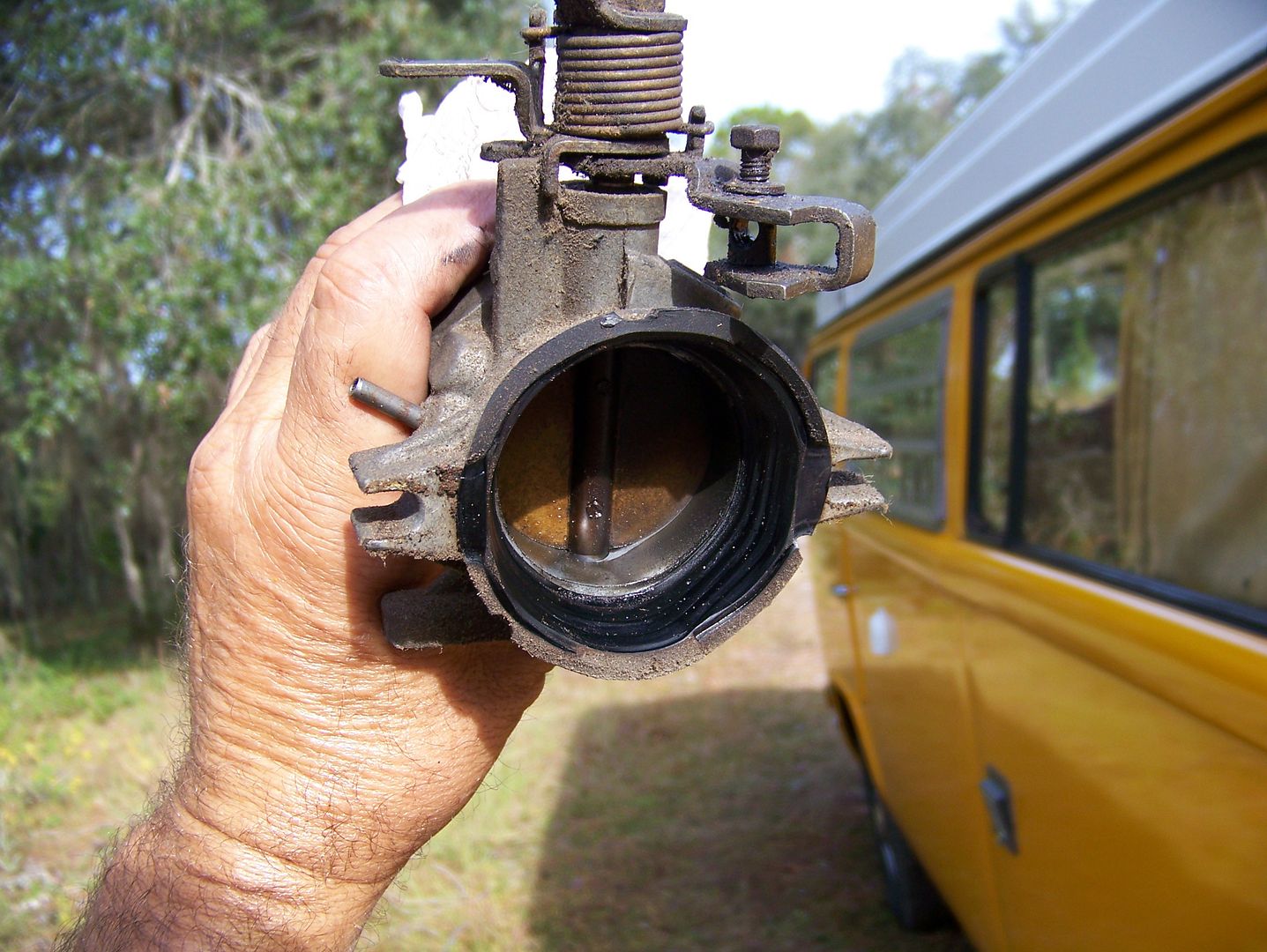 See if your throttle plate is worn to a knife edge: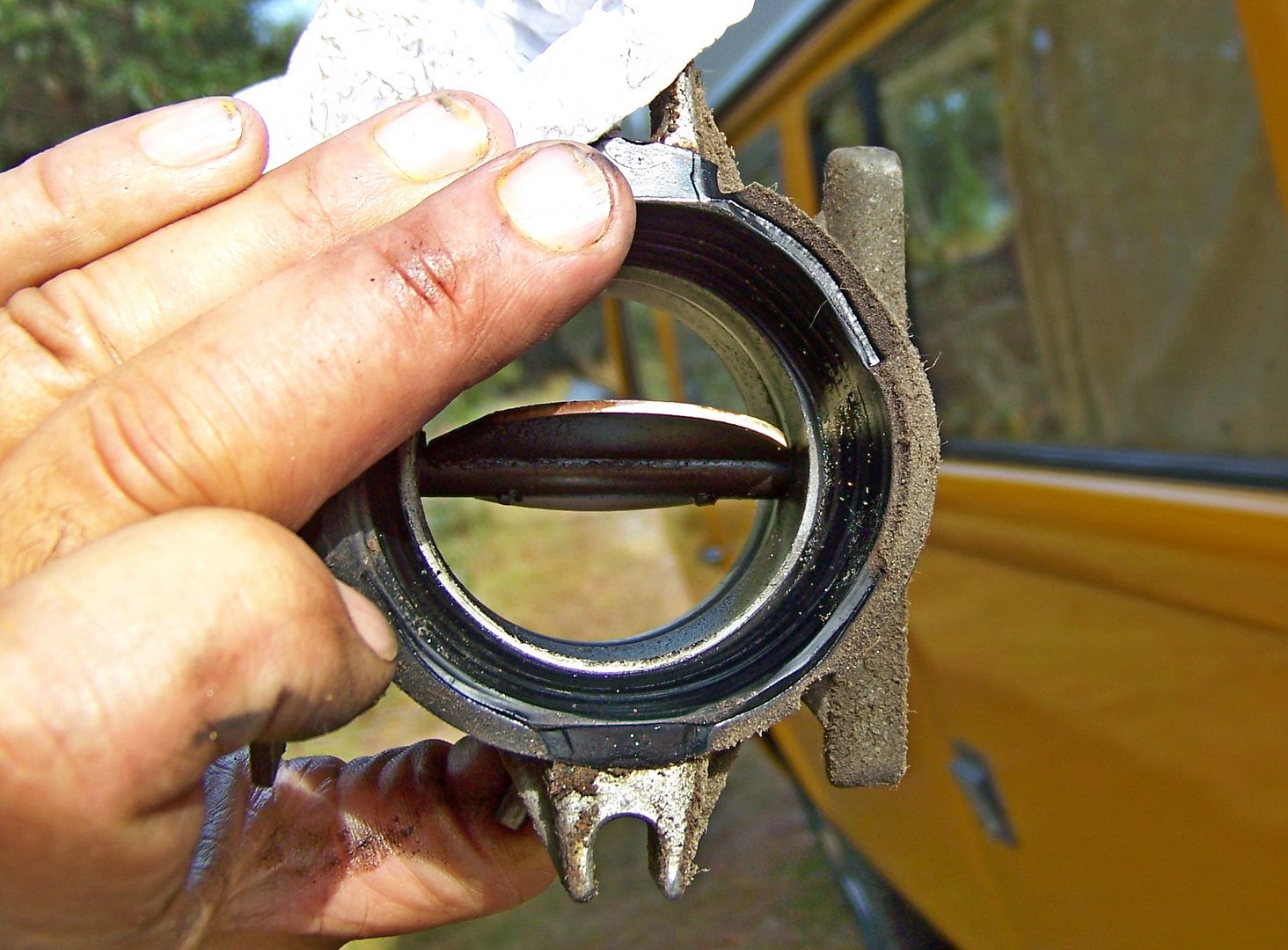 File the edge of the plate smooth:
File the housing smooth: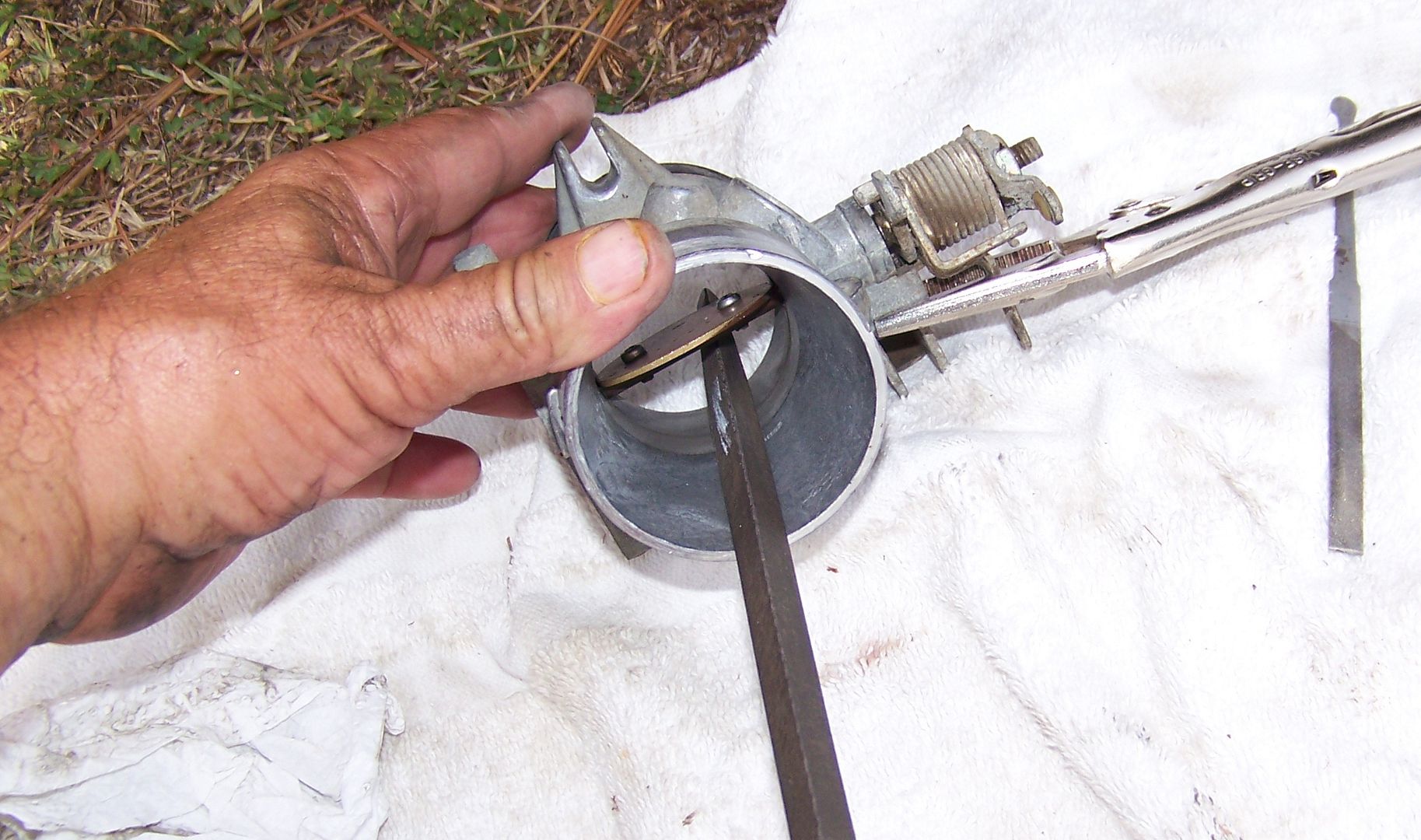 Work a little moly grease where the two contact each other: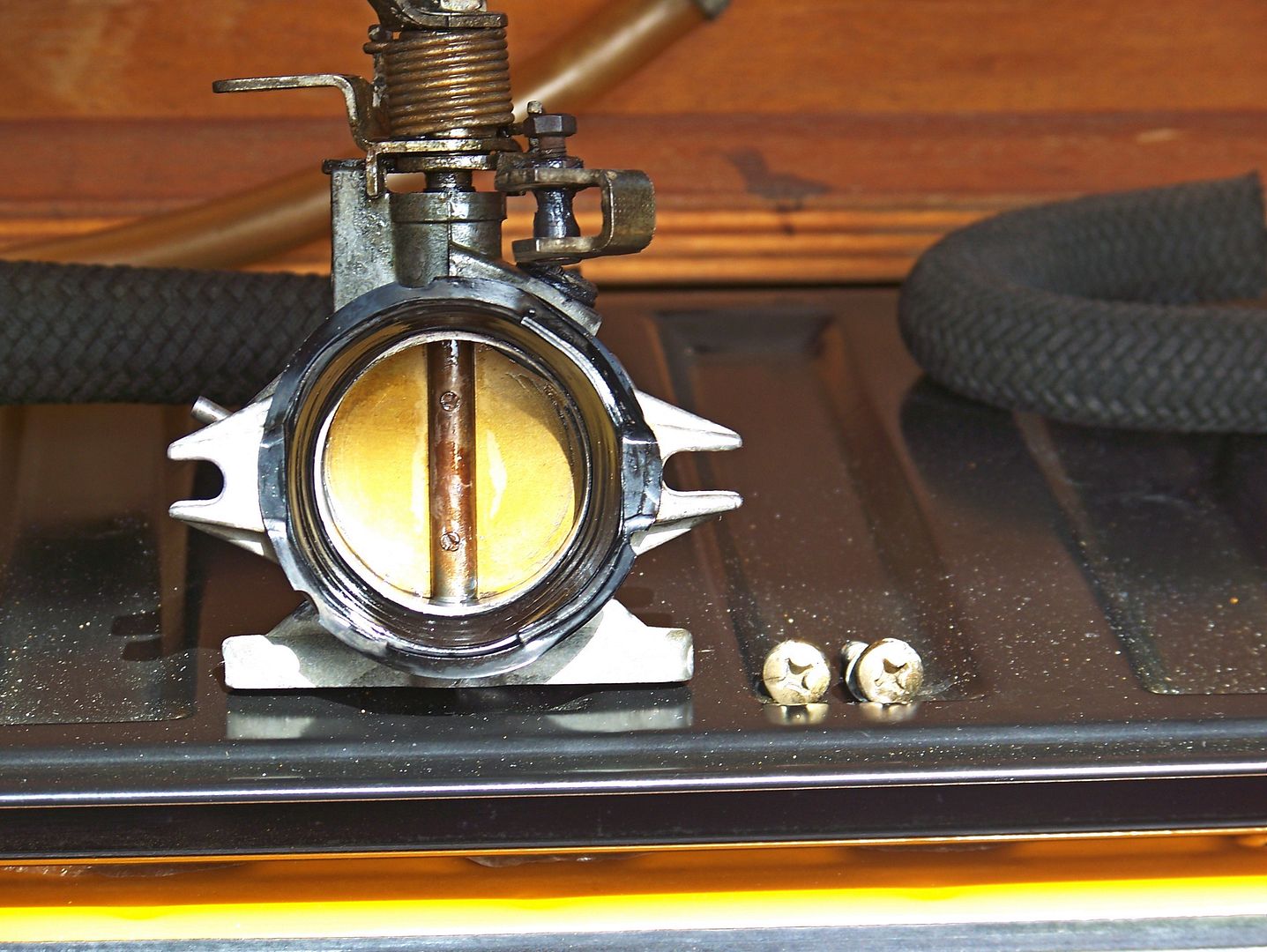 . . . and of course, repair all vacuum hose ends, clean out the fuel evap hoses, painted the braided hoses with a light coat of black, wax the bulkhead, clean the squirrel cage and lubricate the heater blower fan motor, polish all wiring harnesses.. .. .. :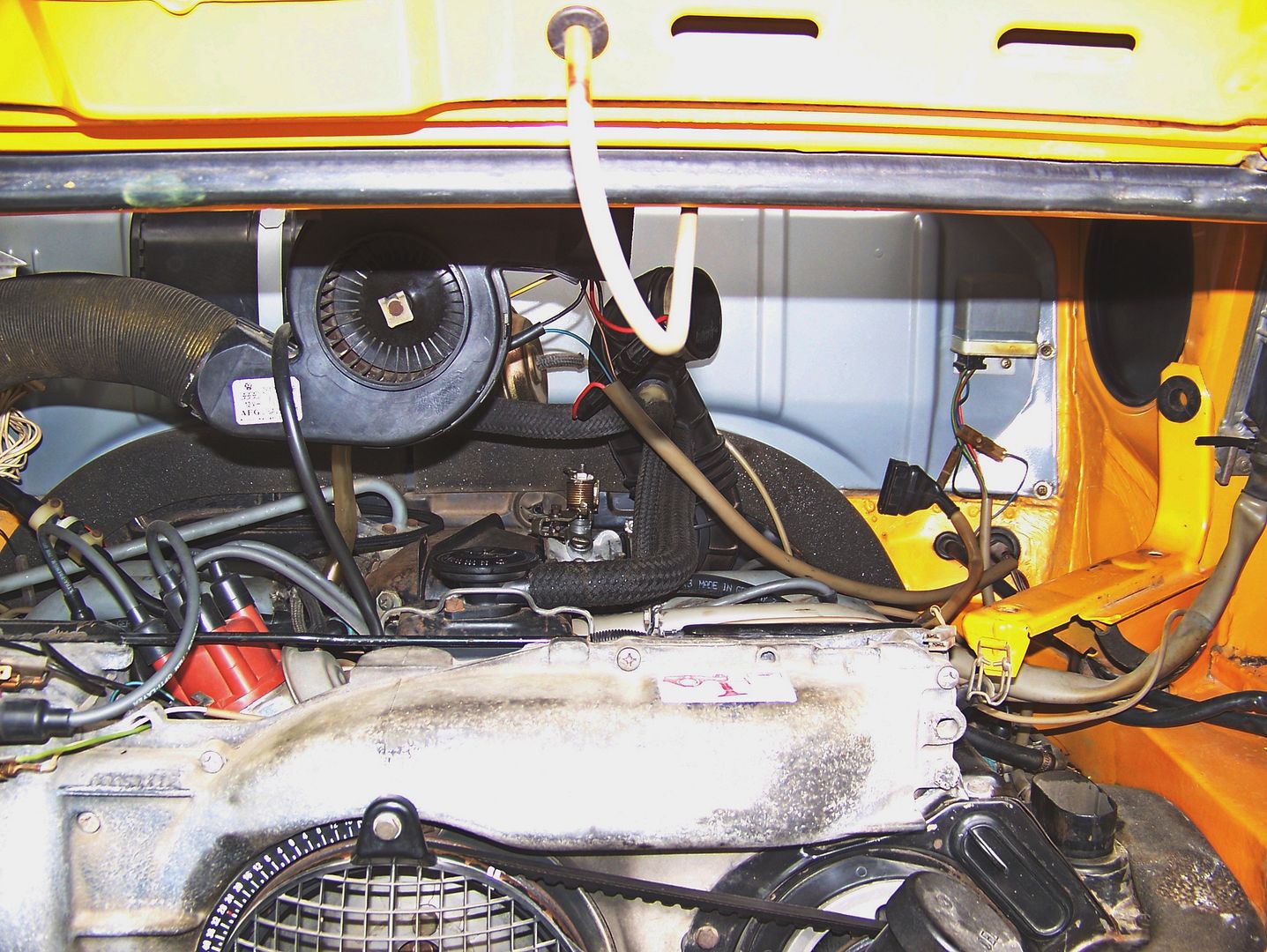 .. .. .. paint the dipstick hat with metallic red fingernail polish: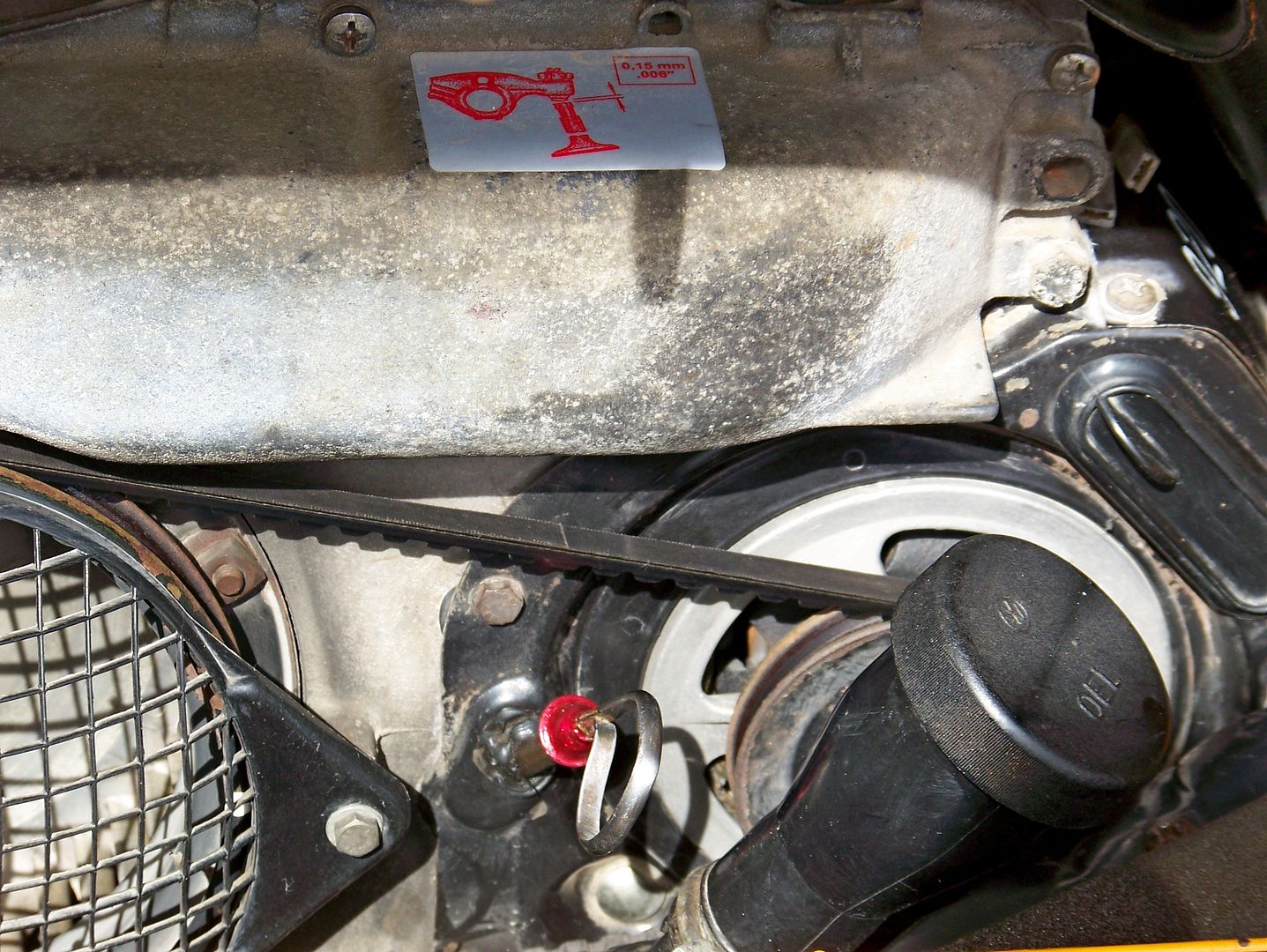 .. .. .. and paint the engine compartment. Then your accelerator pedal will be as smooth as can be.
Colin