Like the end of the 2014 Itinerary thank-you-BobD-final-car-wash .. .. ..
.. .. .. this was to be the end of the 2016 Main Lap at 64,444 miles, this thank-you-NaranjaWesty-car-wash:
Then I was going to take either the BobD or Chloe out for a little fall exercise to Tennessee and North Carolina and back to Georgia. Yeah, but guess what? It happened . . . against my most strenuous efforts to hate this damn camper layout, I decided that I liked the convenience of this damn camper layout. So, I washed it, visited my brother, watched a couple of back episodes of The Good Wife, and hit the road with the damn camper to the tnjed ii appointment in Knoxville. You may remember our unusual spring appointment:
viewtopic.php?f=70&t=13016#p220425
Well, we got to endure another doozy episode under our belts. The presenting symptom was an alternator light that would not go out on Penny Lane, the '75 Orange Westy. I knew that would be easy. Just check for twelve volts to the lamp socket from the ignition switch and then make sure that there is alternator's juice coming up the blue wire from the regulator, and presto, lamp goes out.
OK, ignition-supplied voltage at the dash.
OK 12 volts from the alternator as soon as it is spinning coming up the blue wire to the lamp.
So, lamp goes out. NOT.
WTH.
Tore up the dash and indicted the fuel gauge idiot light cluster and cleaned and cleaned the instruments and the glass and the heater levers and reassembled all pretty, but that light still lit. Finally decide that the test lamp is lyin or sumpin. Get the digital voltage tester out. Get testy with my fellow tester since tester can't test with intermittent contact with the tester against the terminals. Battery is an insolent 12.3v with the engine off, 16-17 volts with the alternator spinning. Finally we have to conclude that the alternator SURE DOES WORK GOOD with all those volts, but the damn alternator light sure doesn't think so. Replace the voltage regulator with another one off the "crusty" bus. That'll rein in those excess volts. NOPE. Still 16-17 ripping into the vehicle's wiring, 8 volts into the blue wire, 16 volts coming out of the ignition switch, that is enough differential to turn on the idiot light, idiot. Never have I run into such a frisky alternator that ignores the voltage regulator. Crusty bus yields its alternator and we stick it in, an old original Bosch alternator that hasn't seen rpms since dirt was invented. Problem solved.
Old Original Bosch Alternator 1
New Rebuilt Bosch Alternator 0
Wasted almost a whole day too. I saw it in Anthony's eyes. 4:45PM, "so . . . what else on the list?" I ask brightly.
"Well, I have the center pin kit still, you said I needed a new center pin kit."
And he did, and we did.
Then I drove off into the night to here:
Phoenix64bug up on Signal Mountain in Tennessee had a bus that barely could get out of its own way. Old clattery engine for one. Well, we diagnosed a cylinder cutting out under load, and diagnosed perfectly acceptable compression and only found a #2 spark plug blackened to a coal blackness and a #4 intake rocker arm about touching the valve spring retainer. We shimmed the rocker assembly and put #2 plug in #3 cylinder (to clean it) and tried to diagnose an injector leak by swapping it with #4 cylinder's injector, but the cutting out behavior remained consistently at #2. Cleaned up some details on wiring and timing and mixture, but we are still trying to figure it out.
So, I left a real Volkswagen aficionado swimming in details and hightailed it to Georgia . . . here: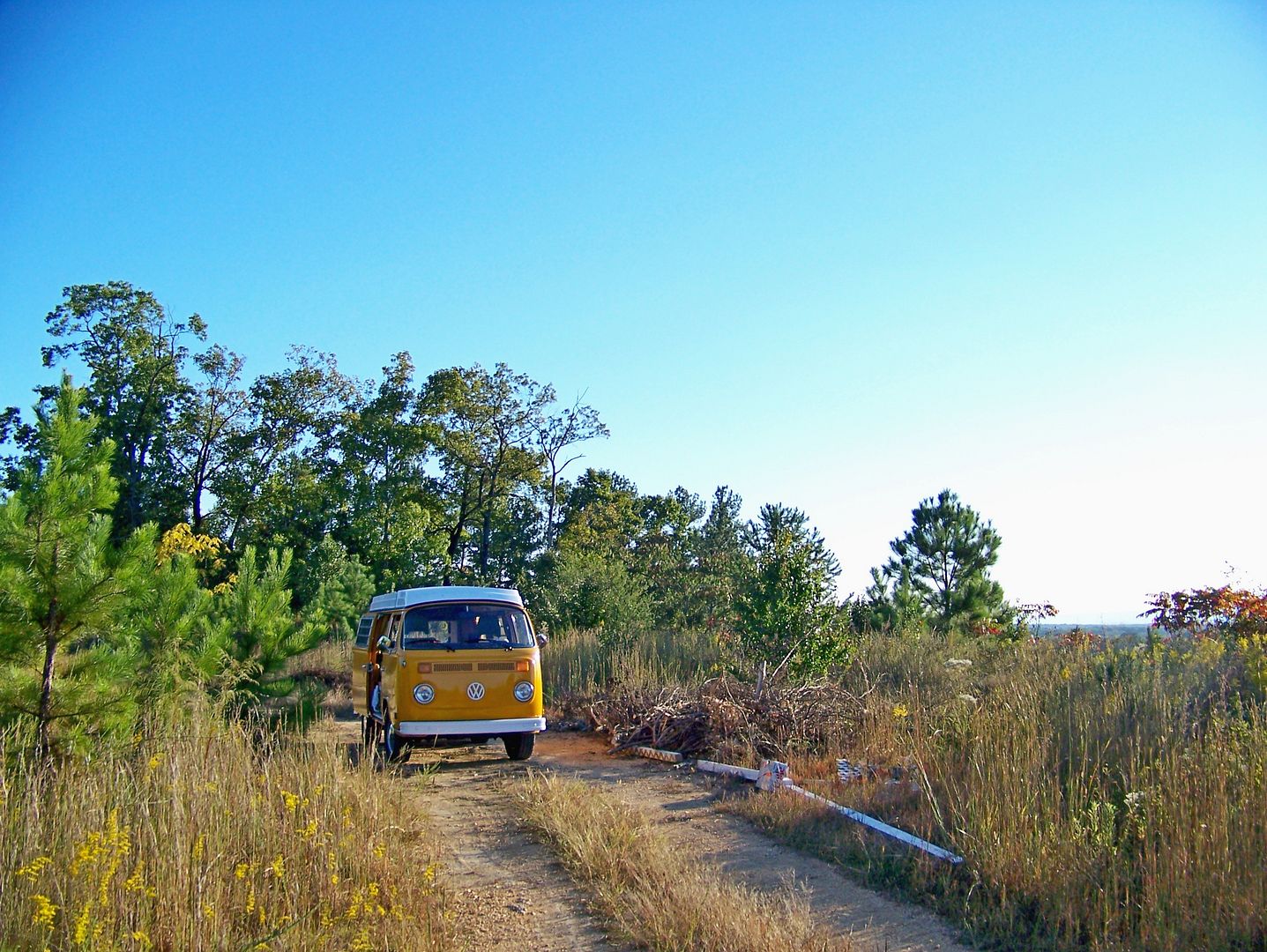 This is where I first painted the side ceiling panels back on April 27, on a bluff overlooking Fort Oglethorpe GA.
viewtopic.php?f=70&t=13011#p220383
Crickets, city lights, far below traffic sounds, crescent moon, Georgia firs, perfect. Perfect place to rip down the left heat exchanger too:
Turns out, I have been slowly pulling out the #3 inboard exhaust stud. I first saw it when I reconditioned this heat exchanger at the Homosassas Farm Fowl Hootenanny round about February 15-ish, 2016.
See? Head thread side of the stud is not visible:
FEBRUARY
Oh, but here, it surely is:
OCTOBER
Since one of my customers, ANTHONY or JOHN, stole my red dot 13mm box wrench, I was in a pickle here. I had to muscle this stud out of a confined space. Double nut removal wasn't working with my little adjustable wrench and 13mm socket. Eventually removed the front intermediate tin to get sideways access to the stud:
So very gently persuaded the stud to give it up with loosen/spritz/tighten/loosen/spritz/tighten/loosen. Here is the extraction at the halfway point:
Fresh off the engine: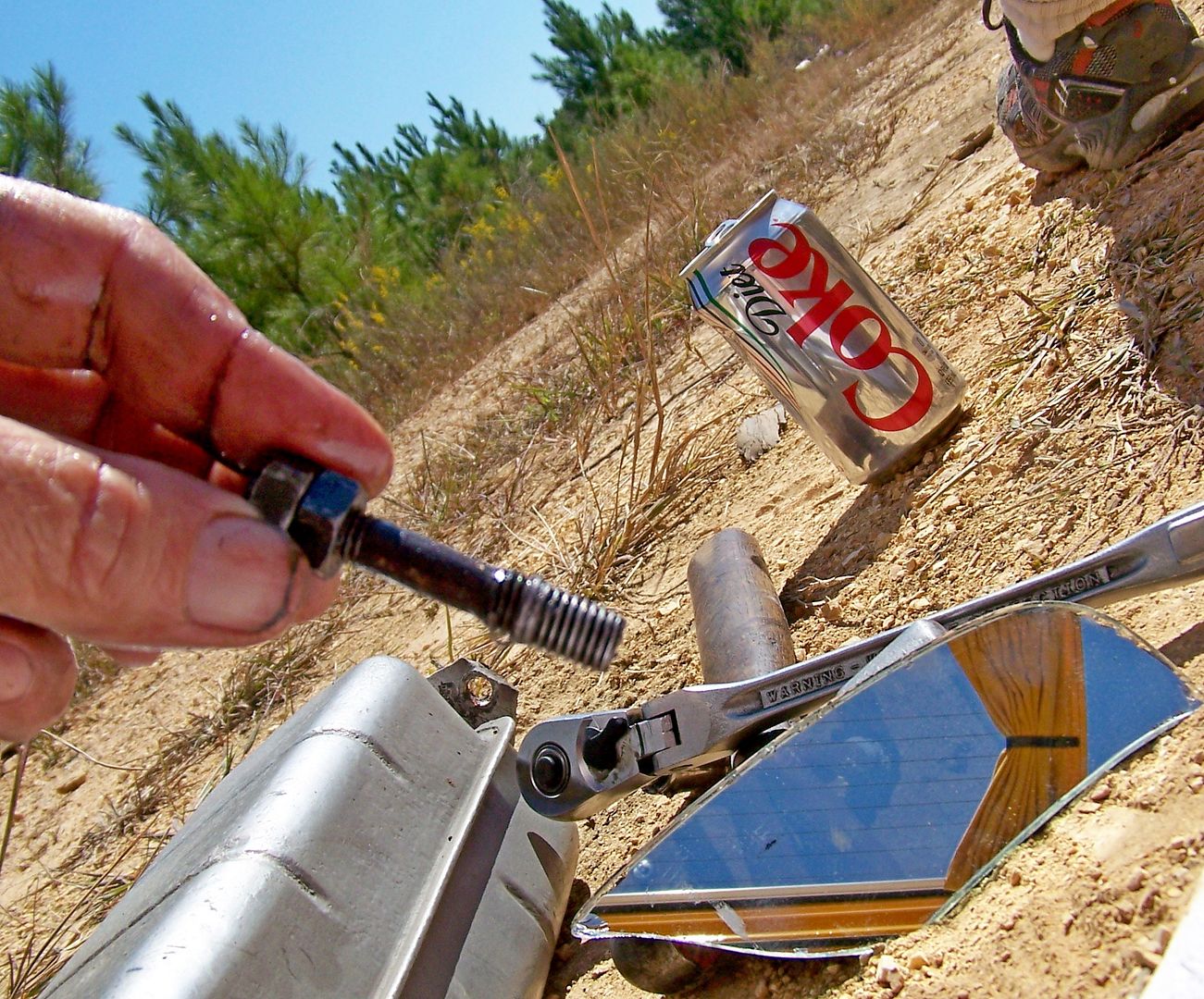 Laid out the repair strategy, depth-marked 21/64 drill bit, 10x1.25 tap, new straight 8 stud, helicoil, helicoil driver, refreshing Diet Coke, and some brake cleaner:
DRILLED
TAPPED
INSERTED HELICOIL
see the little driver tang? You pop it out with a hammer hit when you are sure it is seated where you want
Did you notice that the port/seat/valve hardly look any worse for wear after 20,000 miles of deserts and highways and 444* CHTs?
Me too . . .
Stuck the RandyInMaine Commemorative LM-1 Exhaust Analyzer in the tail pipe:
Got out my three spare air flow meters:
. . . and hit the road east to North Carolina into the promised hurricane: