. . . freedom to get back to stupid projects.
But first! Had a visit with Lou Mayall, Loufalia in the forum, in San Luis Obispo. To get to San Luis Obispo, I drove down hot old CA-99 through the agricultural heartland of America not to mention California. It was on CA-99 that I began to experiment in earnest with the AFM. This required emptying the rear deck of all that paint and gasoline and water and car parts, and finding a place for it in the middle of the car. 104*, it was hot. Got the engine access opened and the RandyInMaine Commemorative Loaner LM-1 poised on the file folder-bridge-to-the-Diet Coke-floor-stack-held-in-place-with-a-roll-of-paper-towels. Tore out onto CA-46 westbound in frying afternoon heat with a stiff headwind. Posted 13.2 full throttle at 55 mph. Pow! 445* blinkablinkablinka and no way to pull off. Slowed the whole gang down down to 50 mph until a passing lane afforded them a chance accelerate needlessly quickly and to stare furiously at me. Pulled into a vineyard driveway and richened the snot out of the LM-1. Tore out onto CA-46 and posted 11.1 full throttle at 55 mph.432* blinkablinkablinka. So much for rich.
Camped on an overlook overlooking CA 58? in San Margarita? and overlooked all the people as I camped for the very first time on the lower mattress all laid out properly. After an uncomfortable night (one head-bang bang on my way to a late night bladder call) I drove onto the railroad access and basked in the morning sun and shaved in the luxuriant sunshine and guessed an AFM adjustment, then refitted the car back to All Junk Behind The Back Seat again. Descended Hwy-101 into San Luis Obispo and felt the temps drop 20*. I said to God, "the exit I need BETTER happen before that marine layer steals my sunshine, my reason for living, my joy." The marine layer stole the sunshine two exits before mine. Found loufalia's house where his '78 westy sat on two ramps.
"Where's the coffee?"
"Don't have any, I got mine down at the store."
Drove to the store. Bought a cup of coffee that was thankfully quite good and headed back to loufalia's house where we batted back and forth about diagnostics, scenarios, goals, history, and by and by got down to work on the heater cable replacement. I had just done mine, so easy, right? Wrong. The left side came out, the right side absolutely refused. Three dremel-provided "windows" into the heater tube, a program of drill-chucked welding rod reamings, and a couple of hours of compressed air/rust penetrant dousings later, we had the 85 foot long unraveled right cable sheath out with three tattered segments of vinyl and the cable all out on the ground. Greased the new cables but good, and discovered that the Wolfsburg West-provided right cable was too short by at least an inch.
Hit the road back up the 101 so I could head east on CA 46 into the frying pan. Decided to take CA-41 as a shortcut to 46. "Tractor trailers not recommended." No kidding.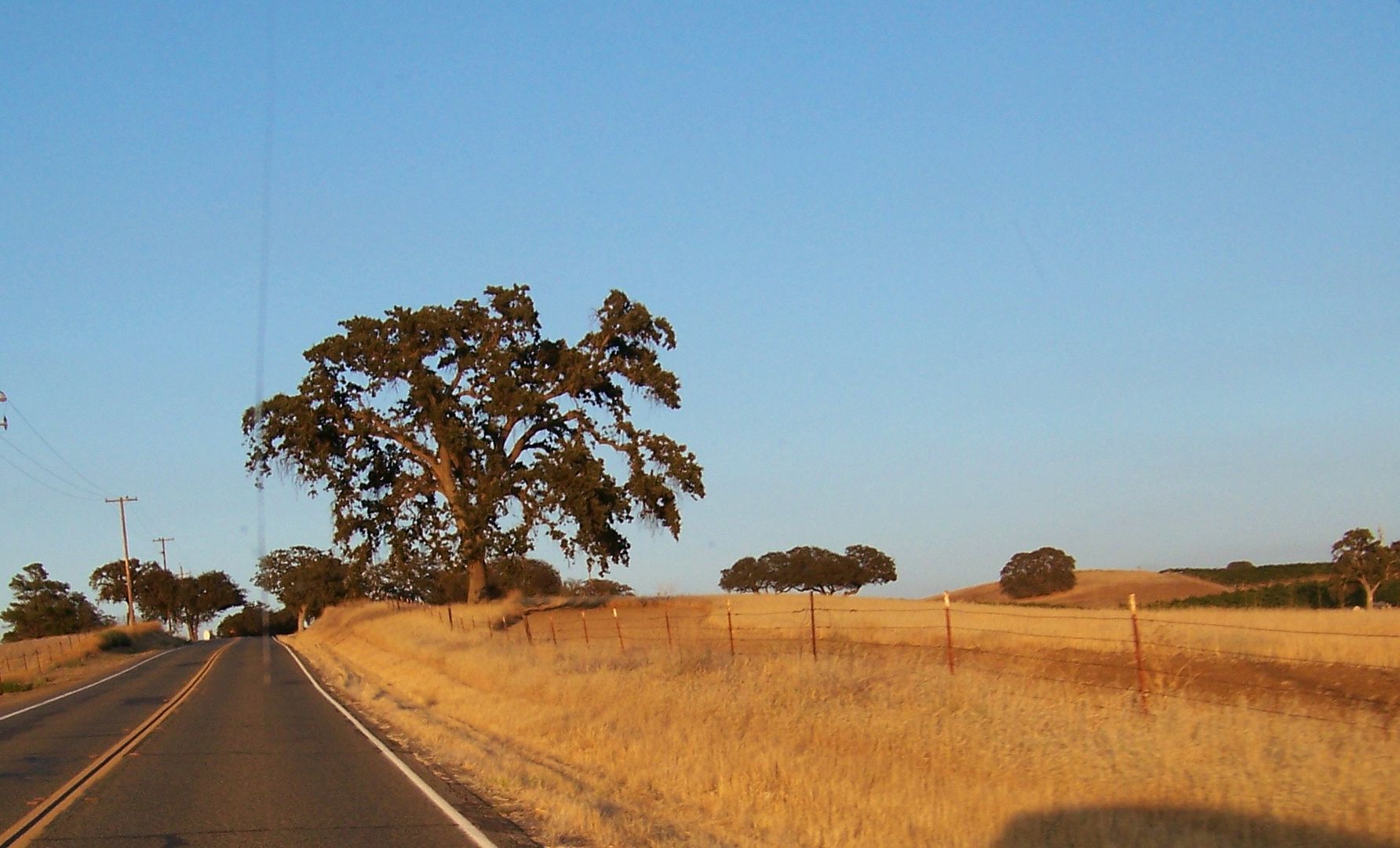 Head temps hung out in the 380*s:
All the sheep I have been counting recently threw a party out here:
California Oak Savanna on an August evening is exquisitely gorgeous:
I do appreciate California's road engineering, the banked turns . . . .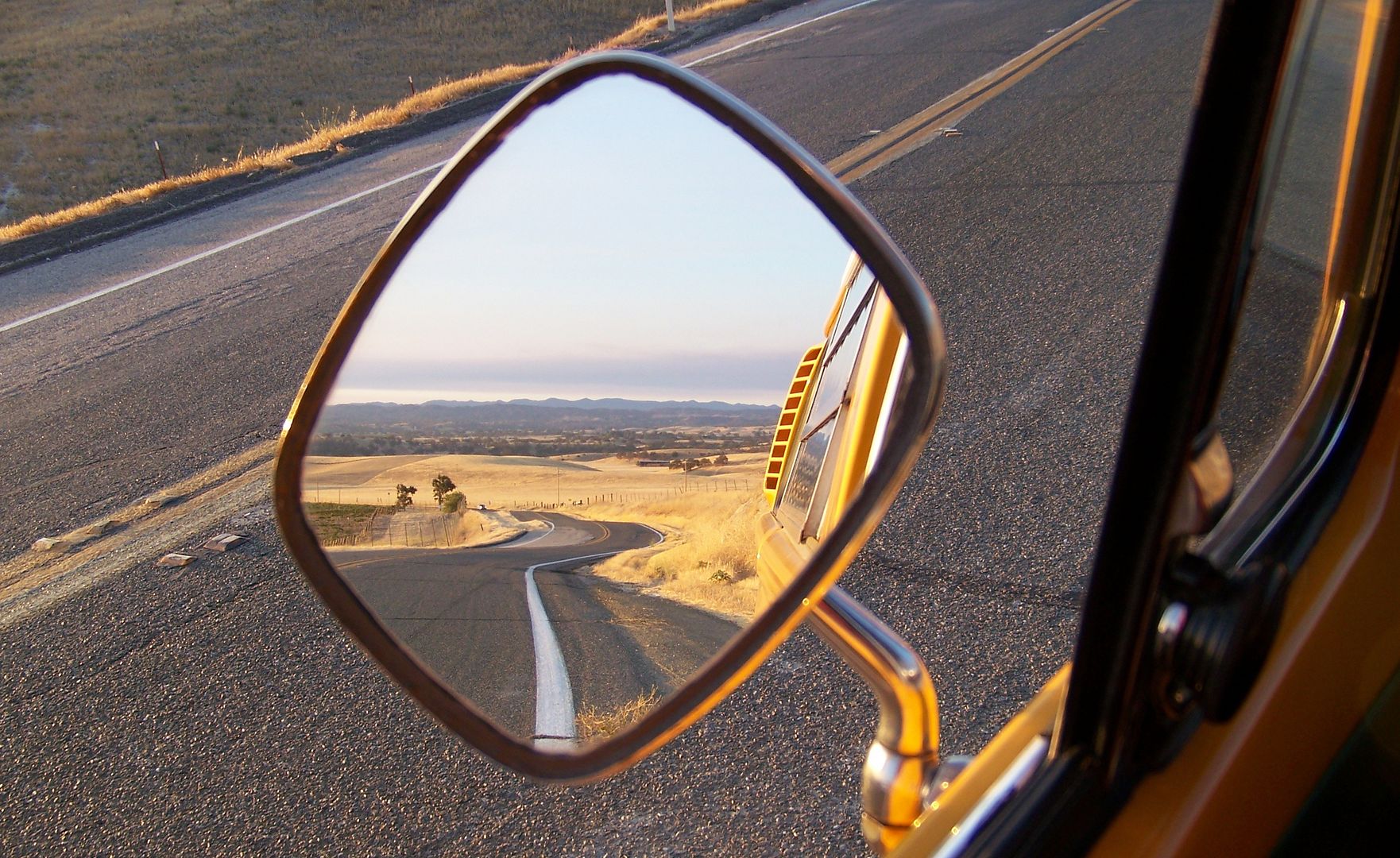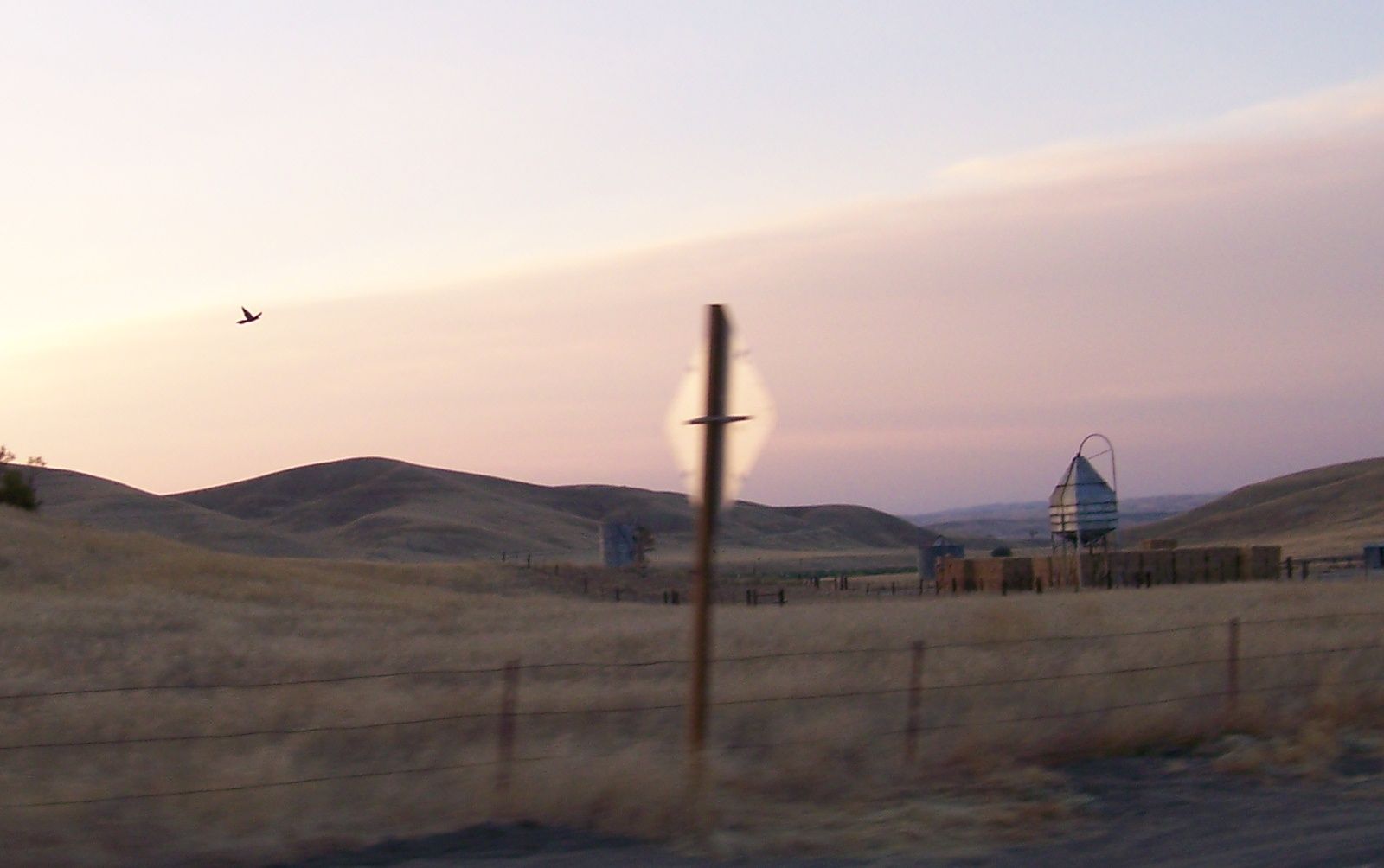 Drove into Lost Hills with unexpectedly tame CHTs and a welcome 85* warmth and a full red moon that slowly filled out through the smoke of the Blue Cut fire. 17.4 mpg from Lost Hills to San Luis Obispo and back to Lost Hills.Hauled down Interstate 5 to see how annoyed the CHTs might get. 423* not bad. Camped at a huge dirt lot and awoke to five suns reflecting off NaranjaWesty: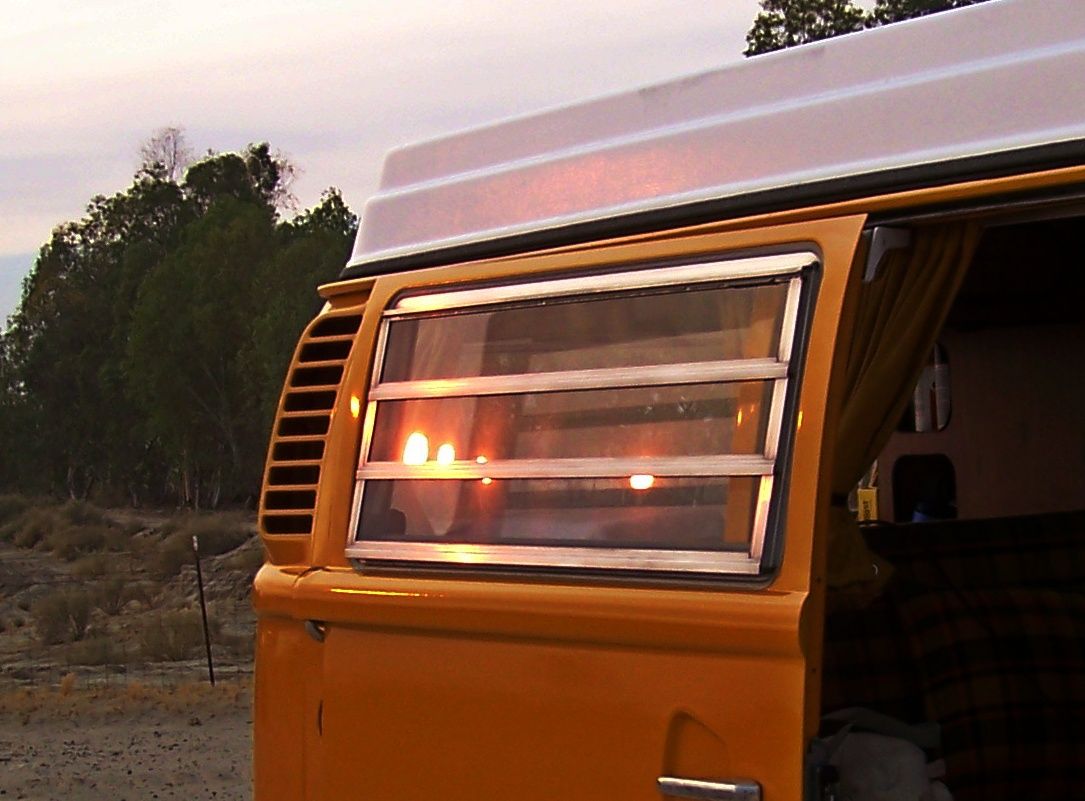 Very smoky out here: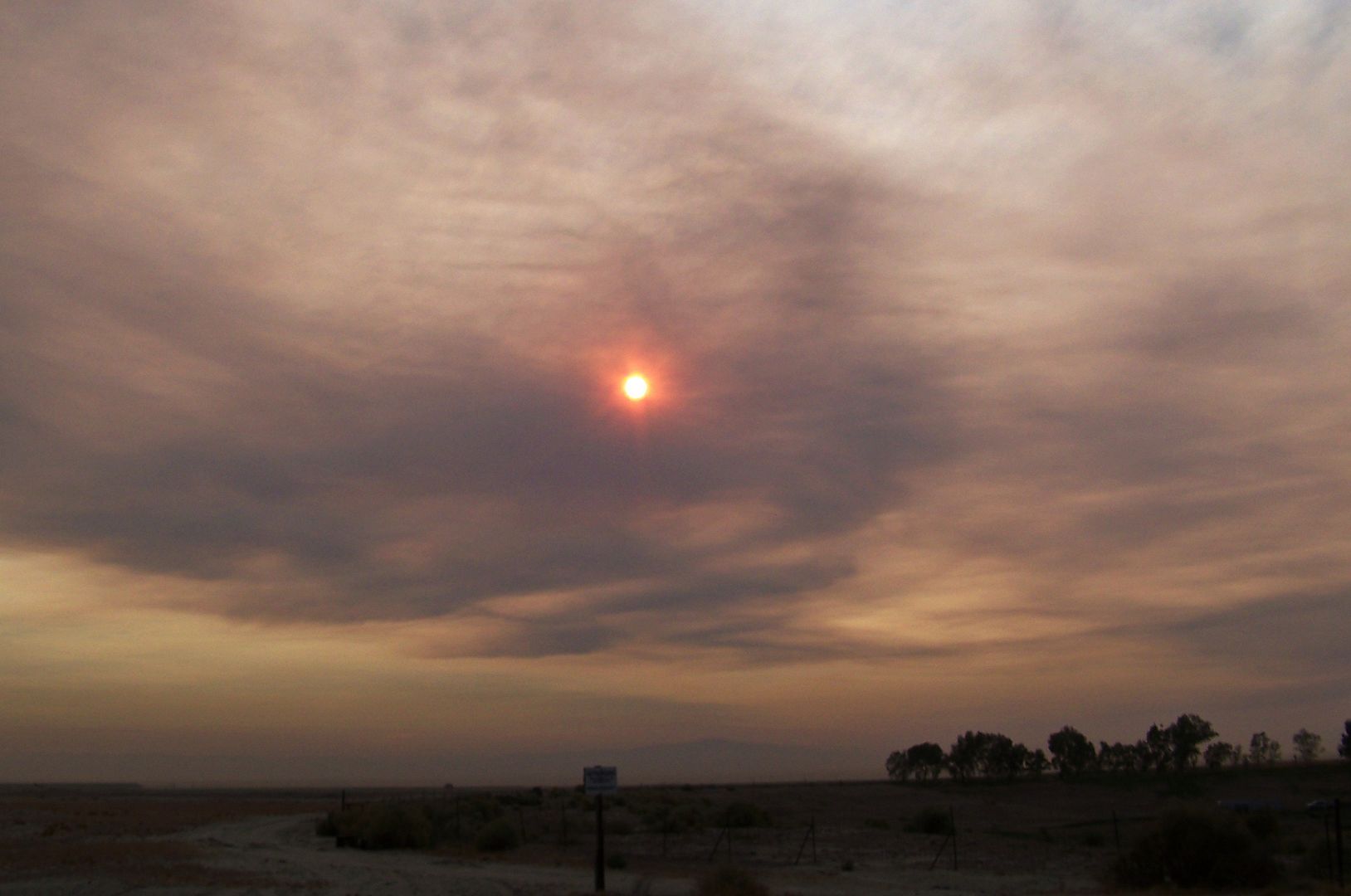 Had a filthy dirty dusty day driving down to Buttonwillow via almond orchard access roads. It was at one dirt crossroad that I decided to refresh the sliding door panel:
START:
MIDDLE: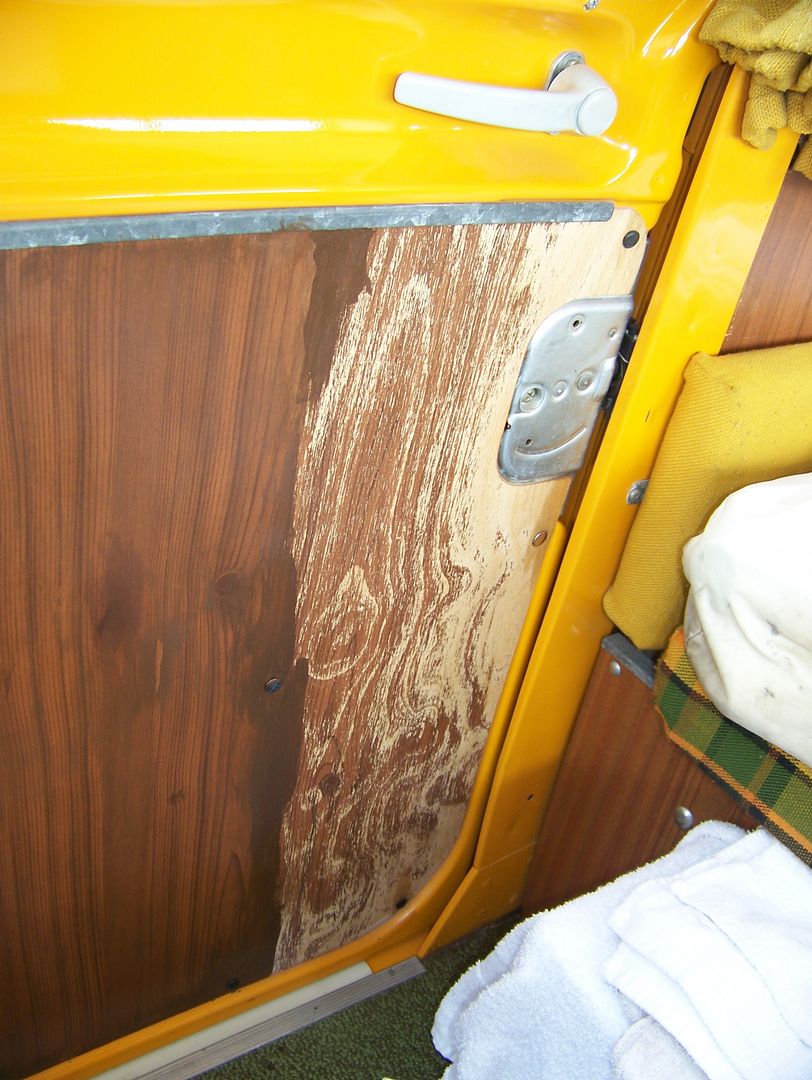 END:
This was actually pretty easy. Stirred up some brown Chloe kick panel plastic paint, added a dollop of Naranja's Chrysler Hemi orange, and painted the panel where the plywood was peeking through. Low viscosity was ensured with frequent GumOut sprays to keep the consistency watery. After three minutes of soaking, I cleaned off the surface with WD-40 on a paper towel and wiped vertically to allow a little "grain" where the paint wanted to streak. At the damaged rear corner, the paint just blackened the thirsty plywood. Two coats there, and a slightly more aggressive wipe down allowed the plywood's grain to just start coming through the paint. It actually makes a decent transition from the printed grain to the real grain.
Tomorrow? Los Angeles Forest.
Colin