I am in Spokane WA this evening, finally beginning to thaw out from the cold cold foray into Jackson Wyoming on July 10th. NaranjaWesty has just hit 56,881 miles, that is 15,000 miles since I picked it up in Duluth GA on October 27, 2015.
Apparently, I have spooked/revolted the membership here with my dire tales of cleaning out the fuel filter frequently. Please be forewarned that there are more fuel filter clean-outs to come, and they might be part of the story or photograph. They are no different than prior years' tales of having to remove Chloe's engine three times in October 2011 , or having to straighten the BobD's alternator pulley in a rail yard in 2014. This year is not about the generator brushes. This year is not about the Firestone tires throwing steel threads out. This year is not about horrendous wheel balancing jobs or too-small exhaust valves, it is about a gas tank trying to shed twenty year's worth of varnish while I drive long distances across ever more crumbling roads. Although cleaning out fuel filters does not have the drama or story line of battling an engine's difficulties with lousy machine work (in the case of Chloe's skyrocketed head temps), and it cannot compare with disassembling the dashboard on the BobD to reorganize the wires in a more coherent fashion, it is a part of my life right now. It is just another aspect to this year's Itinerary Adventure, and you still have the visits the photographs the challenges of others' VWs coming your way as ever.
For example, Headflow Masters and Mountain Prana. We left off from the last post .. .. .. :
viewtopic.php?f=70&t=13118
.. .. .. heading into Jackson Wyoming with rain and clouds and wind and cold and beauty: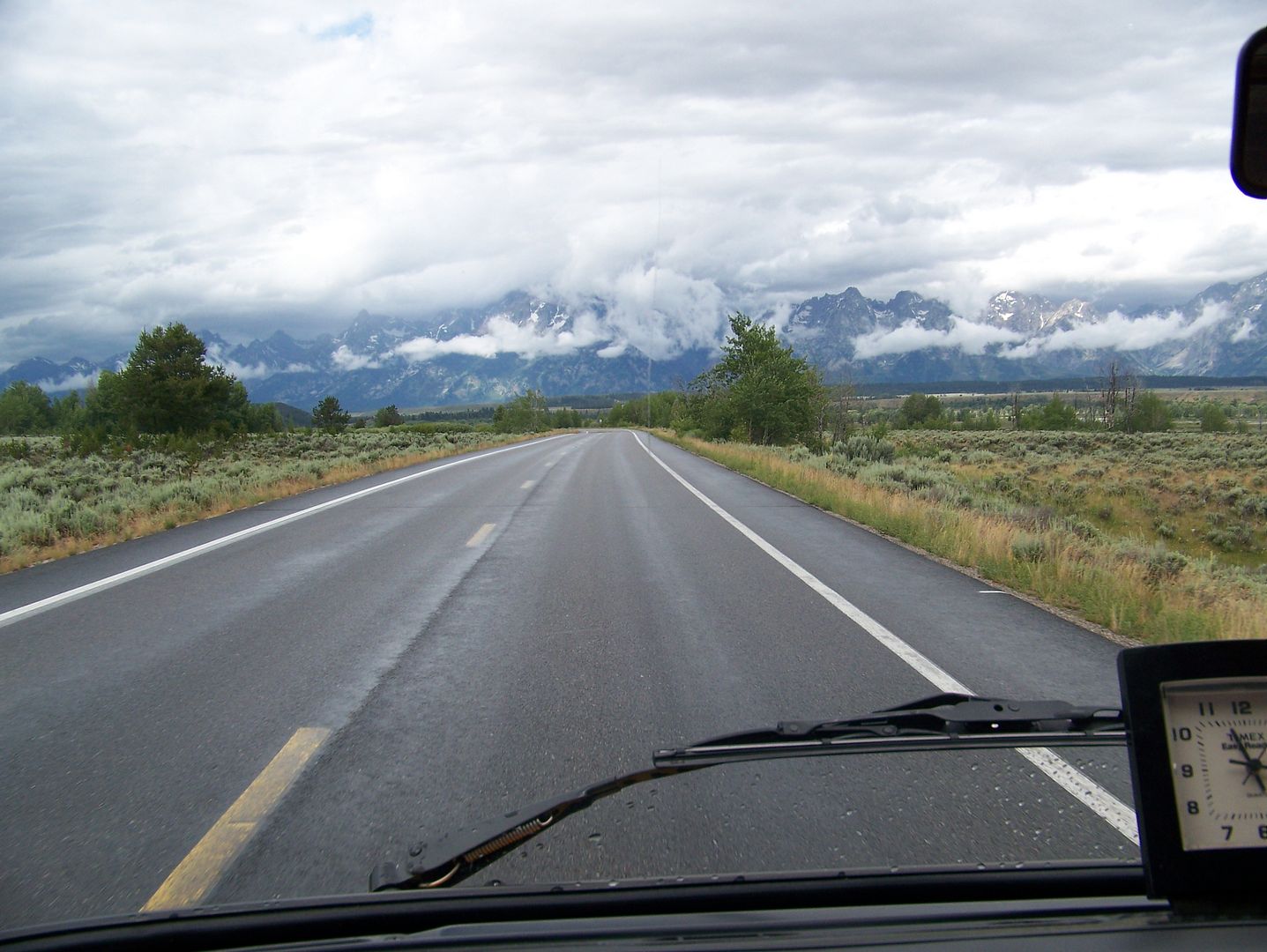 After being all warmed up in summer mode way back in Minnesota and Iowa and even Gillette Wyoming, the sudden mid-winter-Florida temperatures caught me by surprise. That is a glacier over there:
Do you think I was not exulting in the magnificence as I pulled over and lay down and performed the task of which we shall not speak?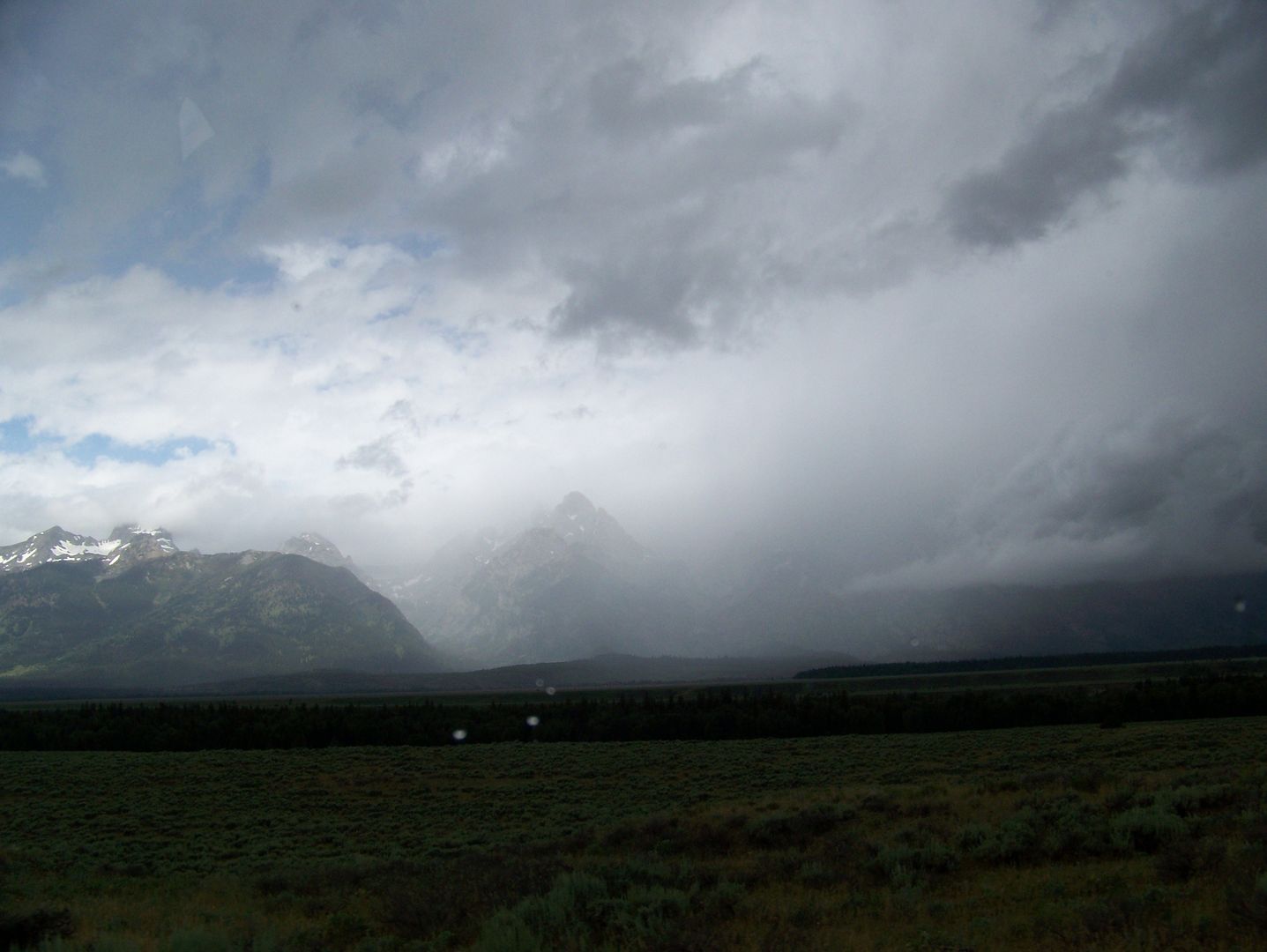 Mountain Prana and his hardy gracious spouse live here . . . in the National Elk Refuge Park. I had to interview them inside over a cup of coffee just to give me a little preparation time to deal with the cold, the rain, the wind, the sawdust: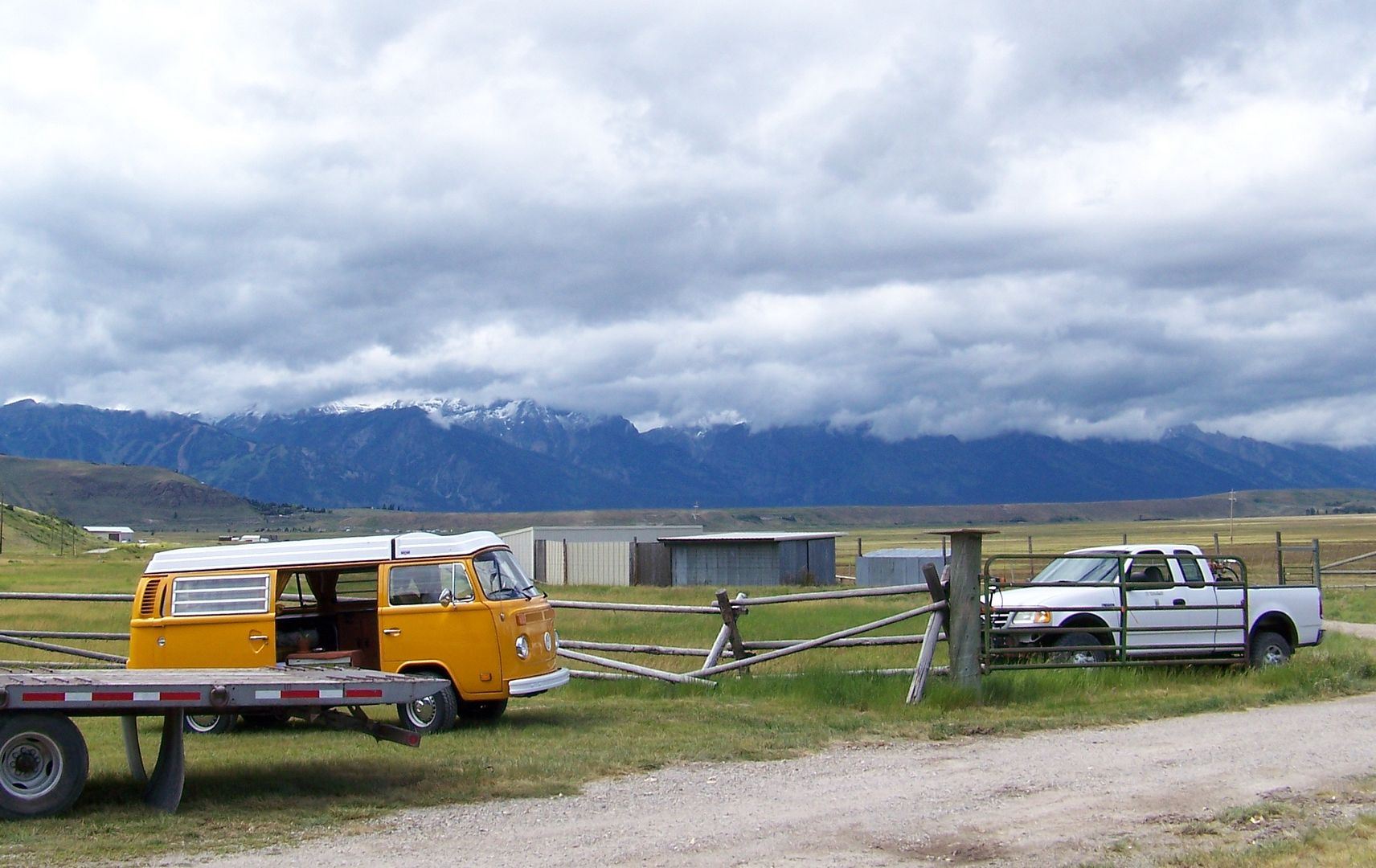 The 1982 Vanagon with the Headflow Masters engine indeed refused to start as he promised it would not. We jumped into Diagnosis Mode. Valve adjustment, a serious reconsideration of the pulley's timing notch, ignition timing, fuel mixture, and the engine still refused to start. We pulled the spark plugs to find that they were all black and greasy. The compression test yielded 65/60/65/30. Not too frisky, if you ask me. We decided to back off the #4 hydraulic lifter pre-load to "0". That gave us another 30 psi to a total of 60. Everybody jumped in to clean and gap the plugs and ask nicely of Odyssa to please start:
We barely got her to wheeze to life with those anemic compression readings on this 4,000 mile-old engine. With caution, we stepped back the timing from the previous adjustment of 32* BTDC at idle, so we could re-adjust idle speed and mixture as it slowed. We figured that the shop which had been charged to "fix" the lousy-running brand-new Headflow Masters engine set the timing to this insane setting just to get them out the door (then they closed their doors for good). Unfortunately, the engine was seriously damaged on its journey from Utah (the point of installation) to here in Wyoming. That leaves Headflow Masters free and clear and it leaves Mountain Prana and gracious spouse thoroughly out of recourse. The #2 piston skirt has collapsed likely due to new engine friction plus fatal heat from what must have been 60* + advance on the road. It sounded like a diesel engine.
But the homemade pizza was divine, the coffee was thorough, and the ginger test drive was aborted when awful noises ensued. We barely made it back to the garage where we set out to find what the noise was all about. The noise was all about a rocker assembly disassembling itself from the cylinder head. Here, Mountain Prana makes good: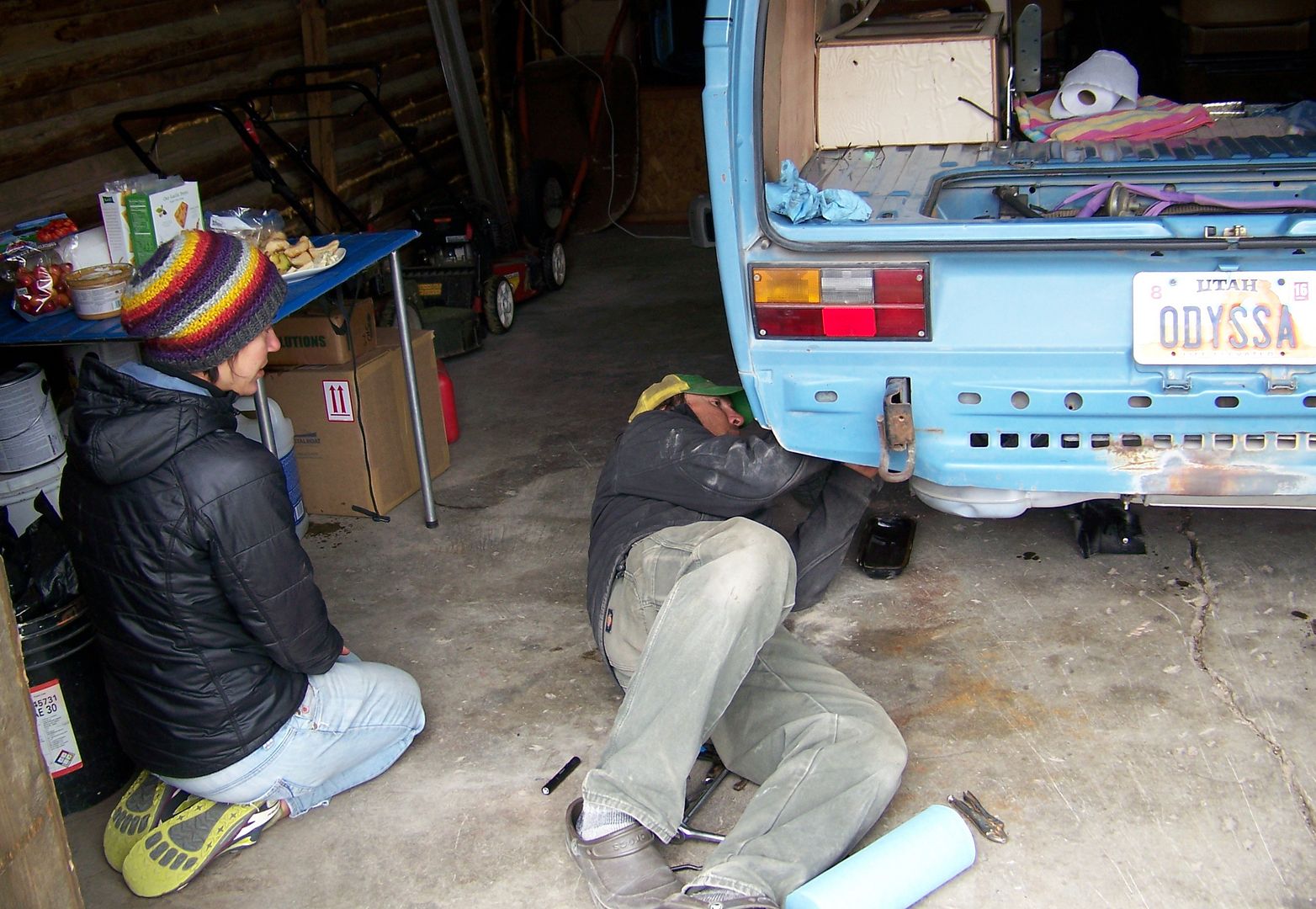 Mountain Prana spouse and I set out to make the shifter perform better with a readjustment at the floor and a white lithium baptism of the over-gas-tank bushing, and we set off again on a longer test drive with a nice shifter. I left this intrepid adventurous couple, this continent-traveling serious long-distance hiker couple, swimming in a sea of questions that I could not or would not answer definitively. Tear the engine down? Replace pistons and cylinders? Install solid lifters? Figure out the low compression? They will get back to me on how our adjustments did since I did suggest that reducing the timing by some 30* was going to make the rest of the engine unhappy-but-safe. They offered dinner, a shower, accommodations that I had to decline for reasons of light: camera; see below. They sent me out the door with some parts and a piece of so very excellent apple pie. Good people!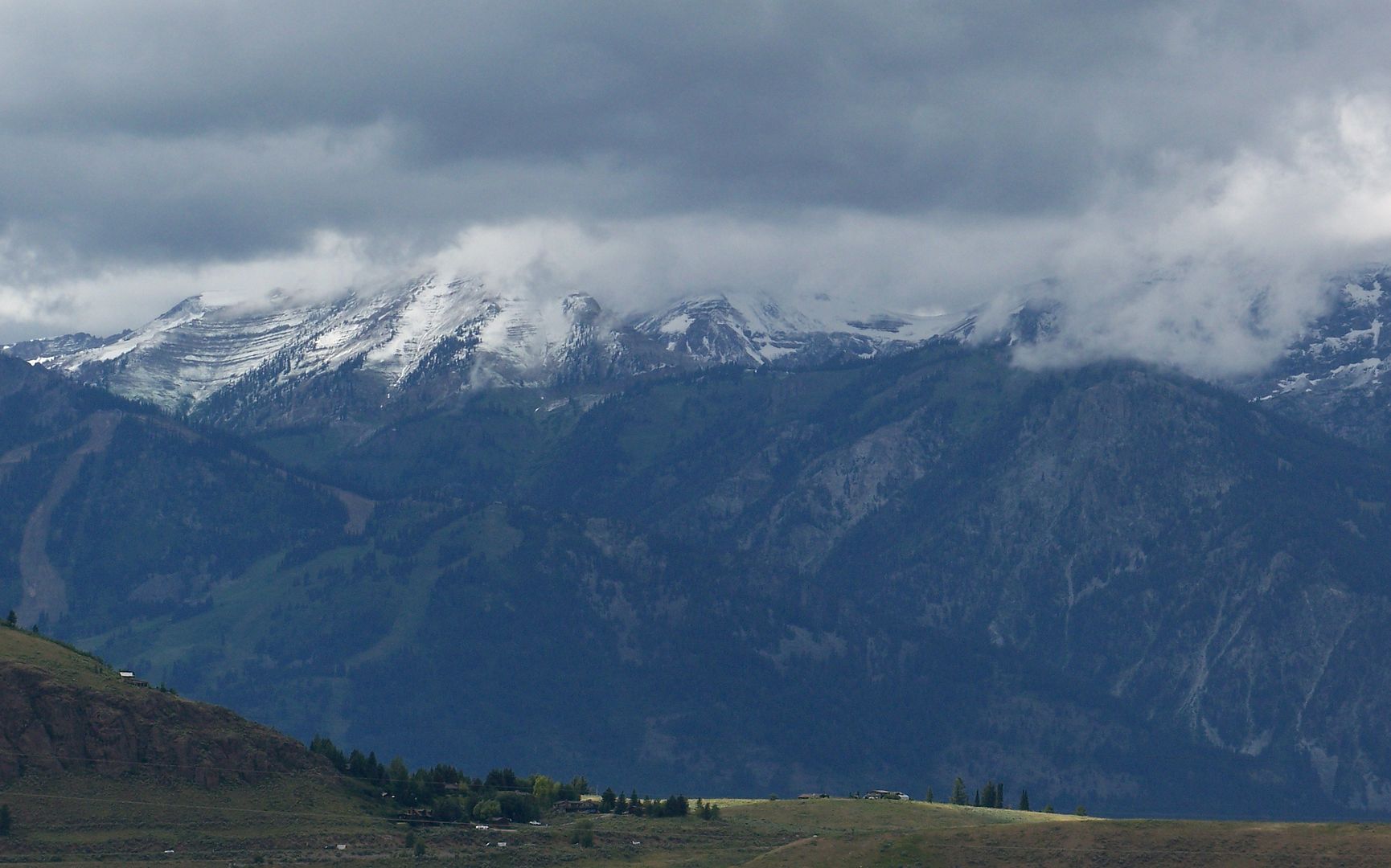 8:05PM Mountain Time, approaching the Teton Pass: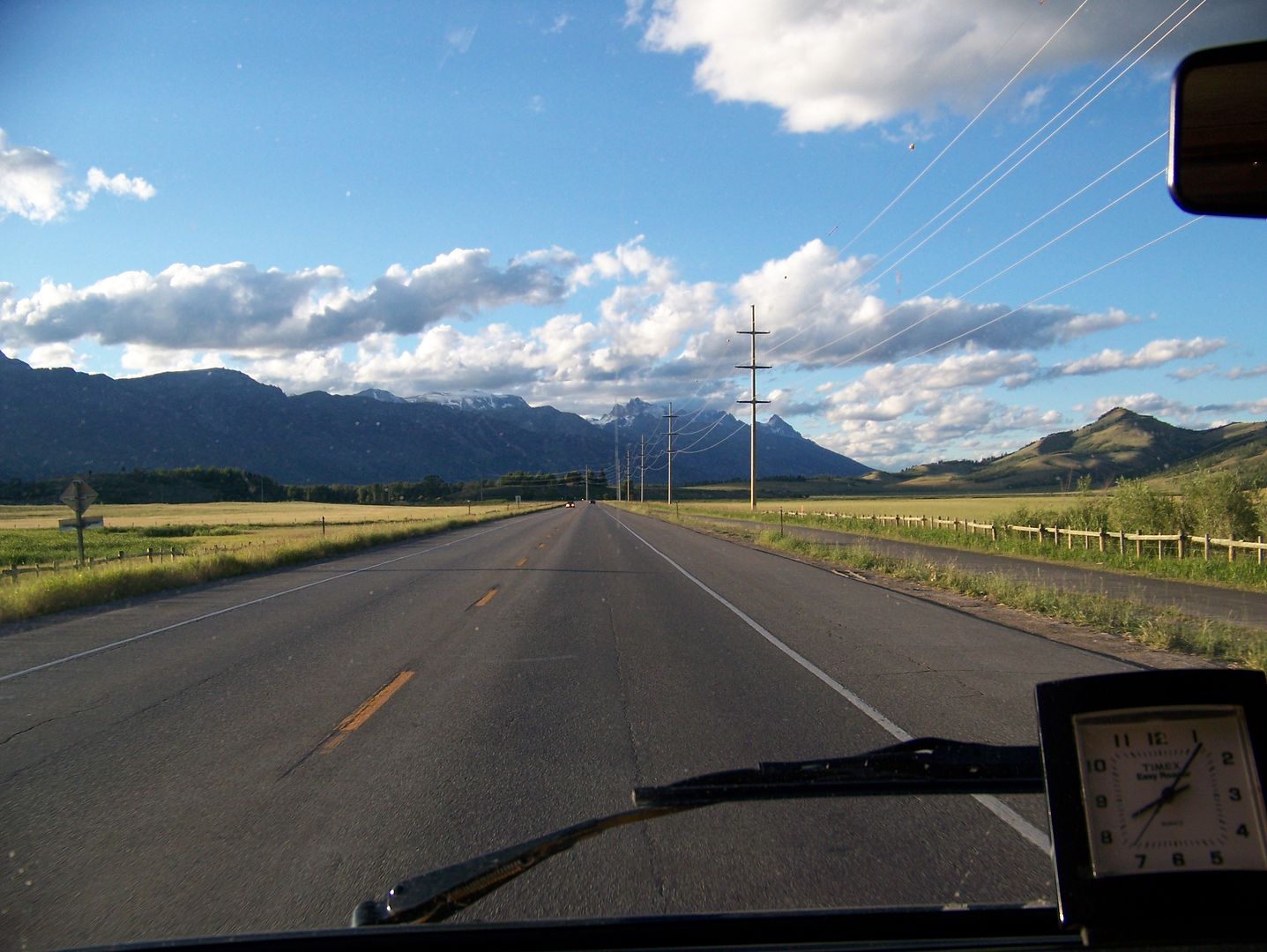 The pass slices up the hill from right to left: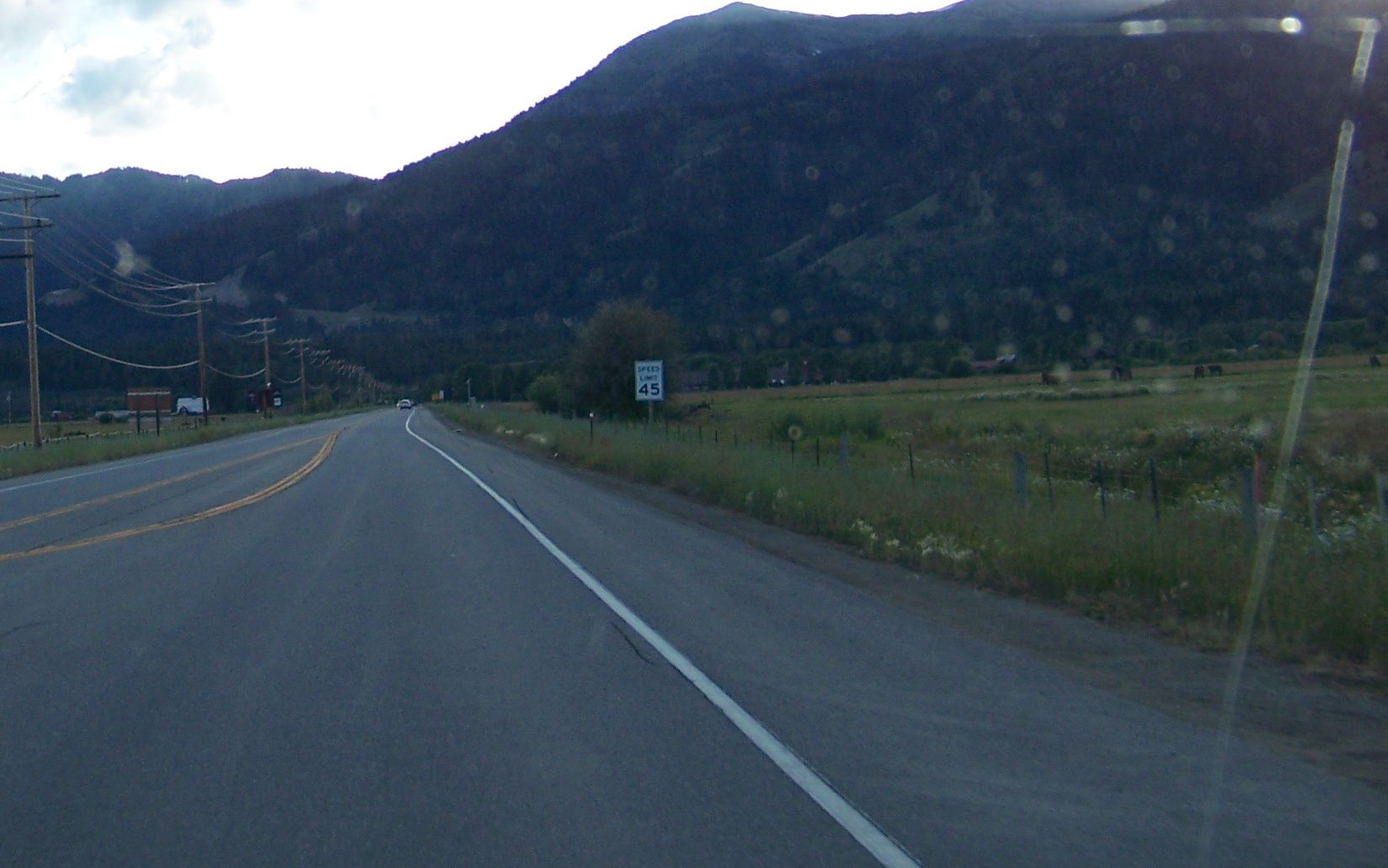 The view became spectacular quickly as I climbed. This is sort of looking back at Jackson:
Did the whole pass pretty much at 4,000 rpm at 30 mph in 2nd gear at 365* CHT: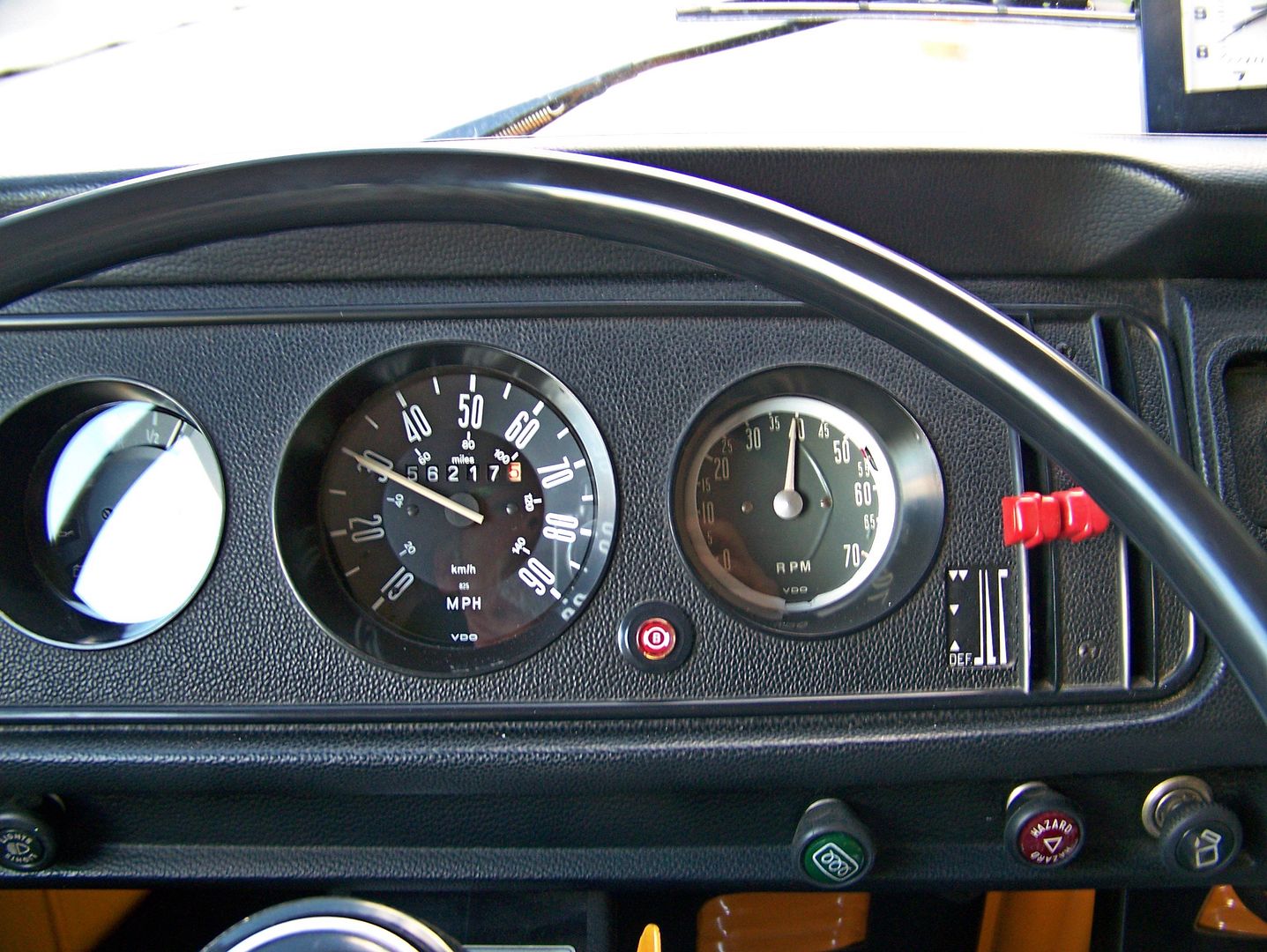 You can see the road I came up, way down there: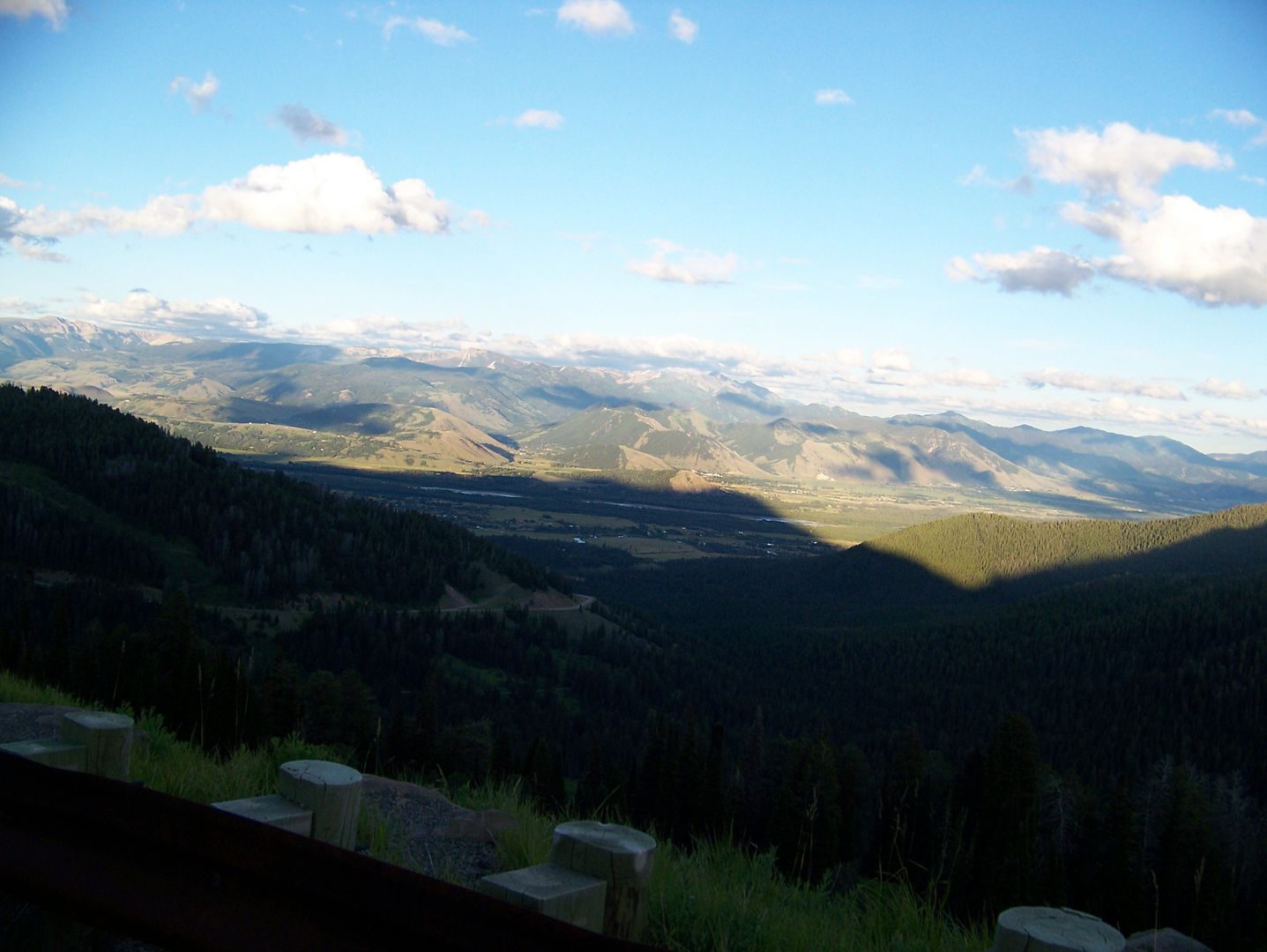 Very soon after cresting the hill, I was in Idaho: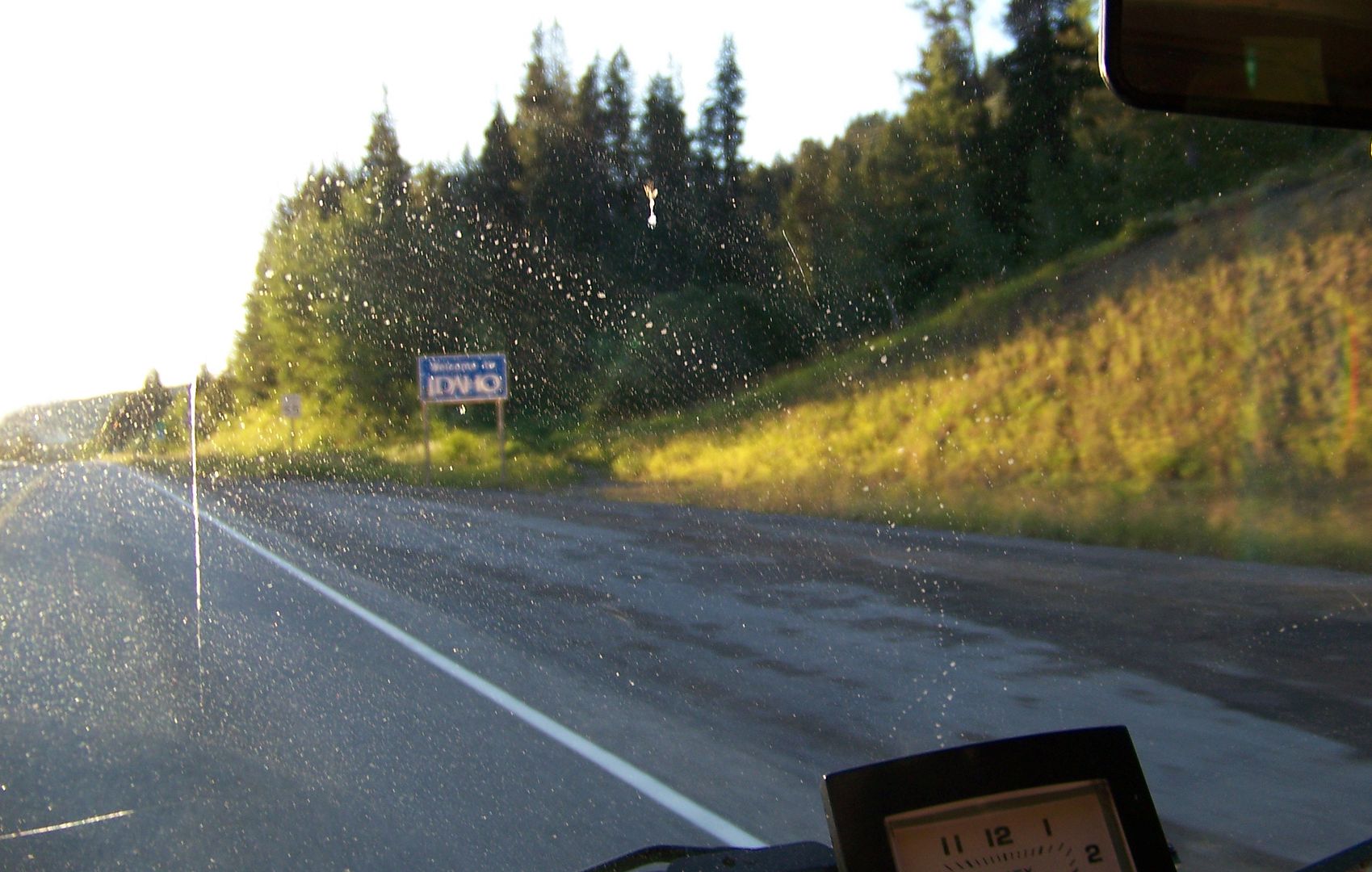 This field in the evening light was a chrome pastel green gorgeous: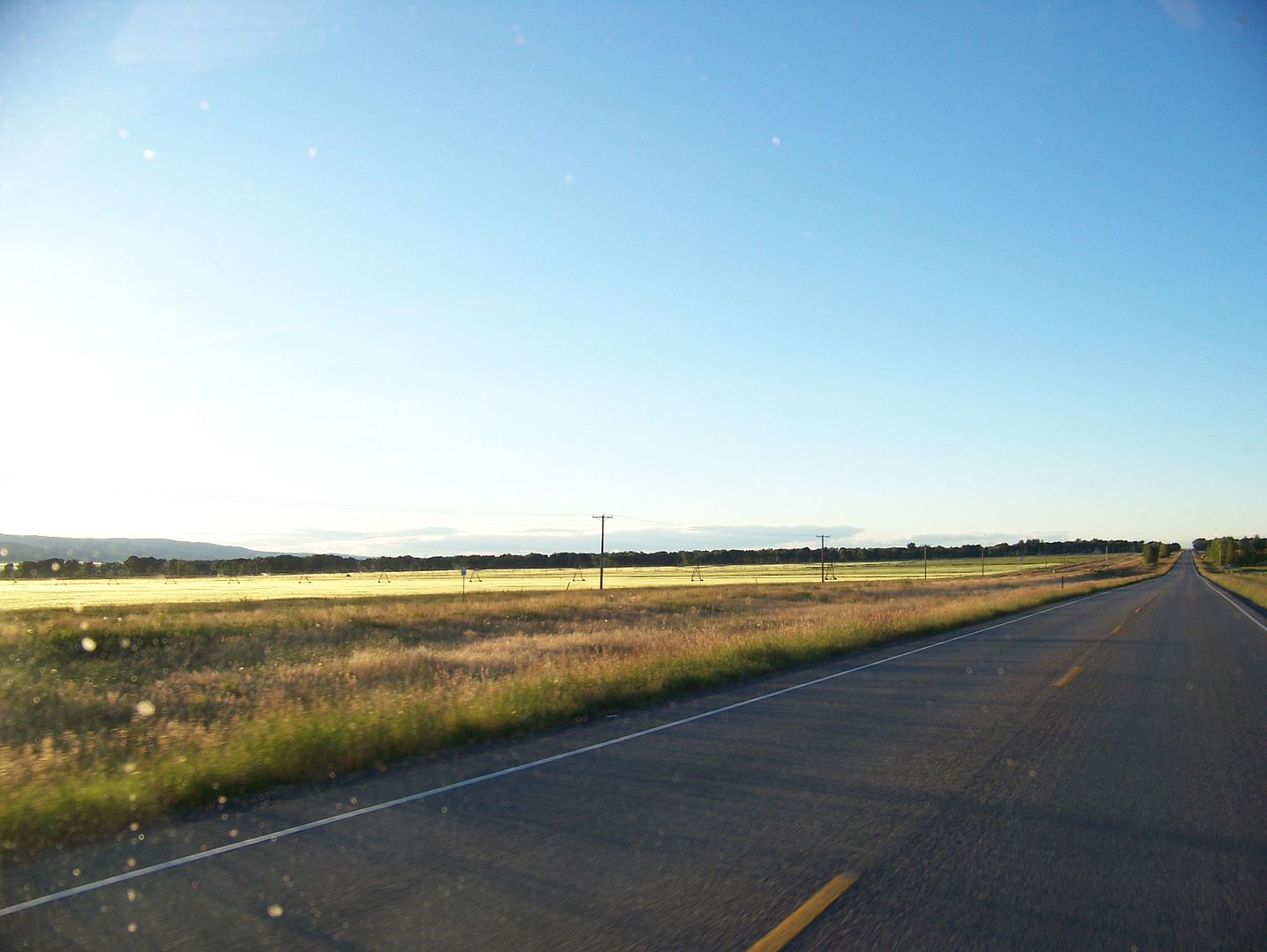 Looking backwards from the cleaning of the Item Formerly Known As "Fuel Filter":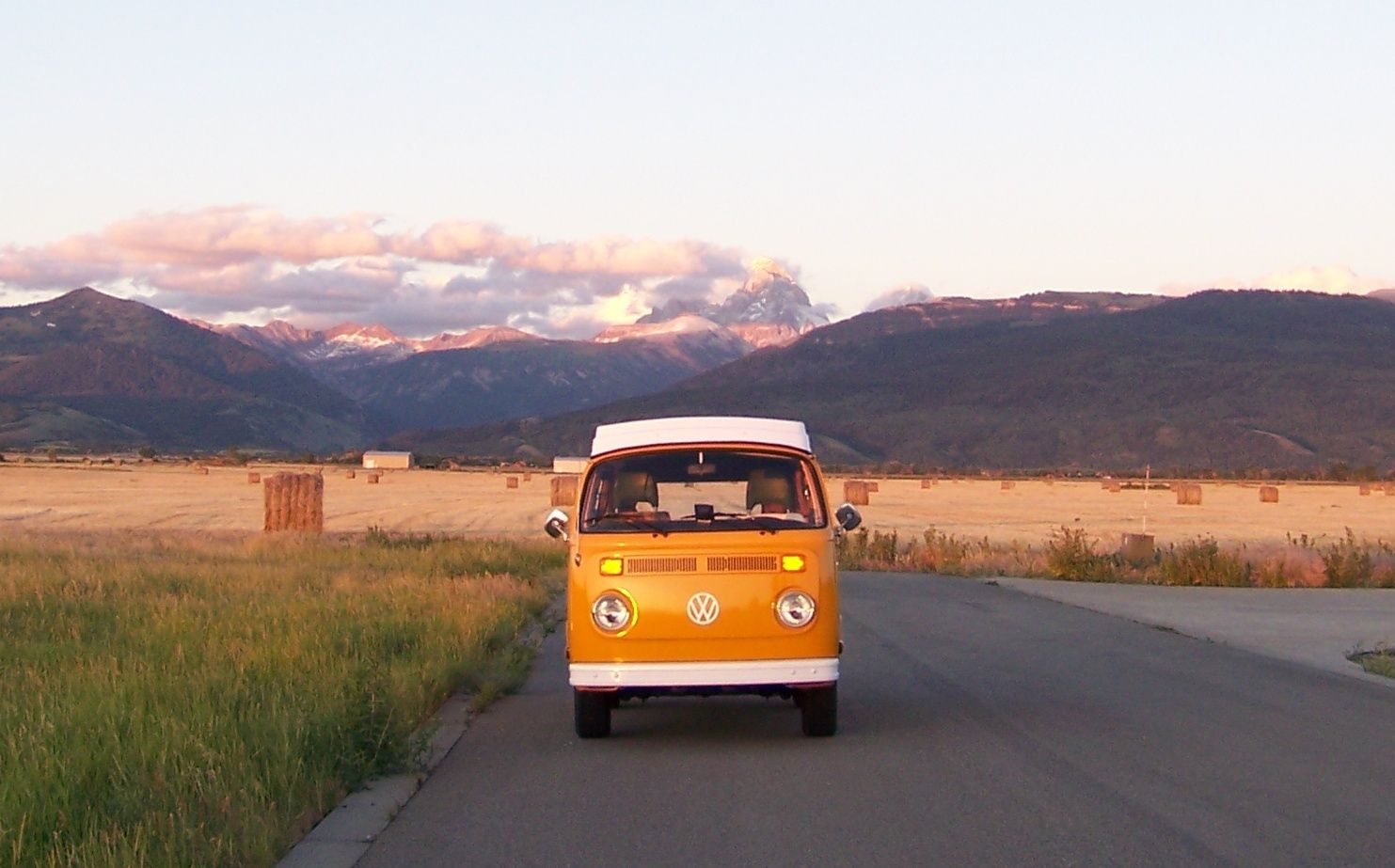 . . . .

A chilly but beautiful good-bye to the Tetons: