But first, Livingston Montana to visit with whc03grady in his new house with his new two-car garage. This is his neighbor's truck: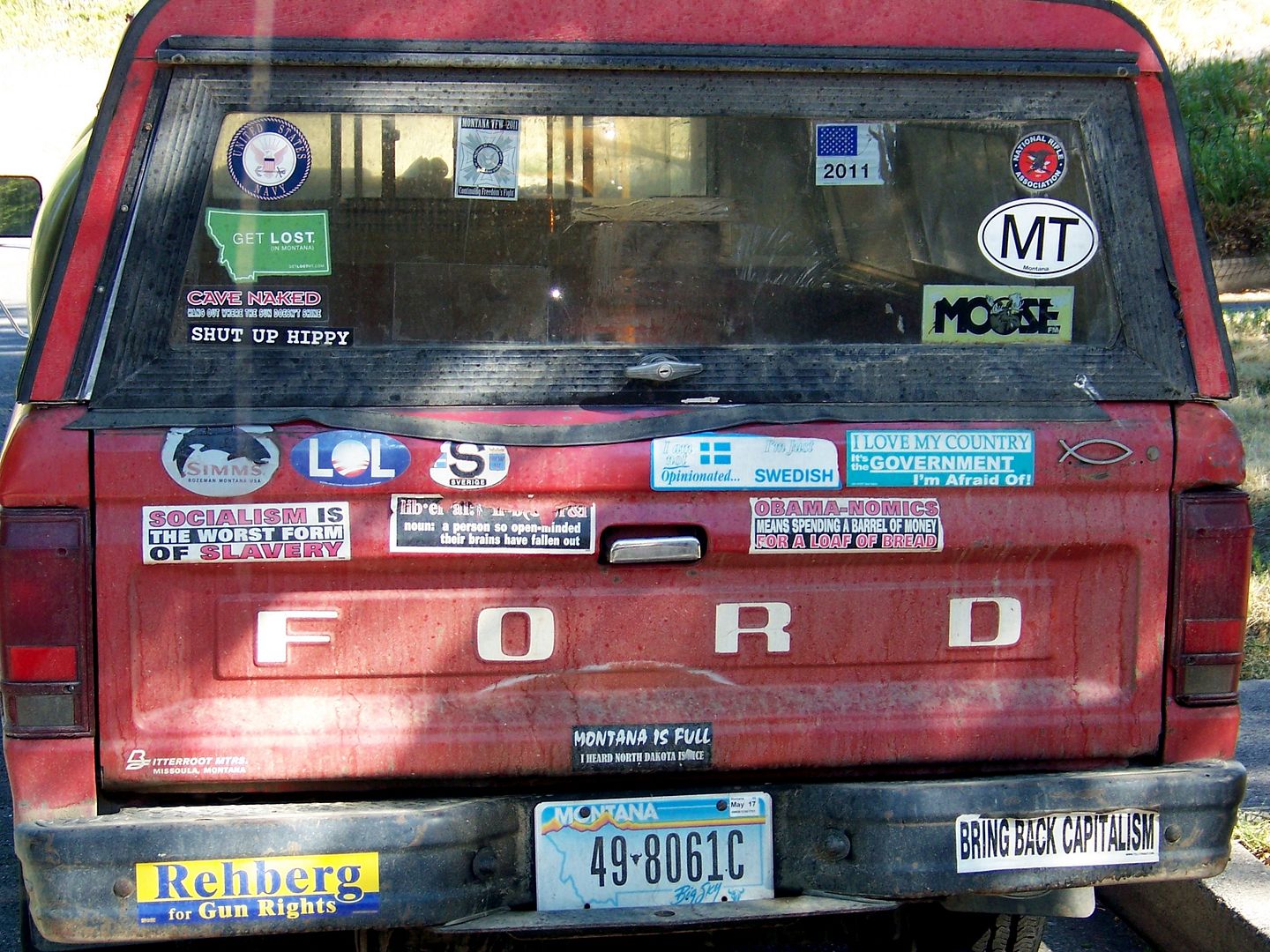 It was good to see his family again, all back together under the same roof. The Baby Who's Head Melted Snow in June 2008 is now eight and a half years old, the new baby is two and a half, and The Spouse Who Installed The Muffler At 3:30AM in 2011 is still on board, committed, solidly behind the Volkswagen adventure, and this year she gets to witness a little additional unnecessary drama, courtesy me this time.
Mitch and I drove off to the library to resurrect Ludwig. We merely needed to attach the carburetors and do a little wiring and cajole an expen$ive Go Westy starter to start. We did. The car started. The rain fell. We drove back to the house, me driving Ludwig, he driving NaranjaWesty. We parked Ludwig in his stall for the first time at the new house.
The two children were excited to see Ludwig and be an audience to the day's tasks. Look at the happy children:
I feared that they might be a stern audience. And they were . . . . . . as I idiotically realized that I had idiotically over-LocTited the loose screws on the choke plate of the left carburetor, necessitating a full disassembly to free up the glued choke plate shaft. Why, here's the younger one asking God Himself why must she be in the presence of such a knucklehead: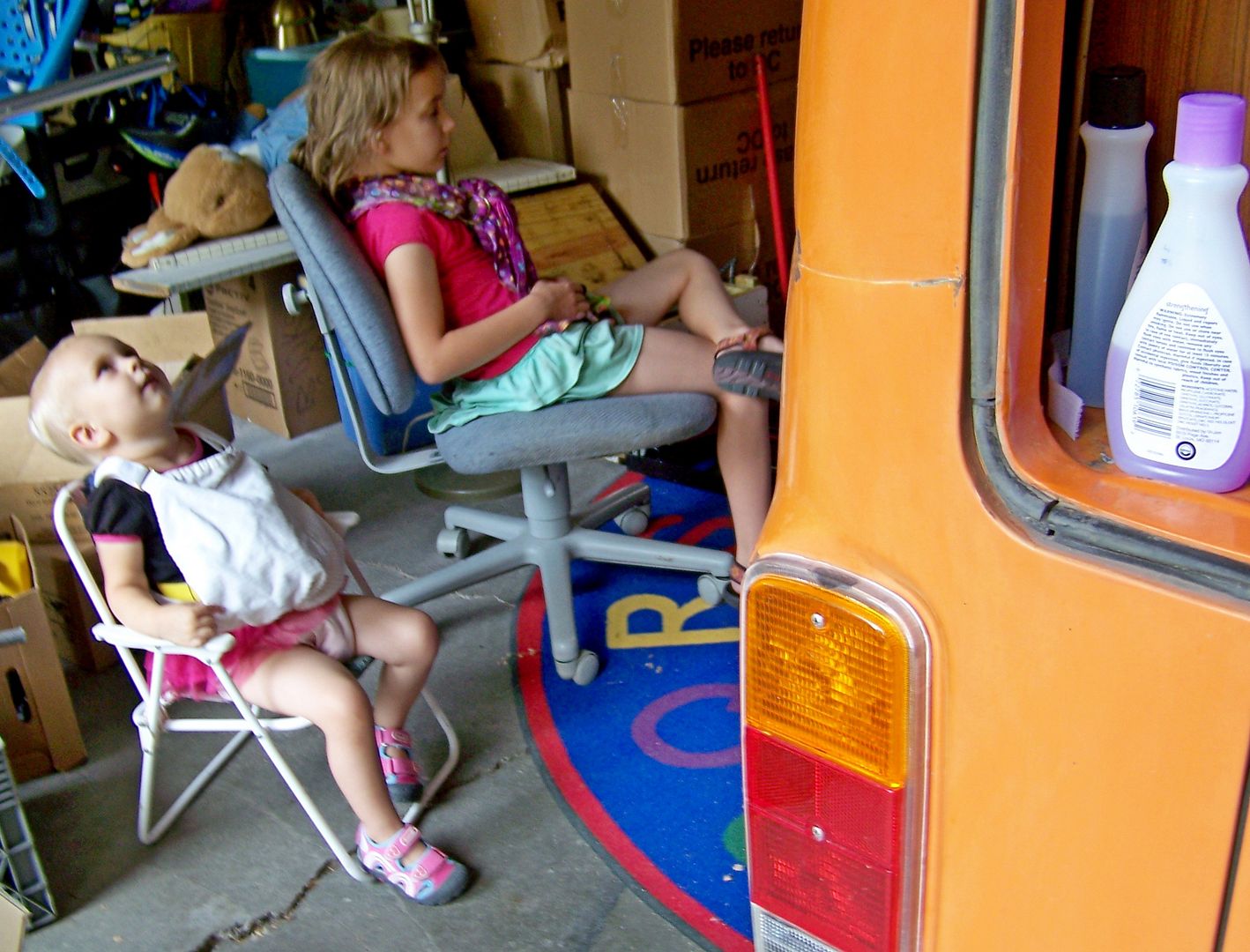 Whc03grady spouse (flatlander here on the forum) asked me pointedly exactly why was it that the recently assembled and running engine is no longer. I scarfed my spare left carburetor and disassembled it only to find that it had a broken choke actuator on the end of the shaft I desperately wanted to use, so I ended up having to ream their carburetor and bend their shaft back together and re-LocTite and re-swege the ends of the now very pissed off screws that have to hold the choke plate without ever dropping into the engine, ever, never:
We put Mitch to work installing a drag link.
"It will release with a sound like a gunshot!" I excitedly exclaimed to help build a little suspense for the gathering.
His drag link just kapoofed off.
"Ha, well, good thing, it wasn't very tight, huh? So the new one will be . . . now."
The day evaporated out from under us. I was itching to get to Jackson Hole WY while it was still light, just in case, you know, the fuel filter gave me any trouble. Therefore, I declined yet another offer by yet more hospitable hosts (
and loyal customers!
) to have dinner with the family. Mitch helpfully drilled me with "follow the 'm's, Mammoth, Madison, then Old Faithful, then West Thumb."Oh, I hate myself sometimes. So does the Universe, which gave me a traffic jam to burn off any remaining daylight: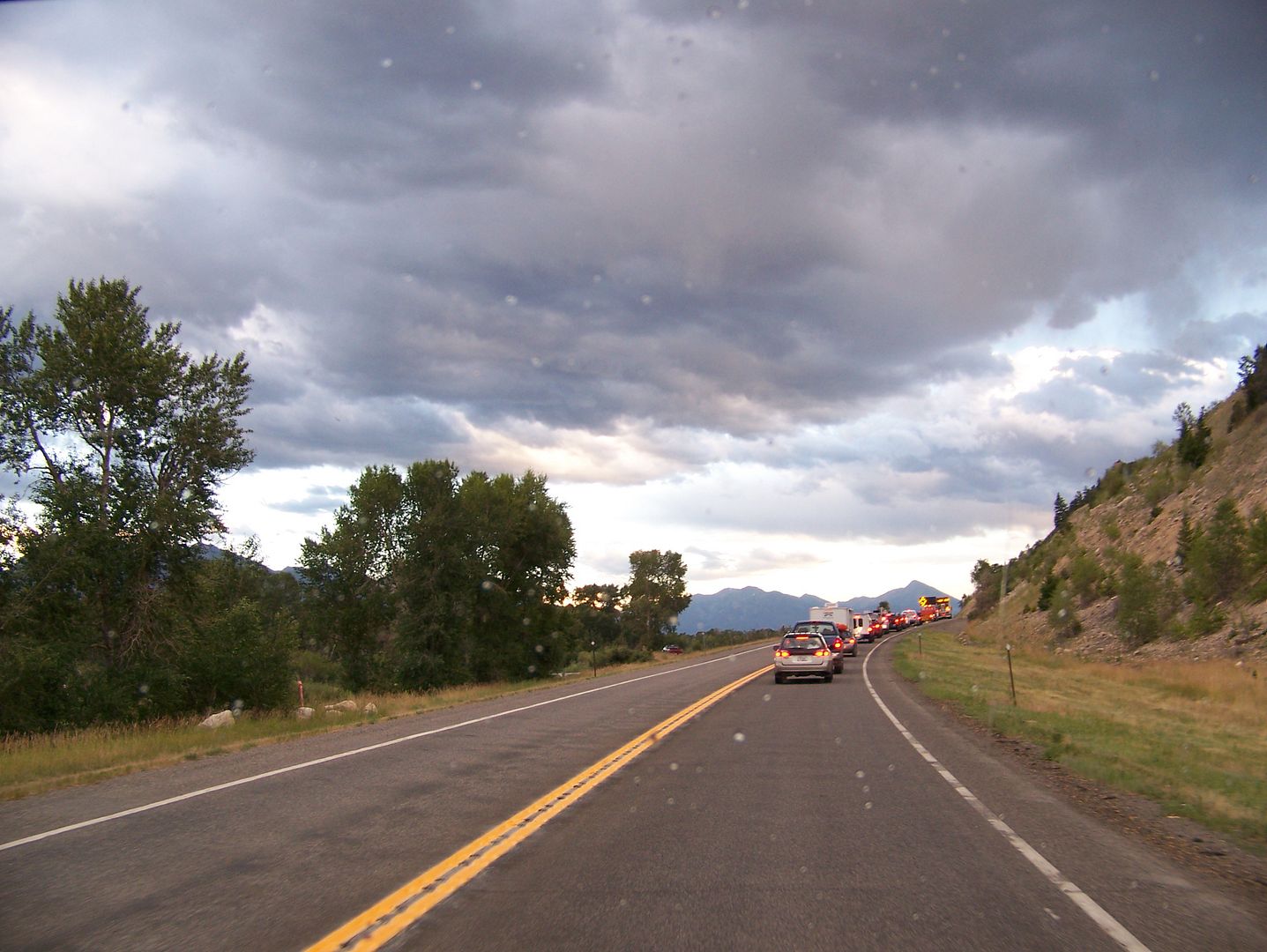 The traffic jam was due to a line-painting truck going 5.34 mph for 20 miles down US-89. That gave me time to take some photographs: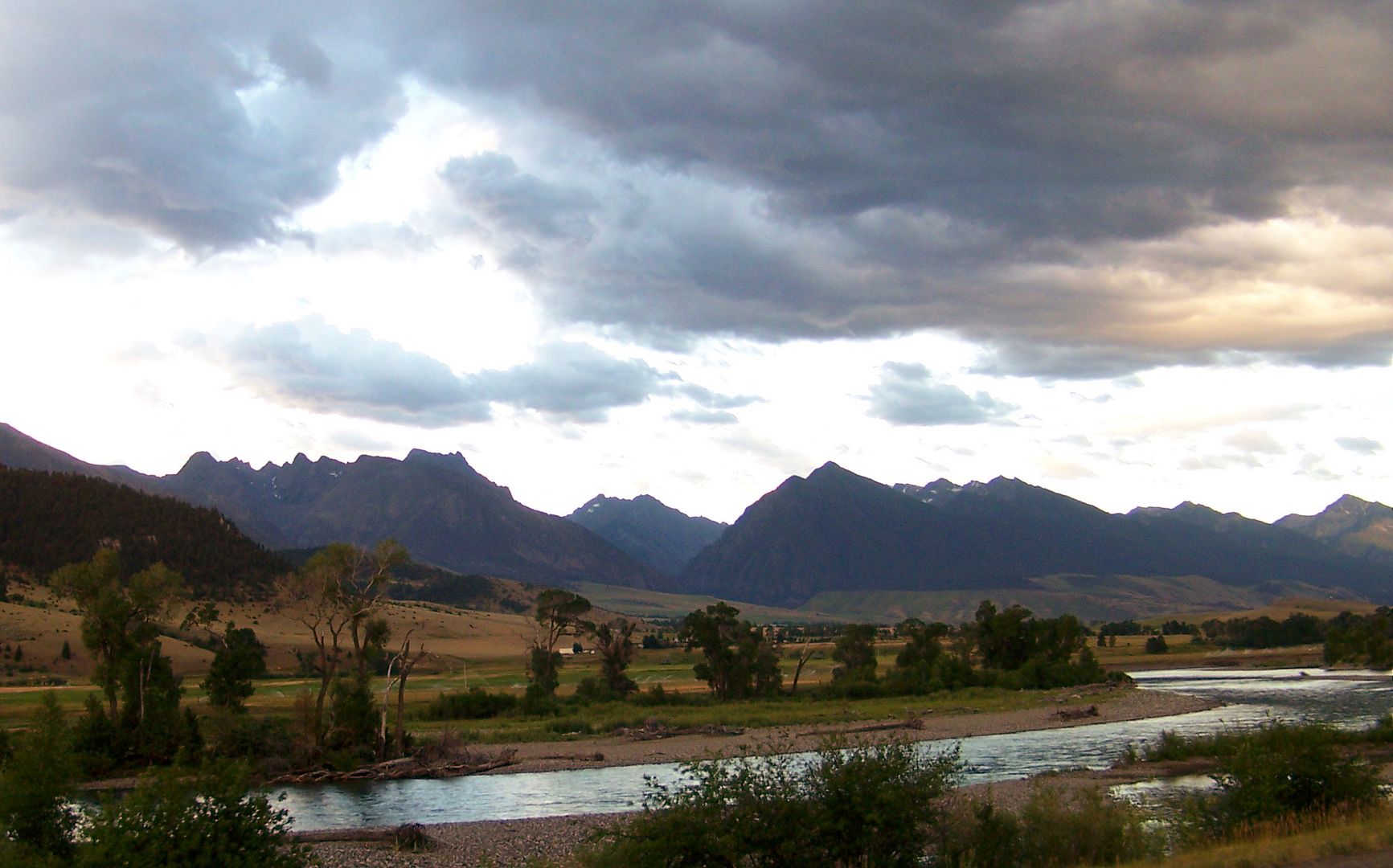 Some hot-shoes in a Subaru WRX and a clapped-out Jetta passed the truck on the right shoulder at an intersection and sped away. I felt my pulse quicken. "I can do that." Mr. and Mrs. Huge Wandering RV + towed Jeep, disabused me of that notion, as did a little rain shower, as did a guardrail, as did a sickening little lurch from, of course, the fuel filter. Then it rained harder. Oh, that is not rain. That is a mosquito/bug swarm that coats the front of the car. Then it got colder. It began to rain just enough to make the windshield a real mess. The hills got steeper. I was praying to the fuel filter. It got dark. It got colder still. Stopped in Gardner. Car began to lurch and hesitate. Pulled into a sprinkly gas station. Gardner is having a party. Many happy people on the sidewalks. "Hey, that's a great car!" (then why am I underneath it in the rain? oh wait, it is my fault).
Left Gardner with as full of of a tank as I could get, with a cleaned filter, with a wet towel thrown in the back, with the stench of gasoline on my wet sweatshirt's sleeves and the smell of bugs in the fresh air vents that must remain open to help defog the windshield. I need to get through Yellowstone in the dark so I won't have to pay the $30.00 park fee. A sympathetic young woman offered that I wouldn't have a problem, "watch out for elk though." Climb the first big hill. NaranjaWesty is smooth and quiet and the heat works. Evidence of human settlement disappears from the rear view mirrors. Damn it is getting colder, what, is it supposed to SNOW or something? Another big hill-climb, a sign for "Snow Pass" somewhere around 7, 450 feet, car is bucking and lurching, but is it due to filter or elevation effects? I am feeling like a fool. Gas gauge is plummeting. I need a full tank to provide sufficient head pressure for the poor howling pump. Car drops dead on a hard right-hander at about 11:00PM. Coast to a turn-out that is already occupied by traffic cones and a portable light trailer. Clean the filter. Hit the road damn good and chilly. Tank dropping. Car is stumbling, pump is whining, and I am trying to conserve fuel to keep up the head pressure. Calculating how many miles at elevation I can do with the gas in the plastic container in the back. Beautiful shots of the moon through the clouds. A high-lift pick-up truck comes up on my bumper on another hill at around midnight. He will never know that it was just another obstruction in the filter. How could he assume anything but that that New York hippyvan slowed deliberately to 12 mph to punish him? He tore around me in a hail of gravel from the other shoulder. I dive into a parking area. I can't do this. It is dangerous at night. I will pay the damn $30.00 when I get busted in the daylight. Burrow into my cheap sleeping bag that sort of matches the plaid interior of the Westy. Rain comes down in buckets. Lightening. Wind. Sharp patters. Cold. Much much pre-emptive girding of my tolerance level for tomorrow morning's filter clean. "It is going to suck, you know . . . "
Woke up at dawn, hoping the weather system has cleared. Ahhhhhhhh no. My infrared thermometer reads 41*. My morning bladder demands an immediate accounting in a new round of cold rain. The sign next to the car says in so many pictures, "this is what a bear looks like." Crawl under the car in the tree-debris'd wet muck and cursedly remove the filter. Some nice chunks of varnish gravel come out. Back on the road with barely a half tank and a mosquitoey-whining pump, I am wet, cold, and it is beautiful: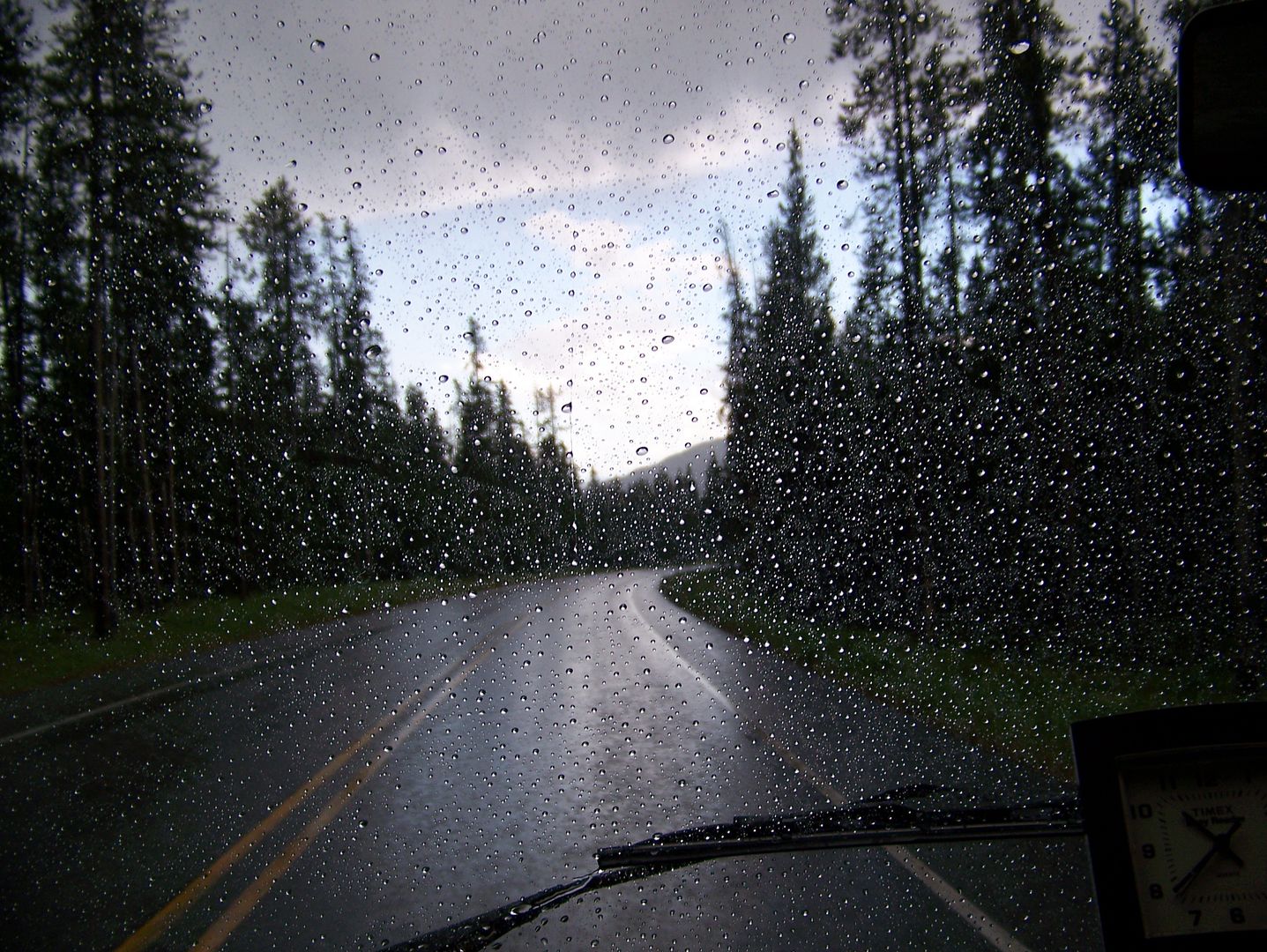 Old Faithful is 30 miles to go. There best be gas there. NaranjaWesty's engine really likes the cold. Runs smoothly and quietly, more quietly than the suffering fuel pump. I arrive at Old Faithful and gas up. "Snow today," says the counter-person. "I love this weather." My face freezes in a grimace of fascinated horror, "is your coffee strong?" Left the gas pumps and the engine dies in the bus parking lot. A new batch of rain and wind. I can't do this. I have a wet interior now, wet socks, wet sweatshirt, wet pants, a full tank of gas, but the filter demands its cleaning. Planning my future to not include automobiles. How can you write a book about your travels if whiny bitchy moaning is all you can muster?
Arrive at an occupied gate. Welcome to Grand Teton Park. Have your Pre-Paid Pass Ready.
Guy says, "may I see your pass?"
"Don't have one."
"Came in late?"
"Yes, my fue . . . "
"$80.00 for an annual pa . . . "
"No! I am just trying to get to Jackson, I am passing THROUGH, my fuel pump, hear my fuel pump? My fuel pump fai . . ."
"You can pay a $50.00 entr. . . "
"What do you MEAN $50.00, I thought it was . . . "
"You just left Yellowstone and now you are entering the Grand Teton Park which is $50.00 for both."
"$50.00 to look at soggy trees in the pouring rain?"
"Yeah, weather's not too good, huh?"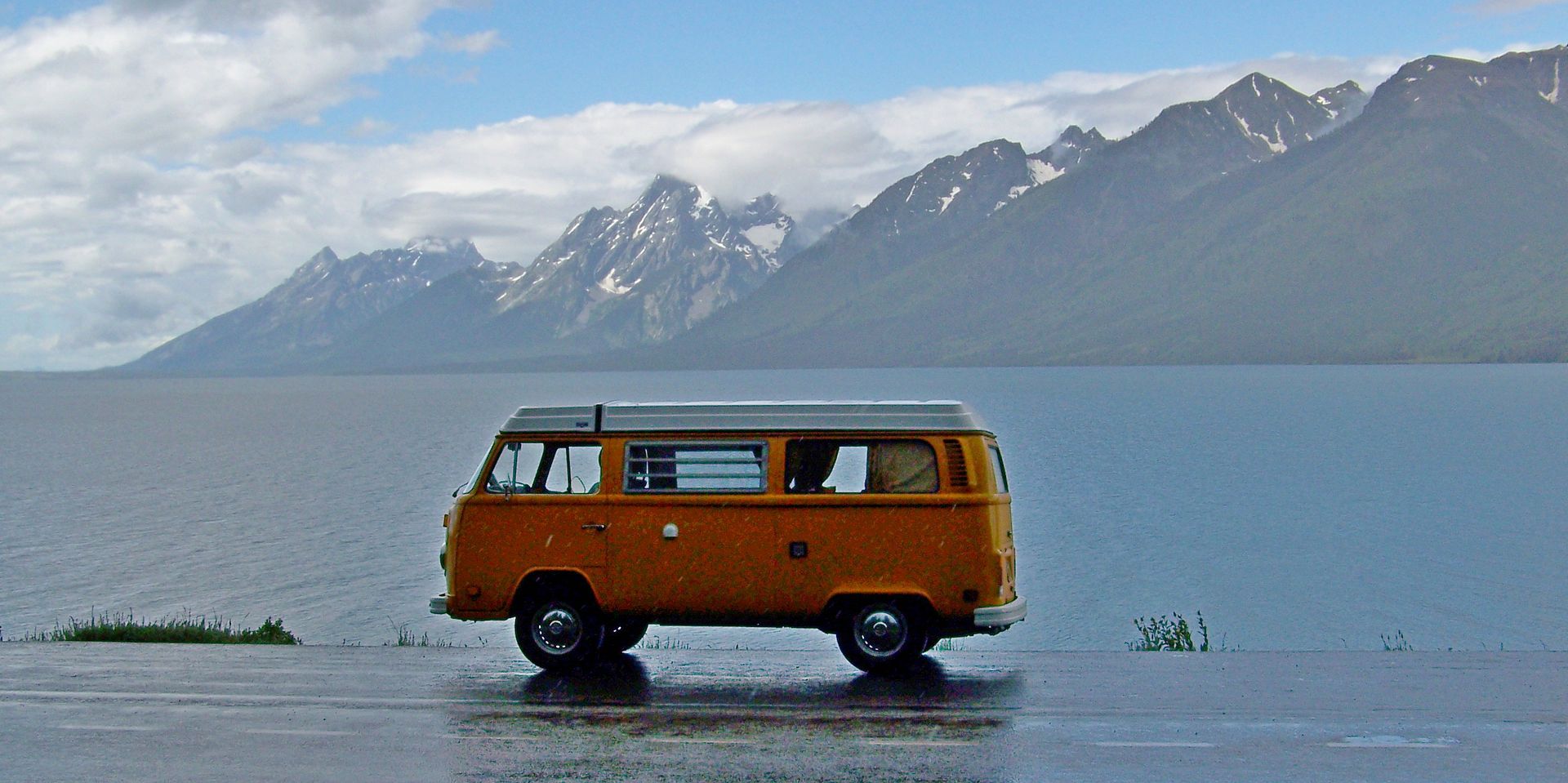 Cleaned the filter one more time outside of Jackson.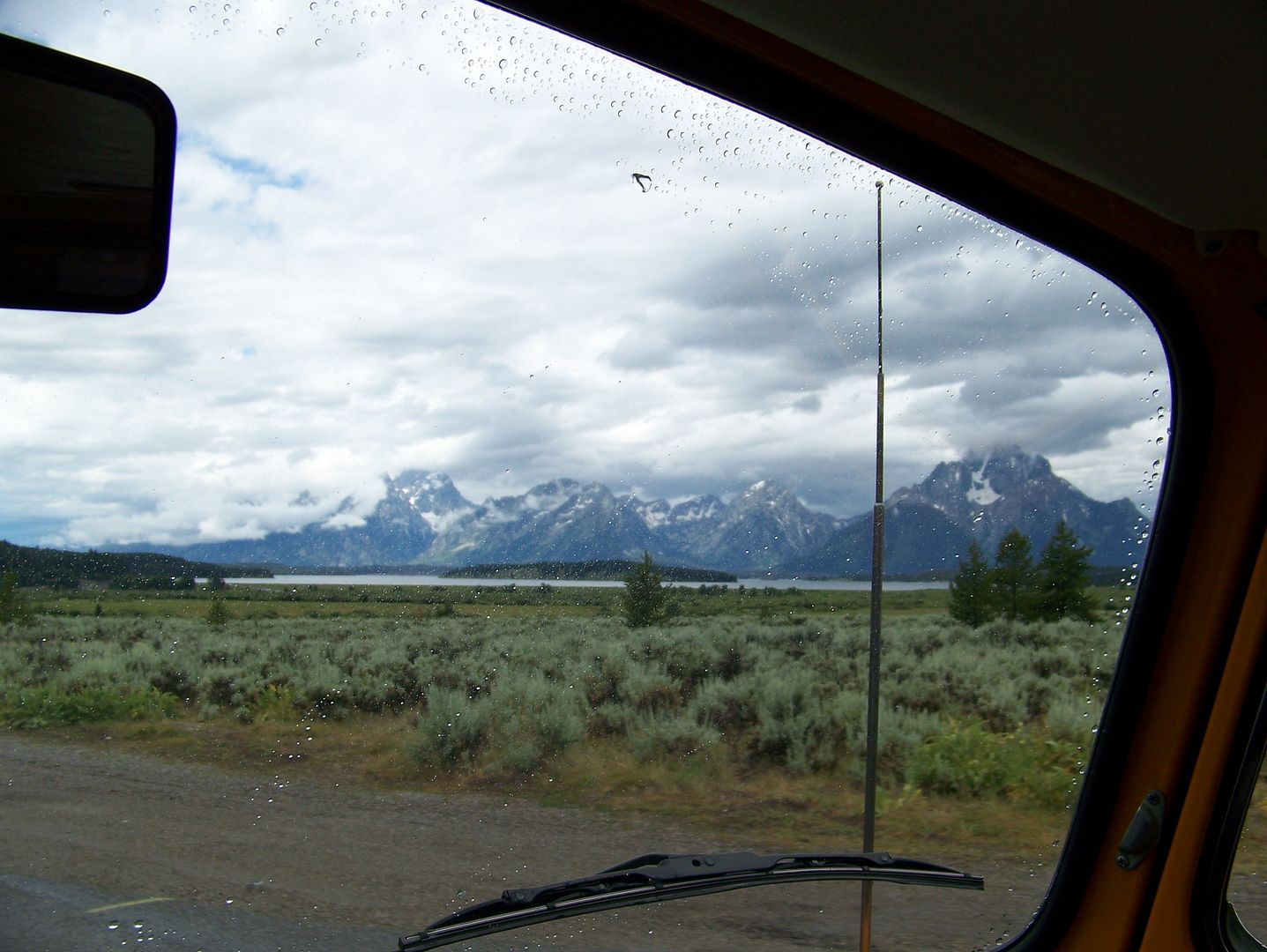 Two-day beard, tatty sweatshirt, soaked jeans, I know damn well this car is running FINE, it will not strand me, I just have to clean the filter every 40 miles, I am going to lurch into Jackson and smear the wealthy tourists with bleary-eyed homeless person piteousness, "can you spare a wix filter?" as I cough tubercular gasoline breath . . .
There's more, folks, had a lovely but difficult day with Mountain Prana and his Headflow Masters engine saga. Next post.