Seriously enjoyed Minnesota and the forum members who have been a loyal and beer-proffering group. I love the countryside, and I love the small towns in the morning, and the slow pace in Belle Plaine, and I shall endeavor to hike my camera up the staircase at the malt plant and shoot some photographs up there next year, if I don't, in the meantime, blow myself up cleaning fuel filters in thunderstorms . . .
I had to get to some wanton destruction in Iowa. Lilpig88 and his lovely wife had a lil lilpig to show me, the lilpig who decided to get born last year's appointment morning. She is a yuuuuge one year-old now. We were unusually chatty out there on the porch.
Eventually, we got to the Westy: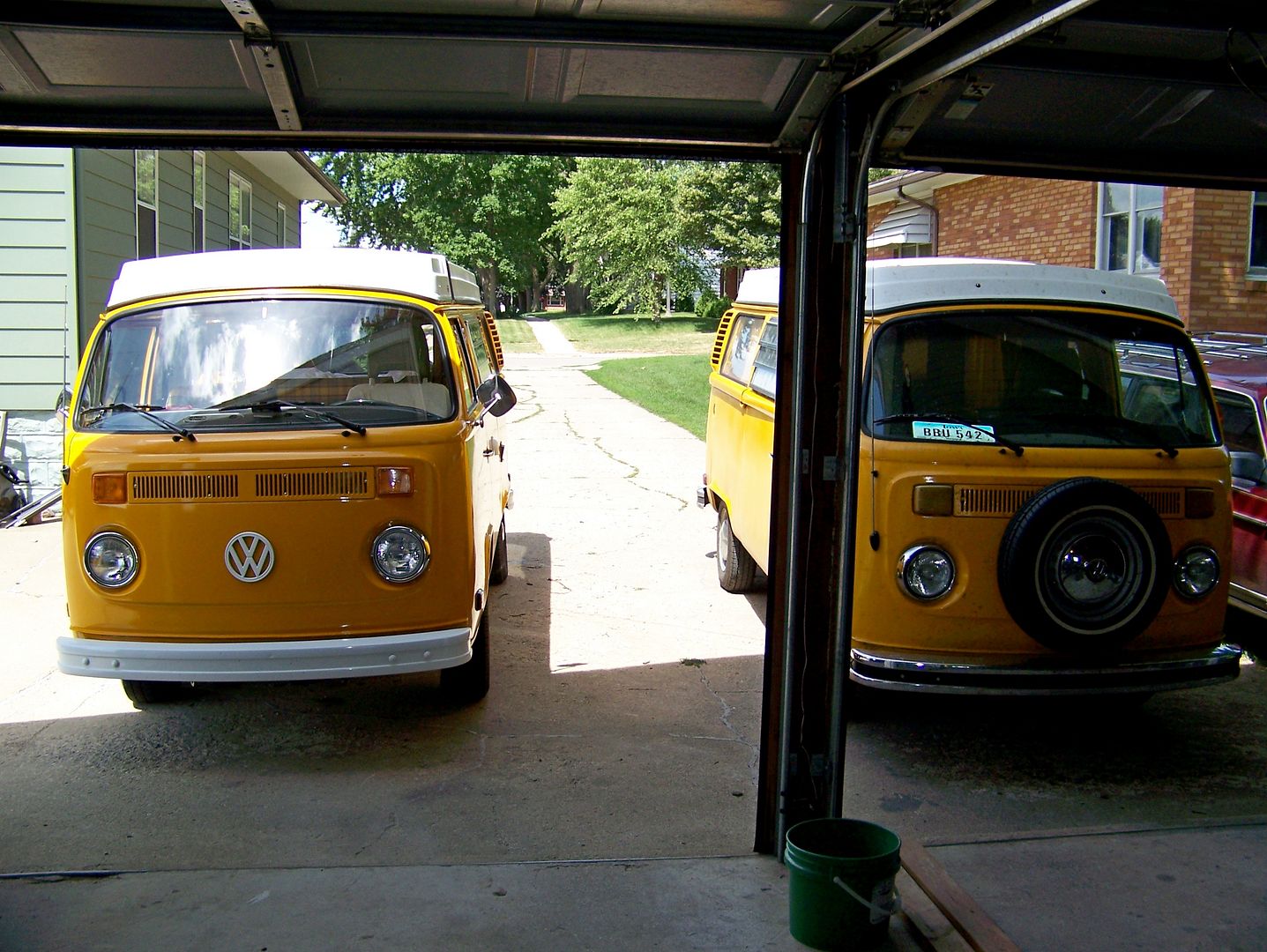 We drove the Westy. It was a fine-driving machine because lilpig88 ain't no slouch when it comes to the care and feeding of a VW, this thing was pretty much sorted out. With precious little else to do, we embarked upon an AFM flap measuring scheme using sockets and extensions and a nifty little drug-dealer scale (and you know those things better be accurate, kilo after kilo). Did we arrive at 121 grams for start of movement? I think we lubricated a sliding door in there somewhere:
Then, casting about for something to do, I committed NaranjaWesty windshield mayhem upon that poor car.
That is a pained lilpig88:
But, harte Pause, ze kancer must be eradiKATED schnell! This windshield channel is pretty much on its last legs: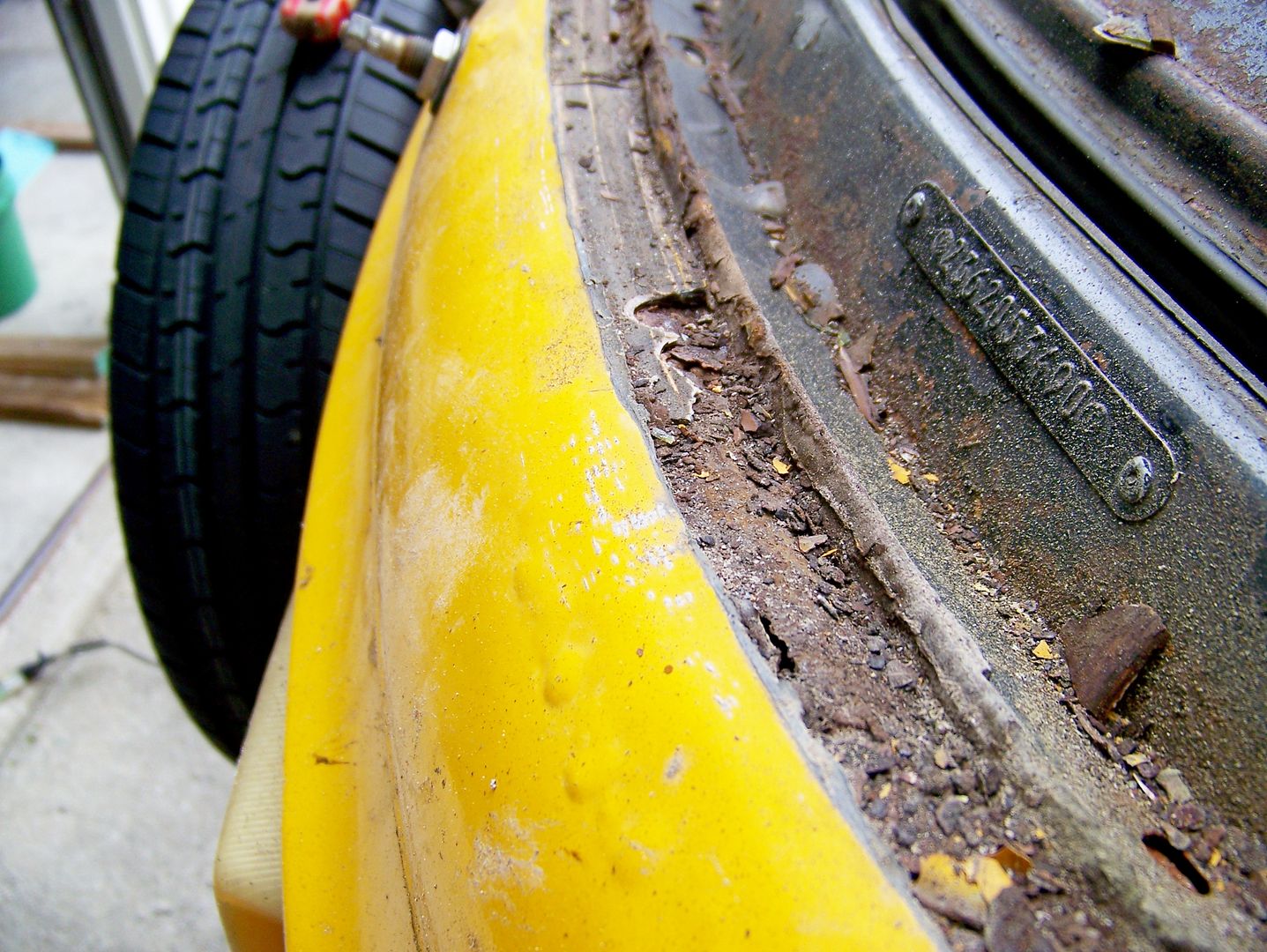 It had a smelly "fiberglass" resin mess consuming the badly needed space for the windshield seal to butt against the pinch weld. We did exploratory dremel surgery and decided that some of the mess might be sufficient support for the rebuild of the channel with filler, then again, maybe it is time for a new channel section: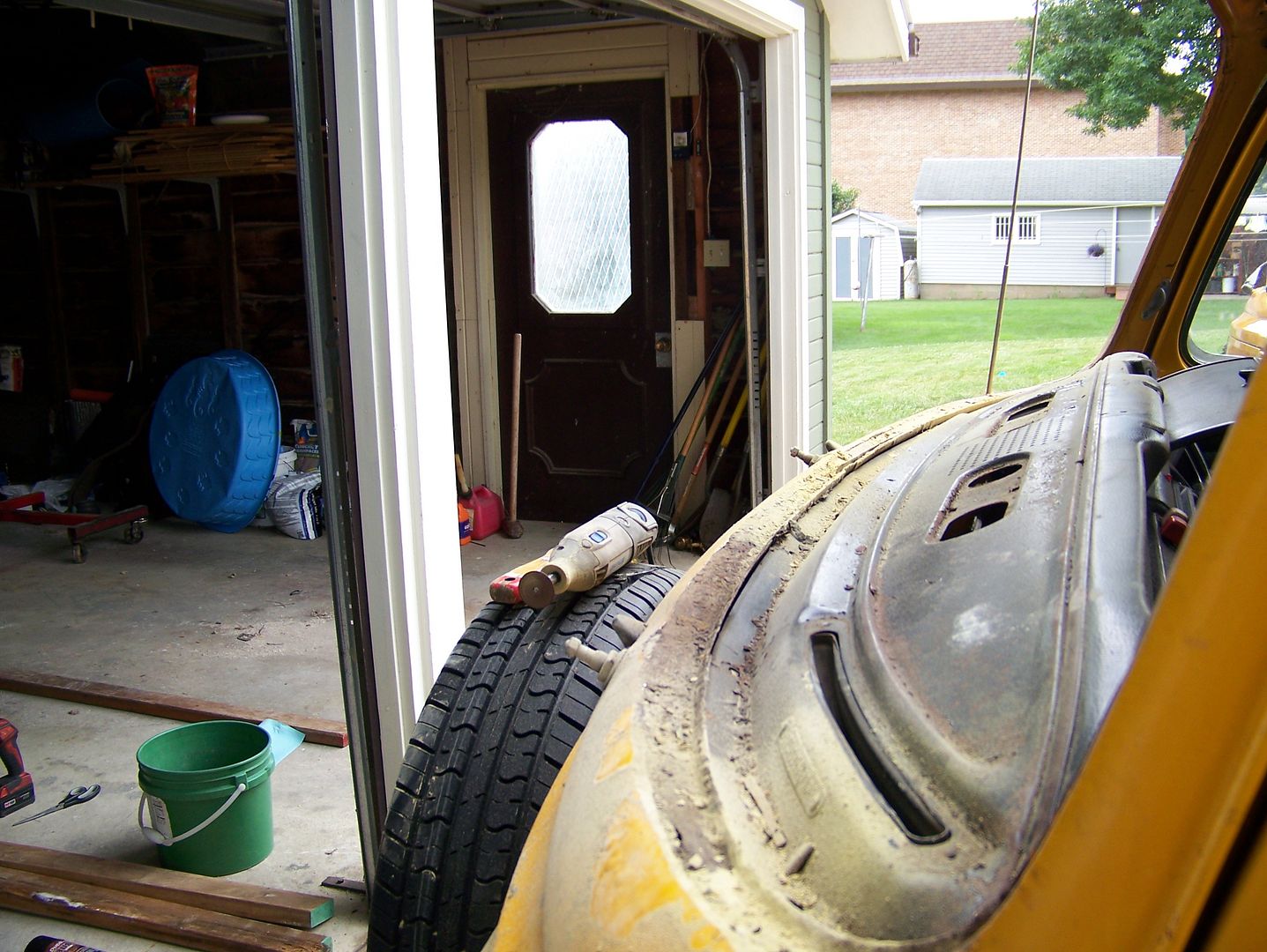 I rubbed out some of the paint on the front of the car to find a pretty decent finish underneath the orange peel. Then I left. Can you believe it?
Camped who knows where. Took off my wheels and rotated them. Performed a badly-needed oil change at the 55,000 mile interval. Got accosted by a cranky Dodge Ram pick-up horn. Not once, not twice, not three times nor four, but five blasts of horn from this purple pain in the ass pick-up.
"What are you doing
here
?"
"What are
you
doing, having a seizure on your horn button?"
"That's no way to talk to me."
"Well, that is no way to get my attention, either."
"This is private property."
"I don't think so. We are in the middle of a road."
"Well it is how I get to my fields."
"And it is how I am getting to Spearfish, after a fashion."
"Spearfish? Where the fire is?"
Two hours later, we have discussed at length, his entire life story , his teenage history, his time in Korea, his marriage, his kids, the oil company, his dad who invented a trick windmill, his Dodge, his in-laws, taxes, pipelines, Canadian tar sands, Hillary Clinton, Donald Trump . . .
"Who do you think should be President?" he asked me, waiting.
"I like Donald Trump! He is stirring up the muck! He is just stirring it up! He is bombing the bullshit so thick you can't tell what he means and what he doesn't, he is the best thing to help us see how bad it is!" That's what I said.
"Yeah, you got that right, durndest thing, ha ha, he sure is stirring it up! Stir it up, all right, but he is too out there to be President."
. . . we discussed Muslims and Christians and Nigroos . . .
"I don't have a problem with the Nigroos, I was in the war alongside a Nigroo, I used to play with the Mexicans when we lived in Texas down at the border. Nigroos, Mexicans, it was the Japs my daddy was worried about, the Japs. Heinzzman's the name. You know why we have two "z"s? So the Germans knew we weren't Jews. We came from Germany, you know. My daddy was good with turbines. Germans knew how to make stuff . . . "
"That is why I drive a German car," I interjected.
" . . . take that camper of yours, that's a German car. I'll bet it is pretty reliable. Say, that is a nice one. What are you, driving around the country? I have lived here all of my life except when I was stationed in San Diego as a young man, then we moved to Texas when I was a boy."
We discussed guns and more guns, America, the media, corporate control, the picnic he has to go to and doesn't want to . . . .
"well, I gotta get to the picnic. You should visit us at the house, my wife would get a kick out of you. You can stay here as long as you like."
This while I had been holding my strainer plate for well over an hour, wondering if dirt from the road had blown all into the gaping hole in the middle of the crankcase . . . . .
Hit the road a bit late with fresh oil and rotated tires and a new understanding of pipelines and viscosity and pumping and maintenance budget shortfalls "you bet there will be leaks", and I pondered this eighty six year-old's life born and raised right here, the house now abandoned to fields of corn: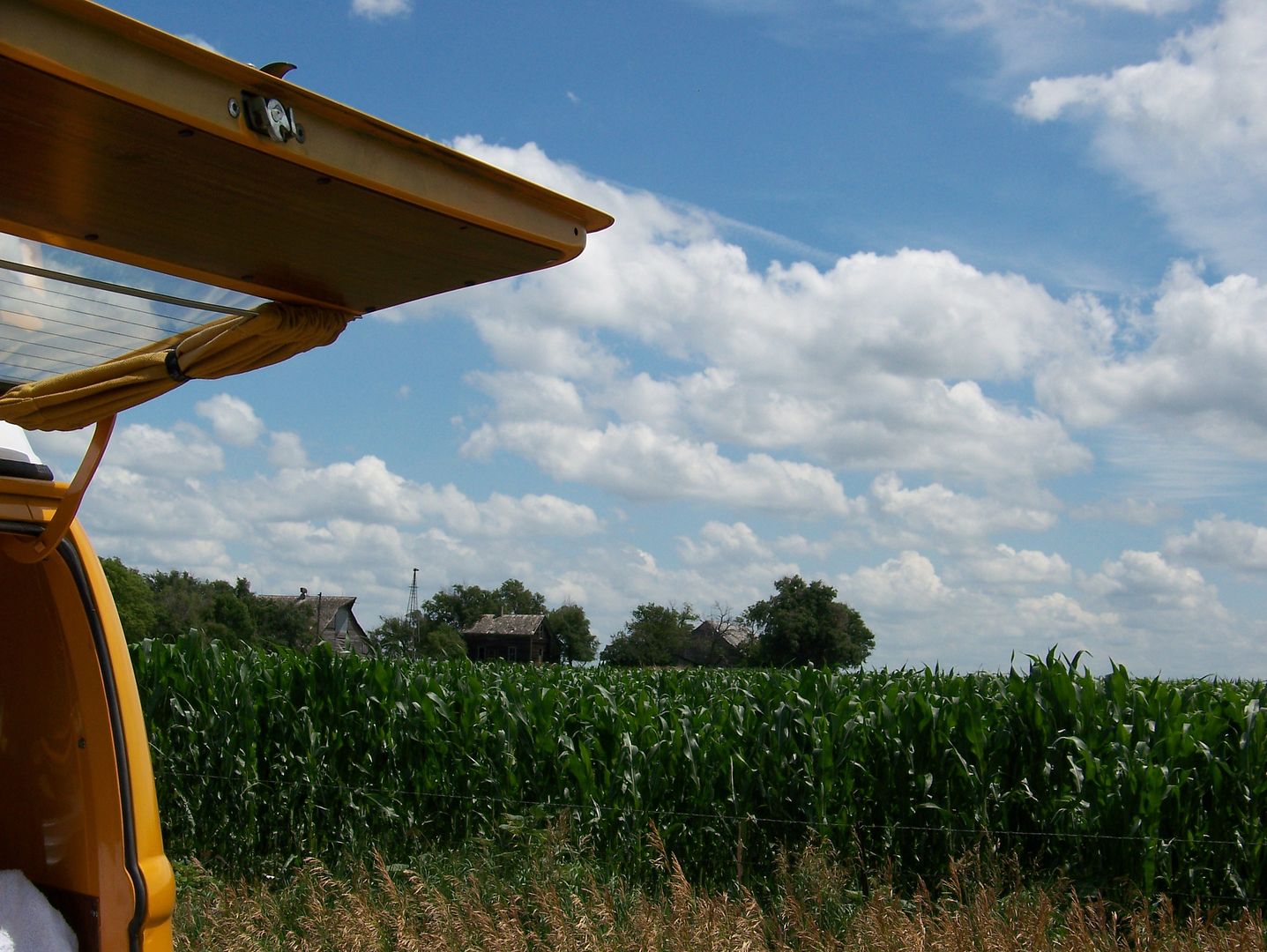 Drove pretty much across South Dakota: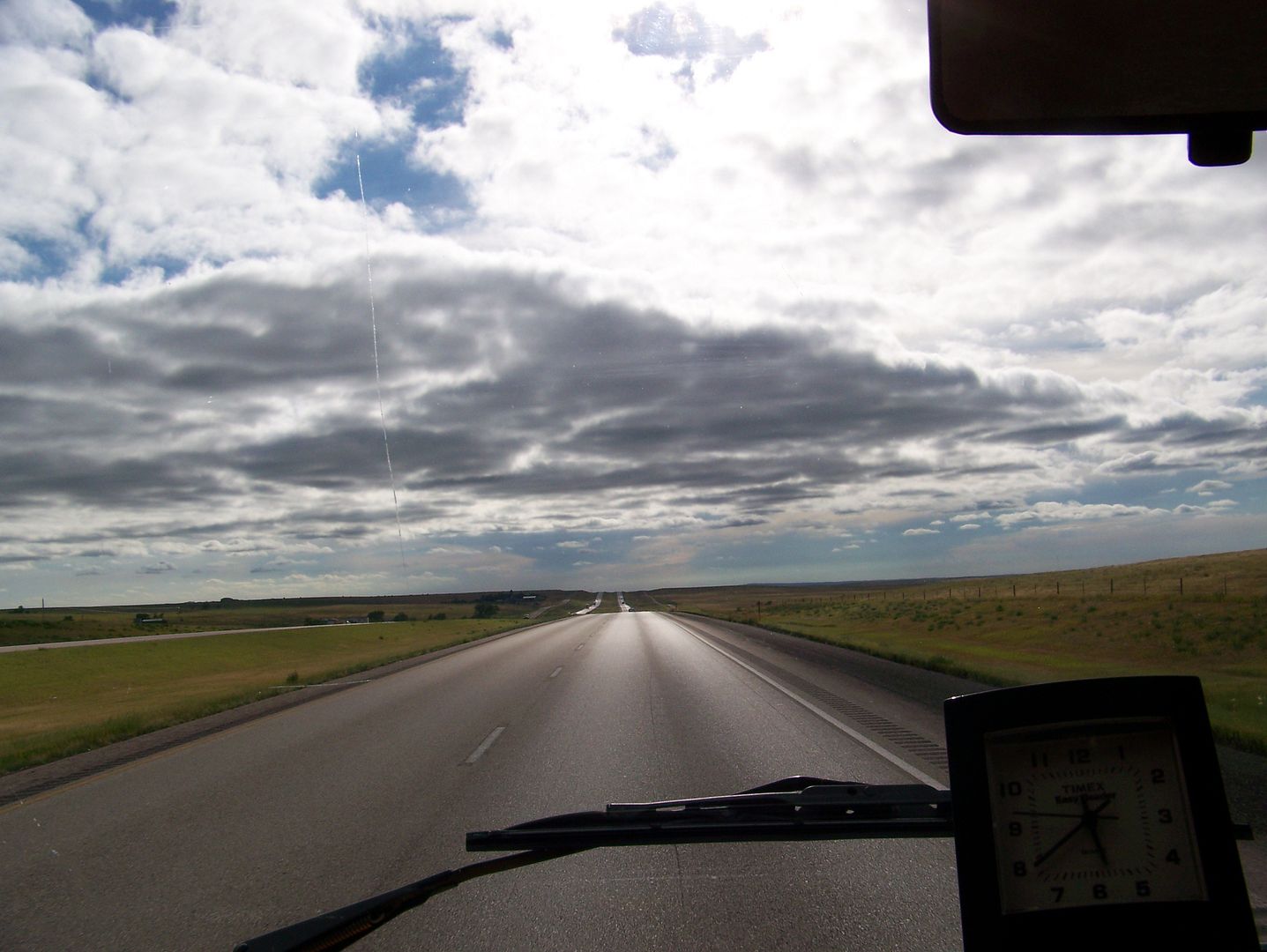 Got passed by a Chevy Silverado towing this old splitty pick-up covered in all sorts of parts:
Arriving at the outskirts of Spearfish, I could see an orange glow, the smoke of the fires in the clouds: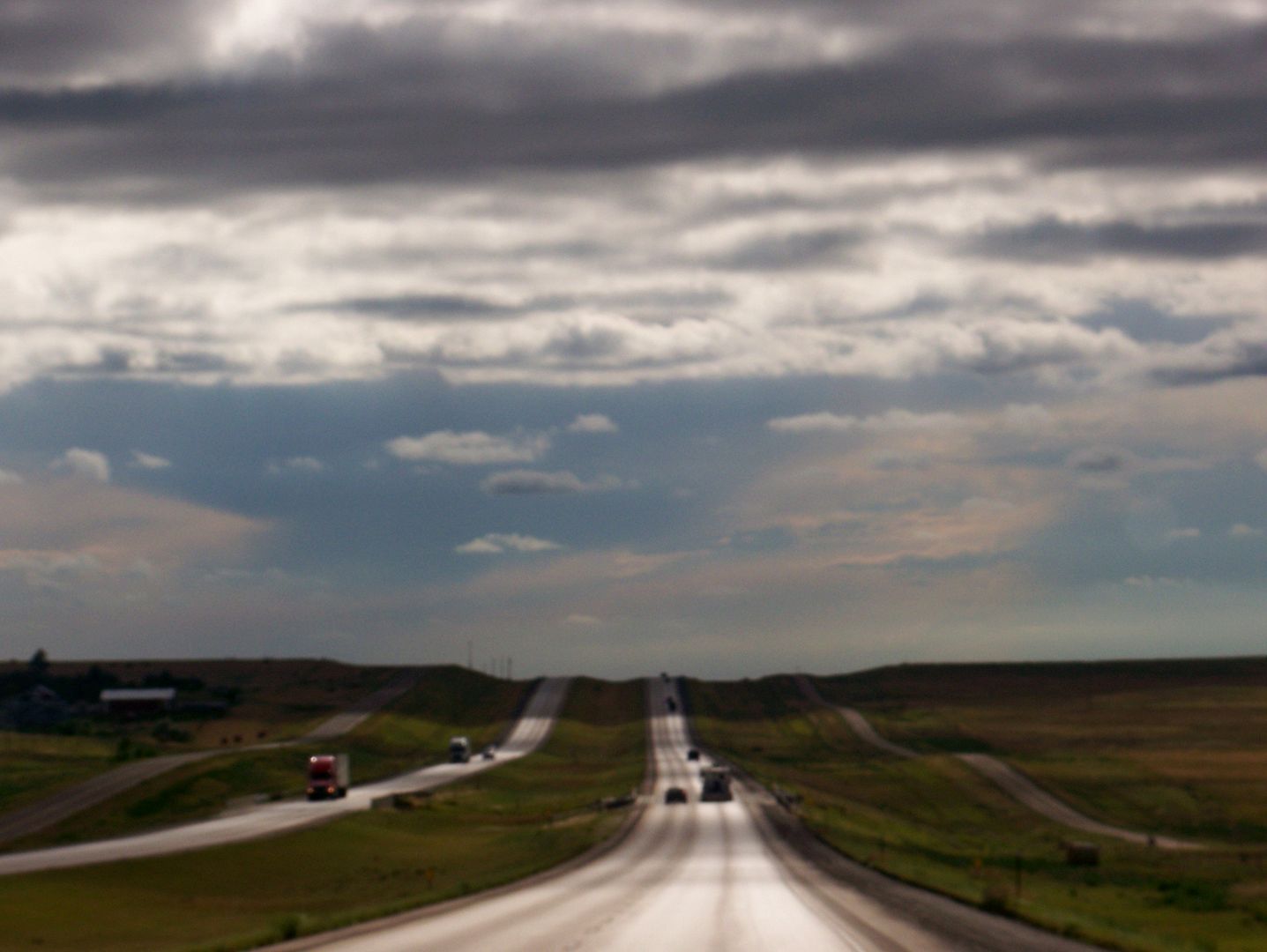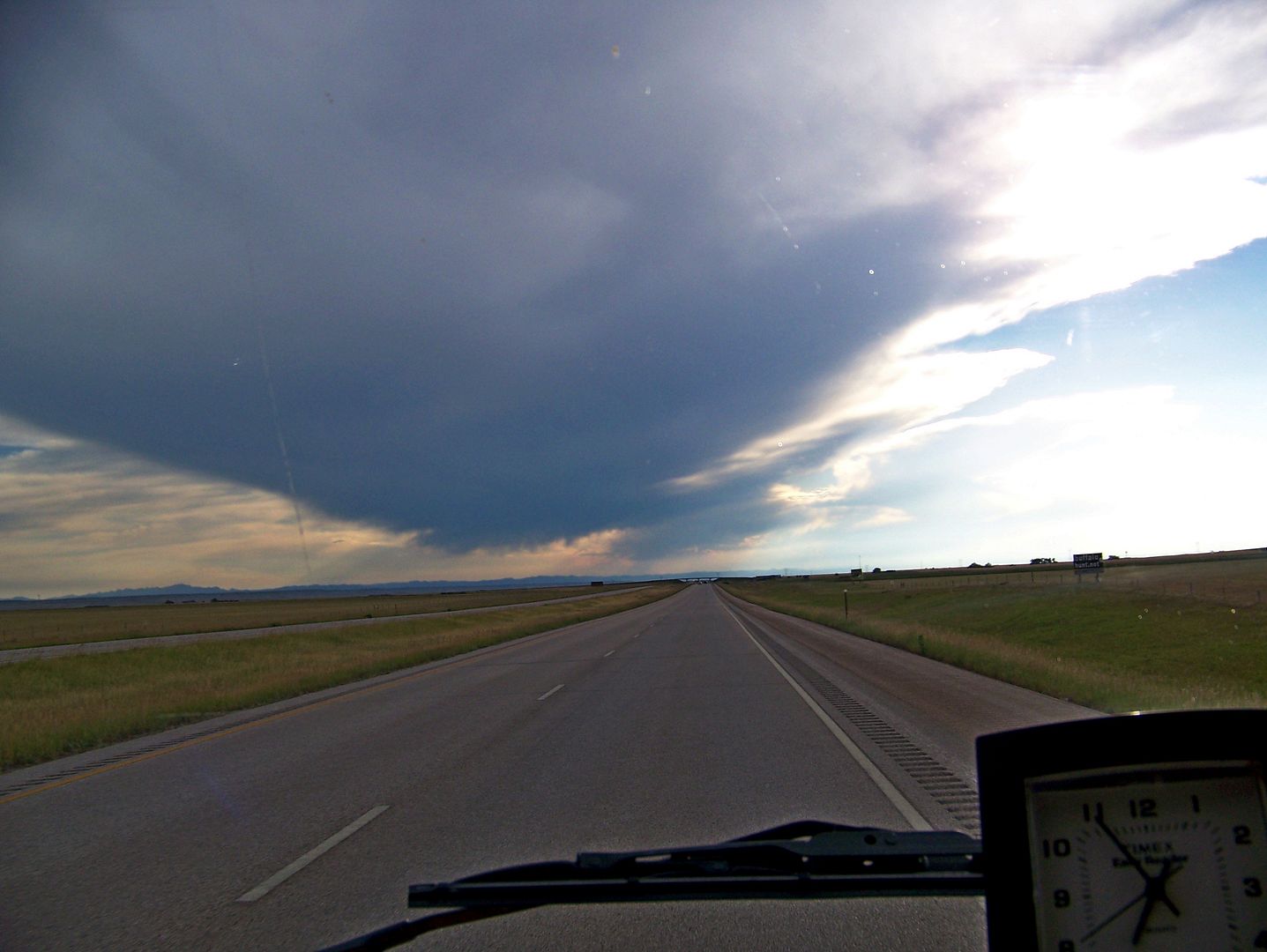 The smoke was bad at dusk as the air cooled and sank down. Gave up on my campsite outside of Spearfish and drove to Wyoming to get out from under the smoke. Found an excellent little spot with running water. Running water! Some irrigation deal, and it did not smell bad. The dead skunk did every time the breeze shifted.
In the morning, I drove to mpls_ham's storage unit and we put in a day on his 1970 Westfalia, a very nice example with a little rust showing up on the floorboards, perhaps, but a candidate to become one of the long term survivors for sure. We did ourselves proud sounding like a bunch of old men grunting and grimacing and peering through reading glasses and massaging failing joints as we limped through a front wheel bearing repack and three out of the four brake reconditioning. Nice smoke-free day with the sun heating up the atmosphere. No photographs, mpls_ham?
He, too, offered beer and a place to camp and work on my bus.
"Oh no, but thanks," I replied.
No, I had to "get going to Gillette, see, because my fuel filter and pump could be a problem and I would need time to fix it."
"Well, it's July 4th tomorrow, you could work on it all day here and still have a day to get to Gillette."
"Ahh, bububah gaah if but when it it see, filter, it me flush no. Thanks. THANKS, but."
I am such an ass. If you are reading this, Scott, the fuel pump died two exits west of Spearfish with this:
Right HERE, the fuel filter clean-out did NOTHING for me. The car would not start:
Rain began to pelt. Wind began to gust. Itinerant Avoidant began to get sloppy. Fuel clamp began to slip off the fuel hose. I say without (too much) exaggeration that I have done this a thousand times since October 26th, 2015, I have successfully clamped the fuel hose so I can remove the filter and clean it, but rain pelts? I become gasoline-garnished butter fingers and there is lightening getting way close . . . . and I am swimming in fuel under a dark bus and I can feel static in the air. Mr. ShuddaHadABeerWithScott begins to have his doubts about the entire enterprise. After some tender ministrations to the AFM contacts, I got the pump to "run" (scream in agony) until here::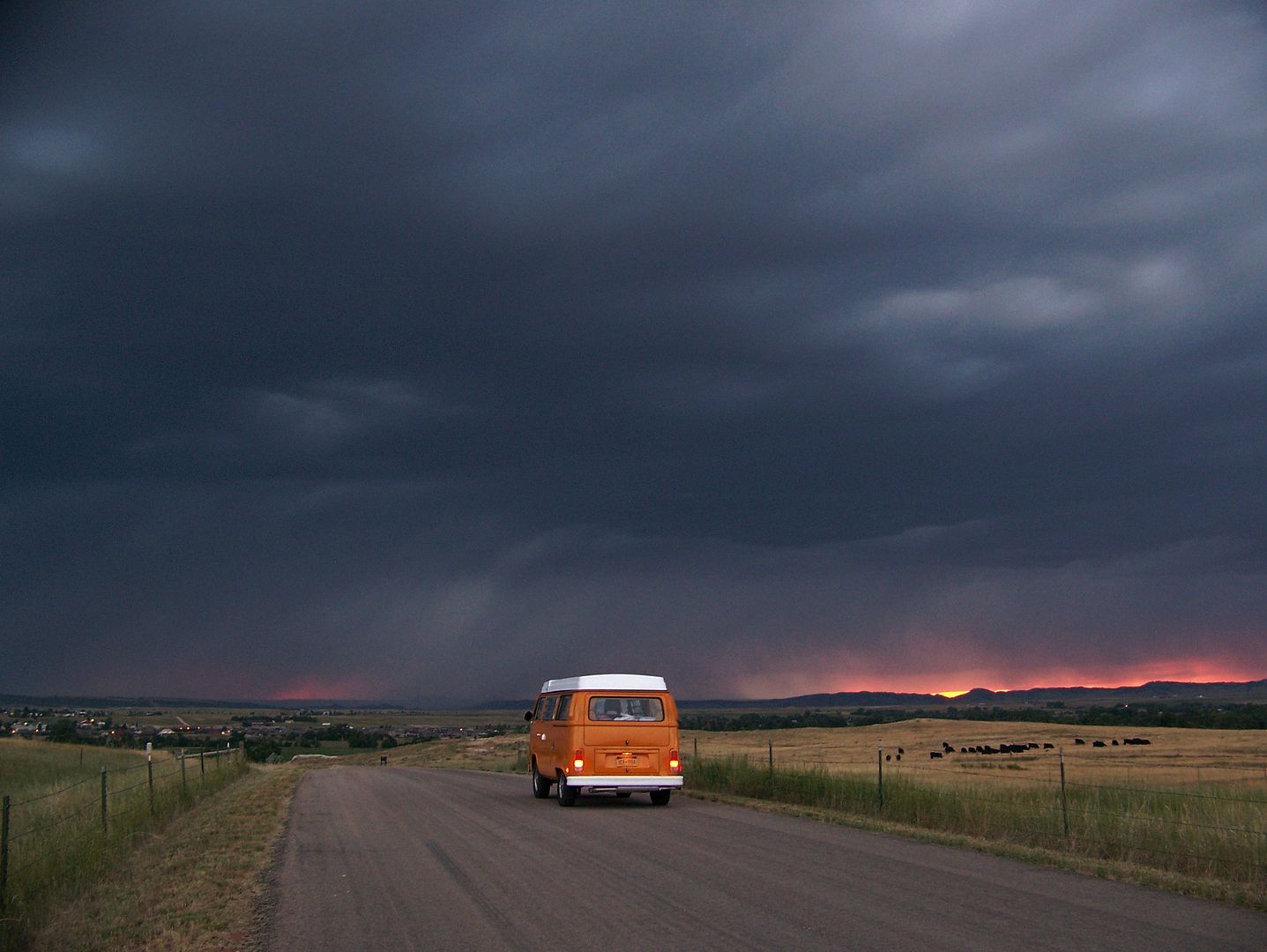 So, I camped. Here.