I have been very curt and rude with my customers when they offer dinner, a beer on the porch, a stay-over, and it pains my heart mightily. Yet, there is a reason for my anti-social tendencies in the midst of such very good people . . . my fuel tank. I have to front-load each appointment with as much time as possible to absorb the very familiar lurch-n-die as some new boulder comes crashing into the fuel filter inlet. Then I coast to the side of the road and do the Here We Go Again fuel filter removal, cleaning, and re-install. Totally knownst to the Minnesota contingent, I was frequently late ANYWAY, because the fuel tank has been getting into this diet of Sea Foam + Horrendous Road Agitation.
After I had left Mulcheese (we did get one beer in) the promise of rain delivered in a big way. Sheets of sideways rain pellets and gusty winds pounded down on me as I headed west on I-94 to Eskimo Tom's pastoral splendor, so I escaped to a Starbucks with my vwlover77 Commemorative Starbucks Card, set up the computer and the mouse and the Verizon LTE wifi box and the ear buds (the better which to drown out Starbuck's idea of what I should have to listen to), and I ordered, against my every inner scolding plea, a diabetes disaster 450 calorie lemon pound cake slice with my coffee. Got on the forum. Saw the list of eleven PMs, six registration requests that always require an email notification along the lines of "Dear xmfbl44xsskx, please respond to this email to validate your account. Administrator - Itinerant Air-Cooled", but of course that sends me into my email where I have a dozen or so replies to deal with. By the time I processed all of the busy work, the sun was shining low in the west and I needed to find a campsite. Found one in the dark. Collapsed in deep fatigue, but I tell you what, I like my fatigue. These are good long days.
The Eskimo Tom visit is posted elsewhere here in the 2016 Itinerary Forum, a fine write-up by a fine customer who offered dinner, I so do suck. I had a day "off" coming up and I needed to get to my what was supposed to be peaceful campsite. I did not know it abutted the factory that makes pallets for all humankind at all hours of the night all night. I was going to camp there and get on the tire rotation/valve adjustment/fuel filter clean + fuel pump reverse-flush first thing in the morning, but instead, I gave up my nice little hideaway next to the pallet manufacturing hub of the universe, and blearily drove off into the dreary night to a spectacle of consumerism that coated acres and acres of Minneosta, it was a night of lights and parking lot curbs and wandering vehicles with blatting exhaust notes, and Naranja was beginning to buck like a bronco, so I camped in a vast mall, a blastingly well-lit consumer Maul of the senses in the middle of what should have been hushed countryside with stars overhead. Woke up at 5:30AM to get to work. But no no no, there is a Panera Bread, and my little self-indulgent Savage Brat Within entreated me to a cinnamon roll and a cup of coffee. "No," I said to the Brat. "No. I mean it. We are so damn fat now, that I can't even tie my shoes."
After a cup of coffee and a cinnamon roll, I spy a message from the miz
*
, something like, "the brakes went to hell, the alternator light is ON, and I don't know about taking VanaWhite on our trip." Coffee Sugar Buzz Colin Brat goes into hyper-drive, "forget our day, Naranja, we are backtracking to the miz miasma NOW. Fuel filter felled me on Pilot Knob, and I bucked up to the garage. No VanaWhite. Ya think I should have called first? Do ya? Luckily, Mrs. Miz Herself was there with a phone and she called the miz to tell him that I was on my way in to his work, where our Second Annual Beer Social was to occur anyway. The miz and I had to speak delicately so as not to frighten off VanaWhite's probation officer standing next to me, I think we settled upon "velocity retarders not optimal". I was in a fury, folks. I could see my life decaying into a bottomless pit of time-stealing call-backs trying to massage lousy parts as I try to bend th..
cold set
them back into some semblance of functionality all across the country for my disappointed customers.
Arrived in the parking lot and spoke very sternly with VanaWhite as I removed her drums. The self-adjuster bar had fallen right off the shoes on the right side. Reassembled and checked twice, thrice, the operation of the self-adjuster, which of course performed flawlessly for me again. This time, however, I went to theSamba and read of others' torment with these self-adjusters. "Adjust them real tight", wrote one. I did.
Installed the old alternator from the old engine. It had far better bolts than the shiny crap Adrian had used with the new alternator. The miz came out from his office at the end of his work day and we started VanaWhite. The alternator light came on. Now I am hyper-GoddammitVanaYerGoingOnThatTrip ButSorryIDon'tKnowWhatIsAilingYou. No longer the patient teacher, I ripped the dashboard apart in the parking lot and lassoed the multimeter on a bunch of connectors. "The brakes feel good, though." Upshot was that there was no communication between the alternator and the idiot light, idiot, but it still had some ground path somewhere to turn the damn thing on when the damn ignition was on.
"We're going to run a wire straight from the coil to the alternator through a lamp somewhere," I barked at the miz, "you are going on that trip."
He gamely went off to the parts store for some wire, wire connectors, a little lamp. Meanwhile, the Minnesota contingent is arriving: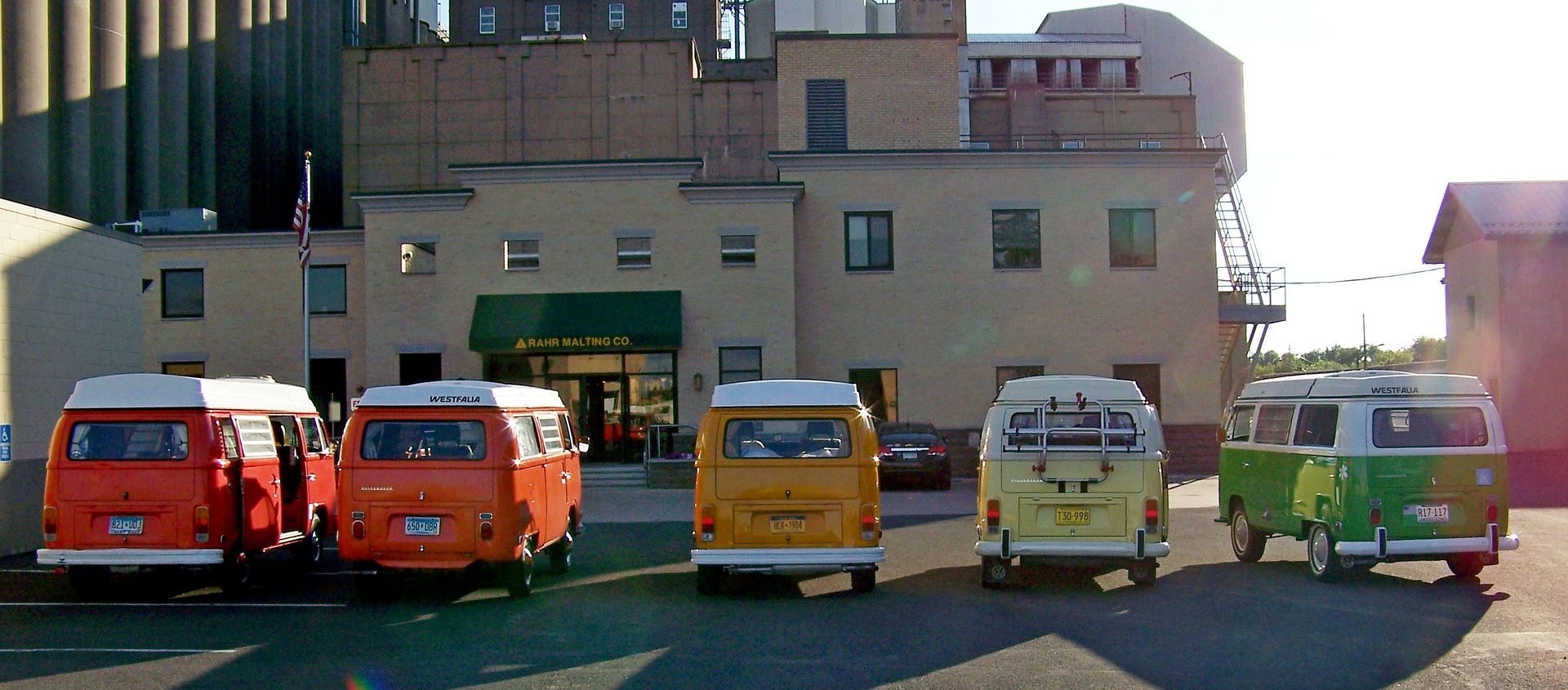 There is poor forlorn VanaWhite sitting in the background waiting to see if our kustom idiot light experiment is going to work, while we The Proud, The Baywindow Boys, pose in front of our baywindow buses that don't use plasticky printed circuit tape to run our idiot lights: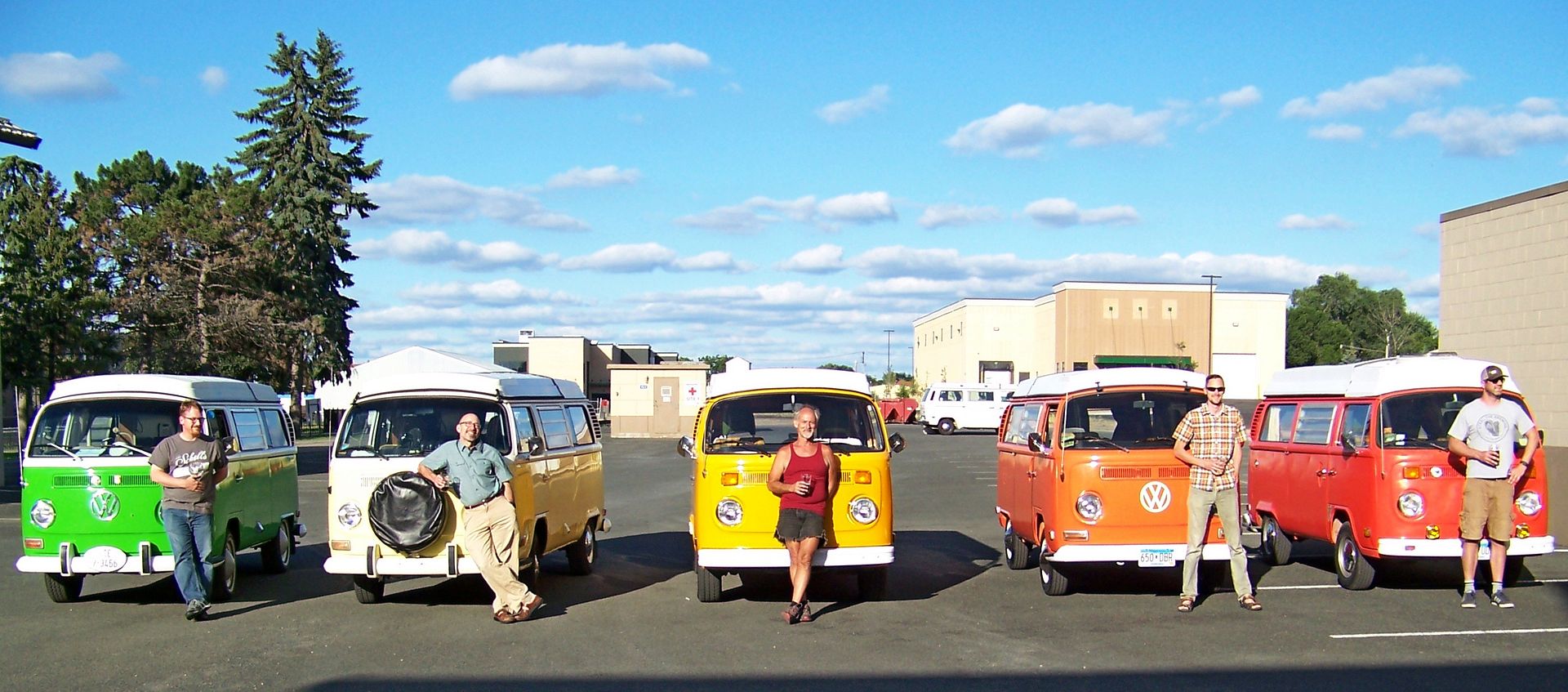 The miz comes back and actually wires up the experiment while I am busily getting inebriated and re-acquainted with my customers of past years as well as the past few days. We have a new-to-me 1972 Westy owned by the vice-president of the Twin Cities PBS membership and viewer services, there's MuedeStefan's green 1970, Belle Plaine's '75 Riviera, bradgt74's '70 Westfalia, and here comes Mulcheese in his easy-running '82 Vanagon with bicycles atop.
The kustom idiot light experiment performs as intended, all the miz has to do is look in the rear view mirror to see a charming little amber bulb hanging from the headbanger cabinet aka Rear Engine Monitor Ceiling Console. That little sucker keeps the alternator excited and working until the miz finds out what went kablooey in the printed circuit tape behind the dash panel. Here's the Bay Plus Vanagon line-up: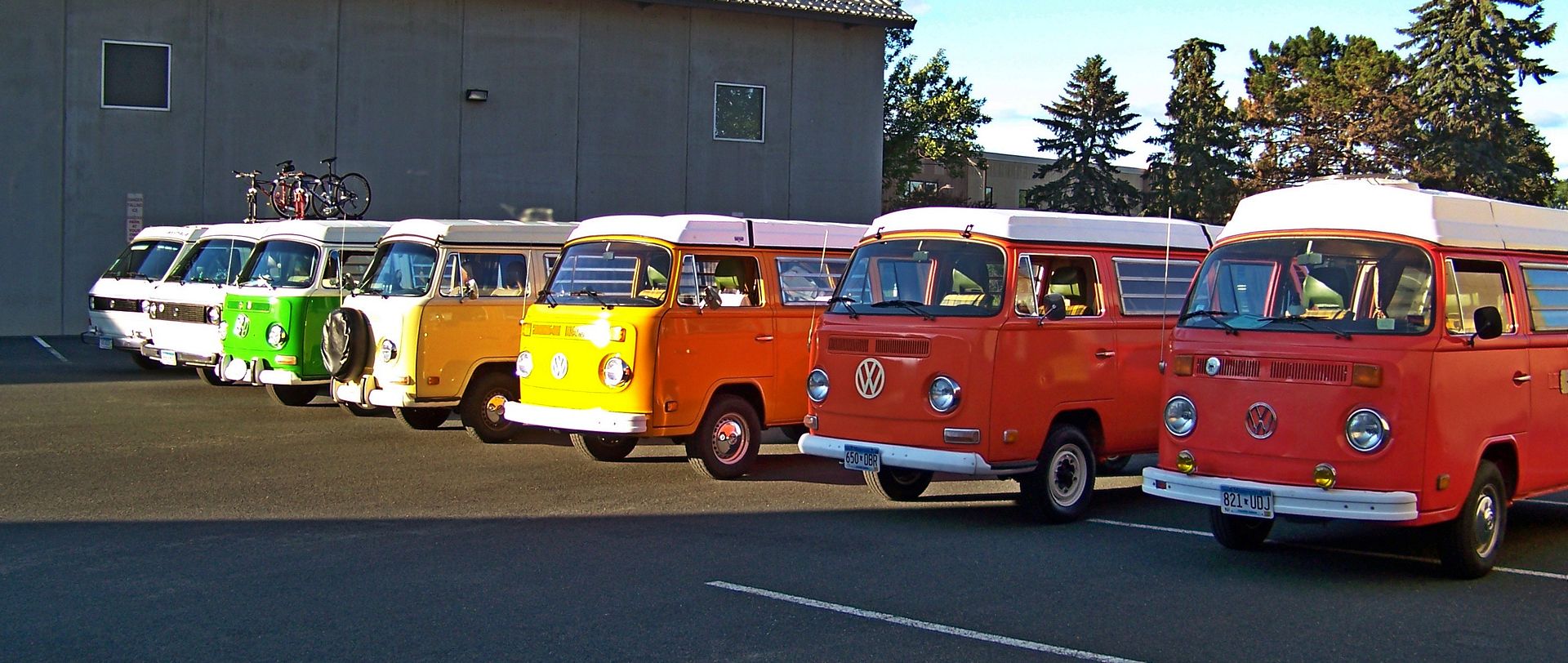 Then BusBard BusBerd shows up with his Westy for the full complement shot, I think that is Phaedrus 76 chatting with the miz:
We took another tour of the malt plant with that superb view, I forgot to bring my camera AGAIN. I blame drunken stupor, but it was probably fatigue.
Got a little lost the next morning on my way down to Bell Plaine MN to replace ball joint boots with Belle Plaine himself.
viewtopic.php?f=70&t=13096
Call me if you ever need instructions on how to negotiate the interchange of MN 101 and US-169 and MN 13. I am sure I can get you lost, too. We got to work:
Replaced the drag link boots too, and used the SGKent Commemorative conical spring retainer thingamawhatever
Here's Belle Plaine doing a thorough job:
. . . and the final shot, a front suspension ready for the road:
As mentioned in Belle Plaine's write-up, we went a little unconventional here and there. I do not trust aftermarket gauges as a general rule, and his oil temperature gauge was promising a hot crankcase after only 20 or so miles. If the oil is 260*, I figure the outside of the case has to be above boiling. But our pair of infra-red thermometers both agreed that the case was below boiling. So did my spit, which has visited many an engine.
Had to scram to Saint Peter for the grifftenstein dual carburetor call, so I once again rudely departed in search of a campsite close to the morning's destination in case the fuel filter might call it in. I don't even remember where I camped. I think it was a public works parking lot, next to some trailers used as offices. The grifftenstein call is up next in Minnesota 3.
Colin