. . . a hazy recollection of a time Long Ago.
Folks, June really was a stretch in the Itinerant Air-Cooled universe, 19 calls in dense sucession stretching from New York to Iowa. The days reserved for NaranjaWesty maintenance were mostly rained out, the ruinous snow-belt roadways repetitively wracked the wretched crud-riddled fuel tank as the reserve filters relinquished their roles in resuscitating the rapidly deteriorating pump, thus wrecking my resolved avowed refusal to remove and restore requisite fuel flow for some upcoming mountain driving.
I left THall's house for Minnesota and found that the Endless Bridge Replacement was still endlessly involved in being replaced. This is where I-90 crosses the Mississippi River: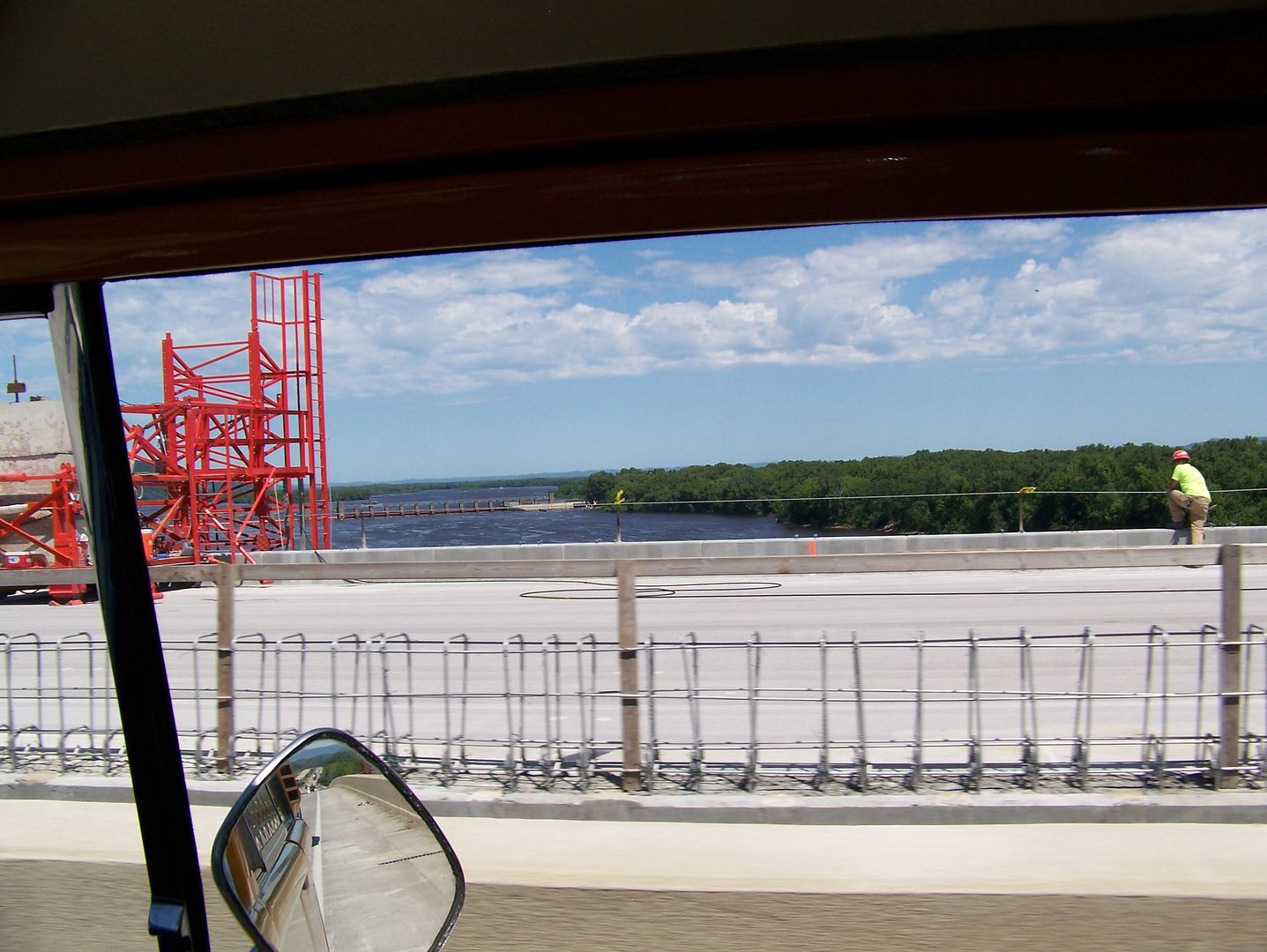 I always love this point in the journey, there is a shift from East to West when crossing the river:
The river is so wide here that the "Mighty Mississippi" moniker makes sense, it is the main drain for the continent, a lovely one:
Up the hill from the river, the land takes on the Minnesota rolling farm land look, this year's look was not the usual refrigerator produce crisper bin of cloudy misty rainy greenery, nope, it was 85*: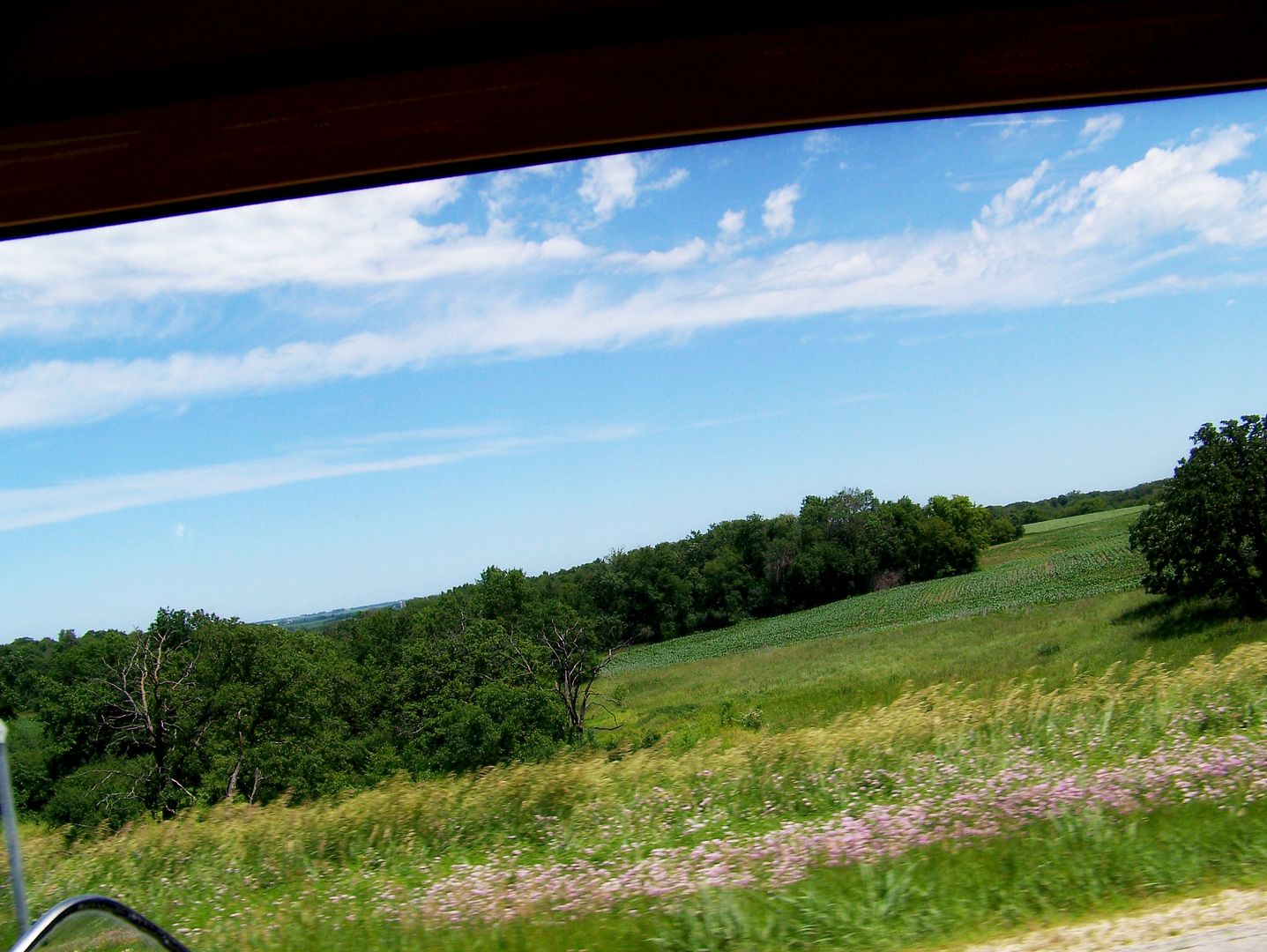 But Itinerant Air-Cooled is not about crisper bins, it is about crispy shrunken valve cover gaskets:
The Darbronnoco call was first up,
see the new Brad O'Connor film opening near you! Winner of the Film Critic's Best Edited For Brevity Bus Movie 2016!
viewtopic.php?f=70&t=13086
It was a perfect Minnesota day to delve into the '74 Westy project, which was to not only eradicate oil leaks but make sense of the fuel hoses primarily. I was not looking forward to replacing the fuel hose directly off the tank.
Through desperate refusal, a better way.
First, jack up and remove the right rear wheel or cut off the rear fender lip, whichever is easiest. Then reach in from the side and do your fuel hose Yank Old Then Jam New sequence: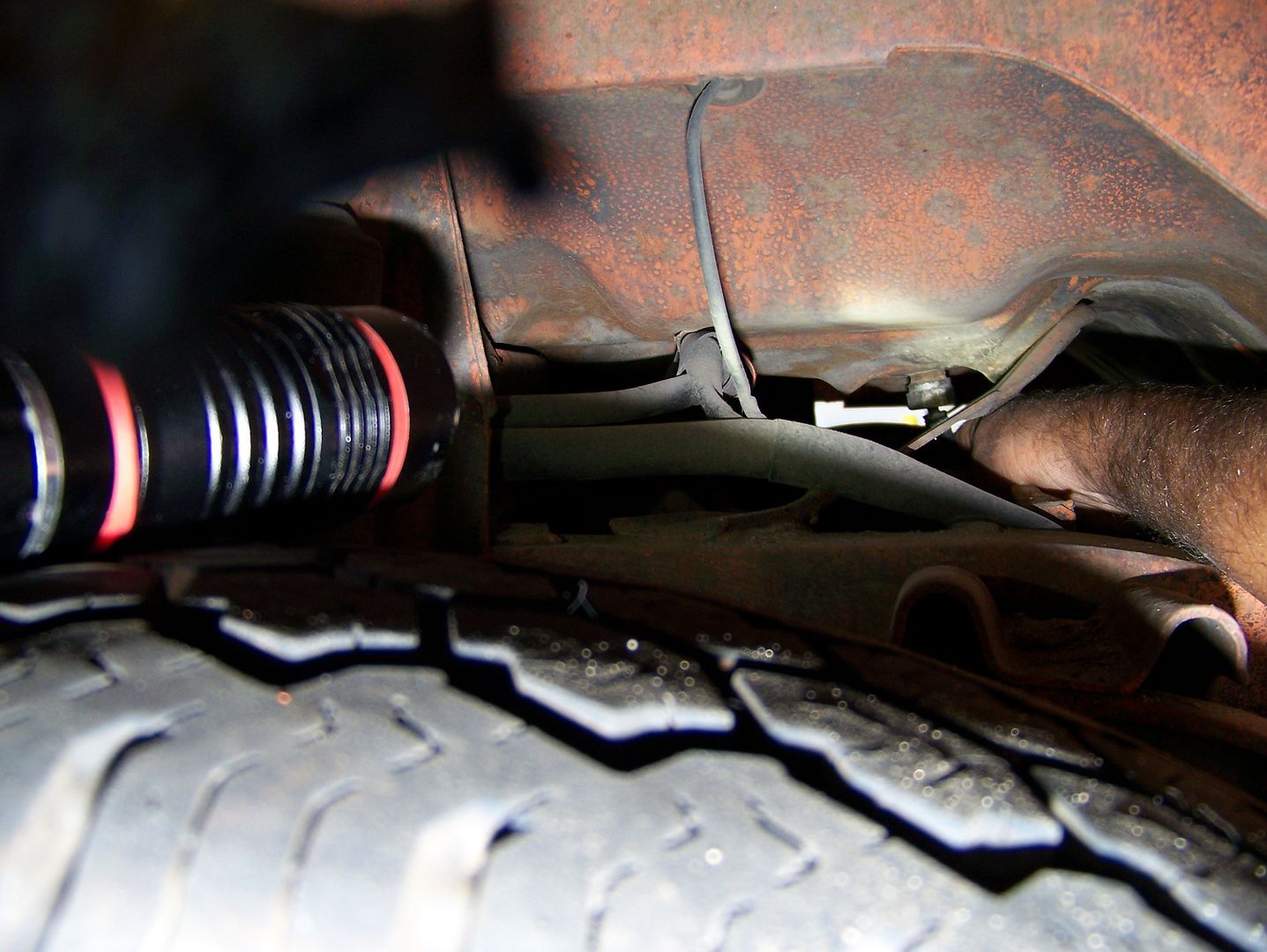 Worked like a charm. Here is Darbronnoco enjoying the heat a whole lot less than me, but re-arranging the engine compartment to a more logical and serene space: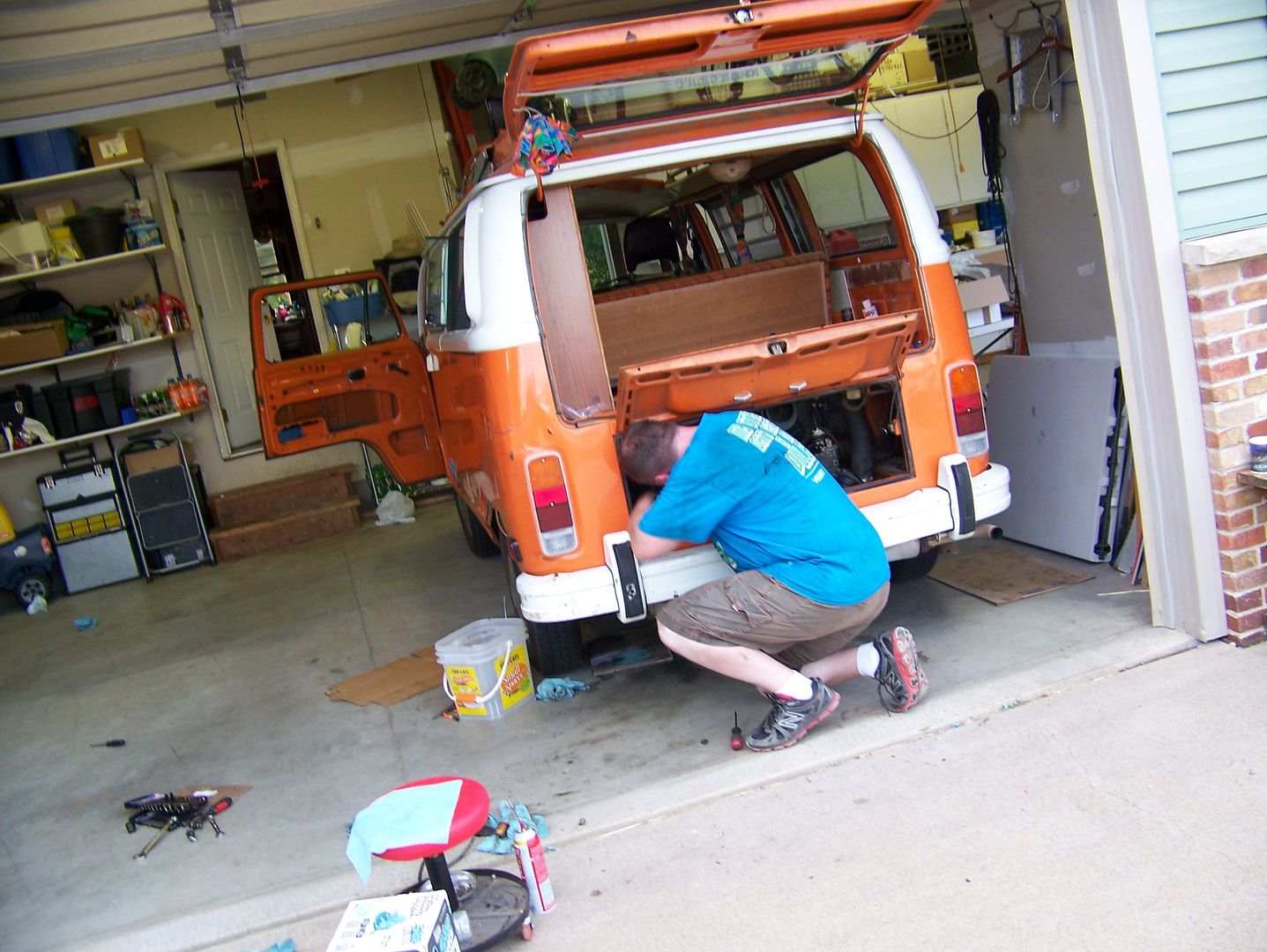 Here's the color-matching NaranjaWesty perambulating throw pillow :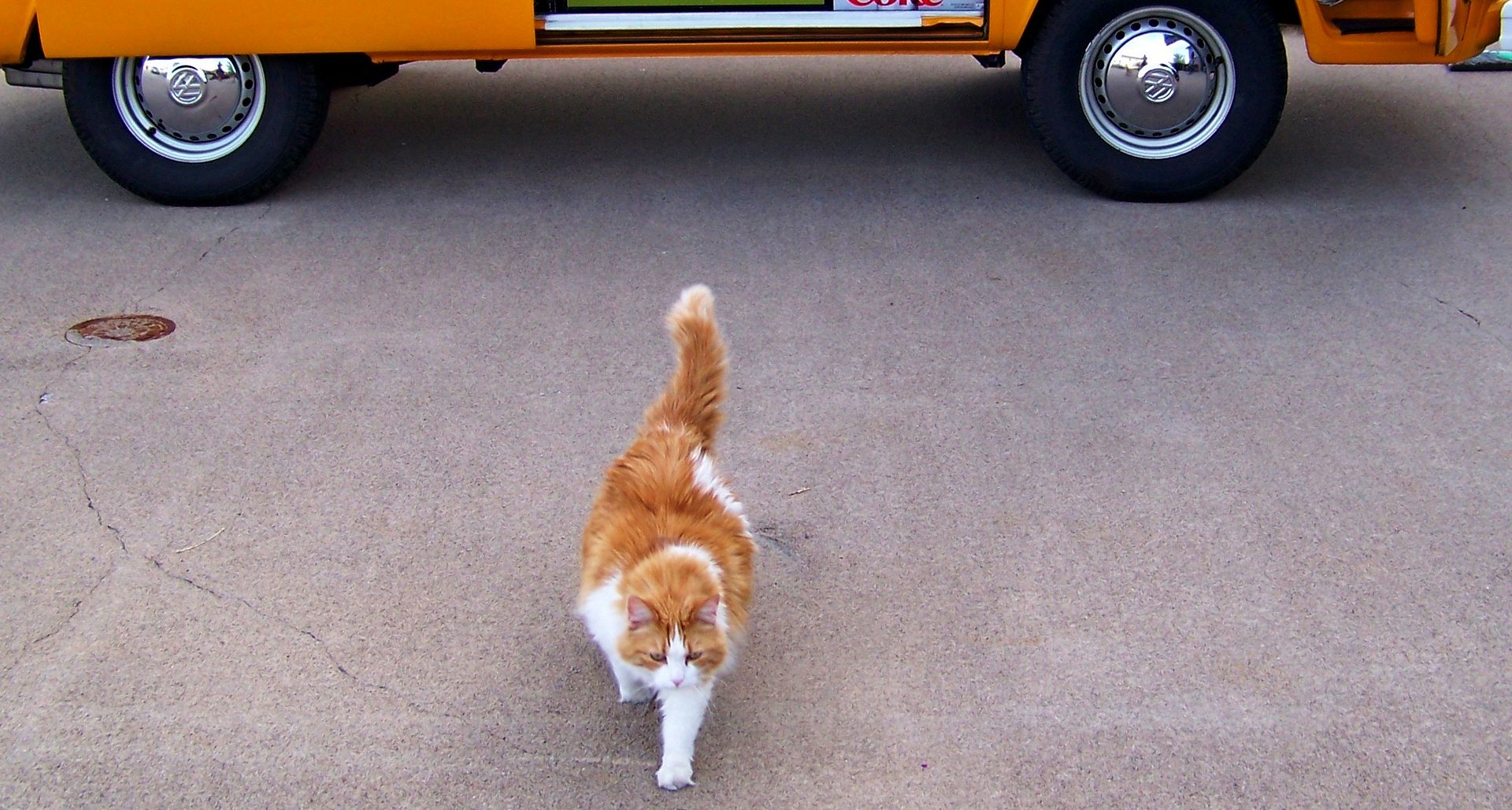 There is work yet to be done, but it is going to be an attractive car when all is completed.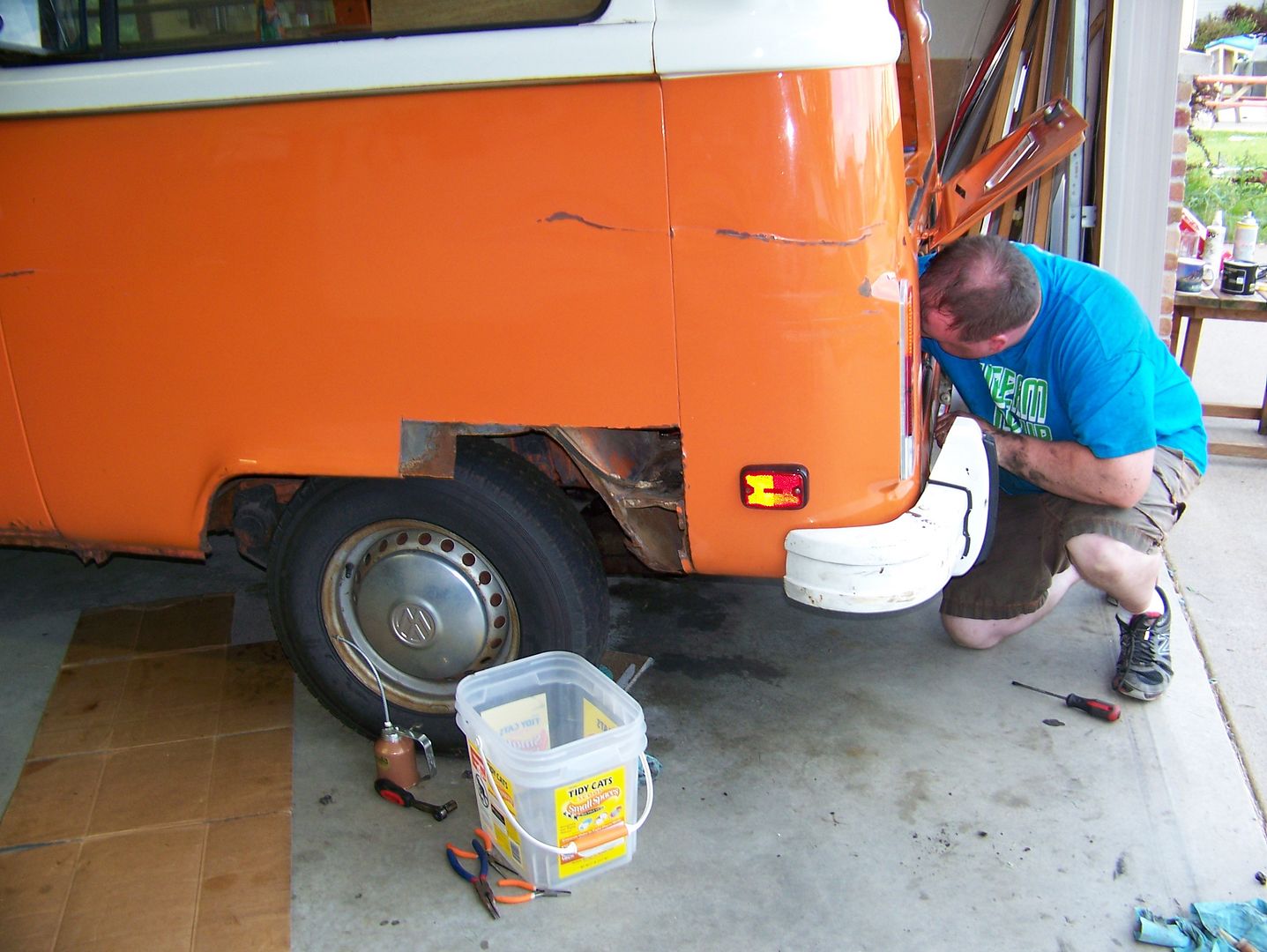 Next up was the mischievous miz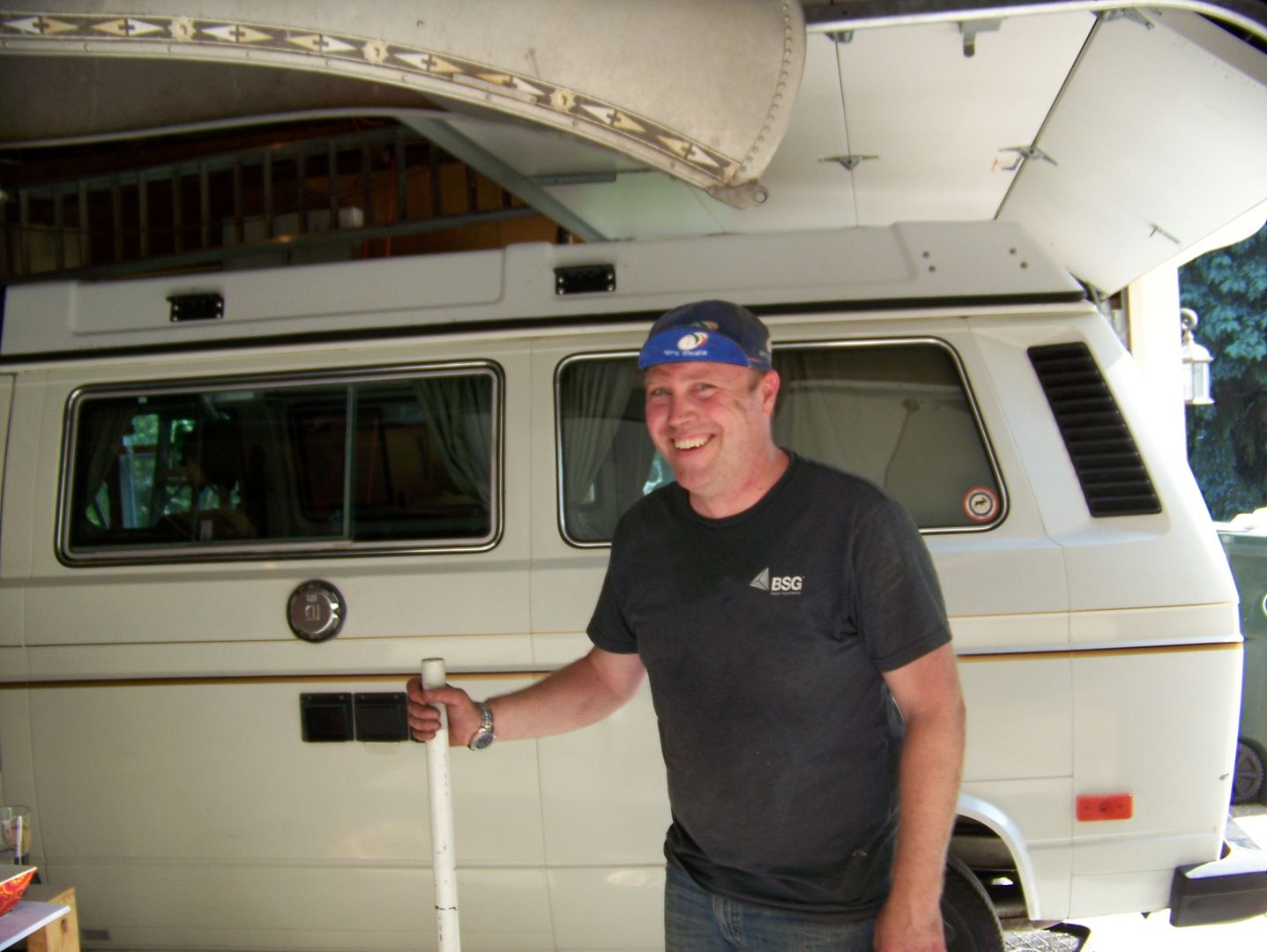 viewtopic.php?f=70&t=13083#p221373
We had to get VanaWhite ready for a season of trouble-free driving, it is Important, there is precious little wiggle room left for any misbehavior. Every task we performed, we had to know that it was squared away. Rumor had it that if Vana didn't behave, Vana might find herself homeless. Got that Vana? Yeah, so we battled cheesy self-adjuster hardware but thought we had the brakes squared away Pedal's Great Now! we thought we had the oil leak squared away, we thought the alternator idiot light was merely glowing a little after having to rev the engine "a little" to get the regulator to switch over, "prolly a blown diode but it'll still put out." That's what I said.
Sure. More later. Here is your asterik place-holder
*
to give you a reference back to here.
VanaMissMakeMeLookBadWhite:
Triumphantly ignorant, I sallied forth in the beautiful Minnesota evening to BusBerd, though, with his serious acting chops, I think "BusBard" would be appropriate.
BusBerd and I go back a long way. He has a whole eight year-old kid now. We disdainfully snipped at his door seals (horrendous brazilian hideousness), made the sliding door work better, removed, disassembled, reassembled and adjusted correctly his #3 intake hydraulic lifter, and wasted most of the middle of the day with his lovely companion who makes excellent custom pizza, a real belle to his bestialité, talking about everything plus religion. After a stop plate and AFM adjustment, we went on a test drive: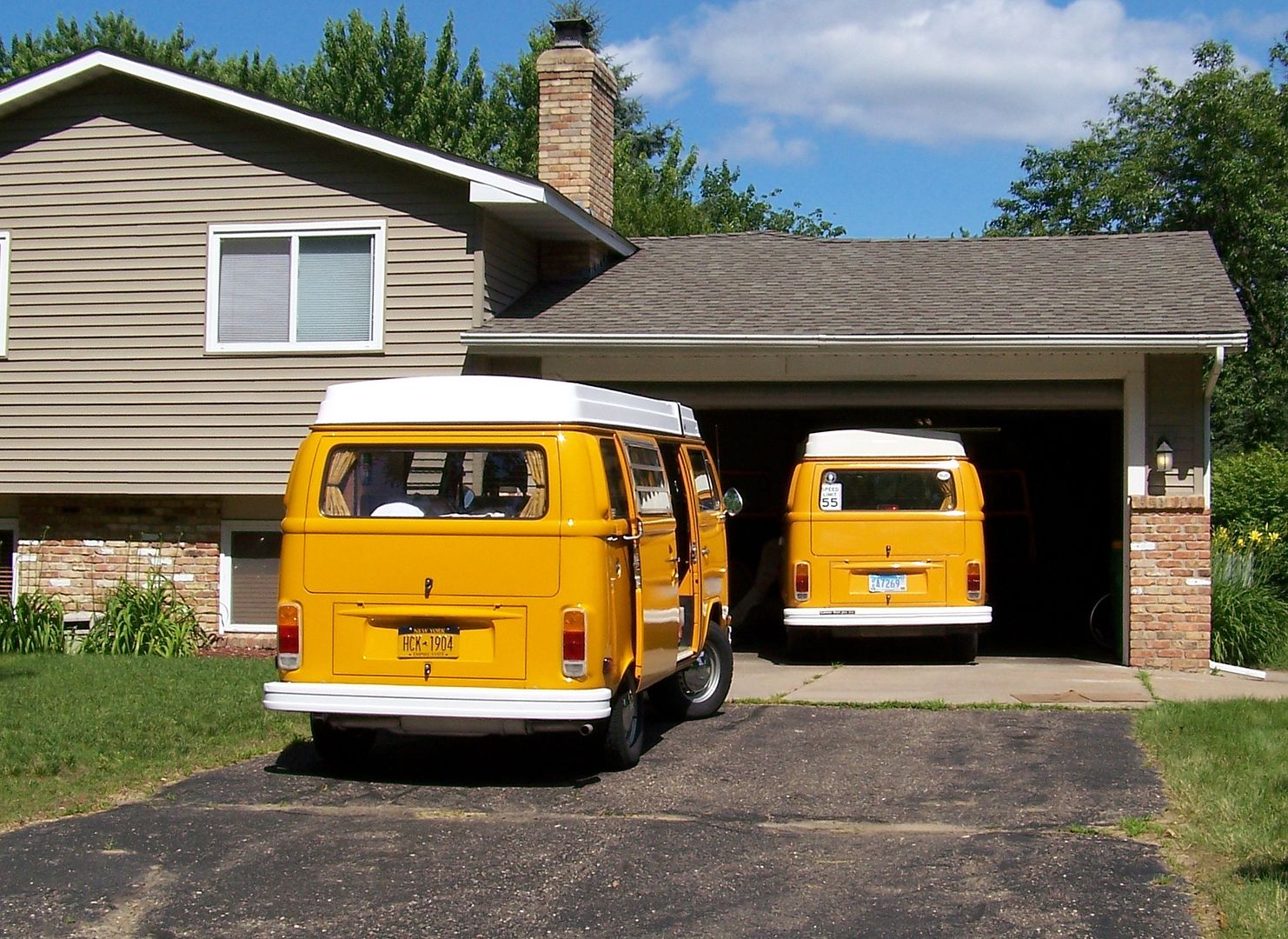 I had to decline his invitation to go see a production of Beauty And The Beast, starring the very two people who I had lunch with. BusBerd has such a fine mind, for example: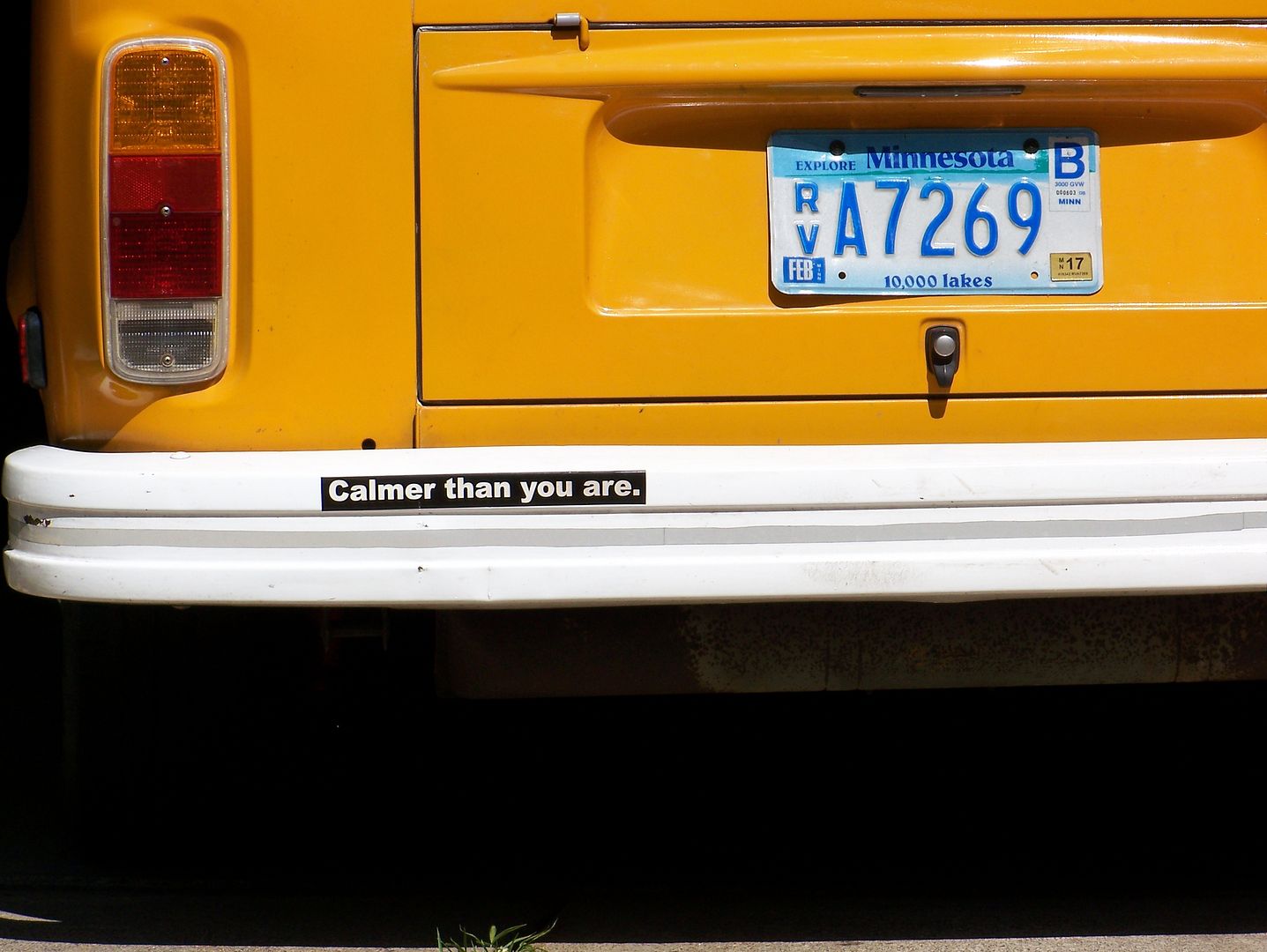 I had to drive in late evening Minneapolis traffic across Minneapolis roadways to Maple Grove to visit with Mulcheese, a real mechanic in real life, no bullshitting here, huh? This guy TEACHES engine repair. And he has a Vanagon, just like VanaWhite, and everybody knows I suffer white Vanagons famously.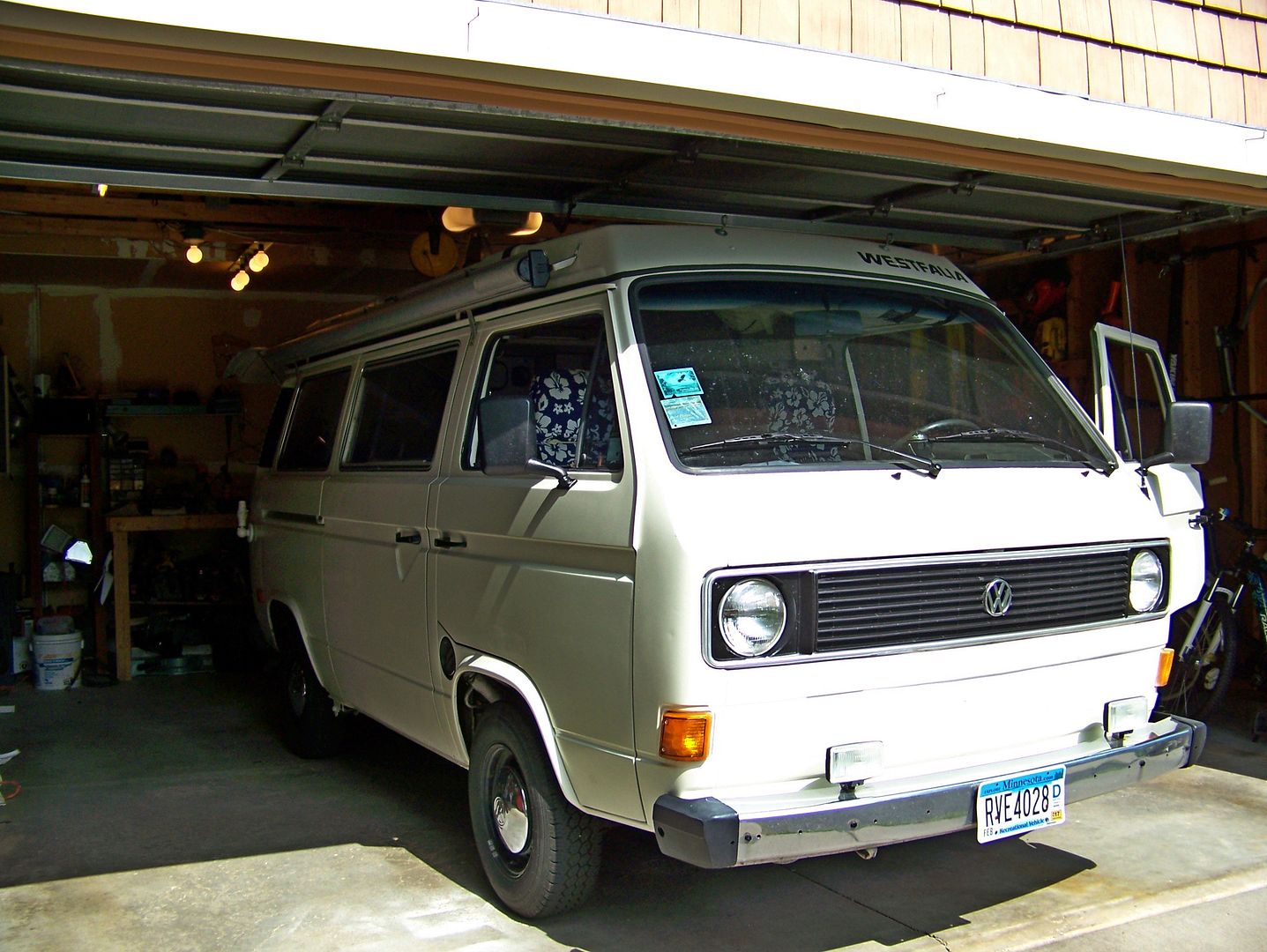 The visit was to ascertain the Vanagon's ability to do summer trip duty, like perhaos an Alaska run next summer. We came up with a punky little list of things to do, maybe an oil sender leak, we eradicated the creaky shifter on the spot, we drove around, and i discovered that Mulcheese has done his homework. This car had that most-excellent easy driving feel, where you know everything is in place and everything does what it is supposed to: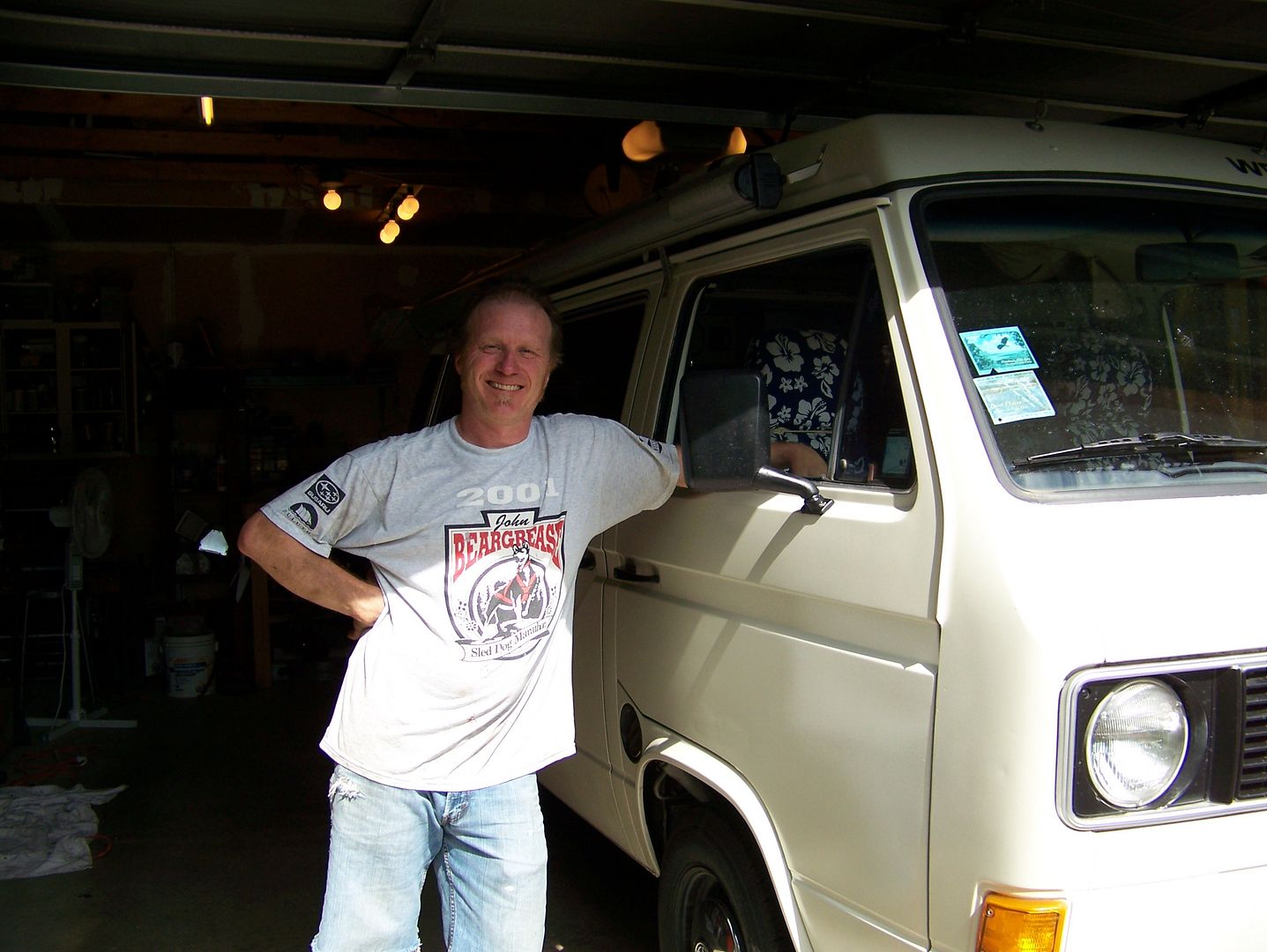 Hauled off to the further reaches of the Minneapolis Metro area, into the countryside for some peaceful rural camping along a frontage road at an abandoned restaurant. Unfortunately, I had hung out at a gas station talking with some locals and the interior was absolutely teeming with a riot of crafty mosquitoes. They hid in the curtains when I used my flashlight or interior light to track them down. They gaily sallied forth to conduct bombing raids every time I shut the lights off.
It was a sleepless night in Minnesota . . . and I had a full day with Eskimo Tom coming up.
viewtopic.php?f=70&t=13088
*
So what about VanaWhite? Stay Tuned for Minnesota 2 . . .

Colin