I have been under the weather for too long. Poor Washington DC denizens have been under clouds and rain for something like 16 out of the past 18 days. I was there. I know. Drove up to Pennsylvania to get out from under the persistent low, but the persistent low decided to follow me. Enjoyed a cloudy rainy day with ChipWrecked (I love the name, but discovered that it comes from some history at the gambling tables) and his 1972 Bus With A Question: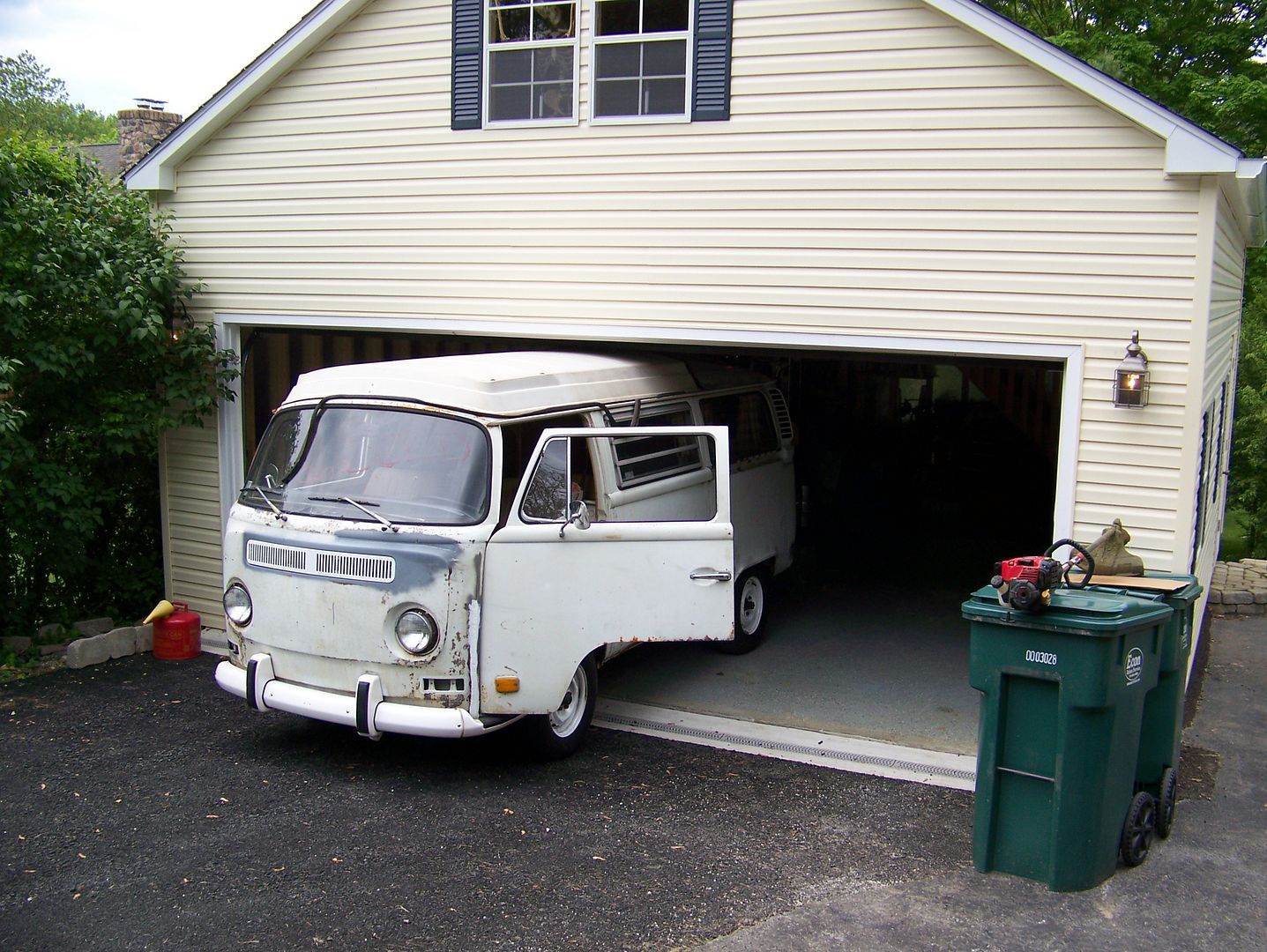 The question was, "why is this bus not running well?" We embarked upon a mission to find out while I eyed with no small alarm the deteriorating weather. You can see that the garage is at the bottom of a hilly driveway, and I still remember the flood of Mohawk NY:
viewtopic.php?f=68&t=11946#p206339
But we had engineerin' here, a nice slotted gulley drain at the bottom of the driveway. We did not however, have a Volkswagen Gutter Deflection System. It piddled down the back of the car until we made two caulky-like dams inthe gutters with little spouts to get the rainwater down the side of the car where we were not working. Nonetheless, Squeegie 2016 happened.
This is a dual carb bus, I love 'em, but they bristle with little failure points that can make us hapless mechanics scurry about like little idiots, especially if we are talking it up. I sure was. I was talking and talking, "teaching" they tell me, but the object of my little lesson was not cooperating. How can you teach if the actual results are in direct opposition to the stated results? My discussion of retards and retarded, for example, was veering ever closer to the personal.
Eventually, the pedagogue was as lost as the pupil.
Then I saw the failure point, the detail that made all prior ministrations for naught. Right quickly I re-asserted my commanding authority and commanded my game customer to please remove the left carburetor/intake manifold: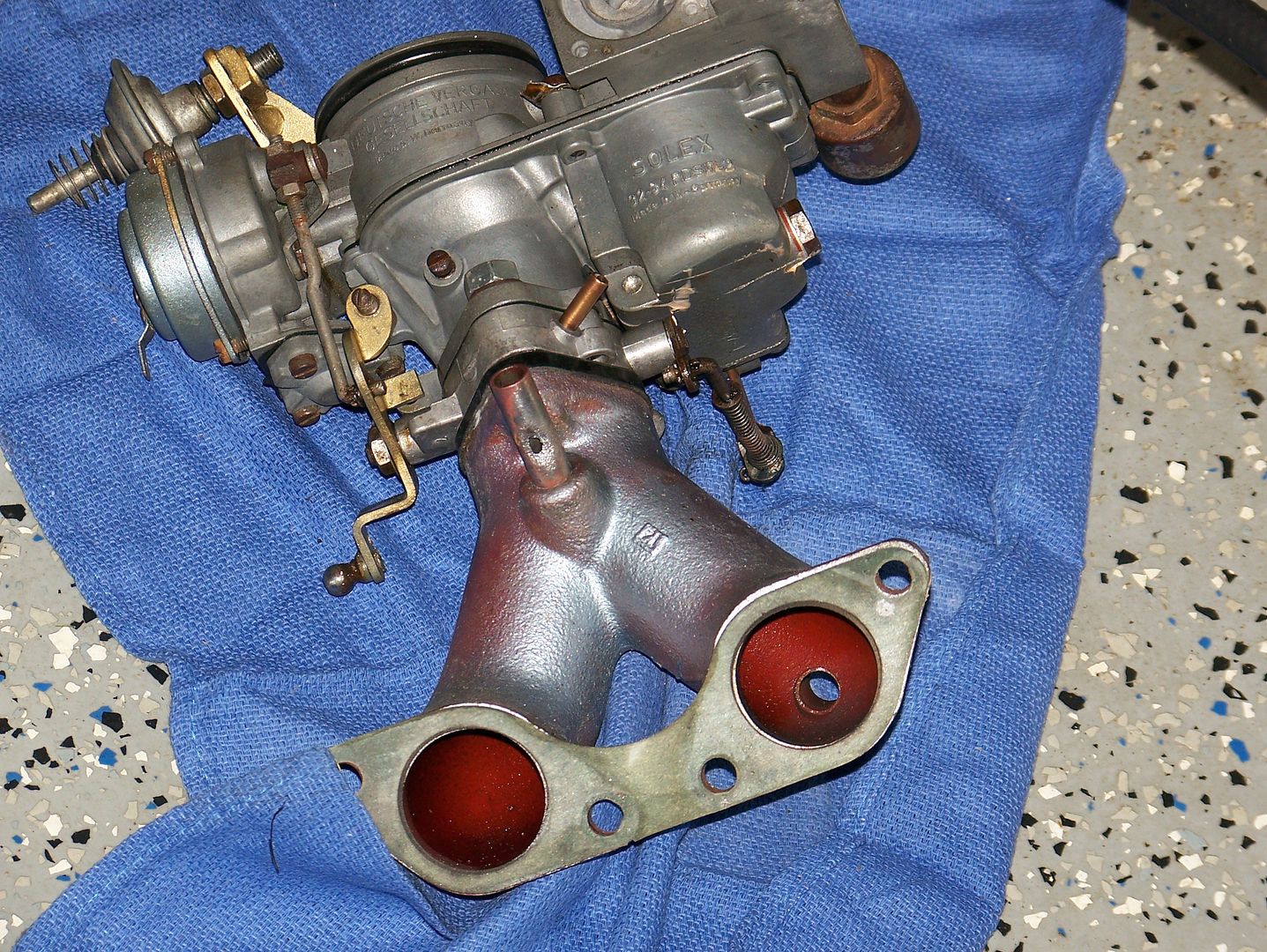 Yes, the left intake manifold central idling nipple had a hole in it. Don't know how, we speculated that maybe the spark plug wire allowed a chronic deterioration of the metal (naw-that's retarded)? Anyways, I was treated to an absolutely first-class welding job on that little nipple, pedagogue became pupil and pupil became mentor, and we got the left carburetor and intake manifold back on the engine. Then we drove it (after attempting to firm up the grub screw on the shift coupler so we could, like, find a gear?). Poor thing is a tired thing. But it at least runs smoothly enough and no longer stalls. I see a bright future after a long slog for this car.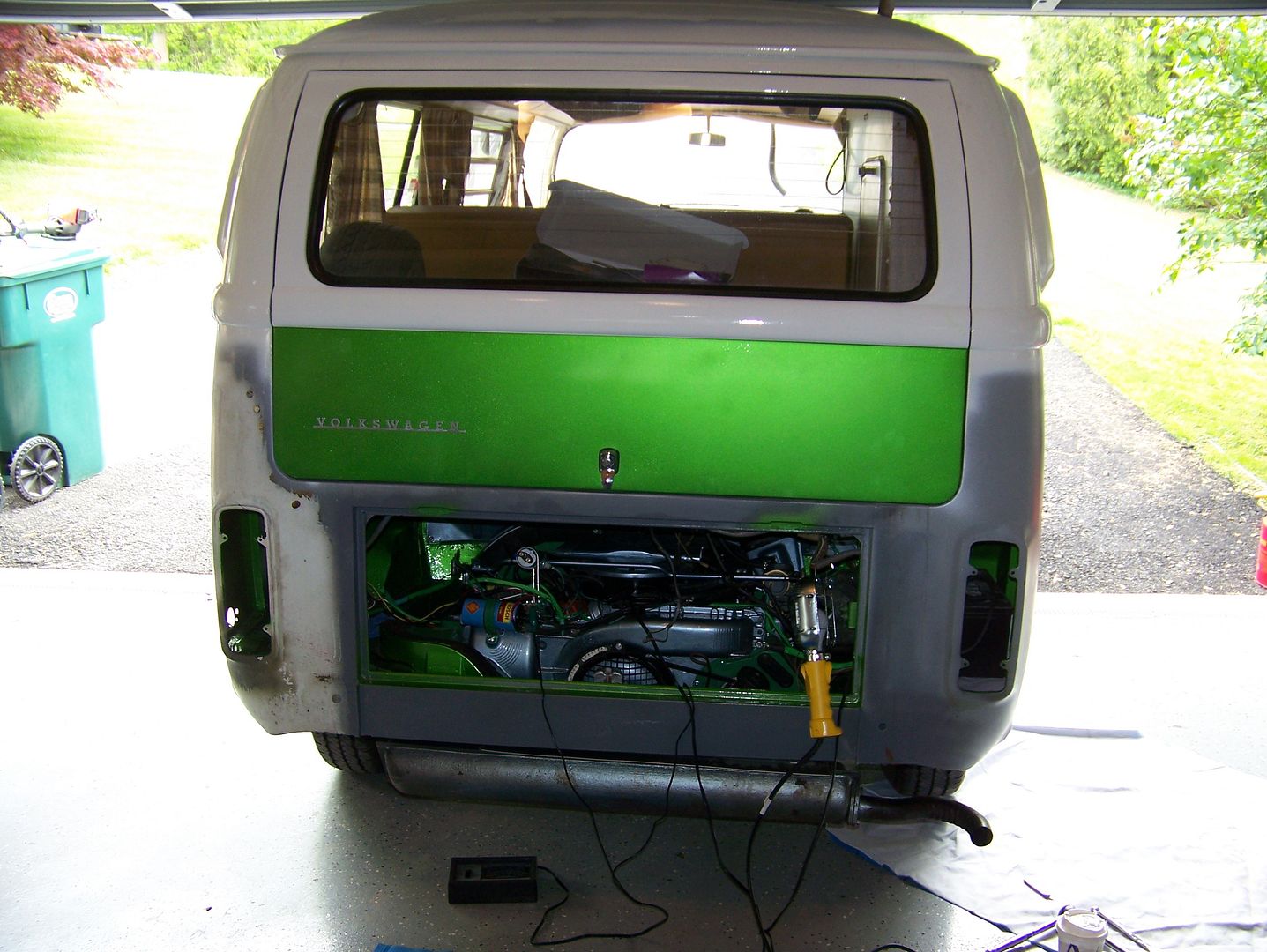 Hopefully drove north to clear the Persistent Low Pressure System parked over the mid-Atlantic region of the United States. The condition of the roadways was deteriorating apace. NaranjaWesty's interior fitments protested over the pot holes and heaves and sharply displaced concrete slabs. Took yet more air out the tires, I think we are down to 33/42. Engine has been running well, transmission not so well. Try as I might to shift carefully, the synchronizers just don't have the grip I need to match the slider to the gears' dog teeth when cold. A friggen $46.00/gal StaLube transaxle oil change gives me maybe 500 miles of better friction, but as soon as the bearing metal and little bits of magnesium (wearing off the nose cone I bet) discolor the transaxle oil, things get slipperyer and I get that morning crunch into 2nd. And we are only at 50,000 miles . . . .

Bashed into Montclair NJ and was given a sunny day with appetite. Thank you, Lord God Creator Of The Universe, but jesushchrist did You have to crank up the biting wind and plunge the temperatures into Itinerant WhineBaby territory? We changed his transaxle oil allegedly the first time this century. Brown and bubbly (anti-foam additives long gone) and a decent sized palm tree of gear shards on the drain plug, but most-beautiful was his synchronizer brass particles. "That's bass boat gold rat thar." We decided that it is time to get a rebuilt transaxle while the getting is sort of still sort of good.
I had upsold appetite on a proper 205Q dual advance distributor for his dualport 1600. It was written all over his invoices since 2006. With great hope for super-smooth factory engineering, we installed this $$$ rebuilt di$tributor only to find that the centrifugal weights were sticking on the return to idle and the timing range was grossly too great. If we adjusted the centrifugal timing to 28*BTDC at 3,500 rpm, we got 16*
A
TDC at idle. The carburetor that once upon a time could not allow the idle air screw to be open enough to get a smooth transition to the main, now could not get enough idle air with the screw backed all the way out, AND we have a anemic almost bucky acceleration. "We're adjusted like a trampoline on a hovercraft," I told appetite, lost in metaphor.
Rebuilders need to step up their game. We customers WILL check the timing range/curve, we have the big ol' internet at our backs.
His kids charmed me. It is a joy to watch these new human creatures gain traction and knowledge and vocabulary.
"What is the name of your Westy?" I asked the five year-old.
"It doesn't have a name."
"What is the name of my Westy?"
"I don't know."
"It is named after the color 'orange'".
"What is the color 'orange' in Spanish," appetite coached.
"Naranja!"
Kid pronounced it flawlessly, better than I ever have.
Next day was cold again and back to cloudy. Visited skip and his '76 Westy. Skip is some kind of talented. Re-did all of his wood in the interior:
I snuck a shot of the white headliner up front, because that is where NaranjaWesty is going. Note the Mexican steering wheel. It sits higher up for those of us who need extra room for our poorly articulating knees ( we must all heckle skip mercilessly to rehabilitate that knee. if you don't rehab, no bus for you! ):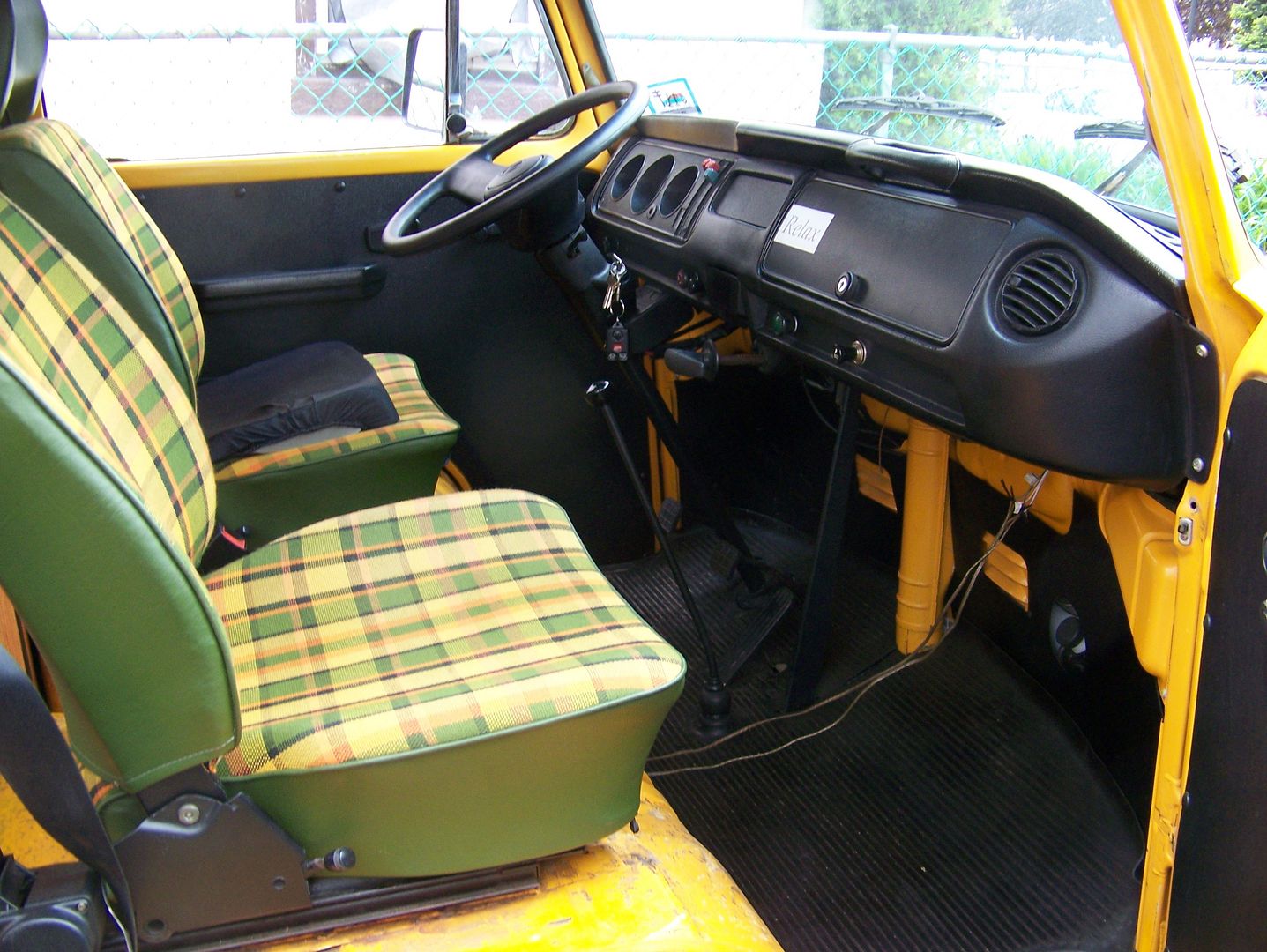 We had some questions about the state of tune. Wasn't running on all cylinders, #4 was dead at the distributor cap test. Slapped his Harbor Freight compression tester on it. 76 lbs? Uh-oh. Went to #3 which was contributing just fine. 62 lbs?? No way.
Stuck my compression tester on #3. 120 lbs. Stuck it on #4. 110 lbs. Moral of the story? There isn't one.
We drove his bus around the neighborhood and got on it a little to help clean the spark plugs. Drove pretty well. Skip! Flex that knee, the road awaits you.
Colin