It was here that we continue our ongoing story of exploiting the labors of young children:
As you may have by now surmised, Itinerant Air-Cooled finds it most agreeable to inculcate the young into the ways of air-cooled Volkswagens. From the Los Alamos pmaggiore twins of yore to that poor child forced to solder her mother's turn signal switch in Minnesota last June, to yet another hapless child in Miami whose little hands were roped into the harsh task of installing windows just last month, this child was immediately commissioned to hard labor right out of the car from a visit to the doctor. Cruel cold commands "remove that drag link boy," thus issued to the suffering child , greenolivemedia and I retired to the rear of the car to soak up a little sunshine and listen to some tunes, oh, and adjust the valves: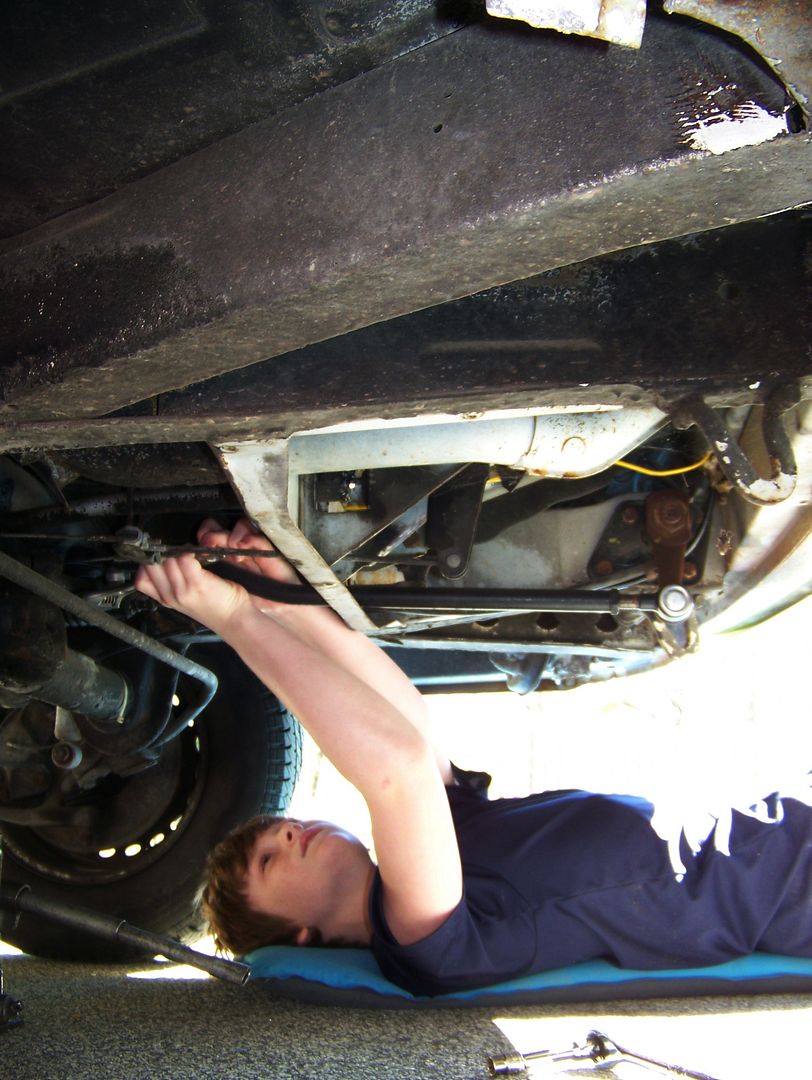 "I don't hear enough hard labor up there, kid, what's going on?"
"I'm on it," replied the kid.
With no expectation that the lad would be able to prevail upon a drag link (
with an adjustable wrench??
), I focused on our valve adjustment progress while listening to the Doobie Brothers, yes.
A sharp triple clankity katank! rang out from the front of the car.
"Did the separator slip off the joint?" I asked crossly of the weepy child (hayfever, folks)
"No, it's off. What do I do now?"

Well, we did lengthen the drag link to straighten the steering wheel spokes.
"I'll tighten the lock nut," he said. And he did, and the drag link, too, even as he had a washcloth draped over his inflamed eyes:
Meanwhile, greenolivemedia stretched out in the sunshine and who knows? maybe caught some z-z-z-z's (maybe he saved his engine from two very tight valves):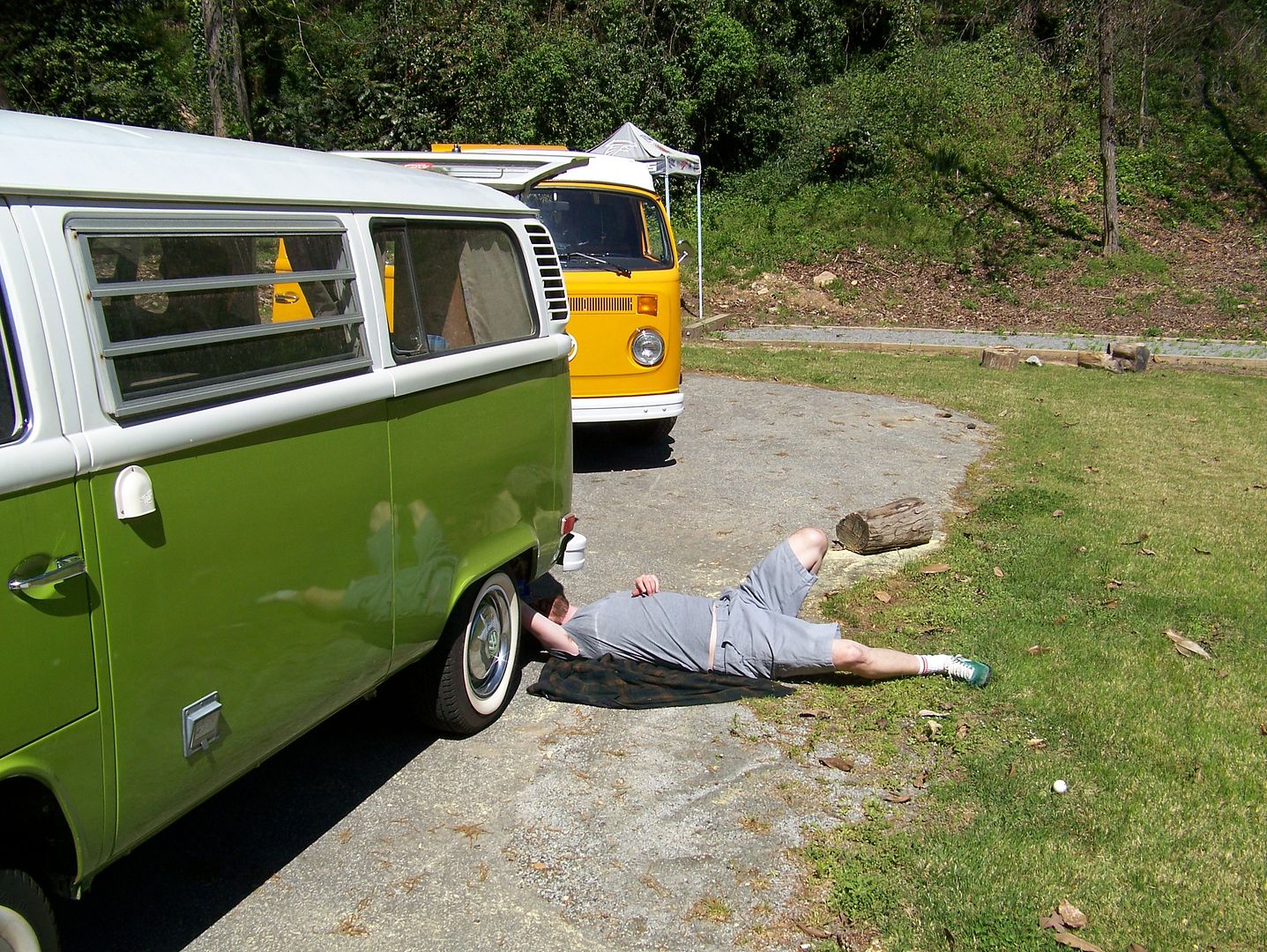 We cannot let our children know that they impress us. We cannot allow them to know that they frighten us with their competence and perseverance.
"Boy, hook up the CHT gauge. And watch those little nuts and washers and screws."
His raging hayfever was making it well-nigh impossible to open his eyes enough to watch those little nuts and washers and screws as he appeared to fumble with the wires under the dash to the gauge mounting pod and tried to align the eyelets.
"Well?"
"I got it."
He did, too.
Later, during our test drive to test the newly opened up valve clearances and carburetor adjustments and steering wheel re-position, the overtaxed child slipped into unconsciousness in the back seat, exhausted.
"He's got a baseball game tonight," said his father.
We took a look at the stereo face plate removal instructions. We pondered the collapse of civilization that it portends: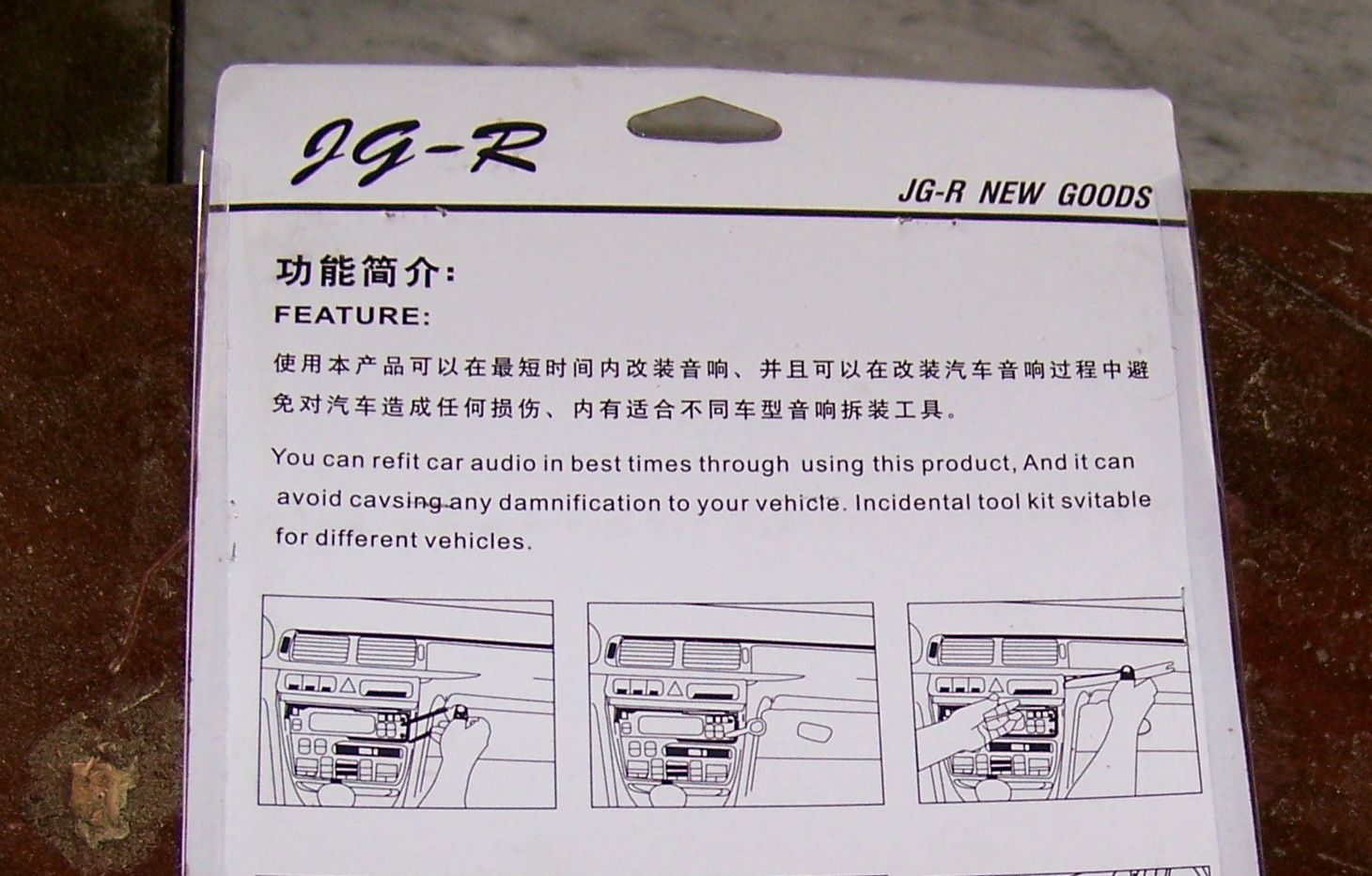 Then again, just when you think civilization is heading towards the precipice, you have to consider this: