It is embarrassing how both tardy I am on write-ups of excellent visits with good people, and remiss in documenting those visits. It was seventeen days ago that I visited foxmon in Scarborough Maine on a nice summery day. Shot nary a photograph, which is a shame, because these foxmon visits have had some good photographic moments, like that crazy front beam replacement last year with all of those torsion leaves (he's got a good-looking automatic late model bus). This year, we massaged the auxiliary air-regulator and reviewed the cold-starting system and apparently we have better cold starts, but some intermittent cutting out after I left. These cars will do that, they behave when I am there then revert to their old ways after I am gone.
I am getting nostalgic for the itinerary life even as I live it. Drove down through New Hampshire, Massachusetts, Connecticut, New York, calling out familiar places to myself, like landmarks I used to drive by when banzai driving to visit my girlfriend in Portland CT from Boston MA on late Friday nights to the tracks of Pink Floyd and ELO, then back to Boston for Monday morning work, courtesy the Road Warrior at 85,000 miles or thereabouts.
Camped adjacent to the Stewart International Air Guard Station in Newburgh NY in an incessantly drumming rain. Woke up at 6:27AM, shot this picture at 6:30AM in appreciation for what a bright white headliner can do for you when it is gloomy outside, at 6:31AM, jumped out into a whole huge new puddle outside of the sliding door. Good morning, sopped socks and sneakers:
Next up was Captain Adventure, an owner who has marshalled his 1970 bus through the past twenty eight years. This is a bus that has adopted its owner's character, and has that nice easy energy of an original bus that has seen some road:
We got into some valve adjustment action, timing and carburetion and fell into focused intensity as the issues made themselves known, like front brake cylinder dampness and shifter lubrication/adjustment. Most important, folks, we need to predicate all communication with Captain Adventure with a reminder to eradicate all rust as soon as possible. His longterm relationship with this car depends on it: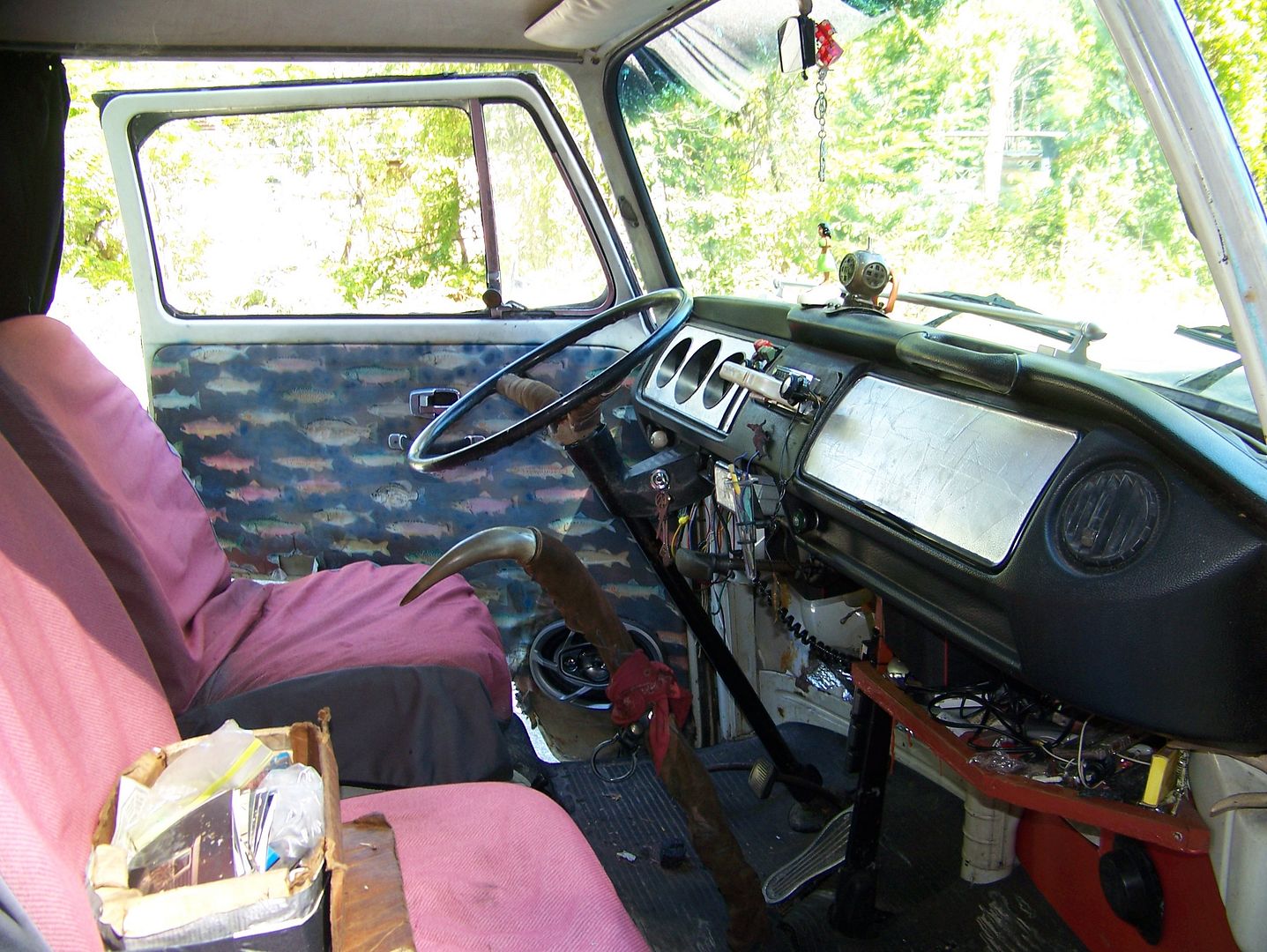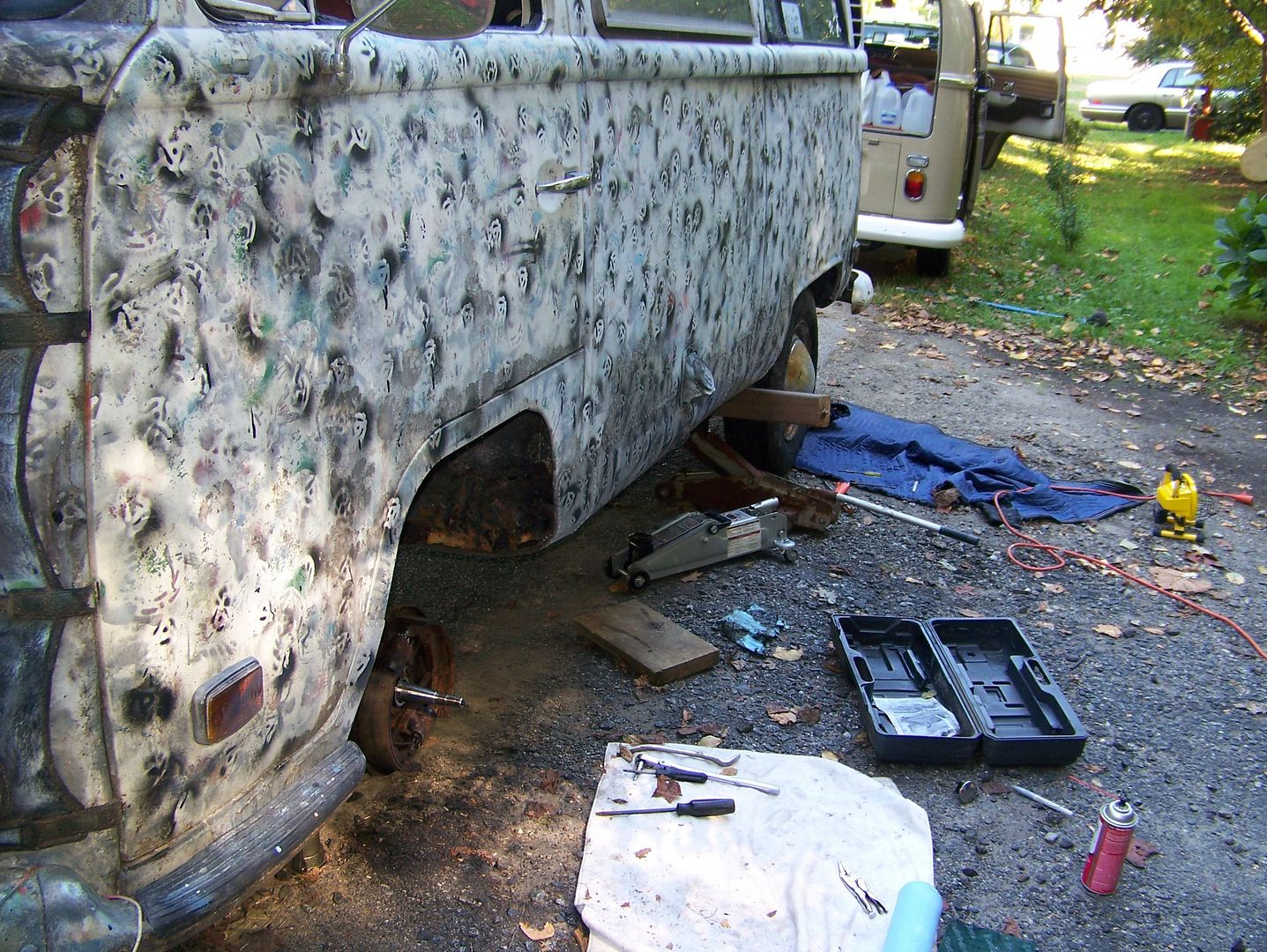 Drove to appetite's house in the scrum of metropolitan New York/New Jersey. Mr. Efficient here arrived at 9:10AM, ready to bask in compliments as to my promptness, then remembered that the appointment was to start at 2:00PM:
"I a idiot," I said to myself, "let's repack the front wheel bearings on Chloe." So I did. Right there next to appetite's westy: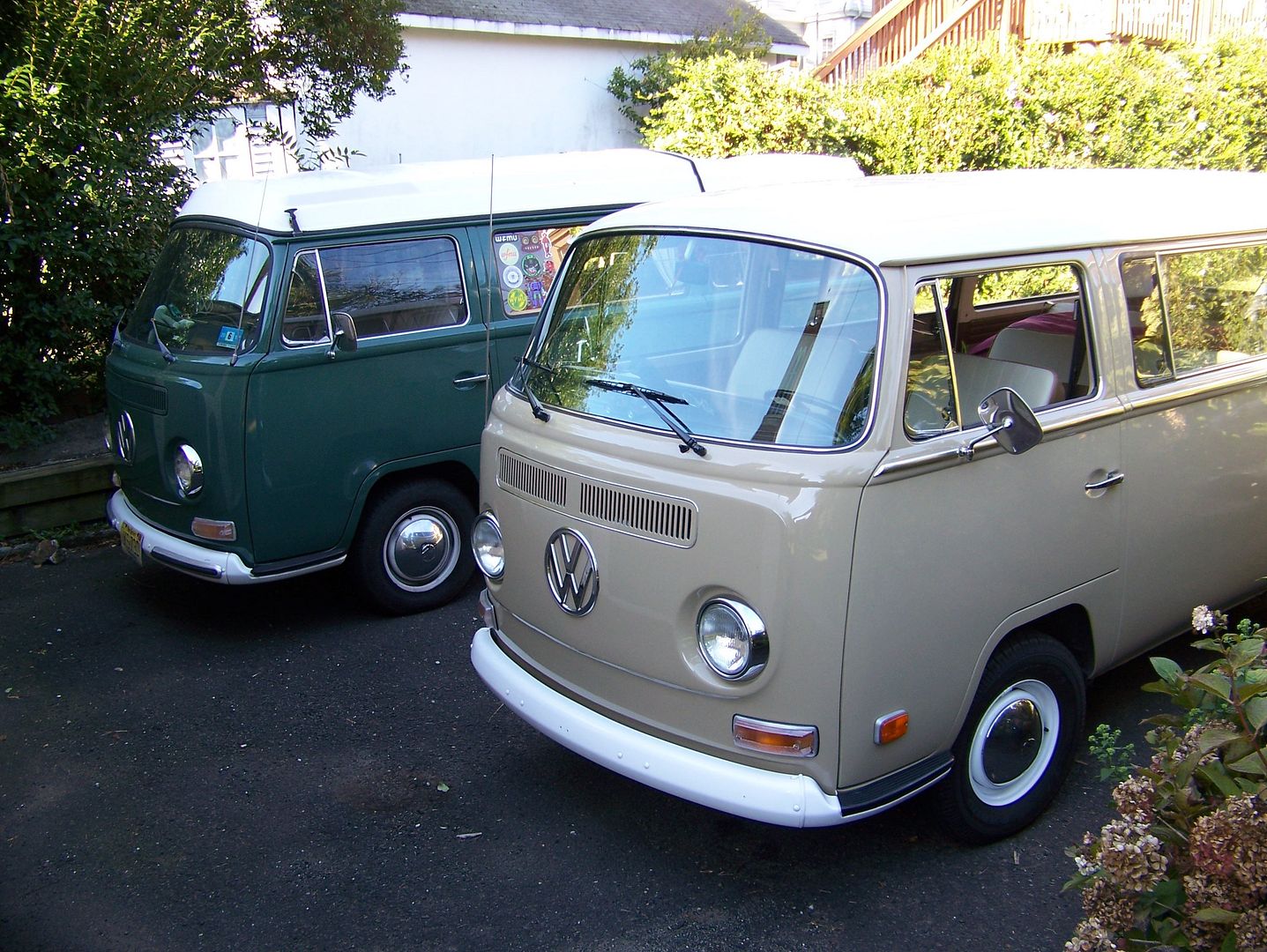 When appetite arrived, we set to his engine with a valve adjustment and timing check and carburetor adjustment. After his loose cylinder head issue, I thought it would be prudent to check the compression. His cylinders were all within 5-10 lbs of each other. Happy trails, appetite:
Drove on out of the New Jersey traffic traffic traffic, happy happy happy to go enjoy some peace in the pastoral splendor of Pennsylvania on my way to oscarsnapkin and his fresh Headflow Masters engine. Pastoral splendor was hard to come by. Cops? Easily everywhere. Apparently, all the land in southeastern Pennsylvania has been accounted for. Here on an abandoned lane leading to a brush pile barrier, I decided to check out Chloe's engine compression and end play and, what the heck, put in new spark plugs for the first time since I have owned the car: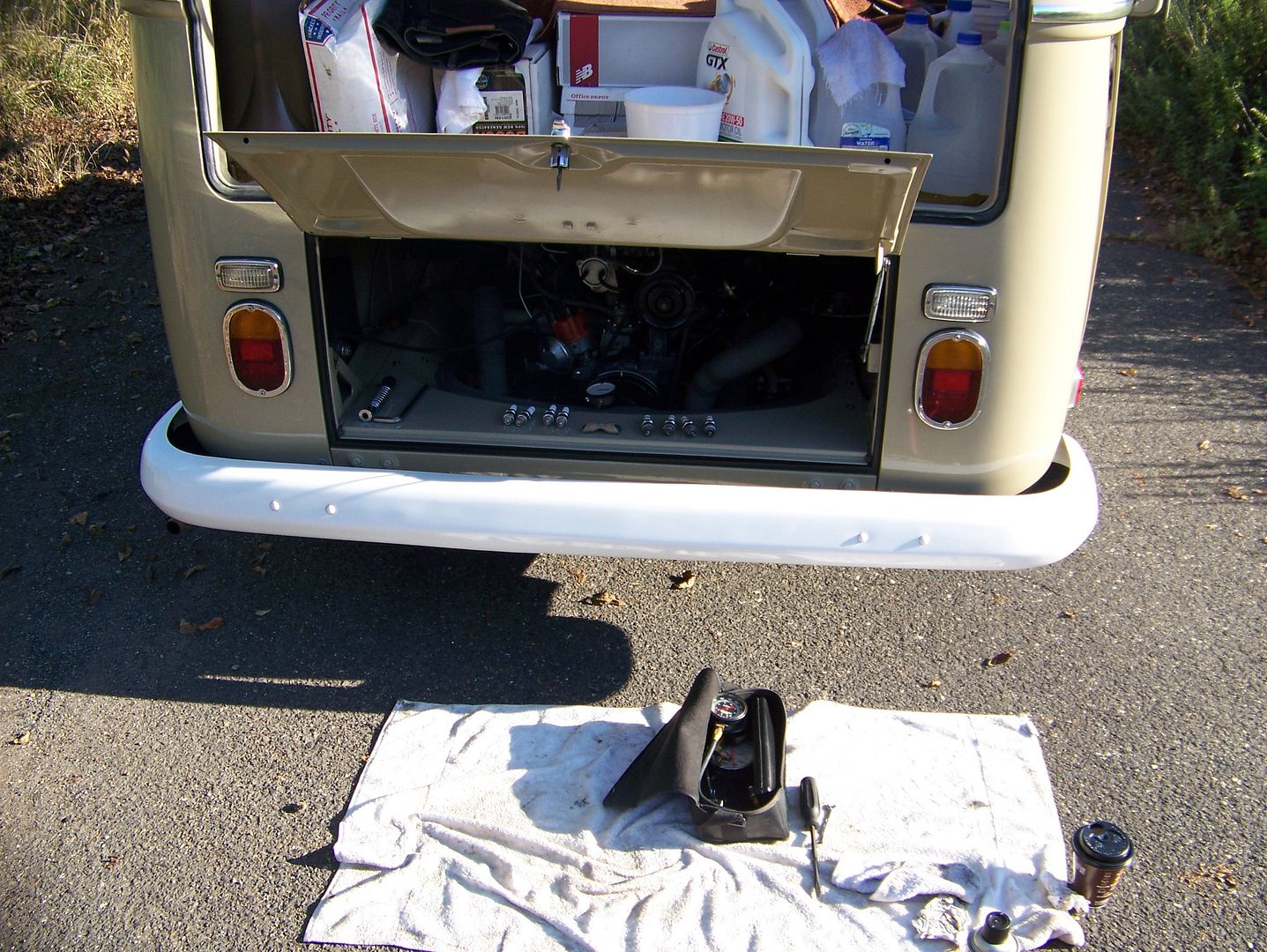 As the engine ages ever more rapidly, clearances open up ever more rapidly, like this end play. It was .0035" in Pensacola on April 25th, now it is at the cusp of the wear limit, .0055":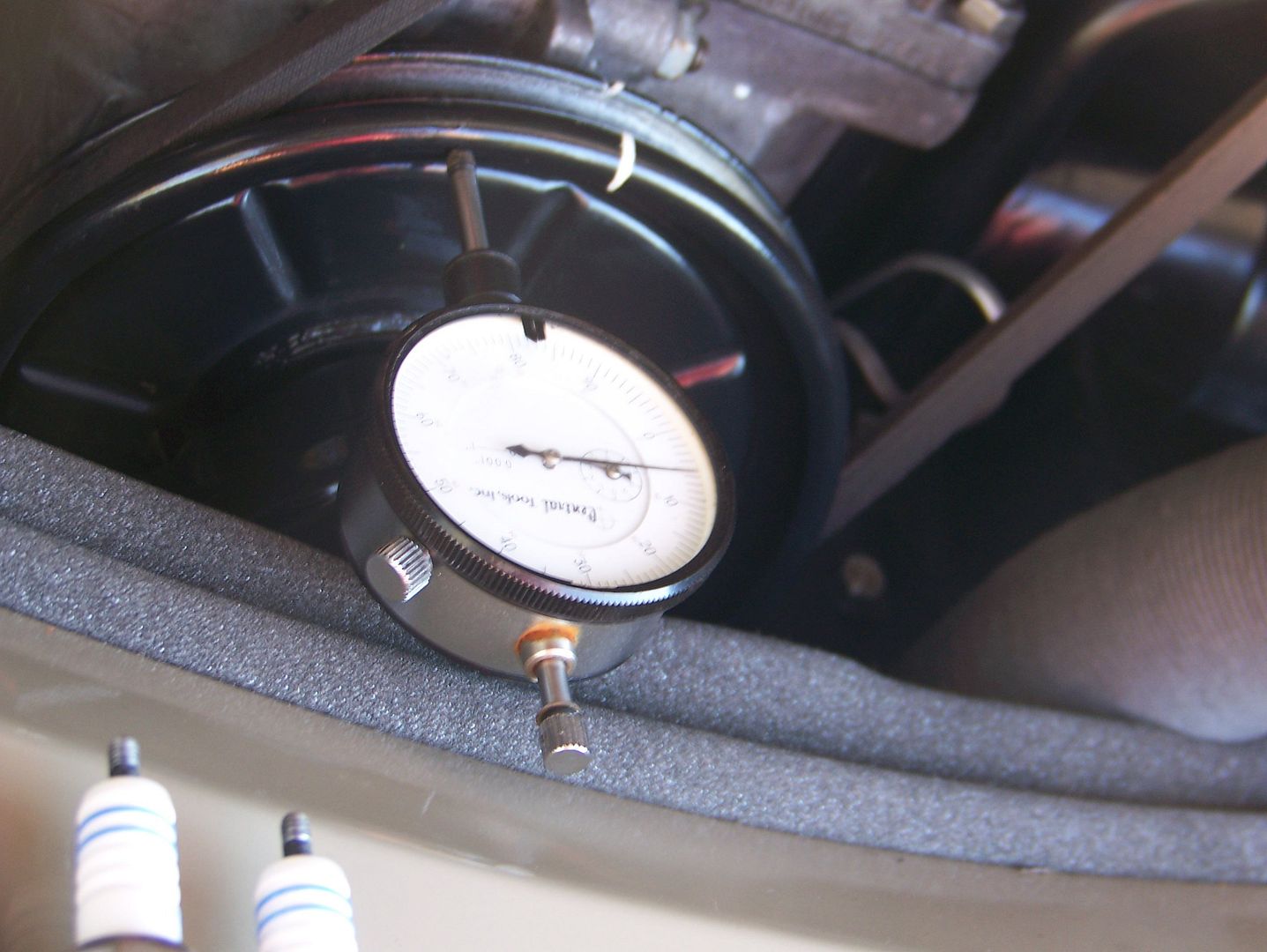 Cop pulls up in a Chevy, then another shows up in a Tahoe, then another cop shows up in another Chevy. I am dangerously dressed in a tank top and tatty shorts.
"Are you carrying a gun? Do you have any drugs? Let's see some form of identification. What are you doing out here?"
After reminding them that criminals generally do not drive painfully slow very obvious vehicles, I suggested that they inform the bank that foreclosed on this property to post a no-trespassing sign so that the police don't have to take on the bank's responsibilities.
Drove further into this creepy, over-decorated, over-manicured, over-running suburban sprawl crawling over the once beautiful hills, and spied a driveway between a gas station and a restaurant. This led to a parking lot way out back near train tracks. Feeling sufficiently out of the way of the rushing New York BMW and Range Rover commuter types, hurrying alongside the diesel pick-up trucks bellowing to all that they have wussy automatic transmissions, I thought it was a good time to paint the gearshift lever:
Three coats and an hour, that's all I needed, please: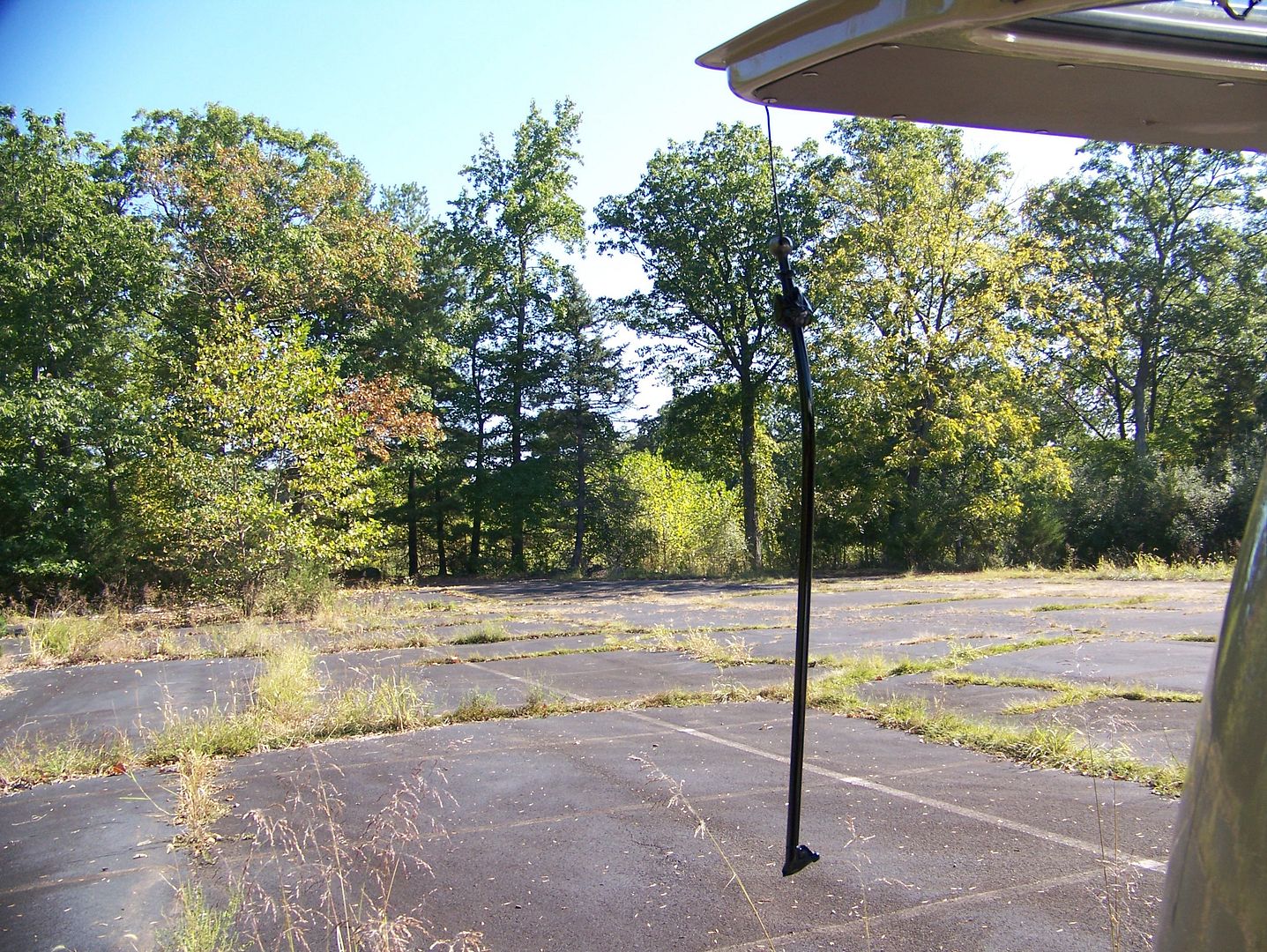 But cops # 4 and 5, came upon the scene.
"You can't be here. This is private property."
"I saw no posted signs, and I have to ask if the property owner has visited this place in the last several years."
"No, you can't be here. You have to leave."
"Oh, I will, I promise, but I need to put my car back together. That is the gear shifter hanging off the tailgate."
"Why is your gear shifter hanging there?"
"Because I just painted it."
"Why did you just ..."
"Hey look at this thing, that paint is perfect."
"That is a nice van, you restore it?"
"Well, I am in the middle of restoring it, actually. Today was gear shifter day."
"Look, uh, take your time, don't litter paint cans and stuff, can you do that?"
They took off in a procession of gunning engines.
So, I let the gear shifter dangle to dry while I disassembled the clutch pedal and cable and Bowden tube. This is the first daylight that the clutch cable has seen since the Flagstaff event of 2012:
Cobbled Clutch Cable Clevis July 2012
September 2015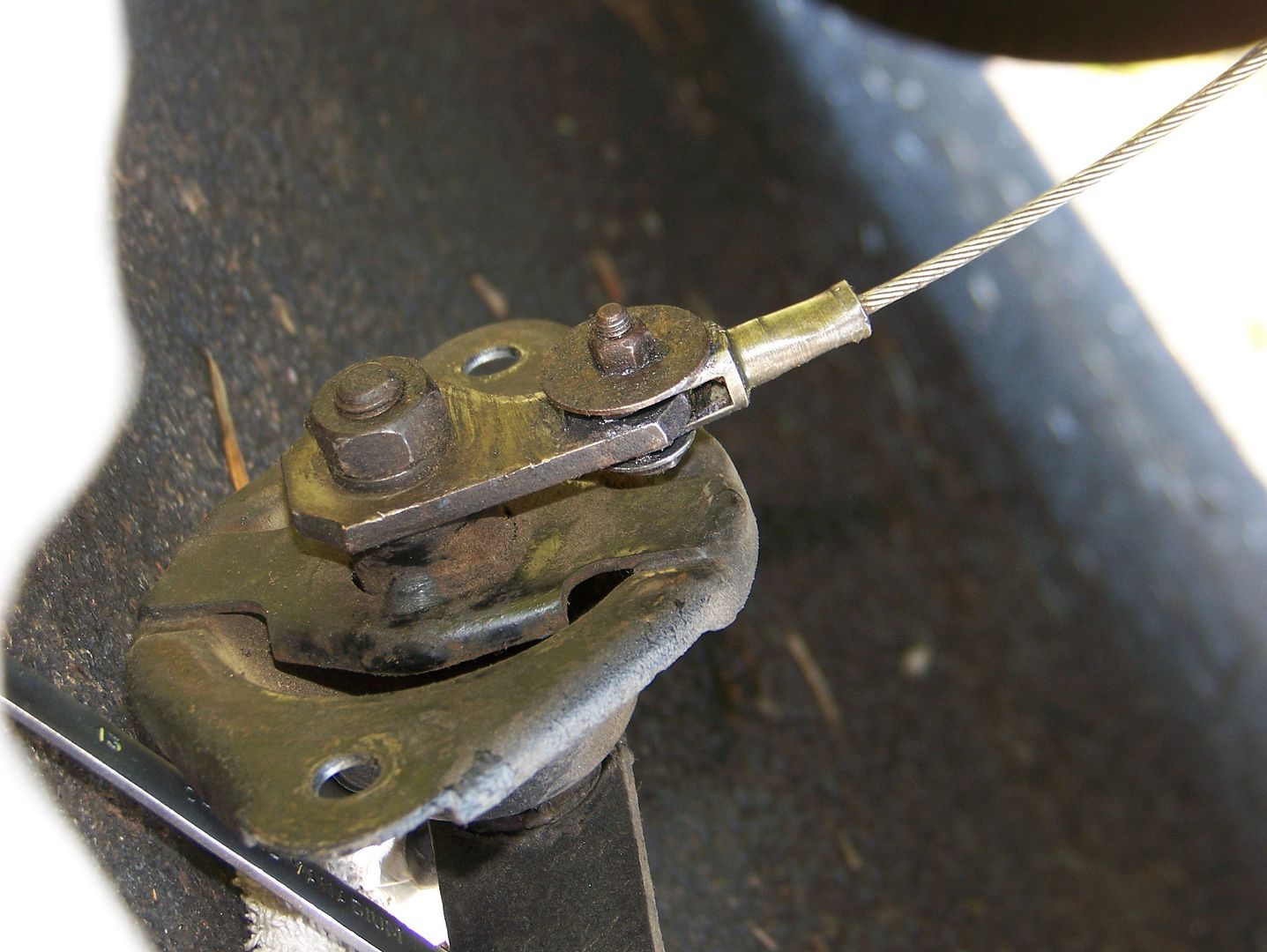 If you look closely, you can see that the several thousand clutch actuations since Flagstaff have not wallowed out my drilled clutch cable clevis:
The bolt-come-pin has just a little shine. I recommend Valvoline Durablend Semi-Synthetic molybdenum disulfide grease. Reassembled with a new slather charge of grease and a clutch pedal free play adjustment. It made me feel a lot better about all of the endless traffic jam and mountain pass double-clutching not wearing my poor car out.
What the heck, let's shim the wiper shaft retaining nuts so the plastic caps can reach the nuts. After a long rummage du washer bague: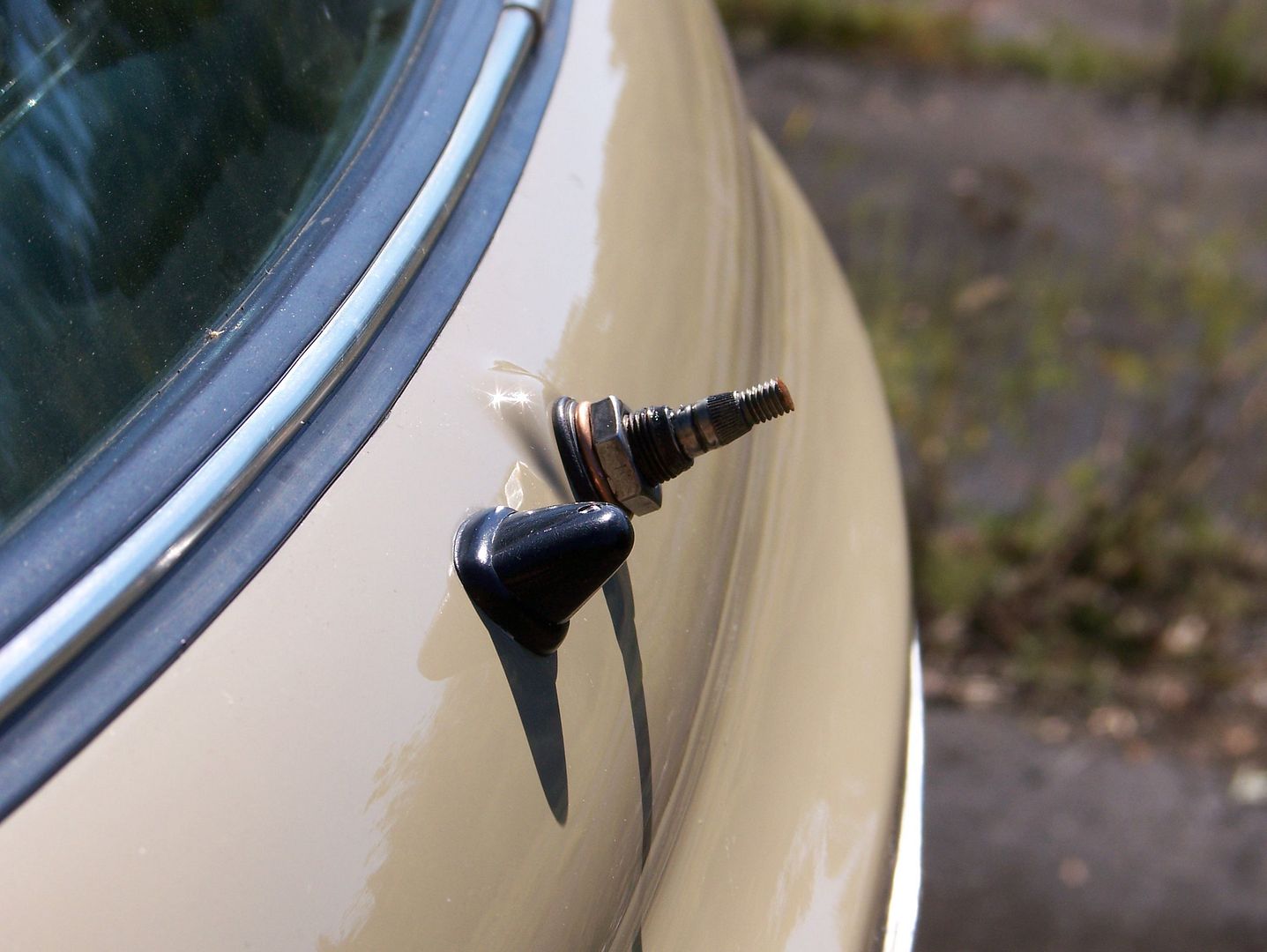 Maybe that water I spied on the floorboard after the pounding rain up in New York was because the wiper arm had loosened the retaining nut. We shall see. :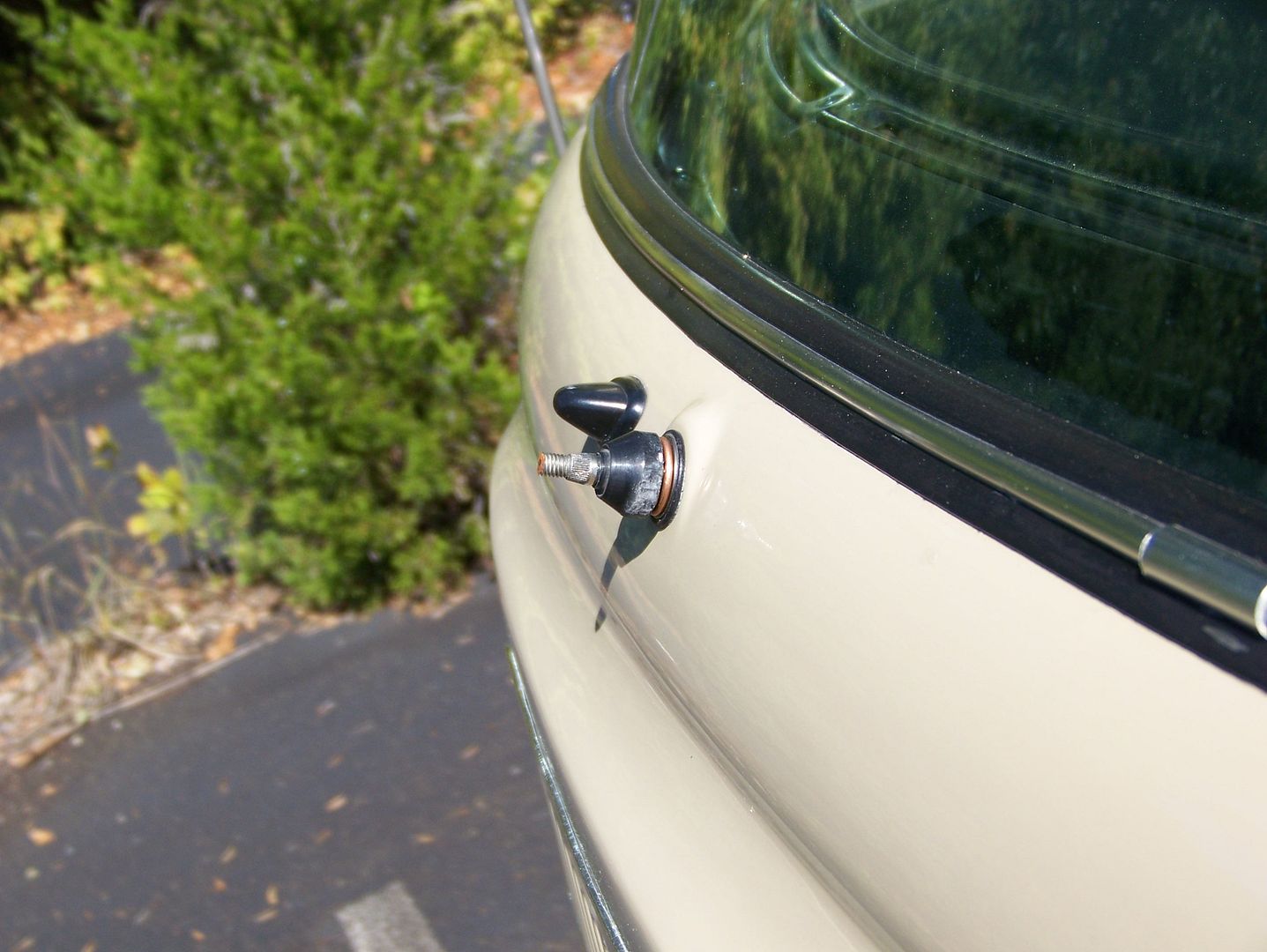 Beautiful church in the evening light as I arrived in the burgh of oscarsnapkin in Pennsylvania, yes? Only 12 hours til the next round of cops . . .