Was moseying past the Bowers when I decided to stop in and chat with Richard, a customer of many years now, who has Yellowbird The First, the beautiful Westy that jtauxe let get away.
Richard was minding his own business reading the morning paper, but I had an idea: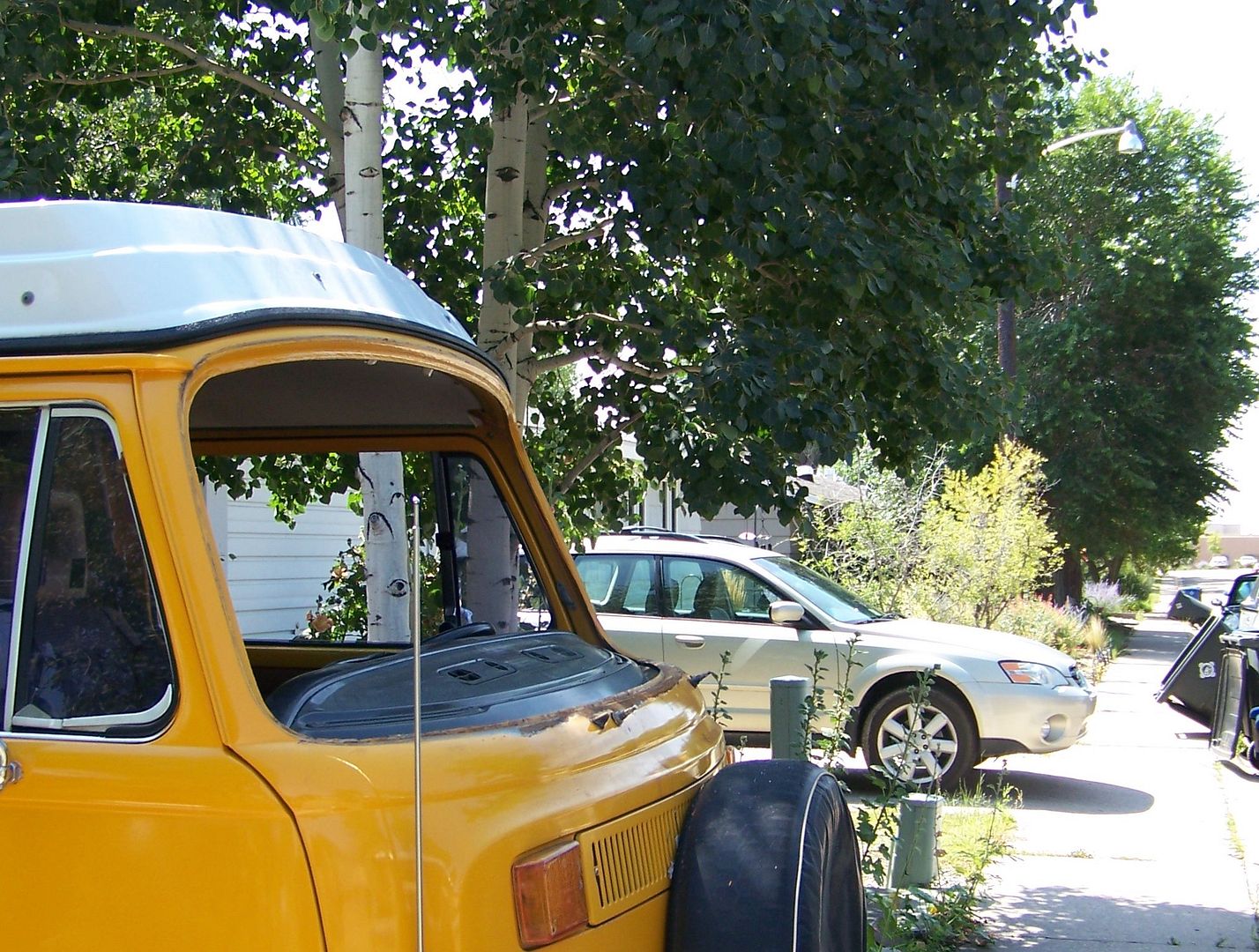 This is the touch-of-trepidation face of a man who is attacking his beautiful Westy with a scraper. Well, it needed it: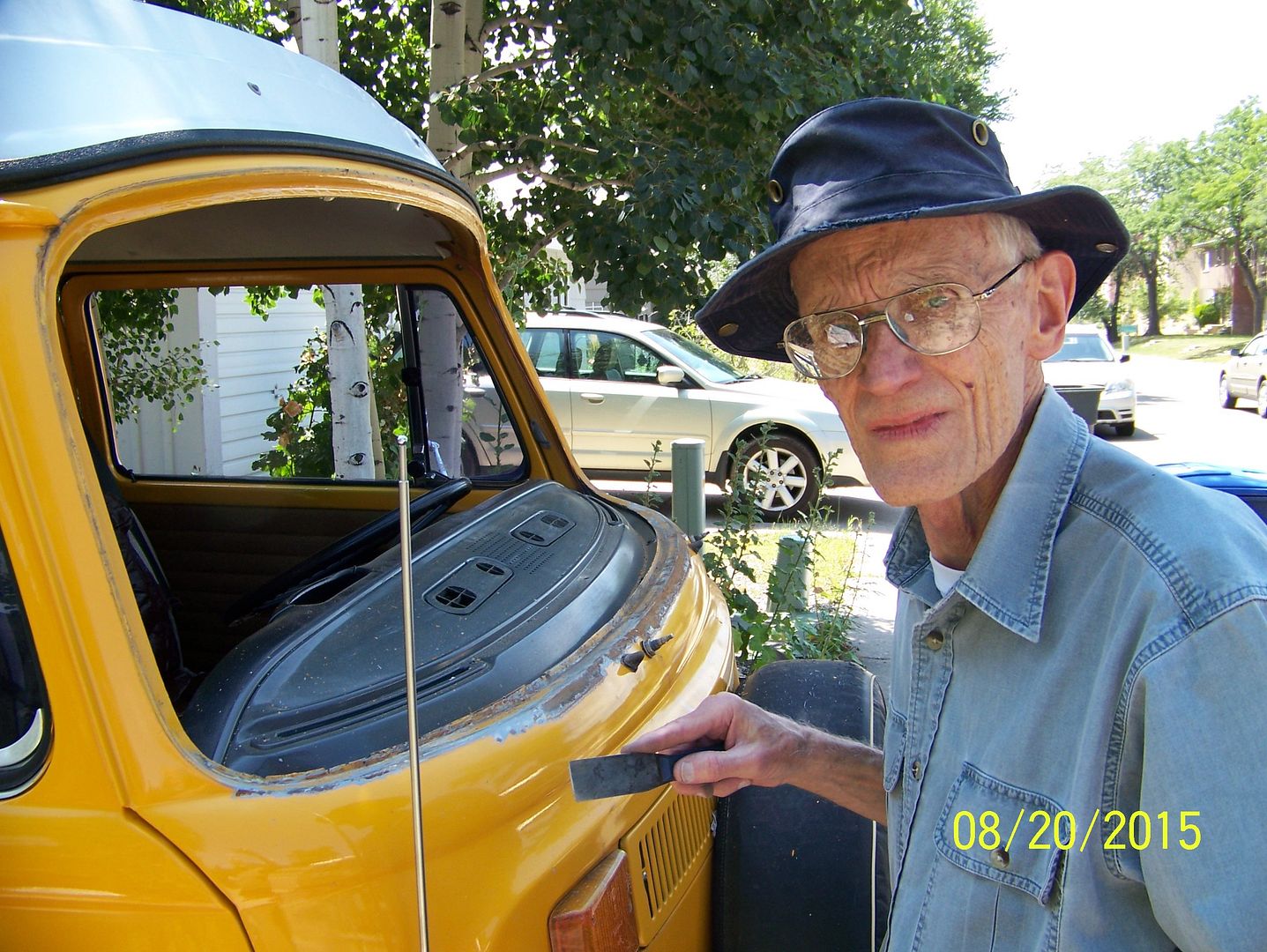 Richard cleaned the old windshield seal carefully ... ... ... :
... ... ... while I treated the rust with Marhide Rust-Catalyzing primer: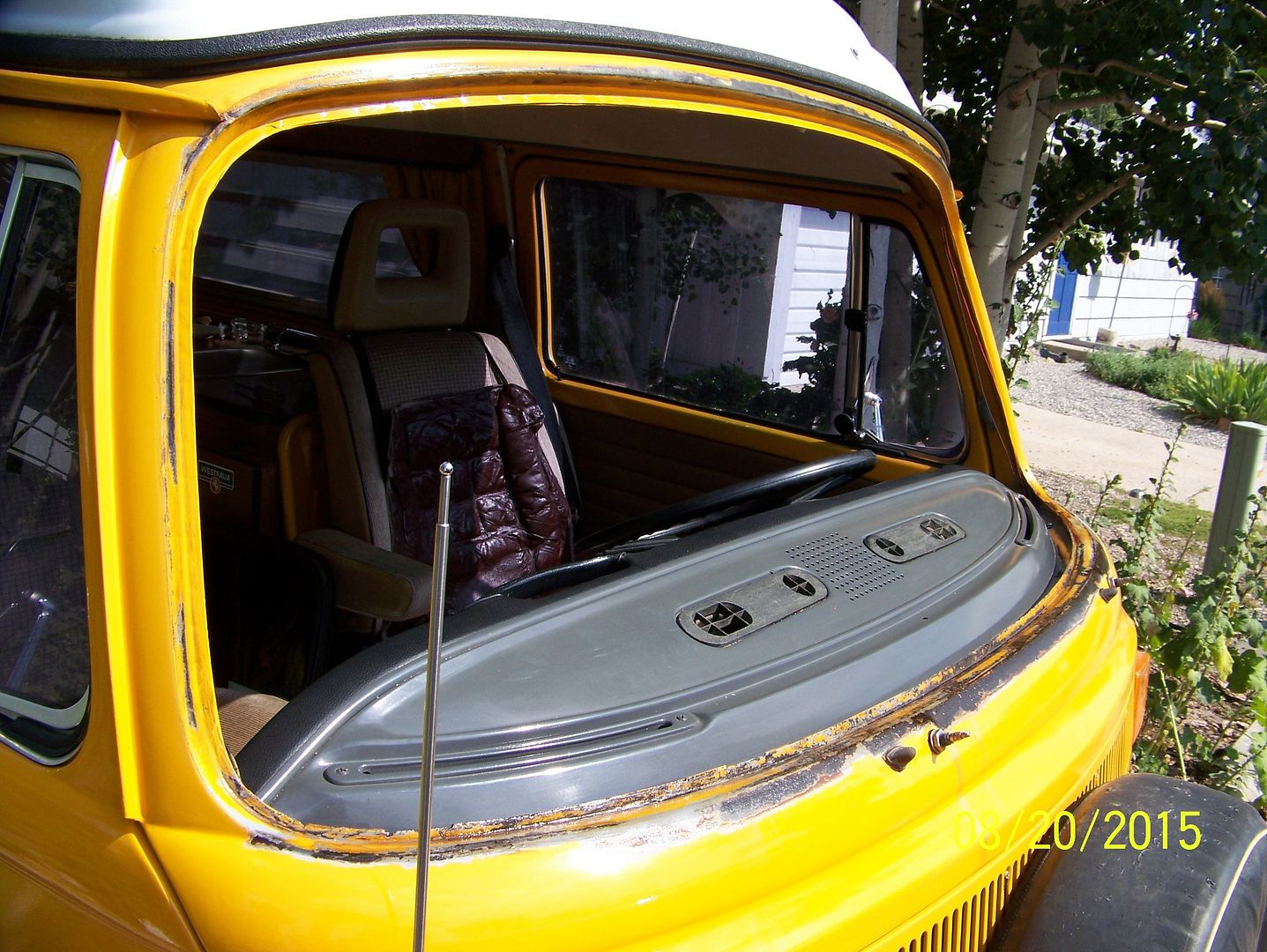 Then I disappeared to an afternoon of buying a new wallet and replenishing depleted supplies. Stopped by AutoZone and picked out two colors, Chrysler Hemi Engine Orange and a nice bright VHT Engine Yellow (who on Earth paints their engines this yellow?) because I had a notion: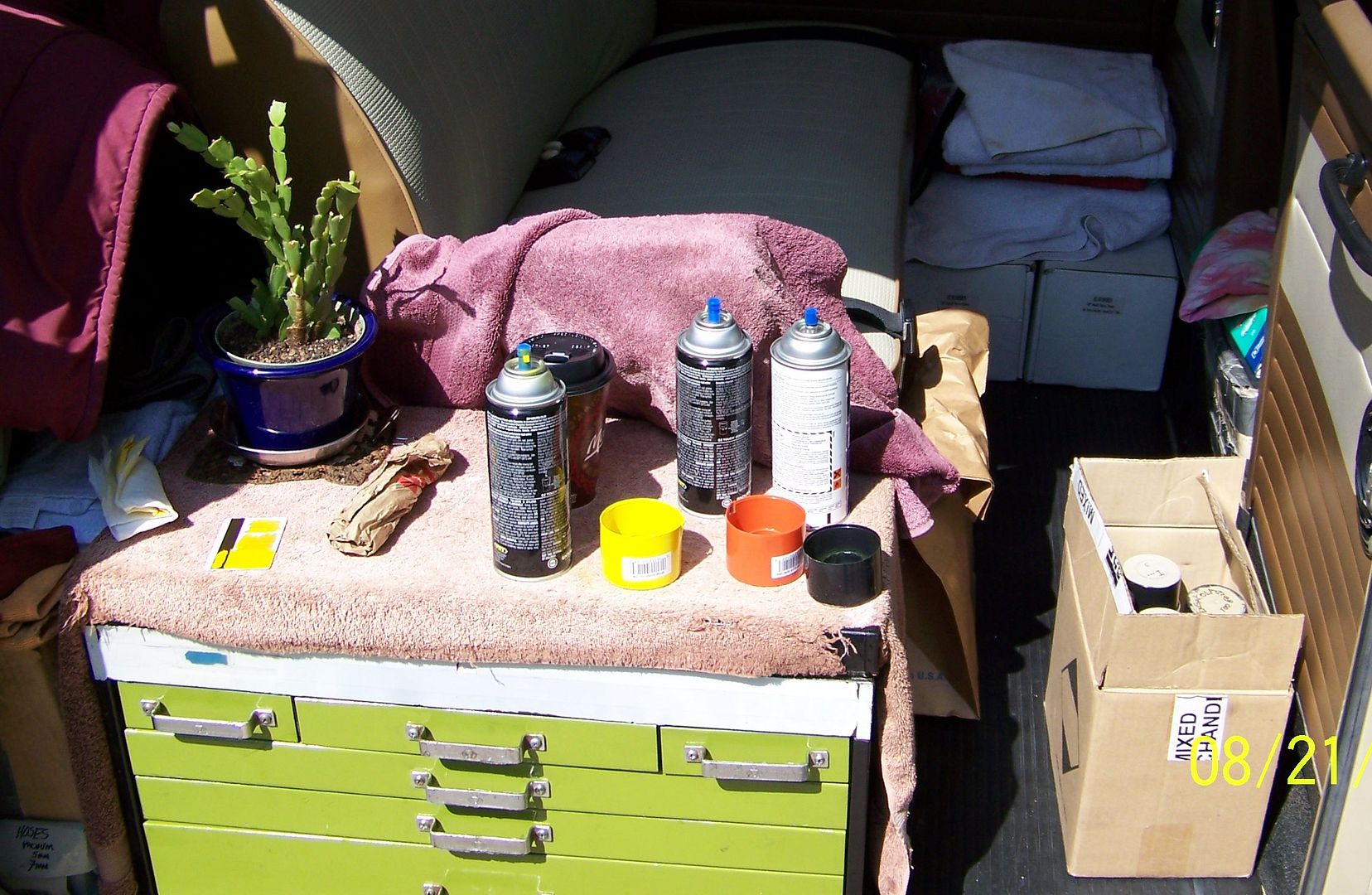 I had a notion that Chrysler Hemi Orange and Bright Yellow would actually make a decent match. The Universe got wind of my plans: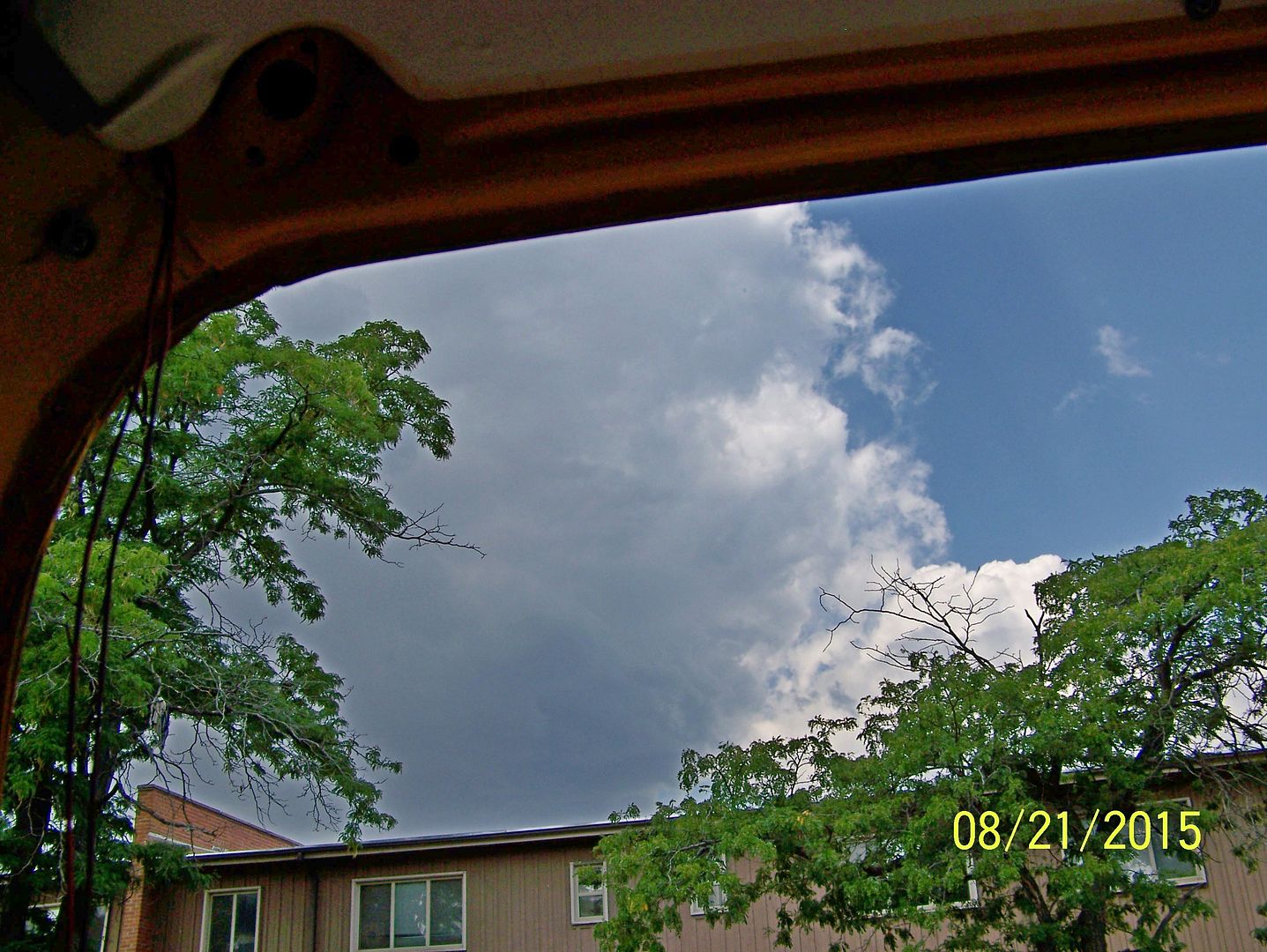 So I had to mix-n-match Chrysler Hemi Orange and Bright Yellow in the sun, in the shade, in the dark, it was a sensationally colorful disaster of caps and brushes and spatters:
While Richard's paint dried, I took off for an afternoon of playing with Lousy Paint Matched Savanna Beige from Bob's Paint Land of Vancouver WA (dot one), with VHT Bright Yellow added (dot two), a little more yellow (dot three), and Chrysler Hemi Orange added (dot four), then a little more orange (dot five), and a splash of VHT Gloss White Engine Enamel (dot six, which you can barely see because we NAILED it! at least this once. The recipe is based on spray time into the cap:
4 seconds Savanna Beige +
1 second VHT Bright Yellow +
2 spritz of Chrysler Hemi Orange and
1/2 second of VHT Gloss White Engine Enamel:
Back at the Bowers by 4:30PM, it dried a little too dark in spots and a little too light in spots, but from 20 feet it looked pretty good:
We stuck in the windshield with the seal 180* rotated on the glass, to give a new section of seal a chance to bed onto the blob-welded channel which I had thinned out to a consisistent width with my dremel grinding stone: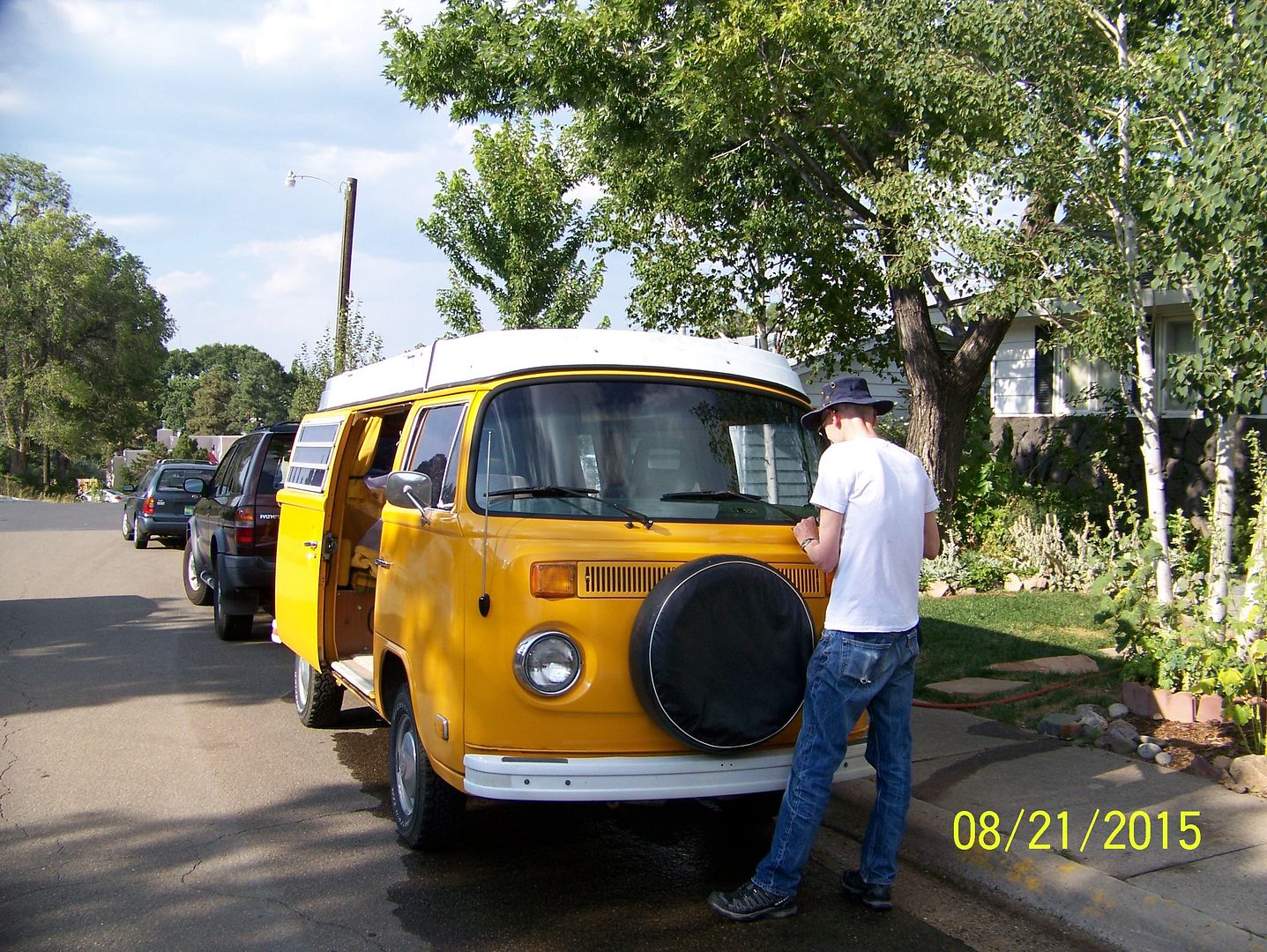 That VHT bright yellow blended well with the car's original paint in direct sunlight: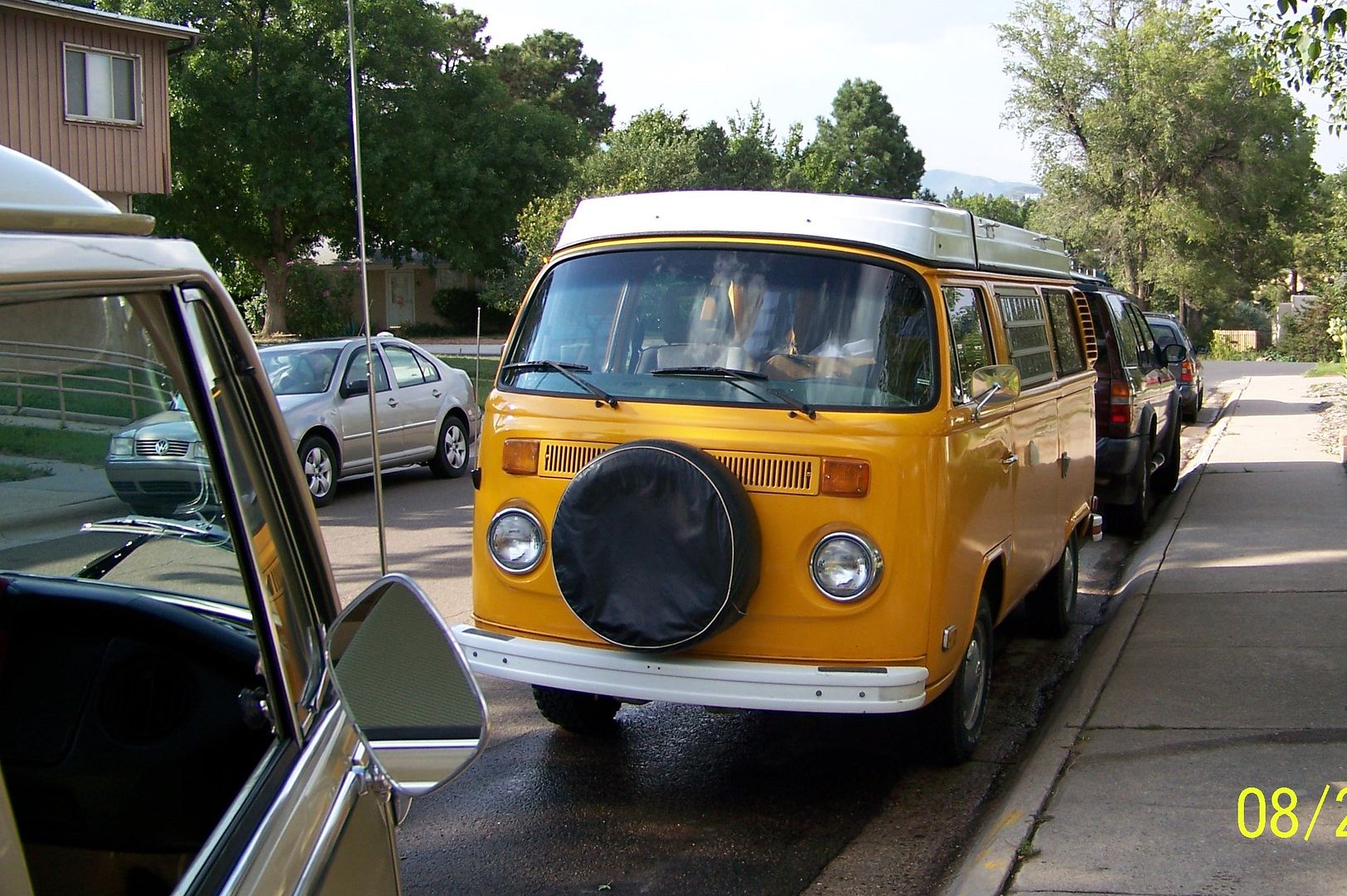 I descended from the Los Alamos plateau for my call the very next morning:
Had a disrupted as all hell sleep in noisy Espanola, went to Deadaheadub's old address, tried to call, phone signal still dead, fired up the laptop, battery dead, got out the ChiTwnVW Commemorative Voltage Inverter and finally was able to realize that Deadaheadub had indeed given me his new address on the PayPal deposit, so I rushed over there slowly (do NOT push the cow!) and we got to work on his:
and we took out the ripped fuel filler grommet on the: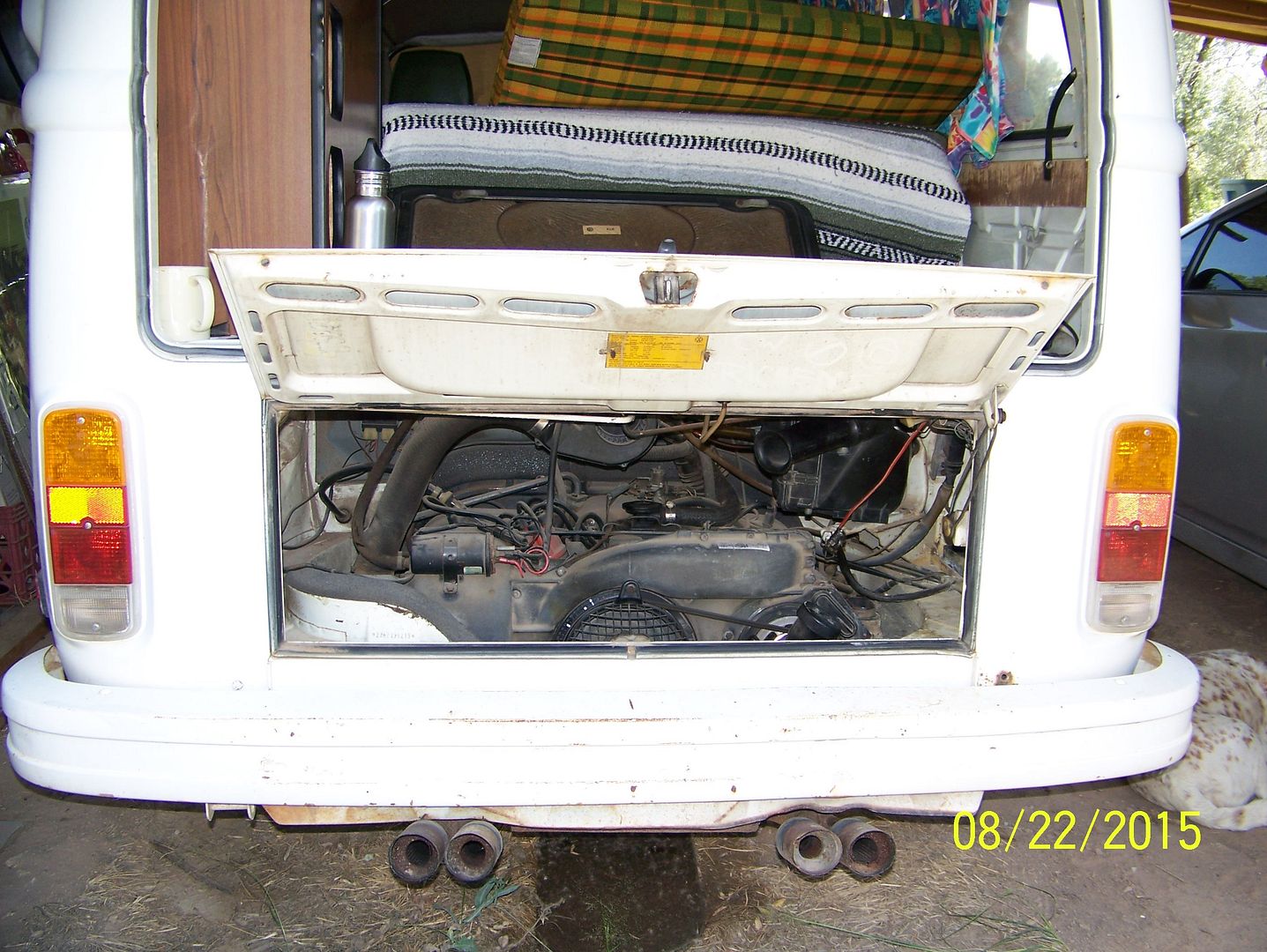 and we went back to the singlecab to resurrect this engine. Jtauxe stopped by to offer encouragement and was instrumental in our successfully completed list, running out for fuel pump fittings to allow us to use 1/4" american fuel hose, installed disdainfully by yours truly: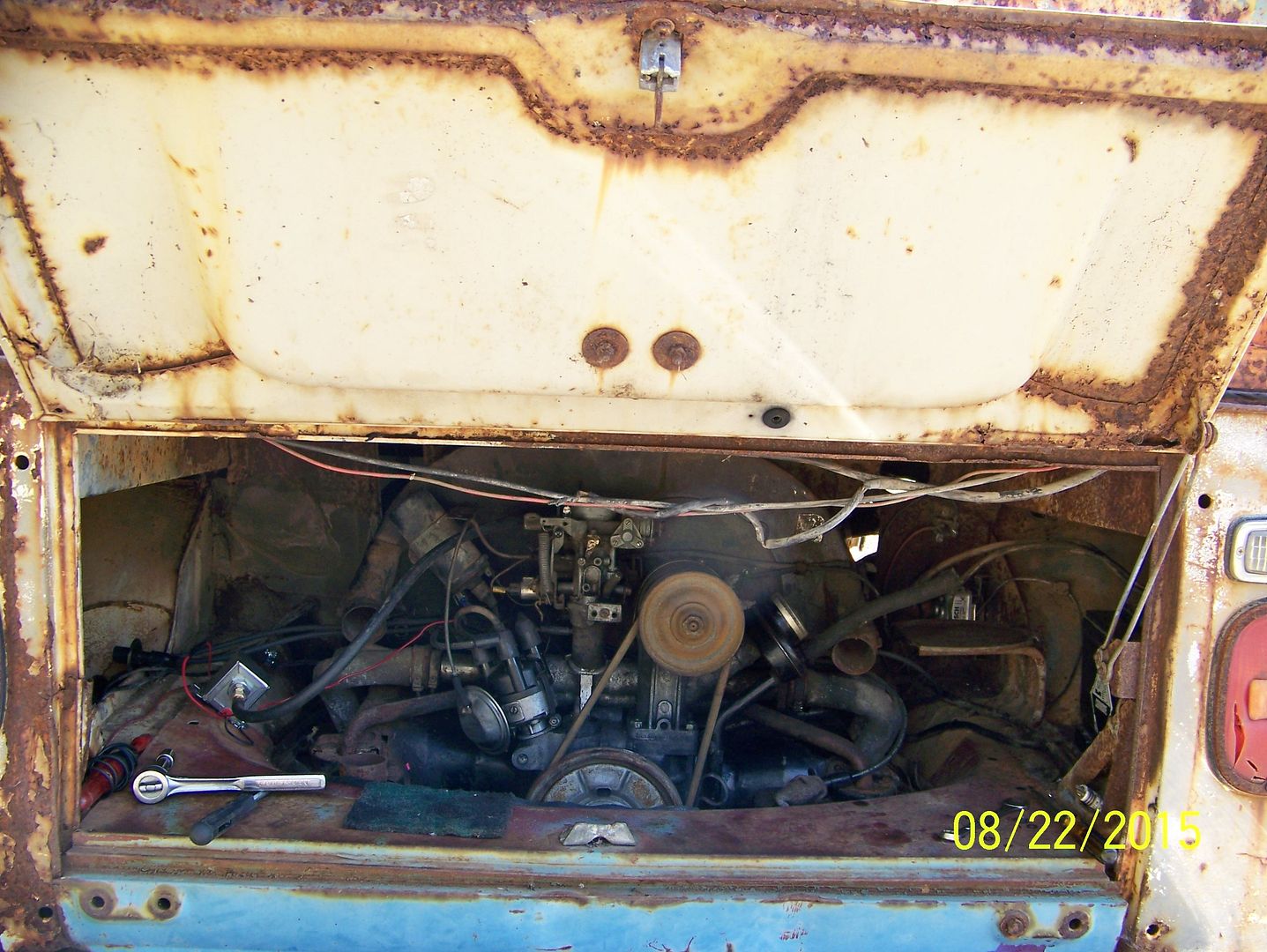 A delicate dance with much persuasion and cajoling and feeding little spoonfuls of gasoline and hot-wiring the coil to the battery, and the engine finally burst into song on 1 and 1/2 cylinders. Shut it down, pulled the plugs on the dead cylinders, cleaned them of a bit too much anti-seize, and we had a real sweetheart running lustily by the end of the day. Here's the oil bath air cleaner:
I surreptitiously kicked Chloe's rear tire on my way to the toolbox, "you got it good." Deadaheadub has been well-primed on the next step. Stop The Rust: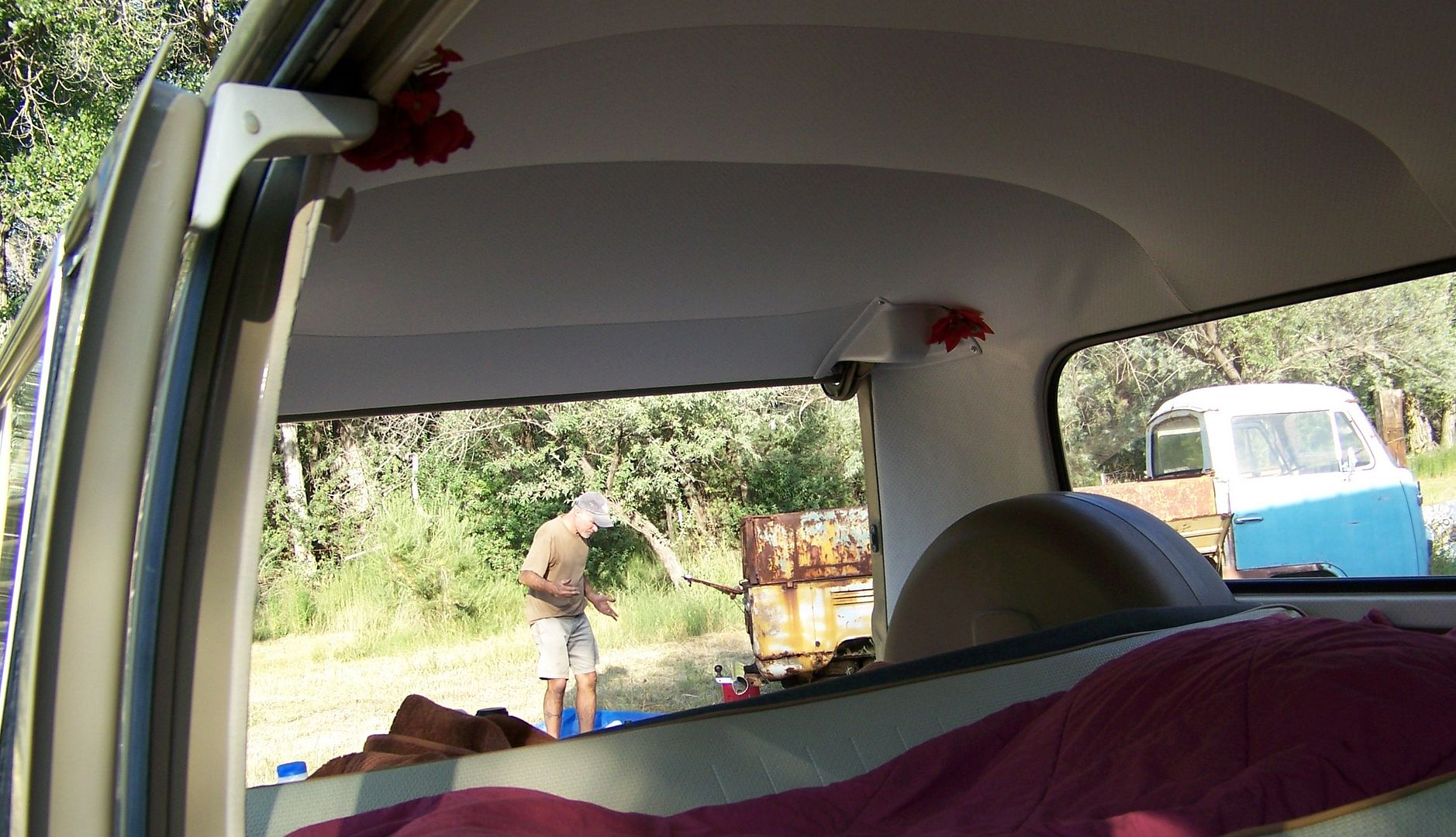 Deadaheadub had no idea of how sick I was yesterday, a terrible intestinal upset that required the ultimate in self-control, no laughing, no coughing, no lunch, no sudden exertions, and I might have come across as a bit constipated but I assure you, it was just the opposite, it was so the opposite. I left him confused and rebuffed at the end of the day "you want to take a shower?" as I sponged off behind the bus with great foaming suds of Tide and Chlorox. Thirteen years of this Itinerary and never have I been anywhere this close to a real predicament. Whatever the drink was that Deadaheadub made at the end of the day, it was probably the most appreciated alcoholic beverage I have ever had, lime and fresh mint and Cuban rum, sipped gratefully as we wrote down the New List of things to do on the singlecab with the now-beating heart out there in the grass. Thank-you Ryan, and sorry if I seemed out of sorts.
Took off for Salt Lake City. Found out my cow is going lame.
Colin