The back story on my oil change on the way to Phoenix is even worse than the obvious idiocy of draining all of the oil out of an oil-filter-free engine into a drain container of unknown prior contaminations, then and only then asking myself where exactly is the new oil? I looked in the back and no Castrol 5-quart container to be found. I looked in the engine compartment again, but it was obvious that there was no Castrol 5-quart container there, either. Then I thought about the logistics of hiking out of there to the Interstate. Shall I make a sign, "Out Of Oil"? Without a car there to confirm this outlandish tale, I could only surmise that passing cars would totally make sure not to stop.
"Honey, did that, did that sign say 'out of oil'"?
"Who knows? Where was his CAR?"
"I don't trust that."
There was no re-using it. I did manage to find that the quart container I use to actually fill the engine was blessedly full up. That's one quart, yay. I spied the quart of transaxle oil hiding behind the pump bag.
"In you go! Be nice."
Why not? It is oil. It has "excellent shear resistance" and "viscosity stabilizers," and it is designed to not attack brass, which I know the distributor drive gear would appreciate, and it has foaming supressors which I know I needed as I ranted about the difficulties of being absent-minded.
Started the engine. Sounded fine. Hit the interstate almost a quart low. CHT temp was a high 400-415* on the hills, but it was hot outside too, so "do your thing, viscosity stabilizers . . . " There was no Castrol 20w-50 at the gas station. Just some Chevron brew at $5.36 a quart. Much as I like Chloe, no way. Drove further to Gila Bend, past our rendezvous point on I-8 that I have mentioned to innumerable IAC customers, here it is, just go north about 6 miles after the Collapse of Civilization. I'll be there with my goat and my chicken and my bus with the chrome hubcap fire starter/water distiller: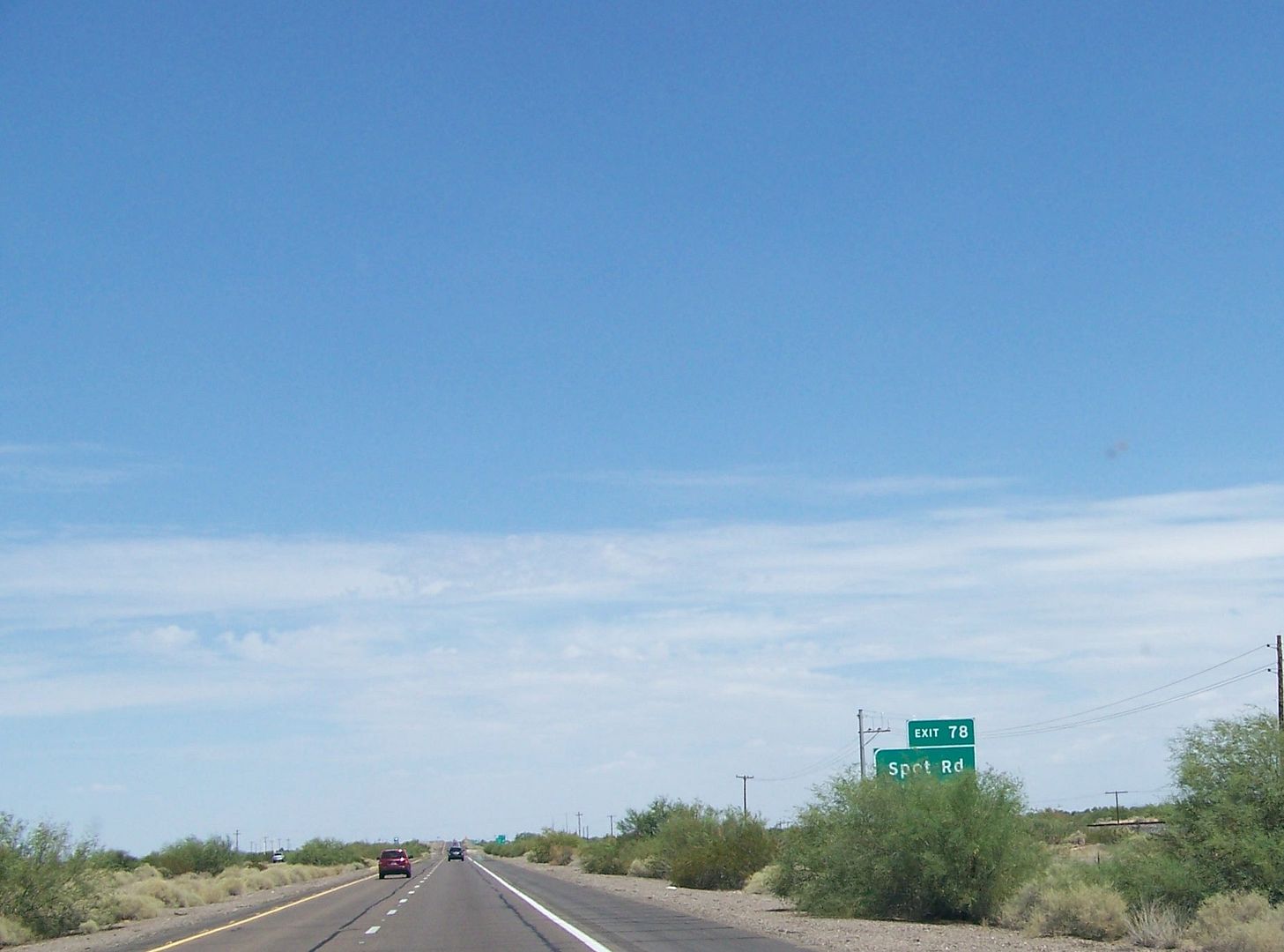 Rummaged in the back of bus to see if I needed to stock up on water at another gas station as I continued to search for oil. Ha. There's oil . . . right here. Was there all along. It is in a green container because the only 20w-50 I could get two weeks ago was "Castrol High-Mileage" and it absolutely did not register back at my solitudinous oil change vista. I have no doubt that the engine enjoyed having two oil changes in one day. Dipstick looks clean at the full mark + a little.
I was going to research these high CHT temps, check the thermocouple ring around the spark plug for any evidence of gas leakage, re-check the valve clearances, the timing, the mixture, the flaps the oil cooler discharge duct, and I am glad I never got to all of that, because here in Santa Fe, Chloe is munching along the guardrail at 370* imperturbably once more with a spike to 390* at 84* ambient. The reason the engine was running hot in Phoenix? Because it was hot in Phoenix.
After a thoroughly enjoyable visit with wcfvw69, loaded up like a lion after a nice meal of ox, I camped here.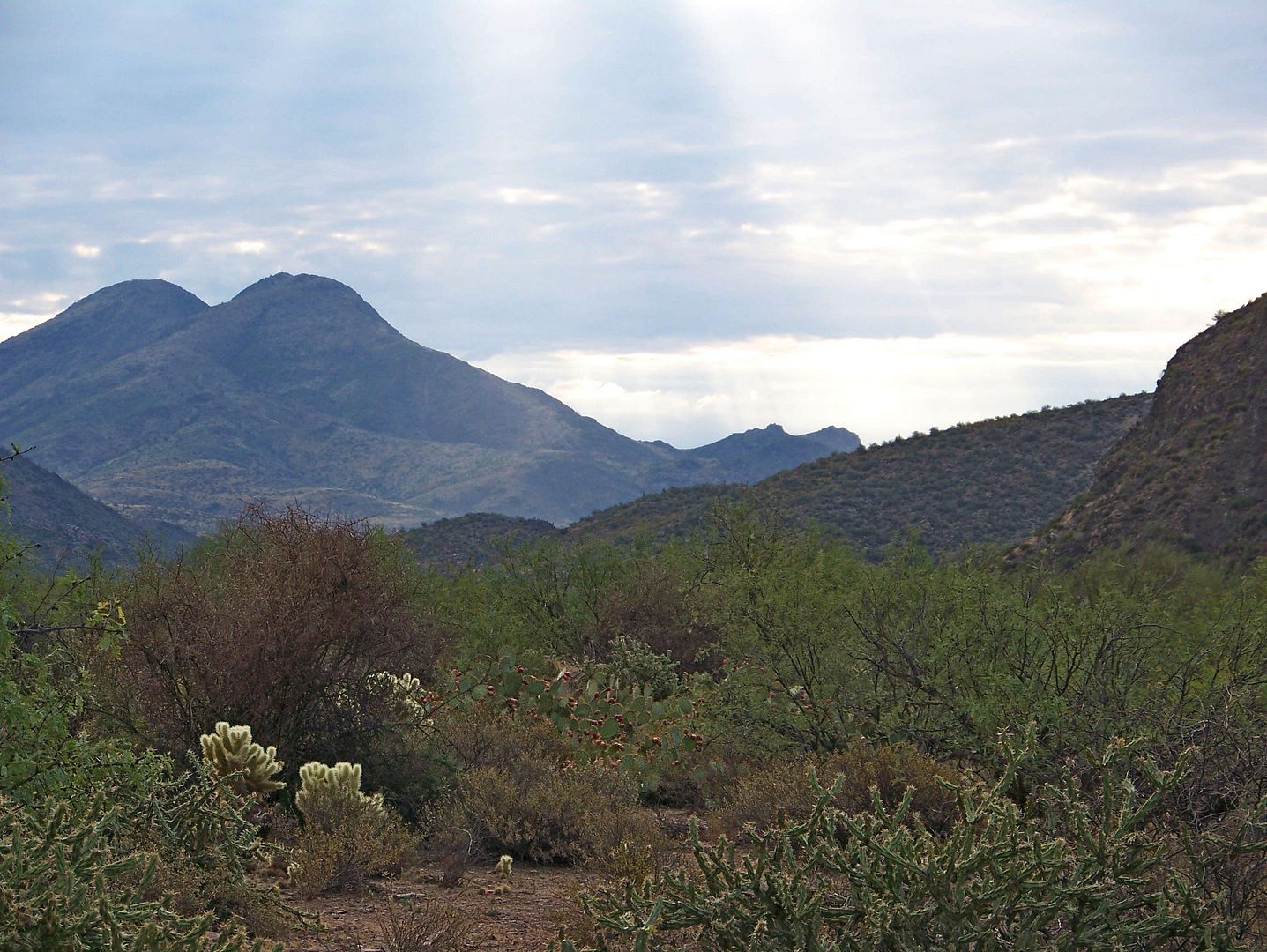 Peaceful morning shot, but there was a dramatic late night post-Tide/Chlorox washdown automatic windstorm dry-off followed by a shave-by-lightning. This is the life, I tell ya. Sand in your teeth and all:
Peeled off I-17, Mitch, because I saw a whole clot of clouds just spraying all over Flagstaff. I went east instead. This looked like some big bunny from further back. Watch out for jackrabbit crossing? Uh, no: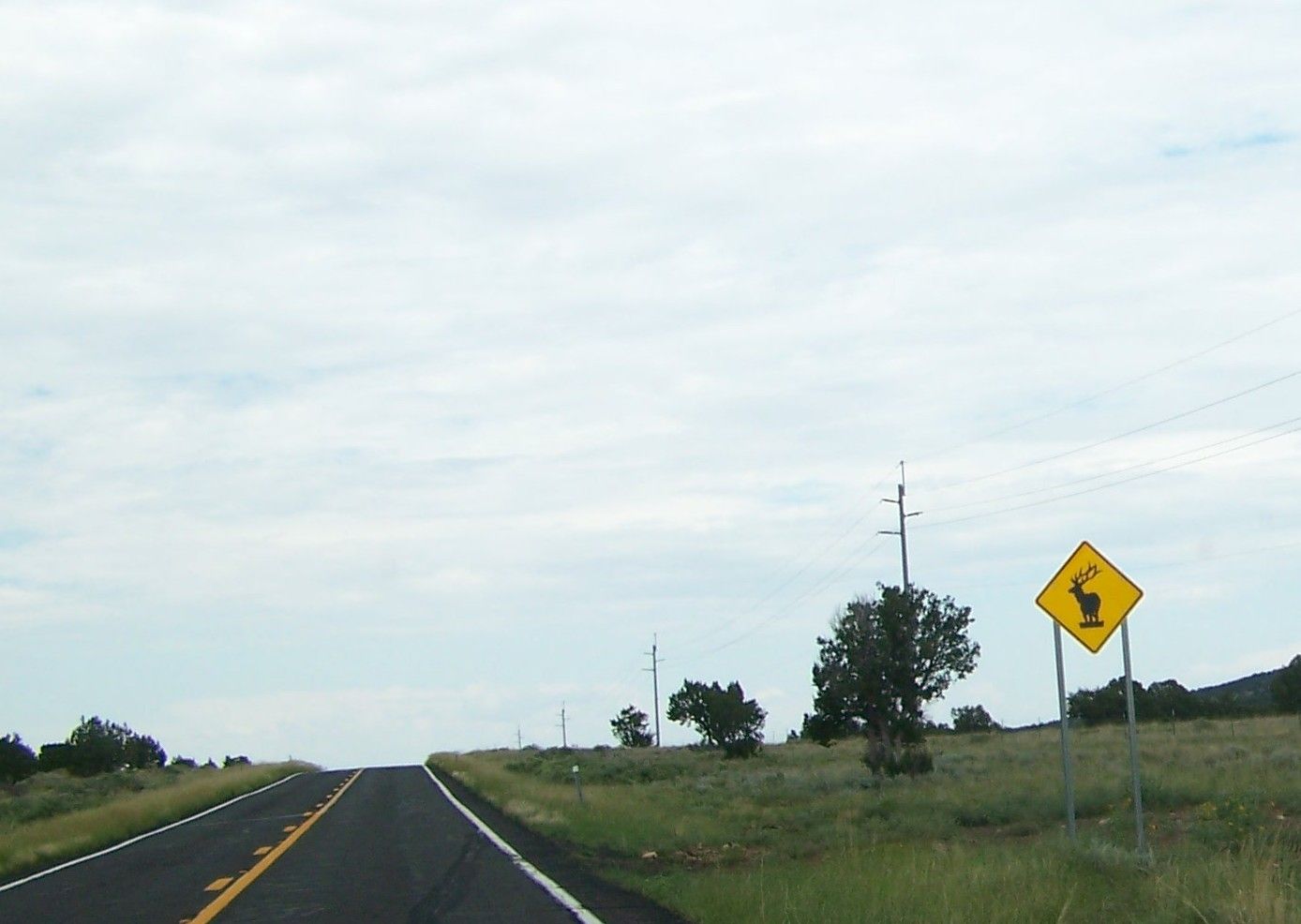 I had no idea that this detour from Flagstaff to Winslow was going to climb to 6,000 + feet and sock me with rain anyway. Out from under the clouds on my descent to Winslow AZ, some inviting sun in the distance. So much more gorgeous in reality, thanx anyway, camera:
Hit I-40 east of Winslow and the tailwind gave me hours of easy 60 mph and 22 mpg. Got re-acquainted with truck traffic that is not held to 55 mph like in California. The scenery changed on cue at the New Mexico border. I love New Mexico: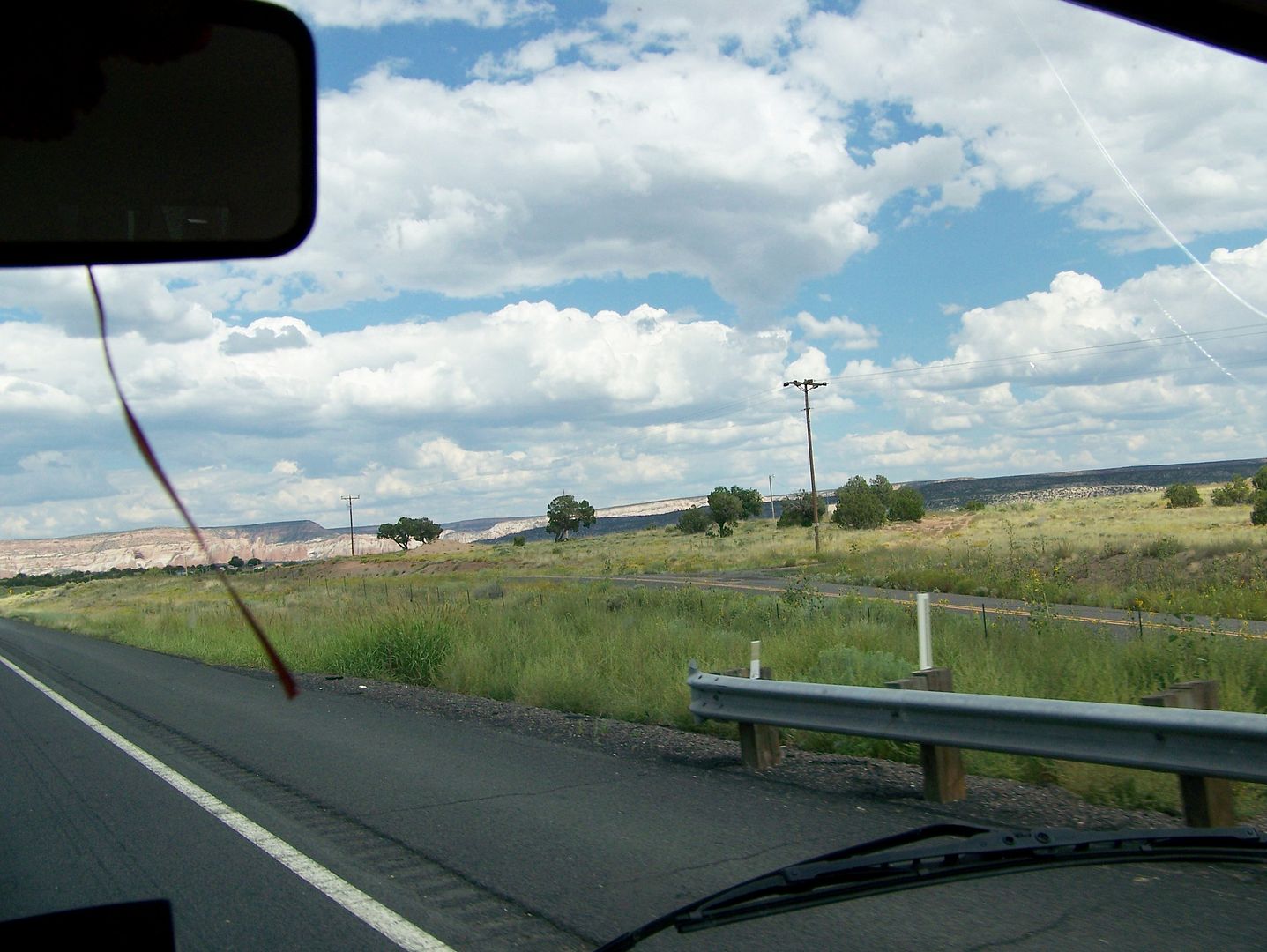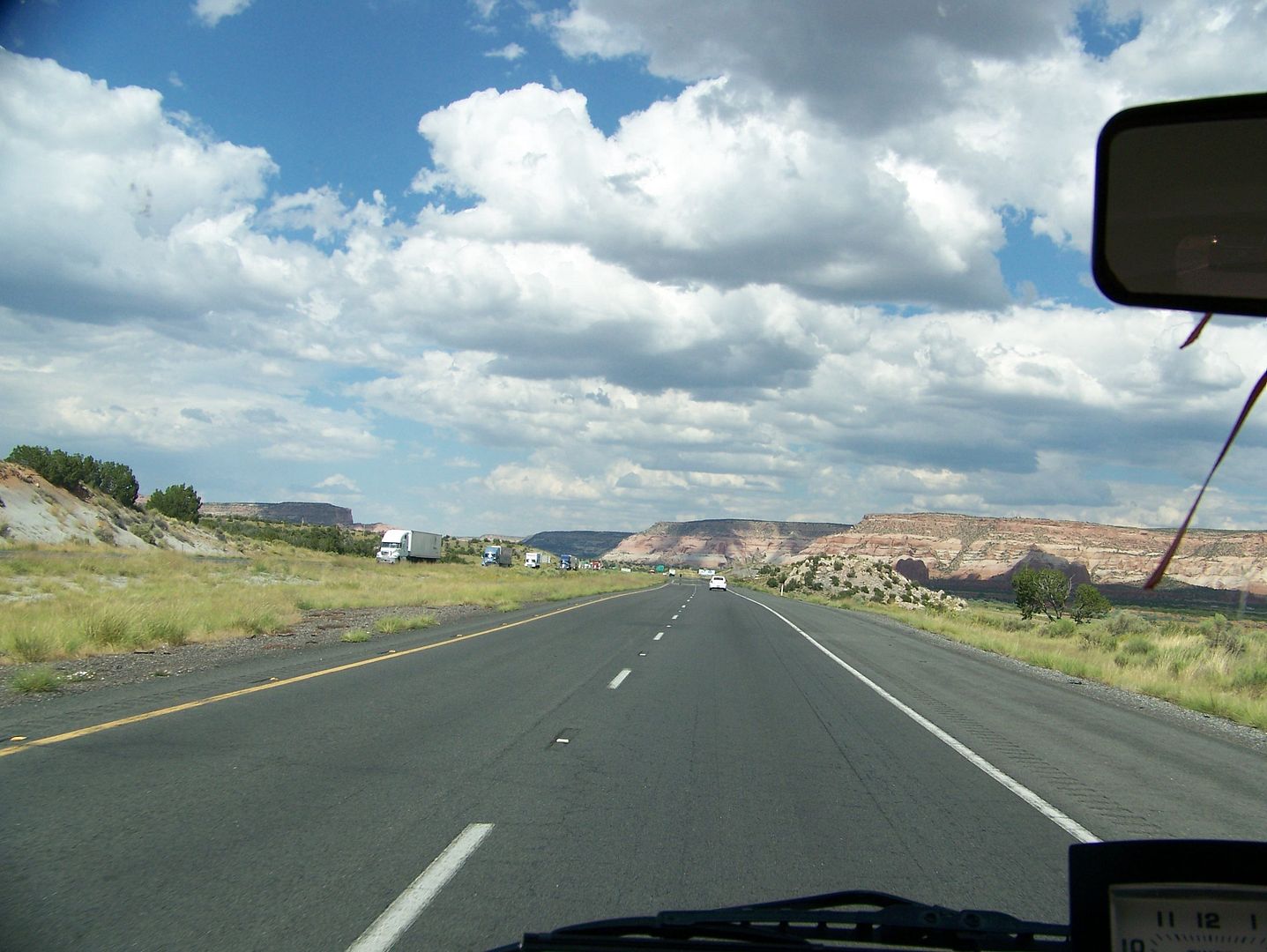 Even the poor (people of challenged income, people of modest means?) people get to live where the views are stunning, I love that about New Mexico: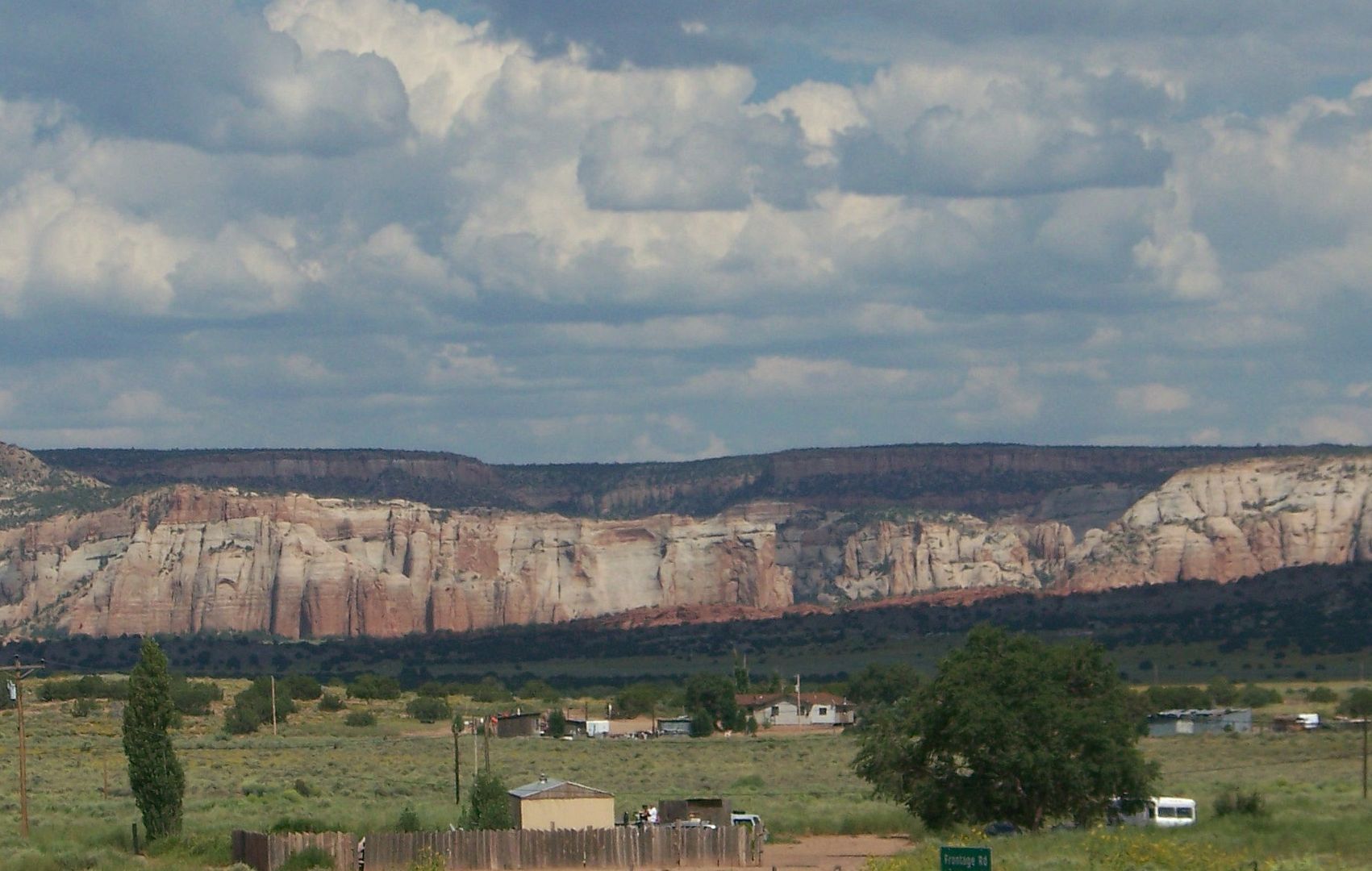 Wind eddy caves: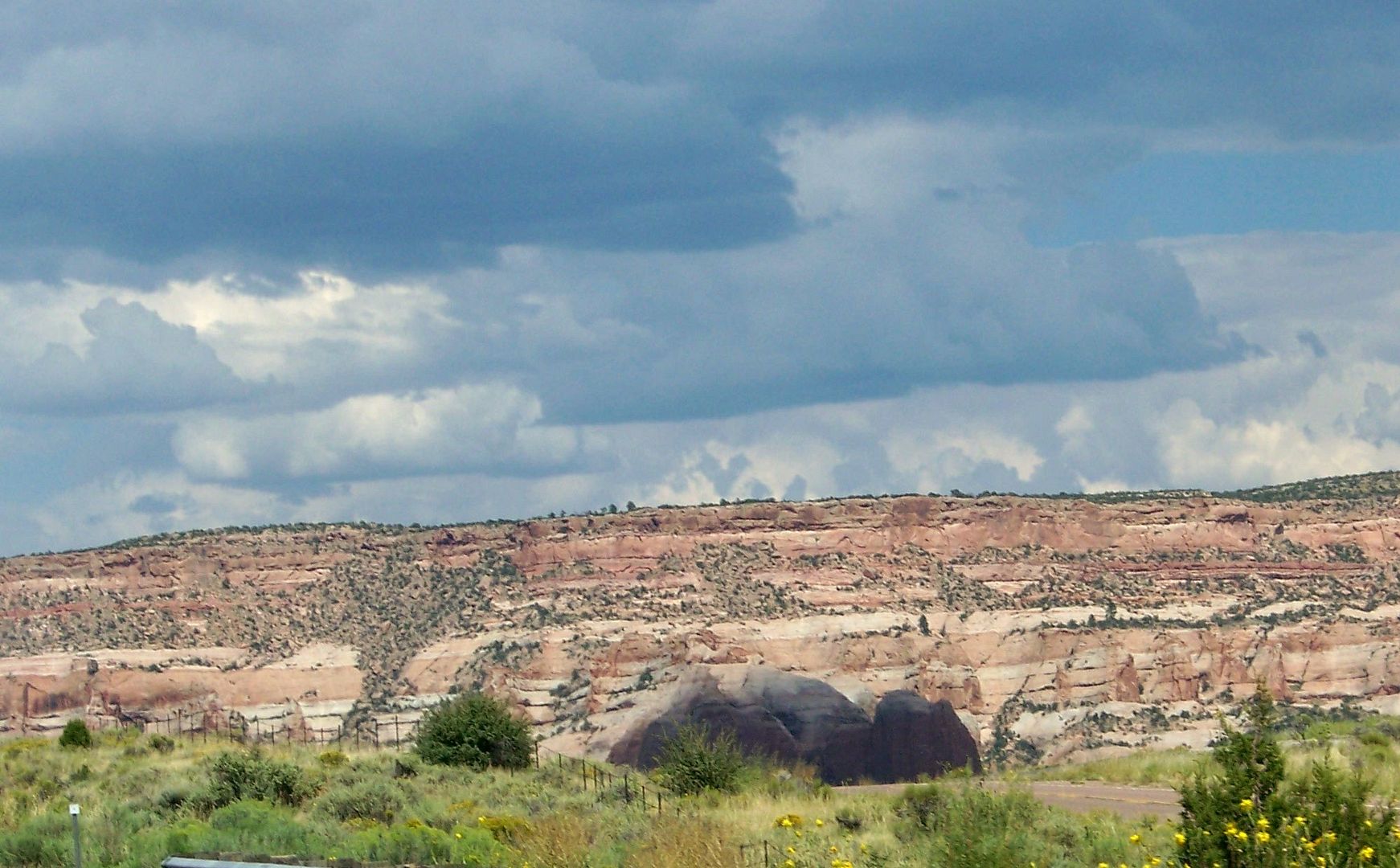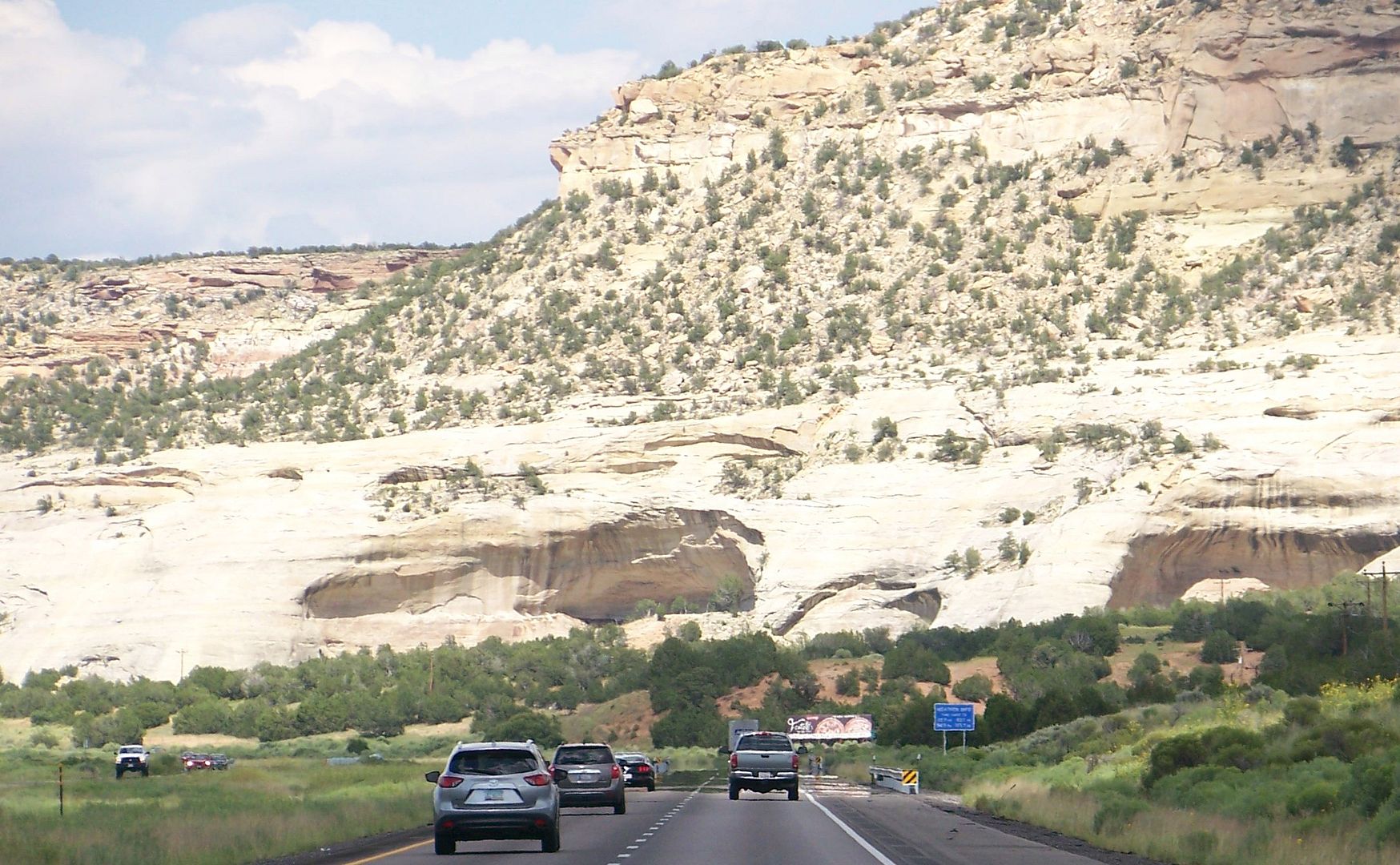 Industry in New Mexico just plops itself down wherever, like here:
It took a while to get all the trucks clear of this my favorite iconic New Mexico panorama which I have photographed for years now: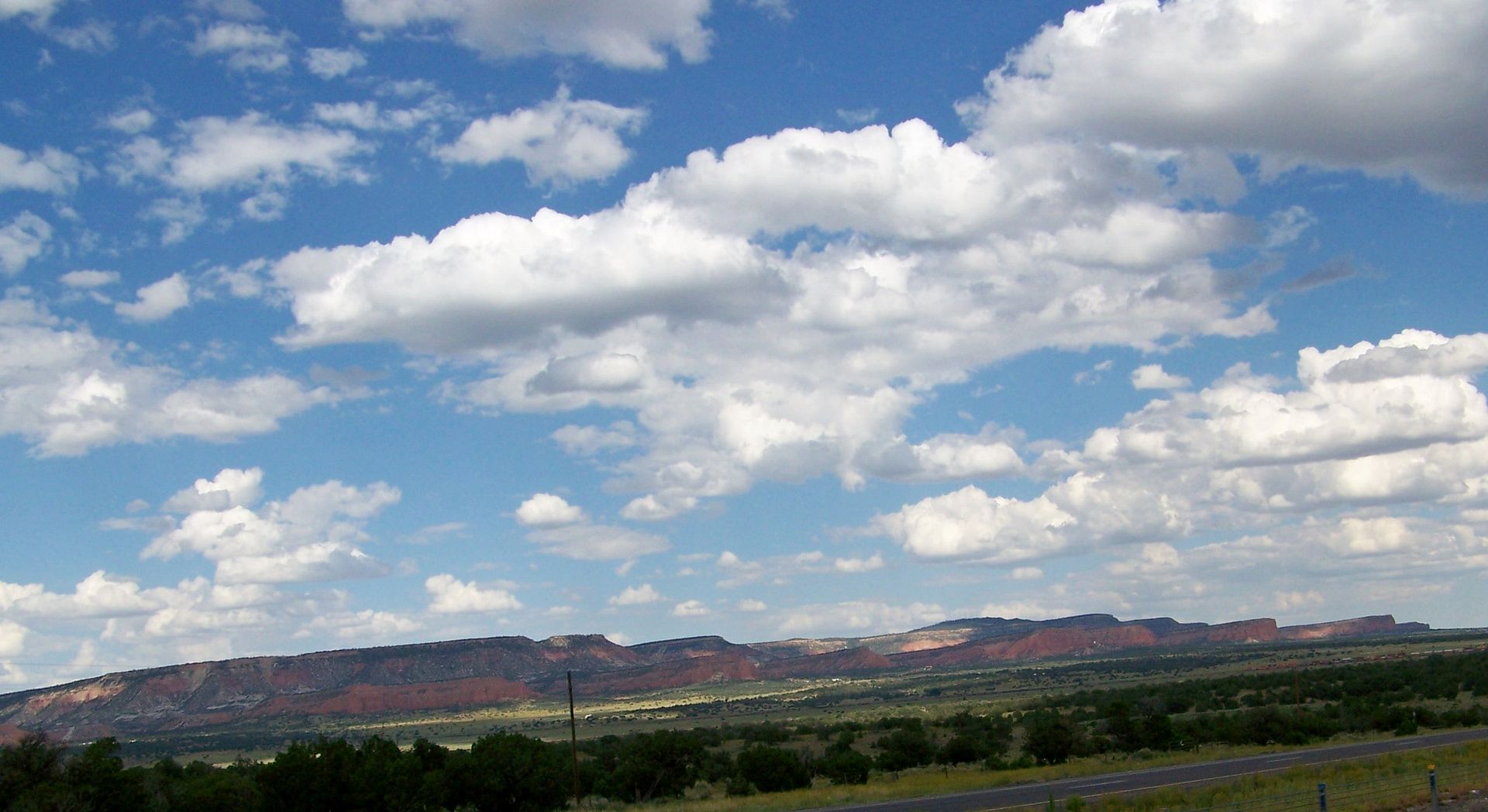 But look who has to come along with a parade of mobile corporate logos: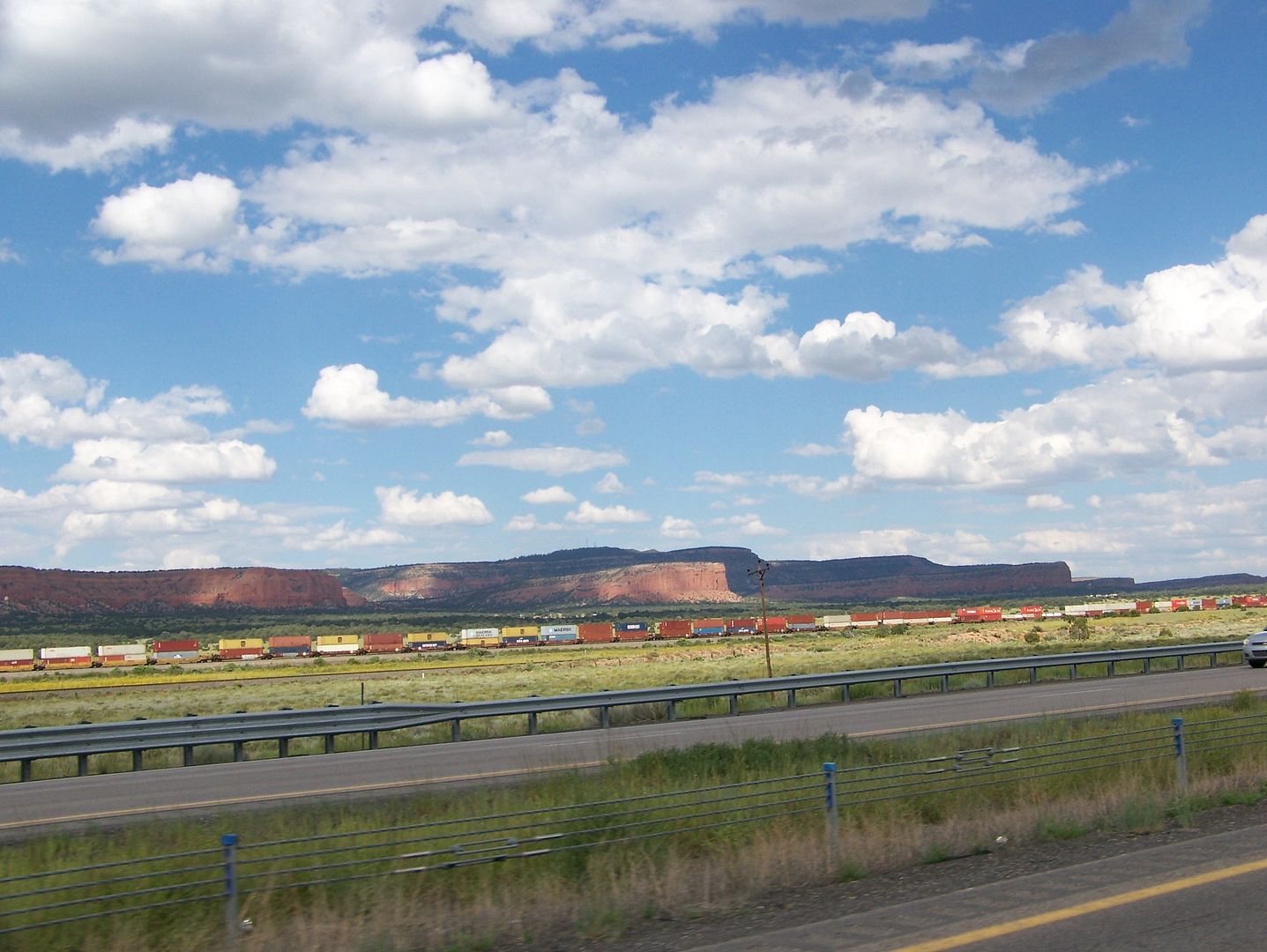 Is it true that water flows to the Atlantic at the top of the hill, and to the Pacific here on this side of the hill?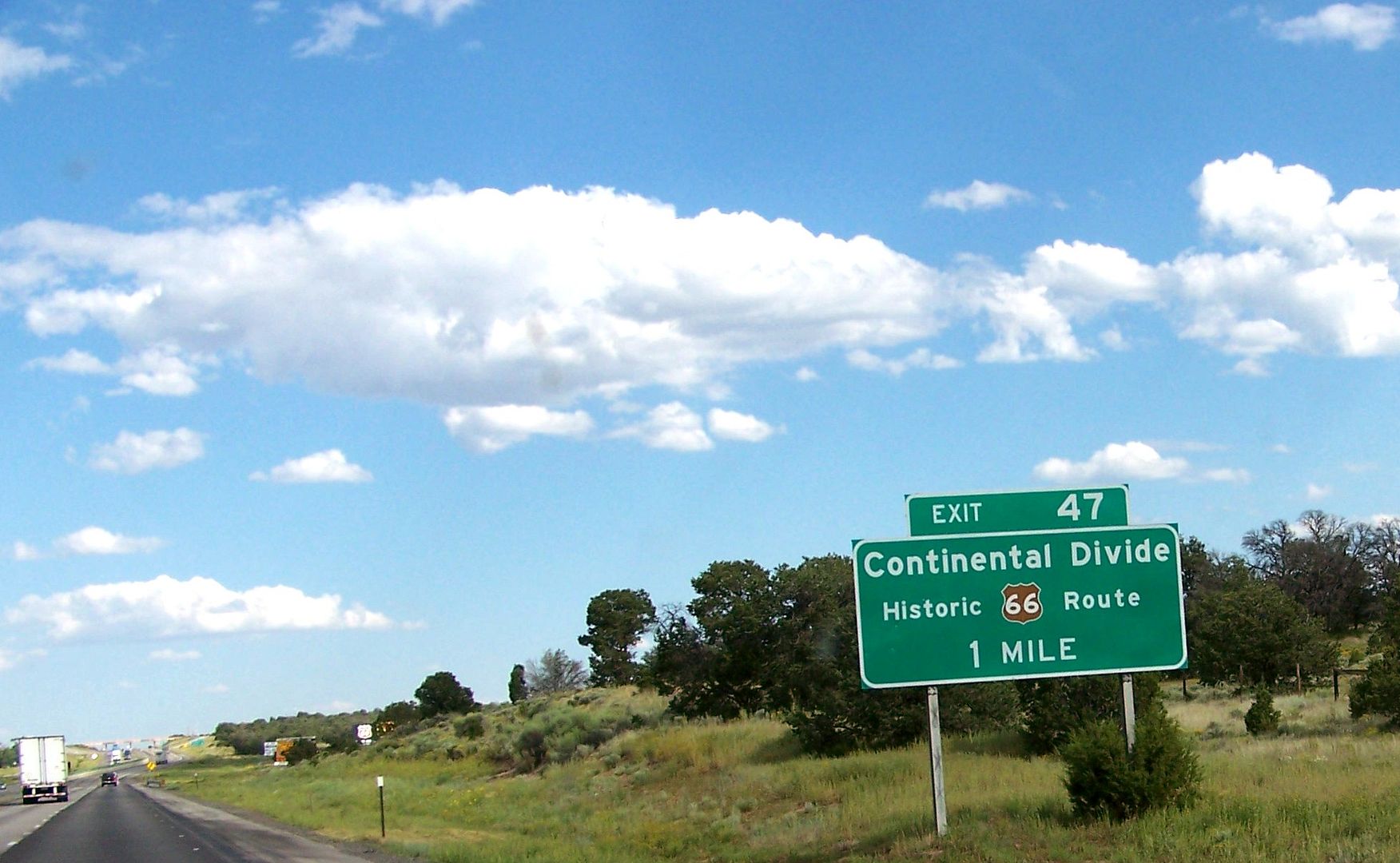 More Later . . .
Colin