The Crazy Day began here after the lanval appointment in Irvine CA, on CA 55 bringing me over from I-405 to I-5 north where I paddled north during a late rush hour to the morning's call in Burbank. I was attending to the accordianing of speeding up and slowing down and avoiding the hurried six lane crossover exit dives of expert commuters whilst trying to convince my camera that we did not need a flash on this shot or the other, looking like a dipsy out-of-town tourist trying to catch a photograph of the big airplane, "it was THIS big, Marge" :
I had a SUV blast me with a horn I thought because my Volkswagen can't speed up quick enough for them, so I gave them an extremely specific greeting from New York. They peeled past me laughing, two girls giving me a dancing-in-their-seats peace sign. The sky was gorgeous, the city skyline was gorgeous: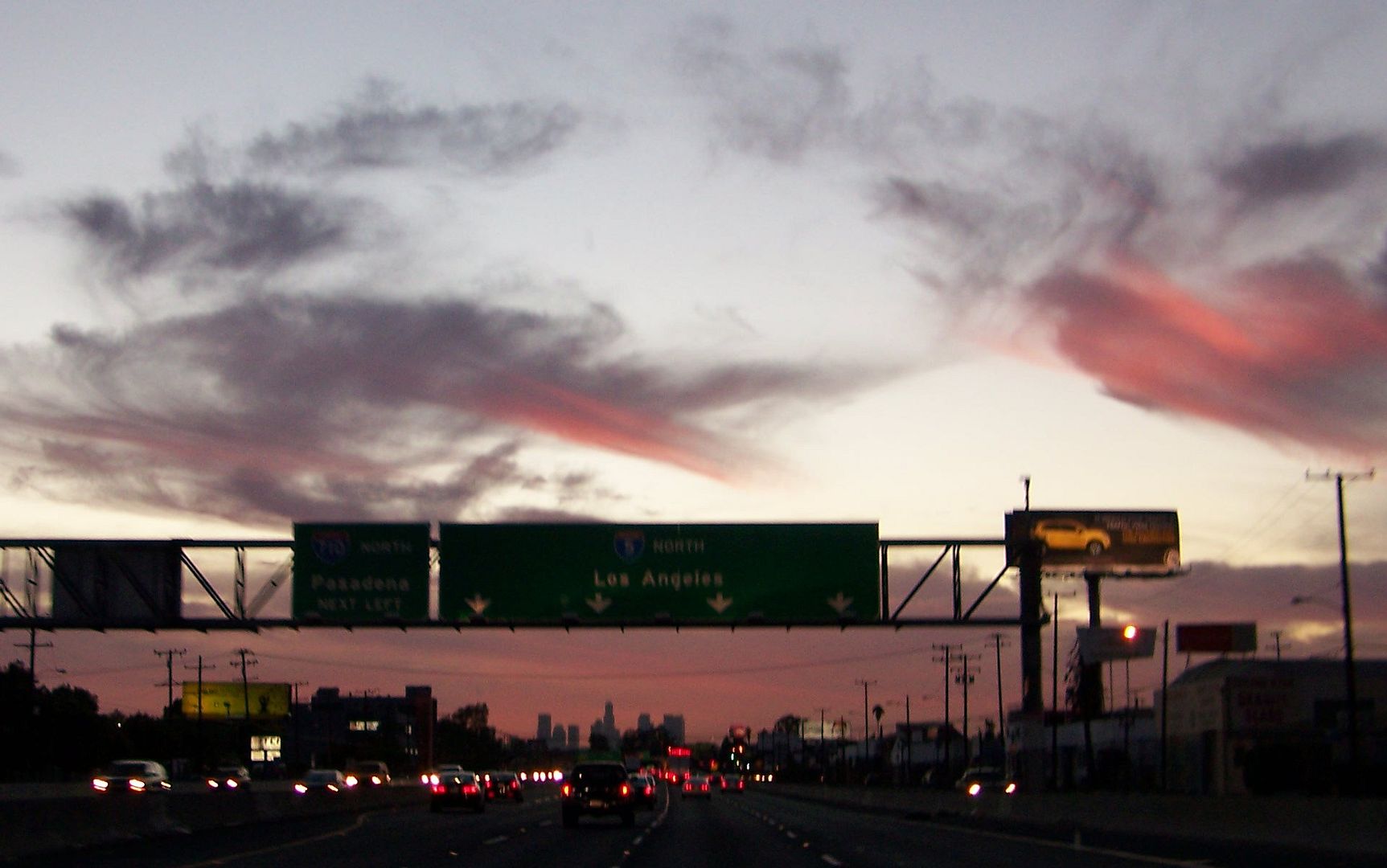 Most of my familiar landmarks have been churned under for newer buildings, the freeways have expanded up to the edges of the surrounding neighborhoods, the curves I remembered have been straightened out, many of the billboards are now modern neon advertising the same nonsense as ever, and I was enjoying the relentless current of SoCal's arteries: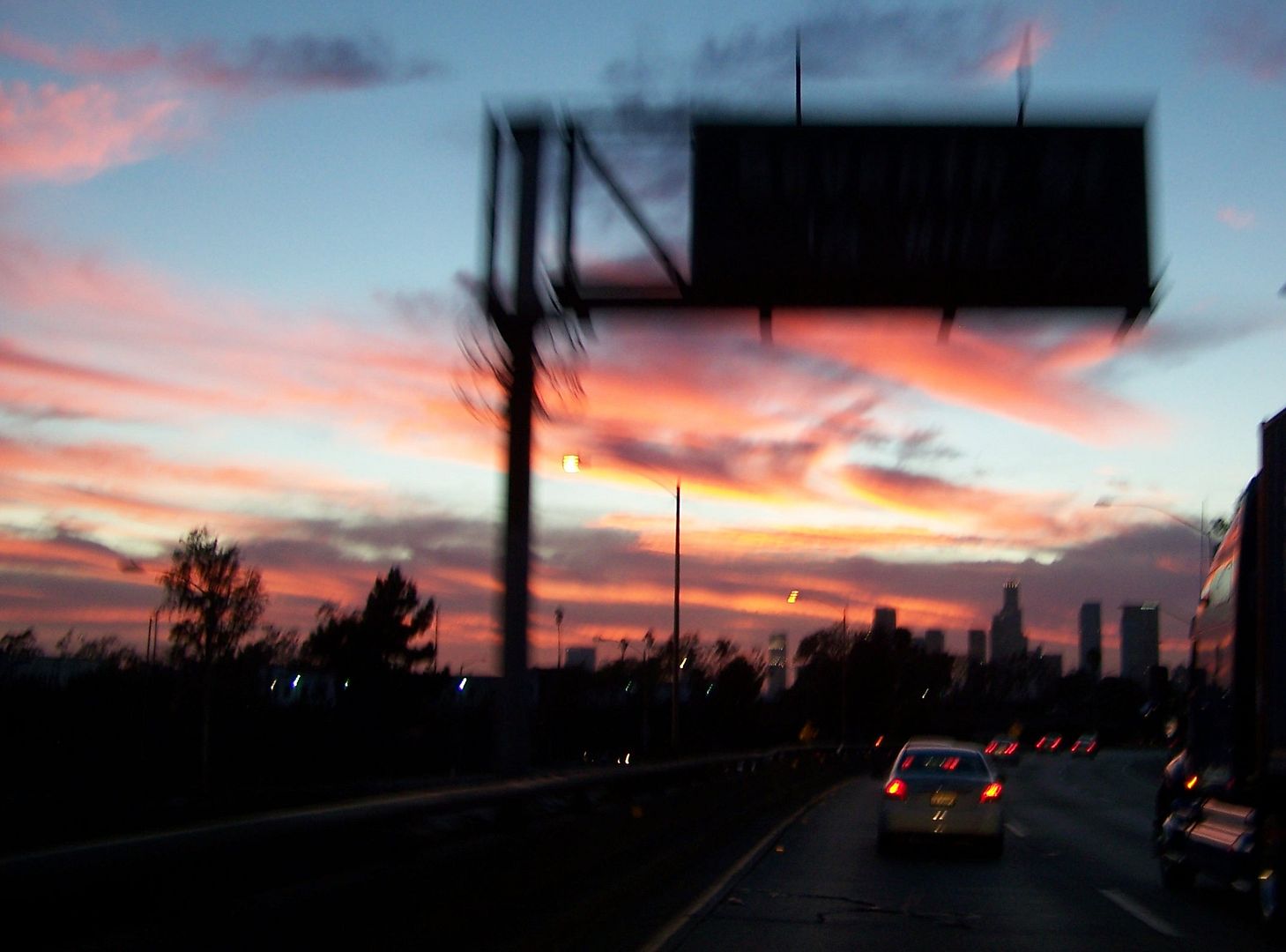 It is a different appreciation in my older age. I now see through and past the civilization down to the land underneath and the sky above. In my 20's, it was very important to get around that jerk, it was critical to not lose position, it was a grim necessity to win the freeway war, it was a useless smug satisfaction that people saw me in a BMW, not that I'd ever see them again. Now, the hills around Griffith Park as I entered the eastern approach to the Valley were beautiful in the flaming evening light:
Met tommu, an impromptu appointment in Burbank, who had a Karmann Ghia that would not get going crisply.
Tommu is from England and has experience with quick motoring in Peugeot 205s on the motorways and smoking roundabouts at a clip. He is devoted to getting this Karmann Ghia in a proper state. We discussed the engineering of German economy cars and set to work installing correct German engineering in place of Brazilian substitutes:
I think he may have been confused by my flippant casualness regarding jet sizes, yet my demanding exactitude regarding the use of original parts. According to tommu, the car now gets going. We did a little crisp motoring ourselves with some heel-and-toe double clutch downshifting to catch the apex of not-famous-at-all Alameda corner at Disney Studios or sumpin: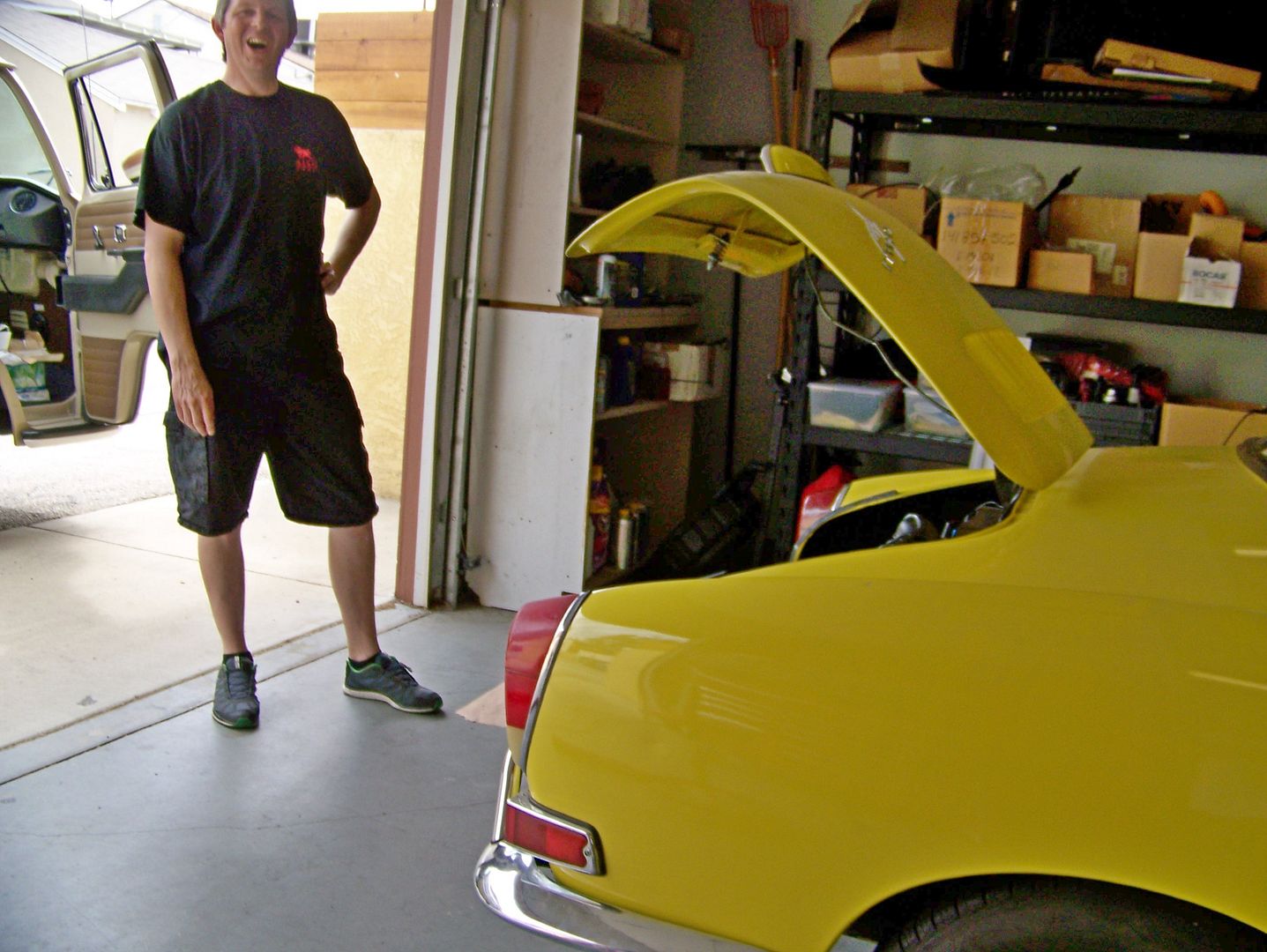 Blew out of there at 3:45 PM and dumped onto the 134/101 Ventura Freeway westbound traffic jam. I had to get to Thousand Oaks way out and everybody else did too. I drove past:
a) where my girlfriend and I lived on Cajuenga Blvd
b) my favorite bookstore Dutton's at Laurel Canyon
c) where I lived when I went to U.C.L.A. at Coldwater Canyon
d) the parts house when I ran my HVAC/appliance repair business
e) Jerry's Deli where "a" above and I would read the Sunday LA Times and drink beer and go right back home and ... never you mind
f) where I lived in Woodland Hills in 1987
g) where I lived from 0-3 years old, Agoura, pop 250, now 24,000.
Made it to Thousand Oaks to look at an original blue and white 1973 7 passenger bus with 42,000 original miles with original belts, stickers, hoses, every single emission device straight from the factory, totally fresh mechanicals, a perfect windshield surround seal with shiny chrome, and I warned and pleaded with the owner (ctxman on theSamba) to go slow and careful and ignore the chorus of good advice and only replace parts that dictate replacement.
Took not one photograph.
I'm not, like, going to, you know, let that bitch show me and Chloe up.
Now it is 7:10PM. I have to go La Verne, and it is still evening traffic scrum. It is so gorgeous. I drove the 118-now-freeway right past my second oldest sister's house in Simi Valley where Amy and I finished our cross country Road Warrior saga in October of 1980:
Next was to get to satchmo's for dinner at 9:00PM. Now approaching the Valley from the northern end eastbound, I drove past where I lived with the rock band in Canoga Park in 1986, drove past where I started my business in Sepulveda, drove past my last address in CA, Sylmar, and took the 210 Freeway to La Verne way over at the east end of the Los Angeles metropolitan sprawl and climbed a hill to quite a summer's night view. Satchmo now lives in a surprisingly sexy southern California hilltop manor. It was good to see satchmo again, and Mary, and his son visiting from Boston, at 11:30PM, I had to finish the final leg of this crazy day, 210 east to I-15 south down to La Mesa CA just outside of San Diego on the I-8 for an appointment with MConverse and his Raby kit Westy. I was so fatigued by 1:30AM on I-15 south (plenty of fast traffic at 1:30AM in southern California, let me tell ya), that I was slipping into driving dream states. Pulled off at Temecula or thereabouts into a park n ride parking lot.
Mike and I talked more than anything else, but we did sort of stumble across interesting issues with ignition and fuel. One of our test drives was a bucking bronco stall-fest, and we veered awfully close to killing it cold. Eventually, the engine was without the Mallory Ignition Distributor any longer, and we had a modest SVDA distributor and an engine that ran fine. I don't have any pictures of our day . . . .
Next day was JBoyn_74westy in San Marcos. Oh yes, a factory dual carb set-up in pretty fresh shape (that makes two in three days!) with an automatic transmission that kicked down and did its job.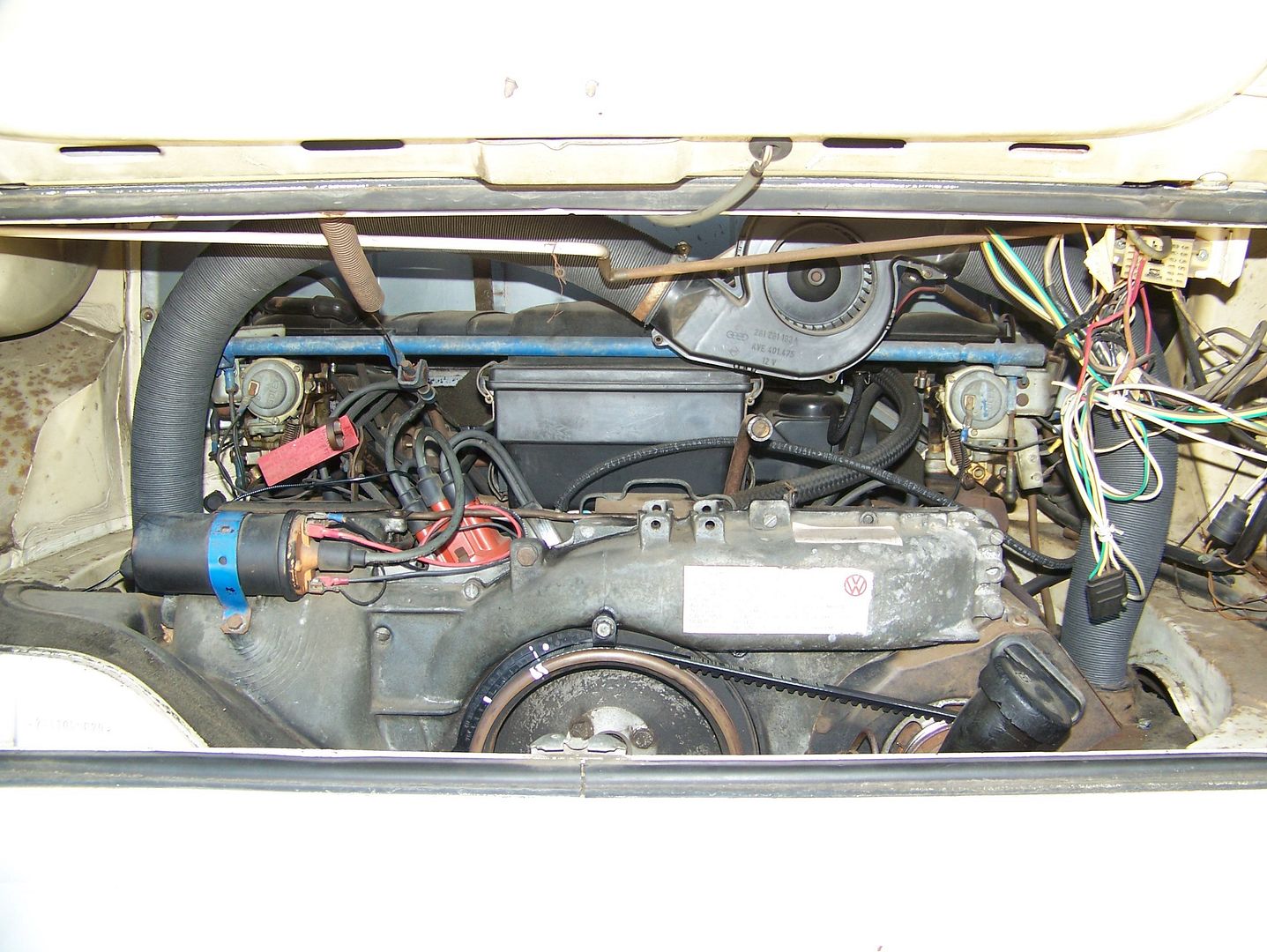 We spent most of the day adjusting valves. They were all at about .004". What the heck? Here is a hot factory engine's valve cover. The blackened burnt oil spots were along the bottom of the valve covers, that means it was burning on the valve covers as it splashed off the rockers:
Though new to this, I think JBoyn_74westy is going to come up to speed pretty quick. He has two young children who shall have memories of this car . . .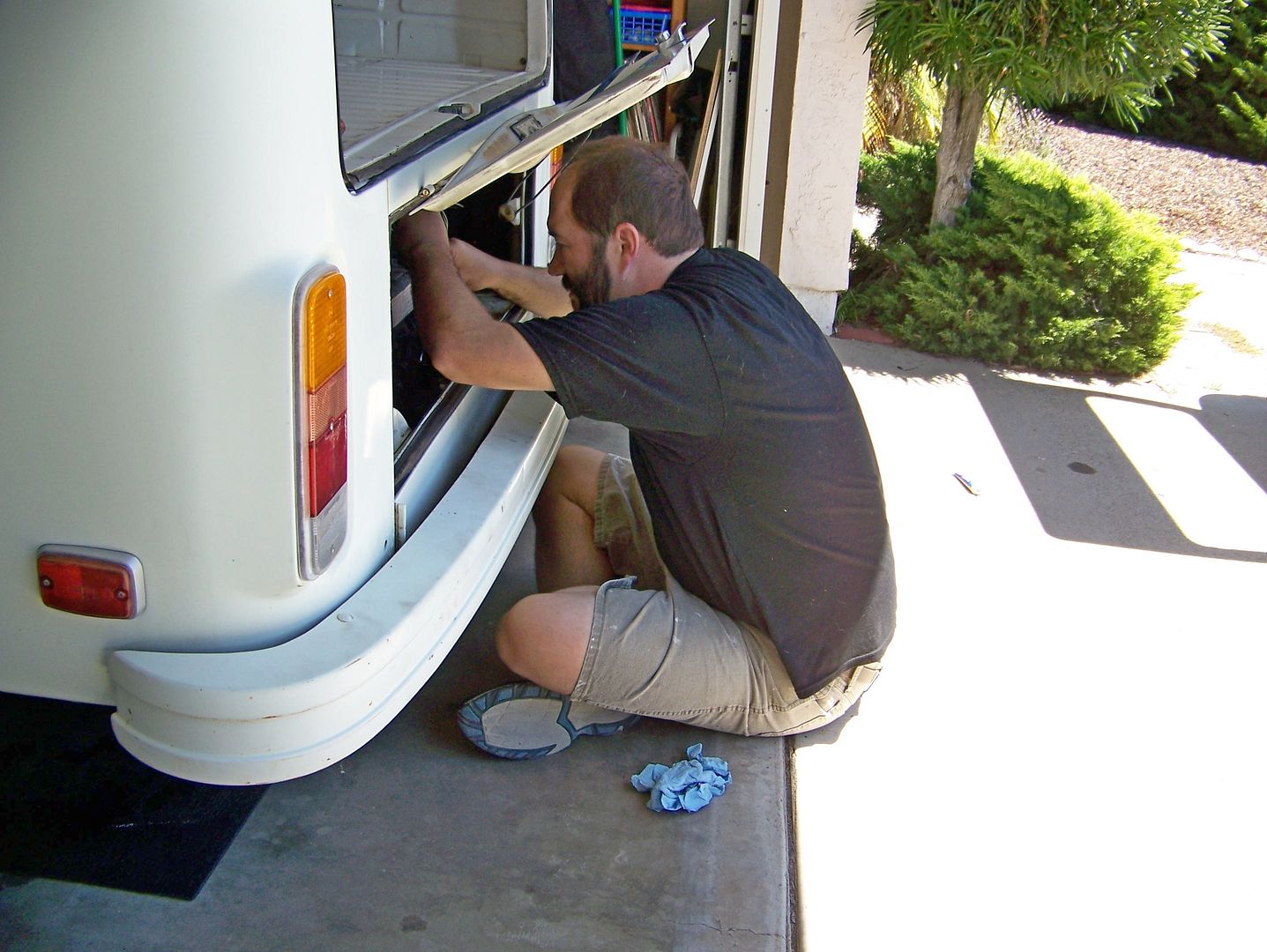 We got a visit from asiab3 as a bonus. We put him straight to work installing the fuel filter out of the engine compartment. Then we did an emergency swerve dog-avoidance demonstration and a braking test to assuage the concerns of the owner that the brakes might not be as effective as he wanted. After the braking test, he agreed that the brakes seem effective: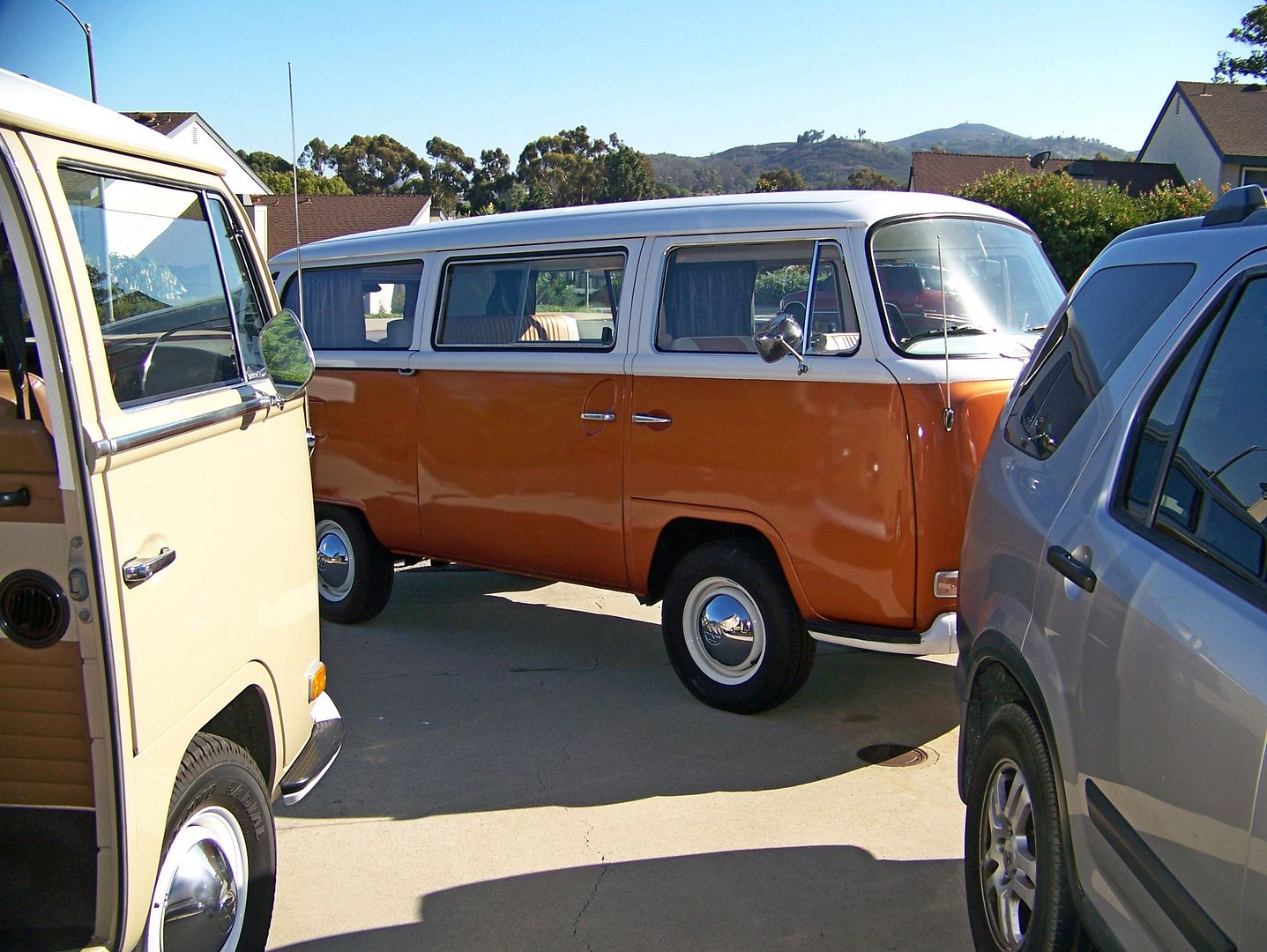 I left southern California that evening and camped at 4,000 feet in the Tecate Mountains, and drank in the stillness and the stars. I might love southern California, but lawdy lawdy is it a noisy hive of relentless traffic roaring. Came down this pass on I-8 ... ... ... :
... ... ... into a surreal land of rocks with a pastel fuzz appearance from afar: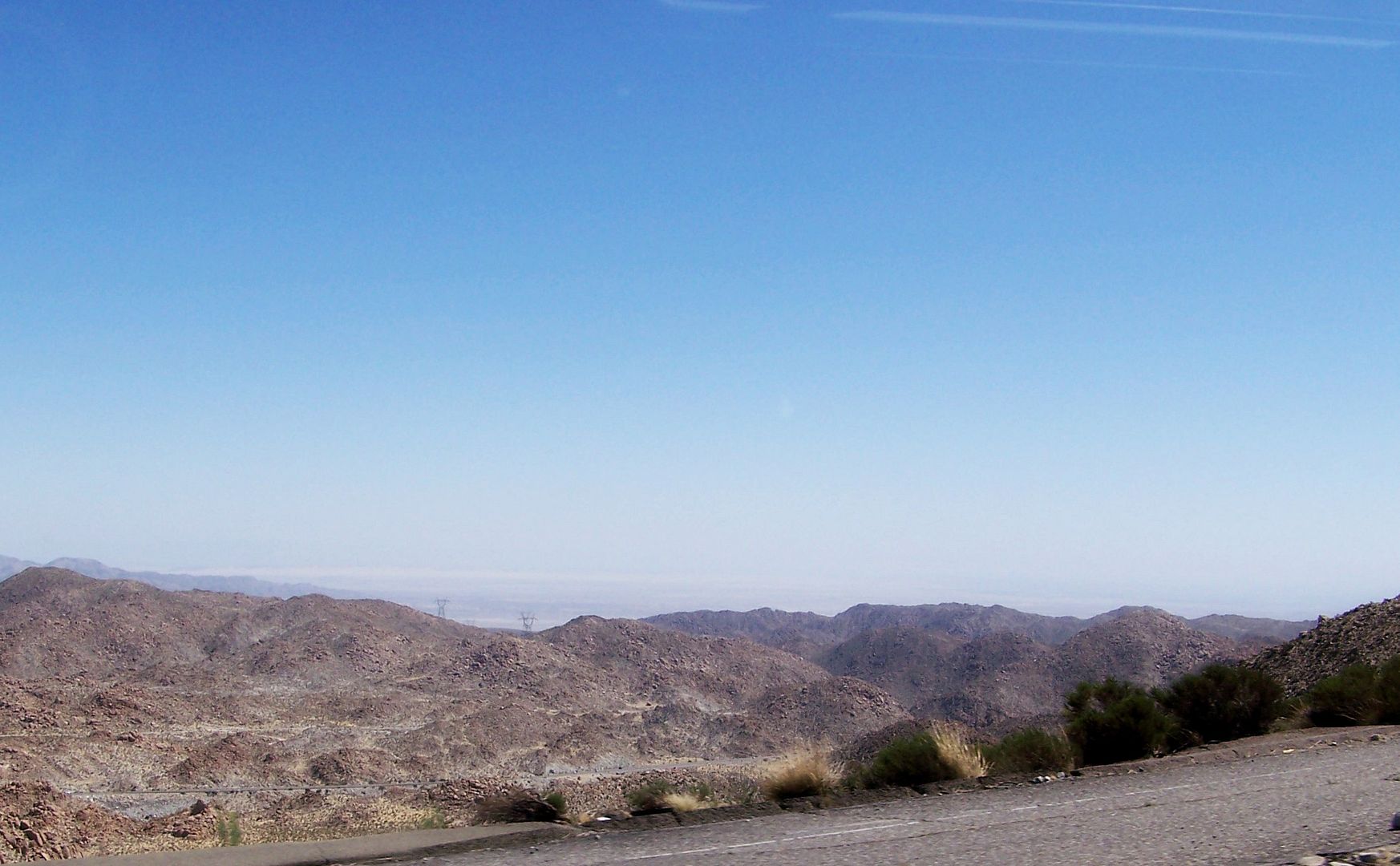 ... ... ... down to sea level here in Winterhaven/Yuma at 113* where I think Chloe is happy not have to climb another hill for a week at least: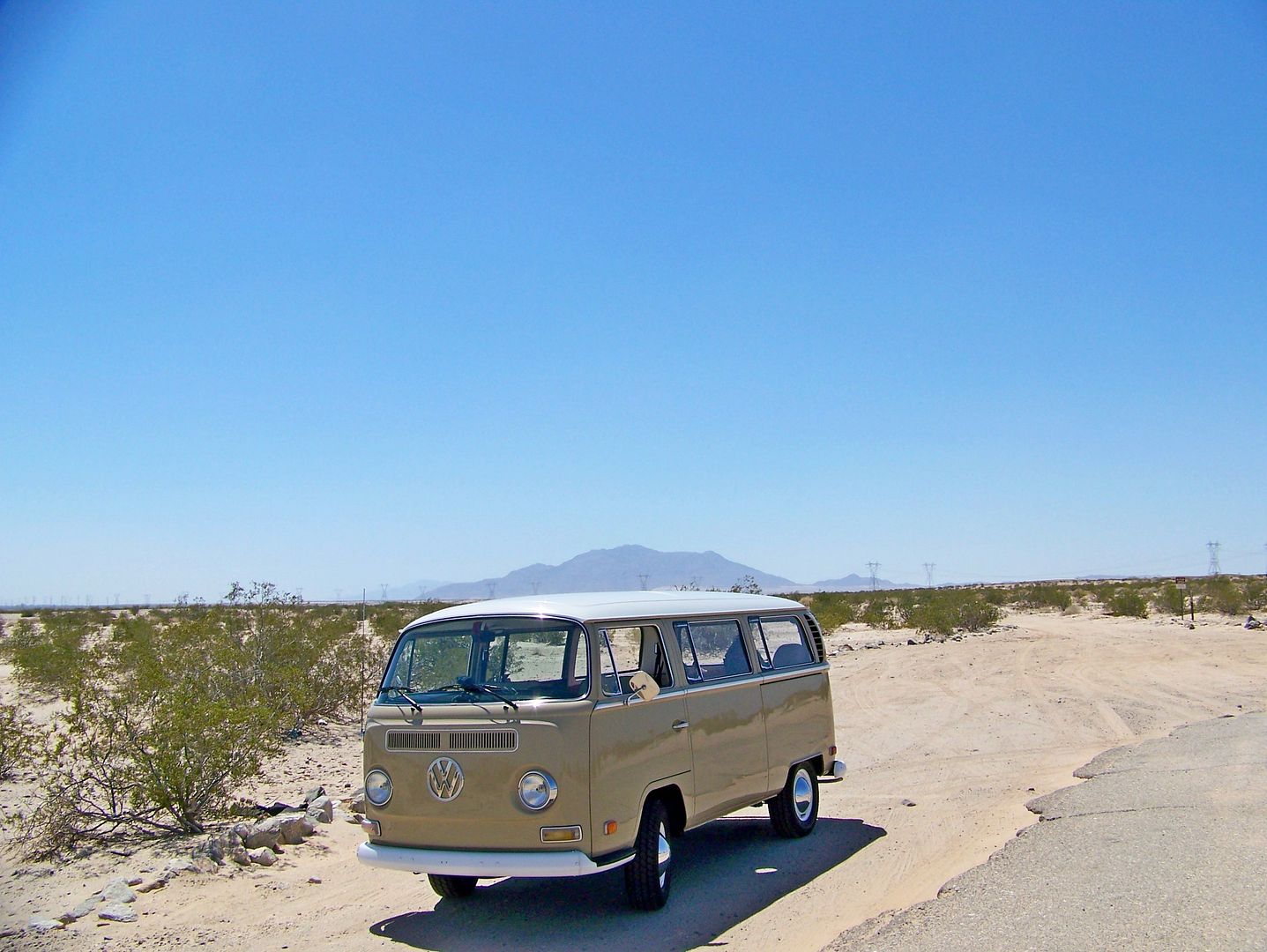 On my way to Phoenix, where they are calling for 108* and possible thunderstorms when wcfvw69 and I are scheduled. Chloe is running hot all of a sudden. Hit 413* on the way into Yuma. That is today's fun-filled fact-finding mission.
Colin