An example of a typical hill climb on Interstate 5 here at Oregon Mile Marker 80 down to Oregon Mile Marker 78.
Please notice that the steering wheel is not shimmying, the car is not vibrating, the Maxxis 751s that airkooledchris sold me in 2011 were rolling just fine at approximately 55,000 miles.
After my visit with Walter/BusBoys in Redding CA at 107*, I took CA-299 from the heat of the inland to the Pacific Ocean bathing Eureka forever and interminably in 58-62* mist. CA-299 is about 120 miles of hairpin curves that are slowly getting "realigned" in Caltrans speak:
This guy looked to be in a little pickle. He had to use his shovel to slow his descent down the hill. I am pretty sure that he was on top of the situation, but as a passing motorist with really nice smooth well-balanced tires, it looked a bit dire up there:
This guy looked to be in a little situation.
"Hey, watch those power lines."
"What?"
"Watch those power lines."
"What?"
Actually, he was doing what I'd have to call a "high wire act" . . . . . .
( ba-da-ba-ddsshhhhh - I'll be here all decade )
with these guys experiencing a few tense moments on top of a high tension tower . . .
I arrived in Eureka at 5:15PM. Went to Les Shwab Tires to get the new Maxxis 751 tires installed. The old ones had been so well-behaved that I was feeling a little disloyal (and in retrospect, stupid) to just tear them off while they still had tread over the wear bars, but I still recall a few tricky moments where they had begun to hydroplane a bit in the long-ago puddles of Indiana, Minnesota, Iowa . . .
"I got 'wide fives', can you balance these things? I am on the road until October, they have to work."
"Oh absolutely, we'll put our best guy on it."
Best Guy was pretty chatty while dismounting those nice stable old Maxxis tires and sticking on the new ones until he slopped the first wheel on the balancer with the biggest centering cone he had. He tightened and loosened the collar several times, then spun up the wheel. Bangabangabanga, we gots four huge lead ingot weights splatted all over the nice white wheel.
"Your wheel is bent."
"But symptom-free over the past 50,000 miles," I replied, "symptom-free and it only had a .75 and a 2.00 ounce weight in all of those miles."
"See here? That's a wobble, too, this tire is going to shimmy."
That was pretty much the last thing he said to me. He struggled with all of the other wheels, too, slamming weights on, then ripping them off, then putting on other weights to compensate. He left for the night some time while the lugs were being "torqued" with an impact. Once on the car, I spun the wheels and noted that there was less wobble and run-out than displayed on the balancer. Paid my $651.00 and did a little test run down the 101. Not only is the car undriveably shaky, the brakes are pulsing like mad. I am feeling stranded in Eureka. Got a call in the morning, then another one the next day, and another the day after, then I have to book to San Franciso. These new tires are going to get worn down in short order, yes, but what about the steering damper, the shock absorbers, the center pin bushings, think of all the parts that get eaten by a lousy wheel balance, what now?
Since wpinnix was scheduled for an afternoon appointment, I went to the other tire shop in Eureka the very next morning, Tetrault Tire.
"Oh, hey, yeah, sure no way Les Shwab could balance without the special old VW 'wide five finger plate adapter', sure we'll fix you right up."
"I see only four studs on this finger plate."
"Oh, right, the other stud is just in the back somewhere, we'll put it on, say, just take a seat have a cup of coffee and we'll let you know when you're ready to go."
I walked to the back and watched the four-out-of-five finger plate try to balance the wheels.
"Oh sir! You must leave the shop area, insurance regulations prohibit customers from being in the shop area."
"I see five weights on that first wheel. That is too many. These are brand new tires with less than 10 miles on them."
"Well, your wheels are bent. There is no way that you'll get them balanced smooth, but we will put the best on the front, now please leave the shop."
. . . . and I did, in utter despair and $36.00 poorer. The car was now wobbling and tramping worse than ever, the paint on the wheels is chewed up, the beautifully smooth brakes are history, the engine and clutch are chattering off stop lights and I don't know what to do. I have one hour before my appointment.
Went to the car wash to wash off the tire soap and greasy paw prints. Washed some of the dust out of the engine compartment. Made it to the curve on 101 just at the stoplight. Engine died. Totally blind curve, and cars were rushing up. No shoulder! This was damn dangerous, and I knew it. Tried to wipe dry the distributor cap and wires. Jumped back in the car as horns blared, no start.
"Chloe, come ON."
"No," said the cow.
"Fine, good-bye starter motor," and I bucked the car down the road in 1st gear on the starter and found a stupid triangular intersection island just past the curve.
"Hamburger, that is what you are going to be real soon," I hissed at the balky car, but at the same time, I was feeling total wretched self-hating guilt deeply, this poor car.
Found water in the spark plug clips, dried them, filed the points, cursed at passing motorists under my breath (there is no need to blast your horn at a disabled car with blinking emergency flashers sitting on an island off the travel lane, what exactly is the point?)
Chloe started finally, and I stared at the wheels in disbelief, like this right rear wheel: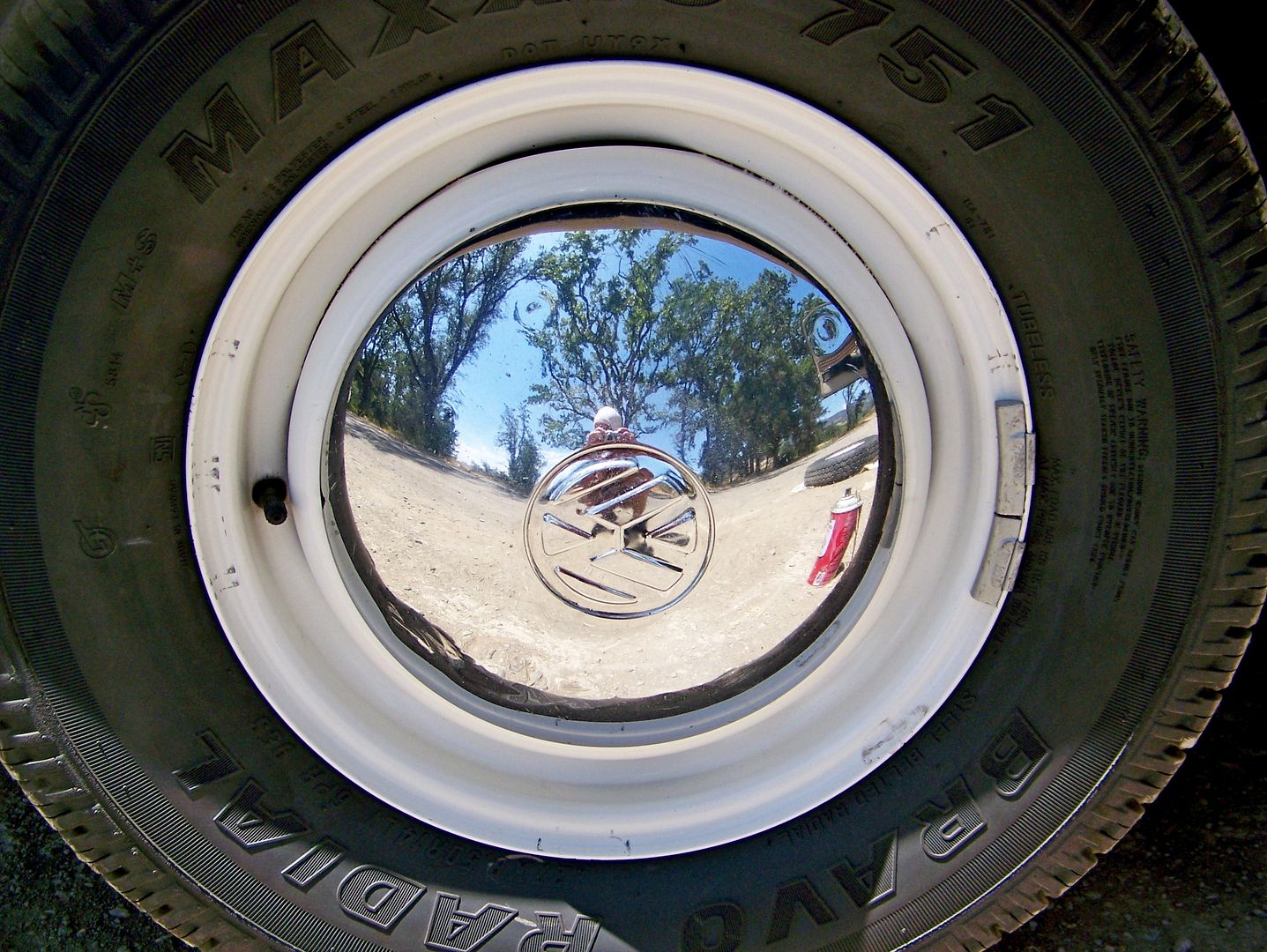 Did the wpinnix appointment, a 1977 with a "parts bus" in the garage that I beseeched him to stop cannabalizing, because he actually has two buses that could be road-worthy, and went off to Starbucks to try to update you all on the wheel balance disaster unfolding.
"You left your cool spark plug wrench here," said the first of sixty thousand messages in the PM folder.
Drove back to wpinnix's house, (say hi Bill, fill us in on what we did!) and drove to the parking lot at Discount Tire to try one more time one more time pleasepleaseplease the next morning before pdlrofdrm's appointment. Les Shwab is located right next door.
A ratty Camaro pulls up in the side lot of Discount Tire at 8:00AM.
Two young guys get out with Discount Tire shirts. I explain the predicament.
"I want to try, I won't charge you."
"What, what do you mean."
"I like a challenge."
Did a fine job. Chloe is back.
Sherrod Smith of Discount Tire saved my day, and was smart and focused and careful. The little shop kicked the big guys right in the damn teeth, so hah you smooth-talking fancy waxed floor shops with the magazines and advertising.
Then I went rogue. Walked into Les Shwab.
"Your wheel balance did not work. I had to get it balanced at Tetrault Tire for $36.00."
"Oh sure, we'll cover that, we're sorry, we'll issue a refund for $36.00."
"You are giving me a $62.85 refund on my credit card, that is what
you
charged me for a balance. What I paid at the other shop is immaterial."
"That's not how w. . . . "
"That is how it is going down. Your 'lifetime balance' is quite useless to me if you do not have the correct adapter for my car."
Got my $62.85 credit receipt and drove over to Tetrault Tire.
"I need a refund for your wheel balance. It was terrible."
"We told you that your wheels were bent and that you might not be satisfied with them." (you did?-ed)
"You told me that you had a finger plate that would work on an old VW and that you would 'fix me right up' and . . . "
"We used the correct adapter for your c . . . "
"used an adapter that was missing a stud that you promised would be put on for the balancing job."
"We have balanced all sorts of VWs with that finger plate, nobody ever complained."
"You balanced wheels with a missing stud?"
"Yeah, sure it is not that important, there are four other studs that hold the wheel secure."
That did it for me.
"But what about THE BALANCE? Your balancer is thrown off with a missing stud and your weights all are trying to account for the missing stud!"
"Sure, we'll refund you $36.00. Sorry."
Made it to pdlrofdrms with a newly settled Chloe and chewed up wheels, but at least it no longer has FIVE weights on one area of the wheel. I love Jennifer. We worked on her bus and I can't quite remember all we did because I was so deeply distracted. Accelerator cable to help the engine deliver full power? Jennifer?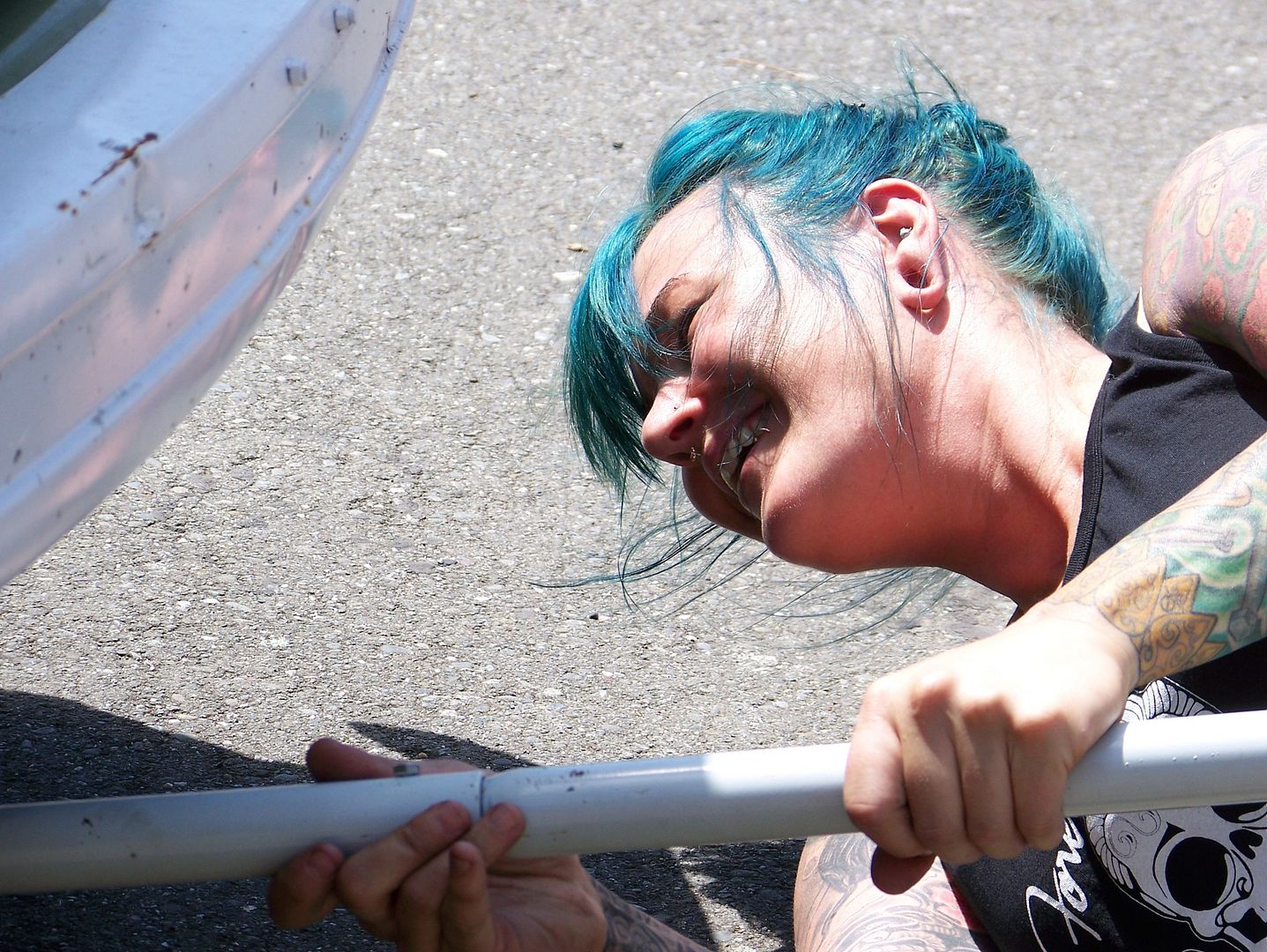 Airkooledchris was my last appointment, and he wrote about it in another thread because this one was so late to the forum. I sped away from Eureka not just to find warmth, but to get my butt to San Francisco:
Somewhere along the way, I got one wheel touched up after that horrendous bunch of lame-ity in Eureka. I am still totally grateful to Sherrod for restoring my faith and my bus: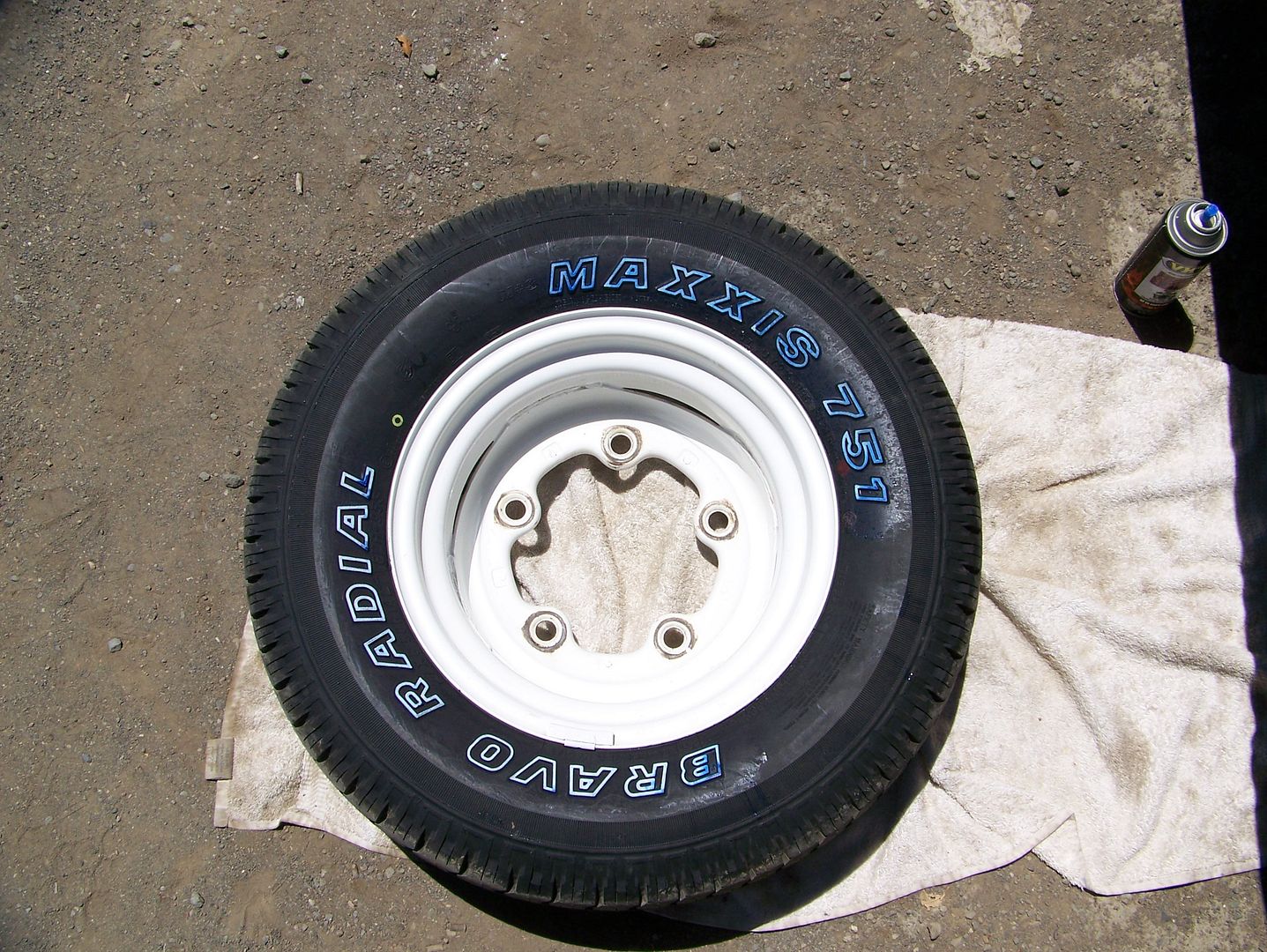 Right Front: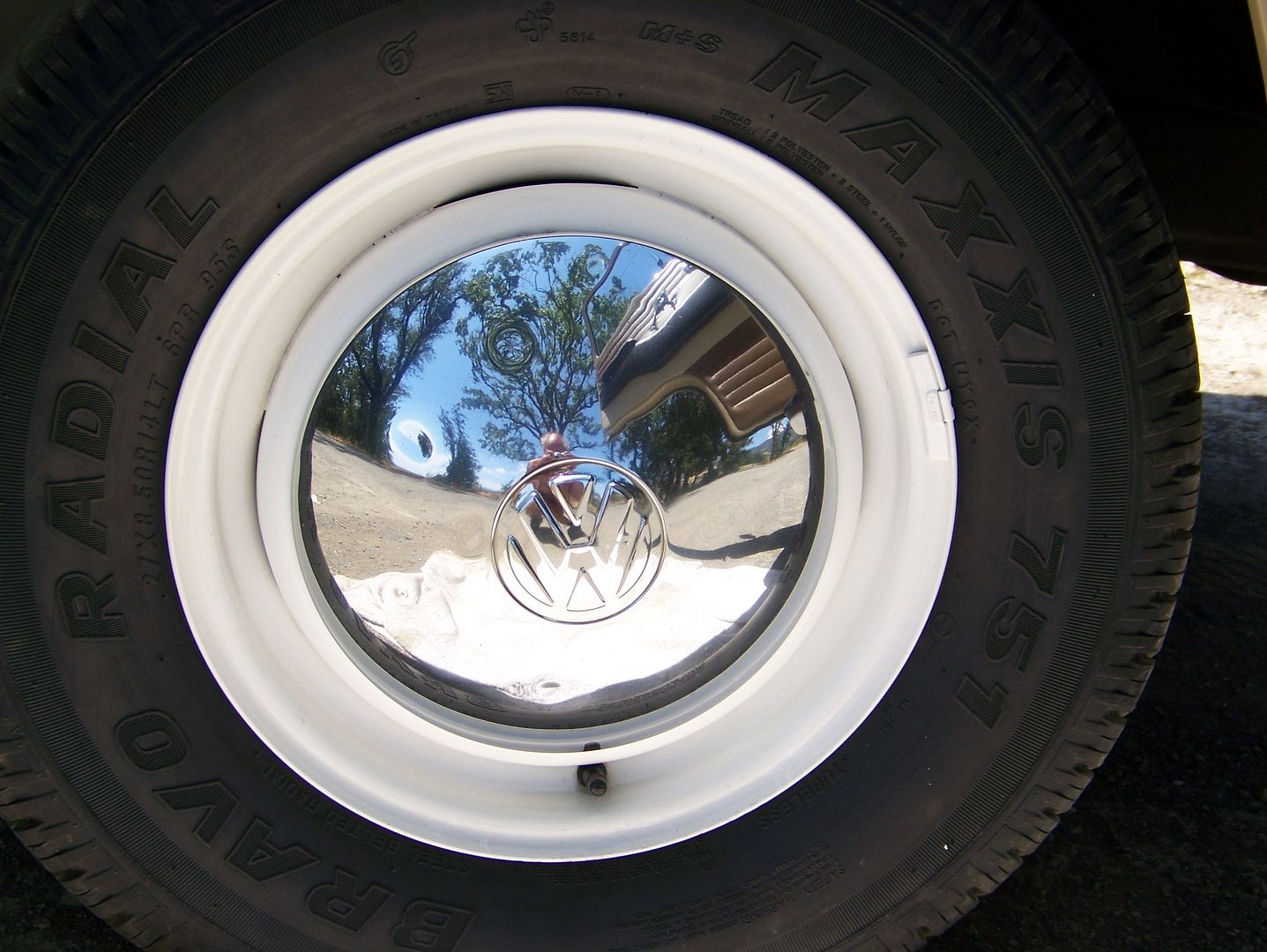 Today I will do the others outside of Lone Pine as I head to Death Valley.
Colin