(I never did write about the Seattle call here, so this is now Montana and it now has its proper thread)
1,104 miles since the hail in Spearfish SD. While in Spearfish, I visited with mpls_ham, a longterm lurker here and on theSamba. After the hail of the night before, I was in no mood to get stood up, but there I was, stood up, standing on the porch at mpls_ham's house at 9:15AM.
Twenty-two doorbell rings later, my ugly little Motorola finally found a cell tower signal. Met with mpls_ham down at the gas station and we caravanned to the storage unit/garage where his bus awaited a rebuilt engine installation. Oh look, another Jopex muffler with the stupid splitty tailpipe from Bus Depot. Once again, I suggested to another customer to CALL Bus Depot and MAKE them send out a correct baywindow straight tailpipe. We finished installing this most-foul poorly dimensioned muffler and then installed the engine. Ran a bit poorly there with a carburetor that smelled like an ancient farm shed. Mpls_ham shall be entering into "discussions" with the engine builder. After a quick lunch, I hit the road into the yonder west.
Drove through Wyoming to Montana, my favored population density of two human souls per thousand square miles just beckoning, sun! sky! road! bugs.
Ran into whc03grady in Livingston MT at the library. We spent a day conducting a valve adjustment and a breaker point/condensor change-out, did a little timing, and replaced the rebuilt Bosch starter that had been so recalcitrant, and stuck in a virtual no-name replacement rebuilt starter from O'Reilley's Auto Parts.
I was so sure that we were going to have reliable starts now that I unwired the hot-start relay. Nope. Had to go wake it up under the bus with a wrench across the terminals. Then it would start every fifth turn of the key. Then I had to go RE-wire the hot start relay to make this new no-name starter start.
As importantly, the steering failed my test drive test. Now Mitch is a wizened VW bus traveler, he gave me pretty good push-back. " I LIKE vague steering, it helps keep me on the road when I am having alcoholic delirium tremors or a case of meth jitters." You really can't argue with that.
For a librarian, this guy's got the arms to bang out bushings. "It is going to get tougher now that the lower one is against the upper one," I warned him. The clanking of the upper one on the pavement was his his response. Look at this old center pin. The Worst I Have Ever Seen: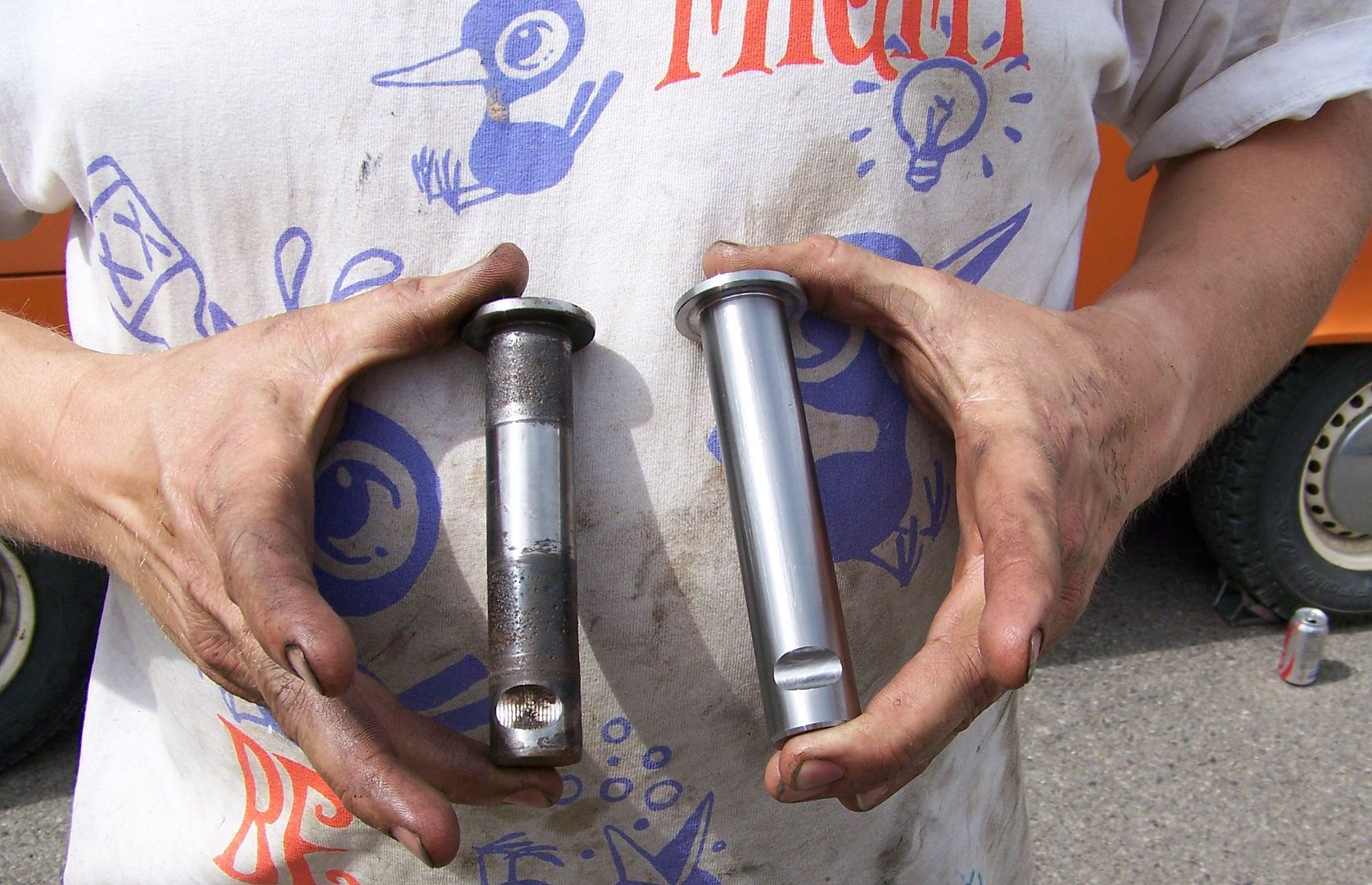 So, we managed to tap in the nice new Meyle bushings just right, we got the seals and the washers and the lock plates and the pinch bolt and the wavy washer and the pin all ready to go, but what's this, what's this, what's this?? The pin is too big to fit? All of my years of complaining that the new pins are sometimes looser than the ones being replaced, and this thing is totally not going in! We tried to sand the pin, then tap it in, but the bushing showed distress and the pin locked in pretty tight. I was NOT going to have a pin half in / half out, stuck beyond our ability to pull it out. I was so close to just whanging that b**ch in, but I seriously did not want whc03grady to have tight non-returnable steering with a tight center pin and the vagueness of a loose drag link socket. No way. "I'm sure I can deal with it," said whc03grady.
NO-OOoooo. I remember the horror of the Road Warrior's steering in the wind after enjoying 25 years of perfect slightly loose steering. I was out of options. We called NAPA for a reamer. "What's a reamer?" Called Car Quest, I think it was here that the nice lady on the other end of the phone offered to sell a brake cylinder hone (heck, could have used that on the miz's Vana White Vanagon). "Yes," I jumped at that solution. A brake cylinder hone could easily hone through the brass bushings (teflon was used on oem VW bushings, and that would have been a sorry hit against longevity, but here we were just trying to survive this ordeal. Got the hone. Honed.
Got the hone's three expanding arms stuck in-between the two bushings. Battery on the drill died. Charged the drill's battery while fishing the hone out. Came up with a patented system for installing the hone arms utilizing the red jumper wire that jump-started Lisa's bus that rainy morning in Minnesota and now serves as my belt. Man oh man, what is with these replacement parts? We finished up and lubricated that center pin assembly, then I had to get us in another predicament. "Hey Mitch, let's remove the drag link so it will be easier for you when you get your new one (he has ten days! ten days! to replace that drag link)." The remover tool kindly squashed the threads. Ball joints that are loose just rotate when trying to run a die down the threads. Vise grips to hold the ball joint while trying to run the die down the threads just mar the taper surface. Yeah, so I thought, I better leave before any other great ideas come up.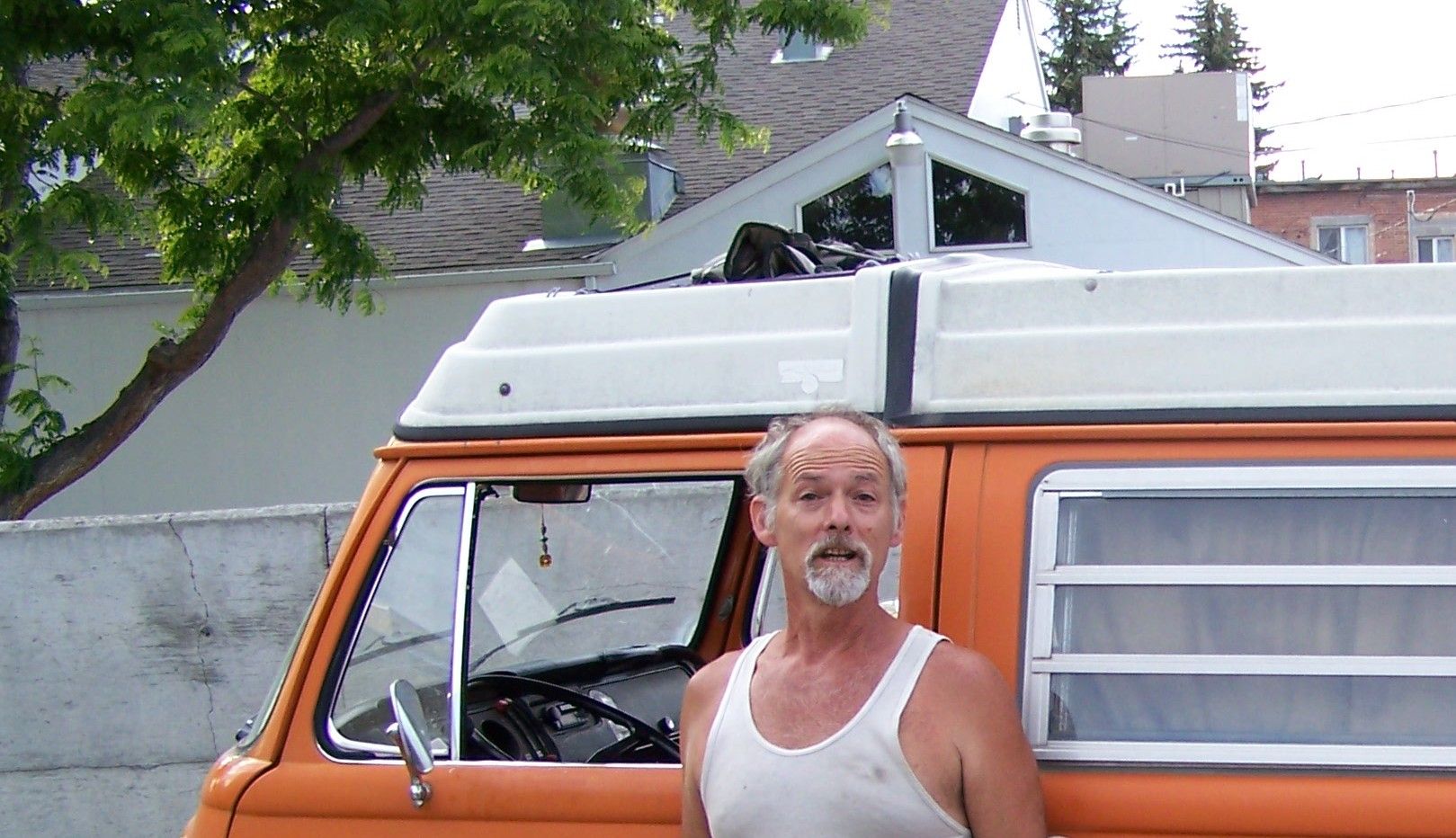 Lawdy, but finally, we got the drag link greased and "lightly installed" so Mitch can get it out more easily when he replaces the drag link in ten days. I like seeing Mitch season into a mechanic:
We drank beer. Good cold beer from Belle Plaine. Thanks, Belle Plaine. Tried the starter again, just to make sure. All seemed good. I hit the road to Missoula, where Chloe's first windshield got cracked two summers ago. Montana. Montana . . . where the highway department just has to pour hot oil all over the interstates then glaze the glop with gravel, sharp fresh mountain gravel. The highway department was doing exactly that as I approached Missoula. I tore off the interstate onto a secondary road and thought I had dodged the danger. I had, until I crossed the exit road from the interstate where cars had brought the gravel to me, courtesy a Dodge Charger in a hurry. Just a chip, thus far.
Last year, mtcamper and I backed up for a couple of miles along I-90 trying to find my LM-1 sniffer that had fallen off. This year was less dramatic. We adjusted valves, did timing, pondered a weak cylinder, test drove down I-90 in the forward direction this year and enjoyed 434* CHTs ("this won't do," I said brightly).
All of my tweaks at the AFM did not help except for "pig rich". For fun, I decided to knock the timing back 5*. Head temps dropped by 25*. Mtcamper, let us know how it does.
Then I drove to Seattle. 103* in Spokane! Mountain grades! 99* at the pass! Sure I love the heat, but this came up quick. How did my stock loaded-down Volkswagen bus with that hard-working little 1600 battling grades and heat and hour after hour of relentless highway driving fare?
Good.