Jun 13/14 Done! llarosa16 ........................ Farmington MN
Jun 16 Done! Belle Plaine .......................... Belle Plaine MN
Jun 17 Done! grifftenstein .......................... Saint Peter MN
Jun 18 Done! llarosa16 ii ............................. Farmington MN
Jun 19a Done! the miz .......................................... Eagan MN
Jun 19b Done! grifftenstein ii ..................... Saint Peter, MN
But first! Kudos to the little brown cow, sitting right next to me here in Rapid City, South Dakota (!), now at 171,662 miles, all saucy and nonchalant after a hard day of side winds and hour after hour of interstate hauling at an average speed of 60 mph.
Fuel economy, 22 mpg.
Highest CHT (in the dry), 392 on a 6 mile grade
Compression, 130/140/125/140
Half quart oil consumed in the past 1,300 miles
Total repair cost in the past 12,000 miles, $3.00 for generator brushes
Only new issue, passenger door lock is jamming
Running flawlessly smoothly, stops, starts, steers, I cannot ask for more, but probably will anyway:
After the brain drain at llarosa's Farmington Electrical Emporium, I went to drink beer in Shakopee MN:
It was a beer social organized by Belle Plaine and co-hosted by the miz, two forum members who happen to be work associates devoted to bringing you a finer beer yet:
Also at the gathering were eche_bus, Busberd, bradgt74, some folks who had joined us a couple of years ago, and I met some new people, like Vicki(y)? and her Kermit the Vanagon: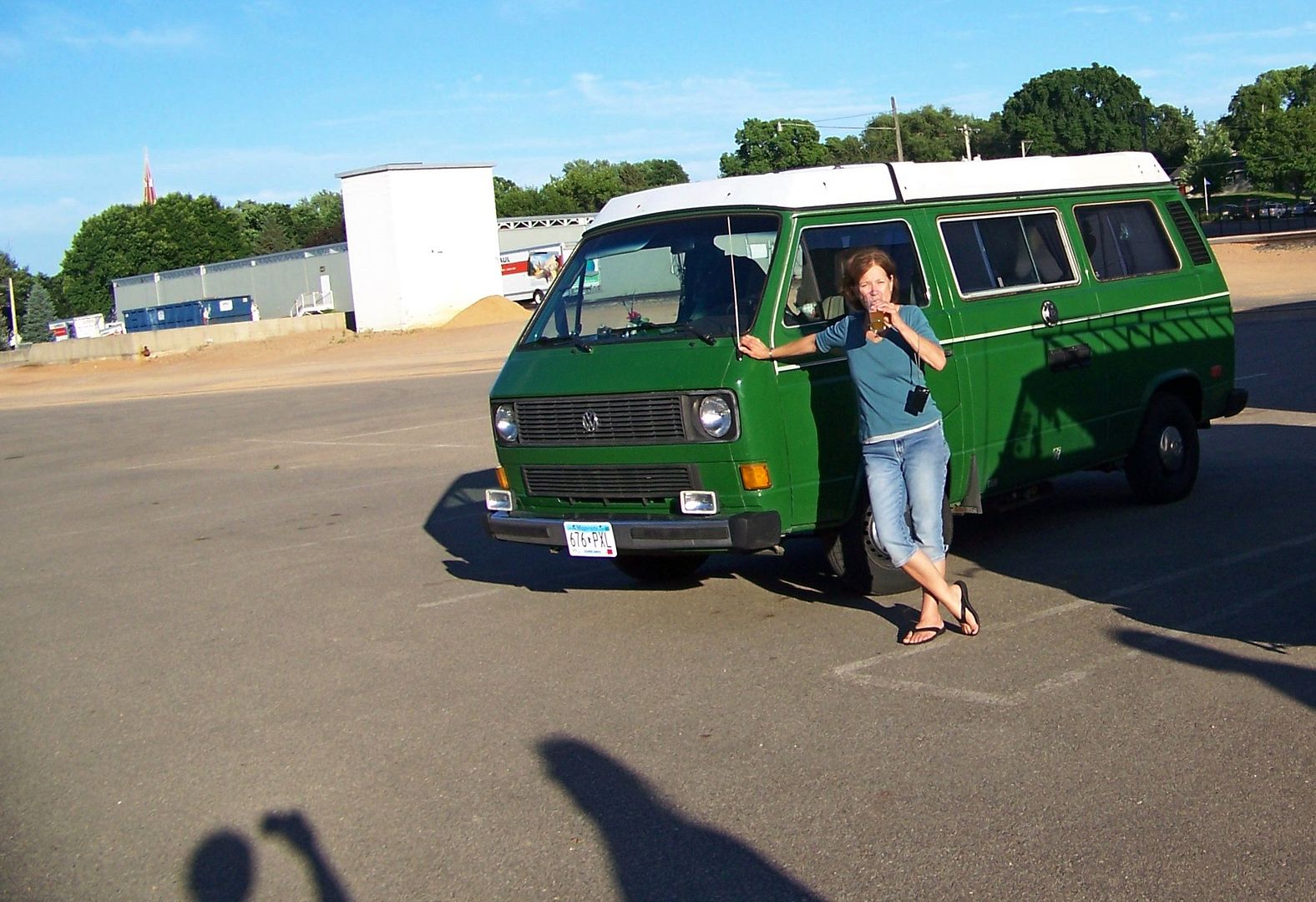 Below, a classic road warrior whose owner was collared by an inebriated itinerant pleading with him to stop the rust stop the rust, just do it, it doesn't have to be all "pretty body and paint" just stop the rust:
Afterwards, Belle Plaine and the miz took us remaining folks on a tour of the Rahr Malting Company
since 1847
factory, and it was fascinating to be in a serious purpose-built factory and way cool to be standing on top of the big building overlooking Shakopee at dusk, scanning the countryside with Minneapolis over
there
and the lights of the casino over
there
and the emerging stars above:
We disbanded around 11:00PM and I took off down MN 101 to go catch MN 13 and US 169 south to Belle Plaine for the next morning's appointment with Belle Plaine. Camped I don't know where but I delivered two coffees to Belle Plaine's porch by 9:15 or something close enough. We put together an easy day of checking the Aeromech engine and driving around swerving for imaginary dogs and stopping short:
Heck, they are closing this joint, and I still have to get to my destination. I'll be back within 24 hours, will too.
Colin