Three most-excellent calls occurred in Indiana.
First, I got to introduce a judge to the world of VW wrenching. Please approach the workbench.
In this case, the defendant was a 1976 VW Cabriolet in some real need of intervention due to a troubled youth of neglect and sloppy parenting of the valve clearances. Our adjudication was in the nick of time, barely.
"Your Honor, adjust the valves . . . if it pleases the court, of course."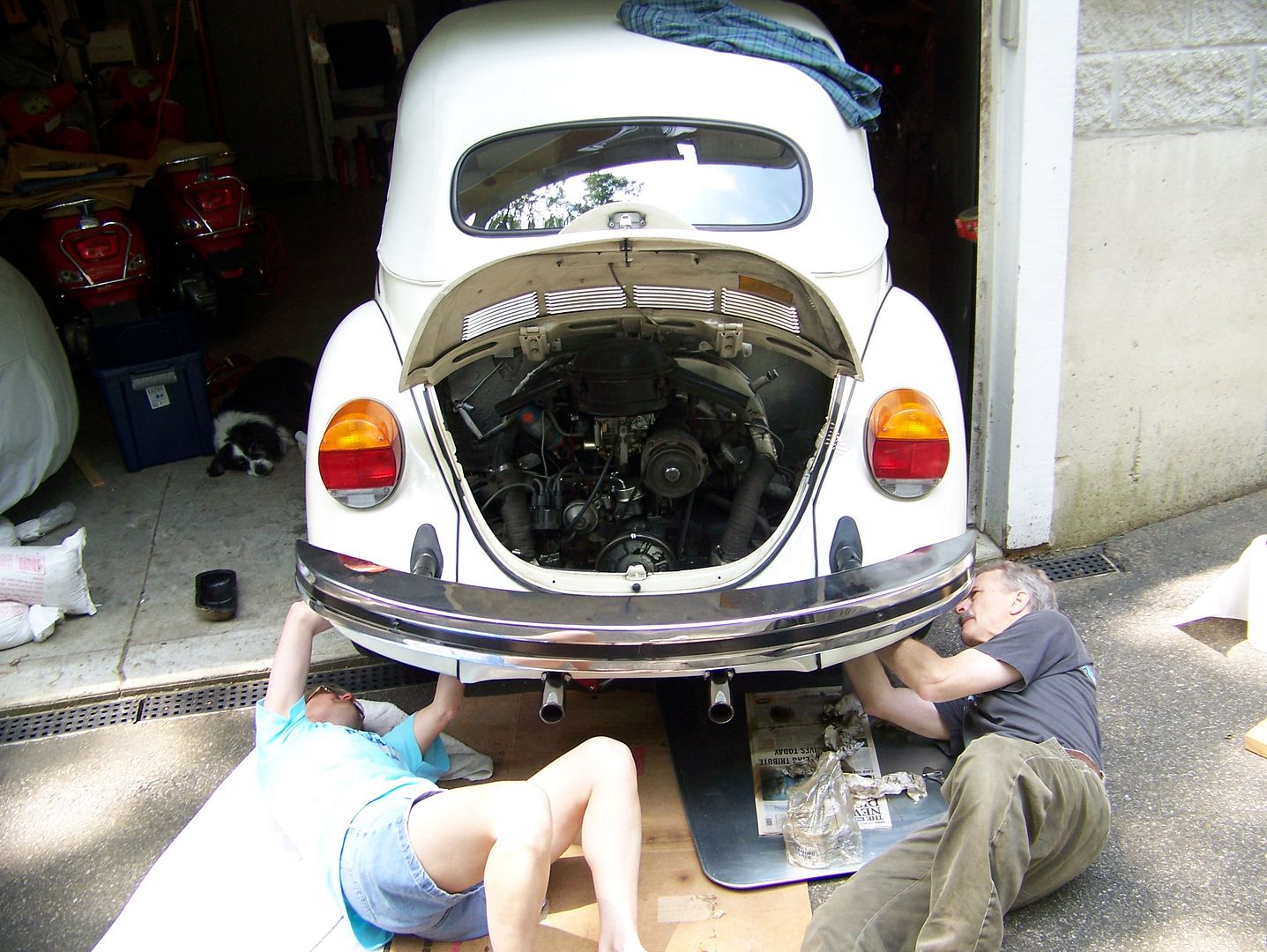 The spouse is a manager of engineers, heck yeah, we had our expert witness lined up and ready to work. By the end of the day, the VW appeared well along the road to redemptive reintegration into the society of road-going cars, but it is on probation nonetheless. We do not coddle wayward German waifs. Great to meet you Pearl76 and Pearl76 Spouse: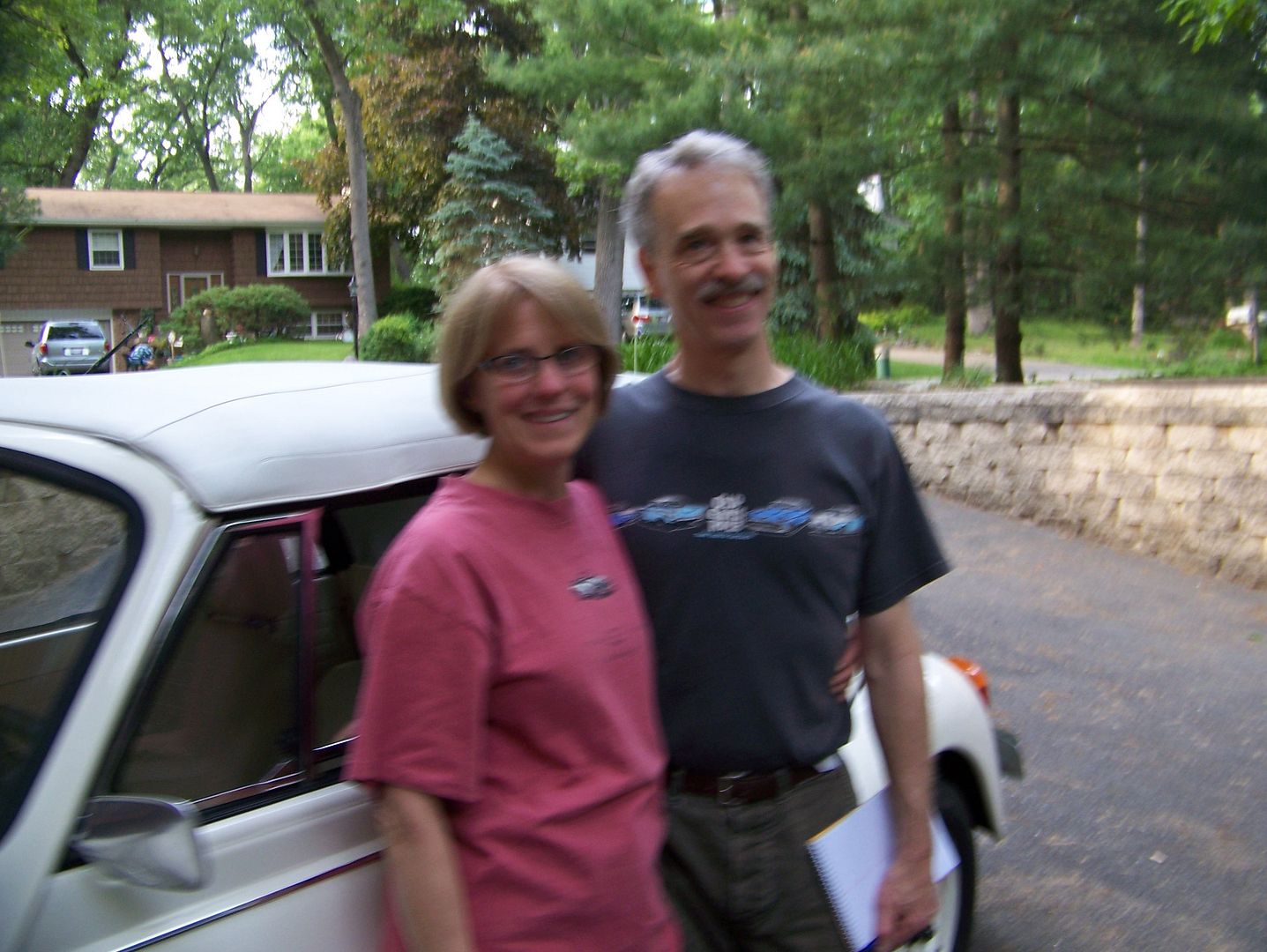 Poptoptom and his lovely Ophelia was next on the itinerary. We actually go back pretty far in this Itinerary business. Each visit, we compare notes on our respective accumulation of years.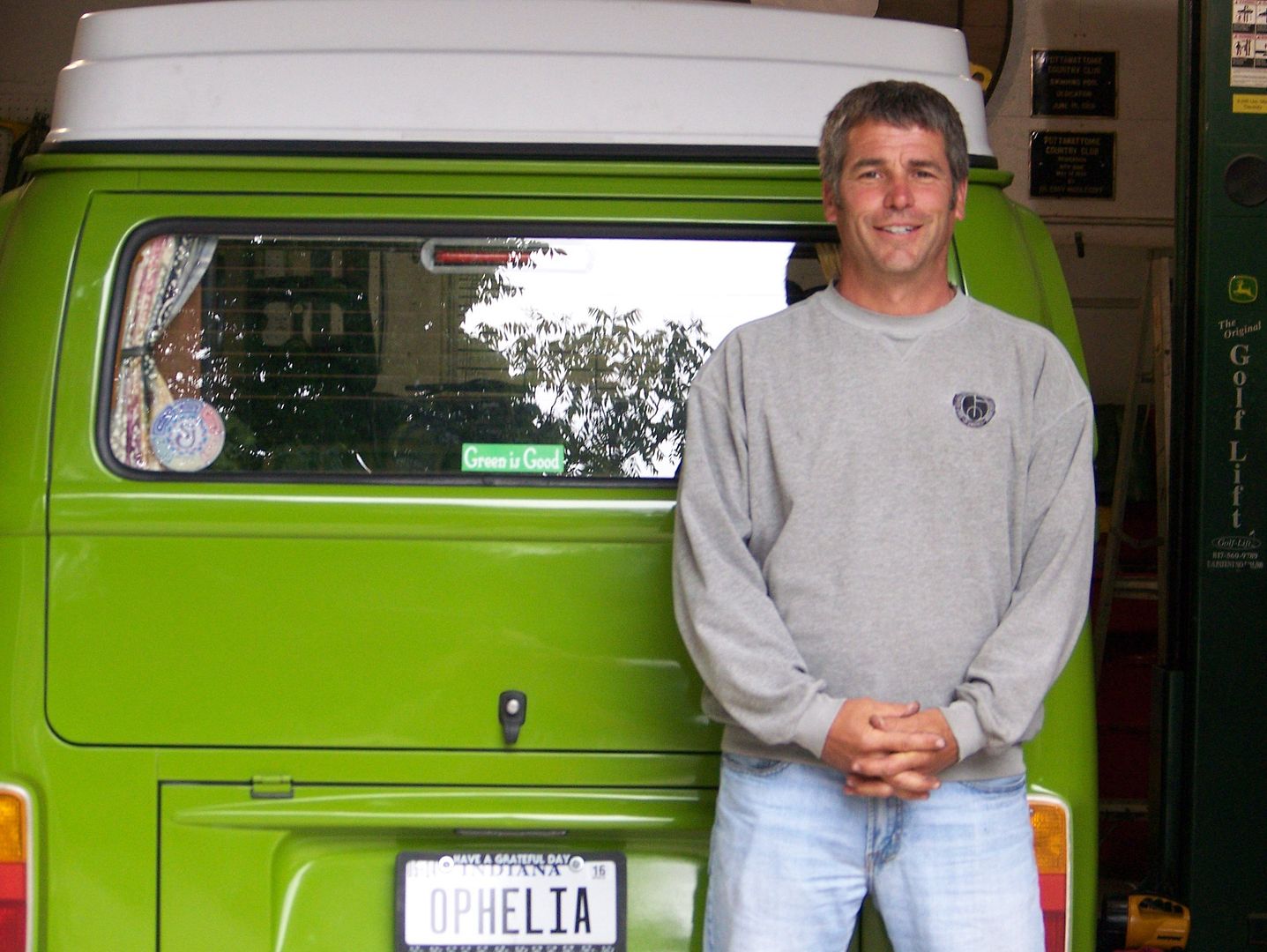 What did we do? We drove around marveling at the ridiculous drop in temperatures that my visit brought. It was 53* with a lake-effect fog and a biting icy winter wind. Something in his engine is eating vast quantities of oil that we could find no evidence of losing. I even dumped oil into the decel hose and the exhaust stubbornly burned clean, no smoke! I think we did some push rod tube seals but no WAY does a push rod tube lose a quart every 200 miles. We are monitoring and poptoptom has promised to update us soon (that means by 2018 or so).
I scrammed big-time down to Squeebles, yes, a real person, down below the lake chill. Squeebles and I did a call where I was to assist in completing an installation of a rebuilt engine and helping to break it in. Scary, as usual.
Squeebles is a crackerjack intelligence and we got along just fine touching upon all of the solutions to the world's problems. After solving them, we decided to start the engine. Couple of leaks, OK not a biggie, except for the RTV splushed around the oil pressure sender threads. but that banging back and forth of the crankshaft sure got my attention. So did the steady oil light at idle with 20-50W oil in the engine.
Do we have a wear limit .006" bunch of banging?
No.
Do we have a slightly greater than the wear limit .010"?
Noo.
Do we have a SomebodyScrewedUp oh, let's say .012"?
NOoo.
Good Lord, do we have a missing shim sort of .018" (three times the limit)?
NOOOoowoooo.
What on Earth what? TWENTY FIVE THOUSANDTHS, is it that bad?
NOOOOOOOOOOOOOOOOOOOOOOOO.
We have a
.030"
end play, a Five Times The Wear Limit end play.
This is unacceptable.
I am again sorry and utterly dismayed. These stupid errors are miring some really good people in such stupid bullsh*t, such a waste of time, such an avoidable nonsense, and the deliverance of hard-earned money to these sloppy professionals is an insult.
But!
T'was excellent meeting you, squeebles, and your kids, and the slithering denizens of your garage
(that is not an insult either, they are slithering denizens).
Last Indiana call was Andrewtf and his bus, Big Emma. Big Emma is on-deck to perform an epic journey with his daughter and significant other. Our job was to begin a serious appraisal of the condition of this bus. It appears to be a good candidate. I left his house to trek on up to Chicago but some nasty storms were brewing with lots of lightning and thunder and wind, so I thought to stop at Panera Bread to catch up on you all. While catching up with you all, I get a PM, "you left your jack, your 10mm socket, your 3/8ths ratchet, your short extension, your long extension . . . . "
Good grief!
I told him that I was going to have to come back and get them. Then it began to clatter a racket of hail. The Panera girl was wailing in panic at the thought of her Pontiac Sunbird getting dinged out there in the parking lot. I joined her with my own Chloe Keening of Despair. As I drove back to andrewtf's house in the howling wind and sheets of rain and continual lightning, I could not believe how the roadscape had changed, limbs and leaves and trails of gravel and sand and huge car-grabbing puddles. Picked up the tools, "hey, you could stay here if you want," andrewtf helpfully offers. I said thanks, and drove to Chicago where I collapsed strategically in a closed down mall parking lot at 3:00AM , happy to have avoided horrendous Chicago traffic and ready to sleep sleep sleep until I awoke, unbothered by mall customers who long ago decided never to visit this place ever again.
Elsewhere I have mentioned that I have been unlucky in campsites this Itinerary. Yeah, my campsite here in the closed mall parking lot? It was just across a skimpy chain link fence that was apparently the border to a concrete paving project that commenced with jack hammers at 6:00AM.
Colin