The last couple of weeks has been a Tour Of My Life.
After visiting the family homestead in Virginia, I drove to Connecticut and right past the very spot where I was long ago introduced to the secrets of Womanhood (by another Virginia) for the very first time. That reed of a Japanese maple out front is now a huge sprawling facsimile of a hundred-year-old oak.
Drozdenko needed a little guidance on a sliding door cable adjustment and Ethan (registered here as spin n wheels) had a fresh engine rebuild to break in. After a little futzing with coffee makers and exhaust system and valve adjustment-come-leaky valve covers, we started the engine for the first time. I am all ears for the break-in run. There are a lot of parts getting to know each other for the first time. Well, I heard something amiss. Hoping to keep speculation to a minimum, I would not say what I thought it was. We removed the alternator belt. Seemed better, and it did feel like a damaged bearing when we spun the alternator. Ethan expertly, from many prior practices, replaced the alternator lickity split with drozdenko providing guidance and light: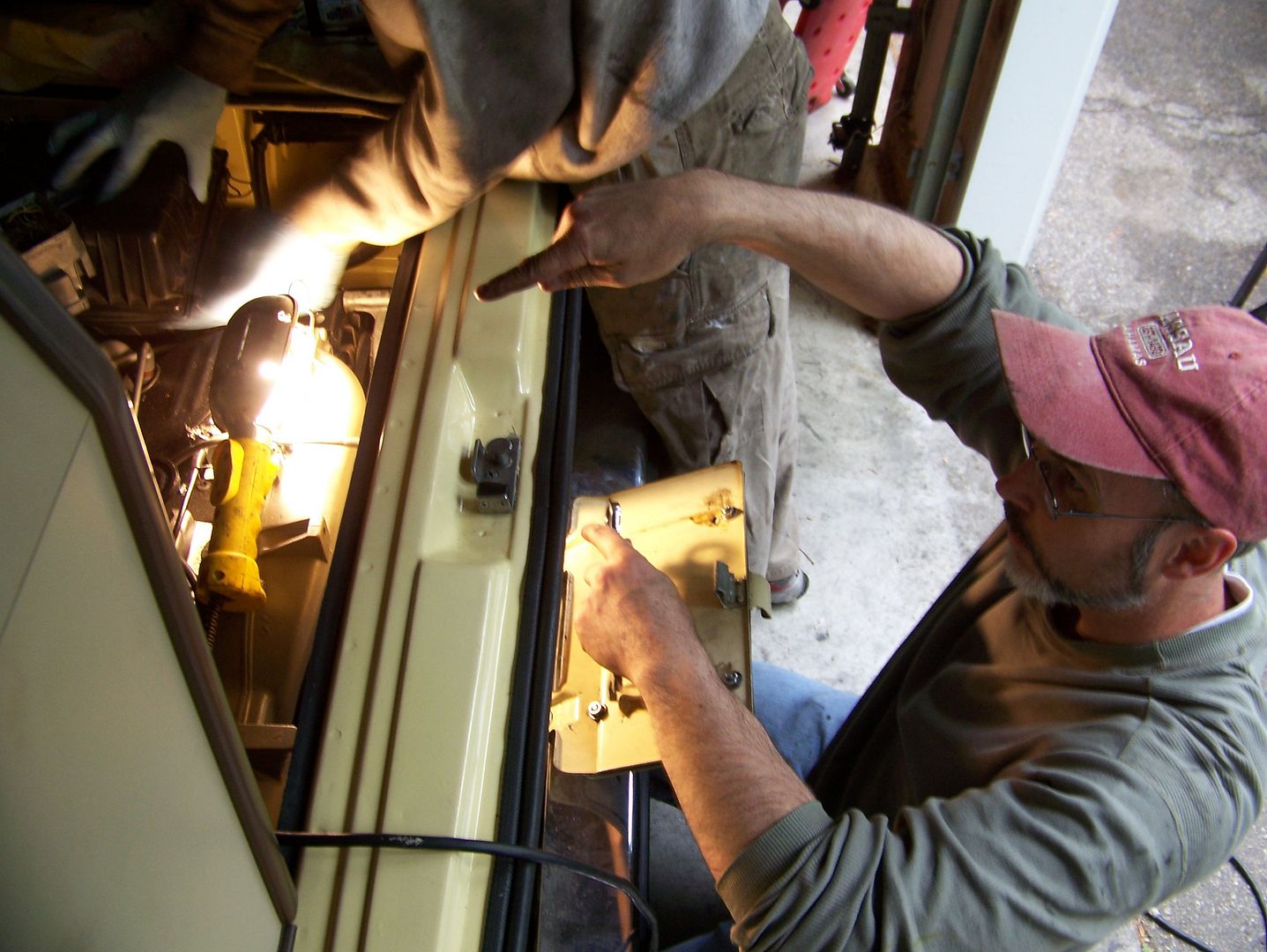 Alas, sounds kept building up, and rapidly. We removed the fan. Nope, still getting noisier. Now I have to guess when we have to shut this show down because we don't want things to break. It becomes a group effort - all hands on deck:
Scurryingly still more yet we get, as the implications sink in that this engine may be very sick. Fan off next: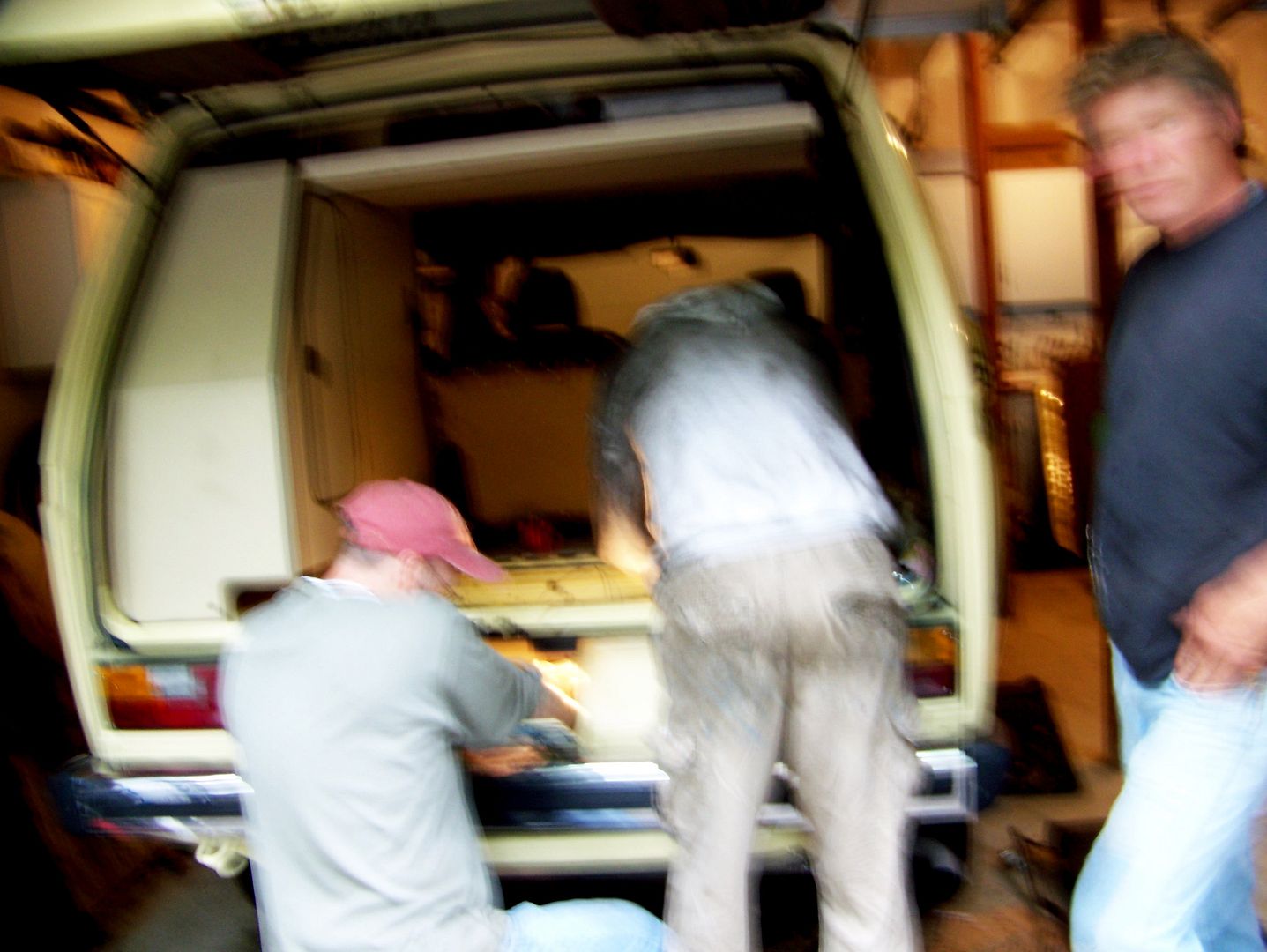 Noise still here. We do not have a loose fan, or a knocking alternator. I got my BF screwdriver down on the starter teeth. Yep. A little movement while the fan hub stays stationary. The flywheel/flex plate is working loose. End play is opening up, it is a shut down.
There is always a knot in my stomach (too many of these recently!) when I have to take people's hard-earned money to tell them, "yep! it's a no." Often the energy level plummets, often the spouse is how do you say . . . "not happy" and I get all chatter-box. But Ethan rallies to the challenge, promises to take the engine out again, and remain gainfully employed, and he manages to remove a broken bolt from the flex plate and crankshaft, get it all back together and I came back in a week ready for us to complete the break-in. Other than some pesky valve cover leaks from distorted valve covers that only get distorted from people using overly aggressive adhesives to stop leaks ... :
... the engine cooperated nicely for the completed victory lap down the street to the cul-de-sac where I wanted to devastate his reputation in the neighborhood with a couple of asphalt donuts, you know, break in the rings
and
enjoy the crisp handling of a Vanagon.
"Hey Ethan, was that you engaging in a display of speed in our neighborhood here?"
"No, ah, no, that wasn't me, not rea..."
"You know we have children playing here and ..."
"I, it, he he was he is my 'mechanic' see, and he ..."
"... don't think I wouldn't call the constable."
"...breaking in the rings, he said we had to."
After a brief, hopefully helpful, carburetor adjustment on his friend's baywindow, I came home here to West Shokan for a visit with people I love and godknowshow they still love me back. It looks like the house is going to be put up for sale, and life goes on and hearts are heavy, but new possibilities loom.
Colin