All the way up the east coast did mosey the brown cow with nary a moo. Nary a moo, but definitely a shudder developing every time I ask this cow to rouse from the slumber of a red light or creep along one of the many many many many slow traffic jams that seem to be getting only worse.
Visited cheesehead in Maryland. That was the first traffic jam on US 1 and I-495/795/295 heck pick a number and stick a 95 on the end of it, I was there. Gladly did I partake of a strong belt of expresso before we headed out to Clementine the Westy to change out the differential side seals: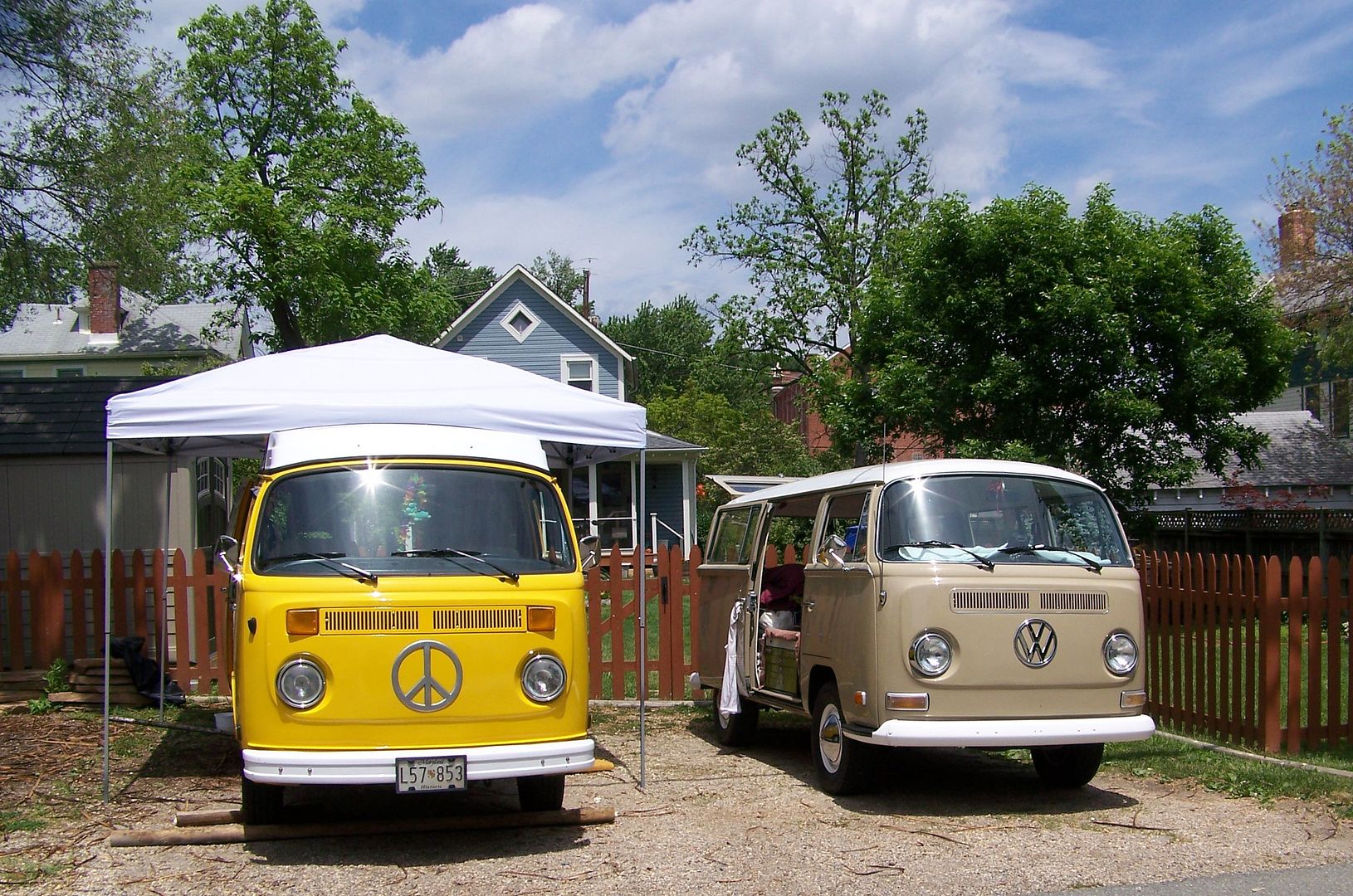 Deep into a recalcitrant extraction that required some vise grip brutality, I remarked upon the splendidly warm and sunny day. "What a splendidly warm and sunny day," I remarked: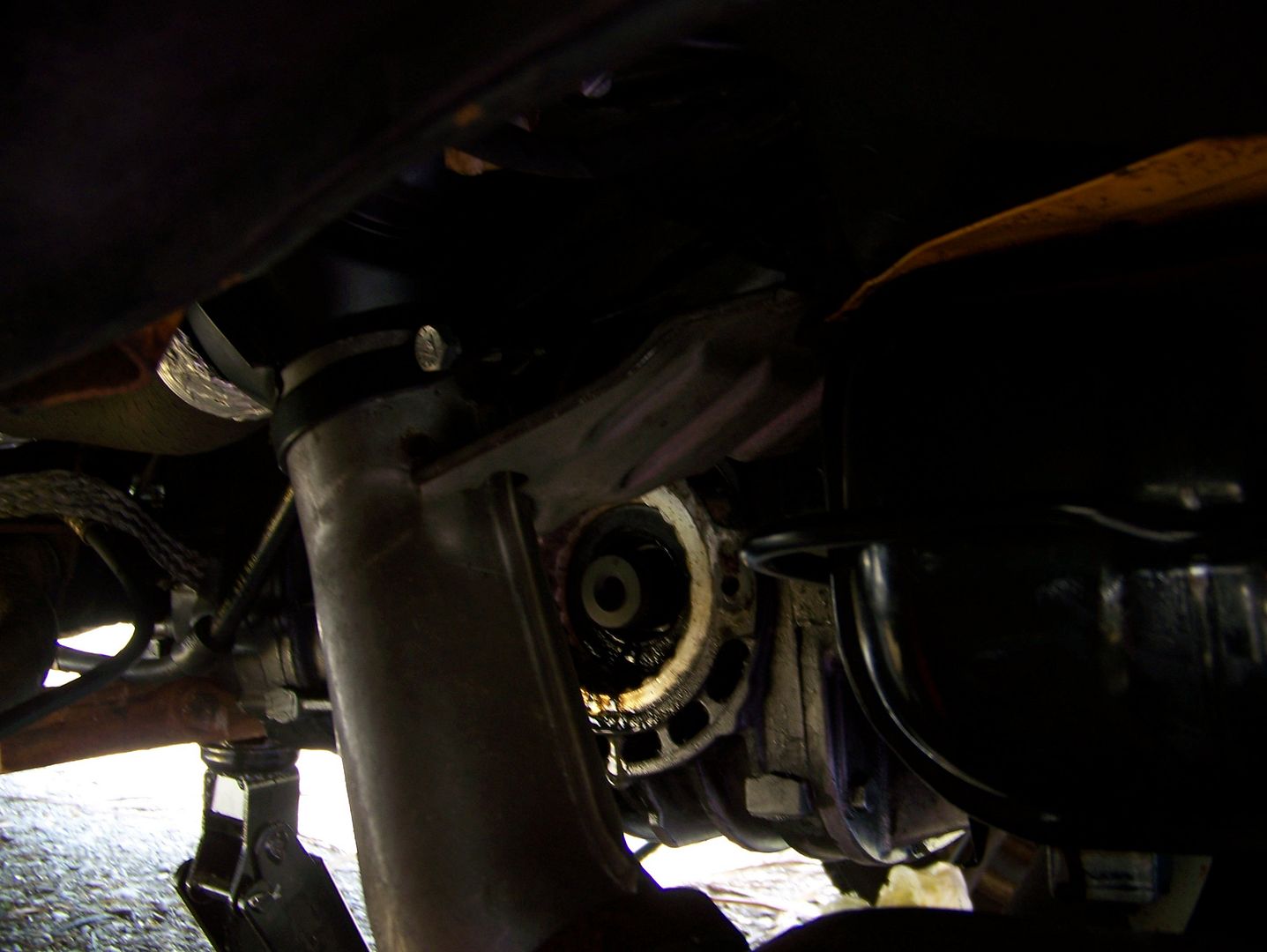 Quite a bit later, we got the weed whacker fired up so the house maid could get to trimming up the borders of the gahdens:
Then We Drank Beer. Some of it even managed to pass down my gullet, though a good portion got blasted all over the patio flooring, because, you see, I get stupid drunk on a quarter of a beer. That thing foamed up like a volcano just because I set it down. We finished off with quesadillas, another lovely visit with one of my long-term Patron Customers. She is almost at a full Ten Visit punches in her Patron Customer Loyalty Card, good for, good for, good for a free um calendar?
Blew outta there, "god, I love this splendidly warm weather!" to get to New Jersey with my Jersey Chloe Cow. Got a phone call within a block. "Hey, your laptop is still here on the patio."
I am going to have to start *relying* on you young 'uns to keep me organized. Get used to it.
One hour into my beautiful warm night drive to New Jersey, the temperatures plummeted,
plummeted
a solid 30* and it began to gustily sprinkle horrible drips of water sideways. The northeast always does this to me, always. "What a god-forsaken horrible day dripping with icicles."
Made it to New Jersey in Garden State Parkway traffic to visit with skip, he is a member here, we had an appointment, look it up. His second appointment, in fact. Man, that was a real exercise in everything. We took his fuel injected Westy for a test drive and it got rough and resistant and finally would not even start. Had to do some heavy brain work on that dicey fuel injection harness all the while enjoying a superb discussion about GOD and JESUS and the FUTURE OF MANKIND and I love that stuff. So we are yelling back and forth from the driver's seat to the engine compartment.
"Let's have the ignition only, just the lights."
"Ignition on, is that the fuel pump?"
"Yeah, hang on a minute. So why did God make Jesus suffer to the edge of his faith?"
"What, you want the ignition OFF?"
"No, I said, 'WHY DID GOD LET JESUS SUFFER SO MUCH ON THE CROSS?"
"Oh, ignition is on, I think He had to test us through Jesus' suffering."
"OK, try the ignition now, I think He needed to know our experience of our bodily appetites and Jesus was going to tell him that it is actually tougher than He thinks."
"The fuel pump is not running now. Consciousness takes work. It is an actual spiritual exertion"
"Are the idiot lights on? . . . IDIOT. As in idiot lights, oil and alternator lights?"
"Yes."
"We're good then."
"We're good?"
"The AFM is good, we're Fallen. Hey, do you know the definition of sin?"
Then the Mormon missionary college girls showed up.
"I am so glad you showed up. I have so many questions for you."
Way late, we got the bus running and did a little victory dance around the neighborhood cleaning off the spark plugs as best we could before some stupid stop sign ruined the fun, oh, and the traffic. Got any photographs, skip? I don't. I was too panic-stricken at my dwindling diagnostics.
Next morning, I braved more Garden State Parkway and Wasatch Avenue potholes to pay a call to our ol' appetite's 1969 green westy of window installation fame just one short year ago.
Today's visit was a stock muffler installation, something I have been looking forward to for many years. Seemed like a whole day was a lot of time to do a simple muffler installation. How wrong I was: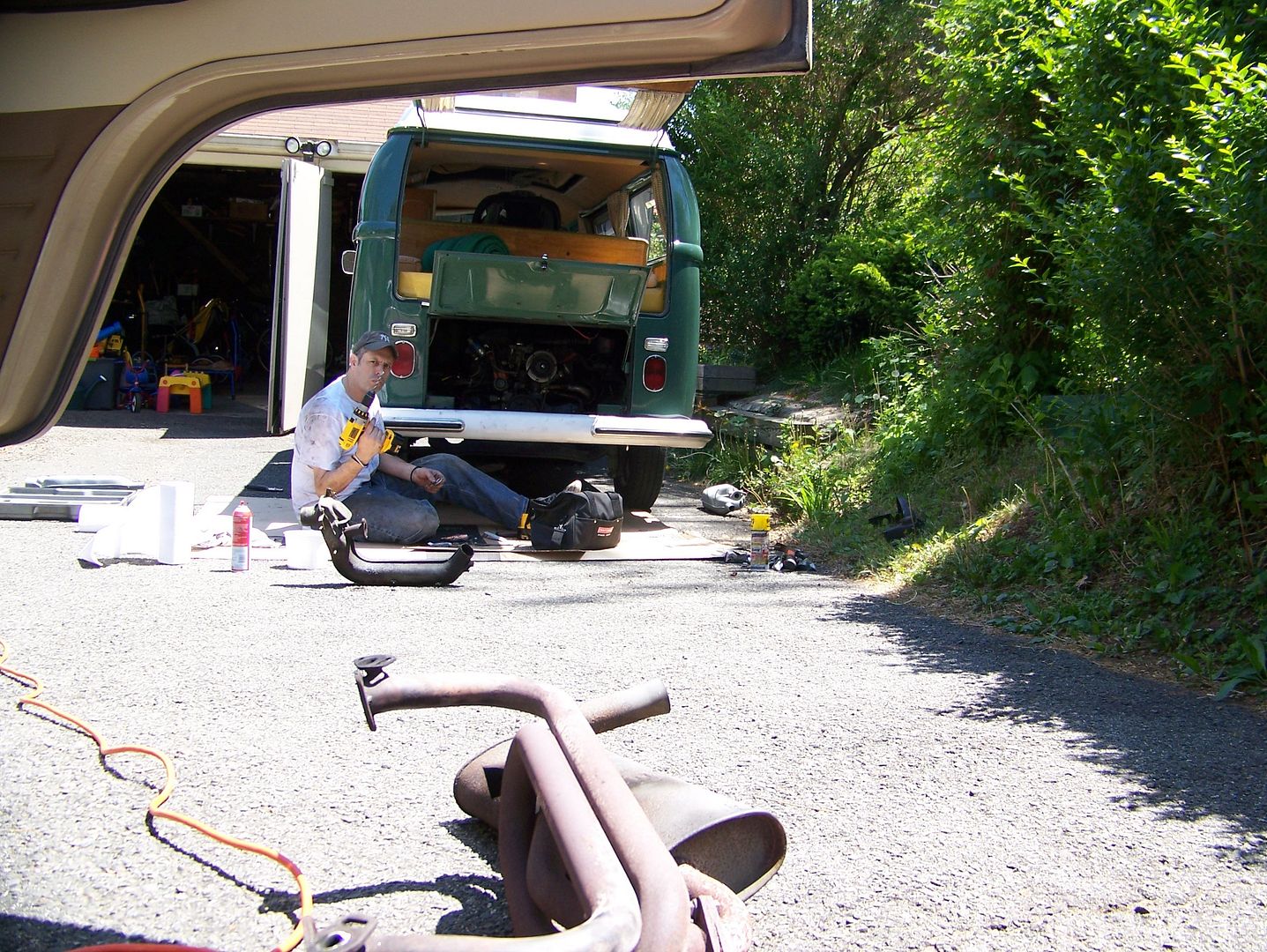 This thing was pretty well rusted on. We had exhaust studs coming out, nuts with rounded corners that needed to be chiseled off in tight quarters, and we had to tap and die everything back to some semblance of cooperation. Both heat exchangers were replaced as well. This Dansk-Derivative muffler (what was its name, James?) was painted all shiny to dazzle you away from its horrendous fitment issues:
The rear exchangers on the #2 and #4 exhaust pipes were so terribly mis-aligned with the exchangers that we had to hack up a DIET COKE can and use it as a sleeve under the collars. Eventually, everything managed to get attached to the car, even the truncated splitty tailpipe that our *@!% vendors insist on sending out for the '68-'71 buses NONONO. James, get a correct tailpipe for 1968-1971 Transporters:
Part # 211251237B and *inform your supplier*!!!! And enjoy that utterly charming kid of yours!!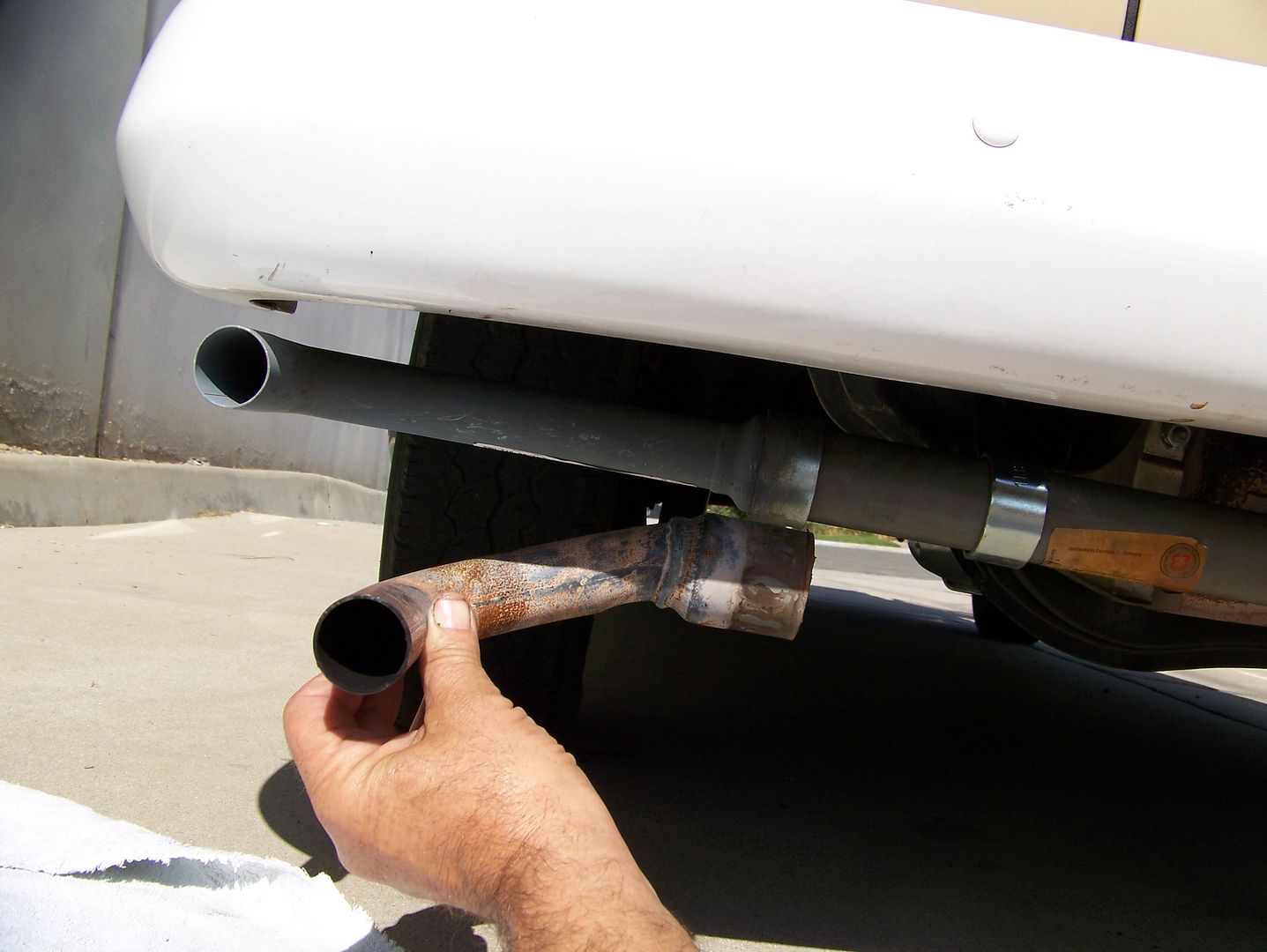 Our delightfully quiet and carefully-installed exhaust system with the truncated curb-snatcher tailpipe: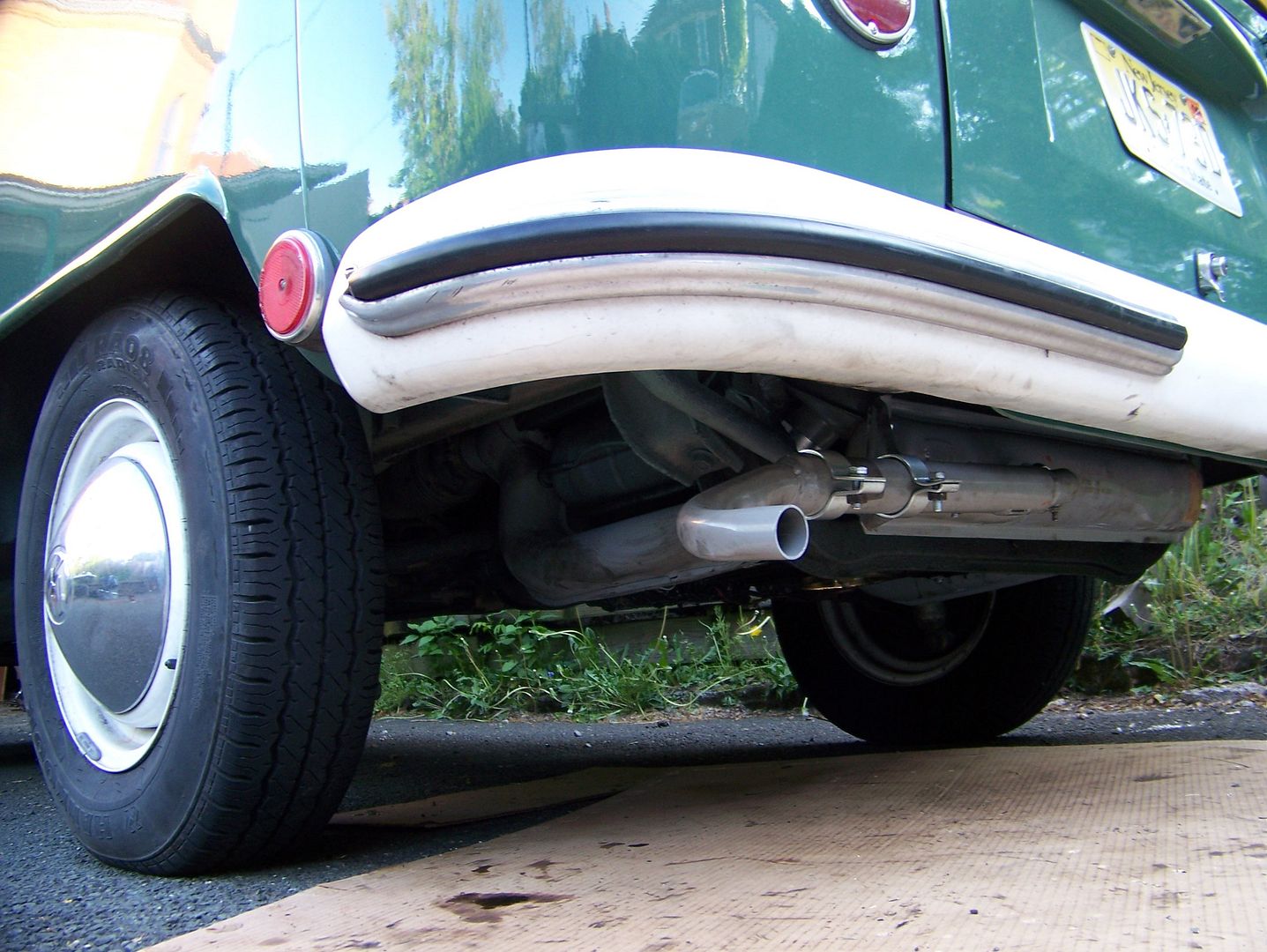 Yeah, so our "delightfully quiet and carefully-installed exhaust system" allowed us to hear all number of hitherto-hidden noises, like a loose left cylinder head. Ayeeee.
Folks, appetite can do this, appetite shall do this, appetite must:
*remove rockers, torque lower head nuts, re-install rockers, adjust valves! Easy!
Then we all can pray that we caught it in time.
If they still should happen to make that exhaust leakish blapping noise only when cold, well, we will do a visit again where that engine is coming OUT.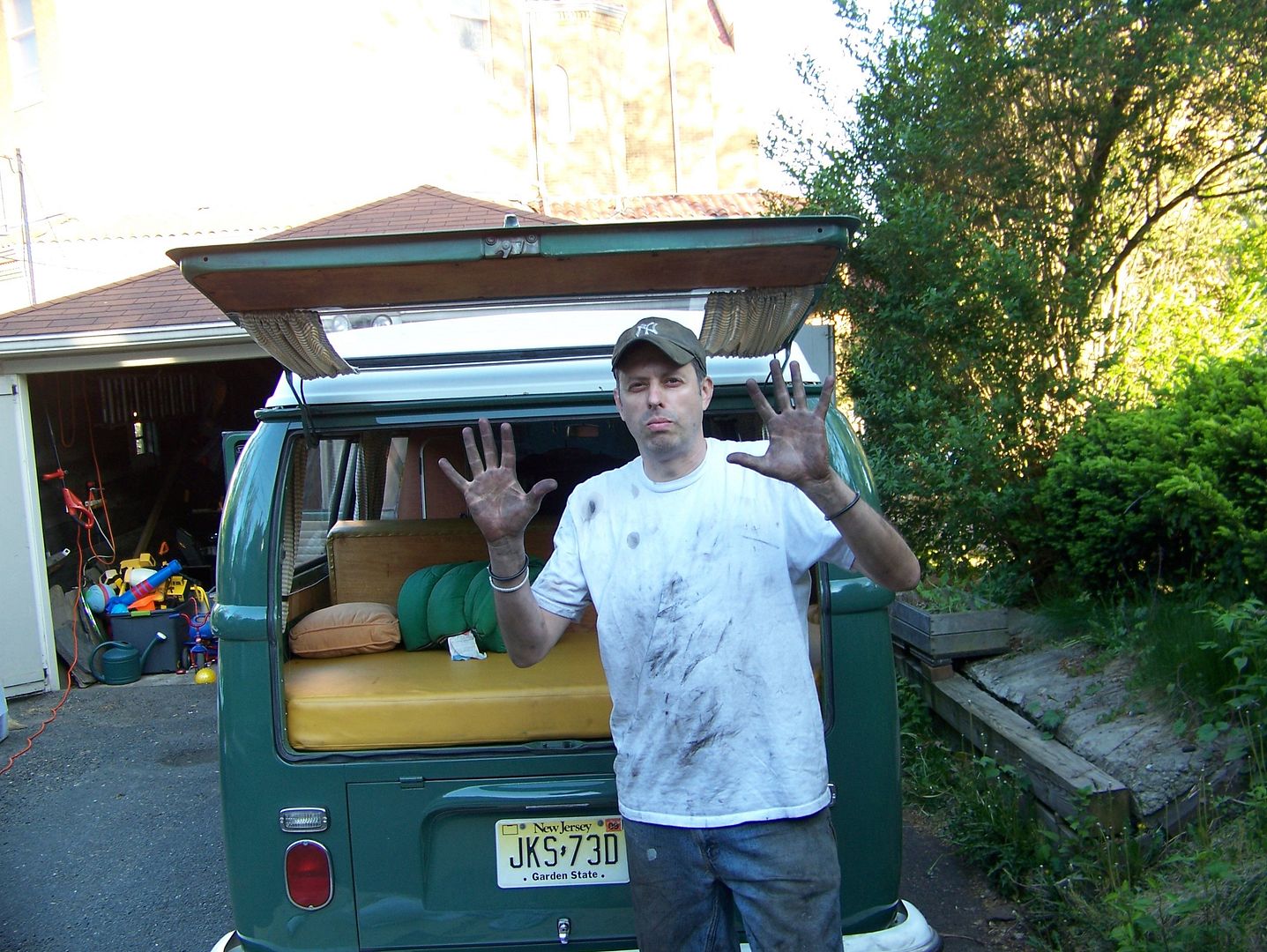 I got to meet boxcar finally, next morning at Panera parking lot in Paramus. The singular creative misuser of grammar n'syntax has a damn fine bus:
We futzed a bit with the passenger door hinge then drove gently around the parking lot, then I hammered the kickdown and it just kicked it down and scrammed. Very nice. Smooth. Peppy. Grammar be damned, this guy has crossed his "t"s and dotted his "i"s. He took Chloe for a genteel 1600 cow-walk around the parking the parking lot and then I gulped down Panera coffee because, really, if you look at my schedule, I have been wearing myself right down right quick. See what cinnamon rolls do to stomach rolls?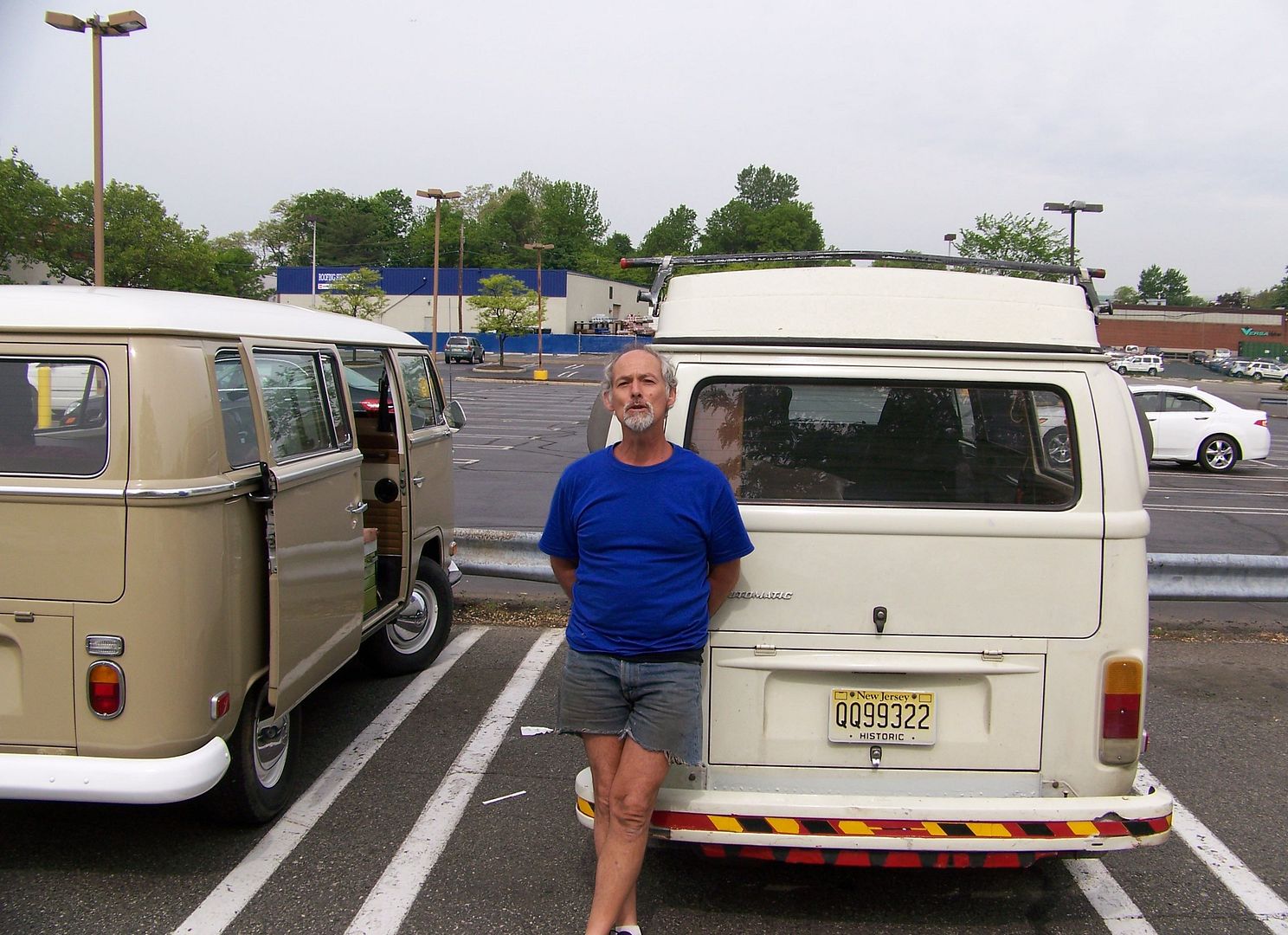 I then had to drive straight to Danbury CT in more clutch-chattering traffic to visit with Jonathan! my old buddy from long ago Skycrest, then up to Marlborough CT where I shall pick up in another post . . .
Colin