Well good grief.
NOW
the 2014 Itinerary is done, December 28th. The first appointment ever where my travel consisted of a quick walk from the back door to the front porch.
I had just finished a soggy round trip to Atlanta GA for Christmas. Chloe's newly butyl-caulked windshield and passenger compartment vent windows managed to fend off a 5" precipitation event with just one drop from the sliding door vent window latch area. (Oh and the passenger floor area was wet not because of the windows but because I had not caulked the wheel-well-piercing rivets that hold the trim strips below the partition panels, uhhhhhhhh duh).
In Atlanta, I committed a crime against history. You have not seen such enraged dancing in incredulous self-loathing. I had just cleaned and re-sealed the right reverse light lens. It had droplets on the inside of the glass, a so-not-allowed slip of vehicular health and hygiene. Cleaned and sealed it against this relentless rain. Looked "sparkly".
I coulda woulda shoulda left the left side alone, it was merely
dusty
inside, but oh I just had to clean it, didn't I? I TOLD MYSELF (damn if I didn't, you MORON) I told myself,
"don't wash this lens over pavement, if it drops, it will shatter! it is priceless original 45 year-old Hella glass! not some cheap-ass opaque plastic."
Yeah, so my left hand went totally spastic stupid and dropped the priceless Hella reverse light glass and it shattered on the pavement. (told ya, STUPID, oh but you don't LISTEN to ME, shut-up, we're on a public forum here, NO I WON'T, yes, you better,
YOU ALWAYS TELL ME TO SHUT UP
,
because you NEED TO
,
can I just tell the story?
FINE! I DON'T CARE,
SPAAZZY
)
A witness might have concluded that I was getting electrocuted or shot by hundreds of rounds of invisible bullets, so overcome by violent self-hatred was I. A shard of priceless original 45 year-old Hella glass stuck in my sneaker and stabbed my foot.
"Yes, yes, yes, I am with you on that one, please, let me slit my throat with another shard, simultaneously, I must not blight this Earth with such a slipperied clumsiness, with such a thick and pathetic display of rapidly deteriorating loss of coordination, I must not profane Creation with such obvious evidence of the grotesque accidents of devastated protoplasmic misfires a second longer."
After the furies subsided, I cut a piece of plastic shrink-wrap from Wolfsburg West (the plastic that they use to entomb the spring plate bushings), and made a new lens. Doesn't look too horrible here: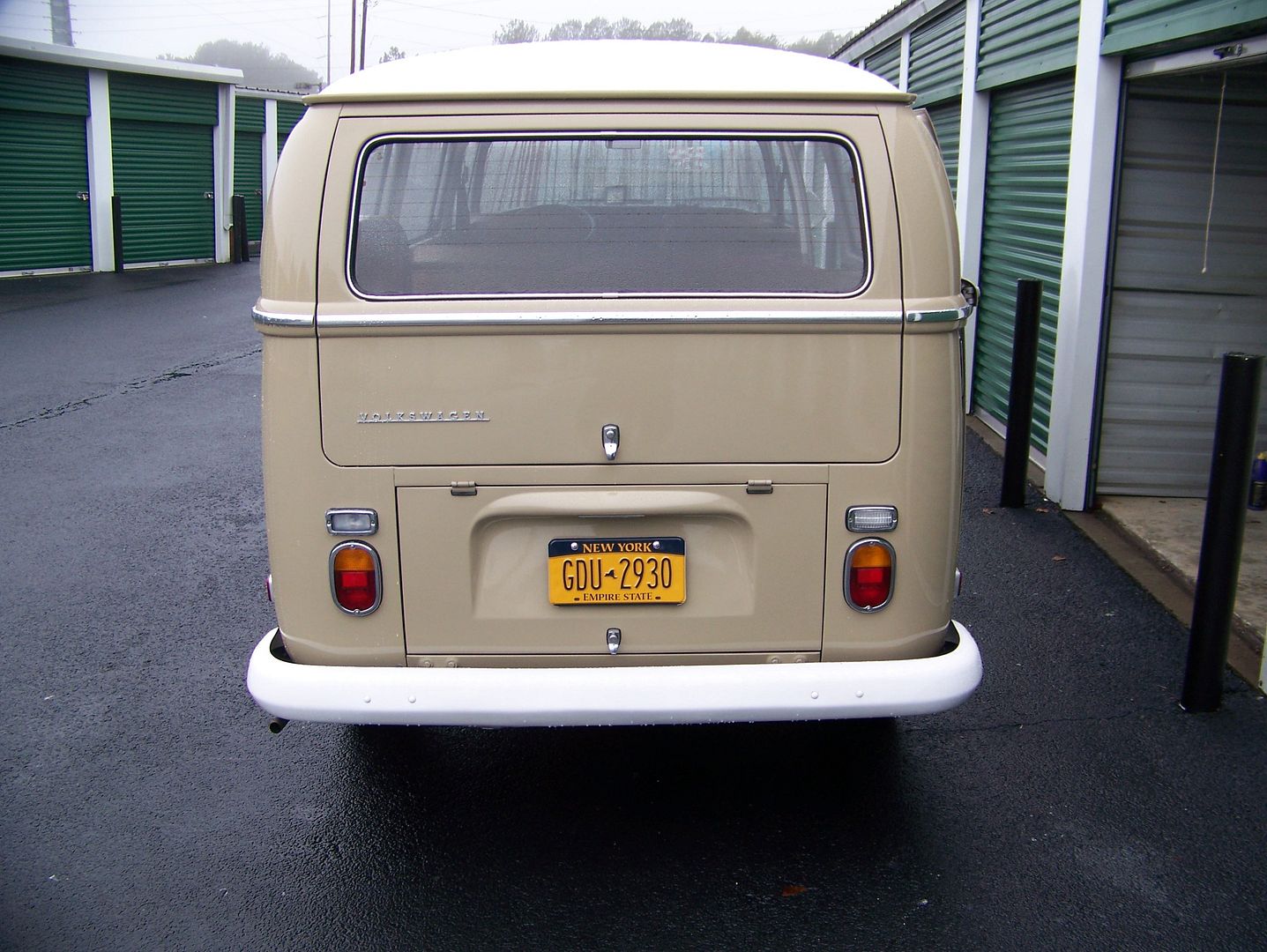 But it looks like a gouged out eyeball here. Perusing the classifieds as we type:
Arrived in Pensacola at dusk after a solid day of rainy rainy rainy interstate eighteen-wheeler tire spray and secondary road hi-lift pick-up truck plowing through lousy drainage road lakes inducing sheets of splatting water to smack the windshield and grab the steering wheel. At maximum rainage, the generator light came on. Found a bank drive-through window in Flomaton AL, and pulled out my trusty can of PoptopTom Commemorative Non-Flammable "You Can Spray Into An Operating Motor And It Won't Explode" Electrical Contact Cleaner, and gave that generator a rainy day baptism replete with a God Is Warning You Lightening Display.
Pulled into the driveway at dusk and spied Pearl-The-Bus, a 1969 white westy on a one-way sojourn westbound, that had apparently expired within a 100 mile tow radius of the Law Firm here in Pensacola. We drove out to breakfast in Chloe to wait out some morning showers, then got back to P.T.B. to see what was up. A jump start was called-for: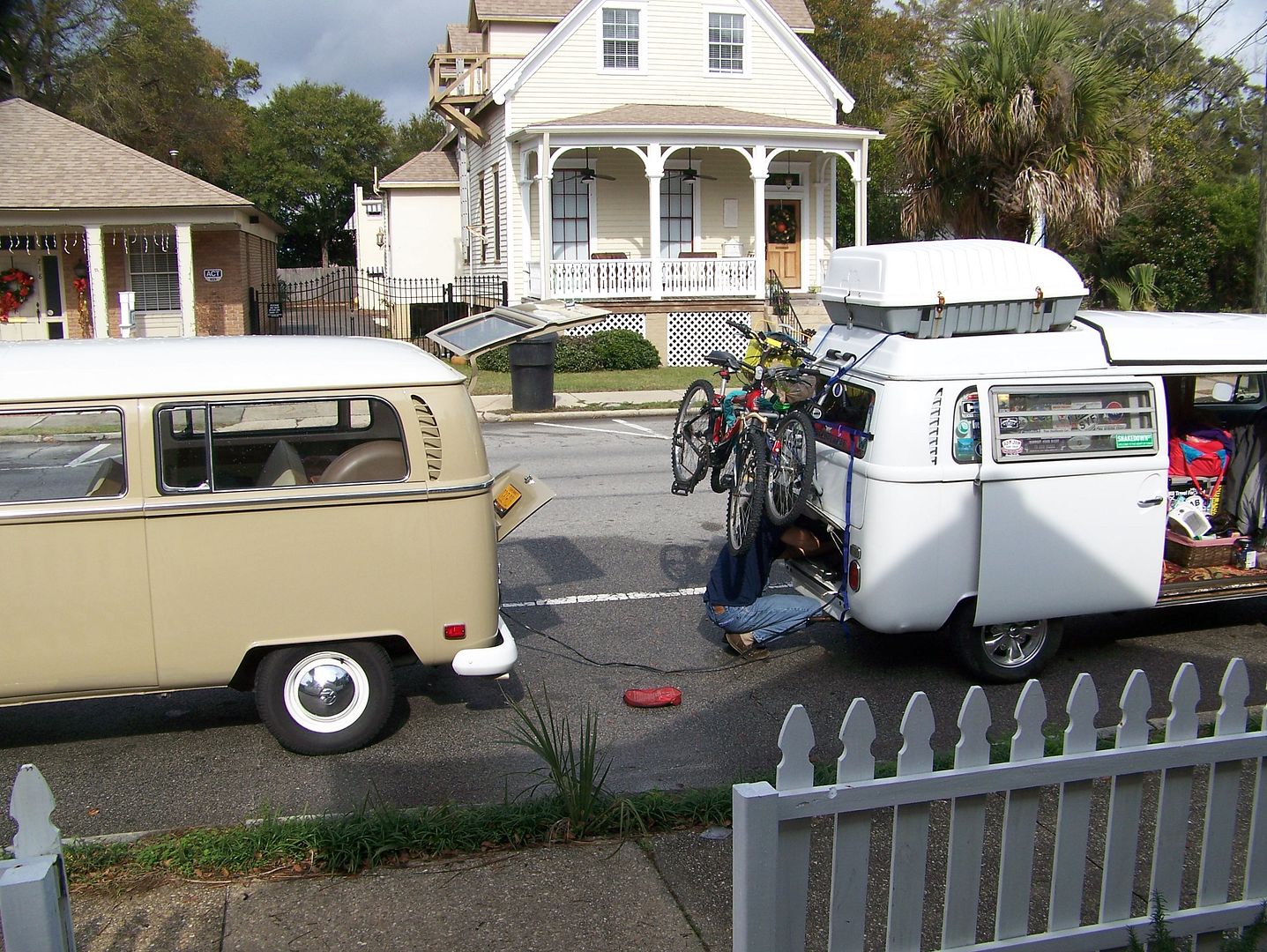 . . . as was a new coil: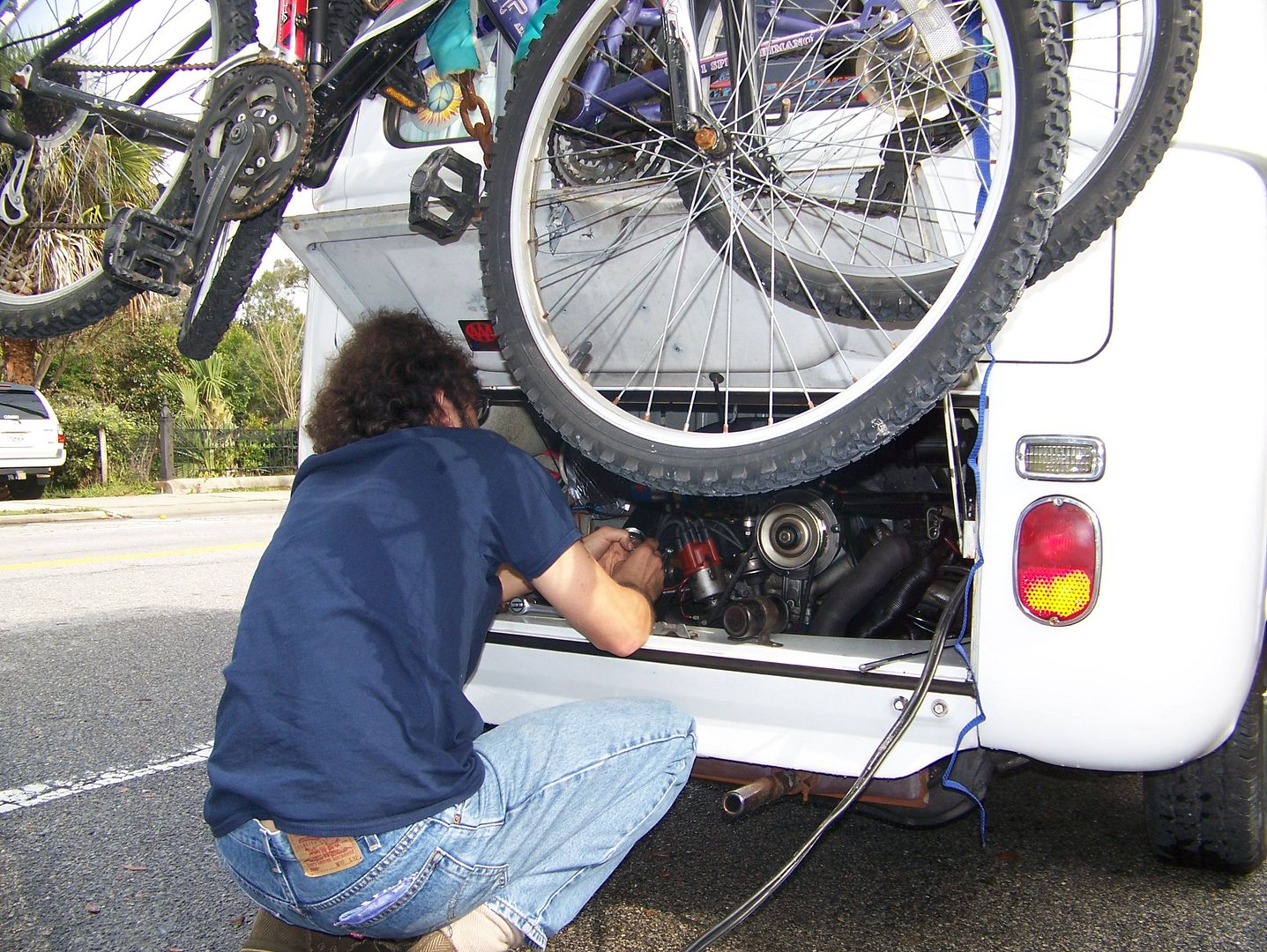 . . . as was the day's main activity, Vanquish The Exhaust Leak. We pulled the muffler to get to what looked like a potentially broken exhaust stud on #4. I had to go the local AutoZone to replenish my depleted exhaust flange gasket stock (Fel-Pro has reached an all together excitingly new low in Lower Quality Still). I had visions of rusted broken stud ends causing the drill bit to veer, of drill bits snapping, of drilling holes going askance, I AM the shatterer of all that is good. Returned and was relieved to find that the reason we did not have an exhaust nut on #4 was because the stud had just left the premises, just unthreaded itself and left a bunch of perfectly fine threads in the cylinder head. Whew number one.
Later, as we battled the heat exchanger-to-muffler clamps [ battled, I tell ya, we had to unbolt the engine from the vehicle and loosen the mustache bar-to-engine bolts so we could move that unwieldy mess away from the precious little exchanger-to-muffler clamp halves and those dainty 10mm nuts and bolts that we had to finagle and finesse together ( I, of oafish glass shattering fame ) ], when I spied a serious little oil drip developing on the approach pad to the Law Firm's Garage. That would be the stripped out bolt in the drain plate? Yeah, that one, the little bolt that could have dropped out and discretely drained the oil out on the road. I had visions of drilling and tapping for some new huge stud'n'nut and magnesium shards shredding his engine bearings, I had visions of aluminum foil confetti stuck to blobs of Lanval Commemorative Victor Reinz Vanagon Cylinder Head Sealing Compound glopped to the original bolt half-heartedly stuffed back up in the hole (I can't FIND a decent replacement we have to reuse yours!) , I had visions of sleepless nights. A longer bolt saved the day. That was whew number two.
Clutch adjustment, gearshift stop plate symposeum, water leak discussion / investigation, a brief check-but-no-adjustment-required of Jivermo's Miami timing, and a quick little carb adjustment, and our time was done used up, and I had to send these brave souls, Keith and Jessica, sojourning out into the night, into an as-yet undefined new chapter of their Life Adventure.
Colin[/quote]