Went up Hells Canyon or something like that, on my way to Missoula MT from Boise ID. Gorgeous soft rumpled brown siamese-cat-fur-looking hills in the evening smoke-palled light, as the BobD's alternator yowled like one. Saw a pretty little road near the top with a view I cannot describe, the moonlight was just beginning to take on the set sun's remaining glow, and the hills, with the smoke pall, were all soft soft soft.
A little dirt path to my left dropped down severely alongside the road and curved out into the grasses. Perfect, thinks I. Halfway down, I recognize two things in quick succession. One, the path is rocky and throwing the car way too violently for 5 mph. Two, the hill is steeper than I thought. Three, I have nowhere to turn around (four, my math is off).
Tried to back up. Ah no. We are getting trapped way too easily between boulders, and the clutch is not happy. Shut it down. Noted that the right tires were four inches from the drop-off edge. Took a moonlit stagger through the brambles to see if there was any sort of turn around possibility. Nope. See photo. In the night it looked worse. I tried to move that boulder in the middle: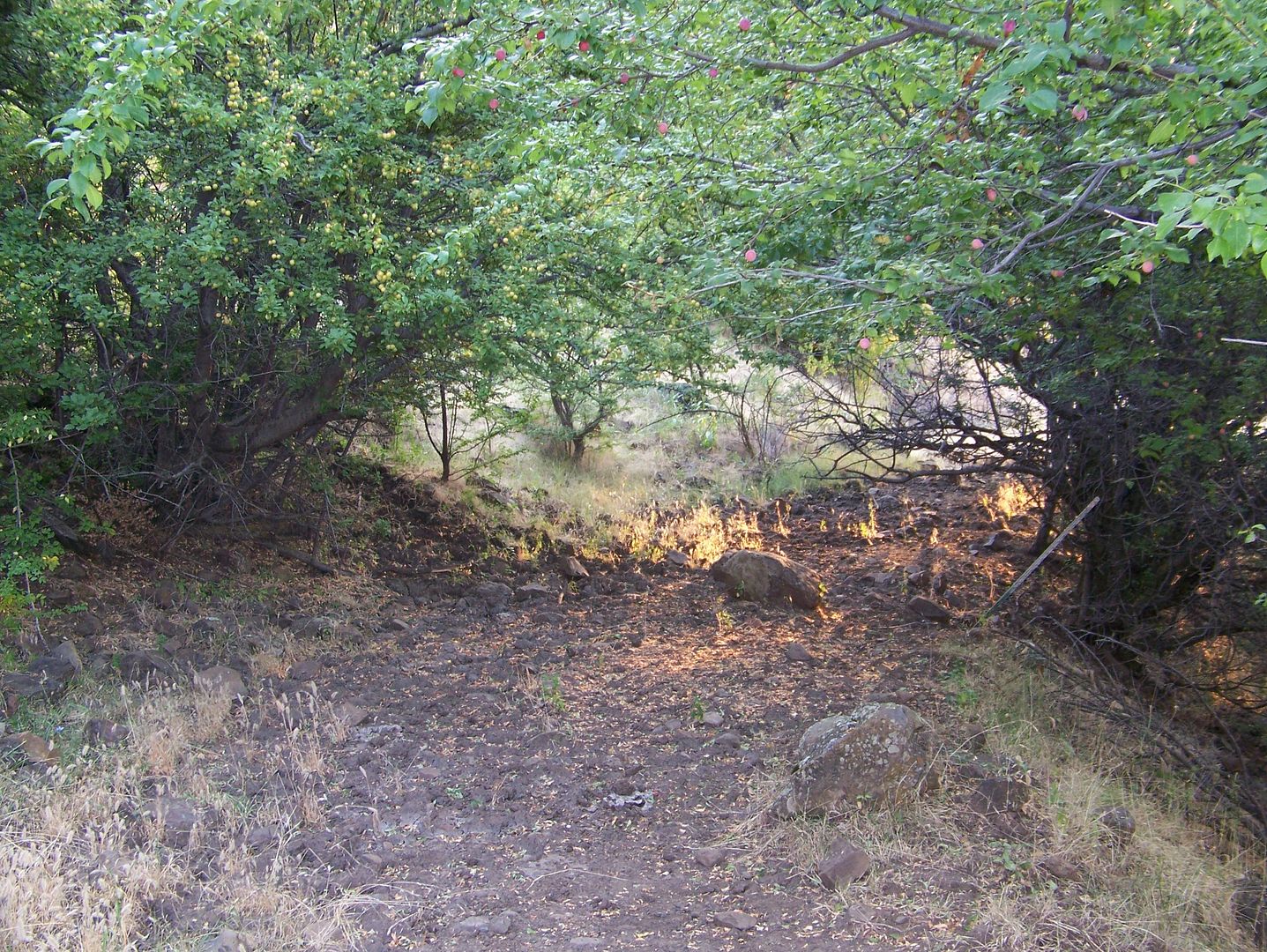 Got tripped by these stupid rocks, what is with these rocks? They were all freshly sharp, crisply cut, wth? Hoped that they did not rain down from above just willy-nilly every time a car passed. That would bash the BobD in a whole new way, and my guilt is already pegged as it is. It was so gorgeous, though. Hells Canyon is a mighty natural sight. That Snake River has cut a deeper gorge than even the Grand Canyon.
Slept pretty well with the sliding door latched open, bathed in smoky moonlight and warm breezes, crammed against the middle passenger footwells due to the slope, wondering about the morrow's clutch-killing tire-eating blind back up. Woke up: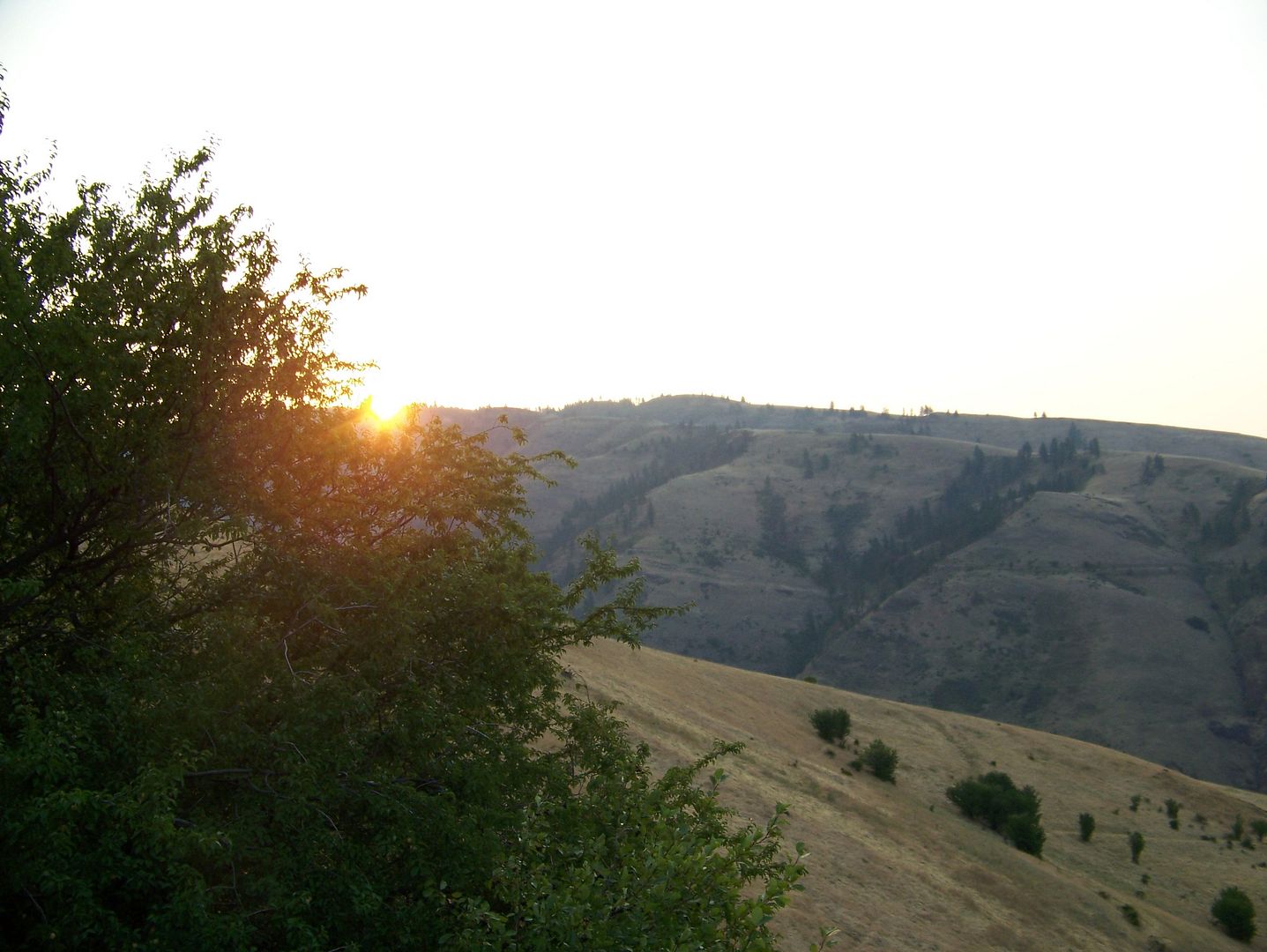 You can't see the steep drop-off right out the sliding door. Good thing I didn't need a break in the middle of the night YAAAAAA
AAAA
AAA
: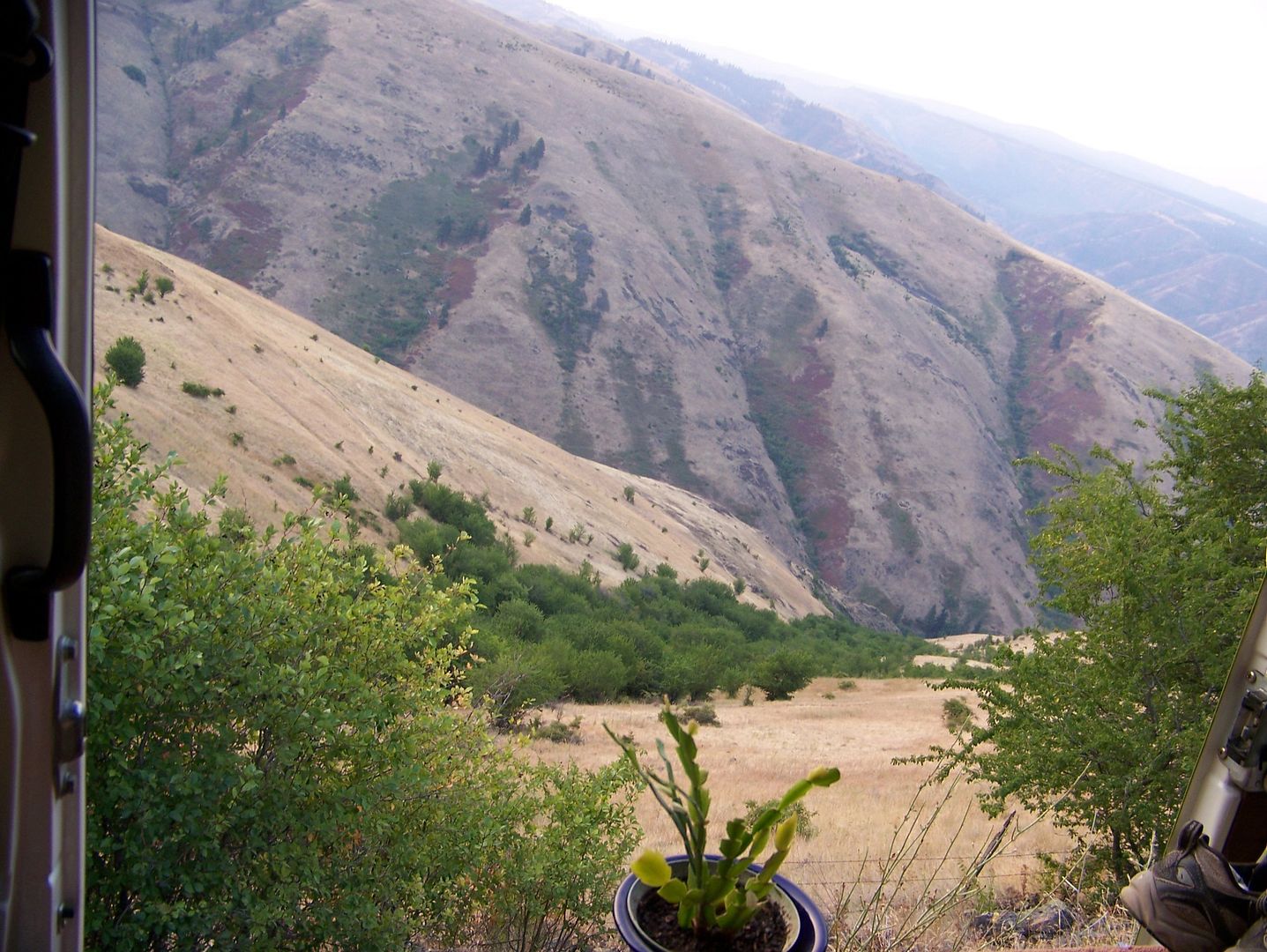 This is the distance I did manage to back up until the clutch and I agreed that the rocks were too big: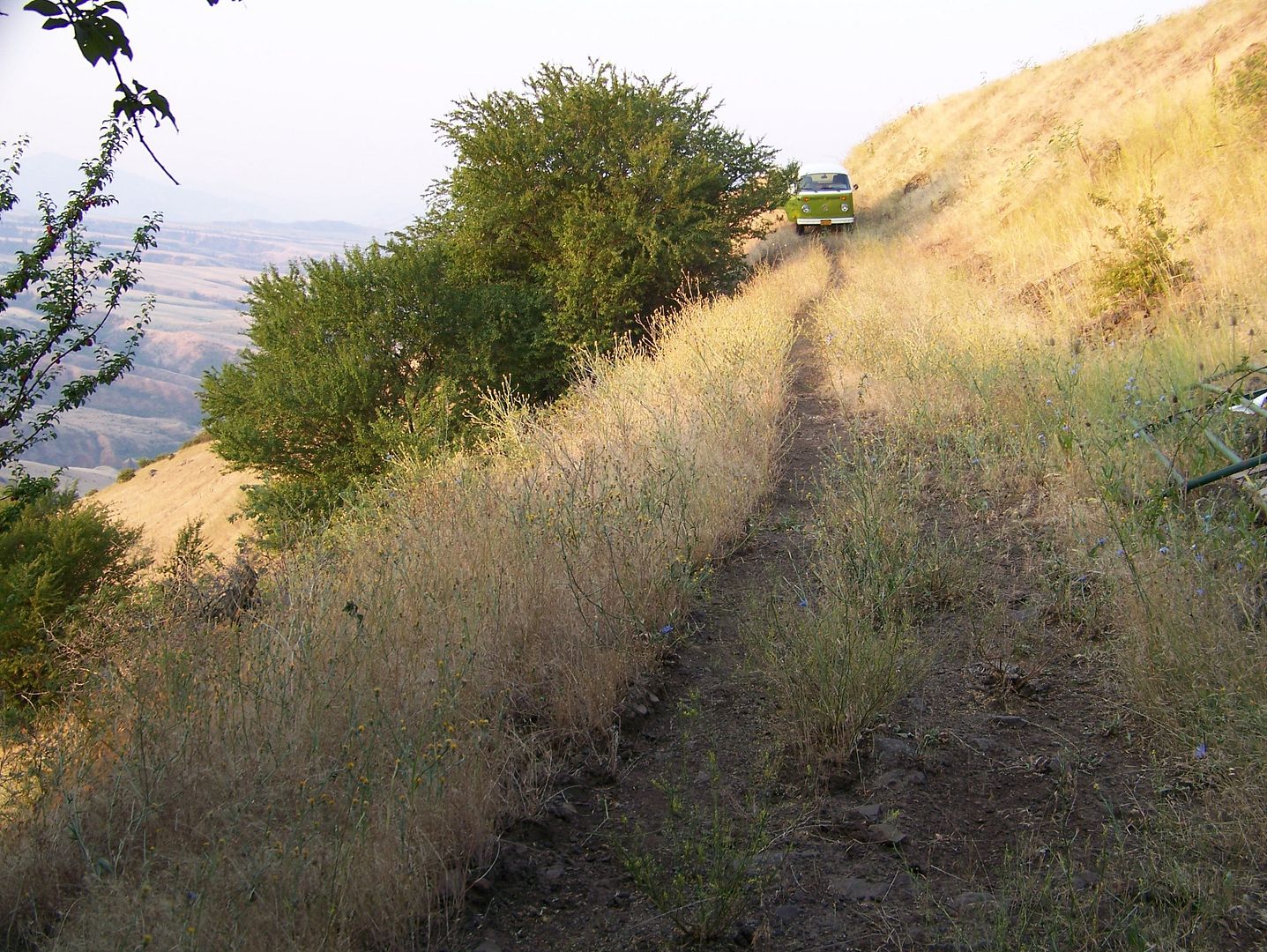 Millions of these stupid things hiding in the grass . . . :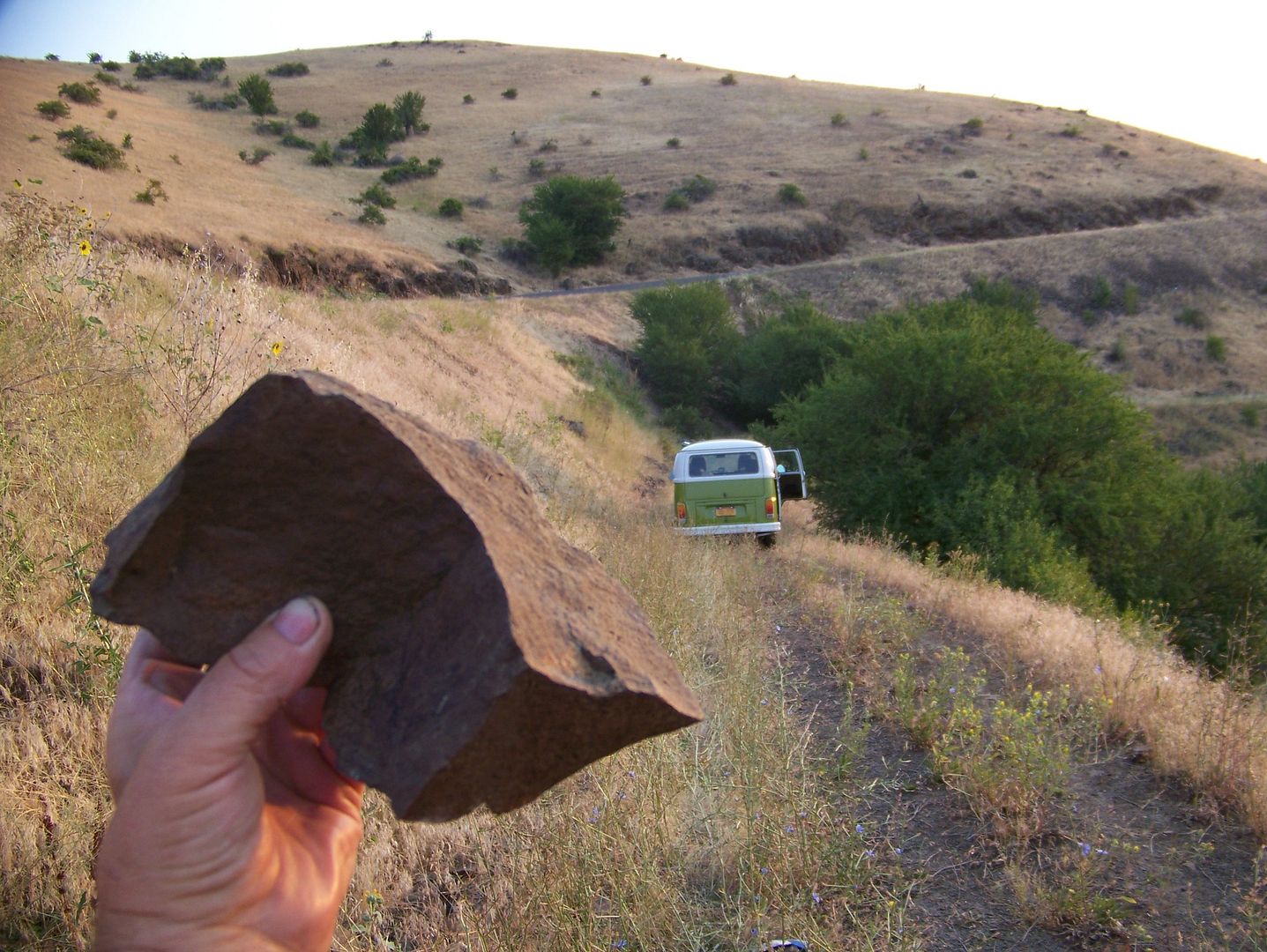 . . . . and I de-rocked the entire path back up to the main road: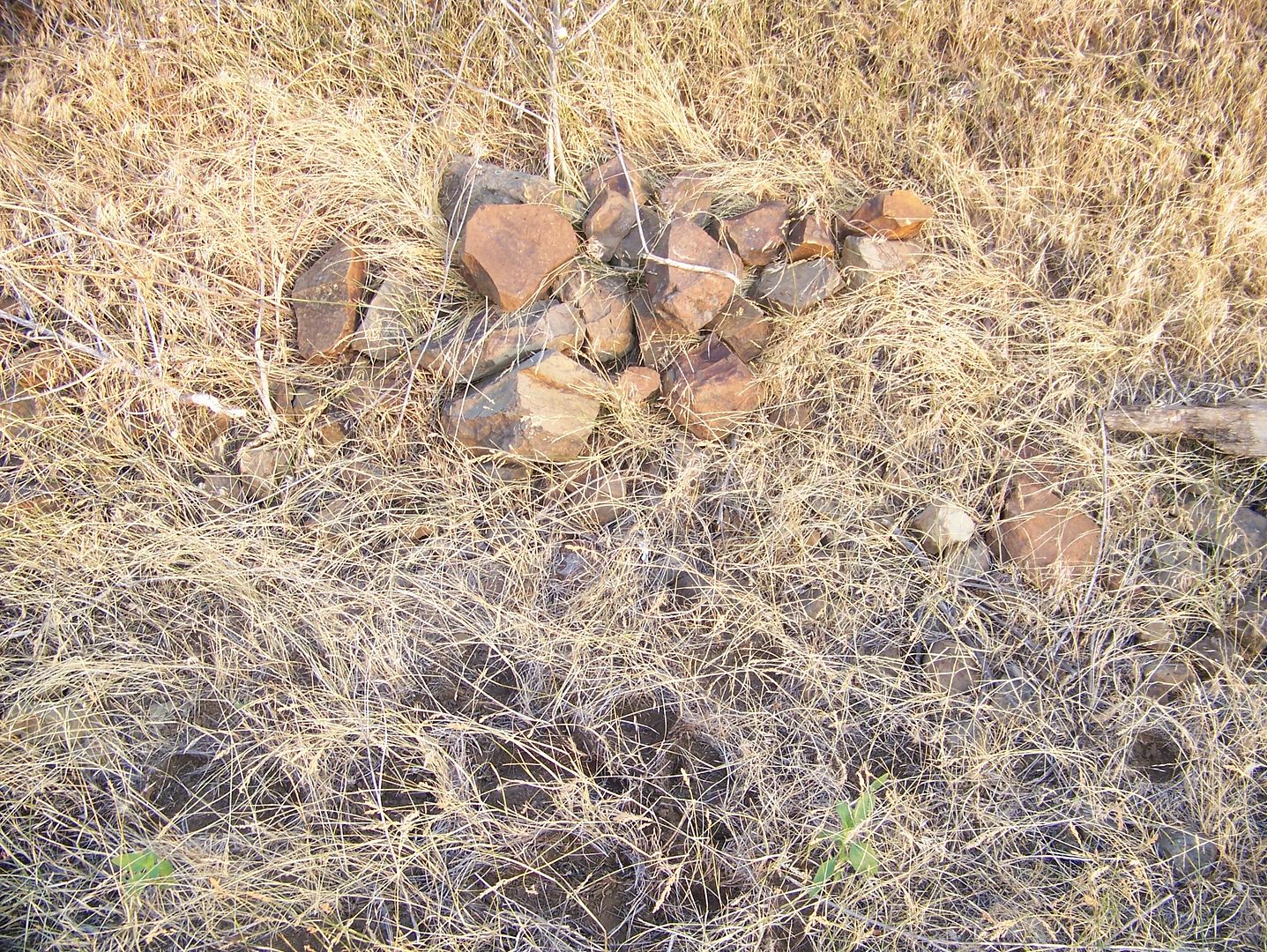 . . . with a good 50% failure rate as they just slid back down. I had a pretty fair stone wall by the time I was done, but the path was a whole lot more negotiable:
The clutch had enough to worry about backing up this hill: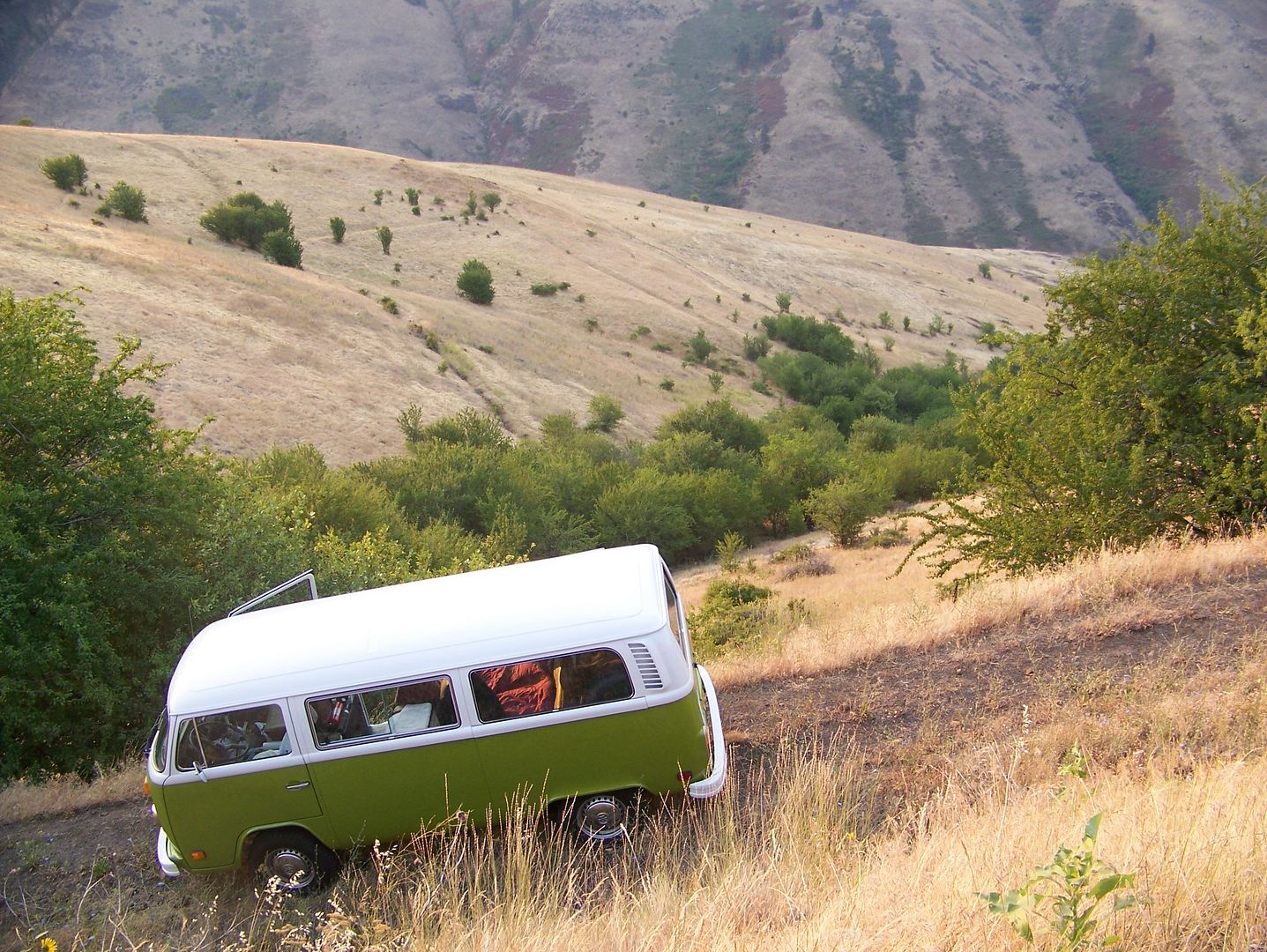 The beauty of the surroundings was at odds with my new career.
"So, what do you do professionally?"
"Rock road, rock hill, rock road, rock hill, rock fall, rock hill again."
"Ohh, that sounds fascinating."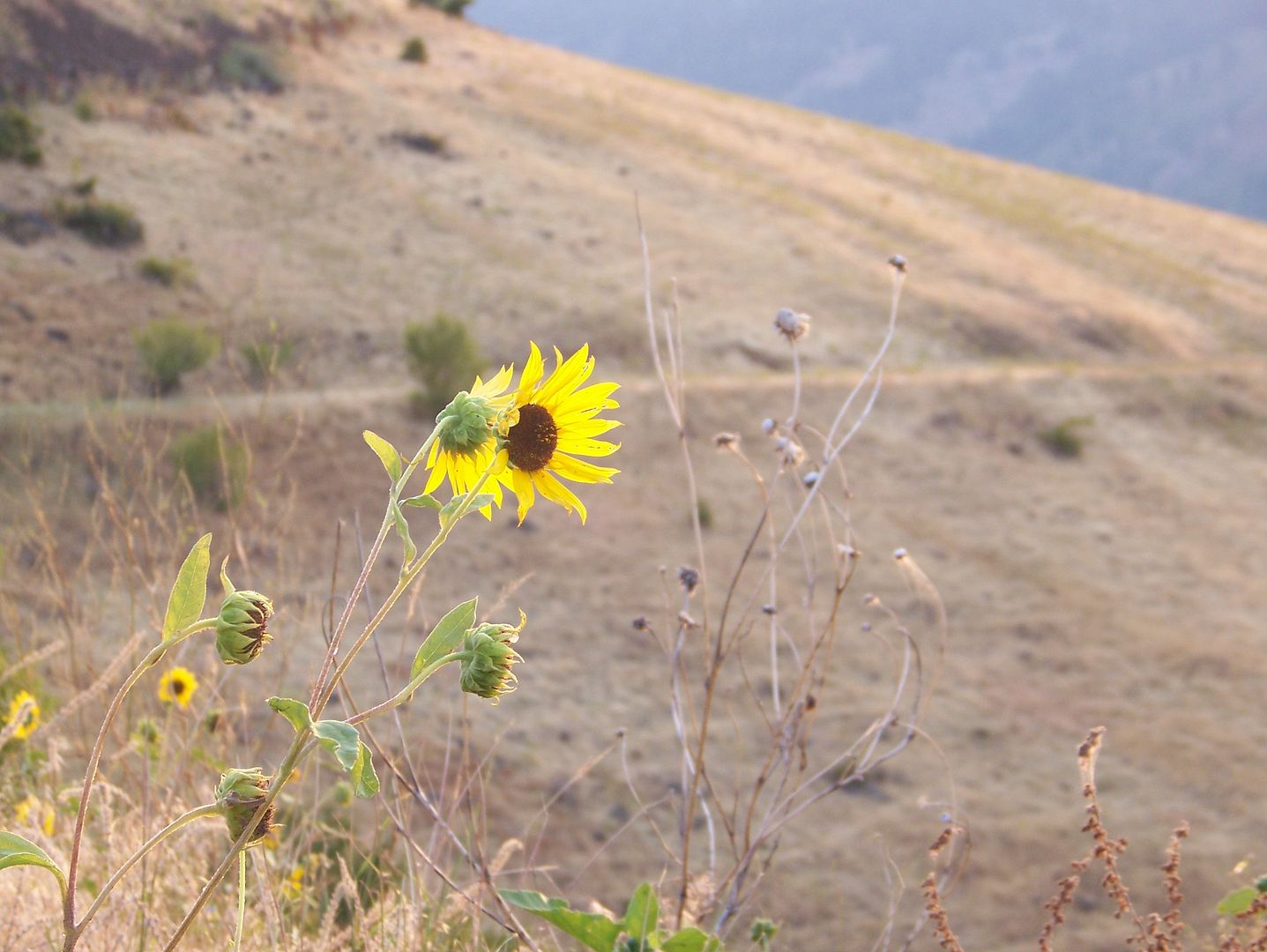 Three of my observers were, I am sure, wondering if the clutch might get damaged from this slow negotiation creep backwards up the hill: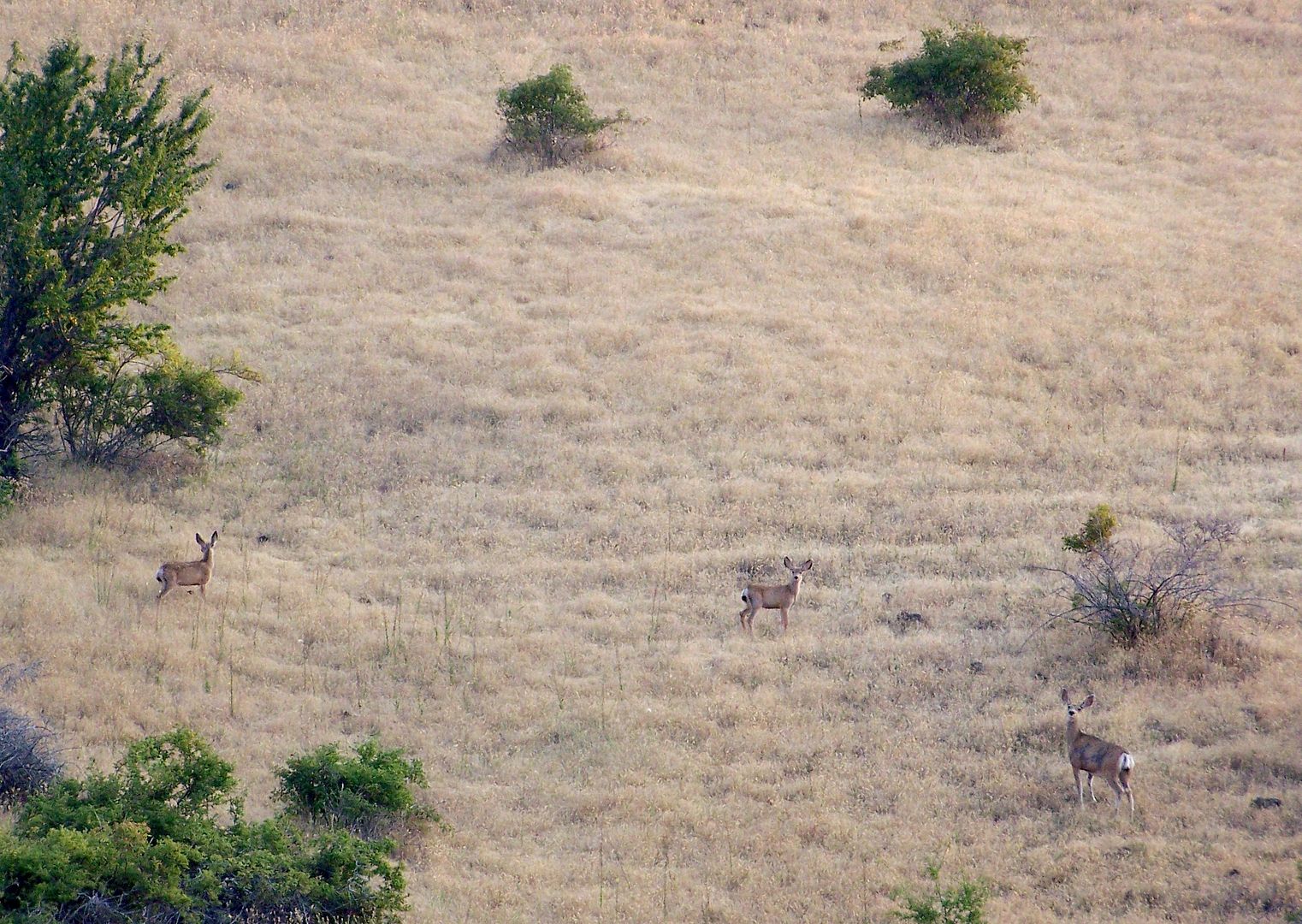 The BobD with its yowling alternator (bearing? electrical sound? don't know) was appreciative of the newly smoothed path, however, and backed up just fine, to this view which the camera once again missed: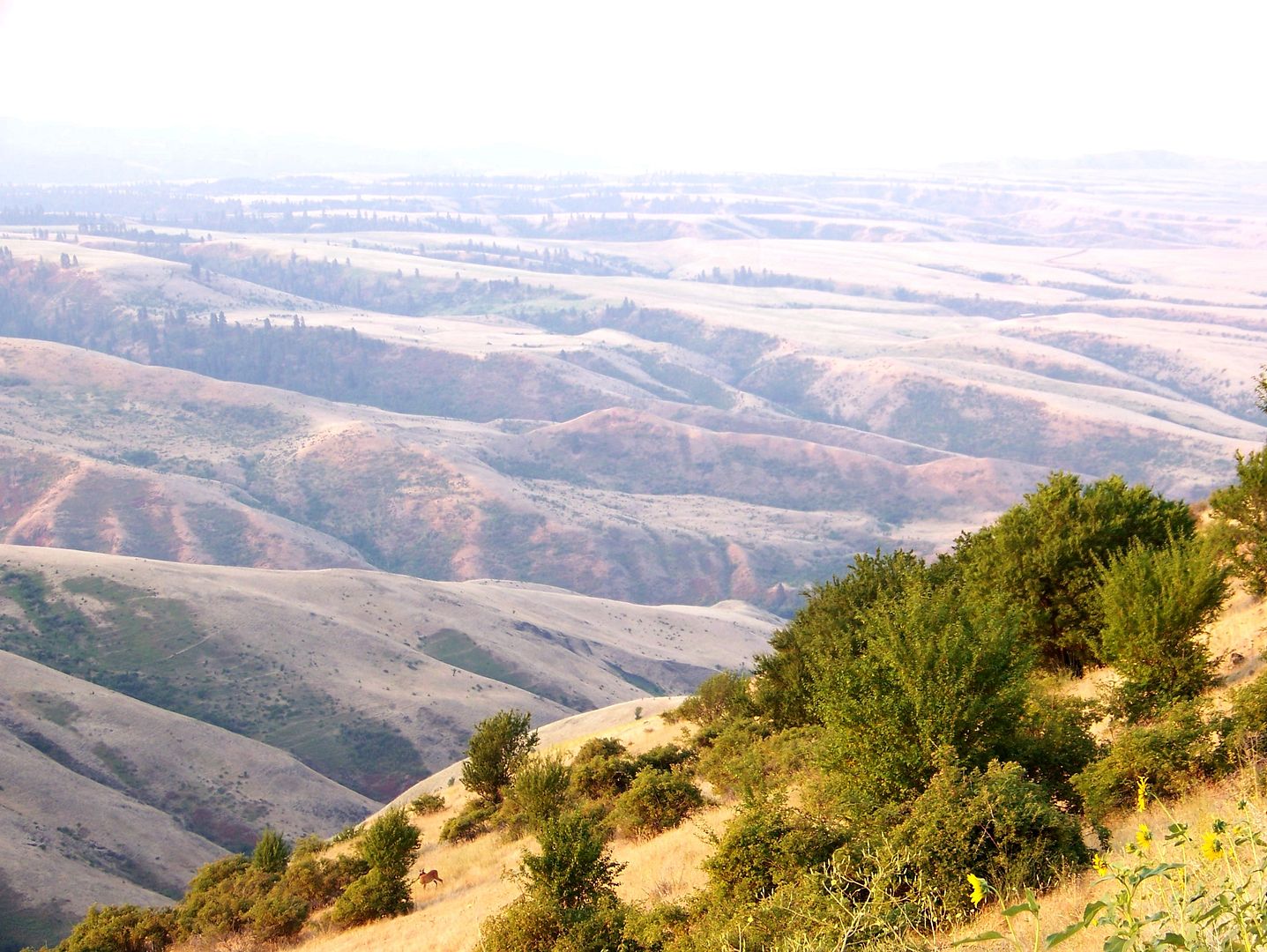 (to be cont. must get to WORK)