. . . already.
Many many many times, I have driven across the country. When I was young, it was some point of pride to do it as quickly as possible. I come from Contempt For The Heartland stock. I used to brag it up how I drove from Sandy Hook Connecticut to Shamrock Texas in 26 hours or something, then straight to LA in another 24.
I am very glad to no longer need to do that, to rush past the day. Yet, even in a relatively lackadaisical VW bus, seeing that Welcome To California sign hits me with that old sense of here already? accomplishment. I have traversed this great country once again, the engine is singing (thumping like hell in the heat, try) back there, and has been for not for days but weeks on end. I am glad to know much more about this country now than when I was a twenty-something blasting in a BMW.
Woke up here on a crisp 60* morning outside of Sedona.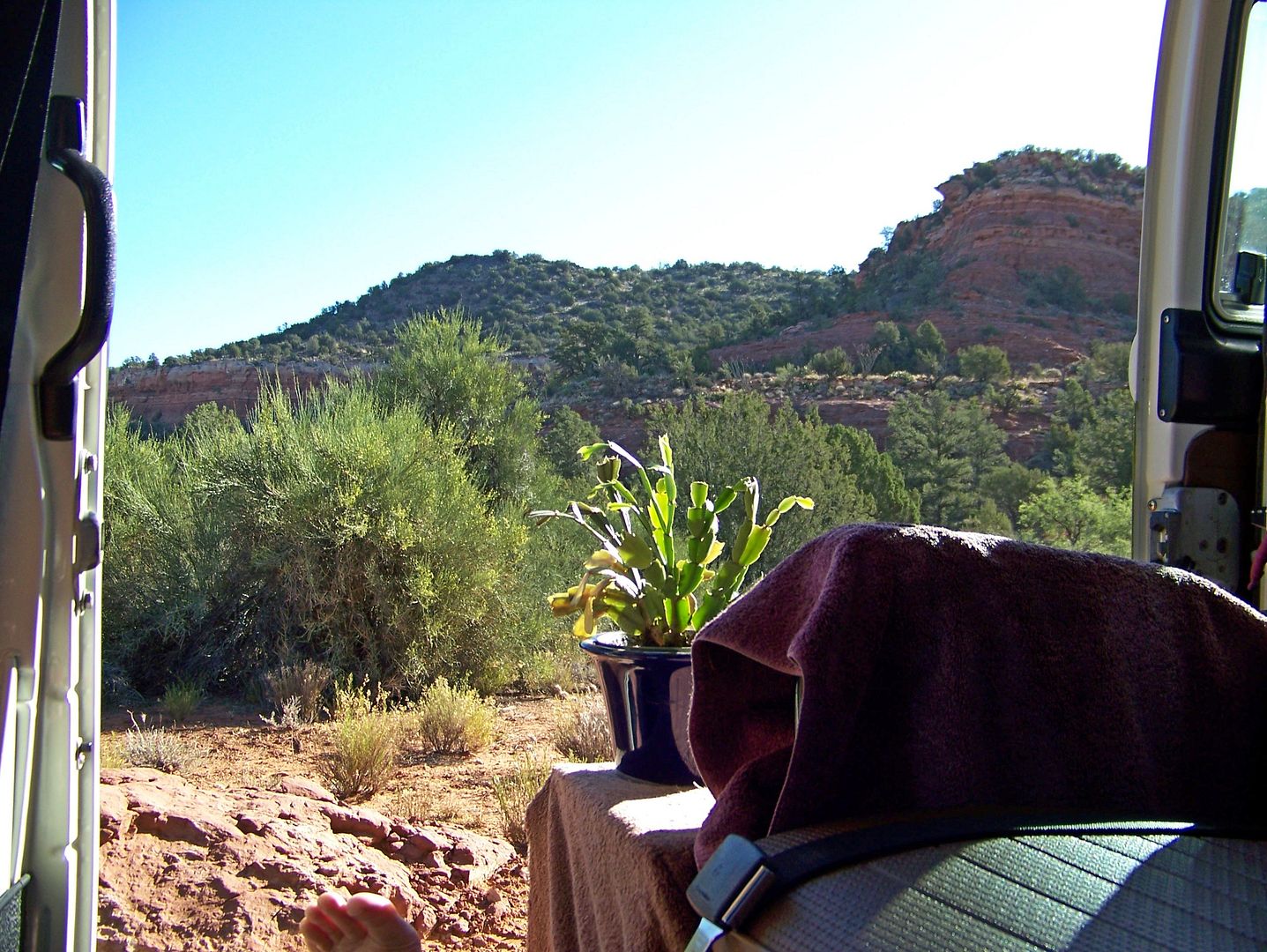 This was a late night suspension-exercising back-it-up-until-it felt-level parking job:
Only a bay window VW bus can give us such a remarkable display of suspension articulation:
Cactus had a family reunion with some prickly relatives:
I got in a morning shave without tourists from Queens NY this time:
I knew that this beautiful crisp morning was gonna change but quick. I was only 125 miles from Phoenix, and they were calling for 108*. What is the preparatory chore when you are about to descend into the frying pan from the howling haboob of two days prior? Optimize cooling, that's what:
Came down 89A through Jerome AZ. "Down" is a misnomer. It was actually a down from Flagstaff mountains to a valley then up up up to Jerome and up up up past Jerome. Here is the view from Jerome's Town Hall, where employees trudged into work seemingly oblivious to this amazing perch on the side of the mountain:
The poor BobD really got a thrashing with 4,500 rpm shifts from 2nd to 3rd back to 2nd up to 3rd: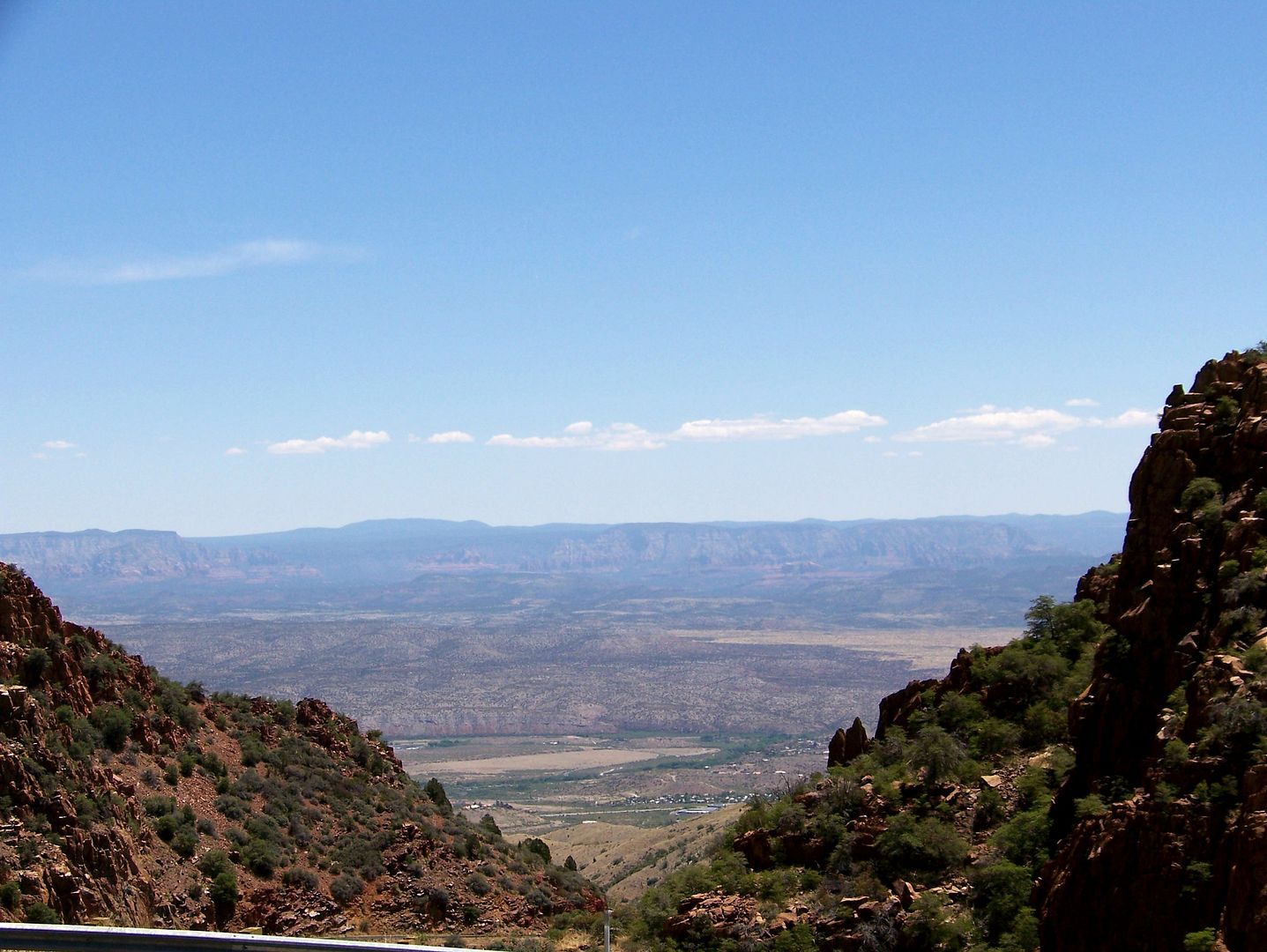 See how far down the valley the last picture was?
We took a breather at the pass: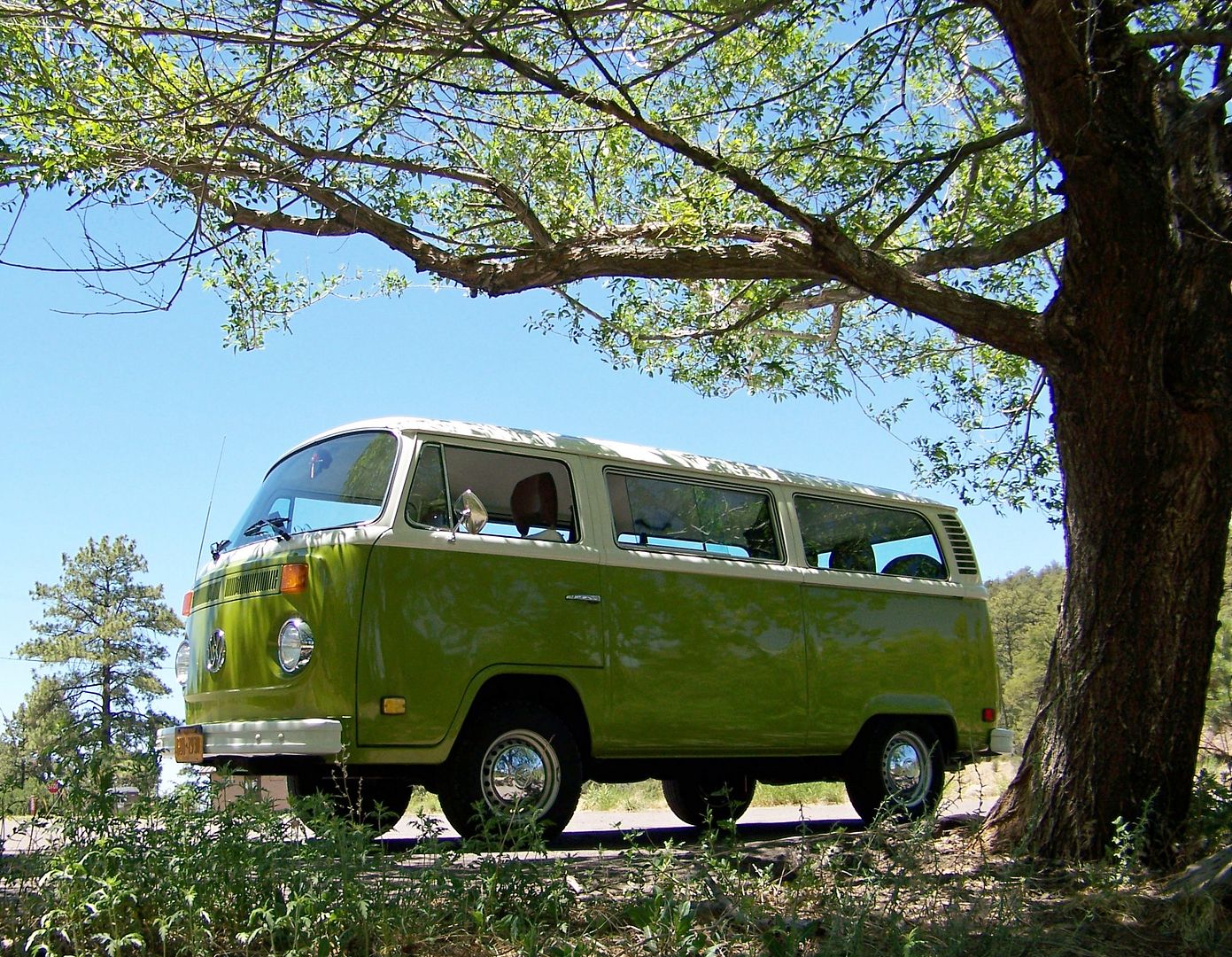 This was the "into the frying pan descent", you have to try it, it is unseemly to ratchet from 75* to 100* in a matter of minutes: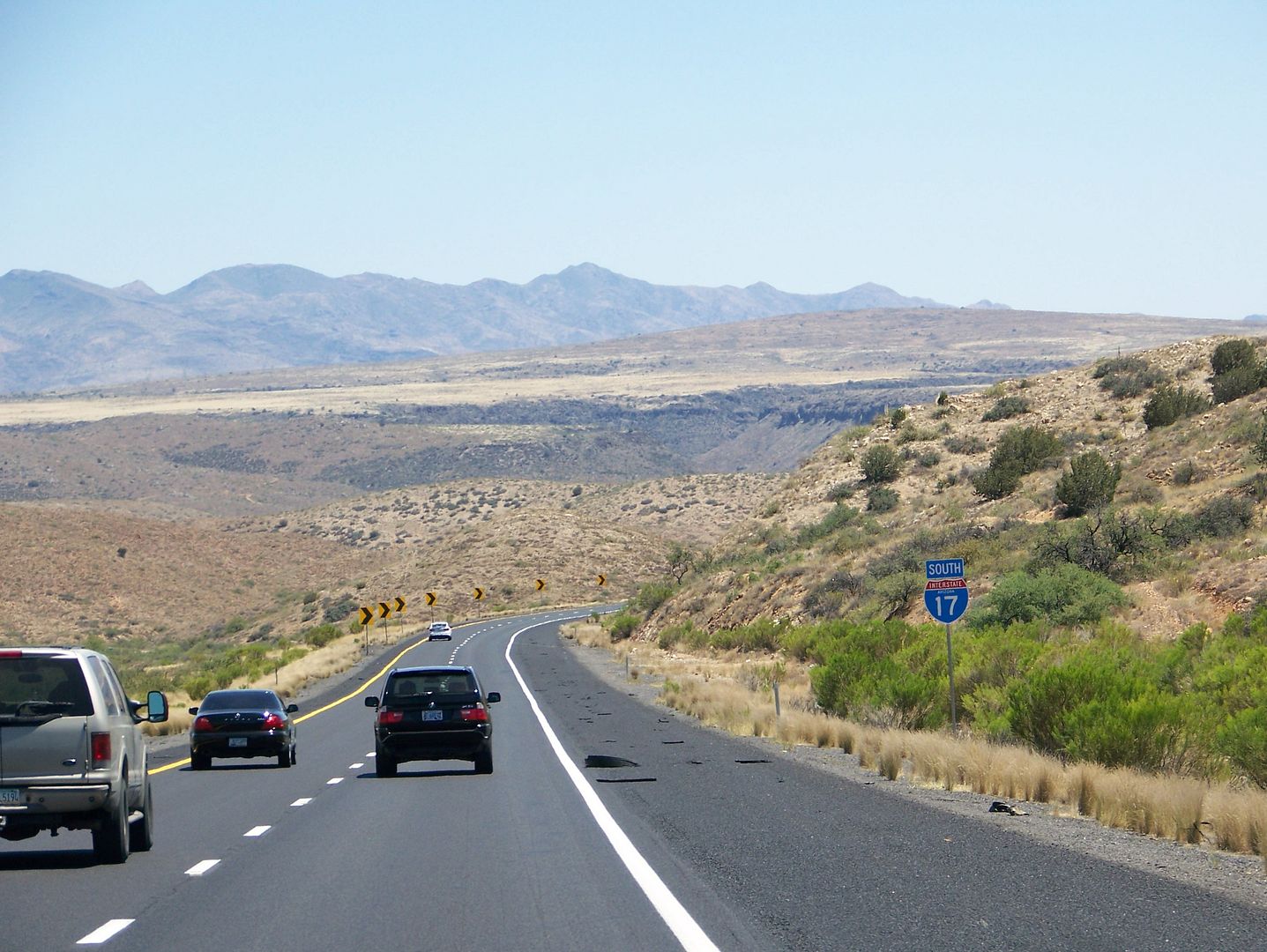 It was an edgy mean landscape of jaggedy peaks and beat sheds and mobile homes and it was getting hot in a hurry: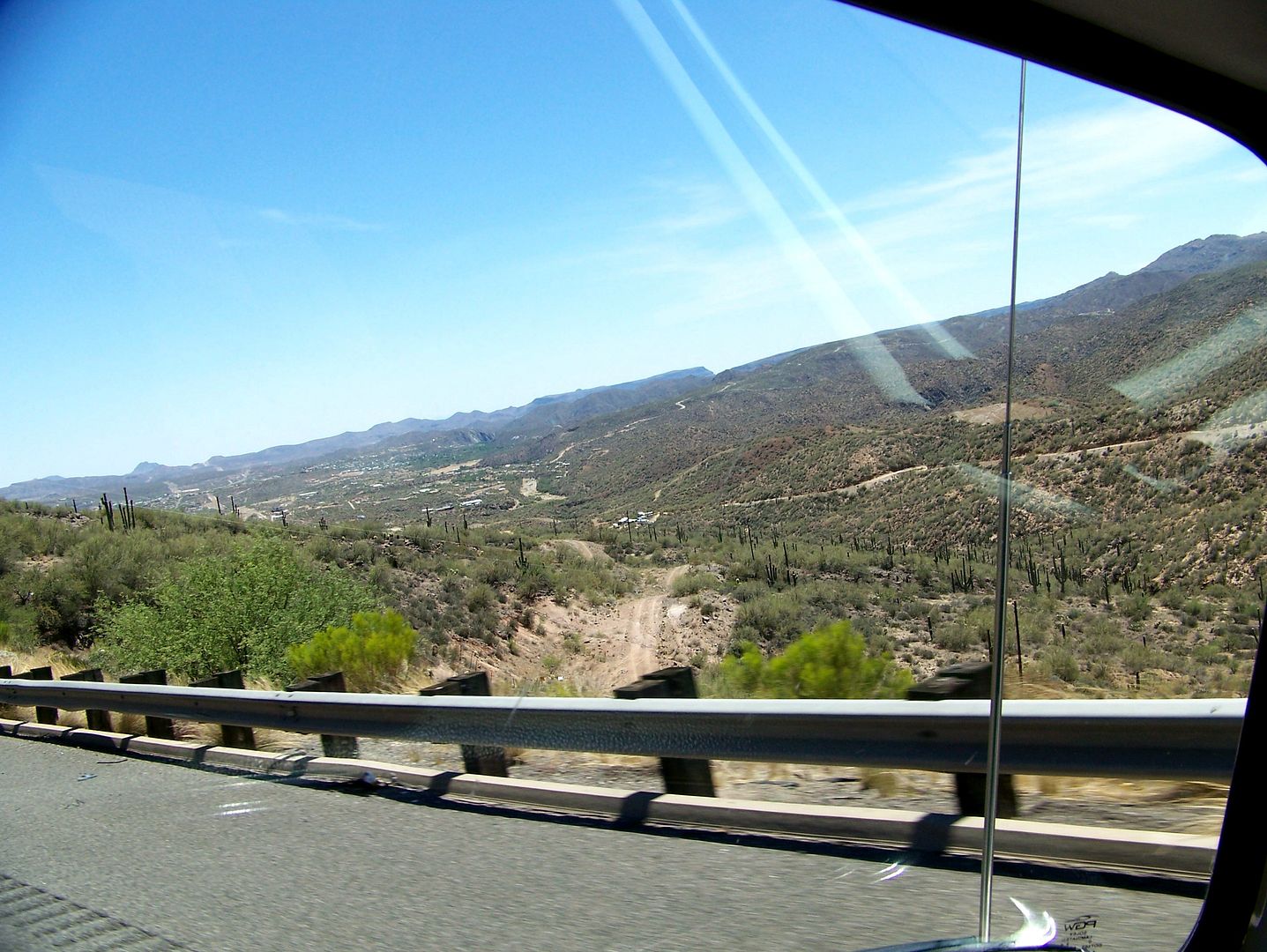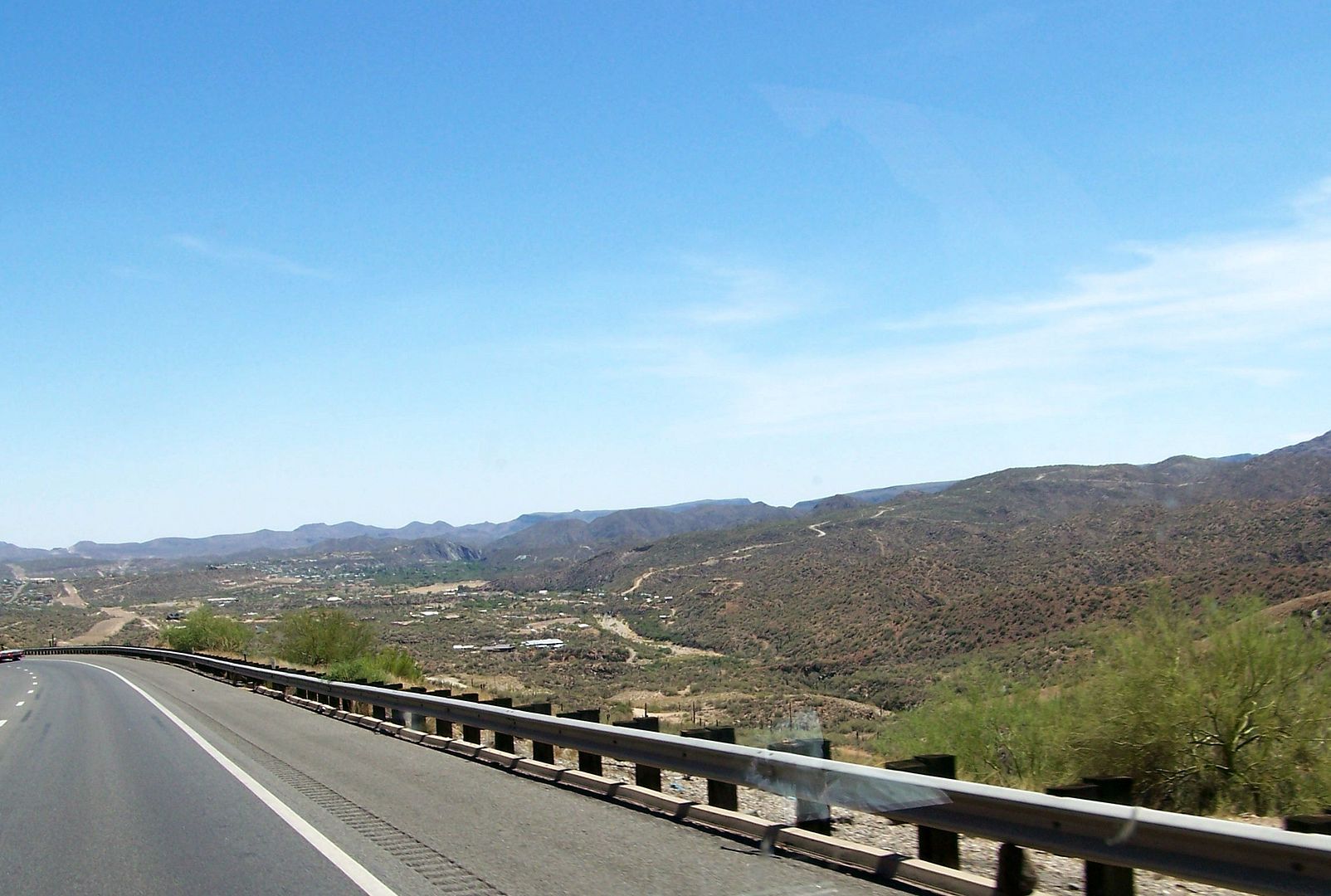 I will post the video here, if it turned out, it was beautiful and riveting. The poor cows (six dots under the middle high tension tower) only got dusted: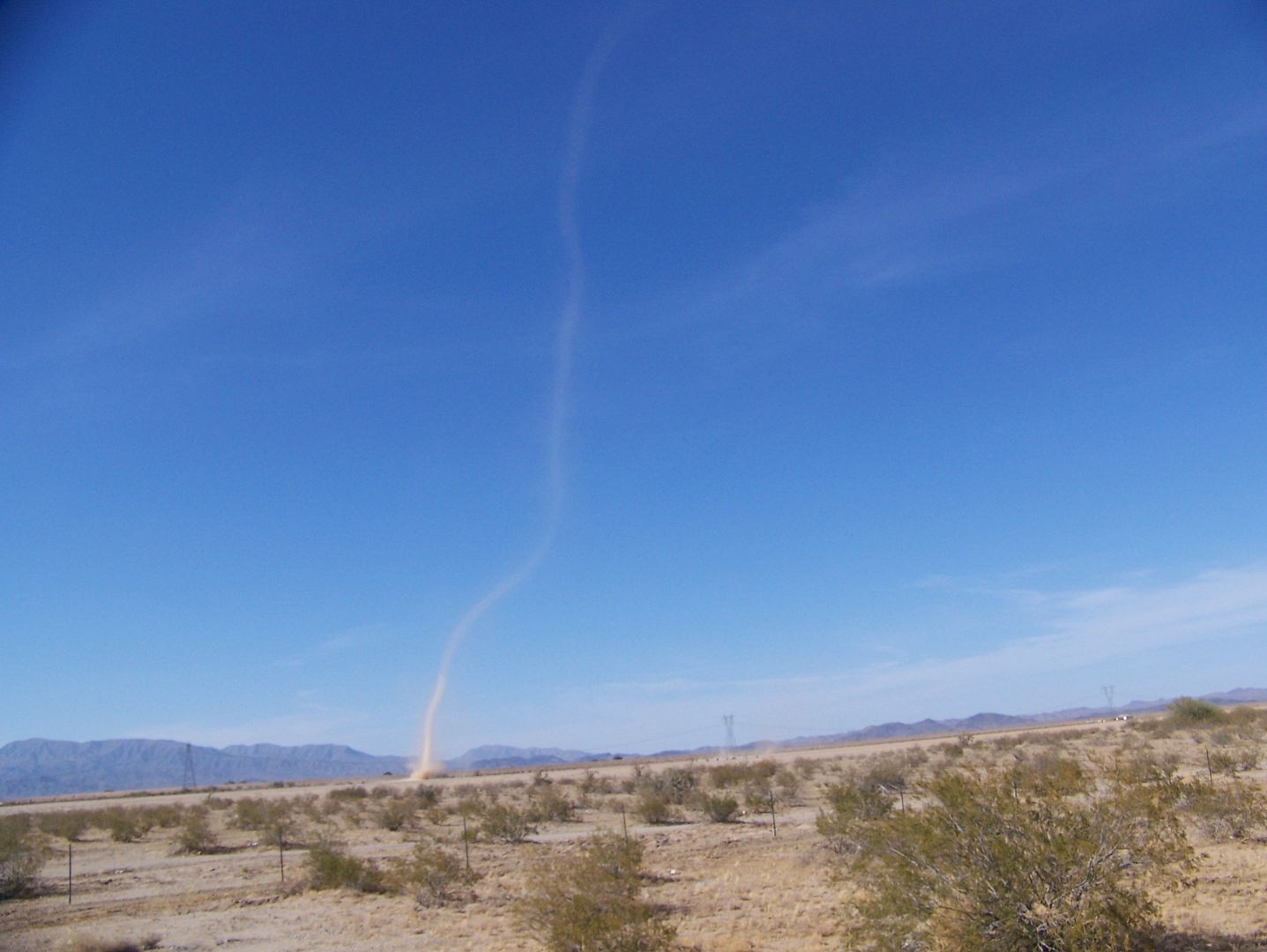 Here is the stage of the Epic Battle Against Soaring Head Temps, both mine and the car's: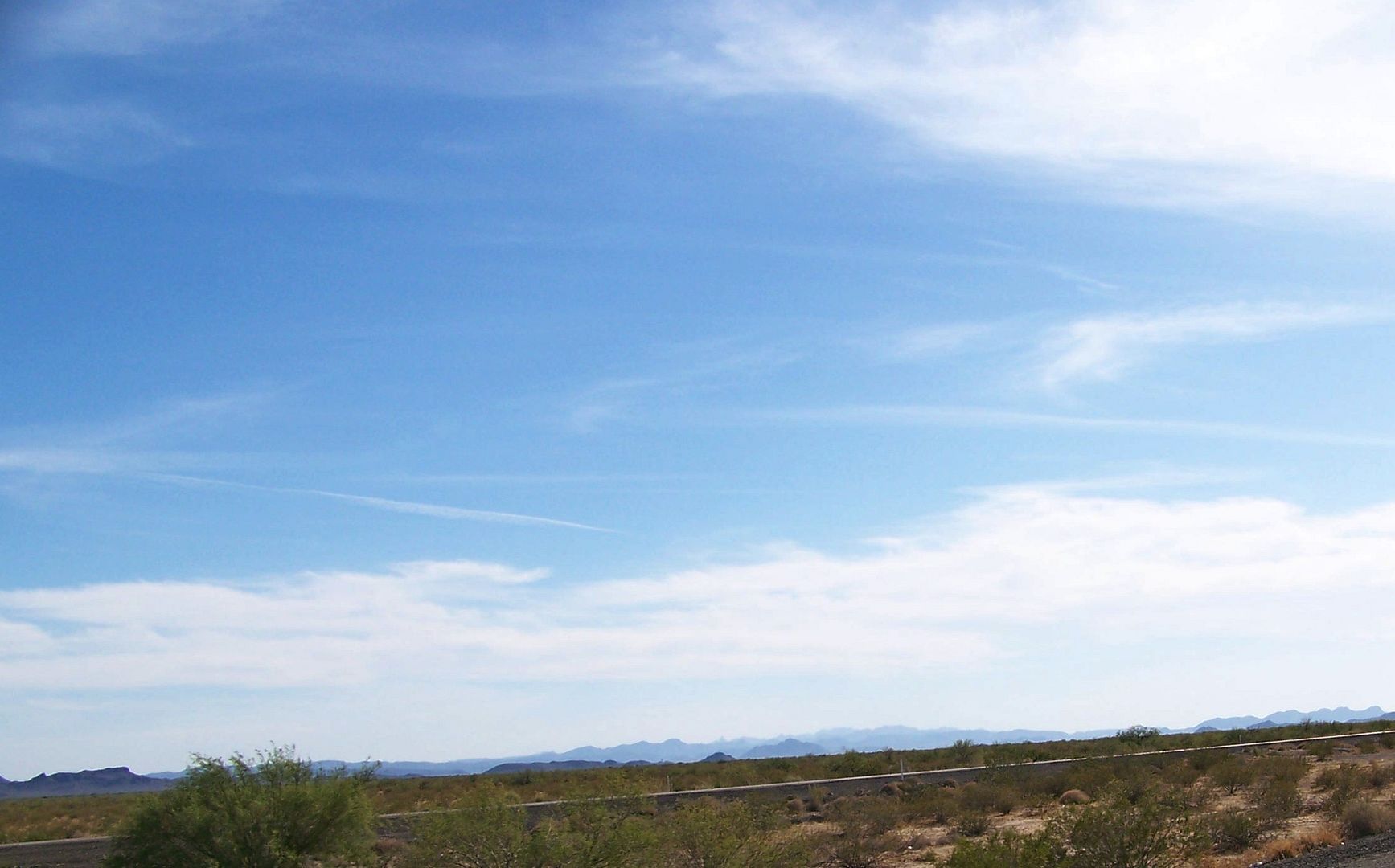 I did not know it was 110* on the way to Blythe. I did know that we had an insistent headwind and a blinking 430* CHT gauge. I dorked and dorked with the AFM, I reduced the timing a good 5*, and finally got a steady 400* at 65 mph cooling to 385* on downhills and maybe 406* on uphills. The recipe? As ever, lots o $4.19/gallon 87 octane. We are currently enjoying 14.5 mpg. It is the only solution thus far.
Remember 72Hardtop's chart of fuel ratio and exhuast gas temperatures. The temperatures peak at the stochiometric ratio of 14.7, the most efficient combustion. The best power occurs around 12.5 ish. That is rich. The temps drop off on either side of the curve. Well, of course I tried uber-"luftwagon-ish" lean, and was enjoying a nice 17:1 lean cruise with modest head temps at 20 mpg, but guess what? The AFM richens the mixture as you need to work, and BobD would richen right into the stochiometric exhaust valve killing furnace at modest load. I can't seem to get the engine in the lean area at low load and switch up fast enough to seriously rich for the hills. Right now, I am just staying in the rich area so I am sort-of rich at light load to eye-watering rich at full load. Will experiment more today as I drive to Indio / Palm Desert the hottest place in the country today on the longest day of the year.
Colin
(remember the good ol days?)