I did not mention that the entire New Mexico experience has been complemented by winds. All of my $7.99/can painting exercise$ have been rendered almost u$ele$$ by winds that $tole at lea$t half of the content$ of my $pray can$. My last visit in Los Alamos (pmaggiore's) was informed by a wind warning. Being experienced in such things, we did his transaxle oil change exactly like I did my own transaxle oil change, with a plastic bag-wrapped motel ice bucket. The wind only managed to steal away a few paper towels, so HA!
After the last portrait of the exceptionally contented Golden Retriever, pmaggiore, jtauxe, and me, I drove down off the caldera. There were some off-camber curves down the hill from Los Alamos, and you just know the wind sat in wait to let loose on the side of the BobD right when the curve does a sickening dip and toss. Thank goodness for the excellent engineering in these Volkswagens that maintains directional stability even when the suspension goes from full rebound to full jounce in the middle of a curve: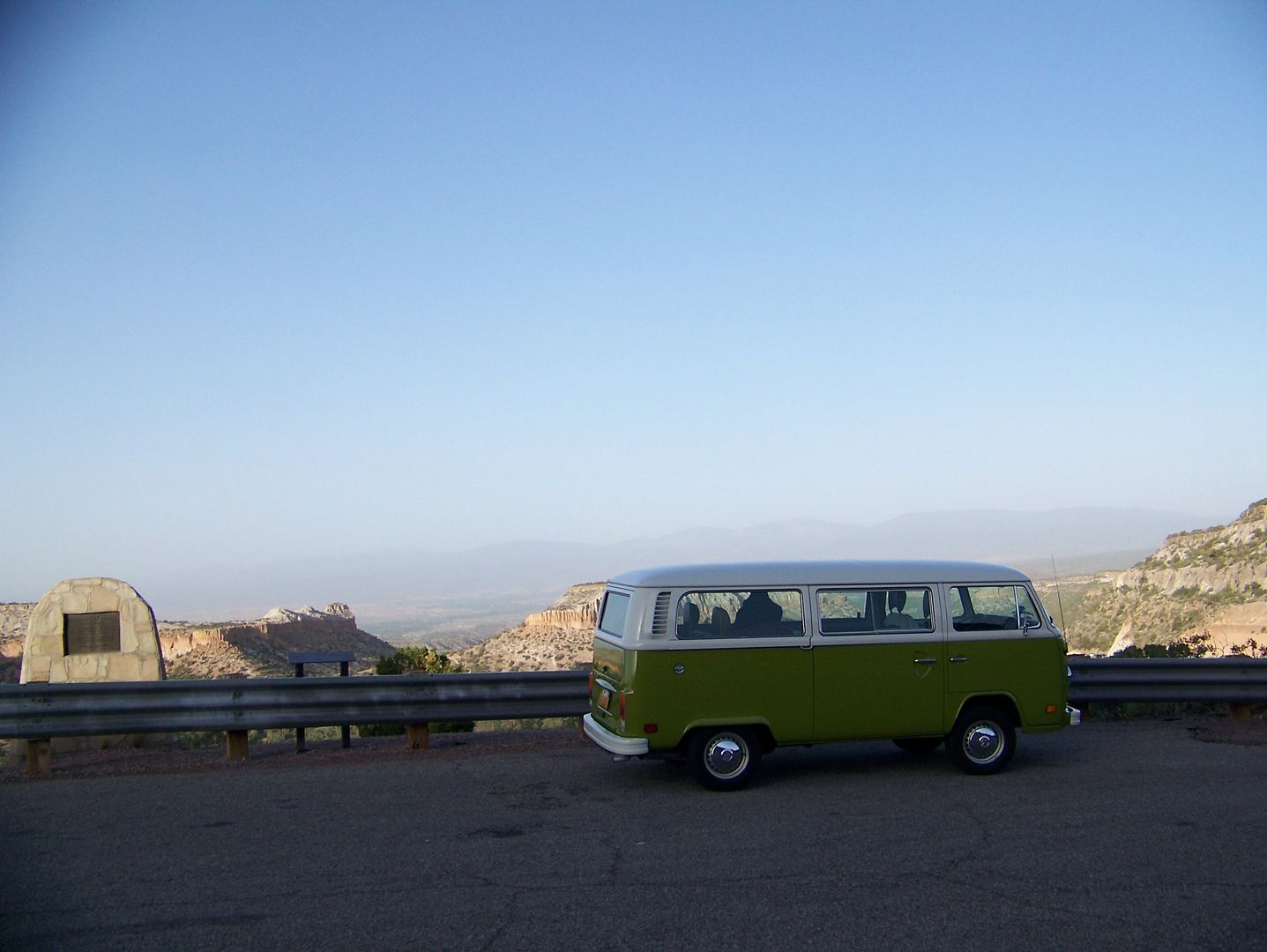 Took to US 84 north into a gale of dust and whipping tree branches and insistent shoves against the front of the car. It was like a sadistic flight simulator "see if you can land a Piper in a microburst downdraft". It was beautiful and dramatic. The sky was opaque tan, like I was in a Middle East haboob. The orb of the sun was perfectly visible as a round disk, filtered by the dust. Everything was bathed in a cold strange shadowless light. I had to floor the accelerator to make any headway on the unexpectedly busy highway. I am sure that other motorists had no idea that I was working overtime in my final flight simulator test. Then, as part of the test, the CHT gauge started to climb.
406* - too bad BobD, we have to keep our foot in it.
413* - damn, BobD, you are making me have to consider backing off.
420* - what is the problem, BobD? I ain't stopping in this gale.
423* - I stopped in the gale.
The engine was idling perfectly, everything looked OK, what is the problem? I told the engine "deal with it" and hopped back into the wind. Every time I floored the accelerator, the temps would freeze at whatever number the gauge was at. This is good, the "power enrichment" was enriching, but at partial throttle, the numbers would climb. Finally found a nice National Forest road, found a campsite, noted with dismay that the ambient temperatures were actually pretty chilly. Went back to the perfectly idling engine and stuck the timing light on. 4* BTDC at idle, 28* BTDC at 3,200 rpm, aha! no vacuum advance! A split vacuum hose at the throttle body. Trimmed it, re-installed it, 40*BTDC, we're good! Went to sleep and froze but good all night. (37* at 5:00AM)
Hit the road in the morning thinking that this split hose cannot be the sole reason for those CHT temps of the night before, "a stupid loss of vacuum advance is not capable of skyrocketing head temps at full throttle because there is no vacuum advance at full throttle". Engine felt a bit peppier, but as importantly, it was a beautiful new clear wind-free vista in gorgeous New Mexico, you could see snow-capped mountains way off to the right, the base of the Rocky Mountain chain leading into Colorado?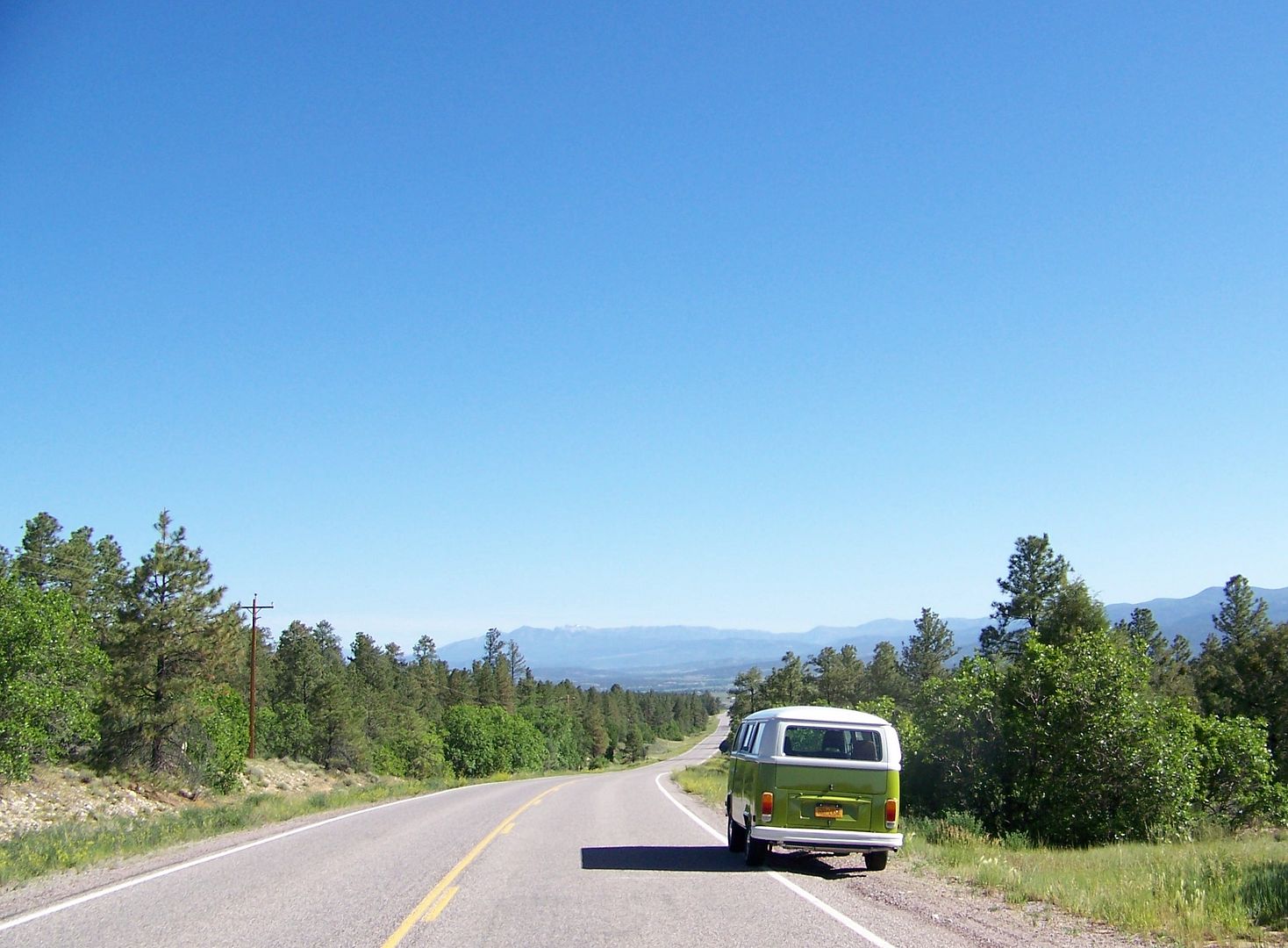 Yeah so the winds picked up again around 11:00AM. 406* again. 410*. Blah. Pulled off into a ranch driveway outside of Dulce, New Mexico. Way at the horizon, those are the same mountains from the above photograph a couple of hours later from a different angle:
Found that every single small vacuum hose was cracked. These head temps were not because of loss of vacuum advance. They were because my current AFM adjustment is so close to the edge of "almost too lean" that these little cracks made it "definitely too lean" especially at partial throttle. After replacing all of the little vacuum hoses, I could not get the head temps to exceed 371*
Another example of Check Your Vacuum Hoses. Mine were all firmly seated. Mine all looked good at first inspection. Mine were all cracked. What is unbelievable to me is that they were responsible for a 50* temperature spike. Man, sometimes you have to live your advice up front and close . . .
Will be at my Bluff Rock Campsite tonight. Weather report calls for . . . . "high winds".
Colin