On the way to New Mexico from Oklahoma, with a very clean interior I might add, I passed through Texas. Visited the result of what must have been a very odd collision: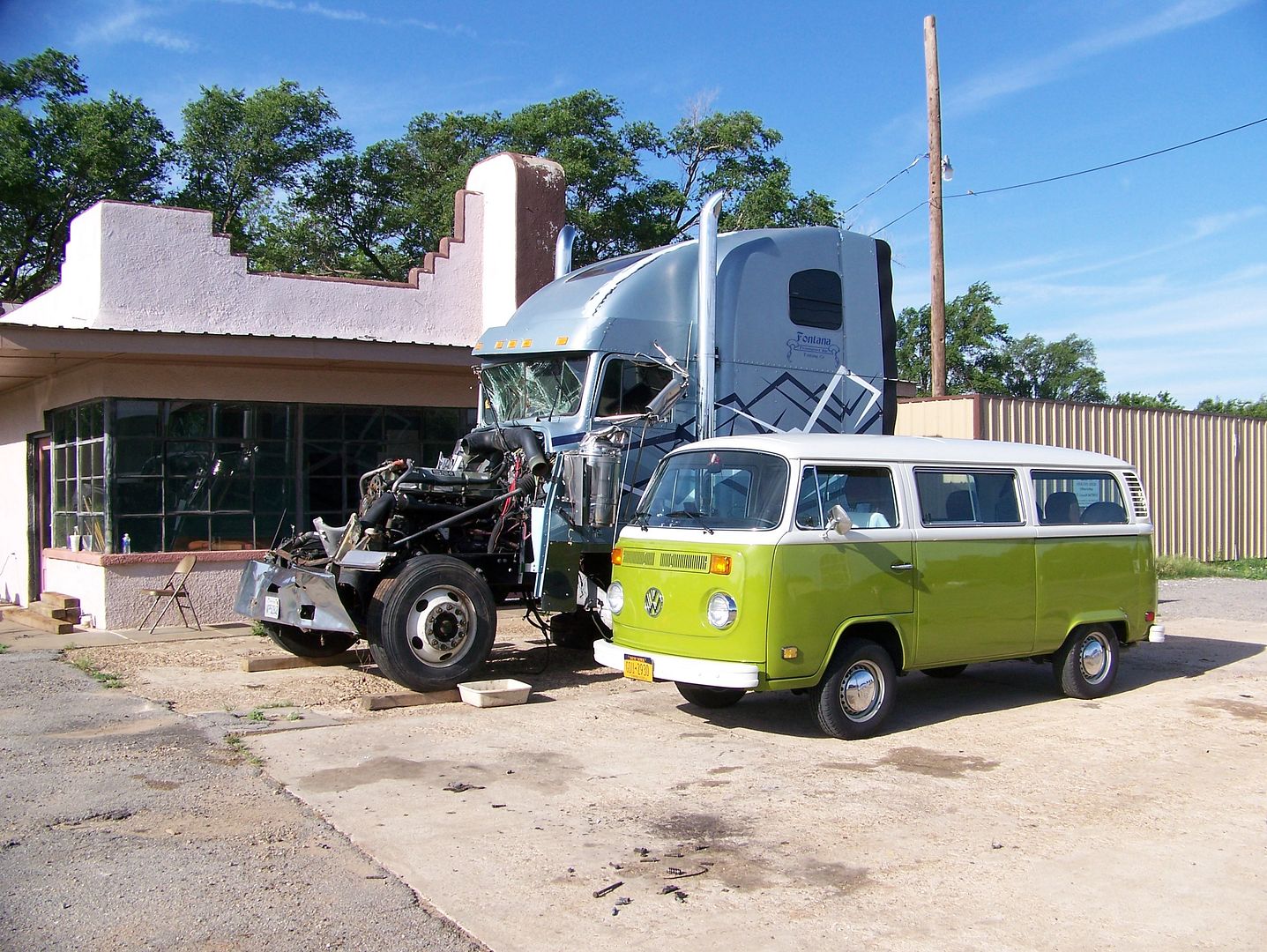 What? did this truck hit? It was a "soft" hit that did not affect the frame rails in the slightest, but it cleaned the hood, the radiator, the cam cover right off the engine, smacked the cab hard enough to cave it in, both doors were buckled, yet the windshield managed to hold itself together. Must have been a major scare for the driver:
It took barely four hours to cross Texas. I forgot how short of a traverse it is up on Interstate 40 at the top of the state. Passed right by the Big Texan restaurant that promises you a "free 72 ounce steak!" where's the fine print? oh, here it is, "if you finish it within an hour." (a 125 lb mother of four, Molly Shuyler, just broke the record by finishing it off in 4:58 . . . then had another one that she finished off in 9 minutes)
So what do you do when you are a day or two ahead of schedule? I checked my clutch and accelerator cables. You might remember the surprise of finding Chloe's smooth quiet clutch action hiding a clevis pin that was almost bisected, and a cable end whose hole was egg shaped. Imagine then my surprise at this one now almost at the same mileage as Chloe's: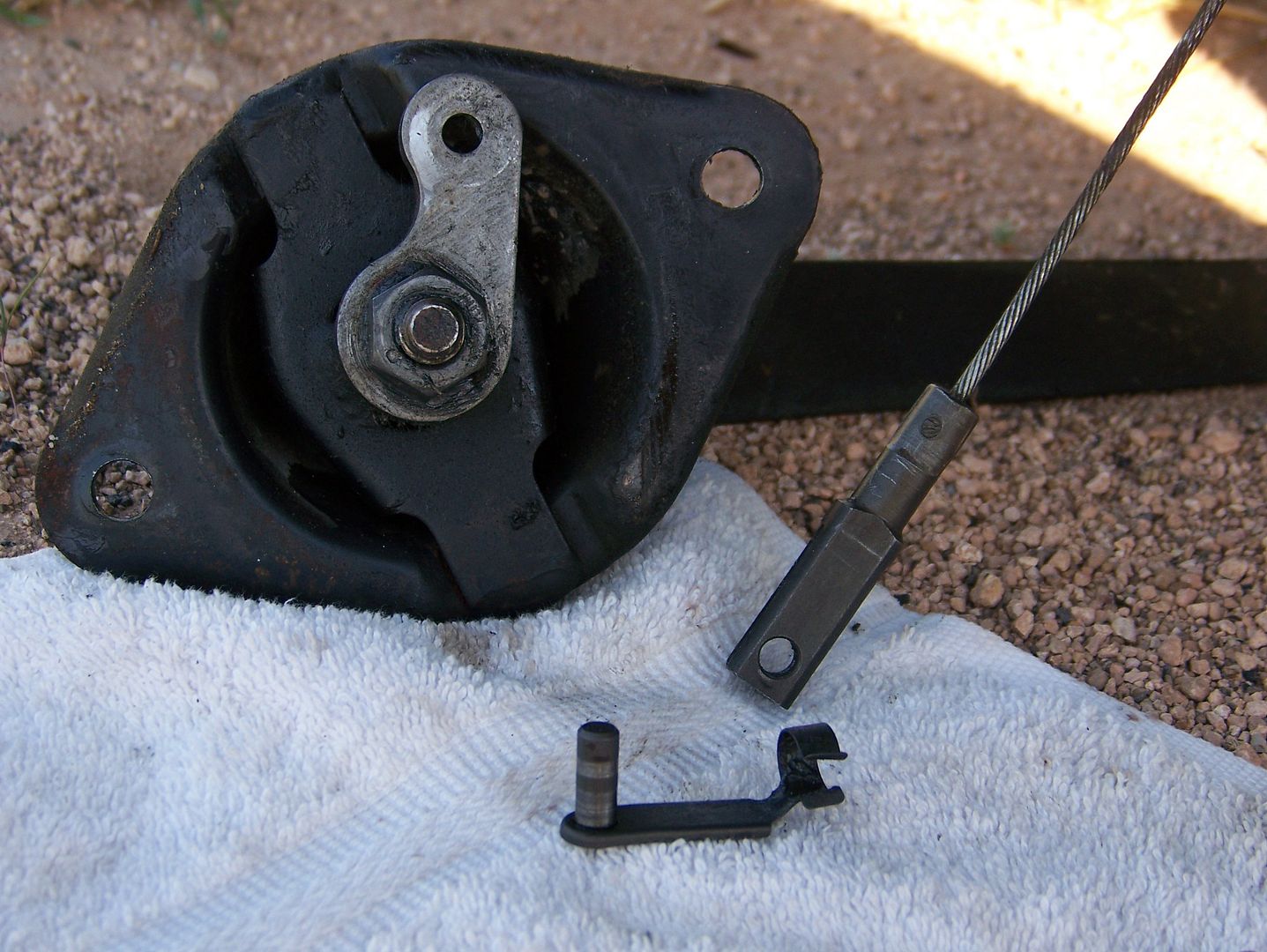 See the little VW logo stamped on the clutch cable end? So why was there such a difference between the original BobD and the aftermarket Chloe? Well, it is clear that the aftermarket clutch clevis pin is softer metal, but the other interesting detail is how the pin is allowed to rotate on the original. That means it gets to play "single roller bearing" inside the clutch cable end and the pedal actuating lever. You know that I am an inveterate double-clutching addict, yet these parts are almost un-worn. What's it like living in a modern world that can do better in such small ways, but decides not to?
Here was almost-my-campsite, a railroad access road outside of Tucumcari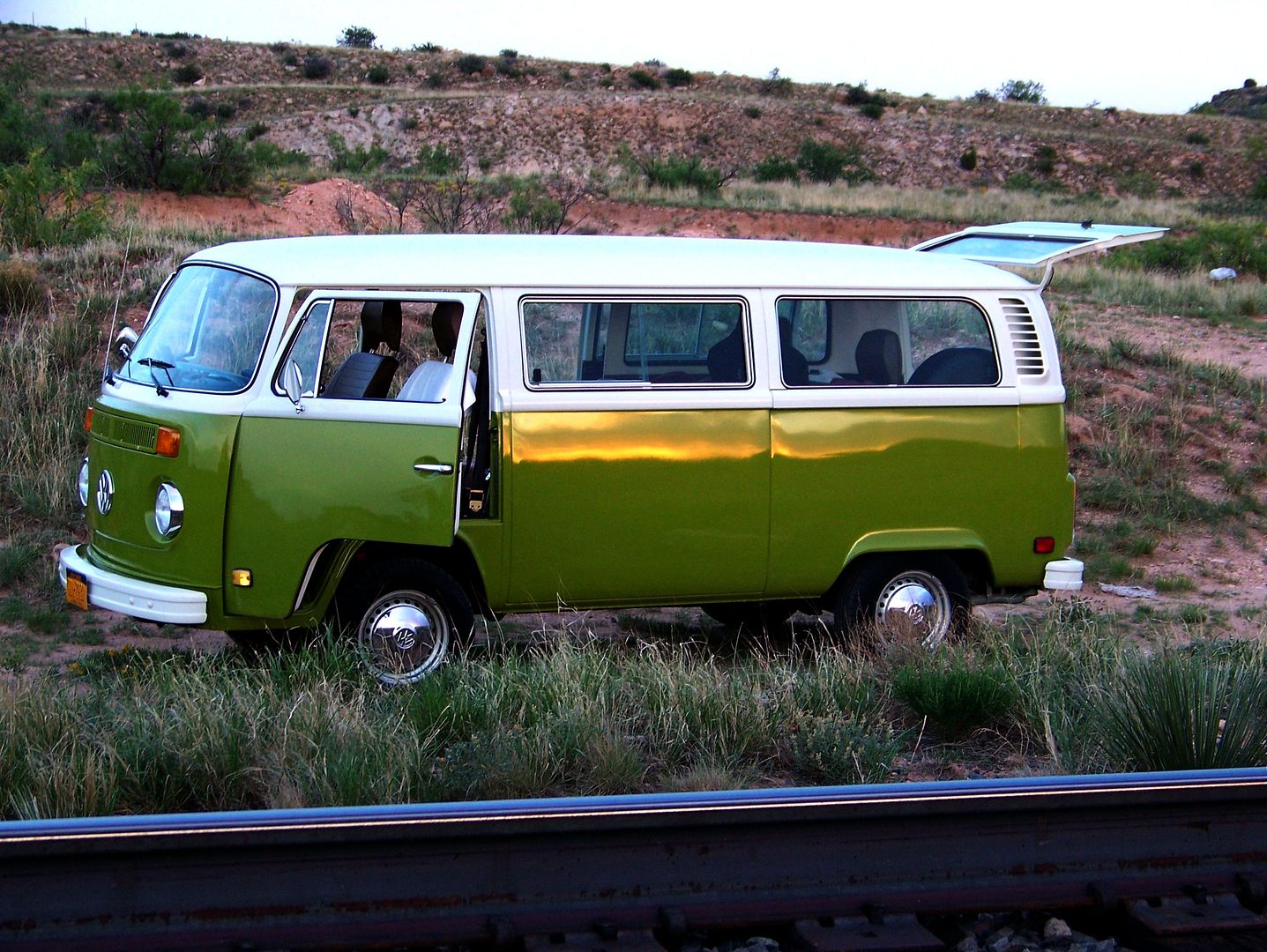 The sunset was gorgeous blah blah blah: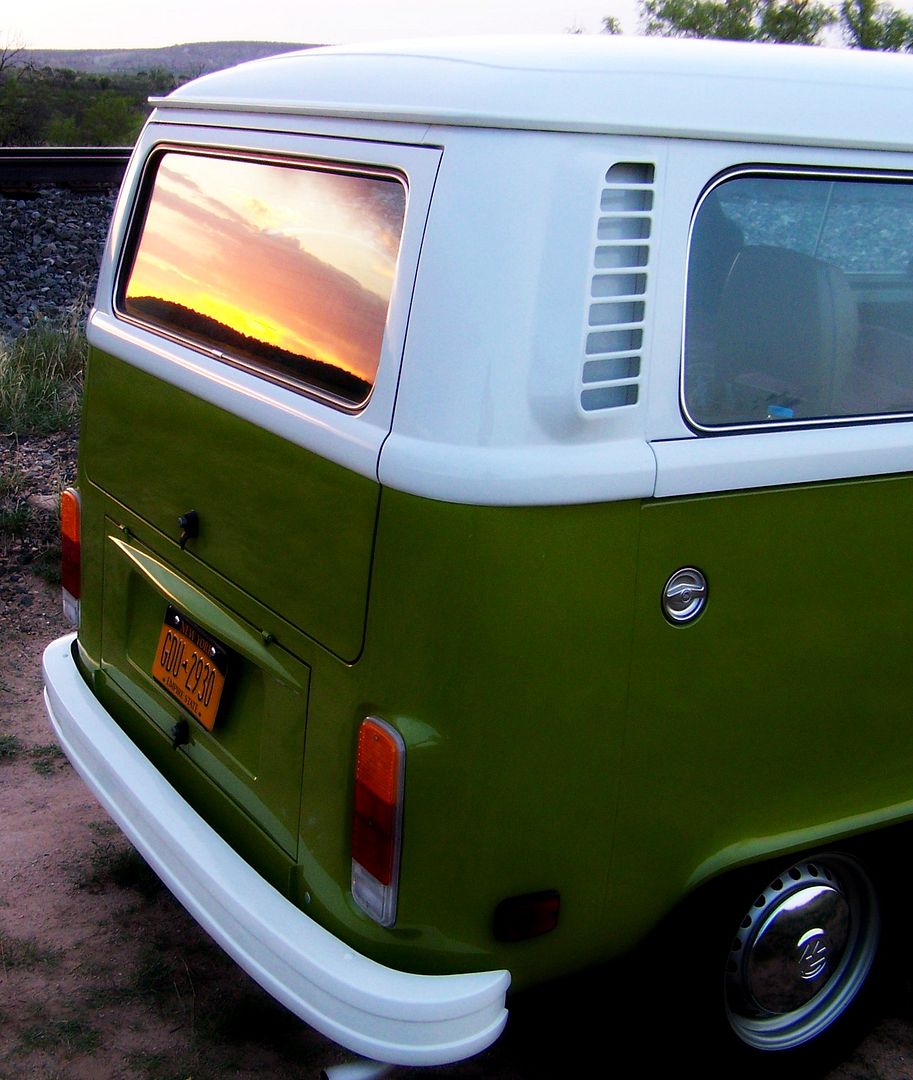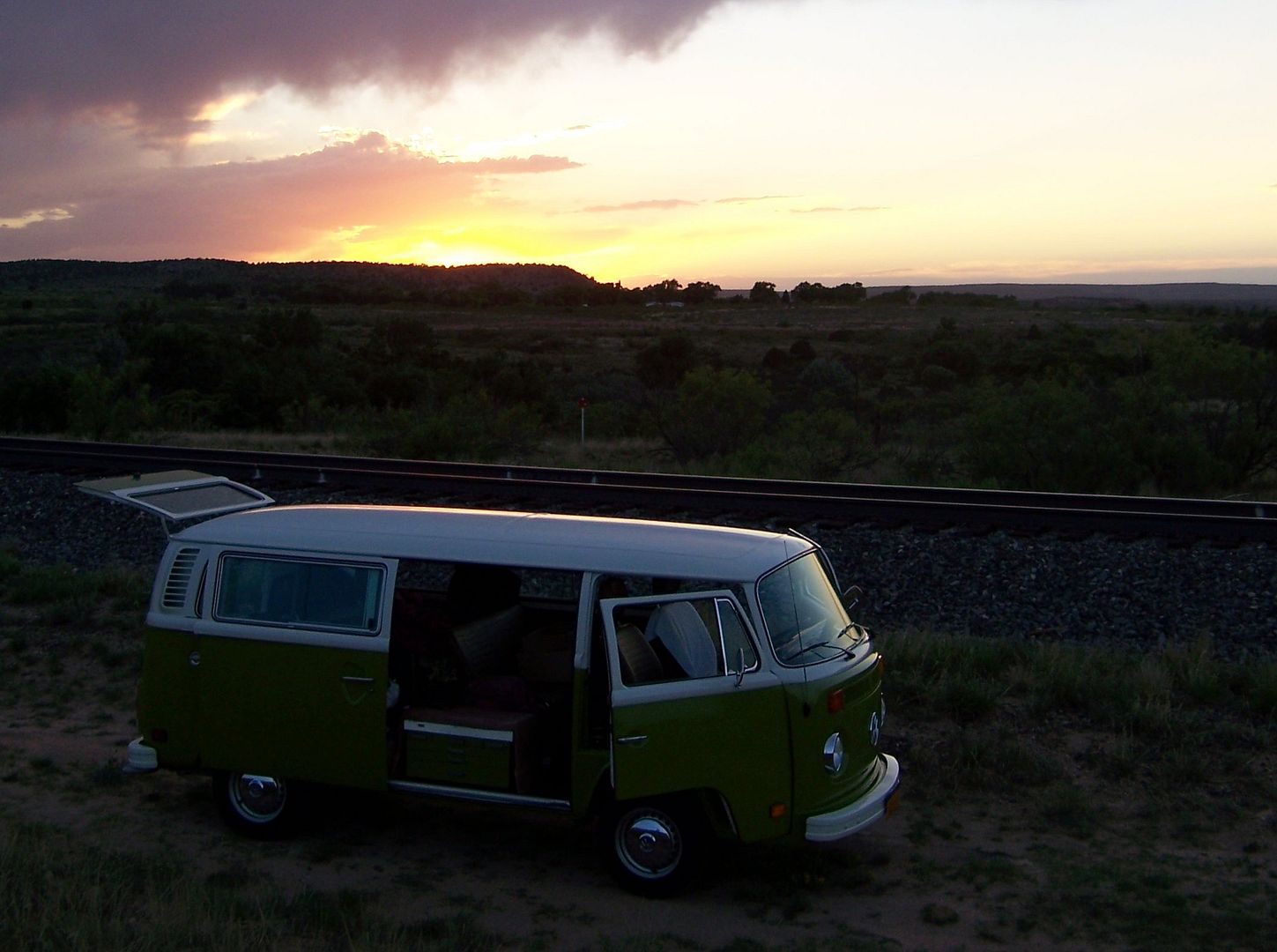 I got all bucket-bathed, everything put away, took out my on-loan-from-Cindy Peace Like A River by Leif Enger. I was deep in the story set in a Minnesota winter, when this sucker came through at 60 mph . . . brakes screeching as it slowed for Tucumcari:
It heralded the arrival of a swarm of mosquitoes that drove me onto the Interstate for another hour of driving. I finally camped under the canopy at a ruin of a burned out Stuckeys/Shell station, where I fell asleep to the sounds of gonging sheets of flapping galvanized roof. Life on the road.
Colin