Luftwagon is possessed of a very fine mind that I fear is actually brilliant far past my feeble recognition and certainly past my camera's ability to focus:
If you have read . . .
µSquirt ( microSquirt ) powered Vanagon ramblings
viewtopic.php?t=10392#p185313
. . . or any of his posts in Fuel Delivery, this guy has been bush-whacking into the future with a singularity of purpose that quite passed me by.
Imagine that Mr. Stock Is Best (it is) is huddled at the back seat staring at a laptop! that is plugged into a harness that visits upon the engine while Luftwagon drives the test circuit.
OBG (Old Bald Goat) is reading:
*fuel injector pulsewidth
*manifold pressure
*cylinder head temp (via the old TSII location)
*rpms
*ignition timing
in real time.
We are being afforded a remarkable opportunity to look at engine parameters with a hitherto never experienced immediacy.
Watch the timing map react instantly to all driving conditions.
Watch the injector delivery time translate to air-fuel ratio based on how efficiently the engine is digesting.
Watch the rpms, they are accurate.
Watch too, the fuel cut-off on throttle overrun, it is programmed based on rpm and manifold pressure.
You can't watch the old billygoat try to grok this fascinating display of modern technology.
We do a few acceleration runs based on our Itinerant Air-Cooled procedure of 50-60 then 50-70 in 4th gear only. This Vanagon Westy is weighing in at about 4,000 lbs with the two of us: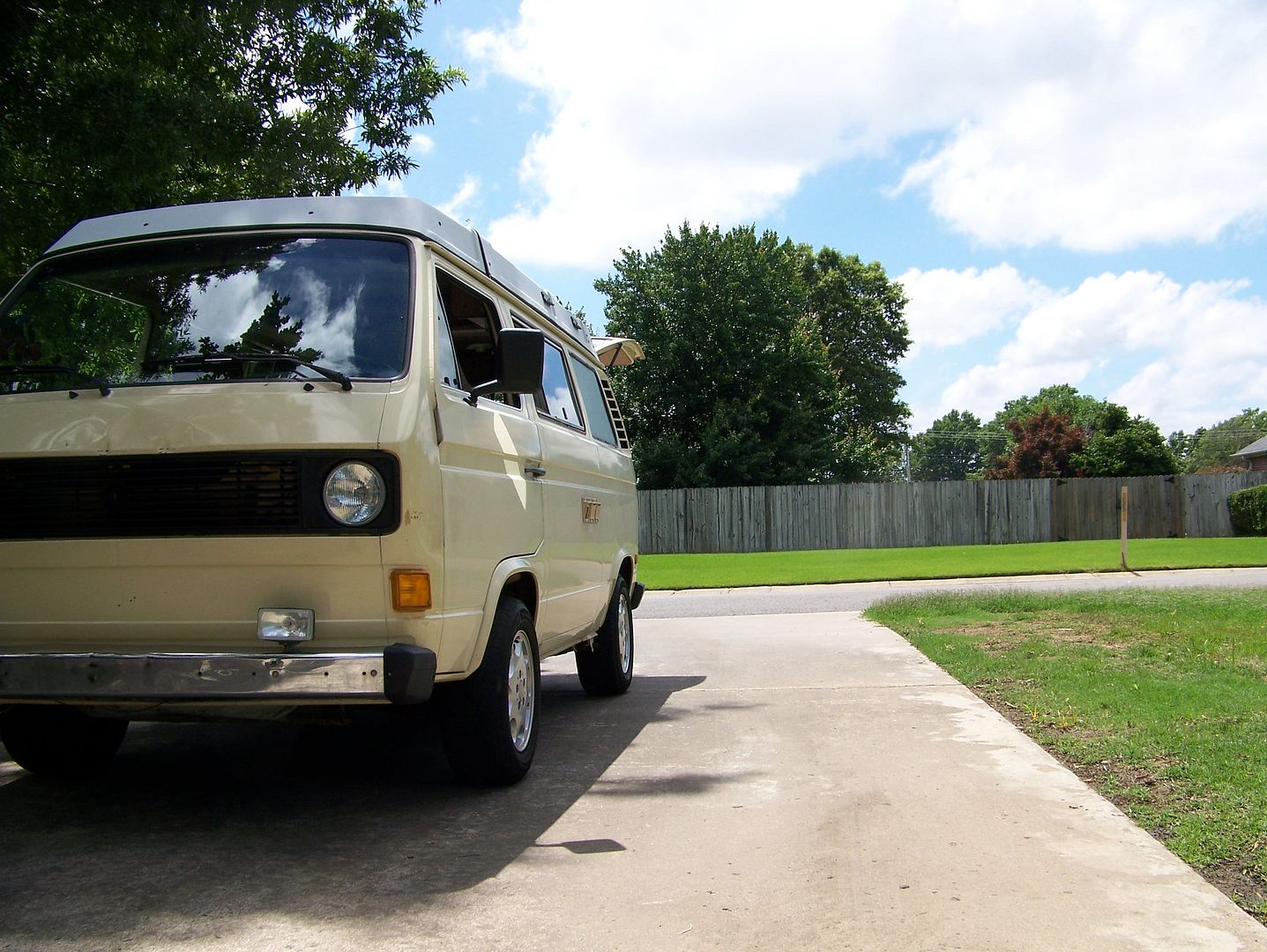 We do I-40 eastbound followed by I-40 westbound runs. If I remember correctly, we do 50-60 in ten seconds and 50-70 in 23 seconds. Our method is contaminated by his GPS unit which was sampling our speed in maddeningly inconsistent starts. All in all, not good enough.
Back to the house. We plug in the laptop to house power and holy good grief, luftwagon is raring to re-program. We have an air-fuel map graph (and 3-D!) to pore over, we have a timing map to pore over, we have fuel cut-off parameters to reset. So I noticed, back in the back staring at the virtual gauges, that we are not getting the available timing advance. Stock VWs can manage 28*-40* BTDC whenever your foot is barely in it or off the accelerator. We program the timing to give us 40* at light-to-no throttle above 2,000 rpm. We bring up the mid-to-full acceleration timing to hit 28* at 2,400 rpm IIRC. This MicroSquirt program lets you play with the 3-D picture of the timing map. We add a smidge of fuel injector timing at the torque peak at maximum manifold pressure to give us a little punch of rich 10.9 was it? at 3,000 rpm? This stuff is bloody amazing. We agree to trim back the fuel cut-off up to 1,700 rpm and to turn it on whenever the accelerator first drops the vacuum signal down, to get rid of a surging . Now we have to drive it for some period of time to let the program smooth off the edges. Next test drive I get to see that timing virtual gauge executing precisely what I wanted to see. Amazing! Air fuel ratio, likewise, gives us that little rich dip at the torque peak. I downshift at 55 mph into 3rd and hit the accelerator up to 60 then shift. Engine delivers exactly. Next acceleration run has dropped the 50-60 times to 9 seconds. 50-70 in 19 seconds. Head temps never hit 350*. Engine was responsive and smooth.
The ability to experiment, to play, to observe, to control the parameters of operation is a gift. And it all looks tidy:
I just might jump into this modern technology with the engine I need to build . . .
That was fun, luftwagon, do you have any additional observations to report?
Colin