From the Greater Miami to the greater New York metro area. Miami is "Greater" right now because it was 82* and sunny . . .
I left Savannah GA at 11:30AM yesterday morning, well aware that my dawdling on the laptop (to update youse all) was going to tighten the East Coast Traverse to New Jersey. I did not know that the South Carolina Department of Obstruction was going to cause a 20 mile traffic jam on Interstate 95 Northbound so they could trim some grass along the left shoulder. At first, I was cool with it, nice sunny warm day. But after an hour, I was getting steamed. So was the clutch pedal, this was a below-first-gear creep, and the EGR was making the engine buck at idle under load. Called Cindy to blab the time away, yes, I BLABbed on my PHONE on the INTERSTATE at 2.127 mph. At 3:30PM, I crested a hill and saw the damn traffic jam extending a whole nother parsec into the Universe, and pulled off at an intersection and quick! which way! West! Wrong! The road led to absolutely no interstate parallel side road to let me jump on a few miles up! Damn! Tail between my legs, if I had one, returned meekly to the backed up entrance ramp and took my place amongst the docile herd of fellow idiots. Thirty minutes later, "merge 1/2 mile". Some truck was trying to demand that we all get in single file there. That is not how we do it, folks. Ask California. "Drive To Merge Point". It is far more efficient. But Mr. I Know Best Big Truck Man has decided that we all should go single file where he deems appropriate. He spies me coming up the left lane. He swerves his truck halfway into the left lane. I brake sharply. I roll down my window to give him a crisp finger salute and a proper New Yawk gr*@ting, but before I get a chance, the pent-up traffic has decided to go around him on the right! Yay for Anarchy! I am given the next spot on the parade of cars now going around him. We fill the two lanes to the merge point. That is where I spot our indolent highway department hoeing the shoulder grass. Unbelievable. Now I am good and late.
I drive all night. South Carolina bleeds into North Carolina at 5:00PM, North Carolina bleeds into Virginia at 7:30 or so, Virginia dumps me into the District of Columbia around 10:30PM, I get lost on the US-1/MD 195/I-495/I-95 exit ramp spaghetti monster trying to find a gas station. It is officially c-c-c-c-old, and I am officially irritated. I made the right call to traverse this area at night, less traffic, but geeze, wild, wandering trucks in a rush. I get smacked by more road trash. A trucker wanders off on the shoulder and sprays gravel AND a huge chunk of truck tire. The chunk hits my right bumper and front wheel so hard I feel the suspension snubber take a bash, then the rear does this sickening retardation thump. Steering wheel is still straight, no new vibration, but I am in a dark little fury at this trashy horrible road infrastructure and truckers flying to pay their way with substandard tires. I pull off to discover that the windshield has several new dings, the tailpipe took such a hit that it bent rearwards, the internal muffler baffle just let go. Why do we allow this damage to our personal property to go on and on, these overloaded trucks with rocks and concrete and gravel to damage all of the cars behind them? Why do we dumbly hit the potholes, get new alignments new suspension components, thank our lucky stars that we didn't get jerked into other traffic, and yet we cannot convince our lawmakers to hold those responsible to ohmygod regulations demanding that they act like responsible adults? I am seriously trying to figure out if this sort of damage is worth it to me. I have now had to take 5 psi out of the tires to try to reduce the battering this poor car is taking on these miserable roads in the PA/NJ area. That will hasten the day these tires chew through their remaining tread, but good grief, this car was so tight and lovely and it is being bashed. We have people who need jobs and we have jobs that need doing. Like cleaning the roadways and shoulders of dangerous trash, yeah, I'm talking to YOU, Walmart plastic bag, YOU:
Took a nap at Panera at the MD/PA border. Gave the evil eye to the parking lot security officer, he wisely left me to pass out. This morning, I spied this:
Pulled into the parking lot to photograph it, and this: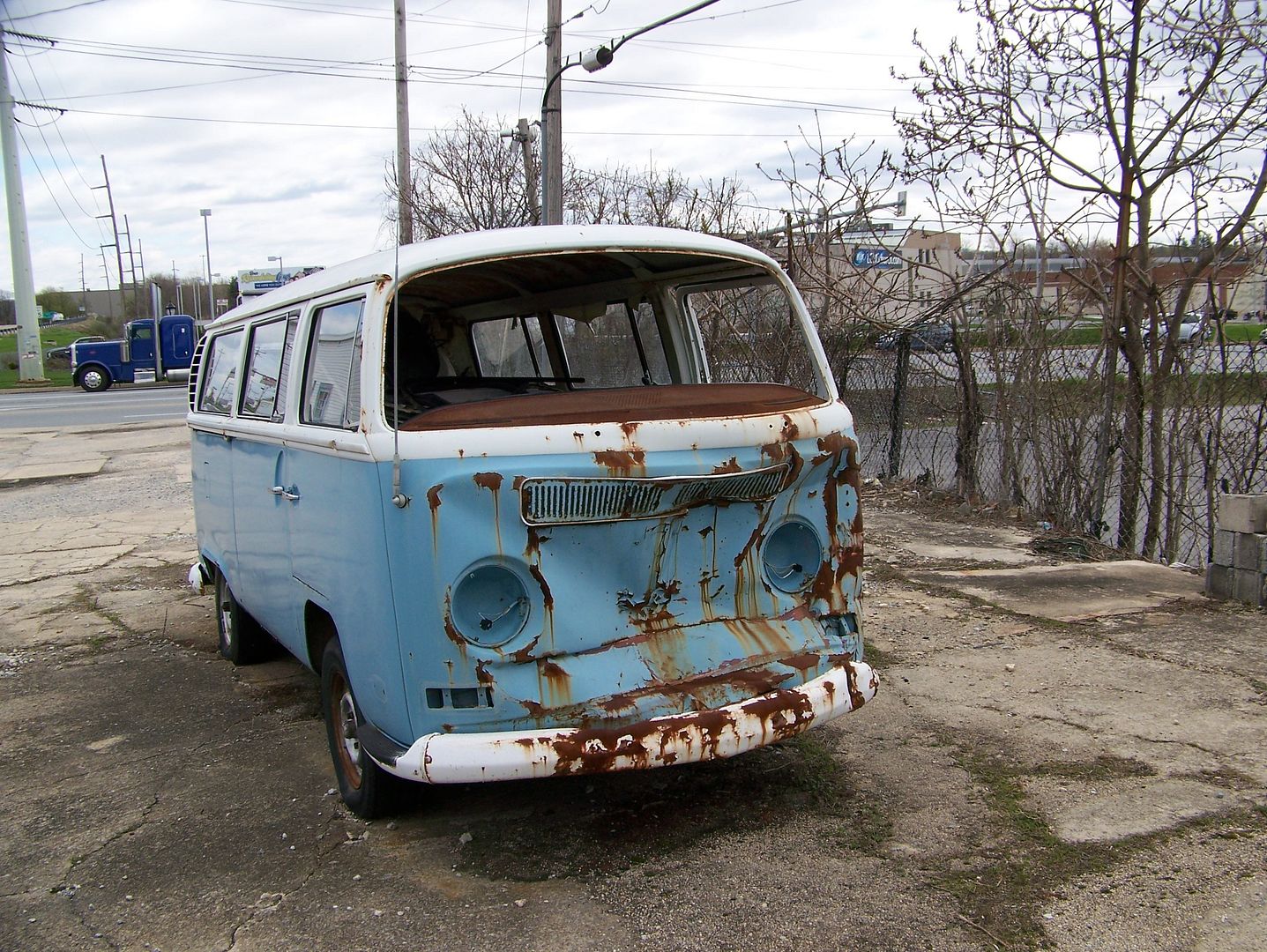 Guy comes out, I am about to say "hello".
"Get the f*#% off my property, it f*#*ing says 'no trespassing'so get the f#*% off my property or I am calling the cops."
I snap a couple of shots while holding the camera close. BobD is sitting there purring quietly. I got his shoulder but wanted his angry face (hey, there is the bent back tailpipe! - ed):
I finally gave him my full attention. Looked into his apoplectic face, such rage for what? Had his Volkswagen business slowly died and he is sad, panicked? Are these his customers' cars?
[note to self: careful on the test drives (blue bus) and check the fuel hoses again (red bus) and don't leave unattended in the wrong place (stripped bug)]
I just said, "Good GOD man." He turned around and walked back towards the door to the building. He turned around to make sure that I was leaving. I noted to myself that normally my own insides would be stirred up, but it was so clearly not about me THIS time, very sad. A little Desiderada every now and then helps,
"Go placidly amid the noise and haste, and remember what peace there may be in silence. As far as possible without surrender be on good terms with all persons. Speak your truth quietly and clearly; and listen to others, even the dull and the ignorant; they too have their story. Avoid loud and aggressive persons, they are vexations to the spirit ...."
Took a photograph on this street in the COLD "spring" air of York PA. Spring! Eternal! New! Life! Winter? Get Over It!:
I shalllll not boooore you with Pennsylvania's excruciating inability to time the traffic lights on US 222. The cross traffic was nonexistent, our lanes were miles of crawling in each direction until we passed through the light for a little relief until the next jam.
Tomorrow, appetite and I are due to put the VW together that we took apart last fall. I plan to photograph it every two hours. I PLAN to decompress.
Colin