I love Texas, even though, as ever, I complain about these pesky bugs. Lucky for Texas, I am also complaining about the rain. But that fine big sky just said hello anyway:
Expansive sunset across the land, gotta find a campsite quick. Once it is dark, there is no way to know if I am camping in the front yard of a huge Texas ranch or just at the fence where the cows congregate: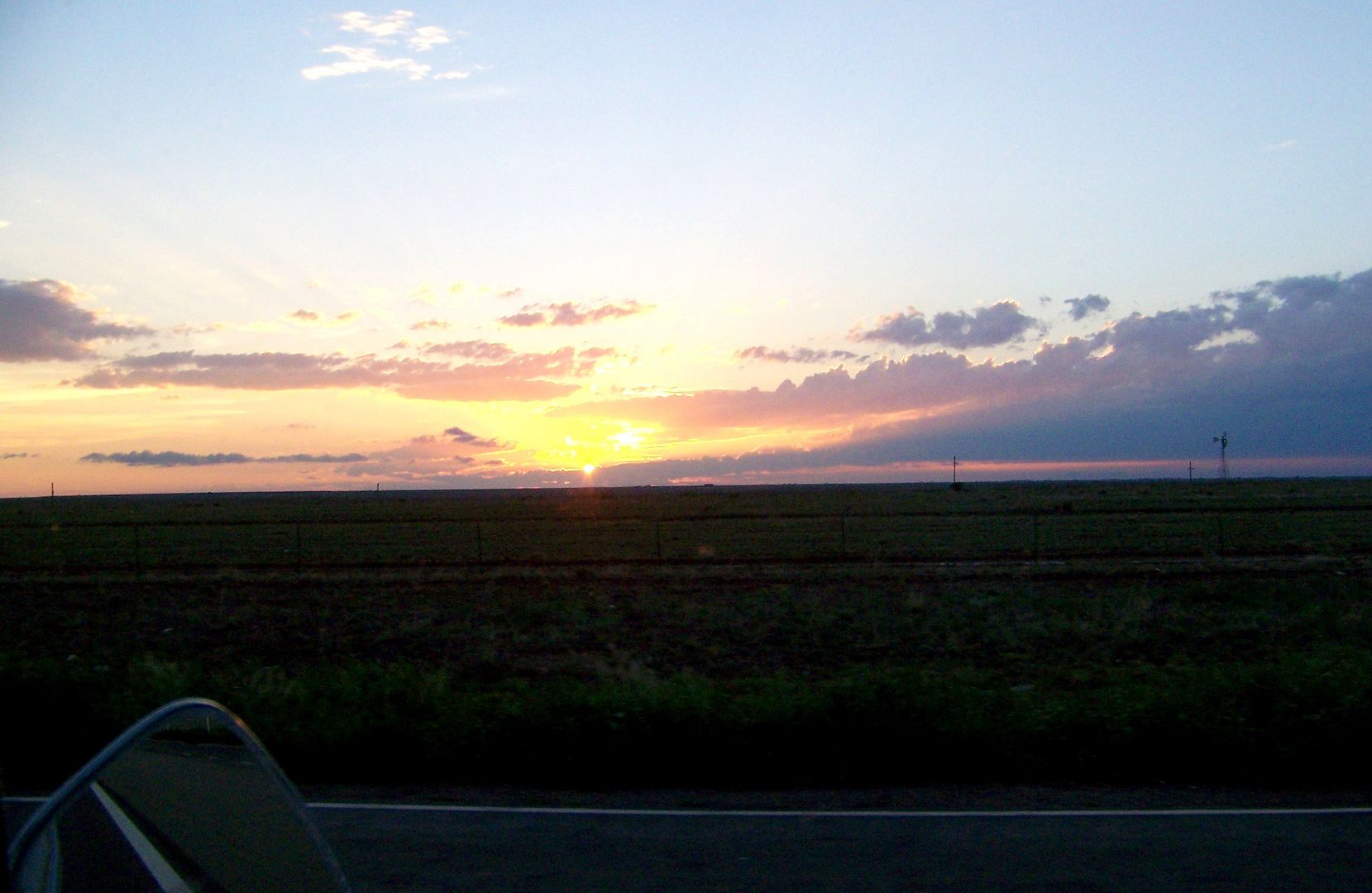 The next morning brings more trouble: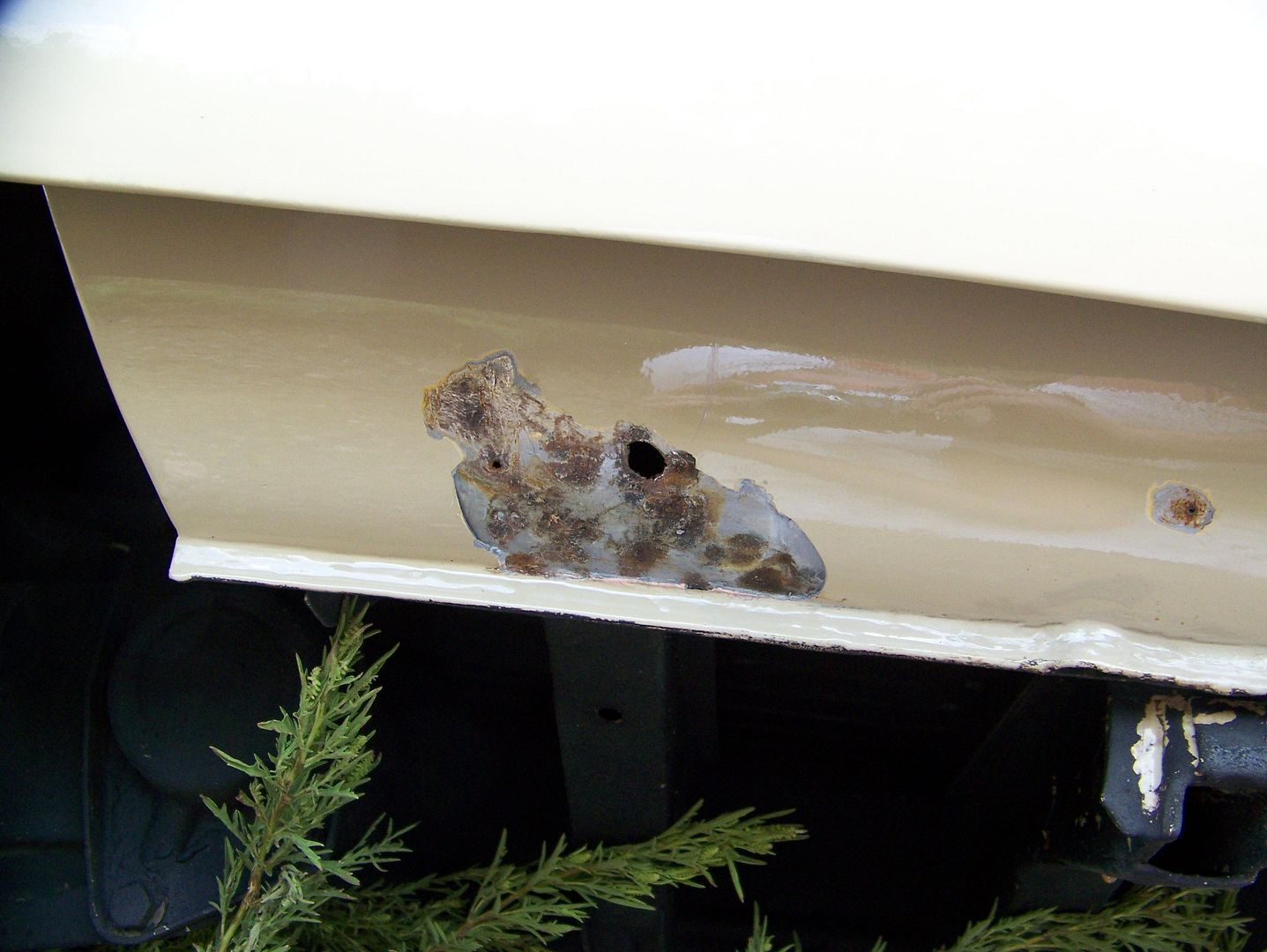 They start as just little bubbles, but they are trouble. I pried off pretty much the entire right side rocker panel, took a little work, but the fiberglass repair that was performed on this car missed one important step, rust eradication INSIDE the holy rocker panel. There was a golden opportunity to get in there and brush it out, clean it, apply rust catalyzing primer, then do the repair. This thing was merely hiding the continuing destruction of Chloe, one rainy day at a time: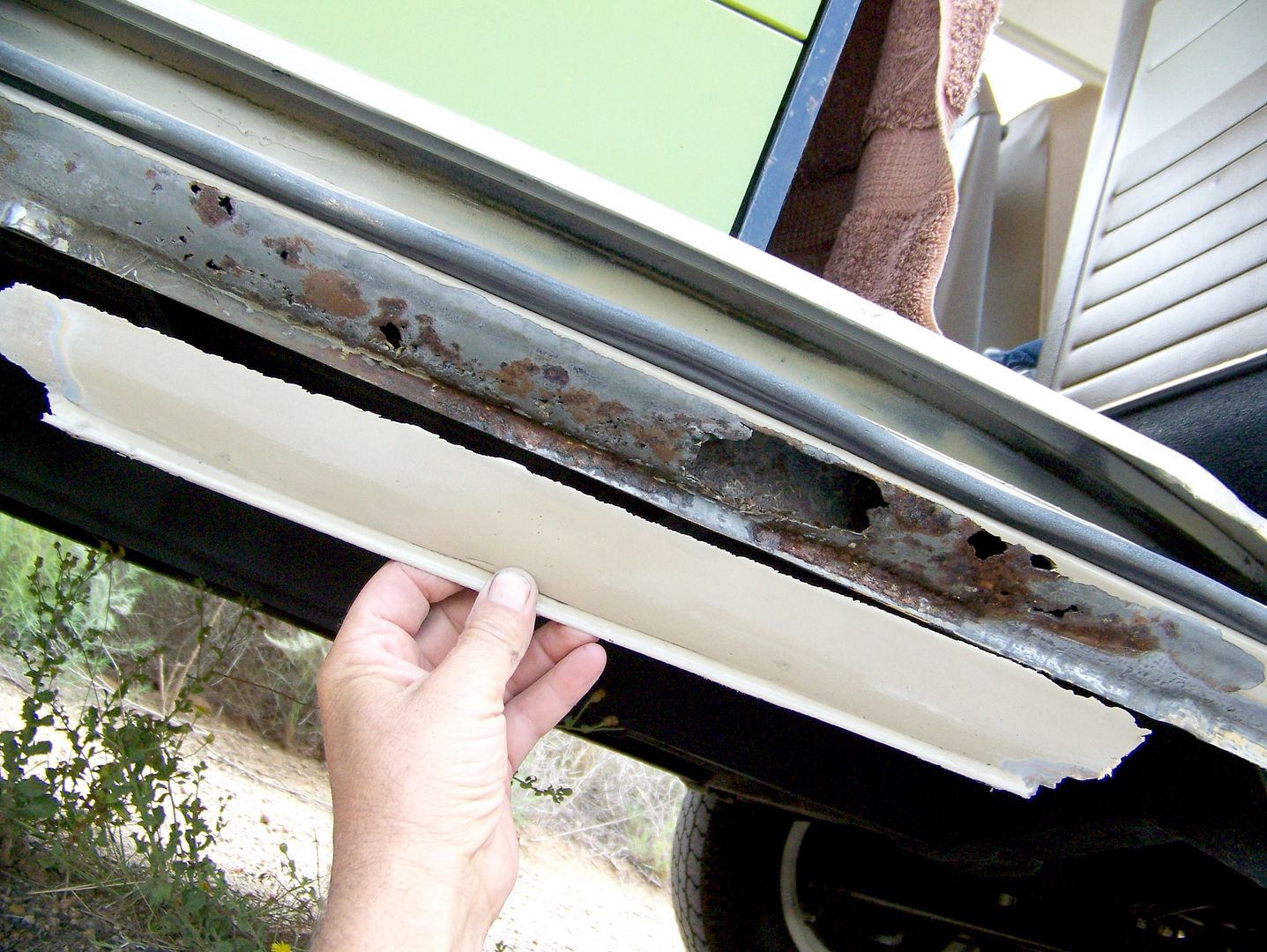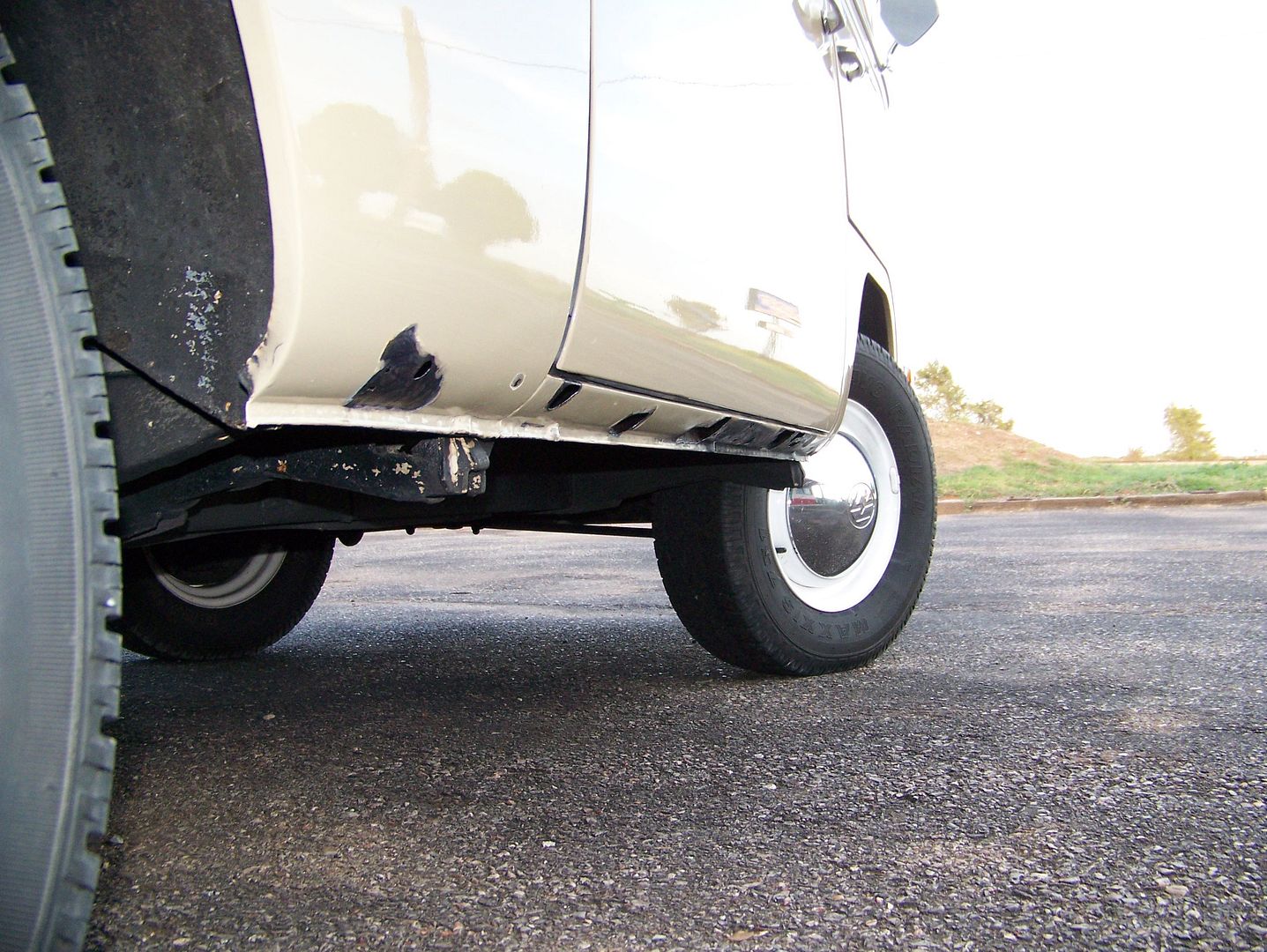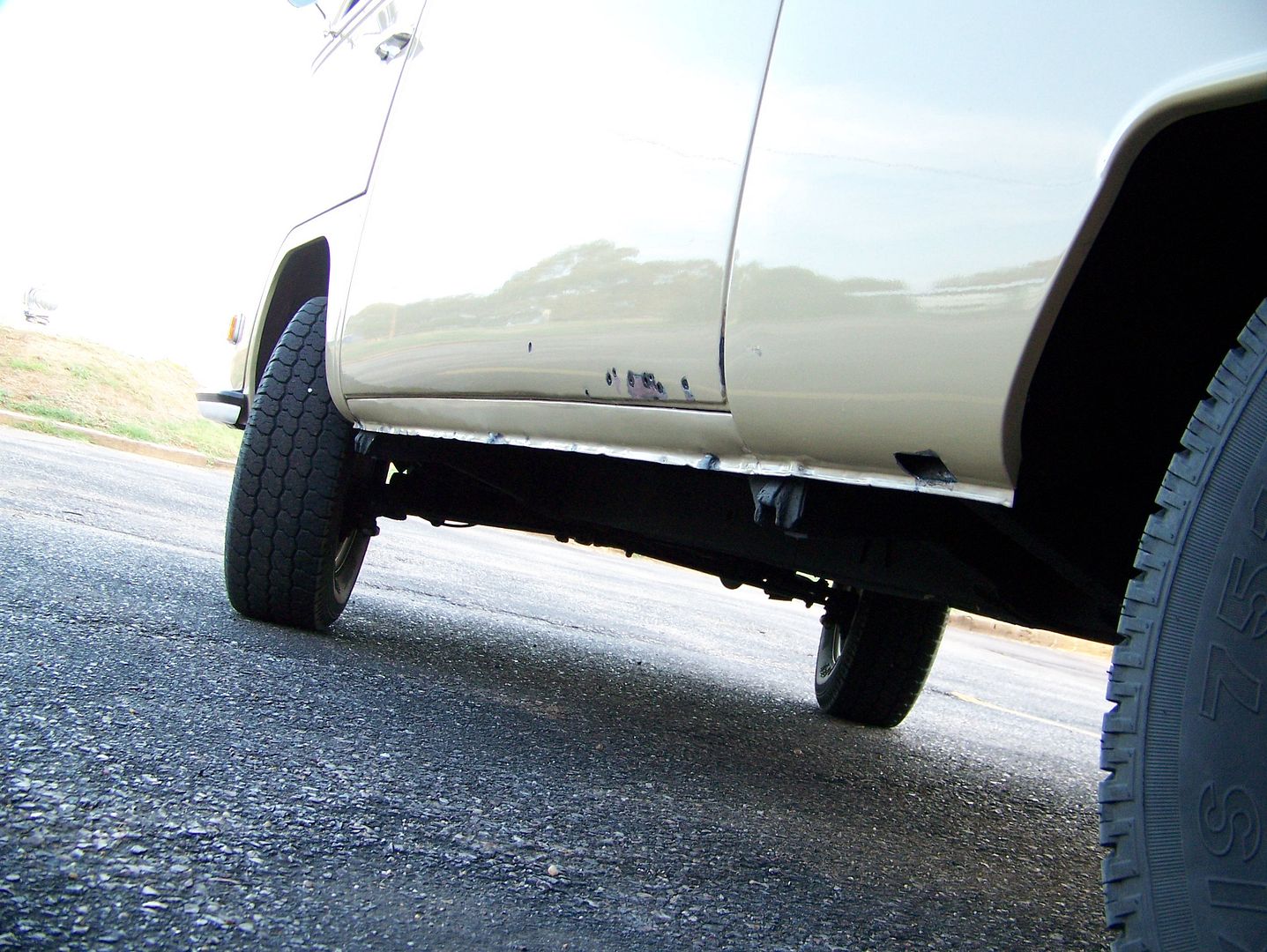 Because of the continual threat of rain, I had to hit these rockers, inside and out, with rust catalyzing primer, even though the surface had to be ground down to metal once again before I applied body filler:
Used a 1.5mm allen wrench to stick the screen in the hole: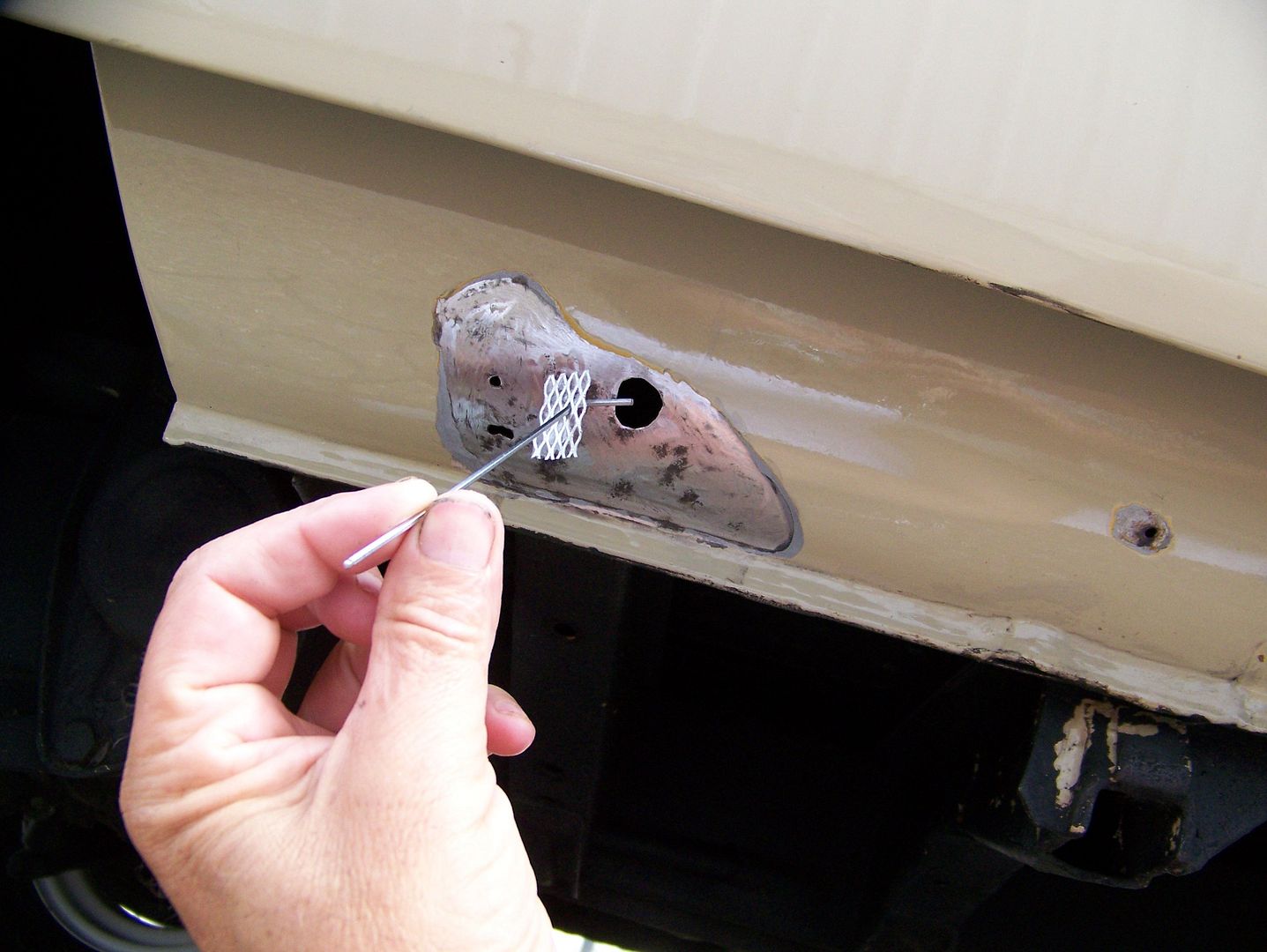 . . . then pulled the allen wrench down to hold it in place.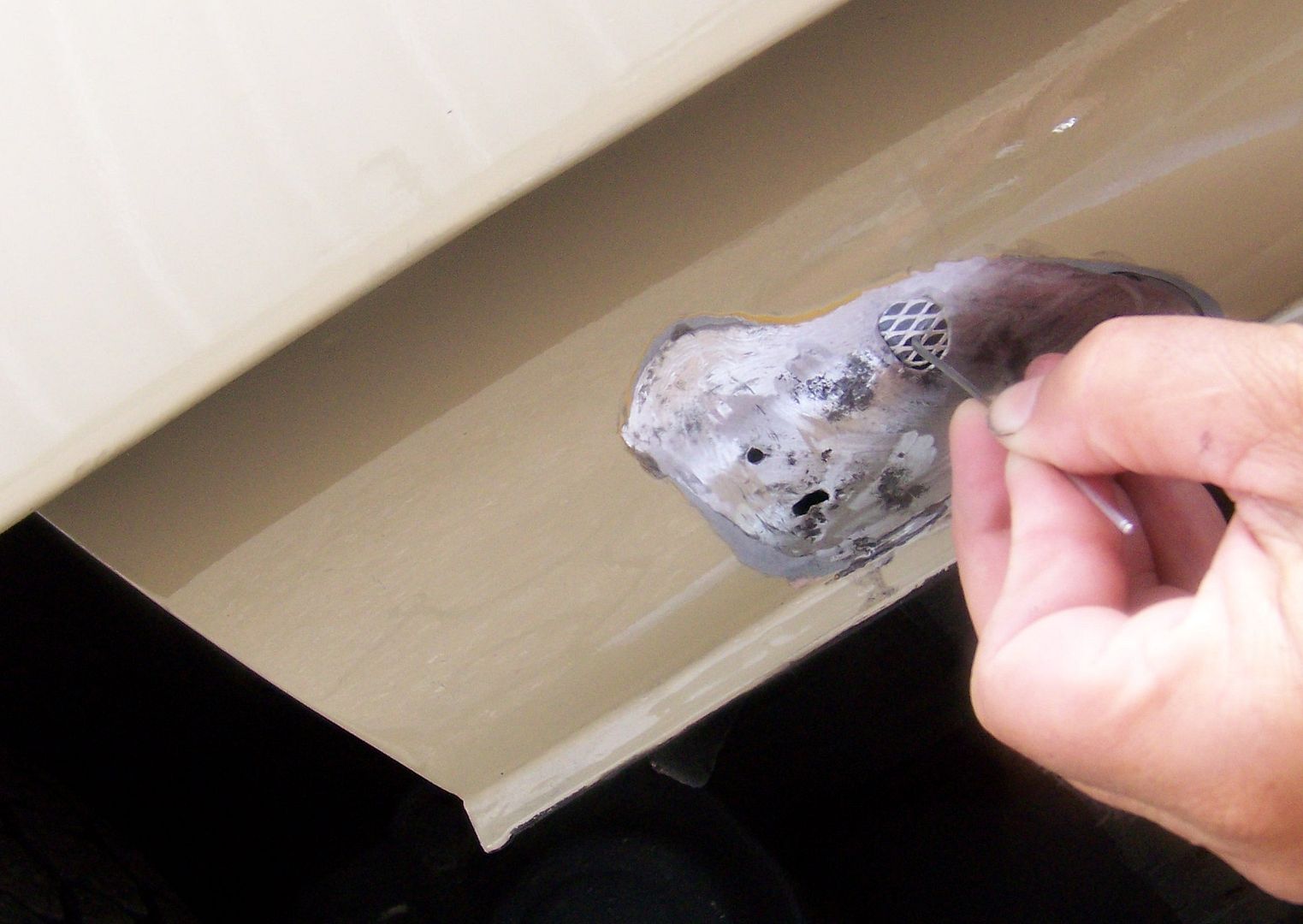 You can see that I utilized the big holes to apply some backstop for the screen, in this case, a 12" 3/8 extension with a 17mm socket on the end: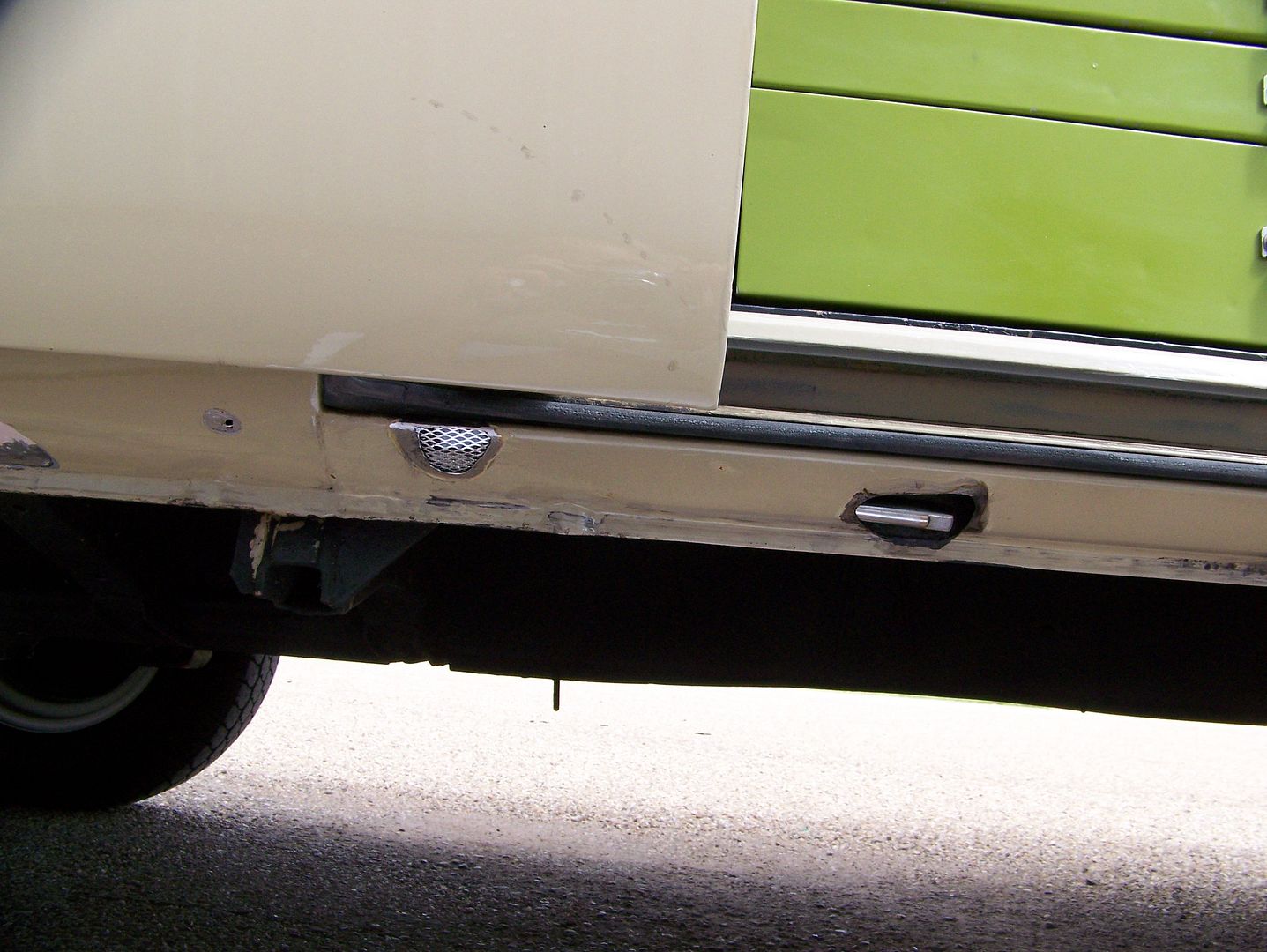 Used my trusty razor to screed the bondo down to a sandable surface: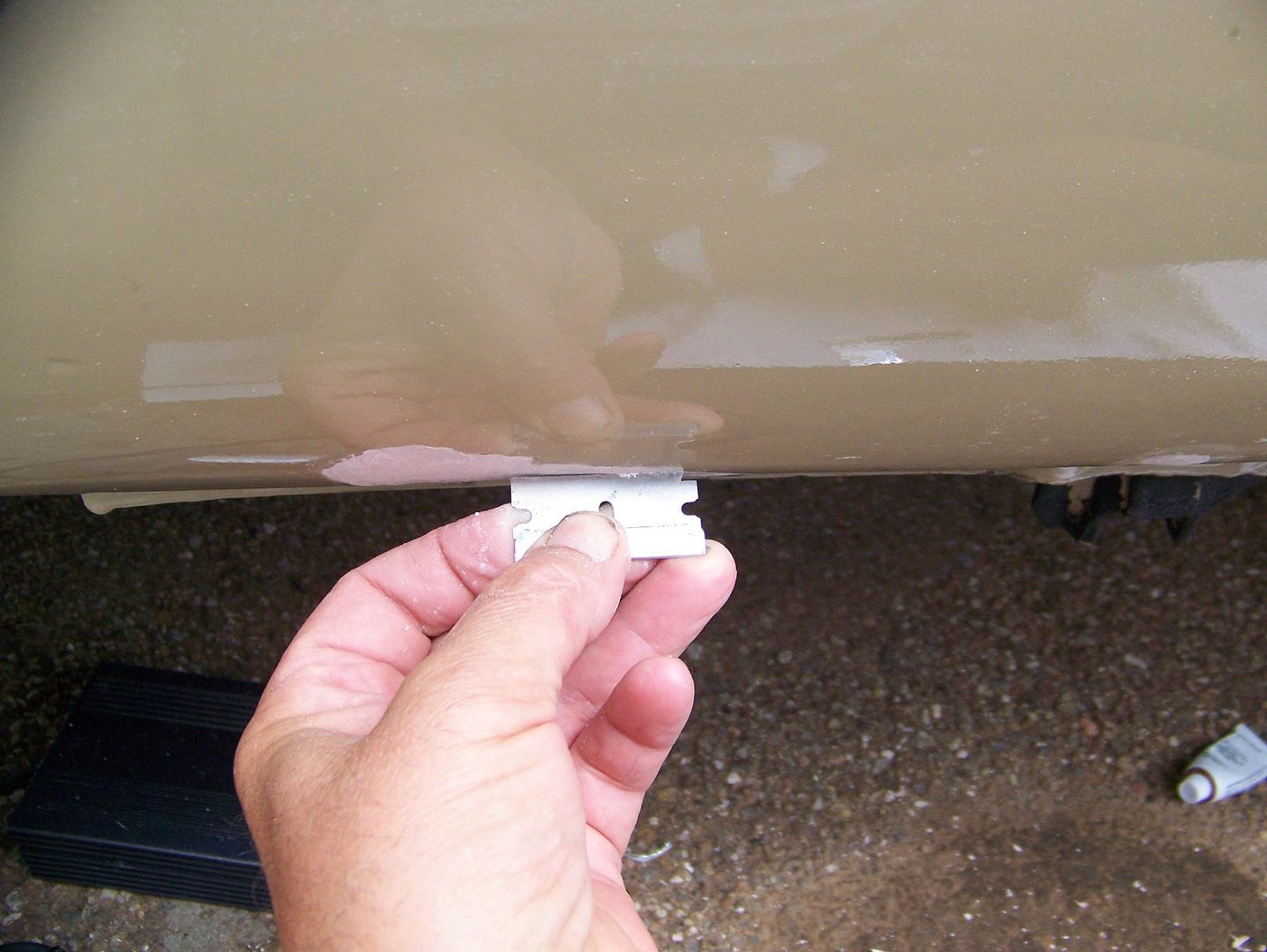 Then I got high-tech. Pulled out the Lanval Commemorative Solar Battery Charger to keep my Chitwnvw inverter happy while it ran the Dremel, the Dremel that hates my visits to Texas: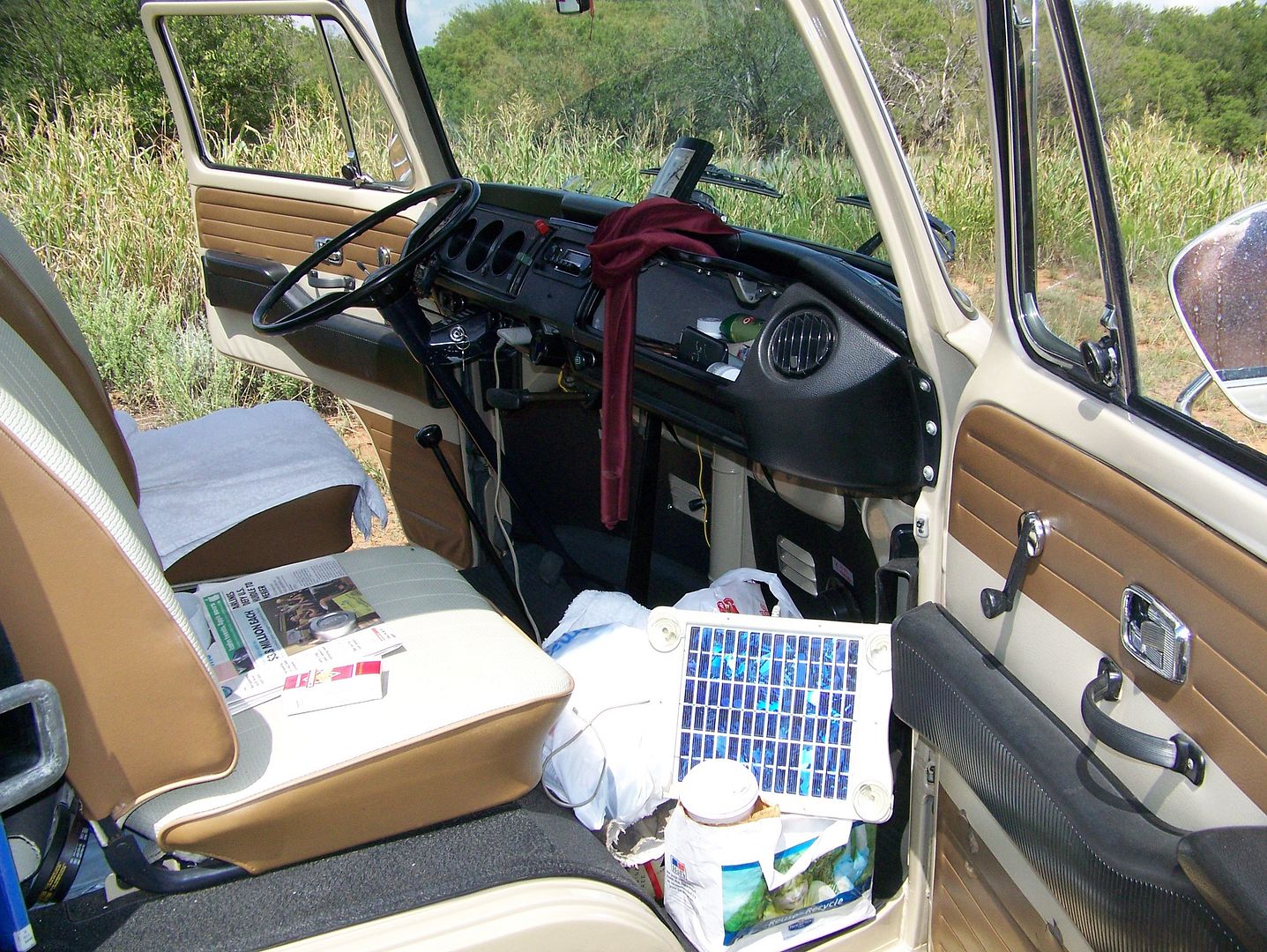 Back at the battery, you can see how I protect my auxiliary 12 volt power source using a certified VW double plastic connector to keep the connector ends stashed: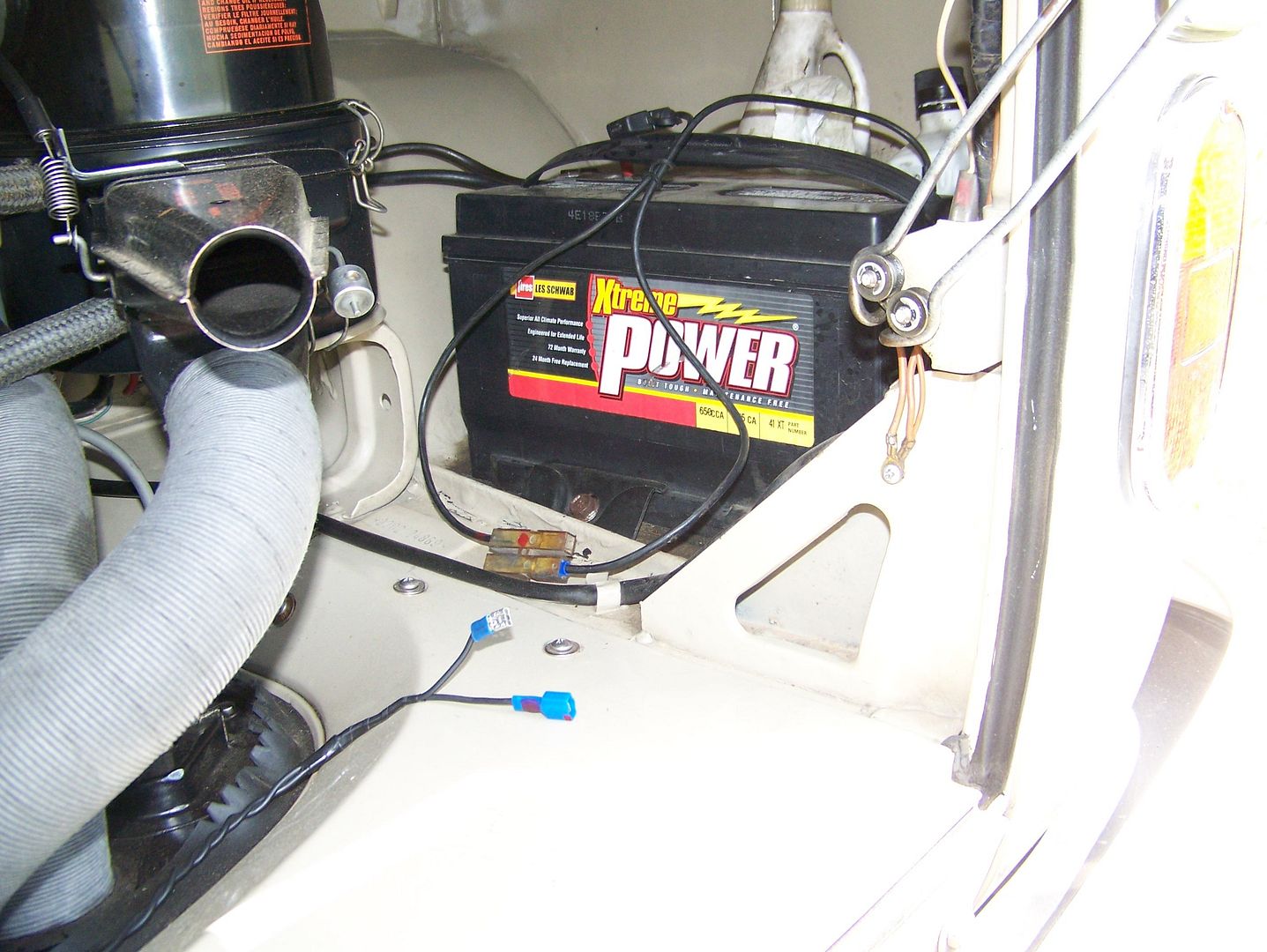 The Dremel not only helps to grind the damaged rocker surfaces to a shiny clean metal just before body filler time, it also helps me sand down the filler before I switch to my popsicle stick sanding block for final surfacing.
I knocked off at 9:00PM due to failing light, here is the right rocker, thankfully back to factory dimensions (the sill is not all wavy like it was with the fiberglass glop blobbed all over it.
Shall awake to another glorious buggy Texas morning and shall sand and sand and touch up and sand and maybe even put on a primer coat . . . but this is a big state, and my schedule somehow demands that I be north of Dallas by tomorrow night.
Colin
(addendum: started to rain like hail at midnight, no way would I be able to leave the campsite if it got saturated, so I up and left and drove two hours to Wichita Falls. What a gorgeous balmy late night drive through a wind farm's synchronized blinking red lights (of course, this being Planet Earth with Mankind and all, there was ONE light amongst hundreds flashing to its own conductor), following three gloriously tacky big rigs festooned with lights it was like Christmas)