. . . but first, How I Got Here.
I think we left off with getting blasted by heat in Phoenix and finding a hot but very beautiful campsite south of Flagstaff? Laying on the sand and rocks with a Milky Way splattered above?
Yeah, so next morning I went to Arcosanti, the urban laboratory experiment halfway between Phoenix and Flagstaff devoted to self-sufficiency since 1970. The cashier at the Shell Station off I-25 said, "I would never go out there, a bunch of freako do-gooders trying to change the world."
I replied dryly, "and how are they doing at changing the world here?":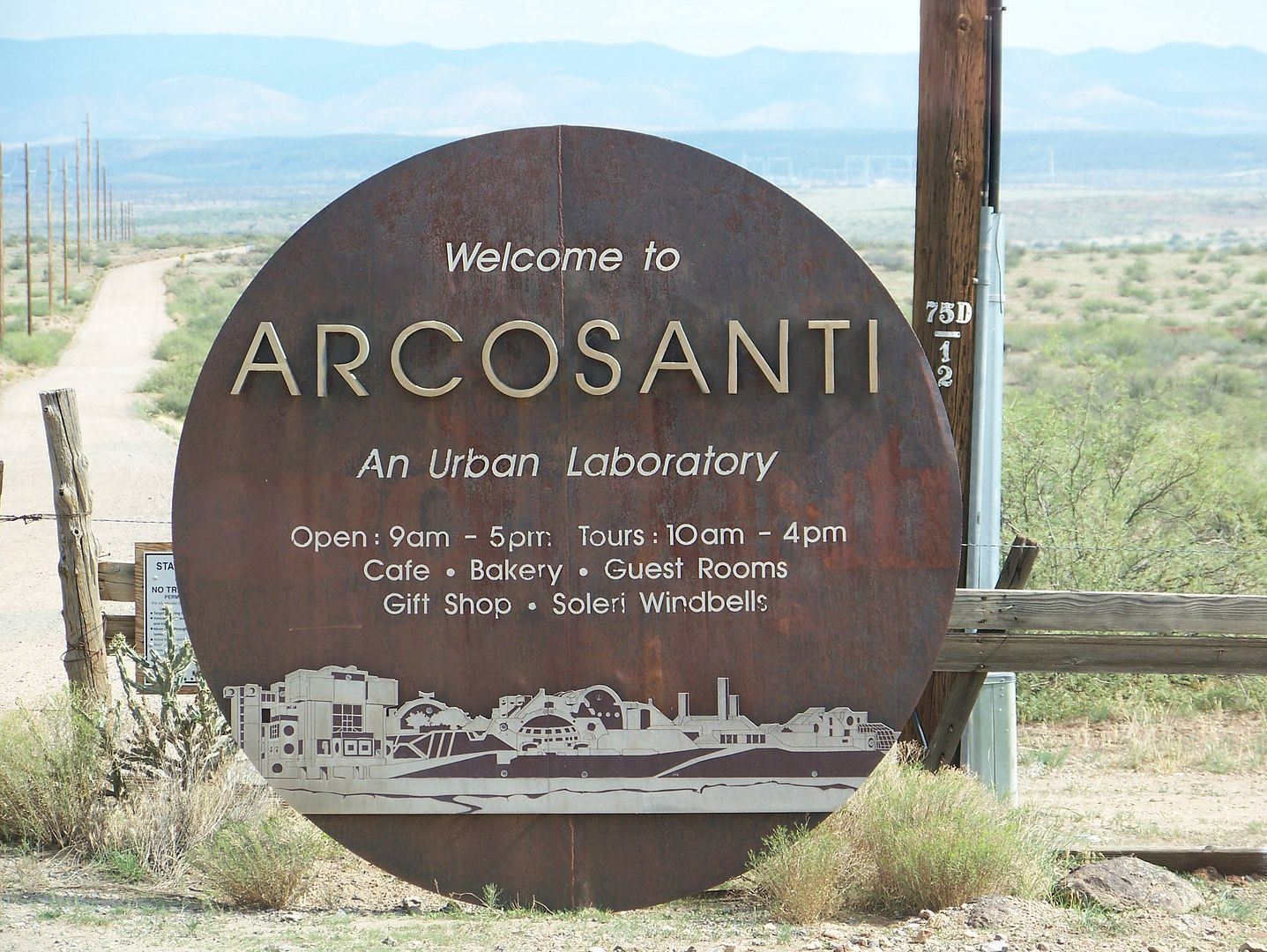 I worked there in the fall of 1980 as a 21 year-old, bending rebar and setting up forms to pour foundation footings and walls: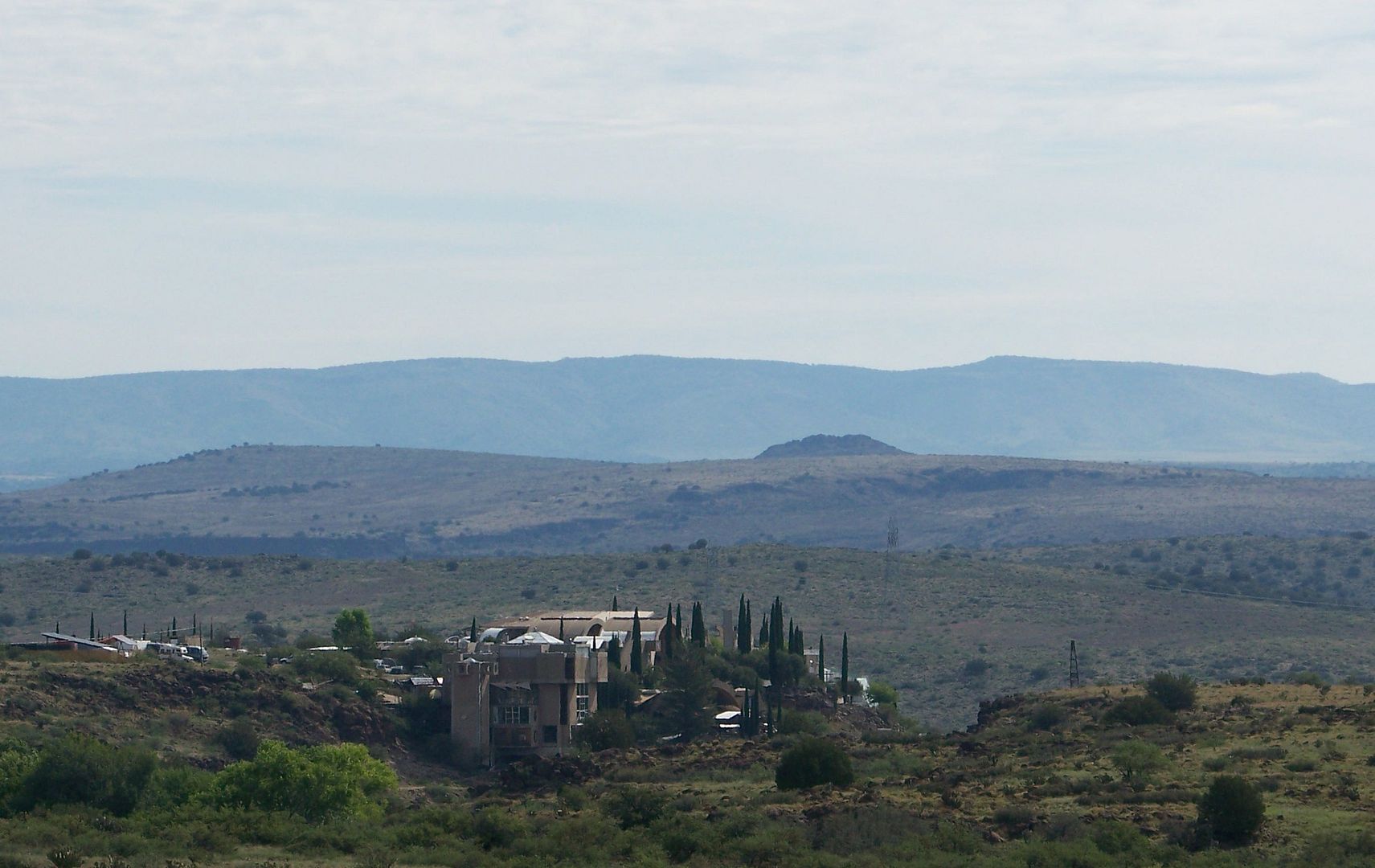 The tower of concrete is still there because I set the weld plate and rebar for it when it was just a hole in the ground.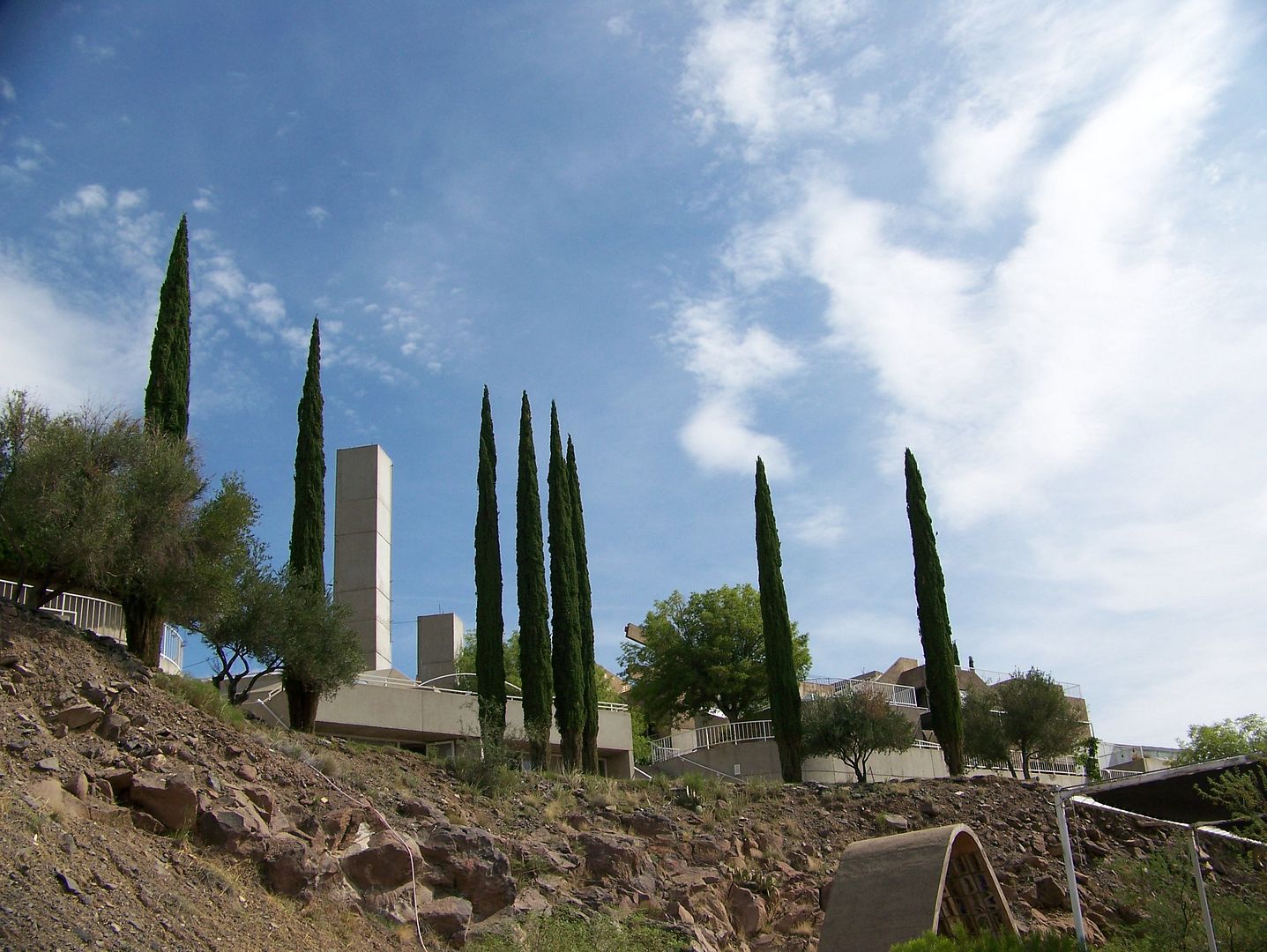 The aroma of excellent indigenous cooking wafted as I remembered it 33 years ago (!), as did some very satisfying new agey music. I remember the cooking there. That is where I tasted rattlesnake for the first time, right out of a skillet with bewitching herbs. Here is the new very-scaled-down housing: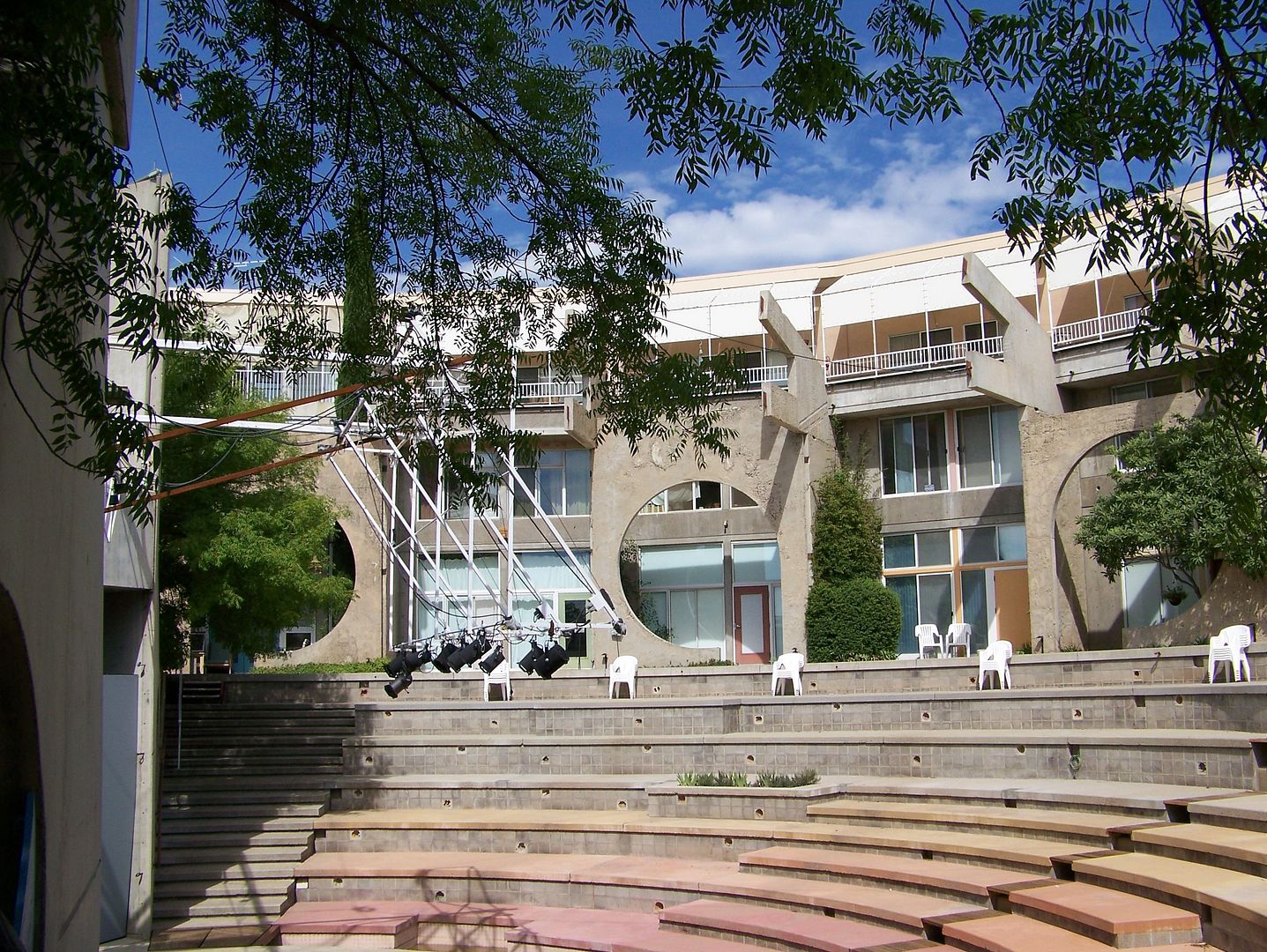 I was so young and eager and kiss-assy chatty back then. Fortunately, some saw through it and liked me anyway. It was on an excursion to Prescott to catch a movie after work with two friends that I hit the rev-limiter on the then 112,000 mile seven year-old Road Warrior on AZ 69. Here is the group gathering dome that could add accoustical vastness to any music source: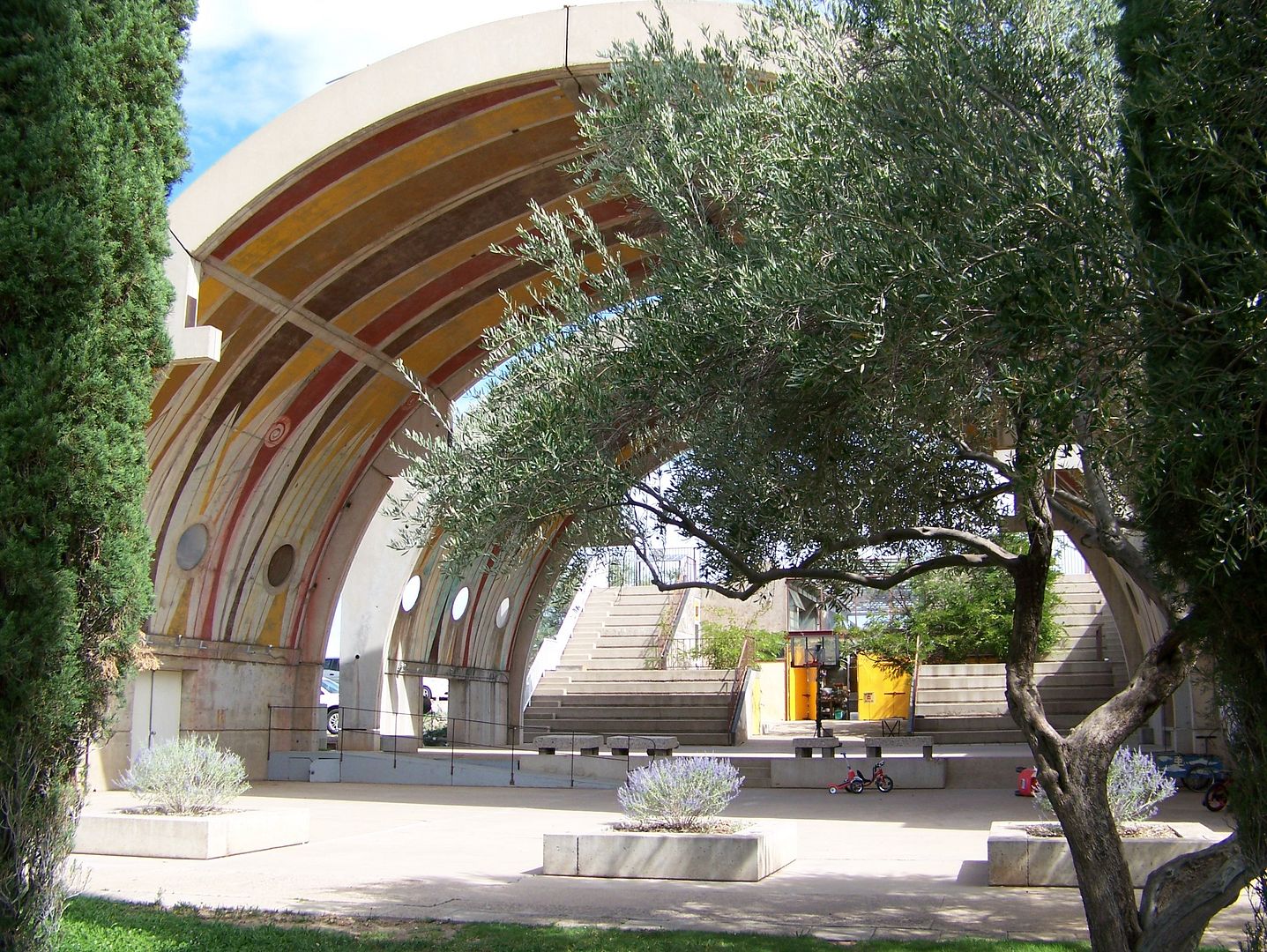 I like the effort, I like the artistry, I like the blending of native land to the buildings: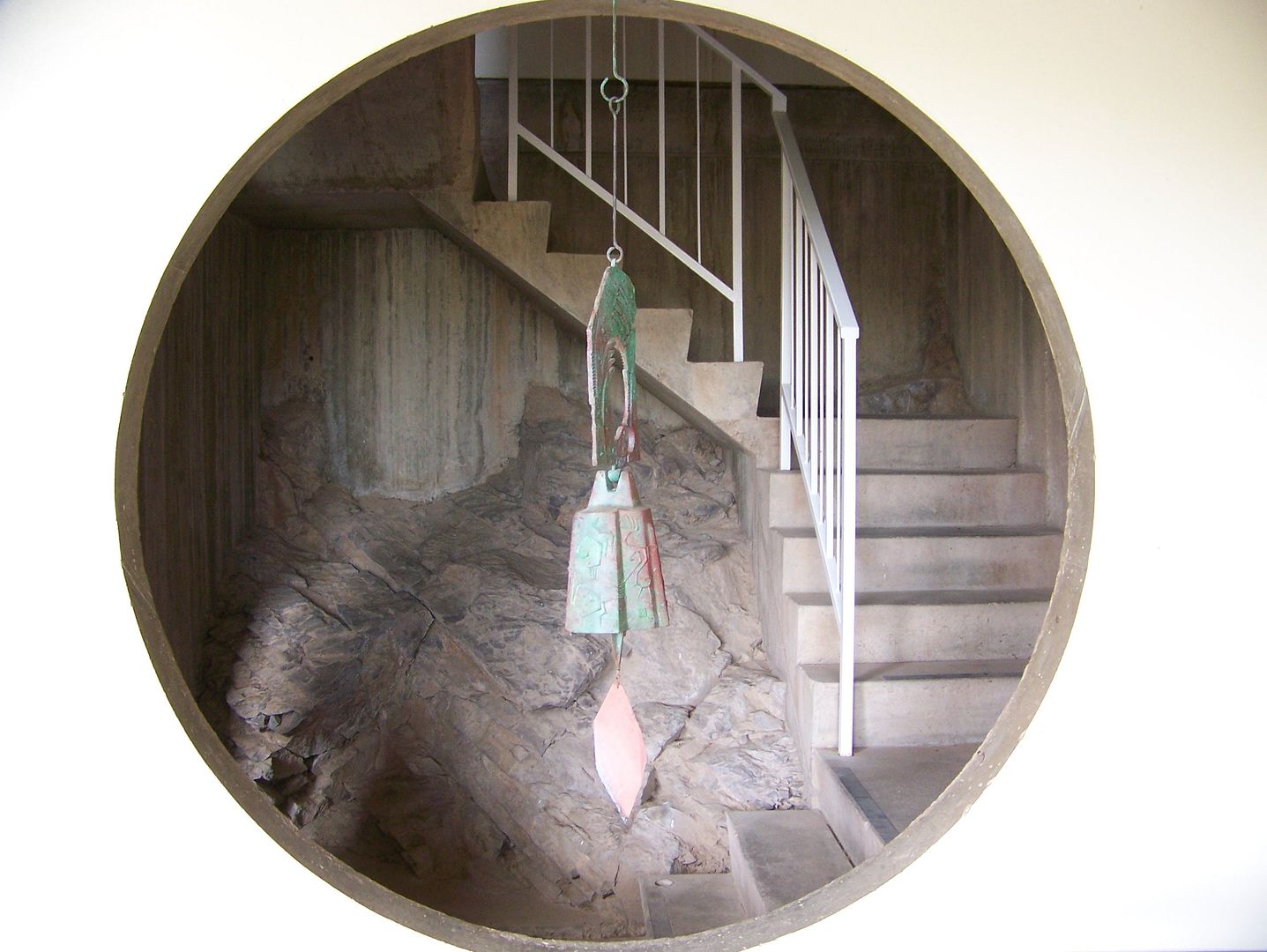 After a brief haul eastbound on I-40... :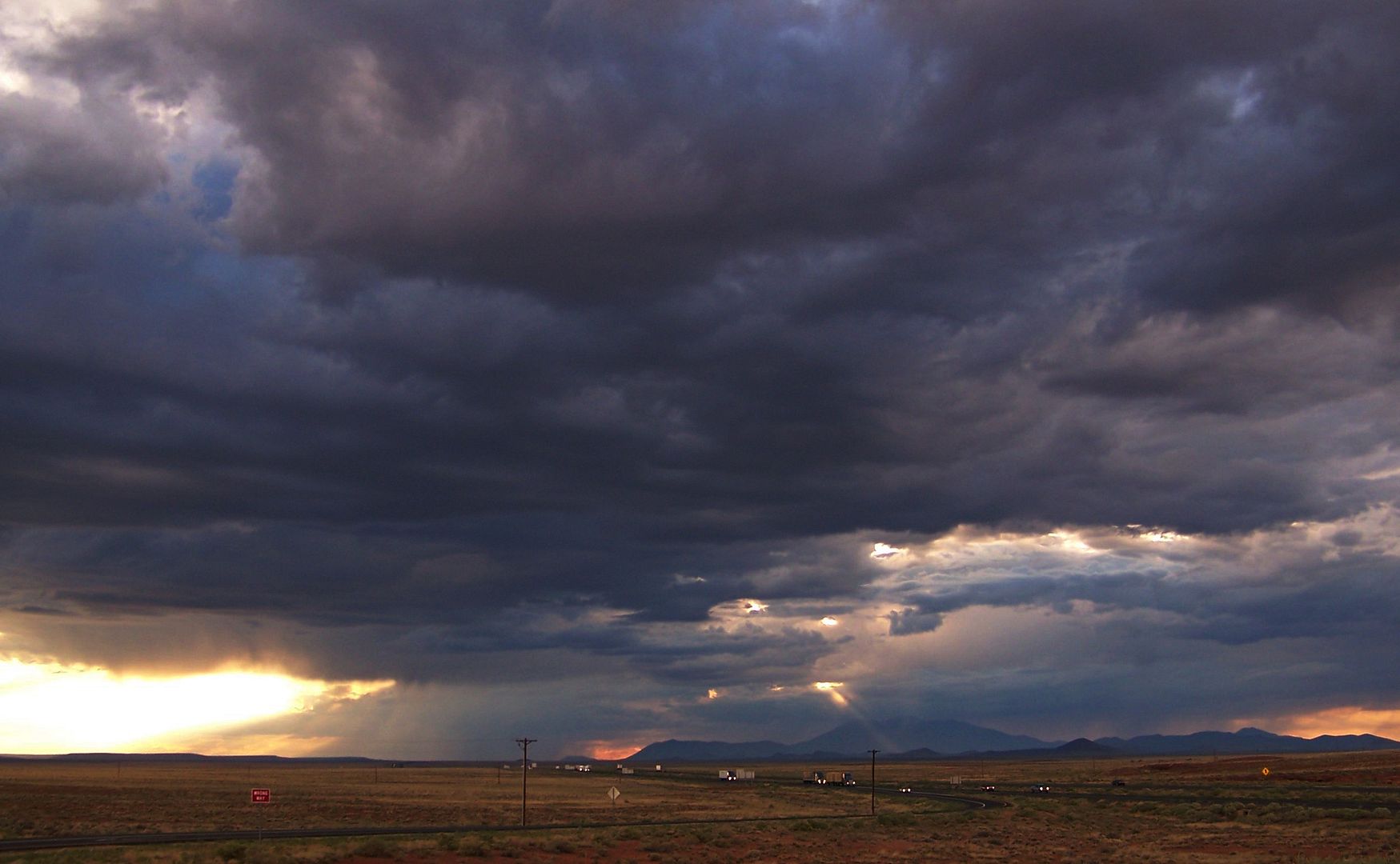 ... I ditched the interstate at this rainbowette...: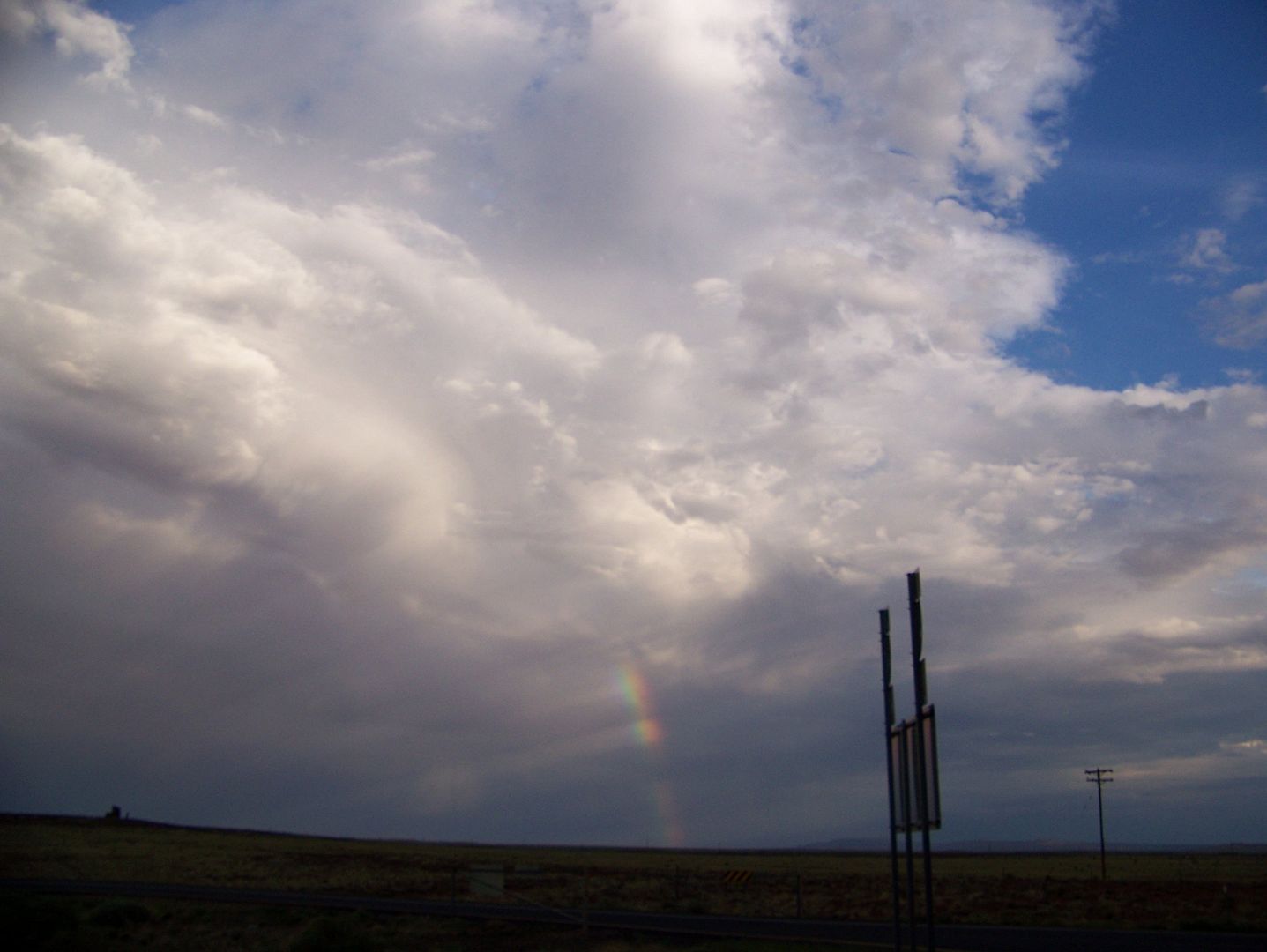 ... for some back roads that crossed me into a series of reservations:
I camped at what must have been a beer-bottle-breaking shower, the happening party spot of the reservation. I did not know this until a local policeman told me in the morning.
"This is tribal land, you must ask at the governor's office for a permit."
"The governor of the state of New Mexico, or the governor of the tribal land I'm on?
"The state of New Mexico."
"That's not fair, it should be the tribal authority that allows me to visit."
"Hmmm, yeah, but that is not the way it is."
"If I break the speed limit on tribal land, do you give me the ticket?"
"No, that would be the state police."
"WHY? Why not you?"
"We have a compact with the state, they handle all criminal and traffic matters."
"What do you get to handle?"
"You."
"Oh, well, thanks for waking me up."
"Yeah sure, no problem, what are you doing out here?"
"Glorying in the stunning beauty of these lands on my way to Albuquerque."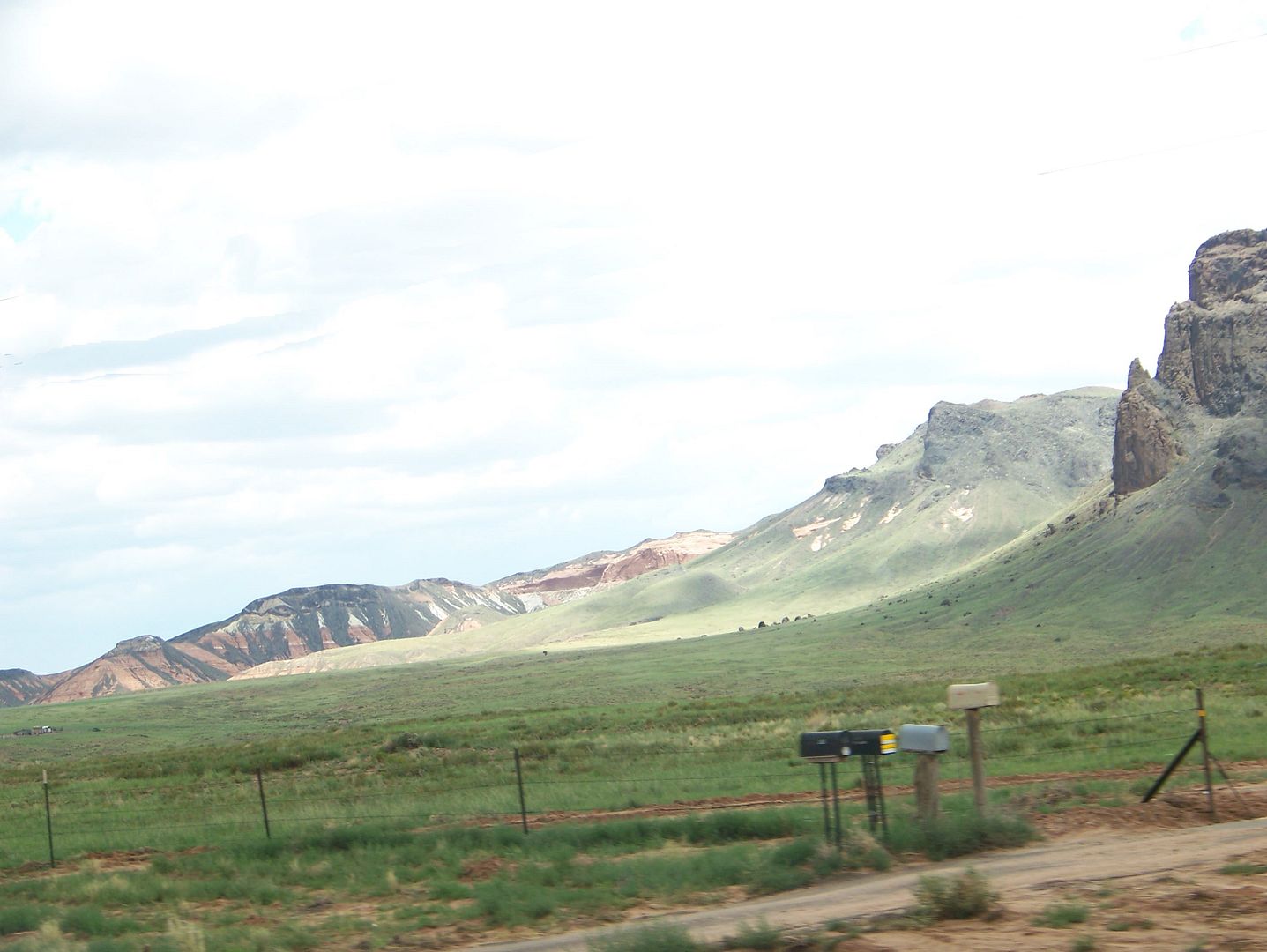 I drove into the rains: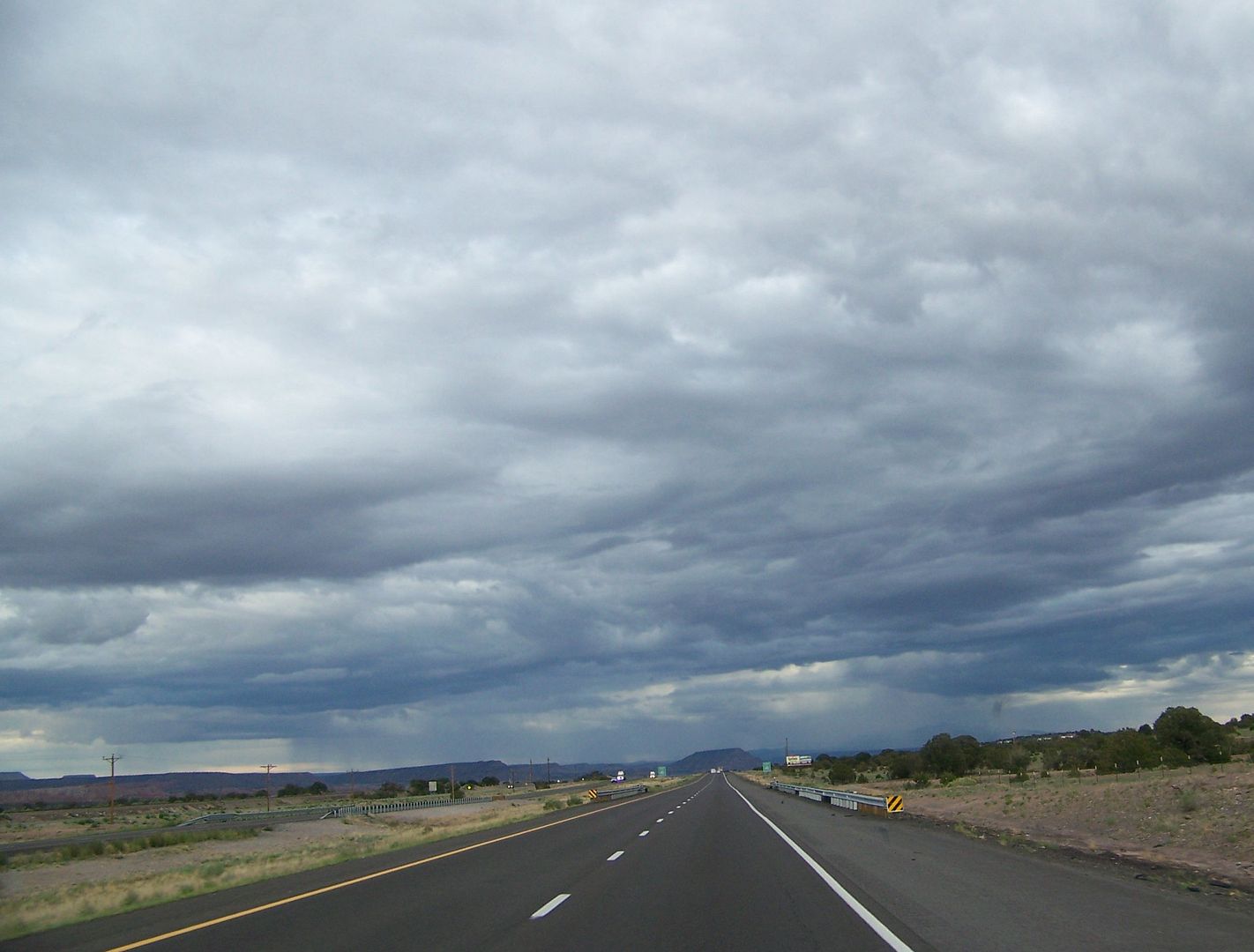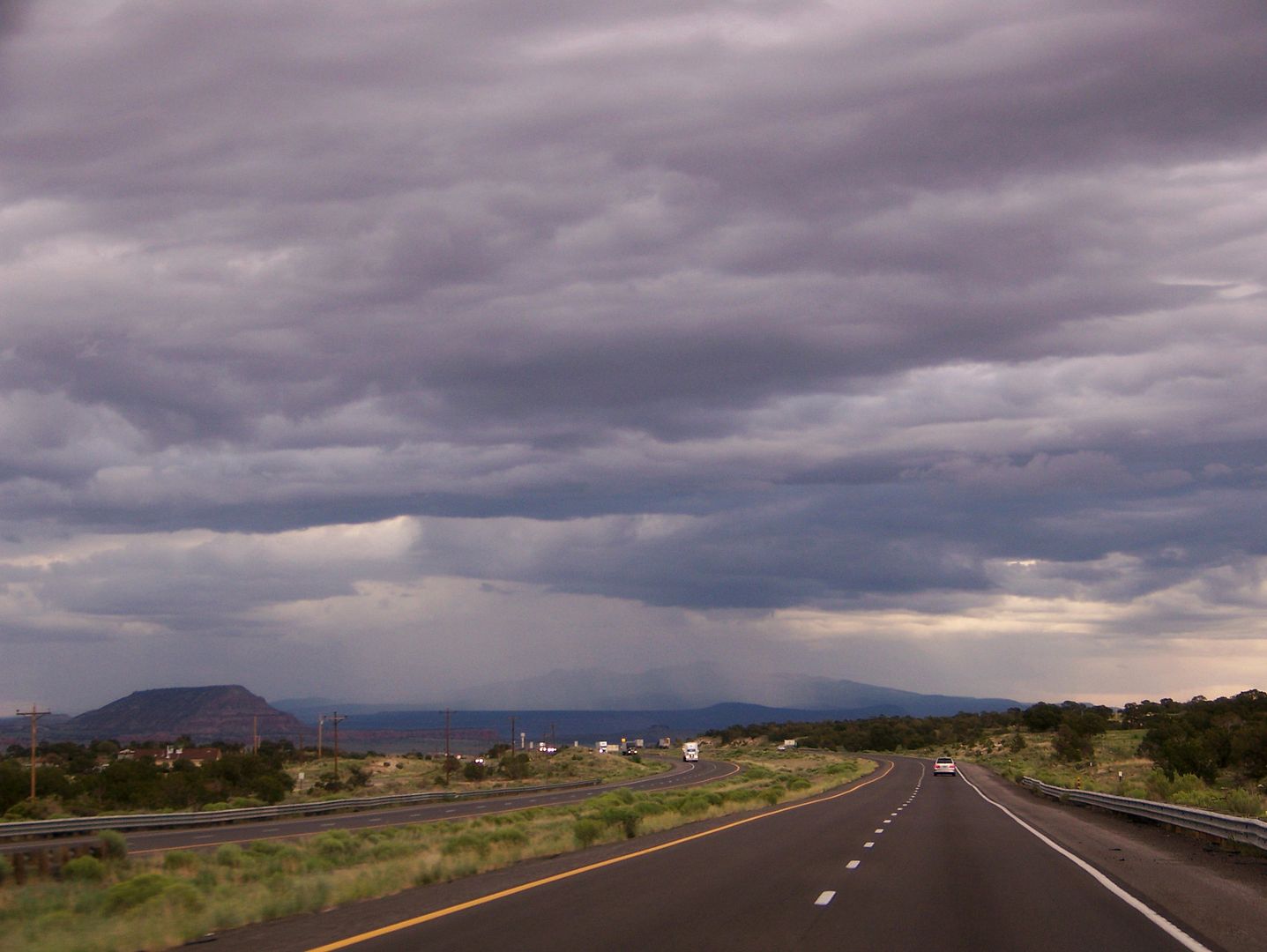 The pueblos I passed through looked pretty bitten by poverty, but there were casinos, too, with big lush offices and golf courses. There was a NINE-engined train, that still couldn't manage to move: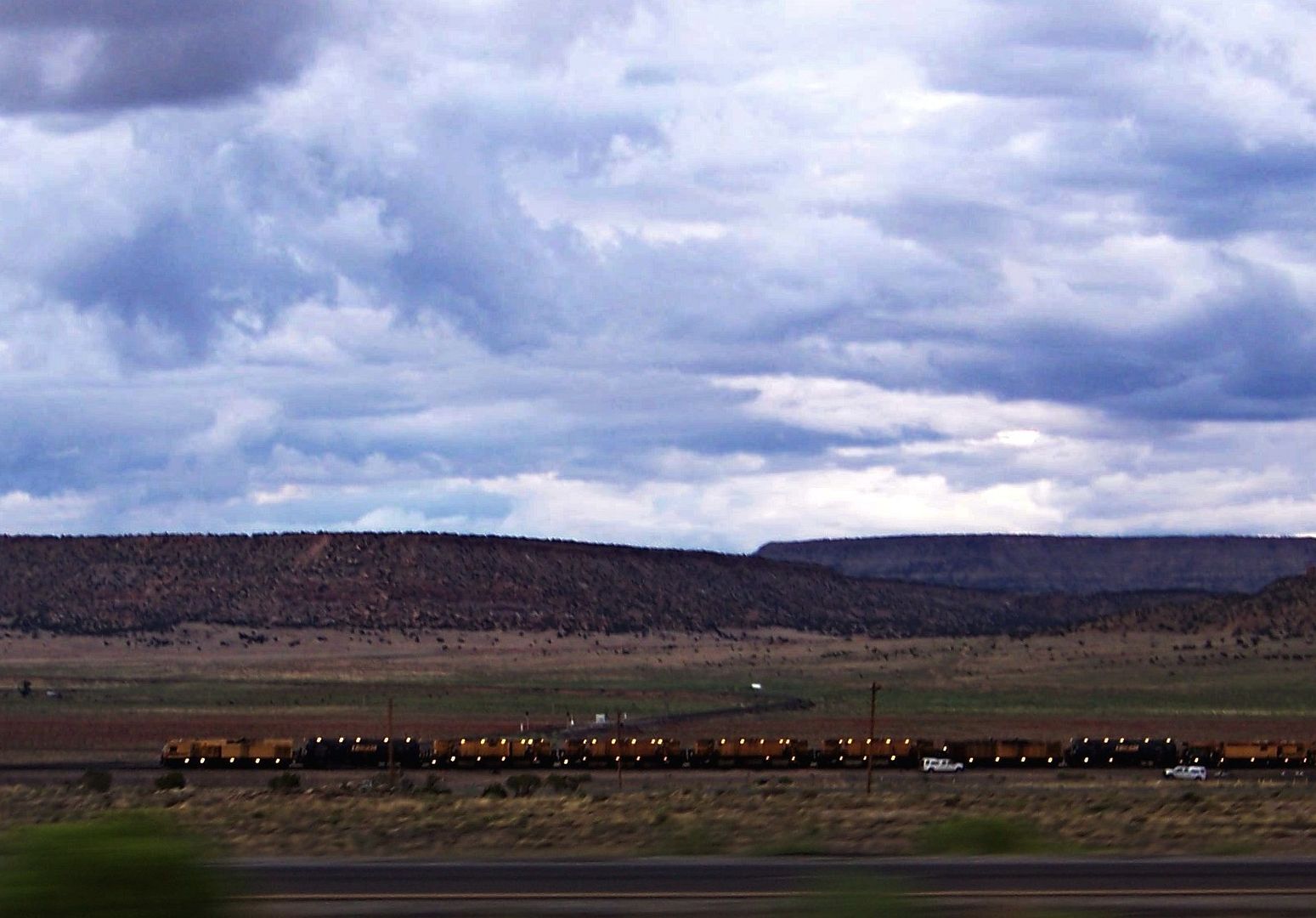 In Grants, I saw a severely obese woman fall out of a Camry and die of a heart attack in the McDonalds parking lot. Her companion was so horrified and hysterical that I cannot forget her. I felt a sick rage at our fast food culture. I saw dignity in the unconscious woman's face as she lay there in a parking lot, as the EMTs arrived and stripped off her shirt and applied shock paddles, but she was gone even as her body heaved in reaction to the jolts. I wondered if my death will be so public and bereft of intimacy.
Camped outside of Albuquerque.
Next day, I set to projects, projects and sunshine and blue sky to re-orient me. The deck lid stumbled across my view, biff! it was off and color sanded and rubbed out by noon: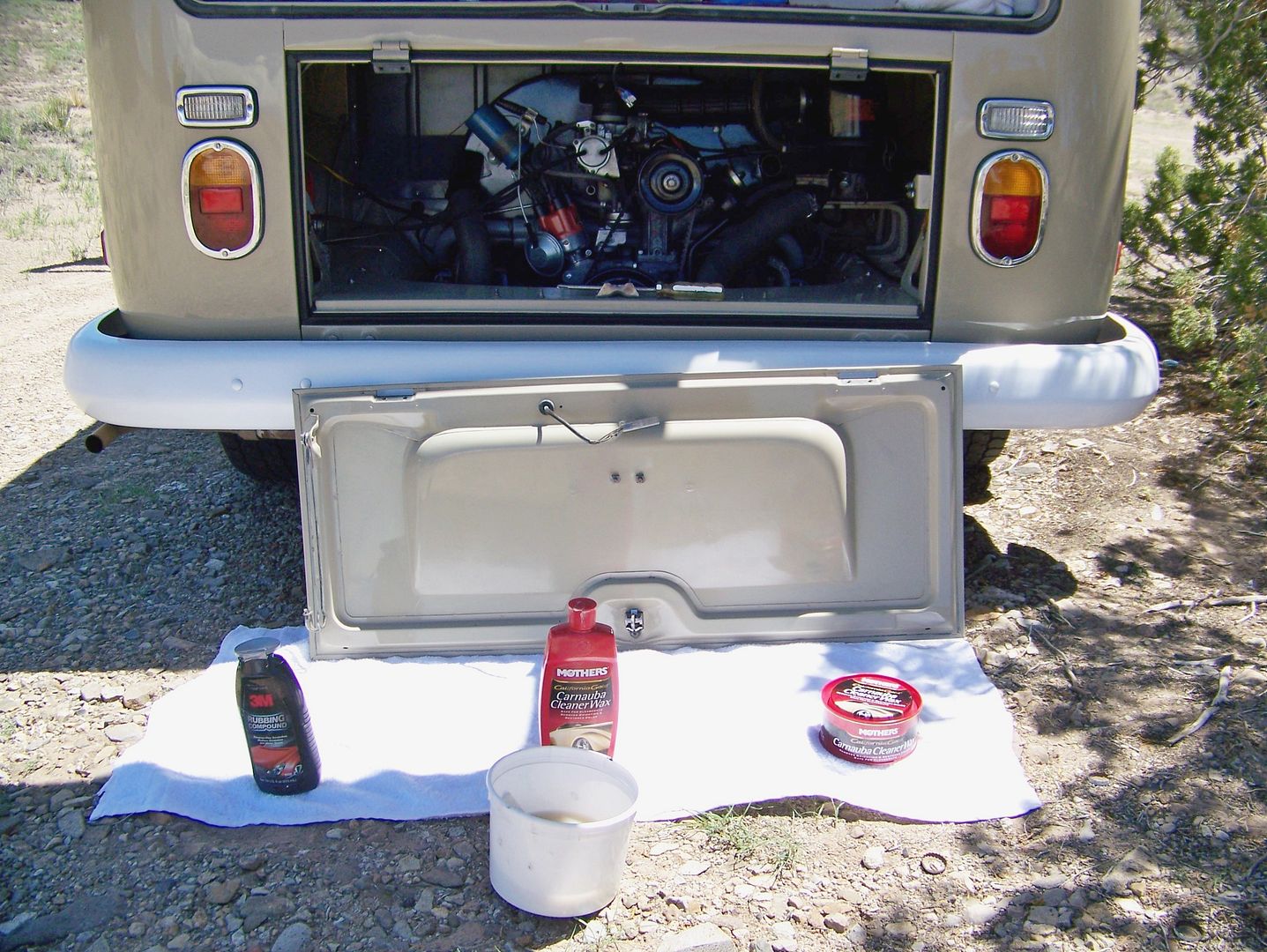 There. No more overspray primer grey flecks. More in-keeping with the outside of the car:
A tip. When installing new paper hoses, pinch the entire perimeter where it is going to slip over its metal collar. You want to crush the pleats so it will fit without tearing. Make the hoses slightly too long:
Then grease the ends. You will have to compress the hose to get it to fit, being slightly too long, but when it does, you will not need ungainly clamps:
There! New E-Z Slip On hoses)
Meanwhile, where I had to get to, Los Alamos, was getting barraged in the distance with its daily deluge of monsoon.
I'm in it as we type. Massive hail the size of peas . . .
Colin