Death Valley II (now with video)
Posted: Thu Jul 25, 2013 9:41 am
I picked the hottest day of year for the Death Valley traverse to help further the understanding that a stock Volkswagen in a decent state of assembly and tune will have no problem with withering heat. A VW bus works its engine the hardest of all, and a singleport 1600 saddled with the first generation of emission controls that were beginning to demand lean mixtures like the 30 Pict3 carburetor with the 112 main jet, is as good a test mule as any. This engine's vacuum-only advance distributor is normally set to "0" TDC with the engine off. I set it to 4* ATDC. The mixture was set to best idle + 1/4 turn. The crankcase was over-filled by a 1/2 quart, using Castrol GTX 20-50.
I arrived via the Beatty Nevada entrance using Rt 374 to Daylight Pass Road: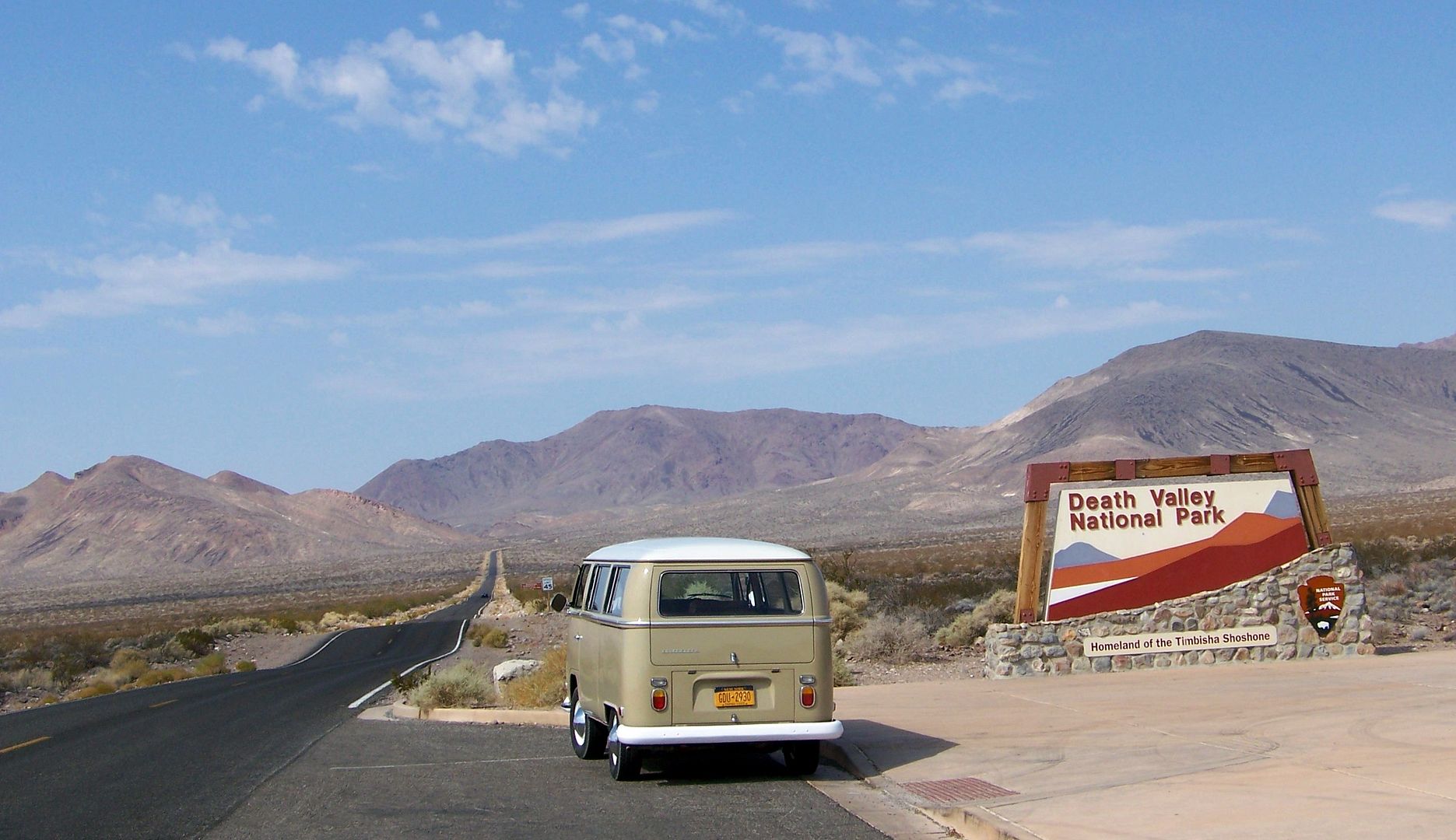 The first hill climb: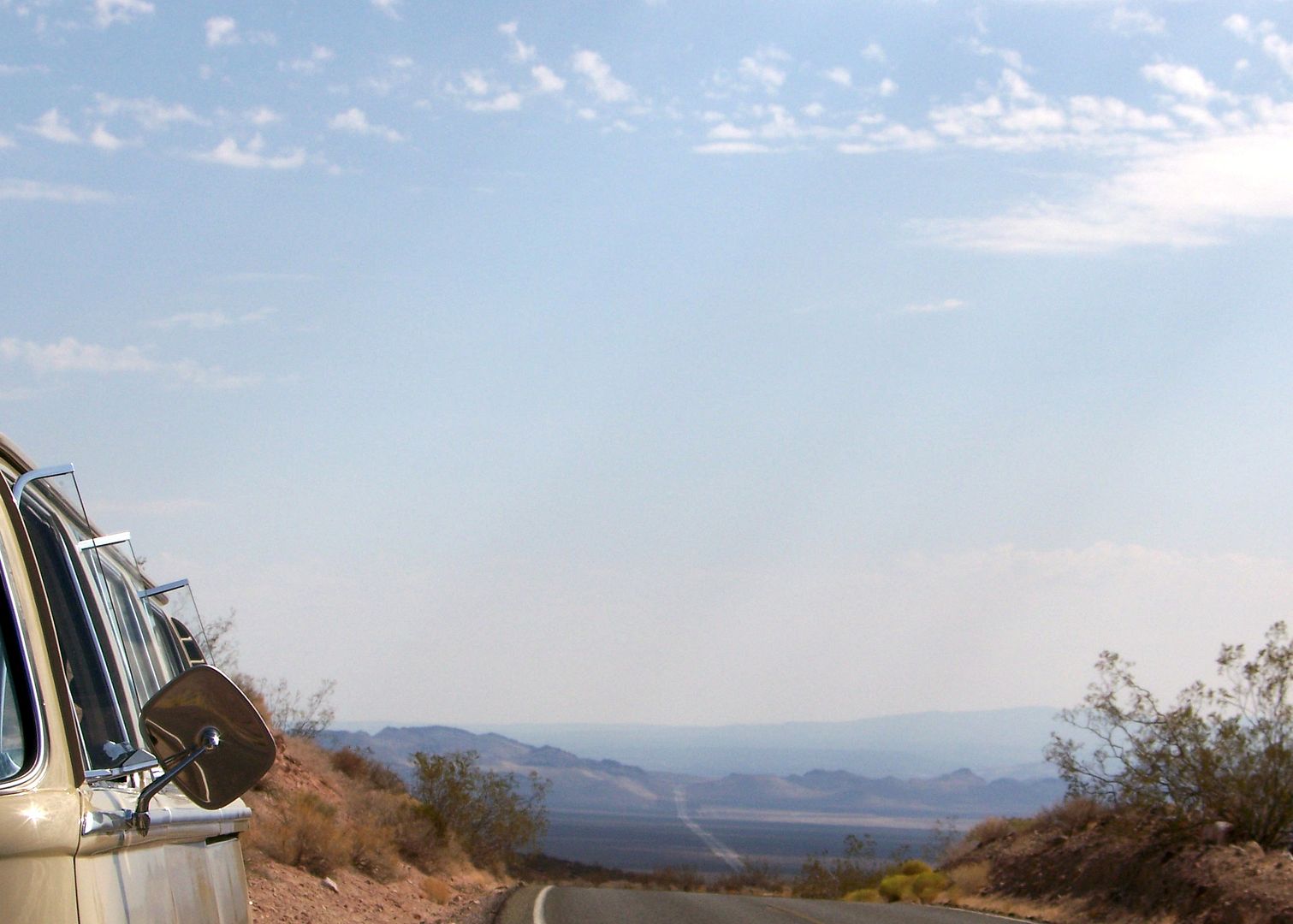 Some crazy corkscrew mountain, like a lava ice cream cone from millions of years ago: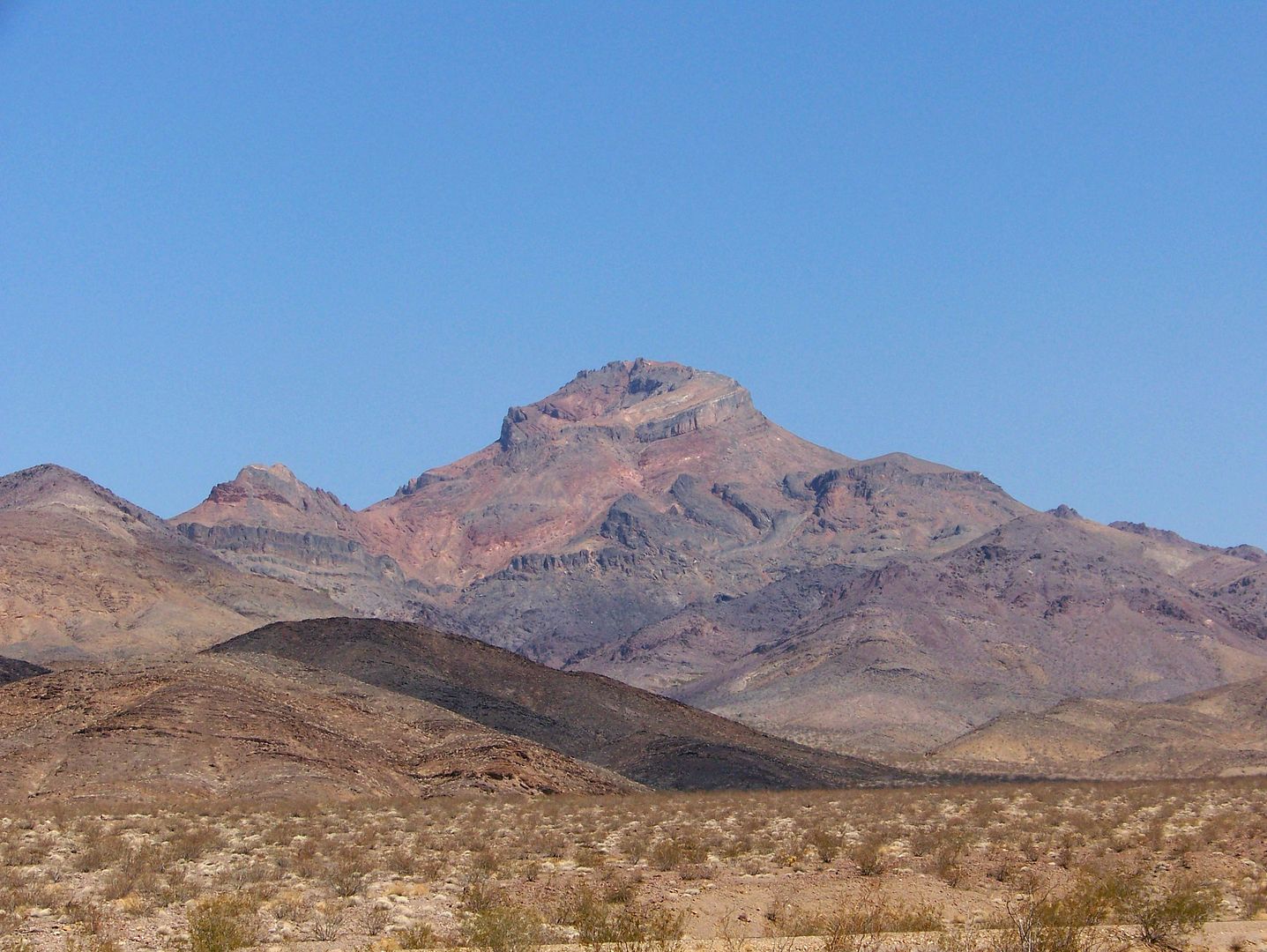 First view of Death Valley was hampered by way too much moisture in the air:
So I went back up Daylight Pass Road (and *passed* a brand new Unknown Vehicle with manufacturer plates from Michigan ... see, they thought today was a good day to test their car, too) to waste an hour. I decided to adjust the tie rods a tad to prevent my big Maxxis 751 tires from touching the stabilizer bar at right lock. Did I mention it was blistering hot? An hour later, the view was still too-moisture-laden, but hey, I tried:
I took 190 west down to the valley floor. You have got to experience this. The heat just envelops you in a blast as you descend:
Way up at Sea Level: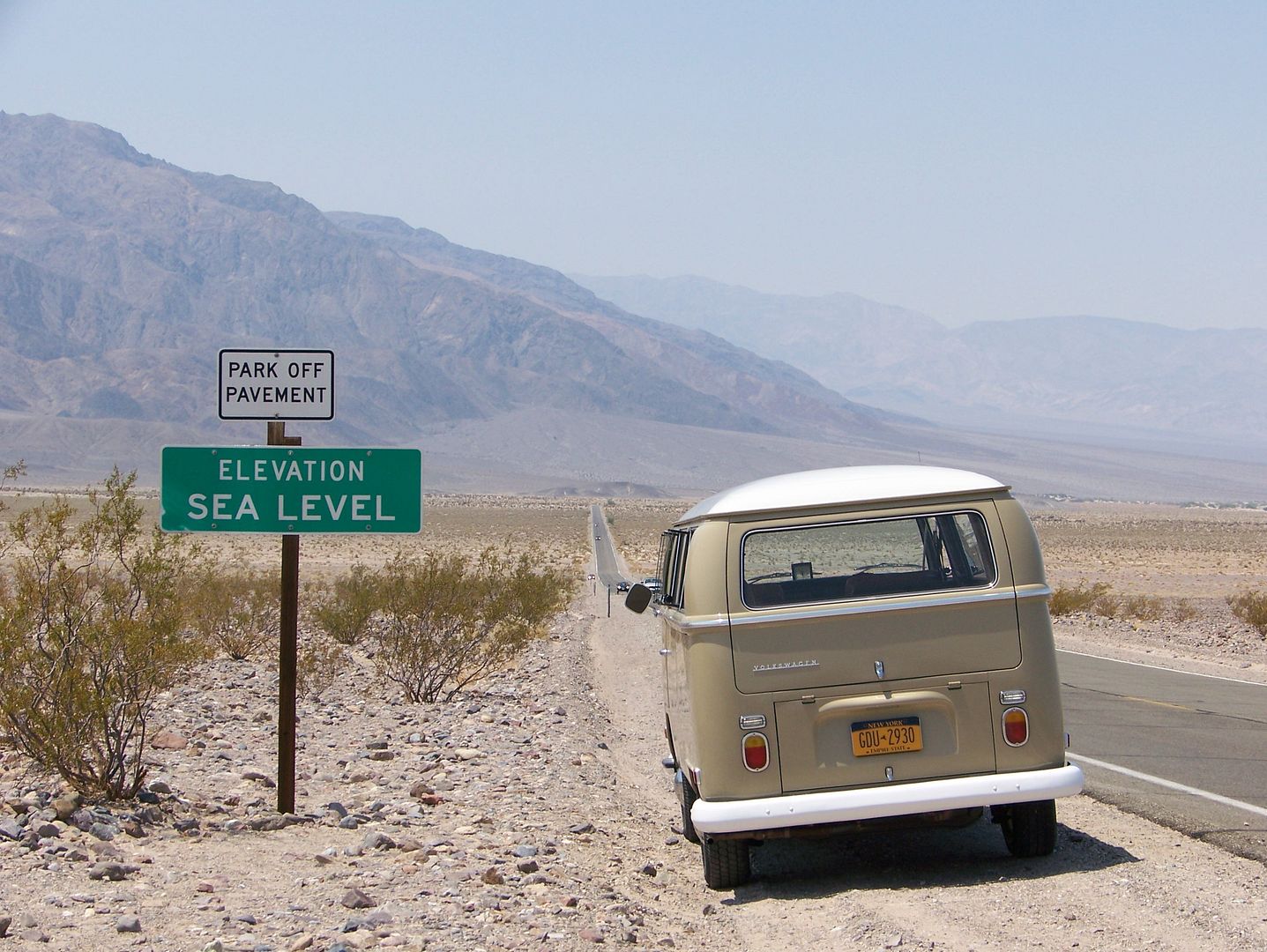 Way down below Sea Level: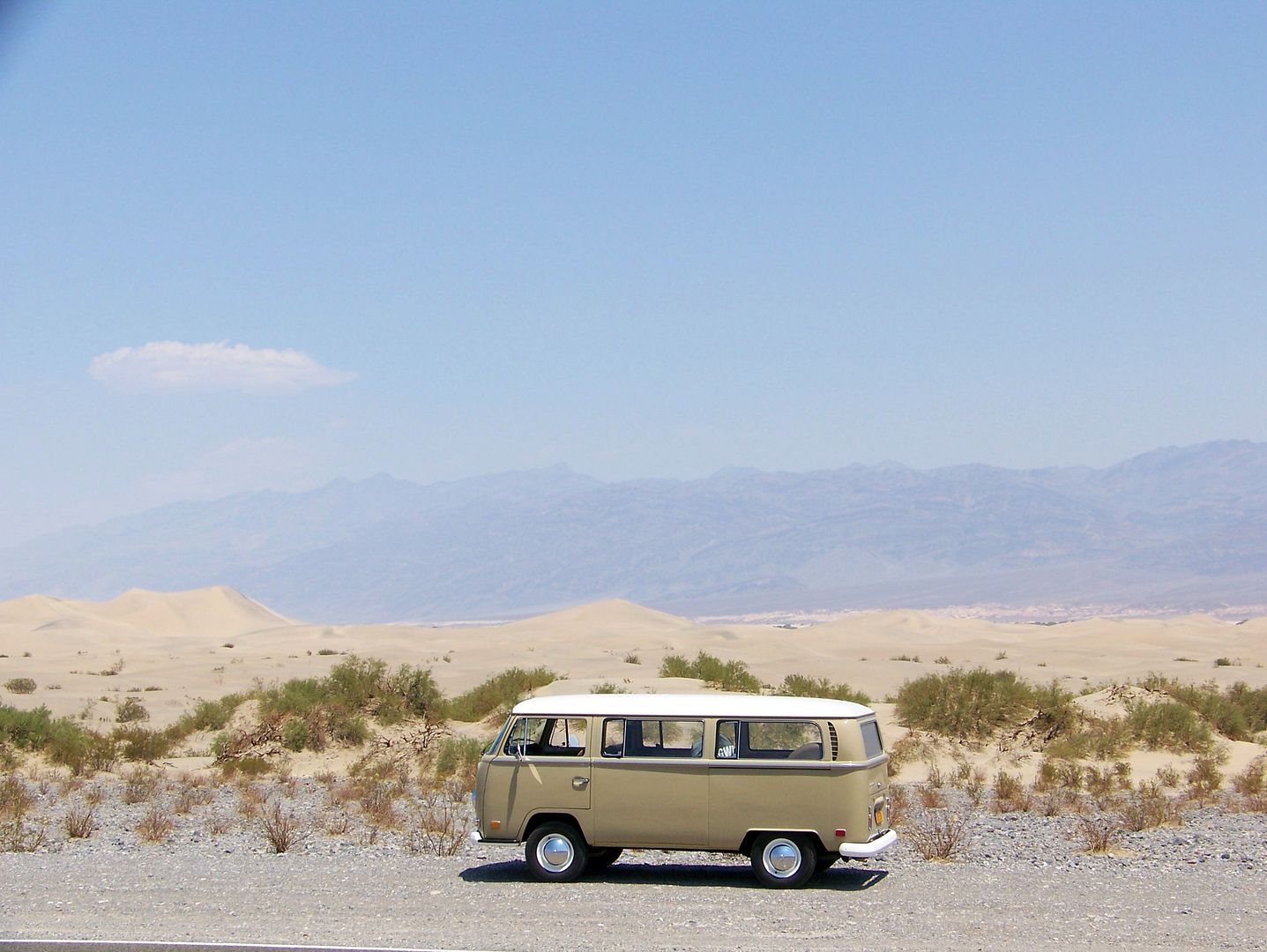 Here's the test. We are at about 200 feet below Sea level, and we must climb to 4000 feet in the next 20 miles. It is just past noon, and the daytime temps are not yet at their expected peak of 123* today (July 19th):
Feel The Heat: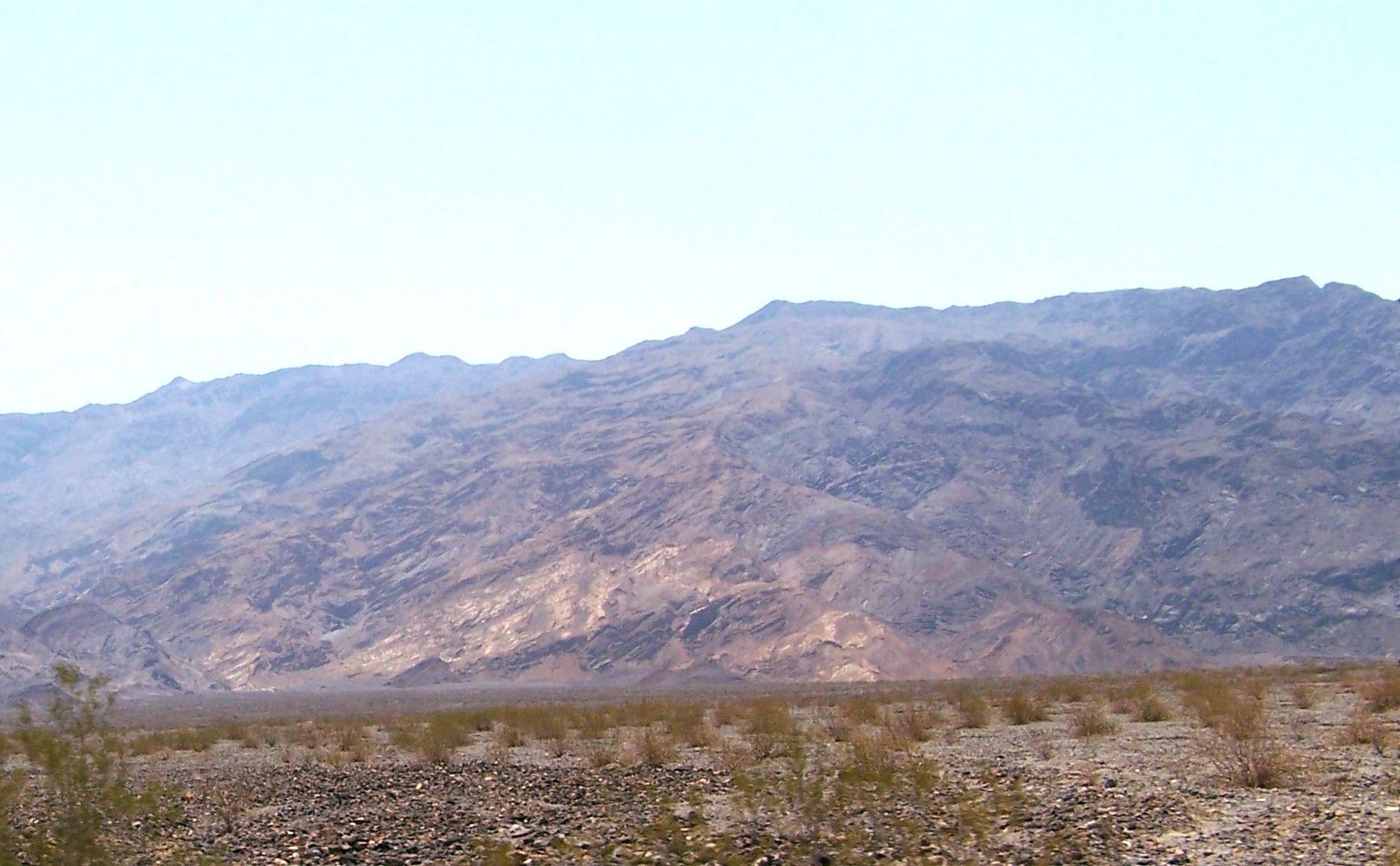 Across the valley floor, the engine is getting Below Sea Level Dense air, from which you subtract a loss of density from Very Hot air. This is 4th gear full-throttle at about 60 mph deteriorating to 50-55:
Up the other side to the first 1,000 feet: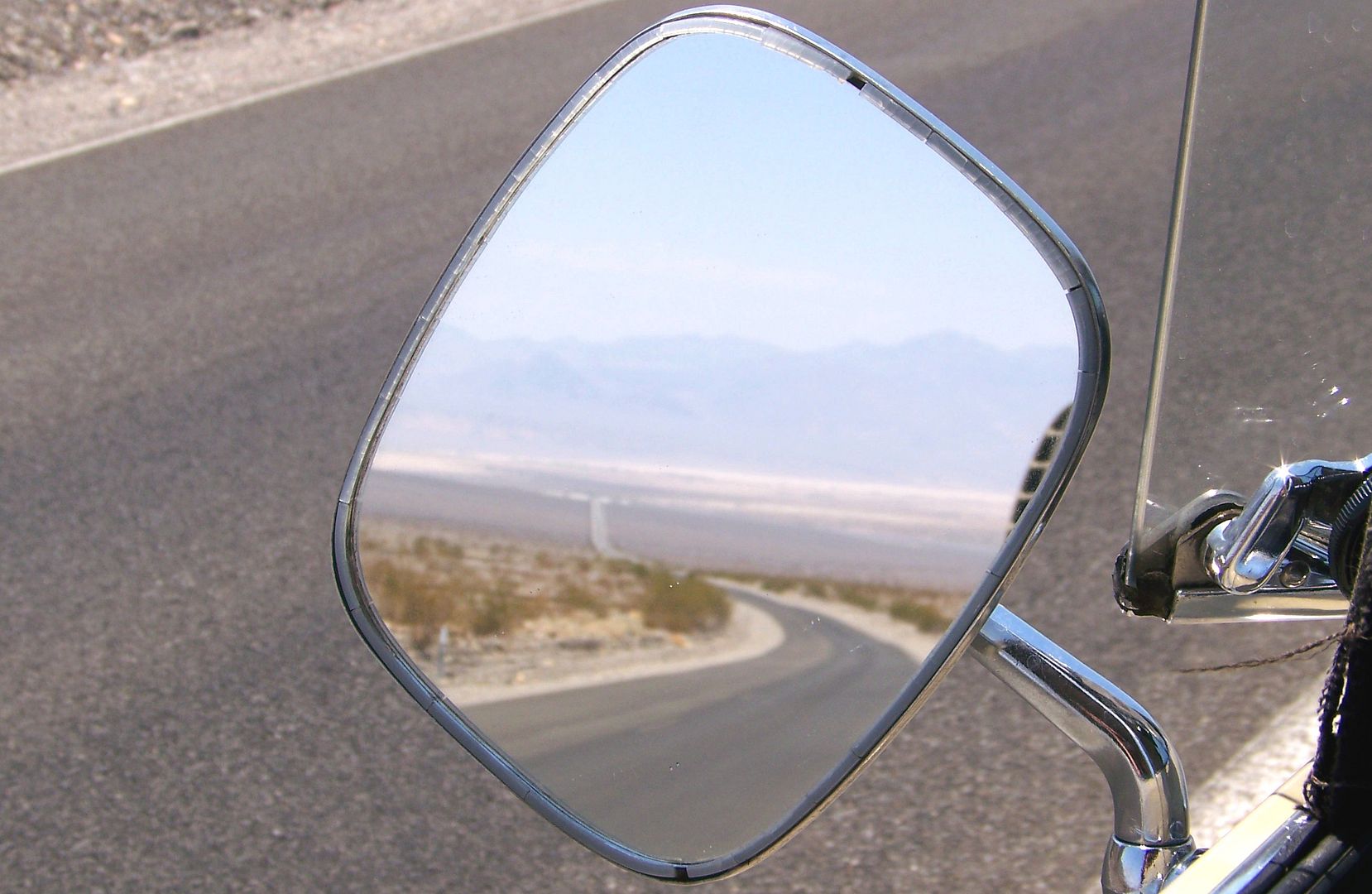 Then 2,000/3,000/4,000 feet, all in 3rd gear at 3,600 rpm: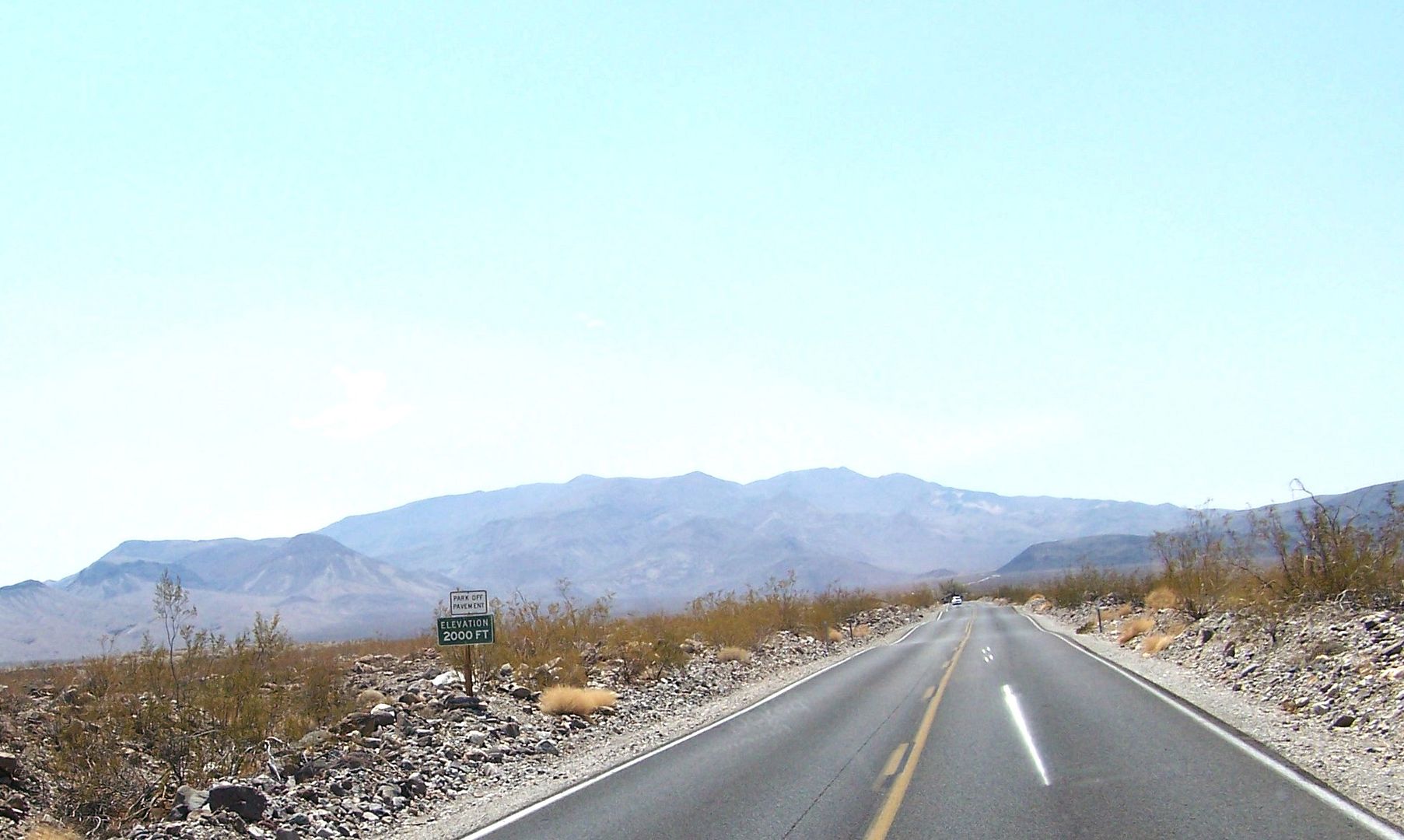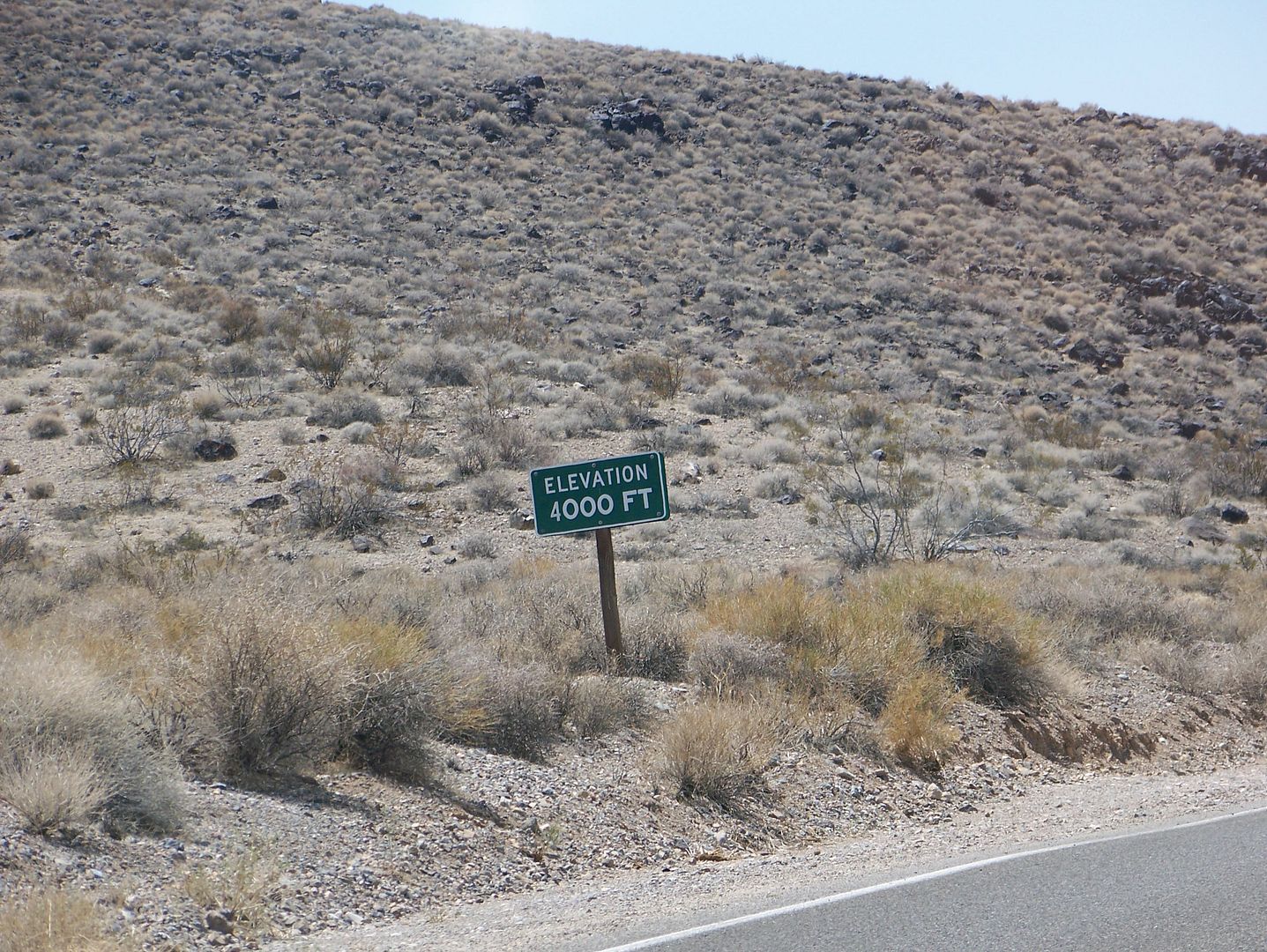 Pulled over to check temperatures on my idling engine at Towne Pass just shy of 5,000 feet.
My favorite temp check spot on the crankcase is the left side of the camshaft gear near the relief valve screw. It is out of the airflow and is getting a good splash of oil inside:
Oil drain plate:
Left rear exhaust pipe about 90 seconds after pulling over: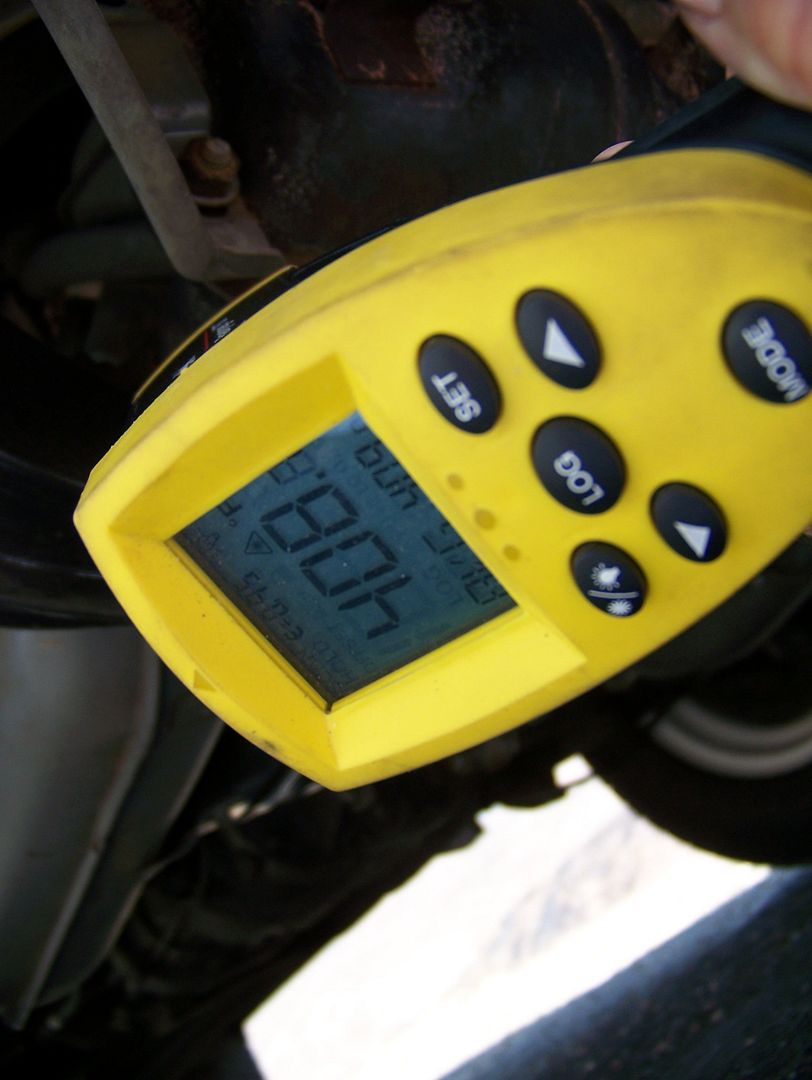 Fan housing on oil cooler side and on the cooler right side: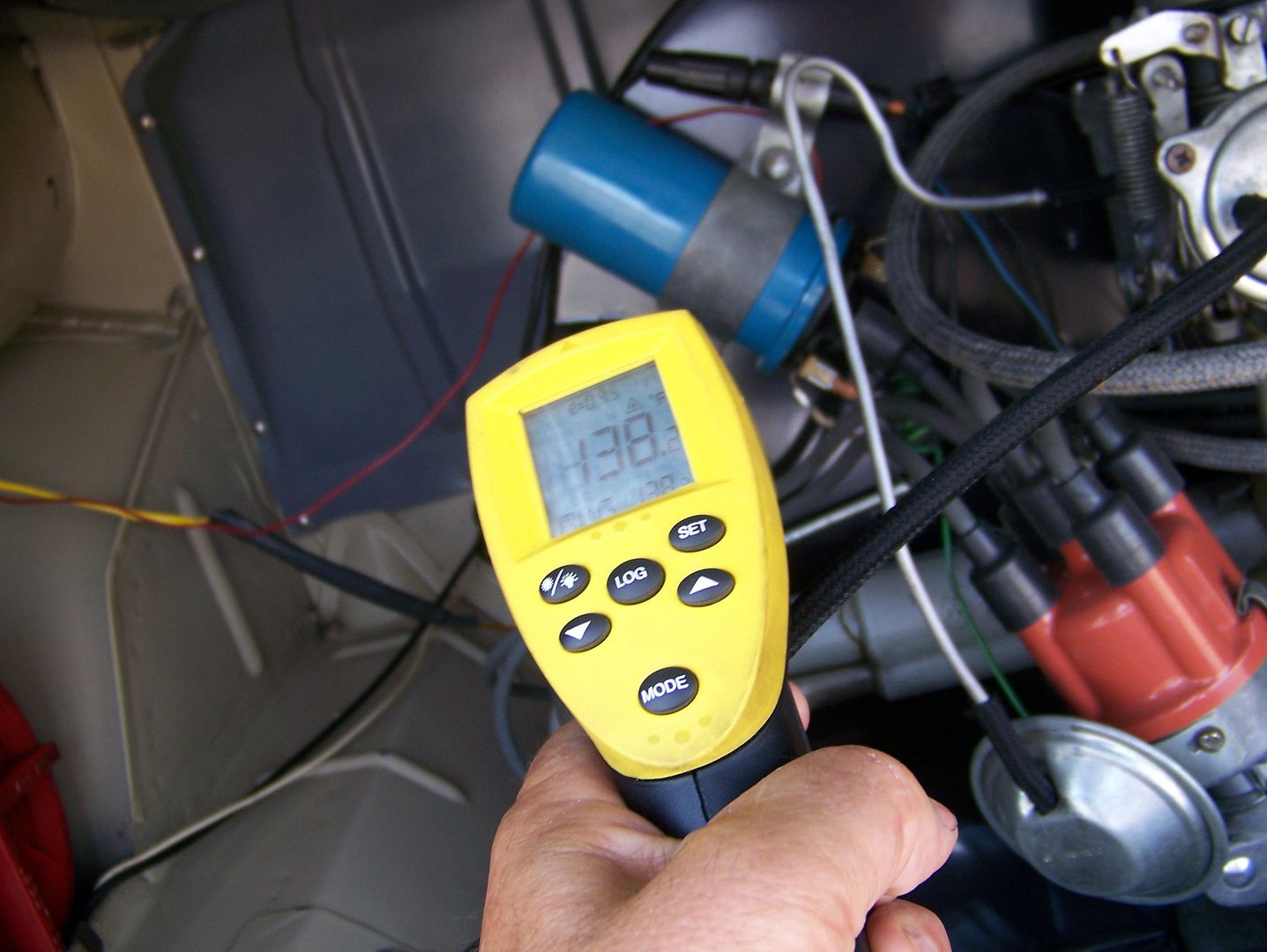 Left side valve cover: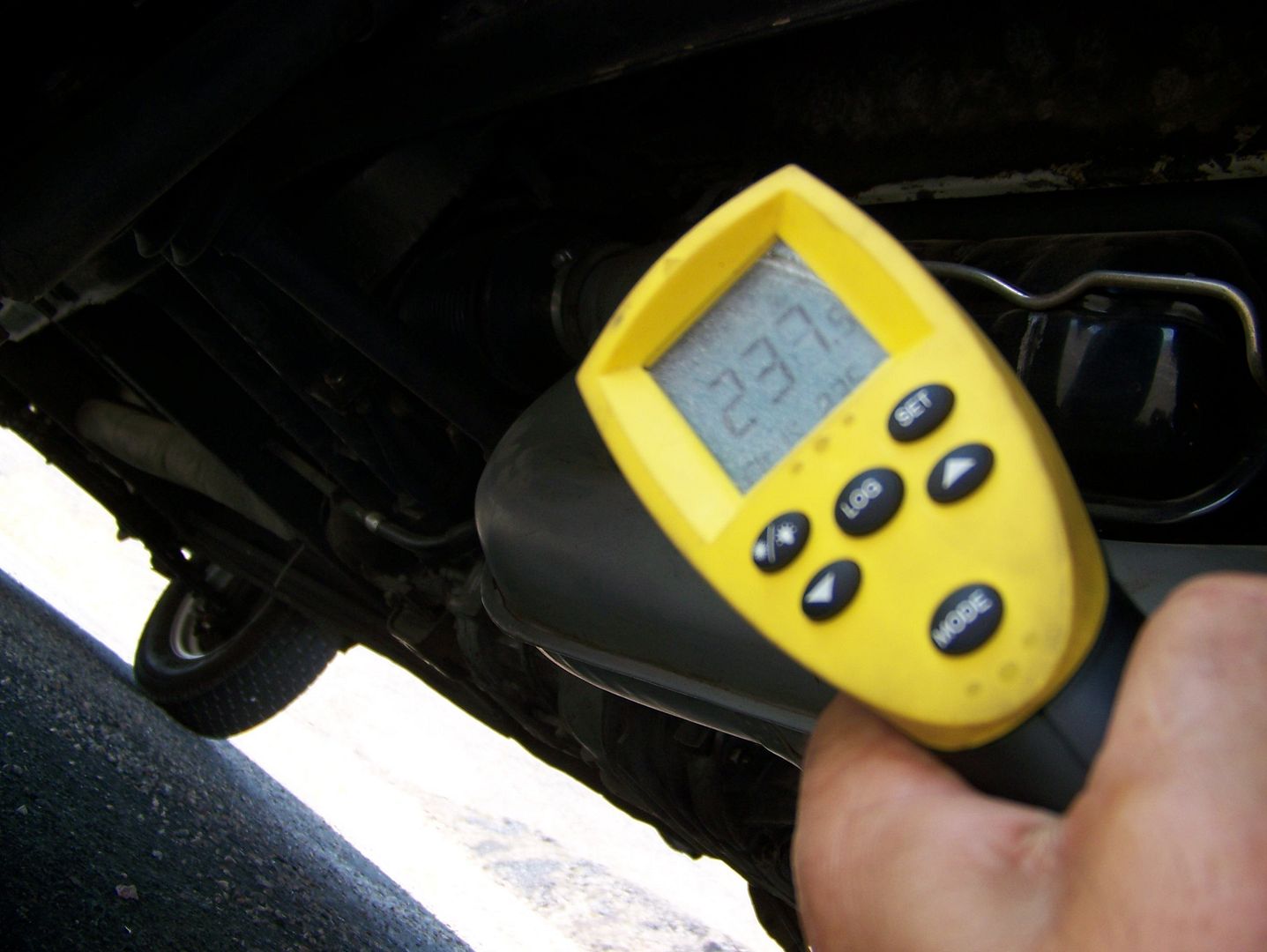 None of these temperatures were any cause for concern, so I kept going towards the bigger test yet: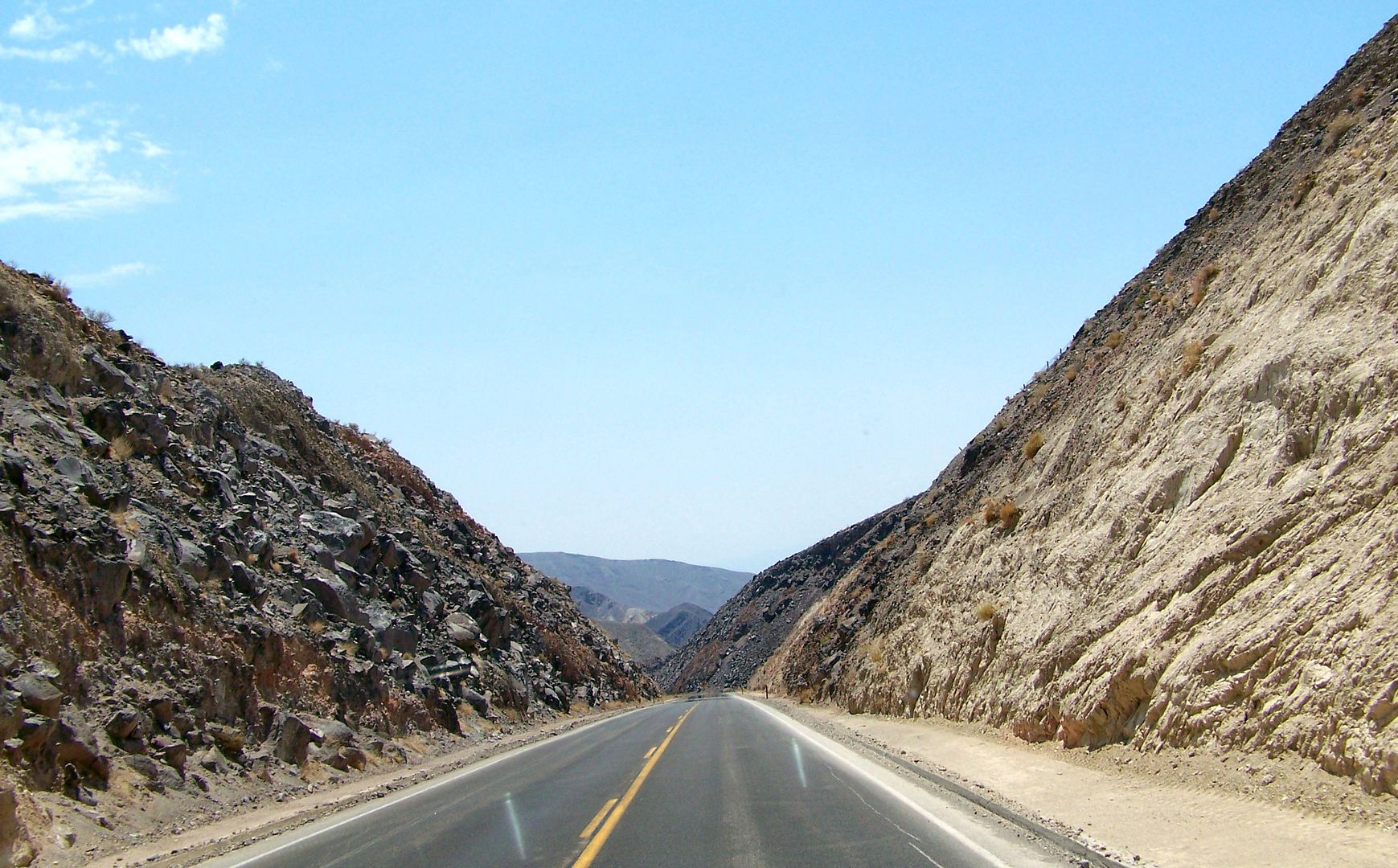 The big beautiful Panamint Springs valley floor, just visible here from the eastern approach. Look for the little stripe of road bisecting the sand: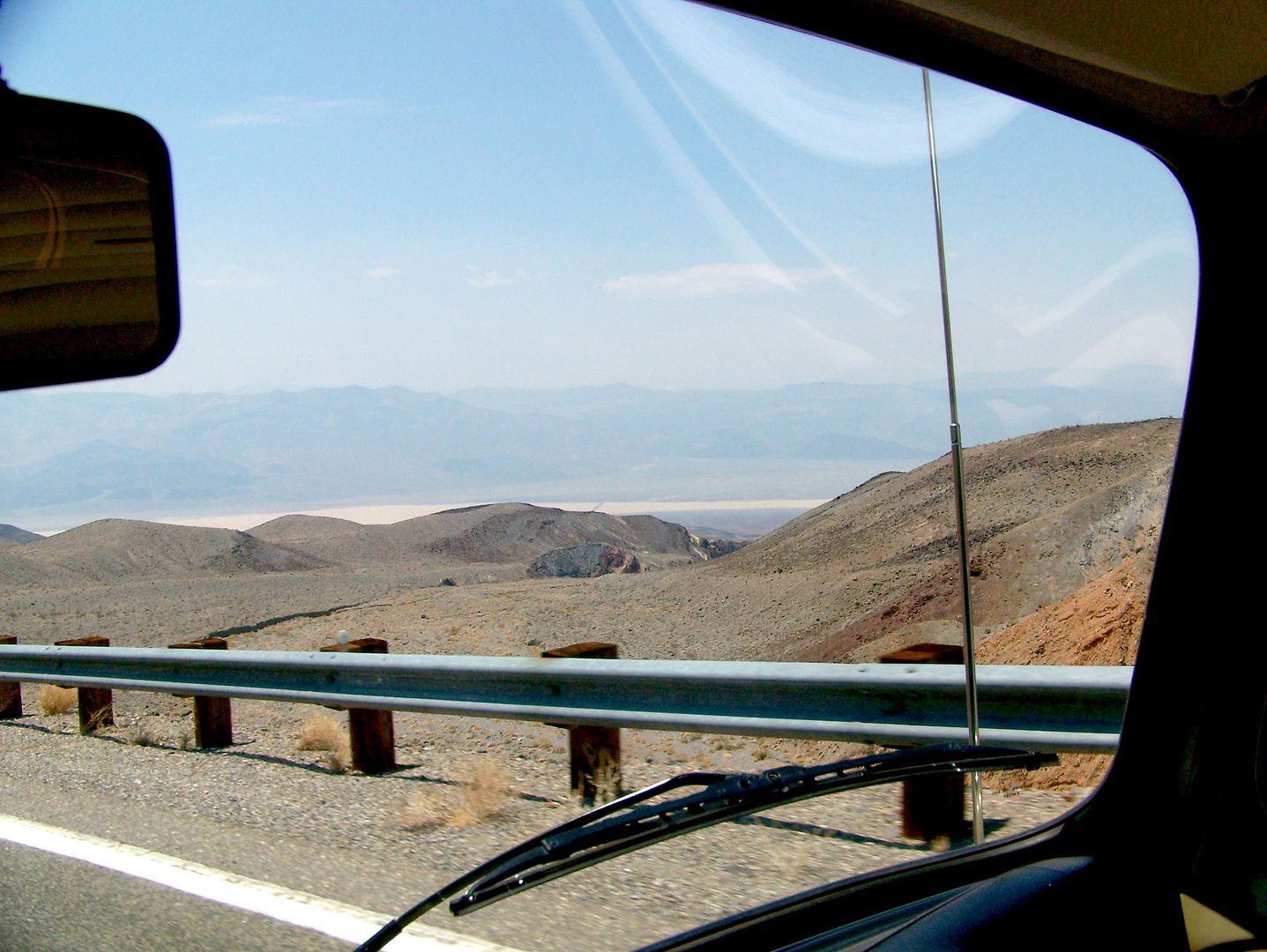 Hot hot hot beautiful:
Down to 3,000 feet, Chloe is running in the low 200s on the CHT gauge: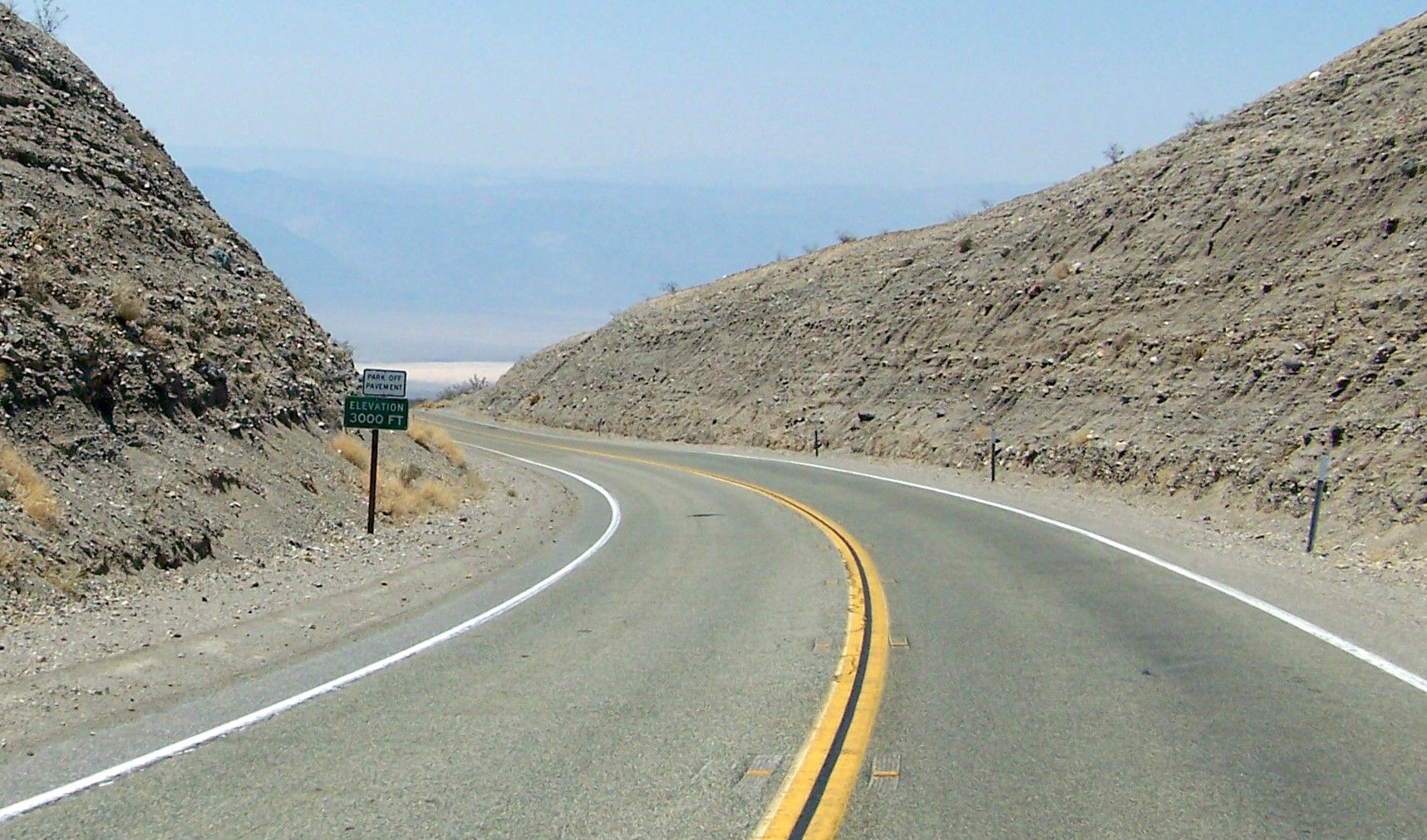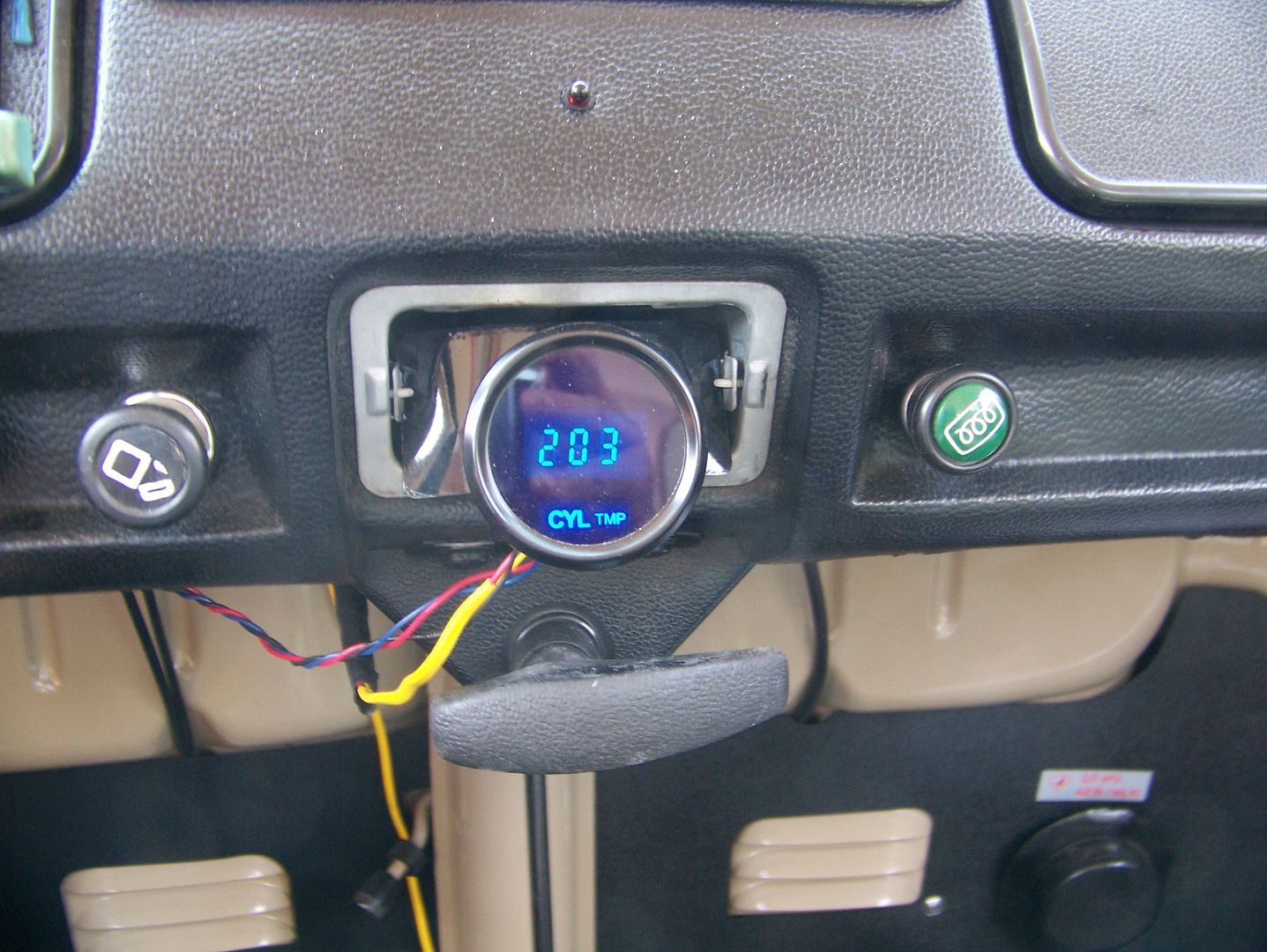 Final descent onto the Panamint Springs valley floor:
On the floor: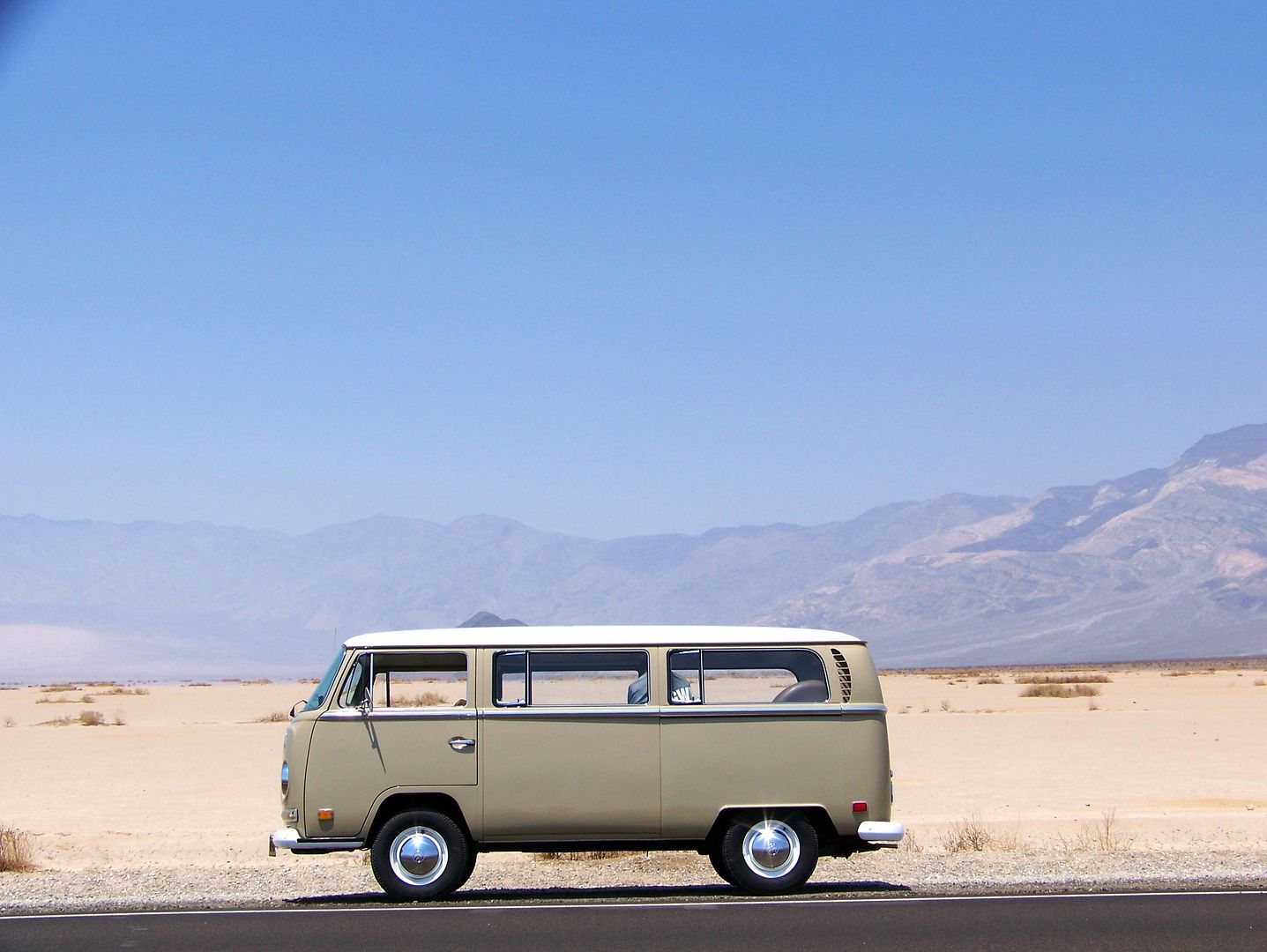 First leg of the ascent to Father Crowley viewpoint. I have never driven with all vent windows open, but at the age of 54 now, I am not so heat-resistant as I once was: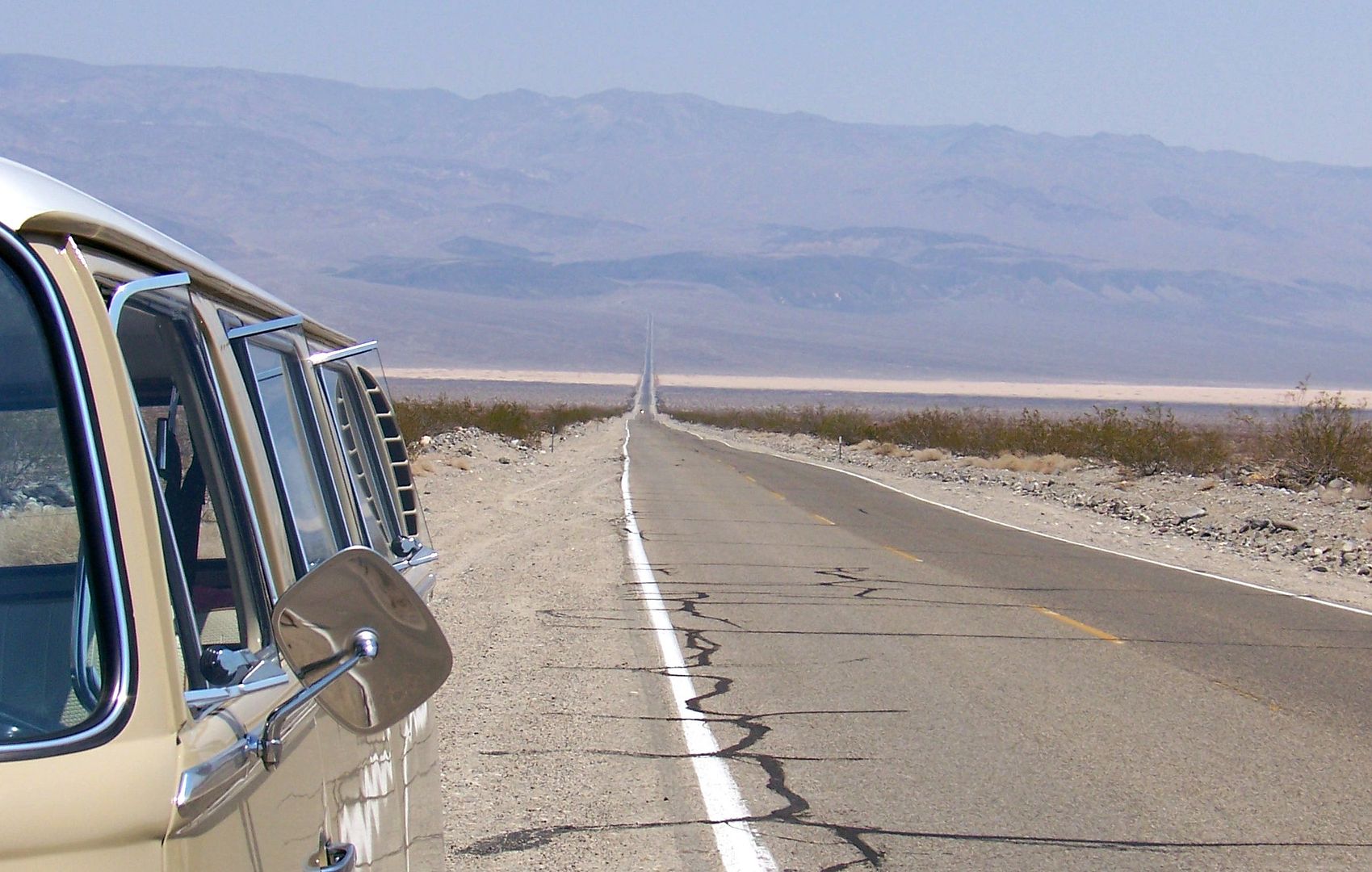 Miles further up, 3rd gear mostly full-throttle at 3,600 rpm: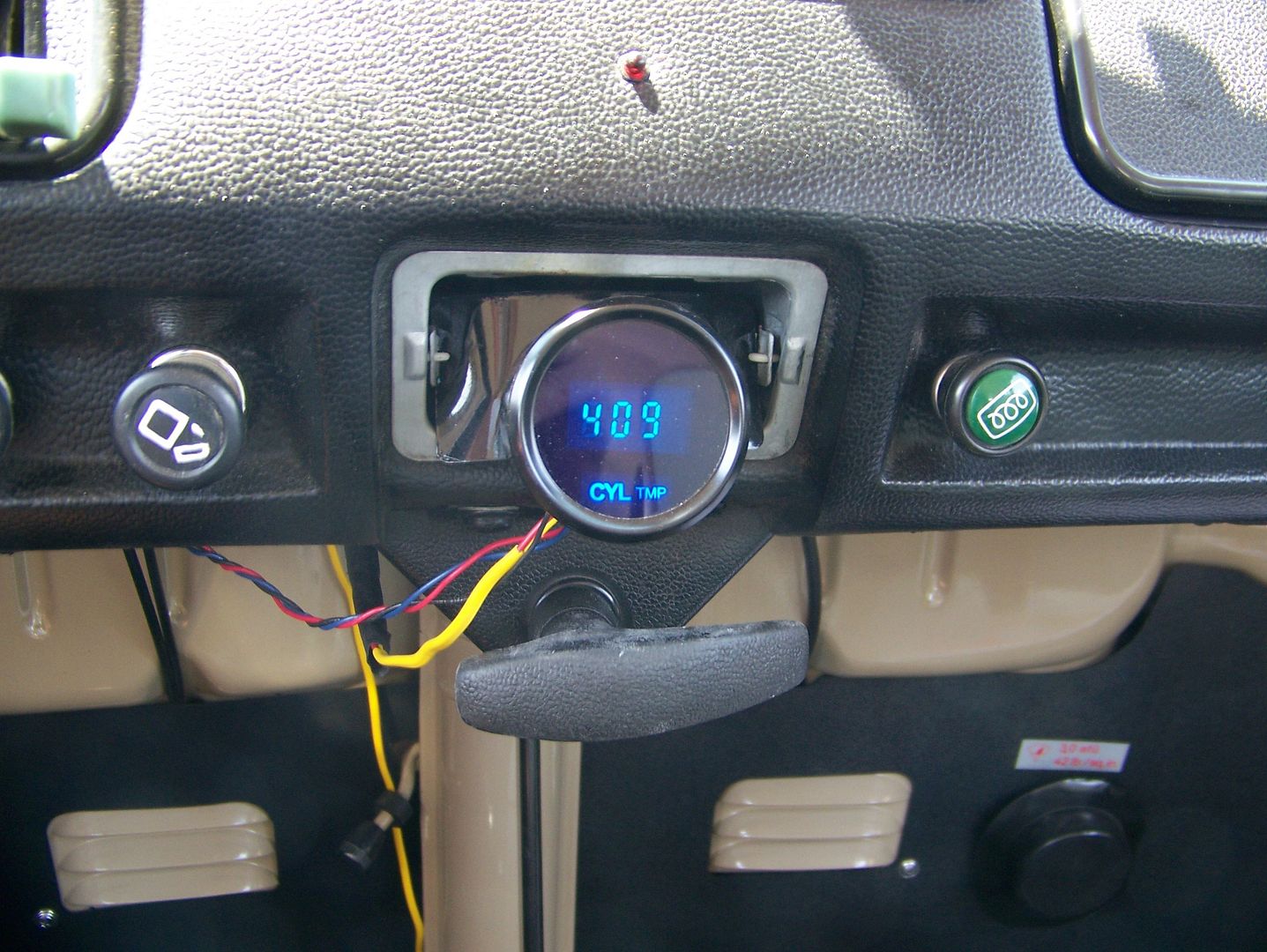 Many more miles further up: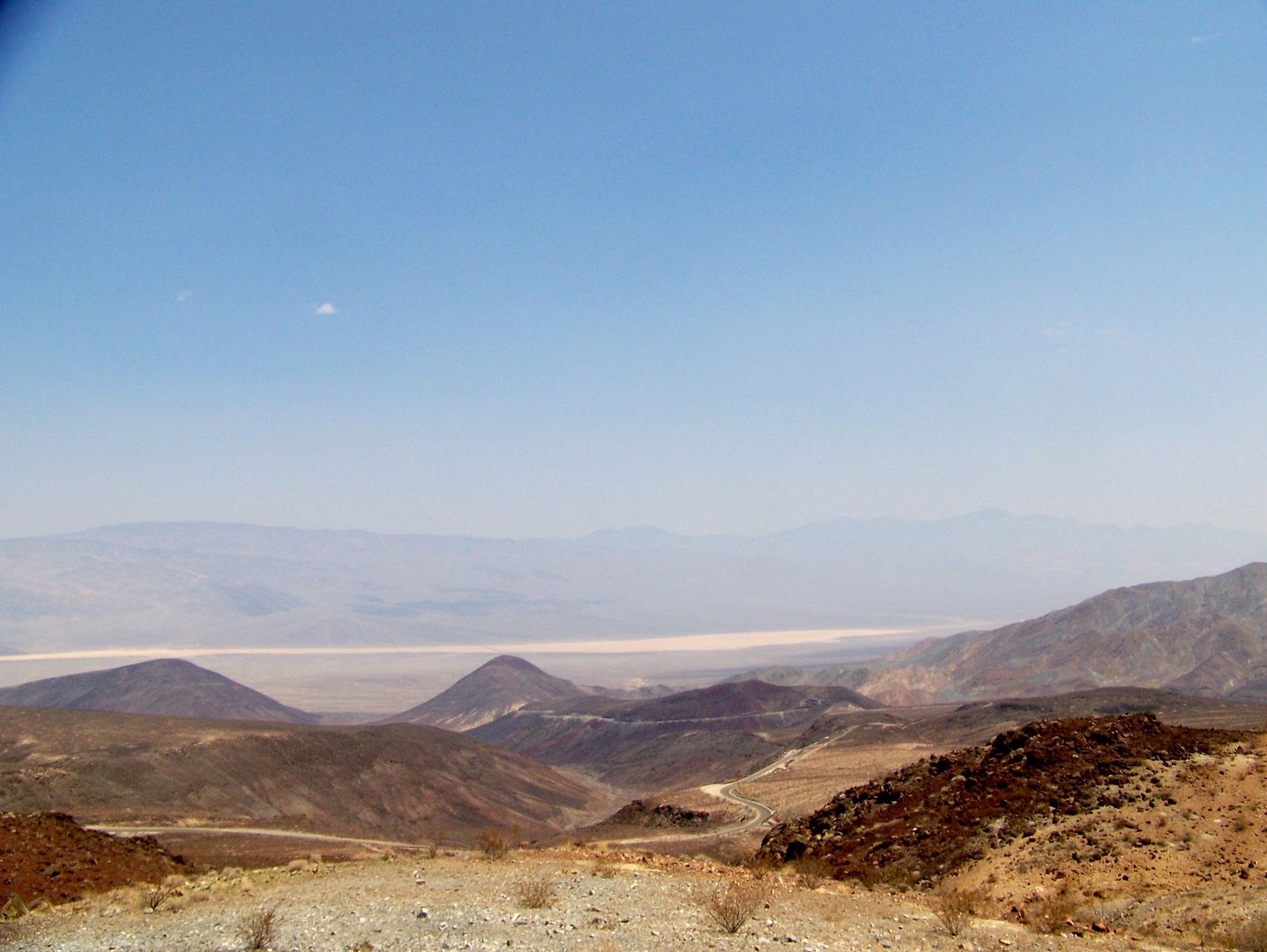 Remember that stripe I pointed out way back? here it is again from the other side. We drove every foot of that: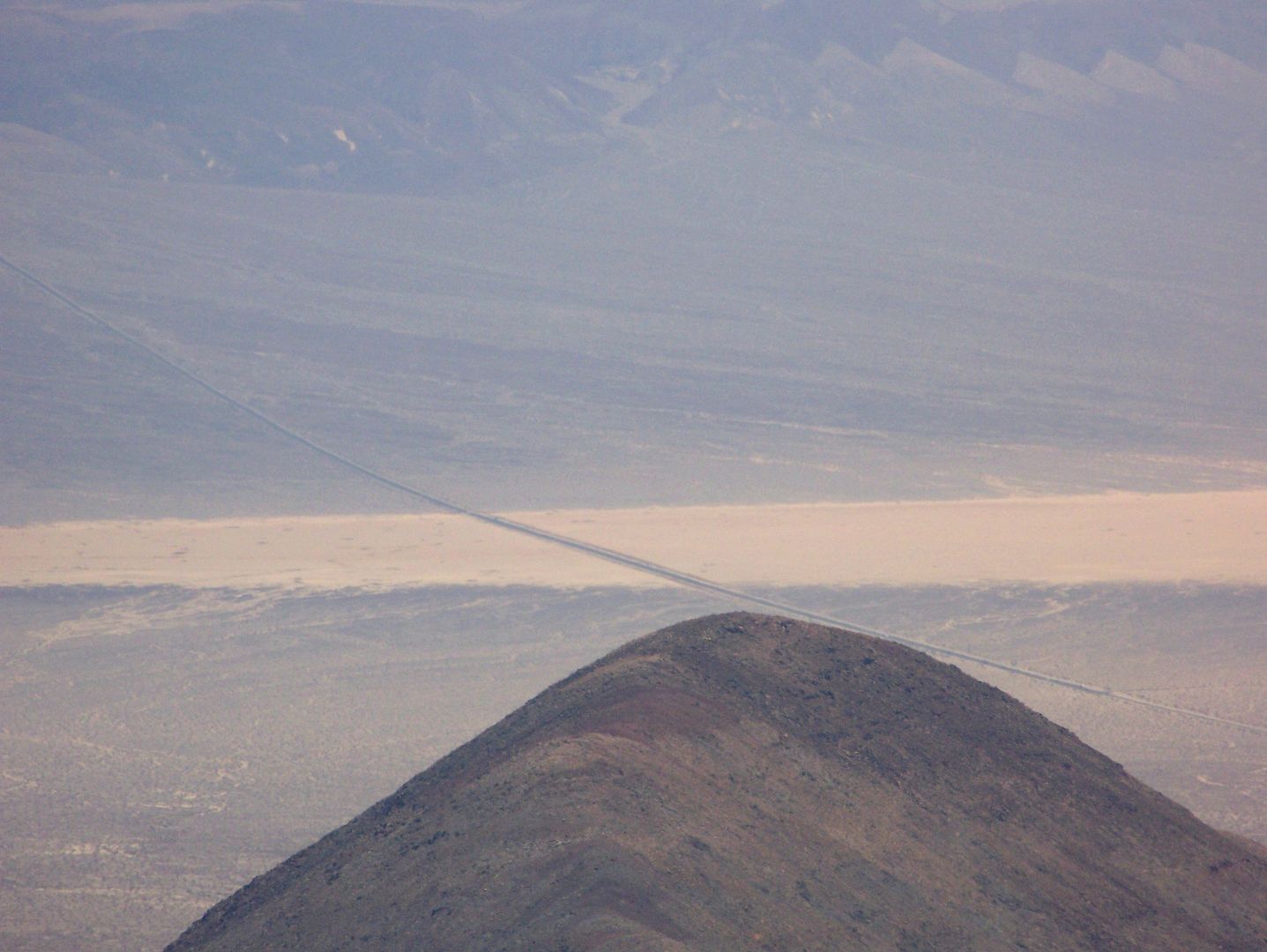 If you have a VW bus, you must leave the paved parking lot at Father Crowley Viewpoint and go jouncing down the dirt path away from the tourists to this overlook: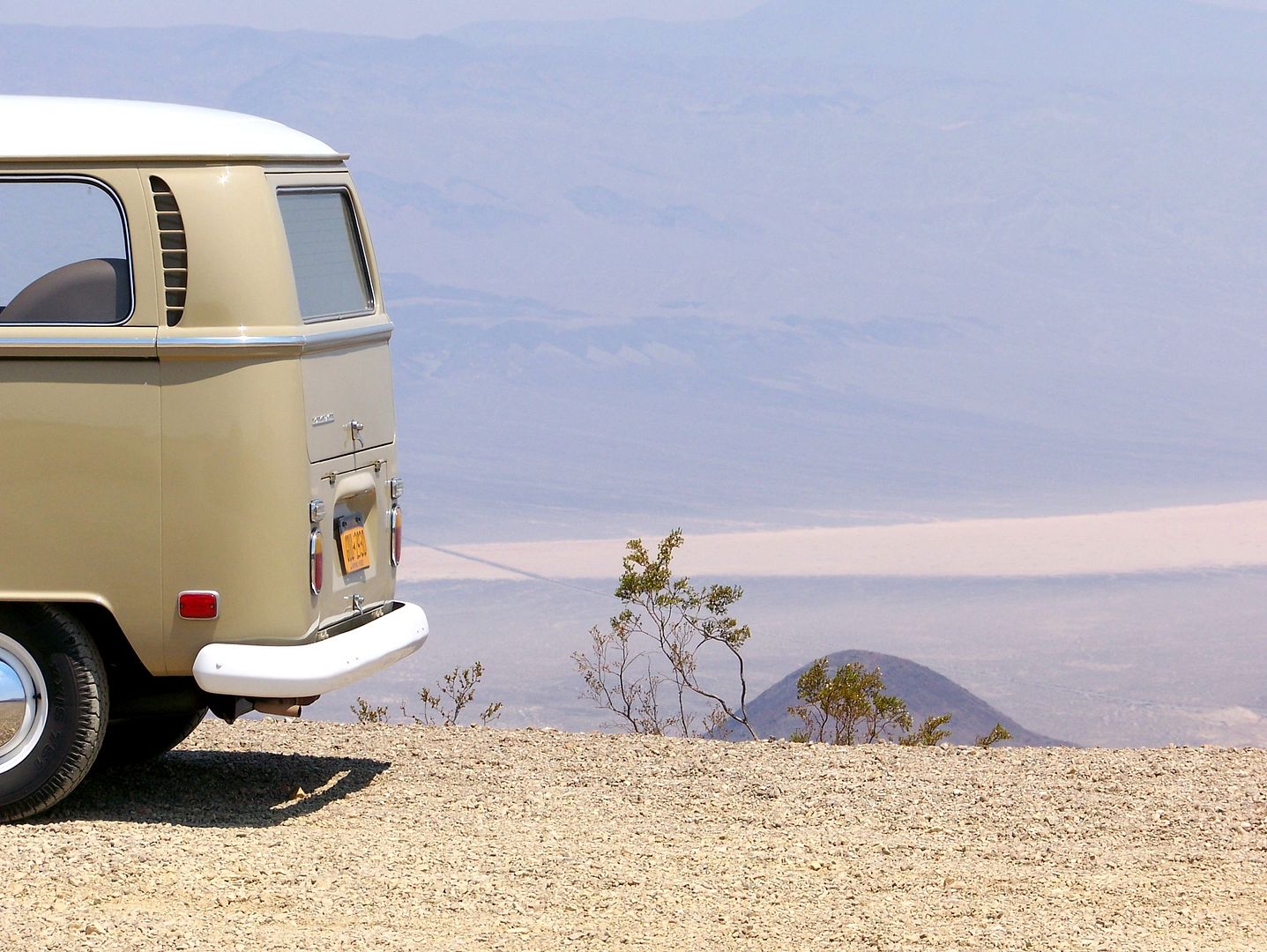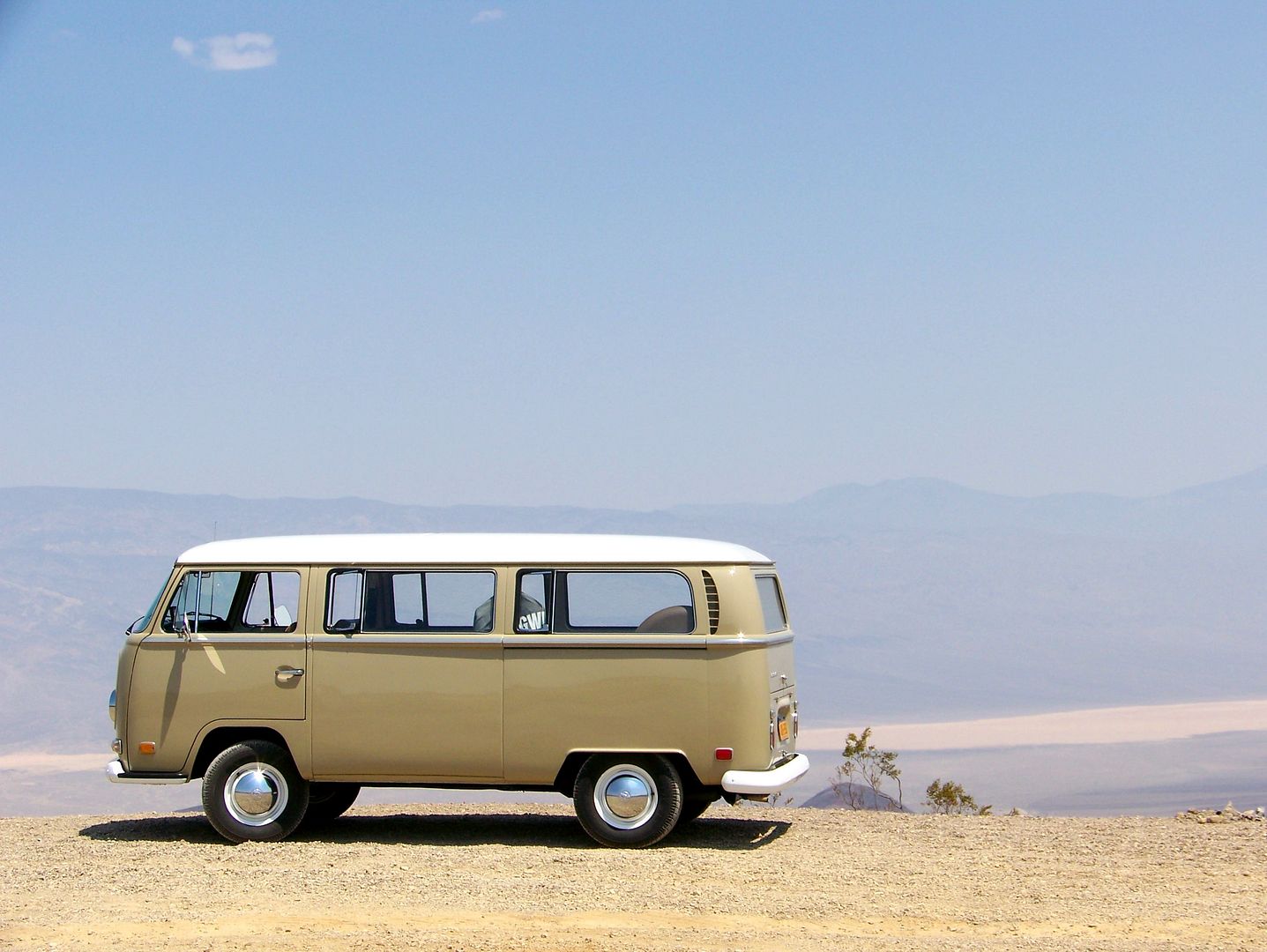 You can just barely discern the pavement stripe across the Panamint Springs floor:
I adore the distances and the colors and of course, the warmth of desert driving in the summer:
Checked the plugs and did a compression test at my campsite outside of Rosamond CA. Compression was 125/128/120/128. Plugs were pretty whitish but the outside shell was nice and black. Cylinder 4 appears to be throwing a little oil:
These cars are tough if you follow the factory directions and live within their capabilities. I fell into a happy feral heat-exhausted sleep at dusk:
p.s. I love these cars...