When I first drove into the LA area, I was not ready, so not ready for the rush rush rush. So, I found a rustic house buried in a canyon off the Antelope Freeway, and spent my first day and night there:
The house apparently had condemned itself by settling catastrophically. Down the steps and into the yard, you can see where the valet is to park the motorcar: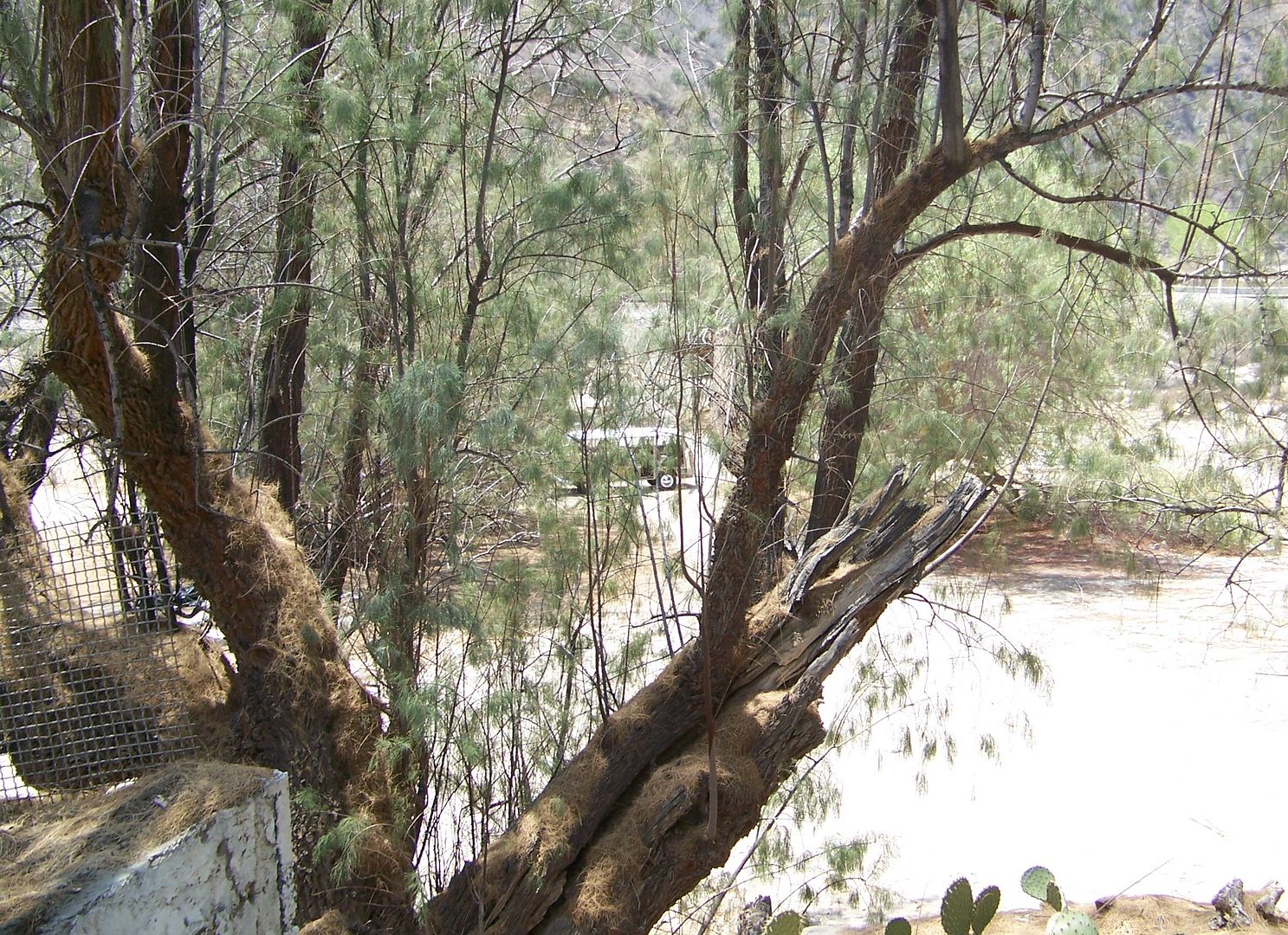 The host of the house: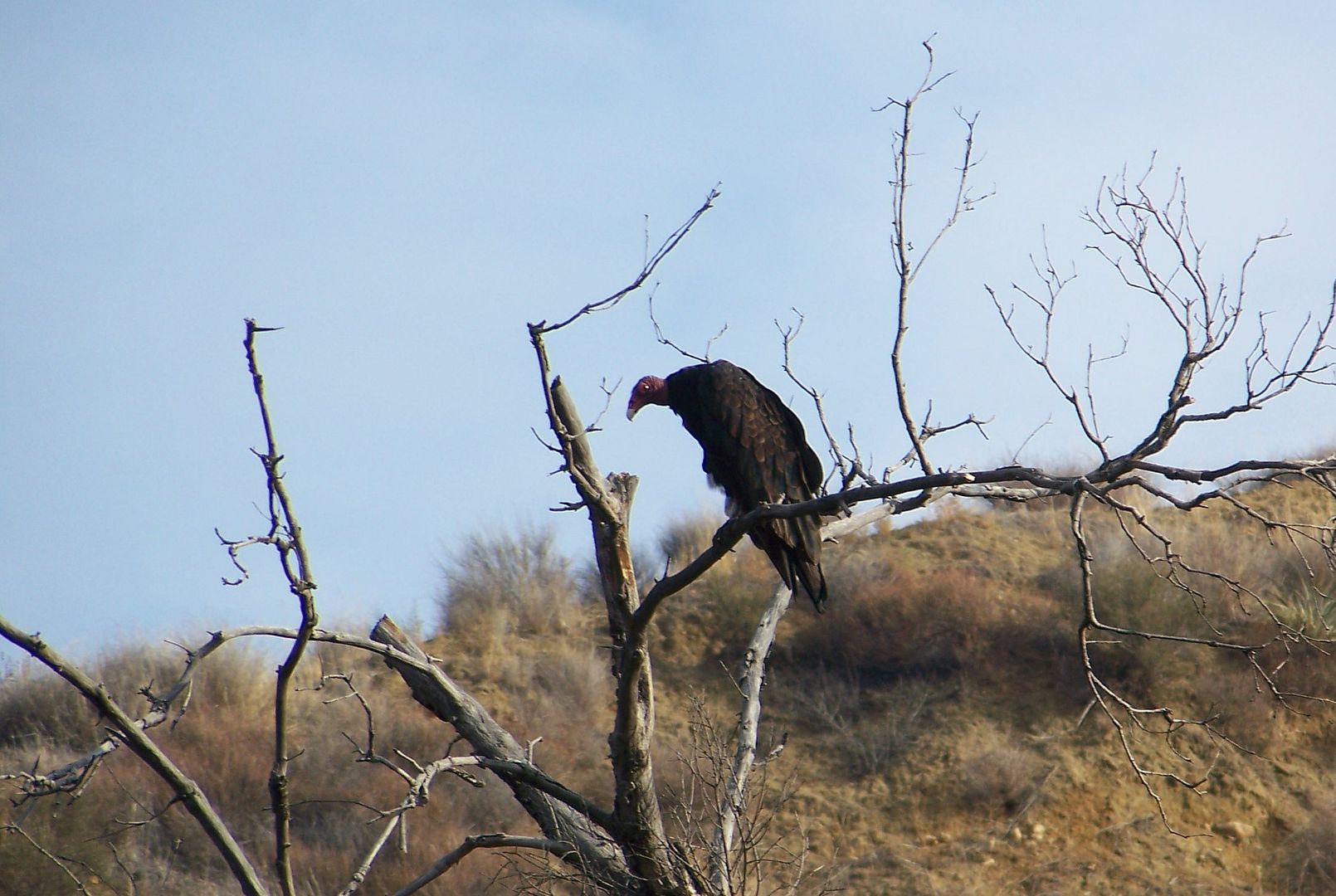 "I am NOT dead, yet," I hotly protested, "where's the coffee?"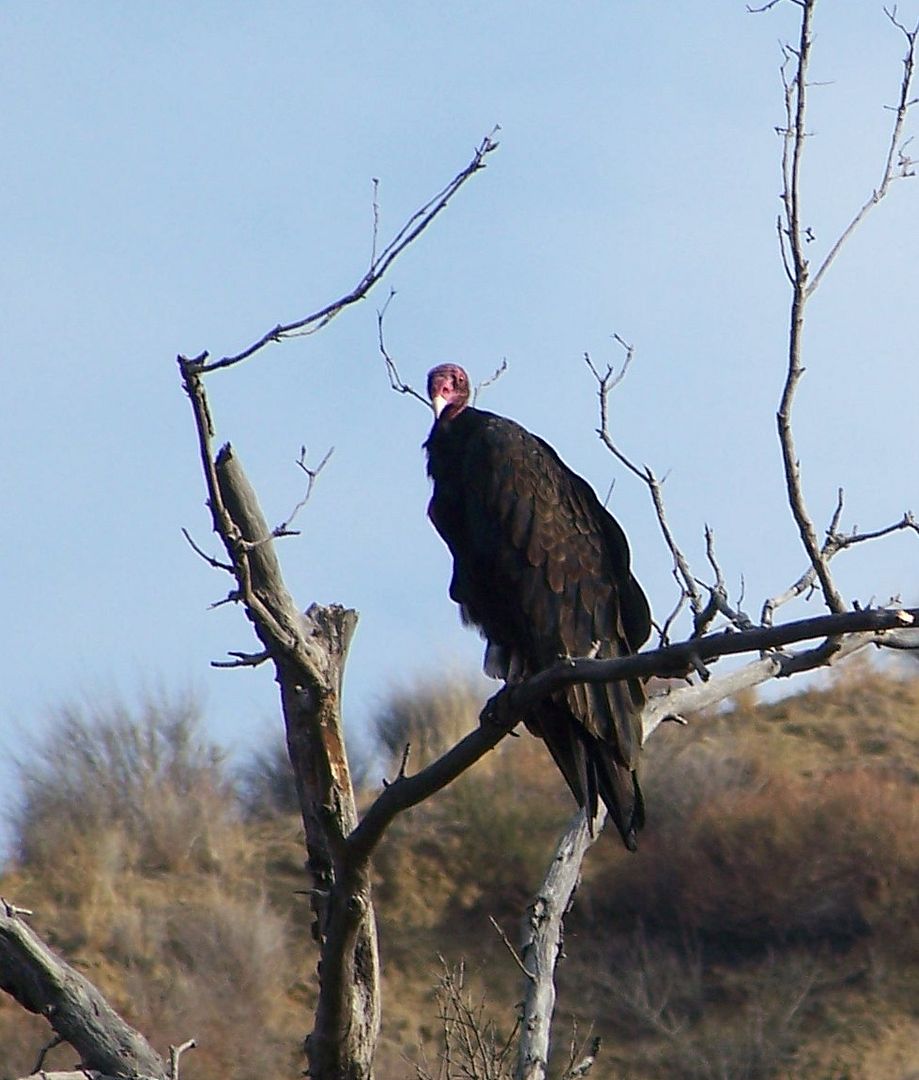 I love LA. I love that this sprawling metropolis actually works. Under the terrible traffic jams, the freeways are beautifully engineered and ever more carefully threaded through the pressures of growth crowding up to and against their sound walls. I did a late night run from Irvine to Santa Clarita on the 405 San Diego Freeway, and marvelled at the night energy of Los Angeles Two Thousand Thirteen. Neon lit buildings and malls with electrified billboards made it look almost like Tokyo or Times Square. I was on a 16-lane freeway late enough at night that traffic was freely flowing, which meant it was doing a good 75 or so. Thankfully, Kalifornia is Stricht Achtung Baby! with truck speed limits set at 55, so the freeways are not scary kinetic bombs like some of our wild west states like Texas or Connecticut.
Chloe whistled along at 57 mph, steady and calm like a schooner bisecting a powerboat race. I like LA drivers, they have been trained by the aforementioned excellent road engineering, and though they are always in a blasted hurry, they are also smart and bereft of attitude, once they have avoided you they have no time to look back or punish you. I love LA. Driving up to the 405/10 interchange, I was reminded that I spent every minute of thirteen years in this metropolis, battling the traffic each and every day, and the street signs were lighting up my memory banks, there's National, Overland, Sepulveda, there's my exit to UCLA, here is the bridge over the 405 that they rebuilt with warnings of "Carmageddon" last year. The magnificence of this dynamic road renewal in the LA area appeals to the Boy Engineer in me now, as it always has. There is a renewal energy here, very much unlike Detroit. Yes, the roads are beaten down by traffic here and there, but in comparison to when I lived here, they are no worse, and in many many instances, they are way better. That appeals to my hope, frankly, to see rebirth of such a large infrastructure. I love this whole experiment in human civilization.
Had an appointment in quintessential Southern California suburbia: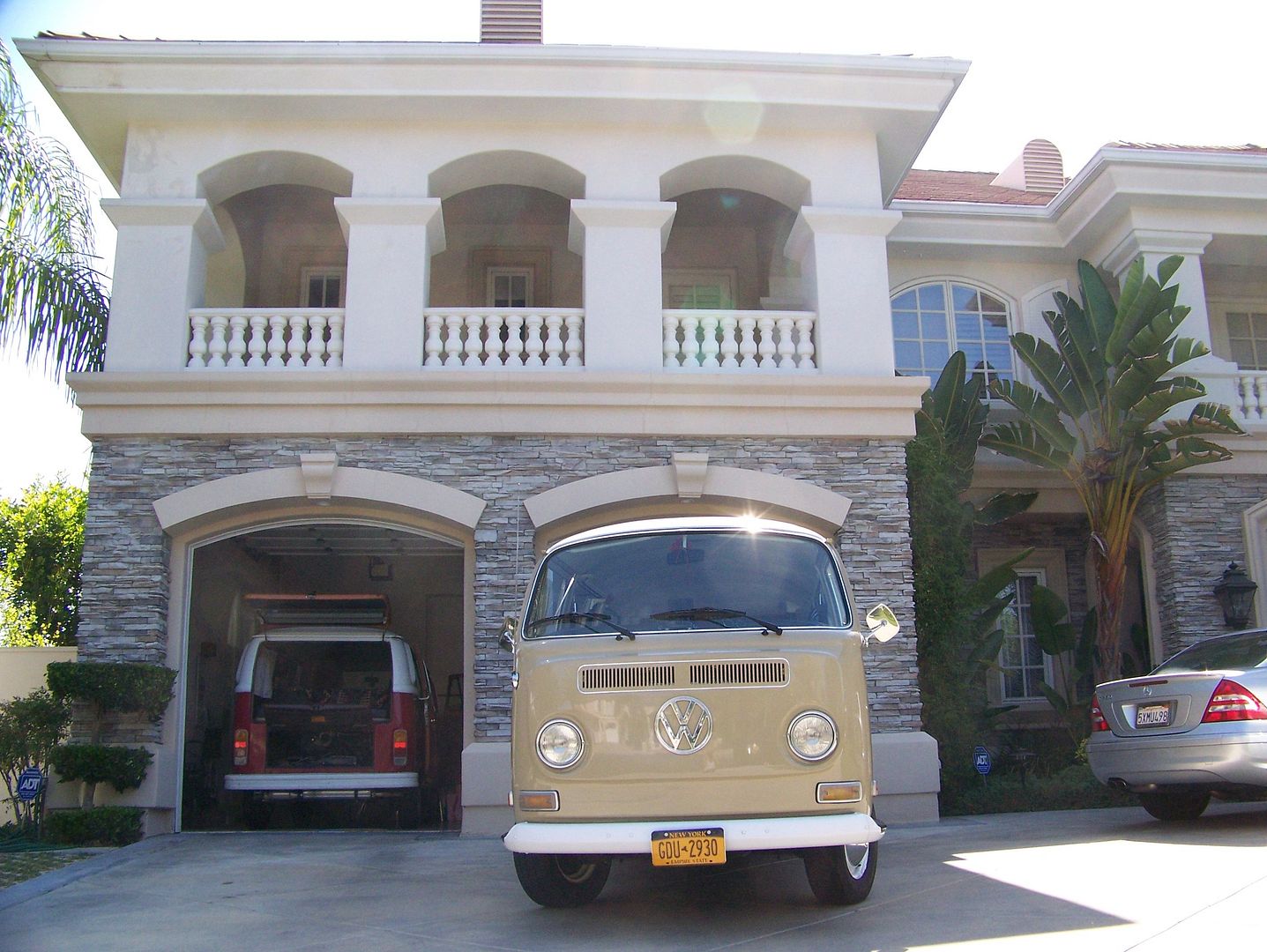 Put my customers to work adjusting the valves:
Both of them: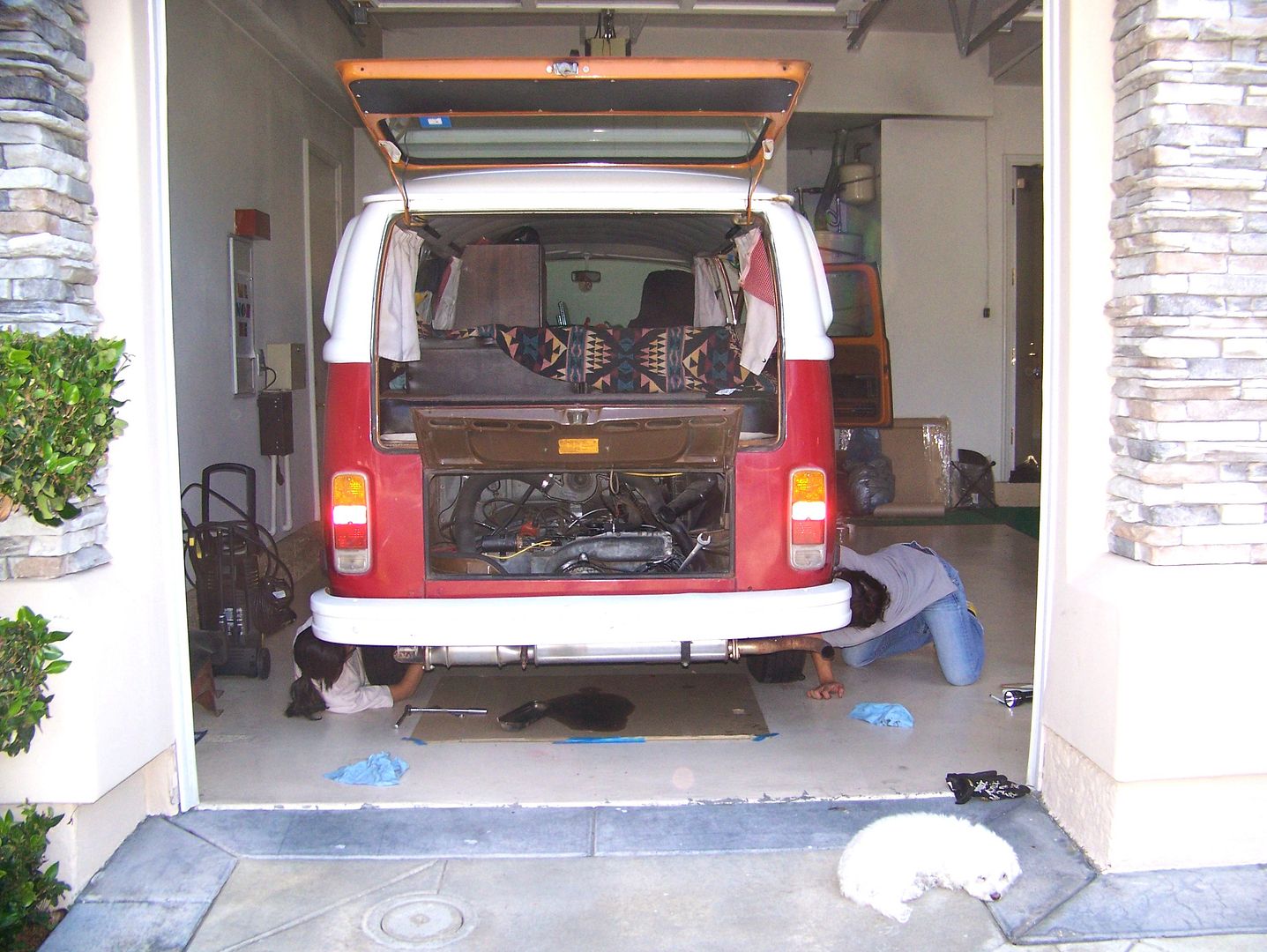 I love these guys, Lovine and Kat and Nickel. A totally beautiful bus travelling bunch who have such a collection of pictures of their travels.
I drove up to Mount Wilson last night under the full moon. How exquisite the night. I was carried along the torrent of traffic on the Hollywood Freeway, meandered across four lanes to get my left exit onto the Glendale Freeway and puttered past the studios in Burbank, then crawled up the 2 Freeway to the 210 to my exit onto Rt 2 north into the Los Angeles National Forest. In less than 45 minutes I went from frenetic night city to hushed mountains with crickets chorusing under the moon. Look at the haze of light extending to the horizon, this glimmering collection of 88 cities over 4,000 square miles is gargantuan. There is a whole other sweep to the left blocked by the hillside:
Hills on the basin floor give you a view briefly before the freeway sucks you back down between the sound walls. If you go to Glendale or Pasadena or Sylmar, you get to climb more serious hills and the jewel of this city presents itself in your rearview mirrors.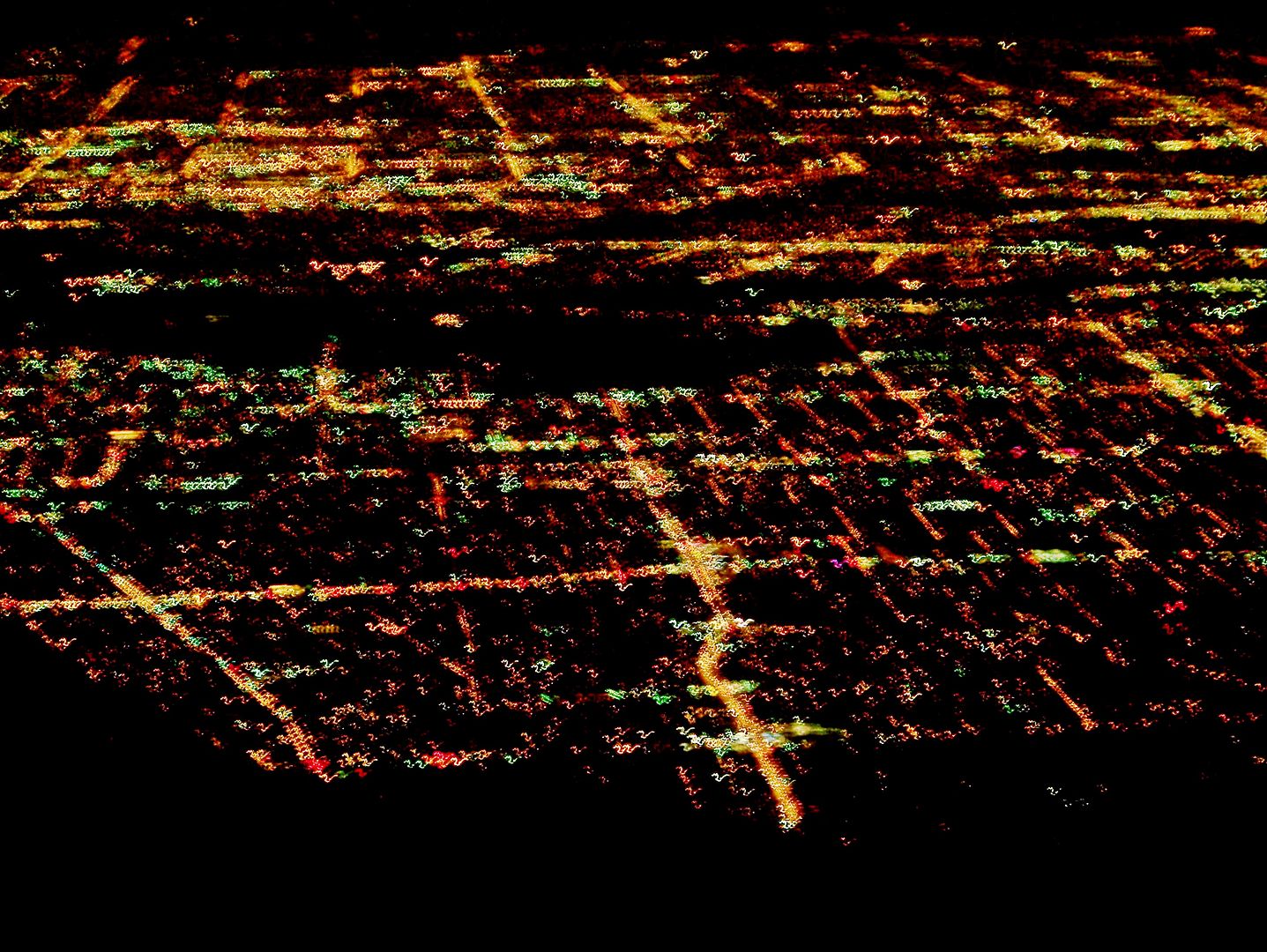 This is looking back towards the San Fernando Valley. The topography adds to the drama:
At the 5,700 summit of Mount Wilson, I wasted a good 15 minutes trying to figure out what the heck happened to my Dakota Digital CHT gauge, it had gone totally bonkers with flashing temperatures and EEE messages. I wasted minute after minute on checking power supply and grounds and thermocouple leads, but it was inconsolably past any ministrations. Well, I had pictures to try to take with my equally challenged camera which was having a few fits too, so I just let the DD gauge be, for now. Only when I drove down off the summit did the Dakota Digital gauge settle down and tell me that the engine was running at 296* rather than 650/585/430/772/198/486/ all in quick succession. Ya think the Los Angeles Designer Collection Of Every Possible Radio and TV Transmitter looming over me had anything to do with it?
I camped four miles away from the summit at a curve in the road, just crickets and moon and gentle breeze: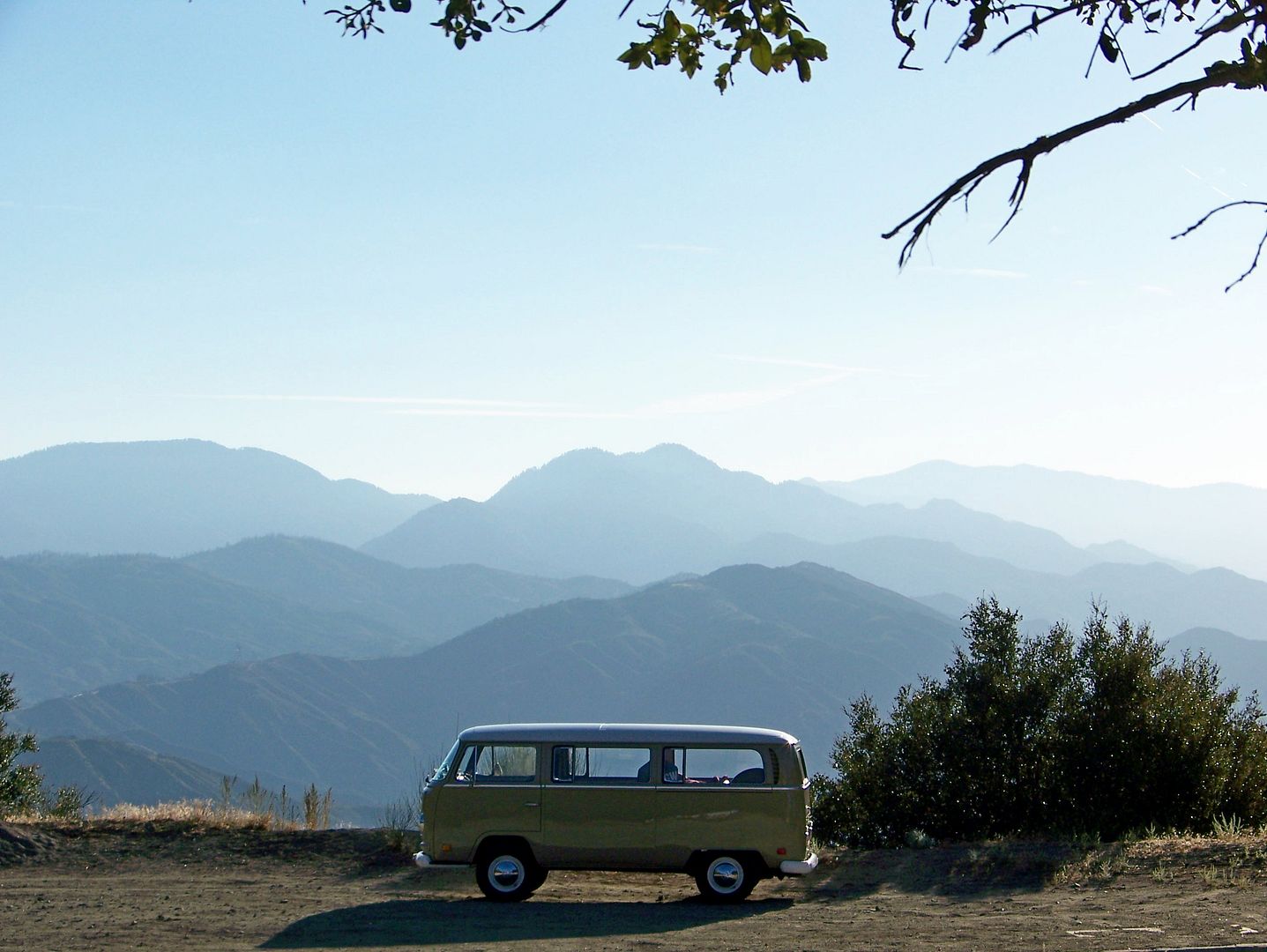 Took a brisk trail walk in the morning: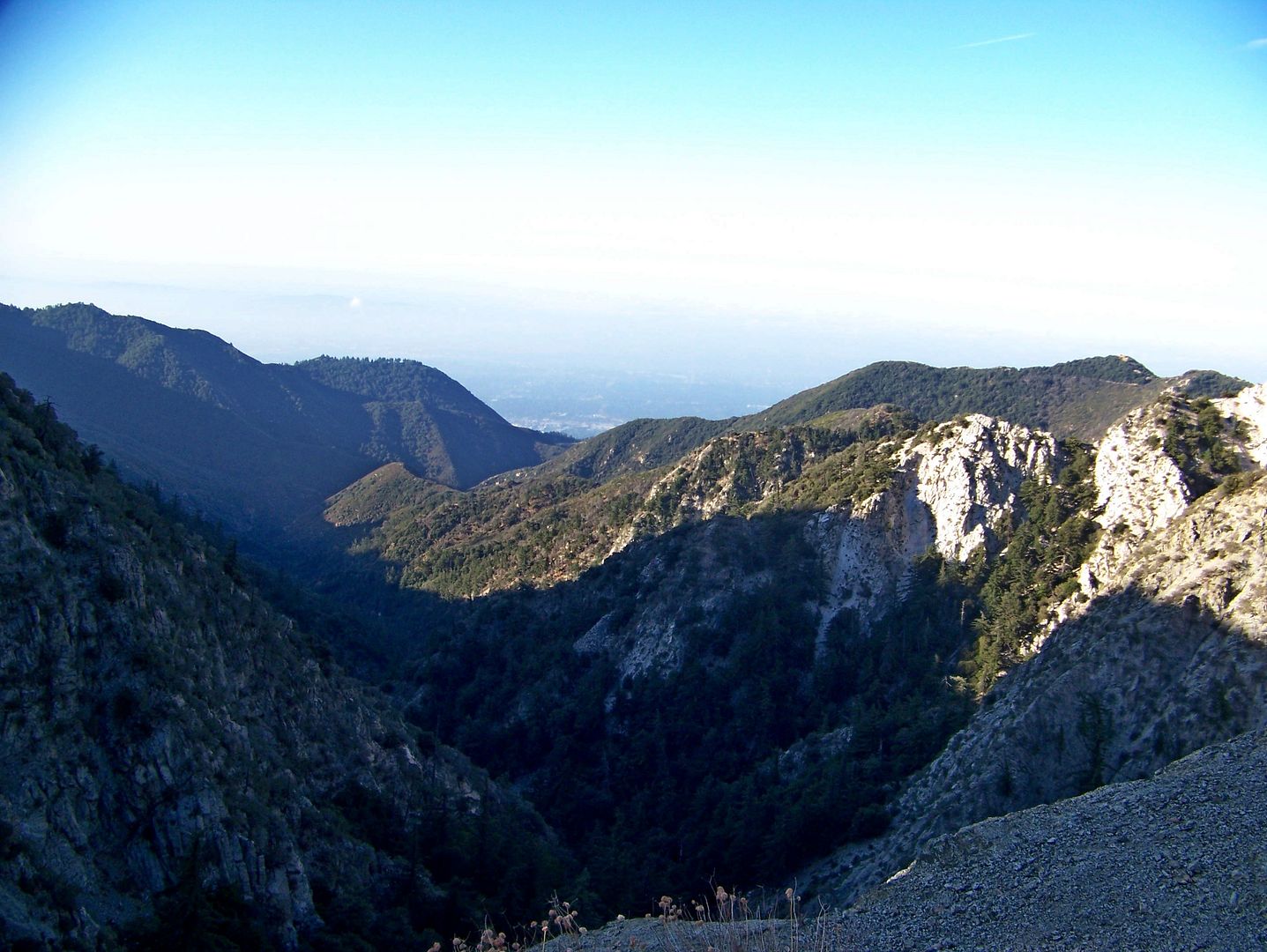 Drove down to La Canada Flintridge and saw the glorious jeweled city of the night before had transformed into what some might claim was daytime drab. I find it compelling . . . :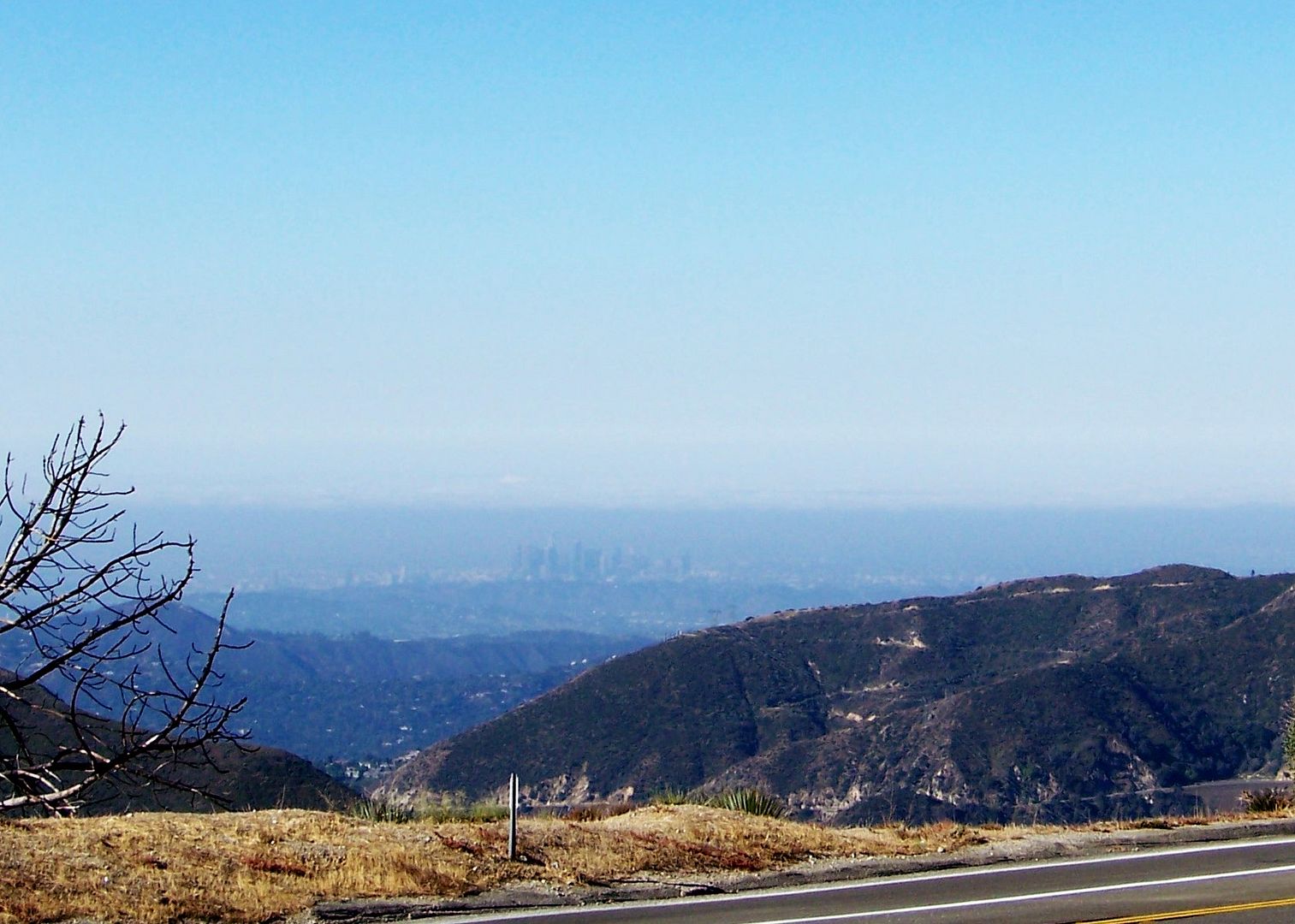 . . . exotic even: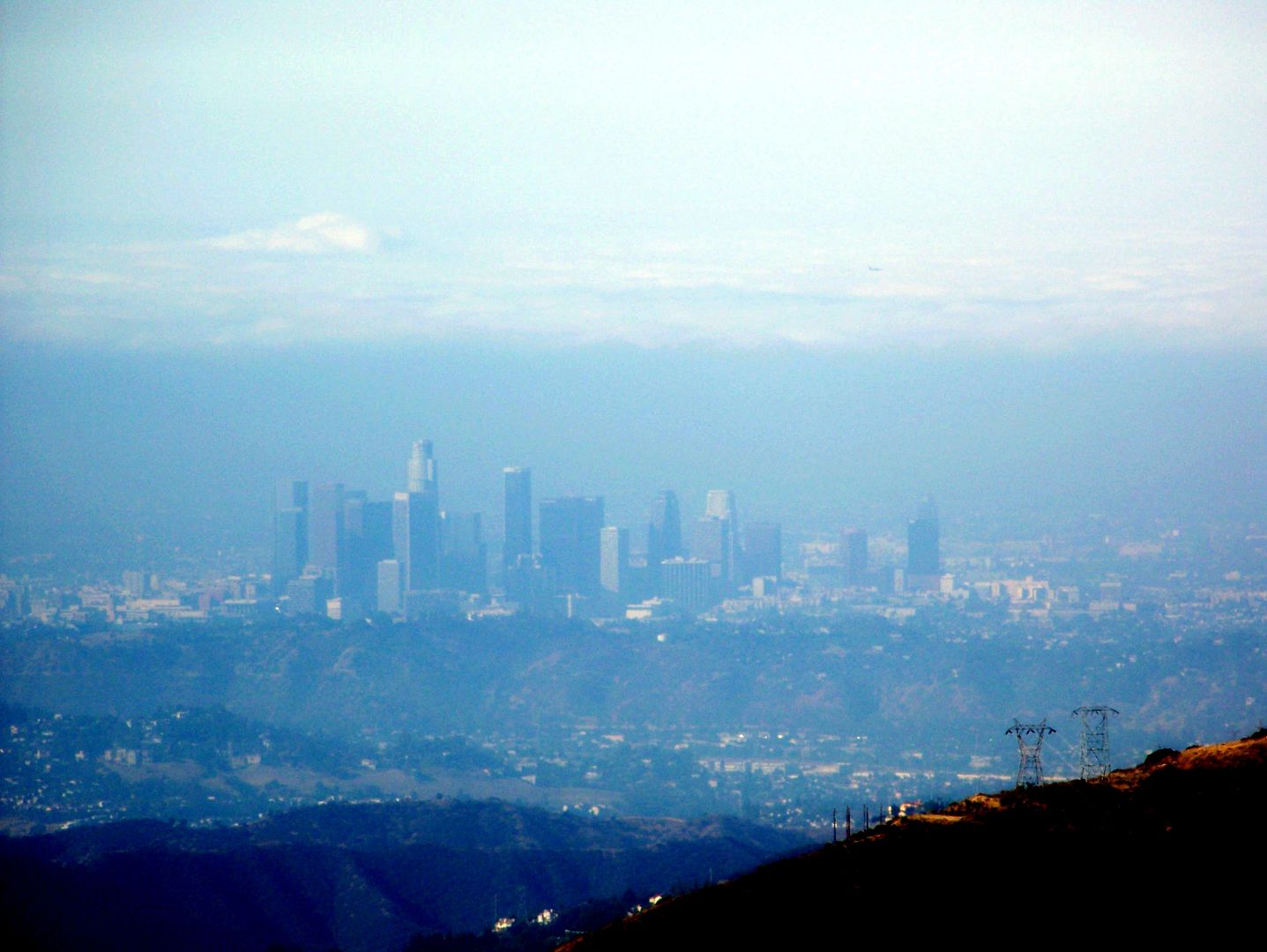 On my way to Wolfsburg West for some parts. I love this city, this beehive of like self-actualizing people you know working their programs.
Colin