I couldn't tell if my fan replacement improved the engine's balance until I made it down to the main road down to Bluff. Another 20* met me down there, it must have been 100*. Engine was smoother, yay! engine was hotter, boo! Thinking that I must have tangled some flaps or botched the thermostat rod, I looked for a place to get under the very warm engine. Perfect! A shop with a view: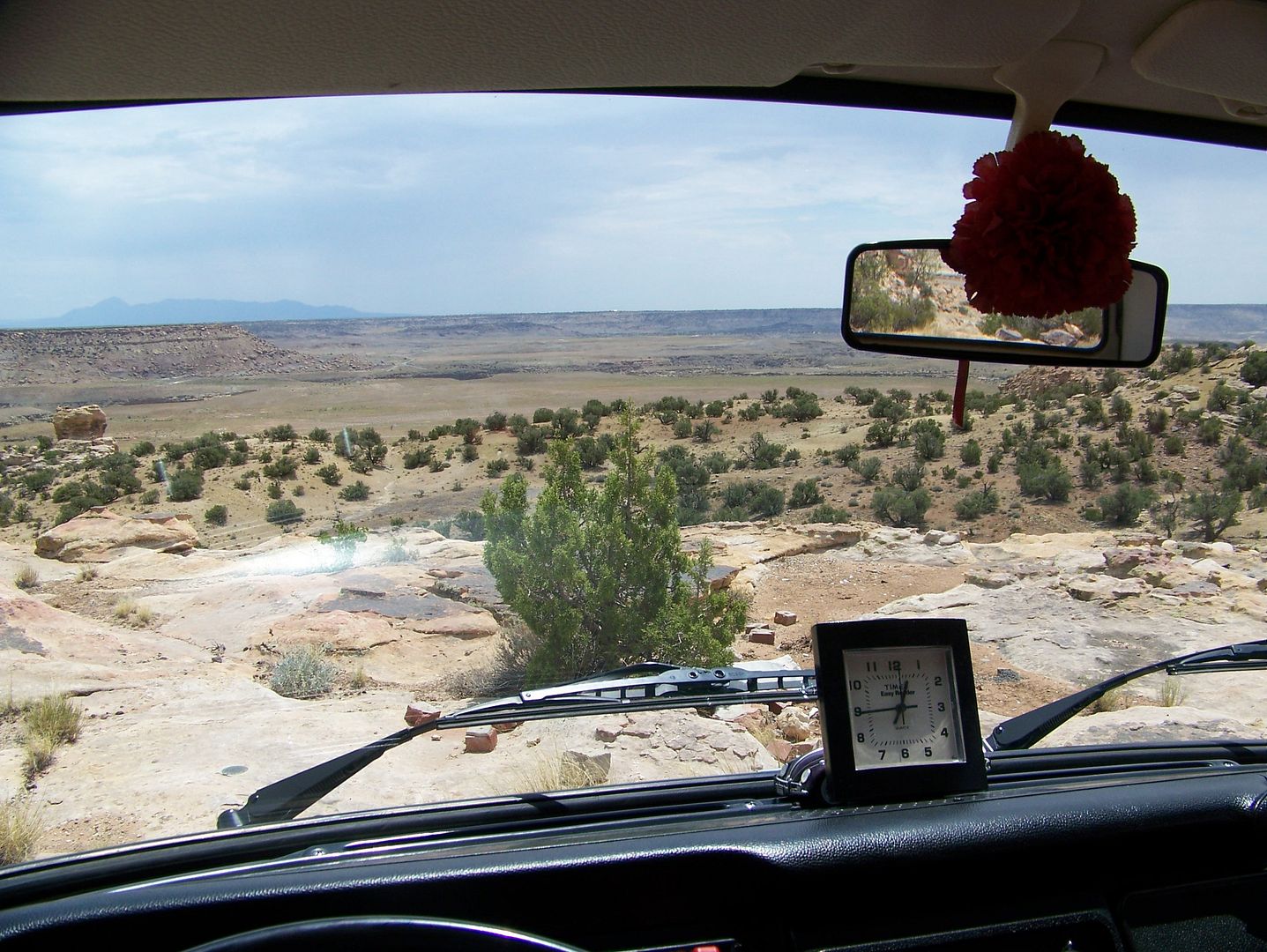 Drove another few miles and the engine was marginally cooler (note to self: thermostat adjustment is more about hot position being fully open than cold position fully closed), but the day was proving to be a cooker. Found a campsite up the hill on a big smooth rock with an even better view: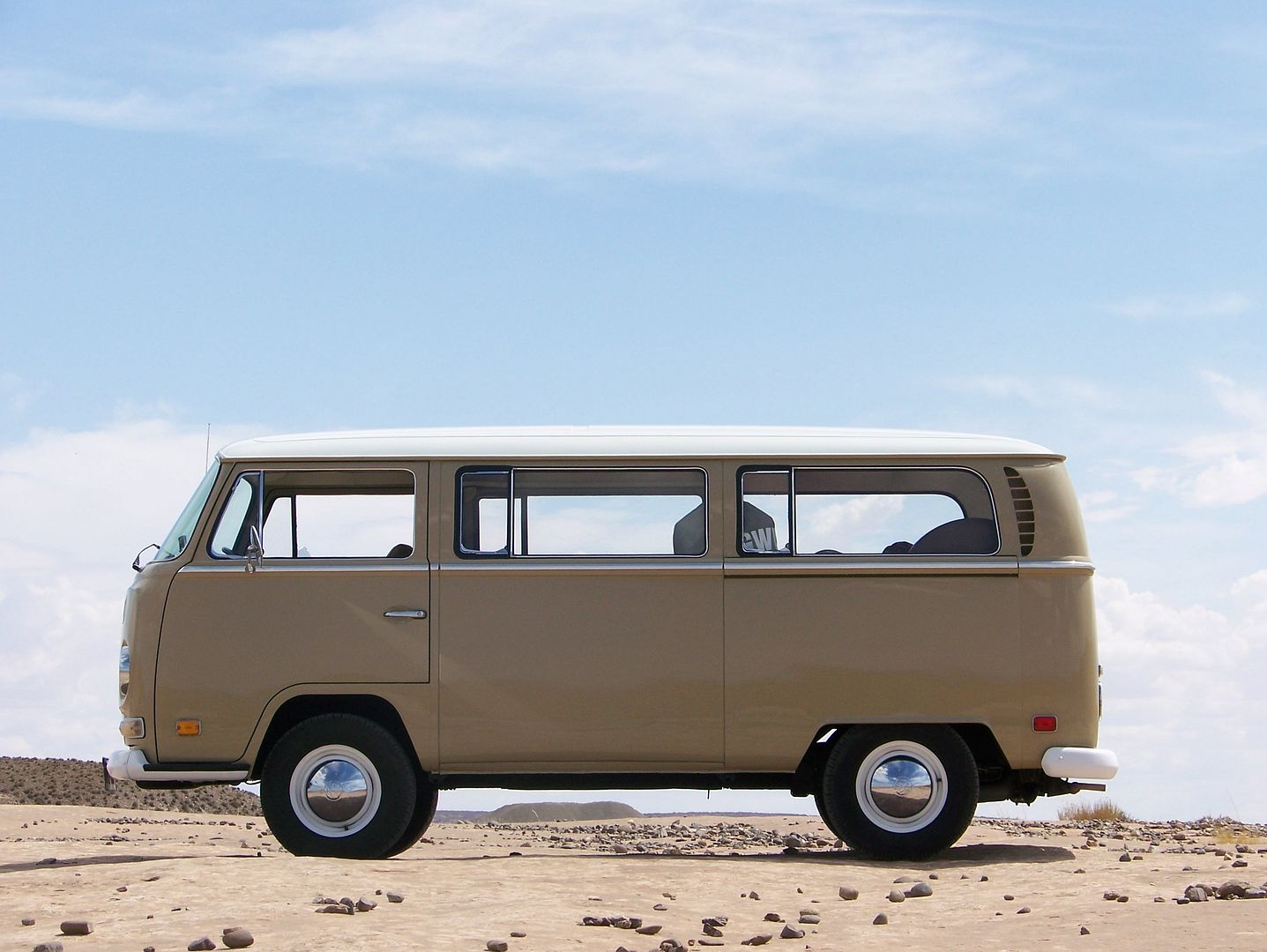 I liked the very thought of this. No western grass barbs stick in my socks, no cow pies, and a decent breeze every so often. I lolled out the sliding door: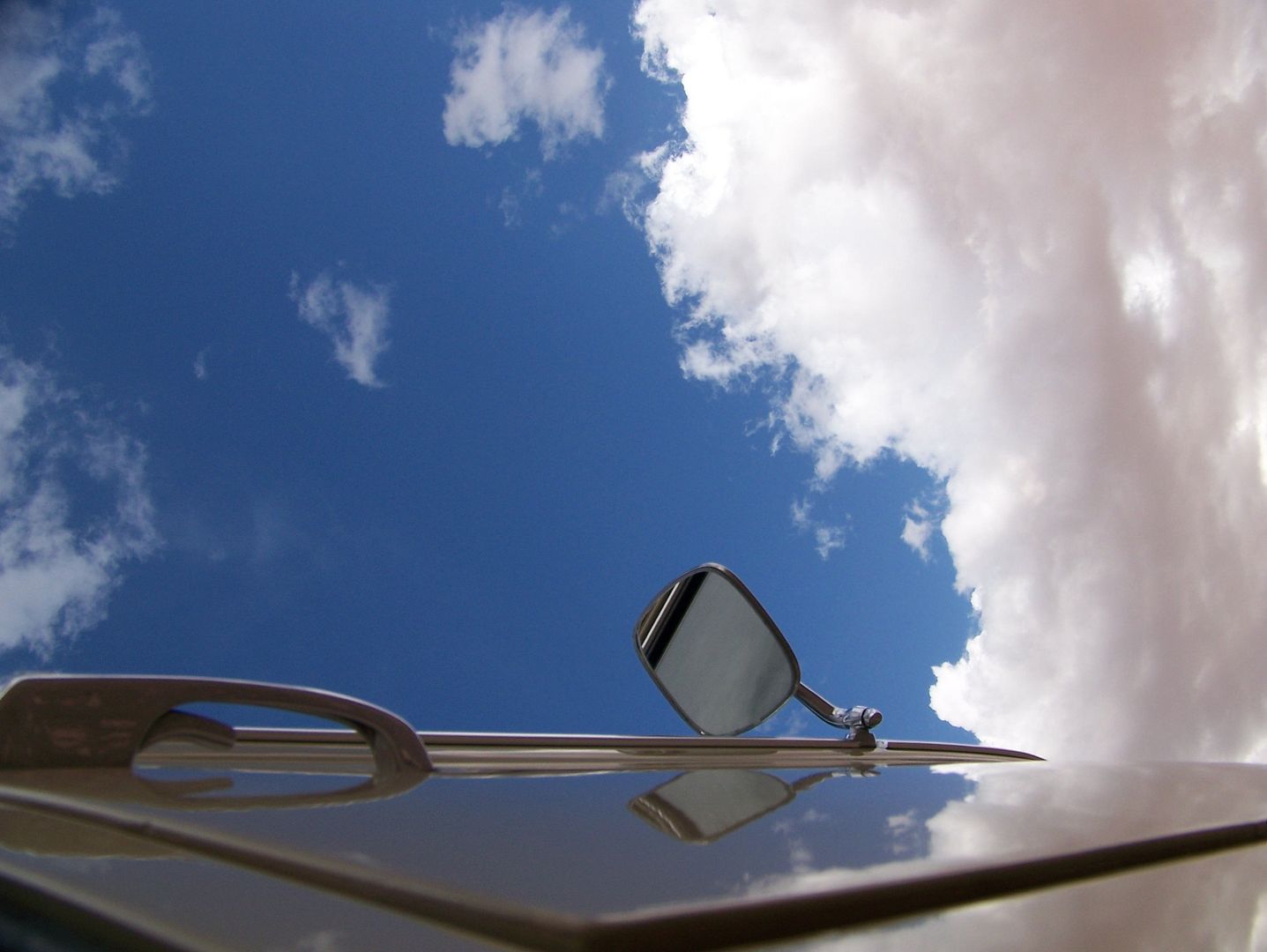 Set to work on today's project - preventing the turn signal lenses from filling with water. The new lenses Mike had purchased before I bought the car always did have an indifferent attitude about following the contour of the car (or was it that the car had an indifferent attitude from prior bodywork?). Carefully skived the outside curve of the lenses until they followed the line of the body perfectly, yay! Started to rain, boo! WTF? Big clouds had billowed up and rained in what 20, minutes? Cooled my bluff perch, though, yay! It was so smooth and clean up there that the rain did not throw up dirty spatter of dust, it did not make me get coated with the usual grass "clippings" that I would track into the interior, it was actually a very nice rain, so I stripped down to take a bath along with the car - feral mechanics need to be fresh (before re-attiring for the subsequent late-afternoon photoshoot hikes and all-ed):
The wind picked up fiercely and blew everything around in the car before I managed to close windows and doors. The car rocked up on that rock and the lightening cracked damn good and close a few times with that short sharp clap of thunder that occurs when you are near the strike. "Is that all you got?" I yelled into the sheets of rain and cracks of thunder.The rain passed:
I was gloriously happy up there in the middle of nowhere, it was like witnessing Creation: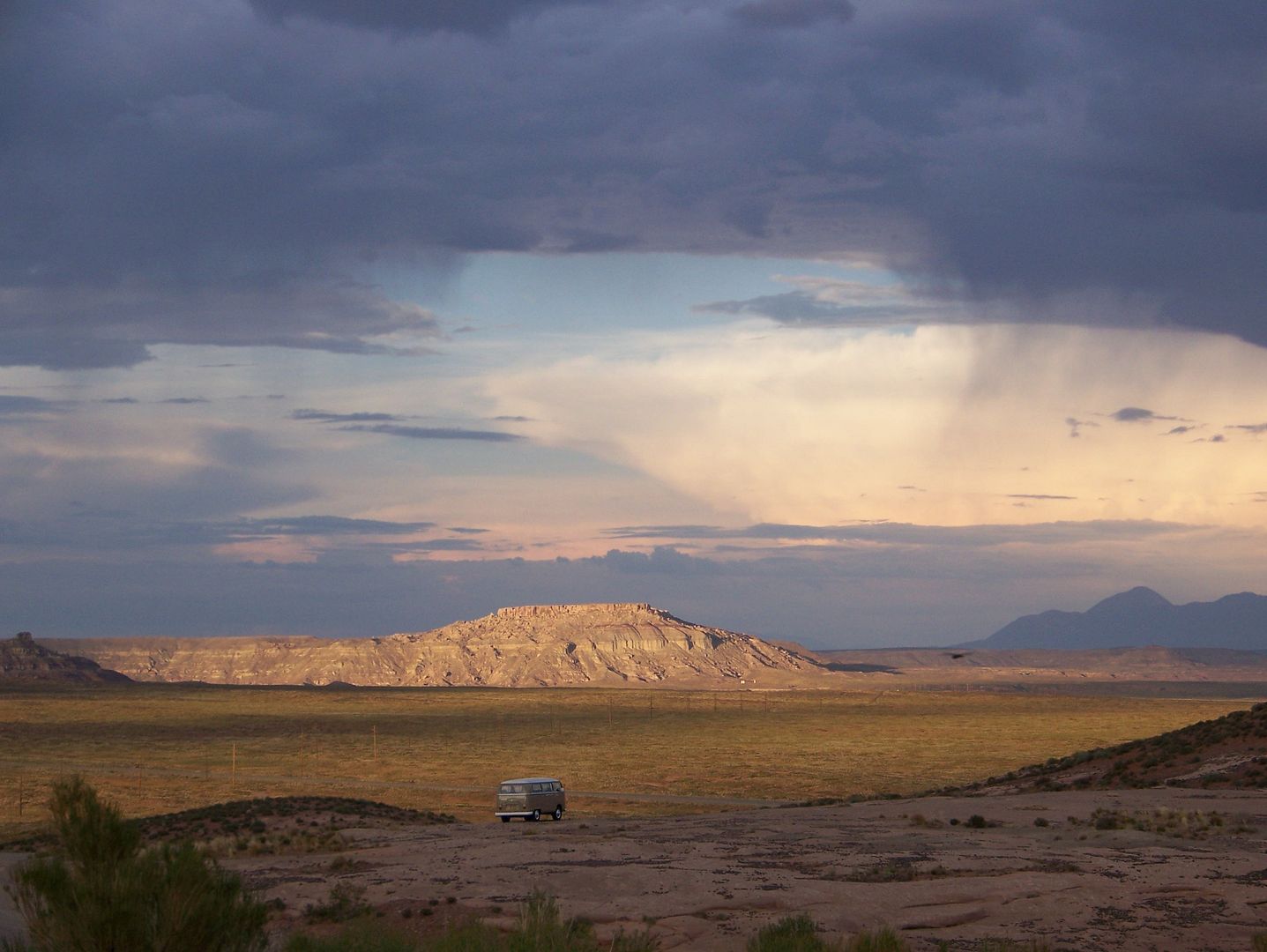 Took a refreshing walk around and saw the art of wind and rain: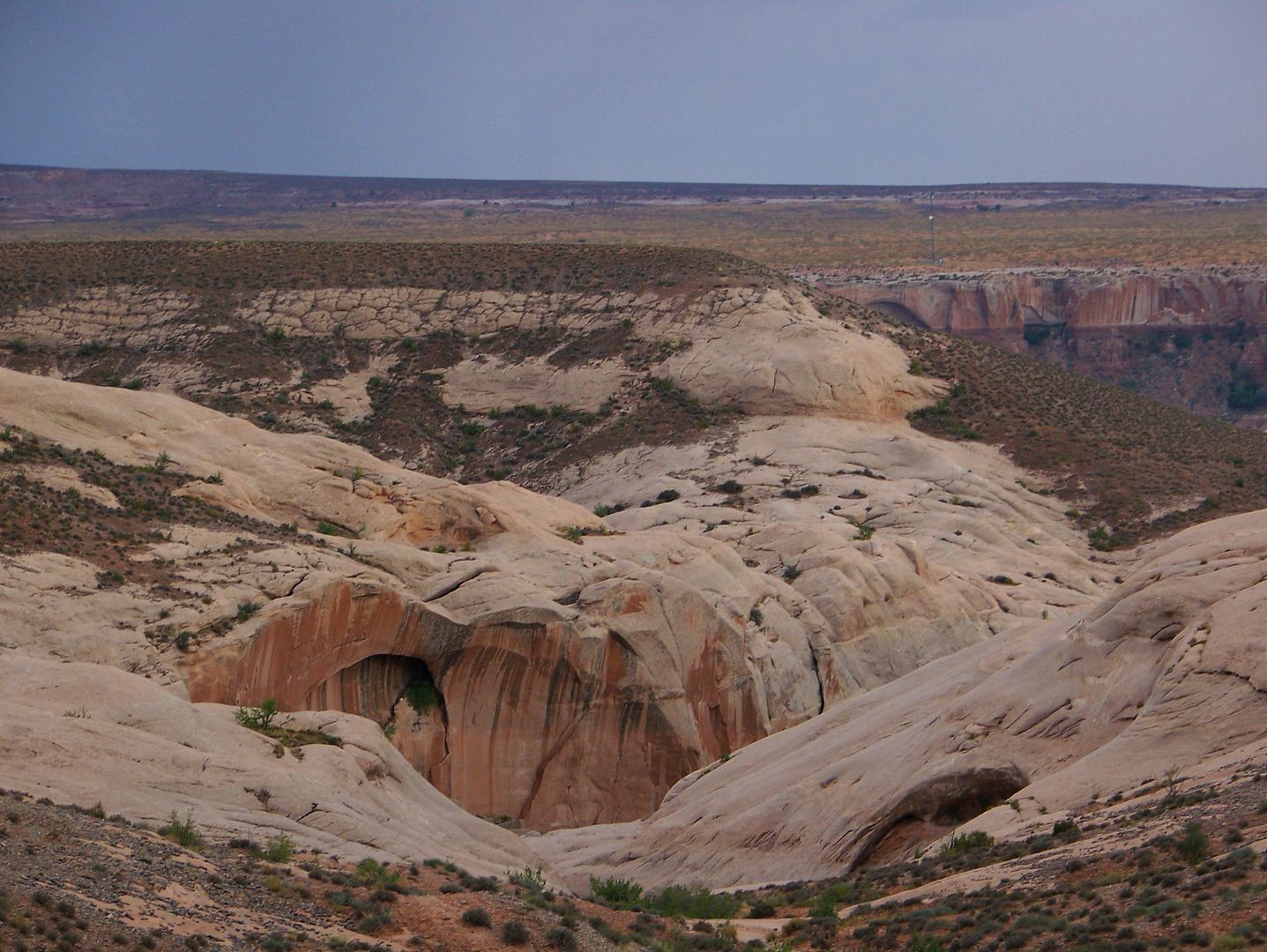 Saw that the lenses had dutifully filled with water again, so I filed small drainage channels along the bottom of the lenses, dielectric greased the lamp sockets and wire terminals, and got blasted with a couple more squalls. Here's one coming up behind me:
Spent a couple of hours on battery power trying to catch up with my forum posts/pictures as night fell. Doors were all open, the temperatures had recovered after the cooling rain, I was trying to pick the one in ten of my hundreds of photographs, bugs were finding the laptop screen unbelievably exciting, the car's windows were reflecting the light from the laptop, it was surreal, it was beautiful, it was breezy, it was midnight, it was "HEY F*** HER HARD LIKE I JUST DID!" The adrenaline is still saturated in my tissues a week later. Some knuckleheads on a night joyride had come up in their mom's old claptrap Dodge minivan. I sat in the dark after they had blasted down the hill and thought about my relationship to the human race.
No longer so driven to find my place amongst people like when I was 18 years-old, I drink in millions of years of Earth Time and wonder more and more. Wonder and ponder and I can't get enough of this experience. Who knows that fuzzy foggy feral old men like me, with sore joints and tired backs, may be just slipping back into a state of childlike wonder? Still, this old man who once took joyrides with high-spirited friends, would have happily yelled back to those punks "THEN YOU ALREADY KNOW IT'S YOUR MOTHER."
So much of the silliness and roostering and jousting and butting horns idiocy is just part of this amazing life.
Colin