I left the Lucky Lab in the rain and drove to the California border . . . in the rain. By this point, my eyes had long since dulled into grey hopelessness, the lifelong spark had been thoroughly extinguished, my sodden soggy sour soused spirit slowly slipping towards some wet hydroplaning highway death on this water-infested orb, my grave would probably splash muddy water as they dumped the casket in.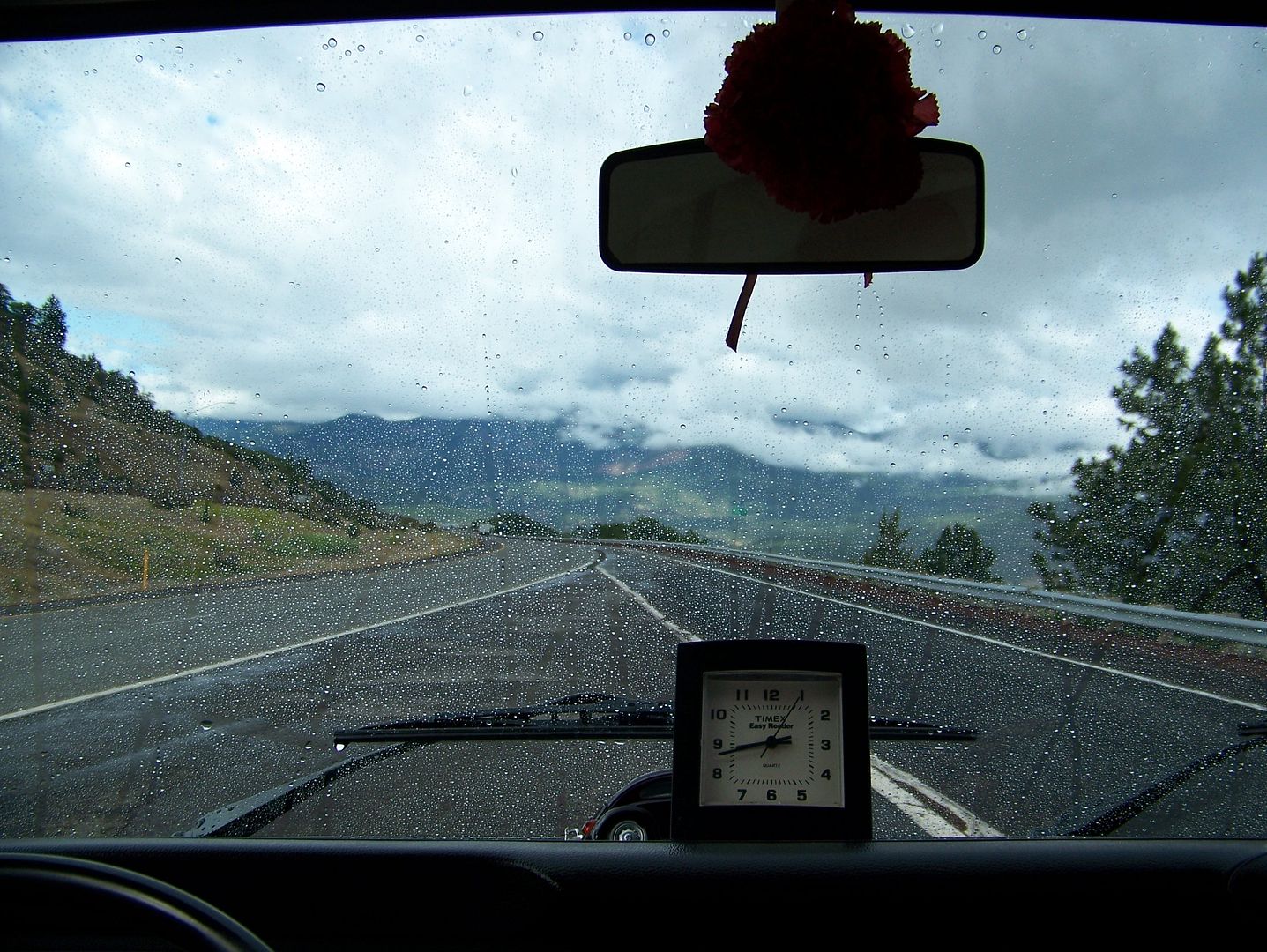 Oh yeah right, Oregon "thanks" me, for WHAT, taking half of its precipitation along in my poor rusting bus?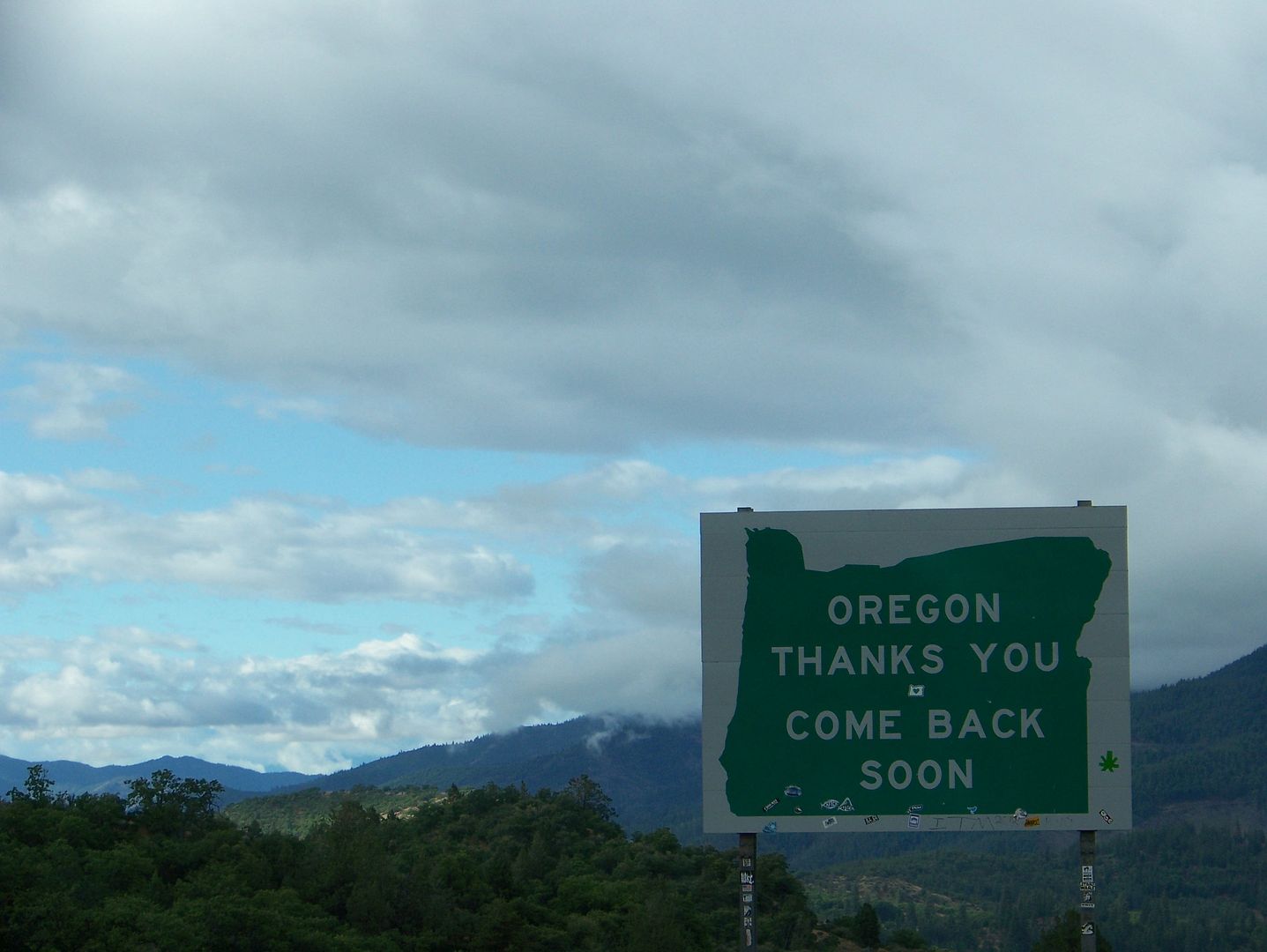 But hark! Do I see . . . blue sky? California! Are you going to save me from perpetual grey?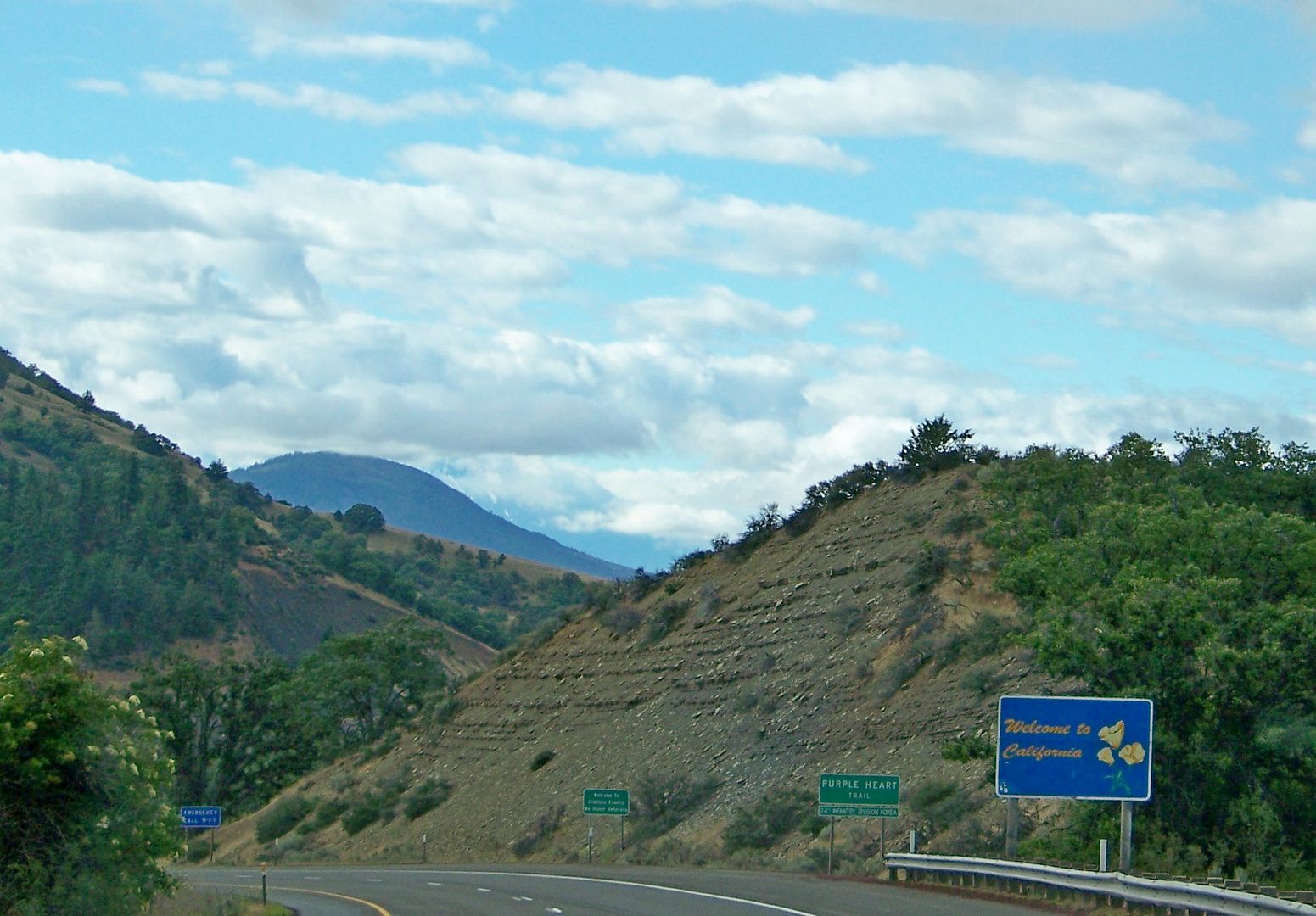 Mount Shasta! Hidden by clouds, but hey, I am looking through dappled skies whose patches of blue might promise dearly desired sunshine: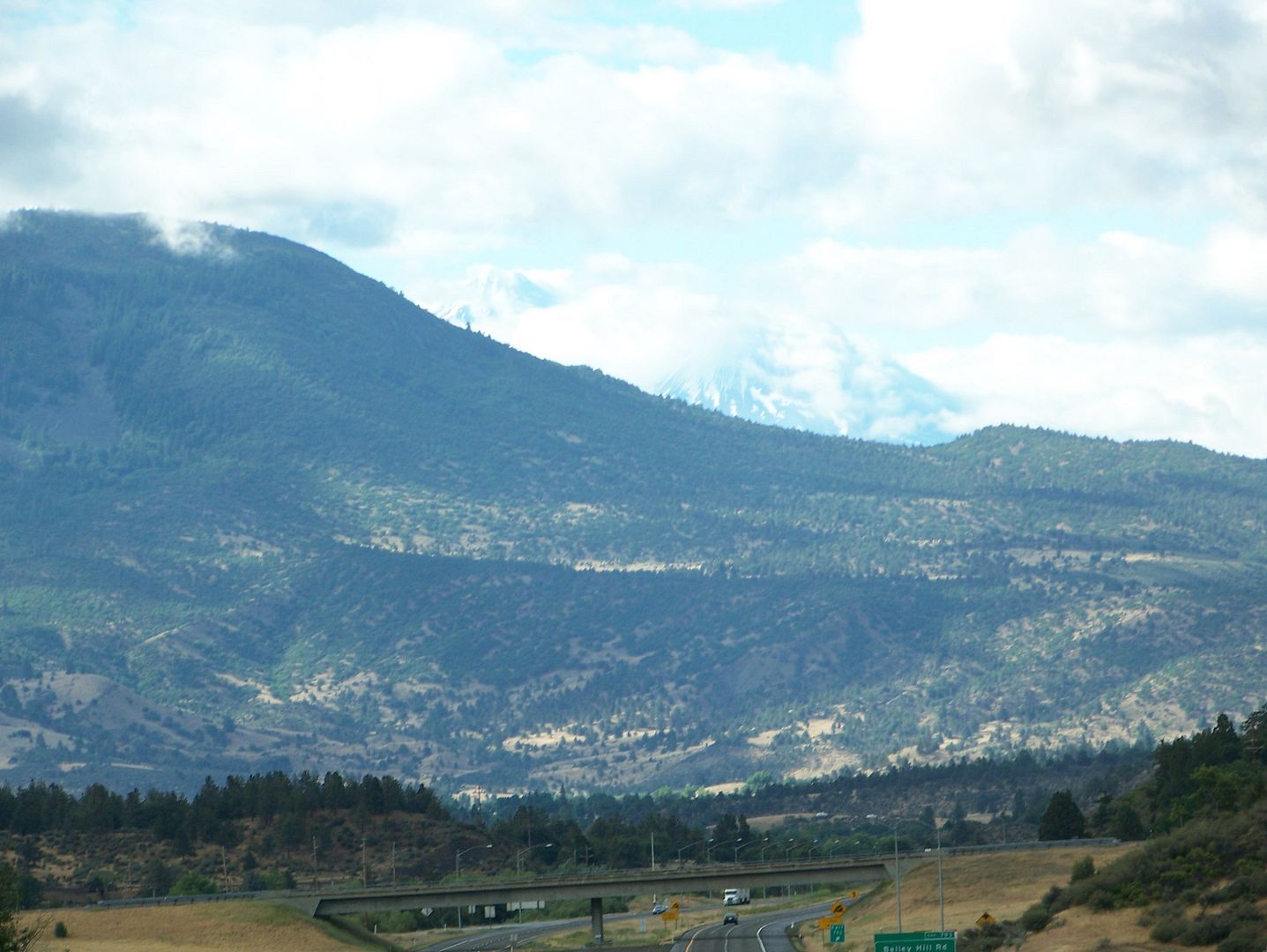 And then California said, "we gots grey too."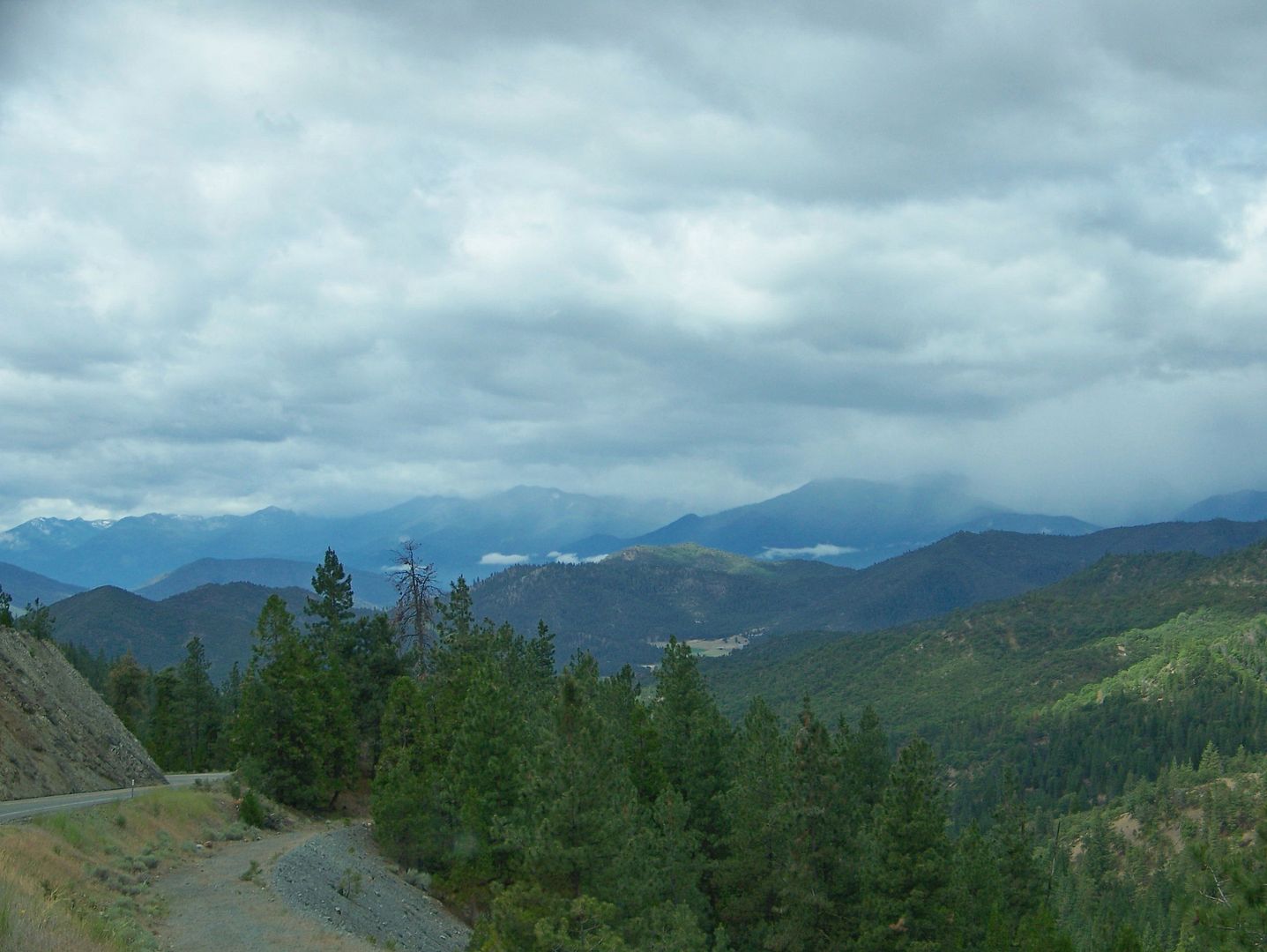 I had to drive towards it. The itinerary said so. The blue sky disappeared. I had to get to Pacific-Chilled Eureka, to enjoy their famous 56*-60* climate: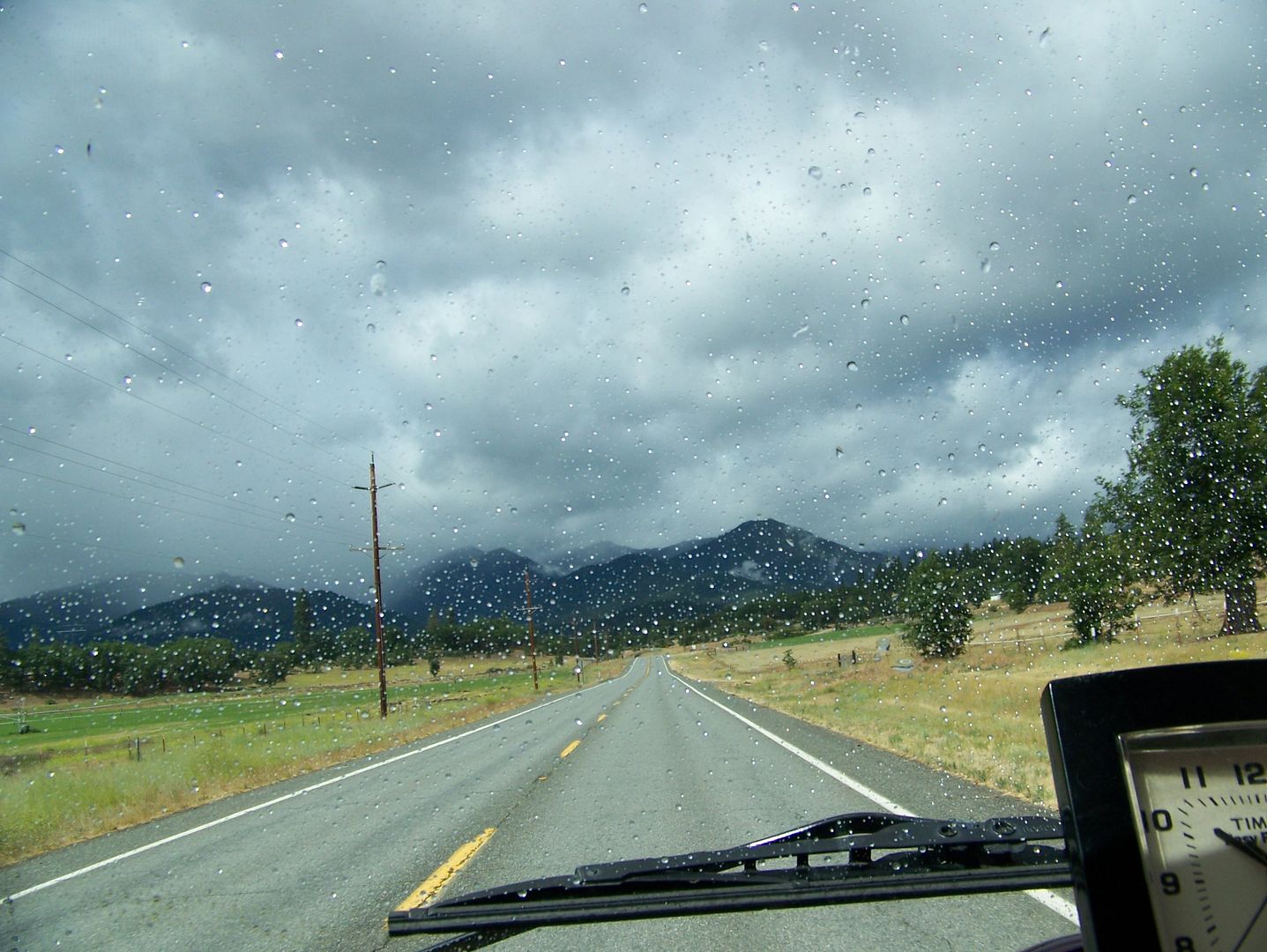 Some two hundred miles of rain and hairpin curves greeted me on CA299. The droplets on the windshield hide from your view the depth of the ravine here:
I no longer even complained. Dead inside, I drove through the rain with a gritty lack of determination. Even the engine's inner fire was slowly being leached into the wet cold landscape: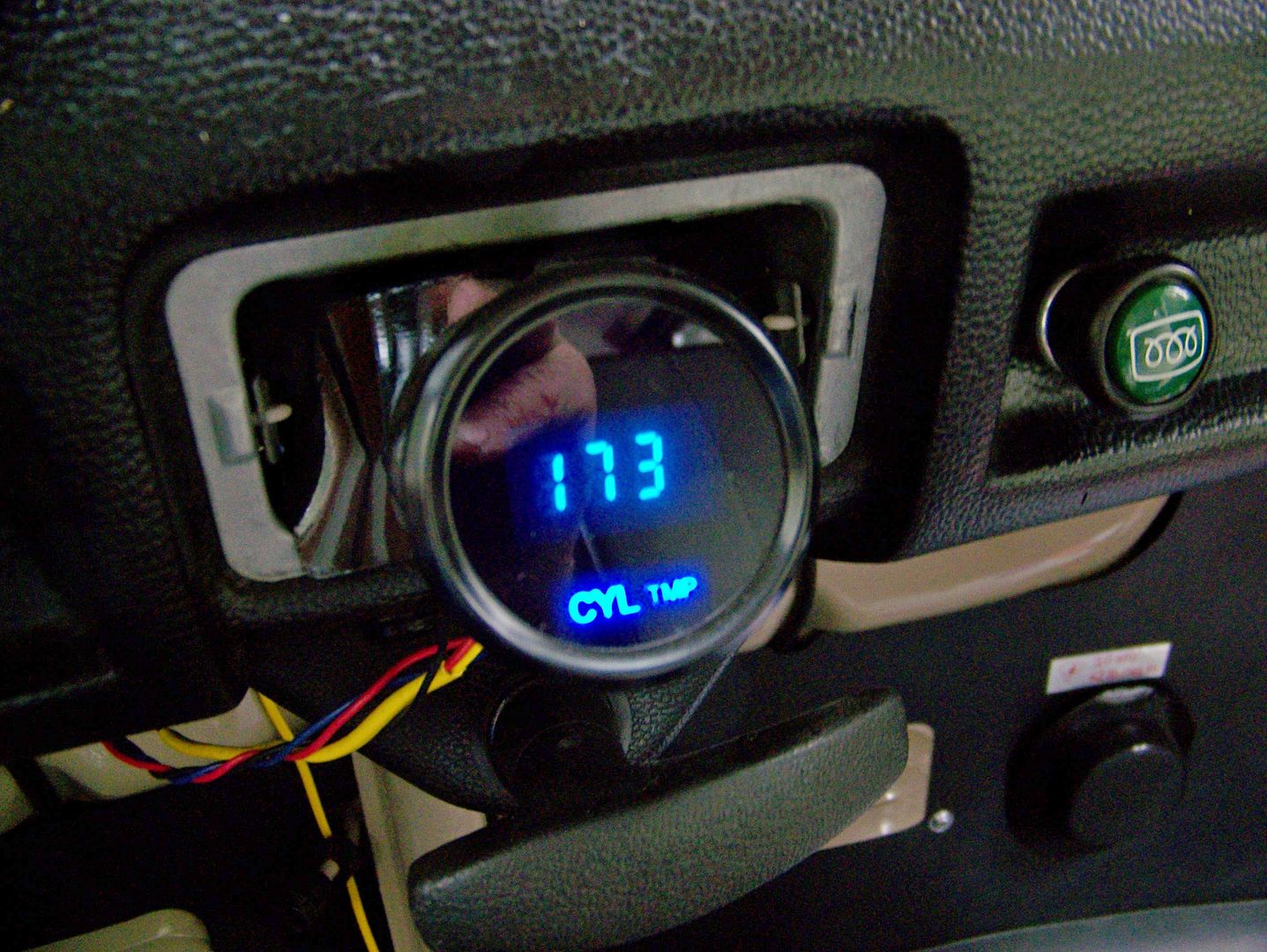 I guess the land needs the rain. This is the Trinity River: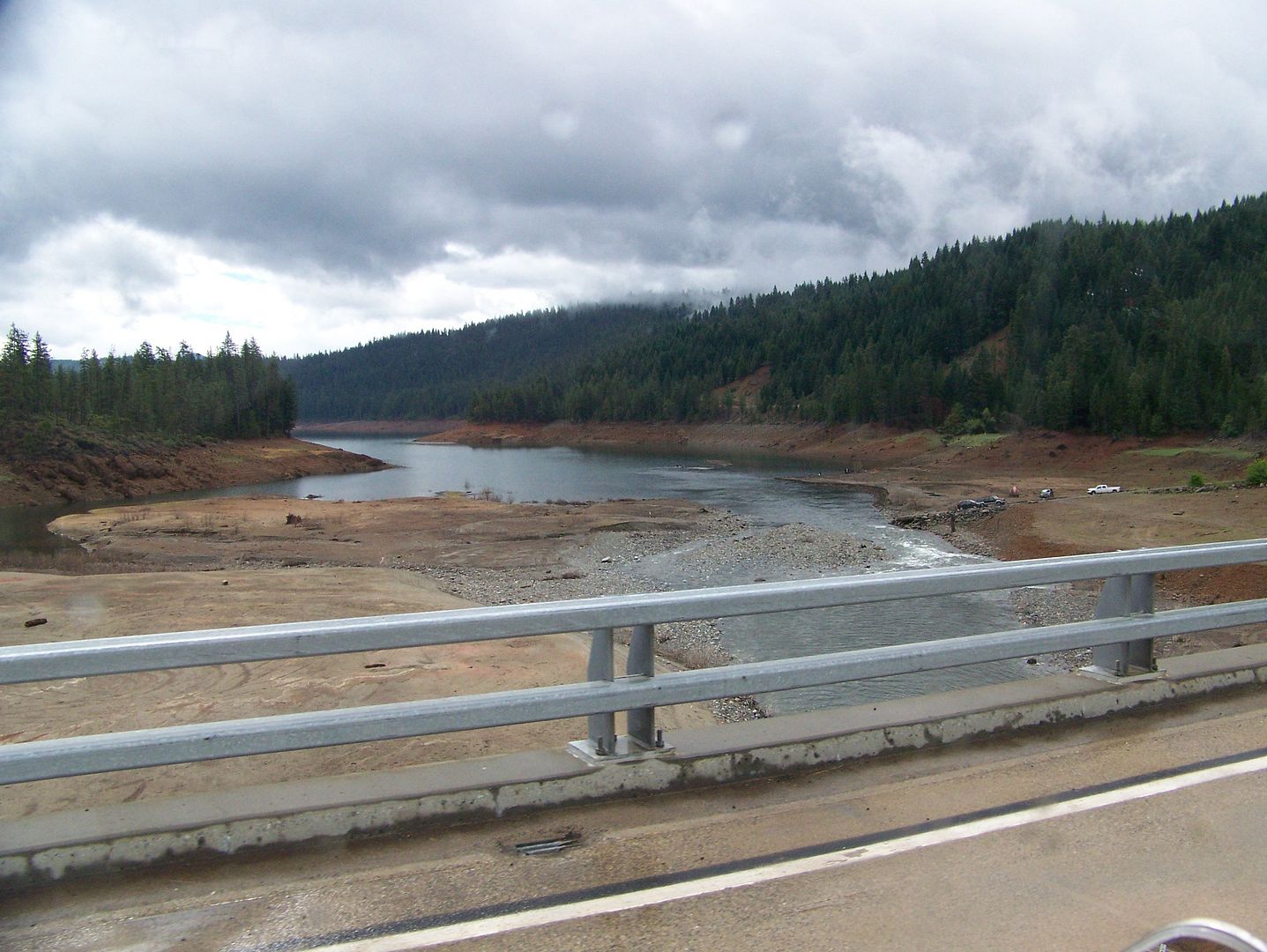 I took a photograph of Chloe in the rain outside of Eureka. Knowing that Eureka always greets me with cold Pacific mist and I had two appointments coming up, I was steeling myself for sweatshirt grey dampness for the next few days. I stood here at a roadside turnout and tried to loosen up my muscles which were contracting into a seized fetal position even as I stood there: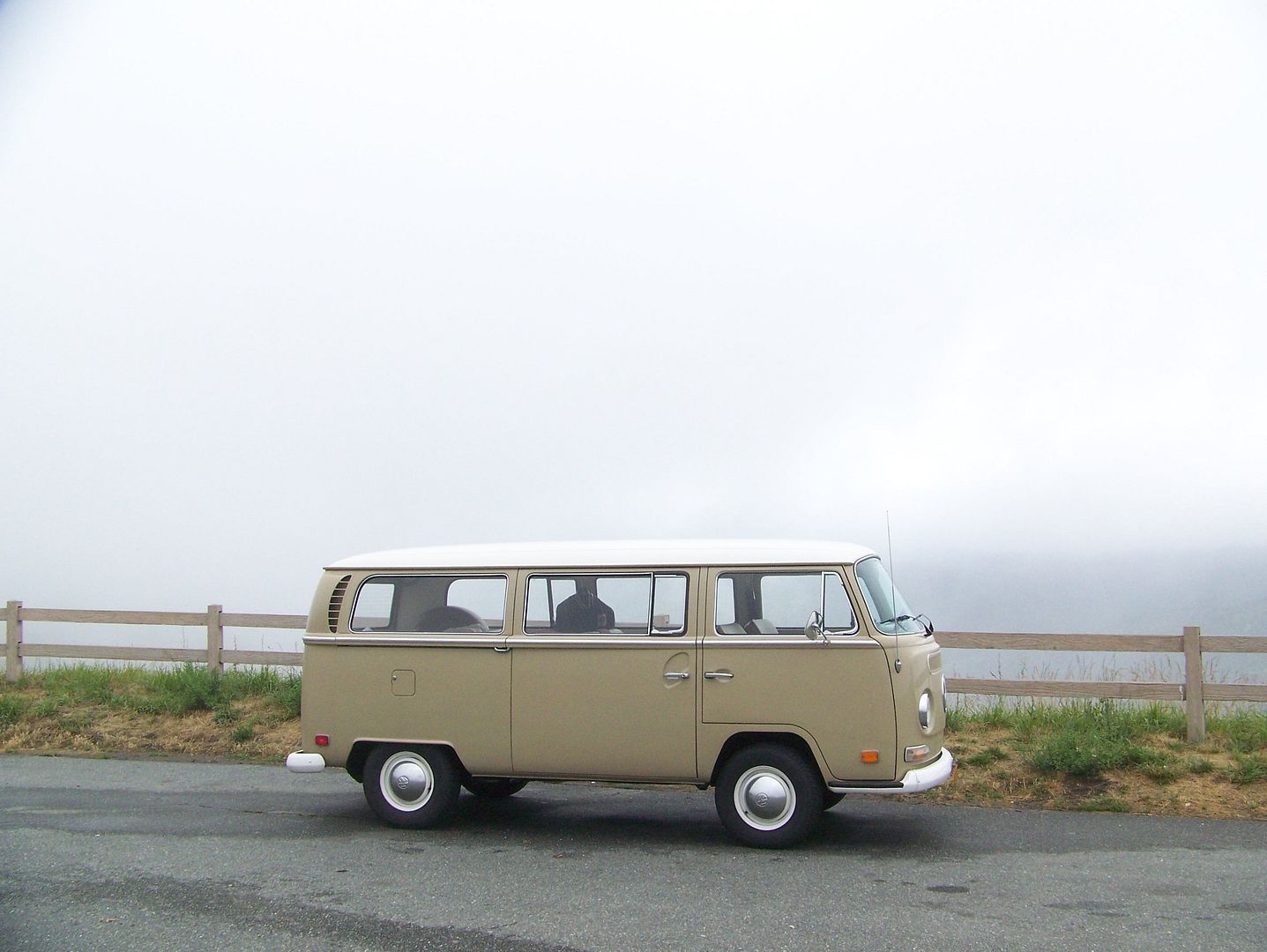 Wouldn't you know it . . . the last couple of hundred feet of elevation dropped me out of the clouds and rain into . . . . sunshine . . . . in Eureka. Warm Eureka. Warm sunny Eureka? For two days, I exulted in sunshine.
Worked on pdlrofdrms bus. After enduring a litany of disappointments with those who administered to her poor bus, she took on the task to work on it herself. She took the engine out and installed two remanned cylinder heads. Riddled with doubts, she asked me if that "funny noise" was a problem. Others had offered dire possibilities like "loose camshaft gear". I heard perhaps a little oil pump tang clatter, but judged it inconsequential. Like misszora, she now has a strong quiet peppy engine. We decided to deal with the sliding door. Installed a new receiver in the b-pillar because the old one had been butted too many times by a sagging door. Made two new roller bracket shims with an angle grinder and dremel and got that door hoisted back up to the proper level. Longingly, she had witnessed how Chloe's sliding door latches in the fully open position. We prevailed upon a hapless pen and robbed its little barrel spring. Drilled a divot in the stop bracket. Kissed the hook's end with a dremel to hold the other end of the spring. Voil-, no wait, Eureka! Door now latches:
She tenderly ministers to her bus:
She is amazing. Business owner, roller-derby participant, and vital spirit.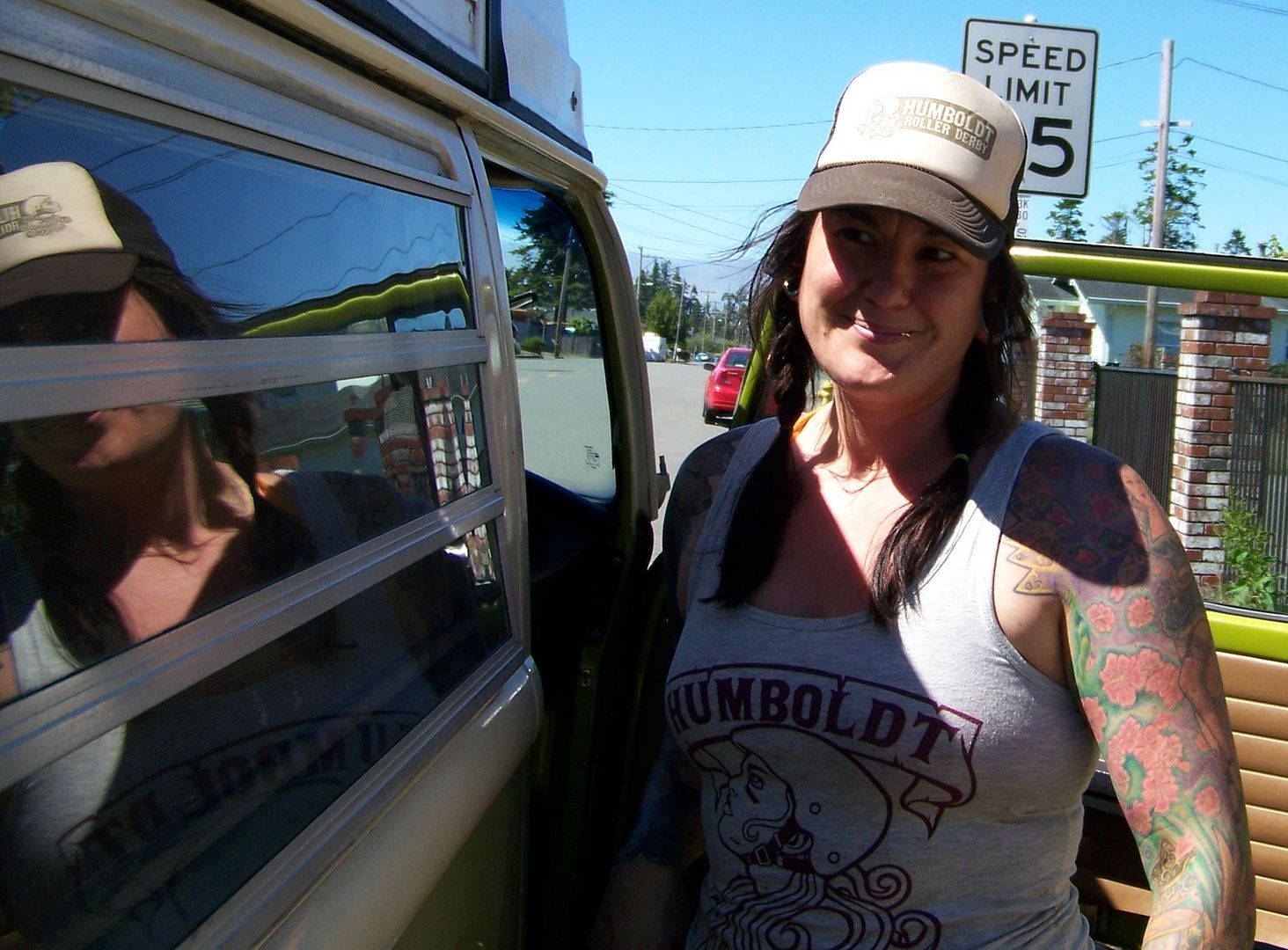 Next day, Airkooledchris and I couldn't even get out the driveway. It wasn't the clutch that was making it difficult to shift so much as a rapidly failing transaxle. Once again, old Volkswagens try to take care of their owners, his bus had gently warned him to get home and it was pretty much done in the driveway.
1st and 2nd were unobtainable, and reverse was losing its ability to stay in gear. Strangely, the detents were gone in the 1st 2nd shift fork.
We pulled the engine and transaxle in 60 minutes flat as I had promised + another 60, so sue me.
Here's the drain plug on the failed transaxle, looks like the mechanical improv of a palm tree: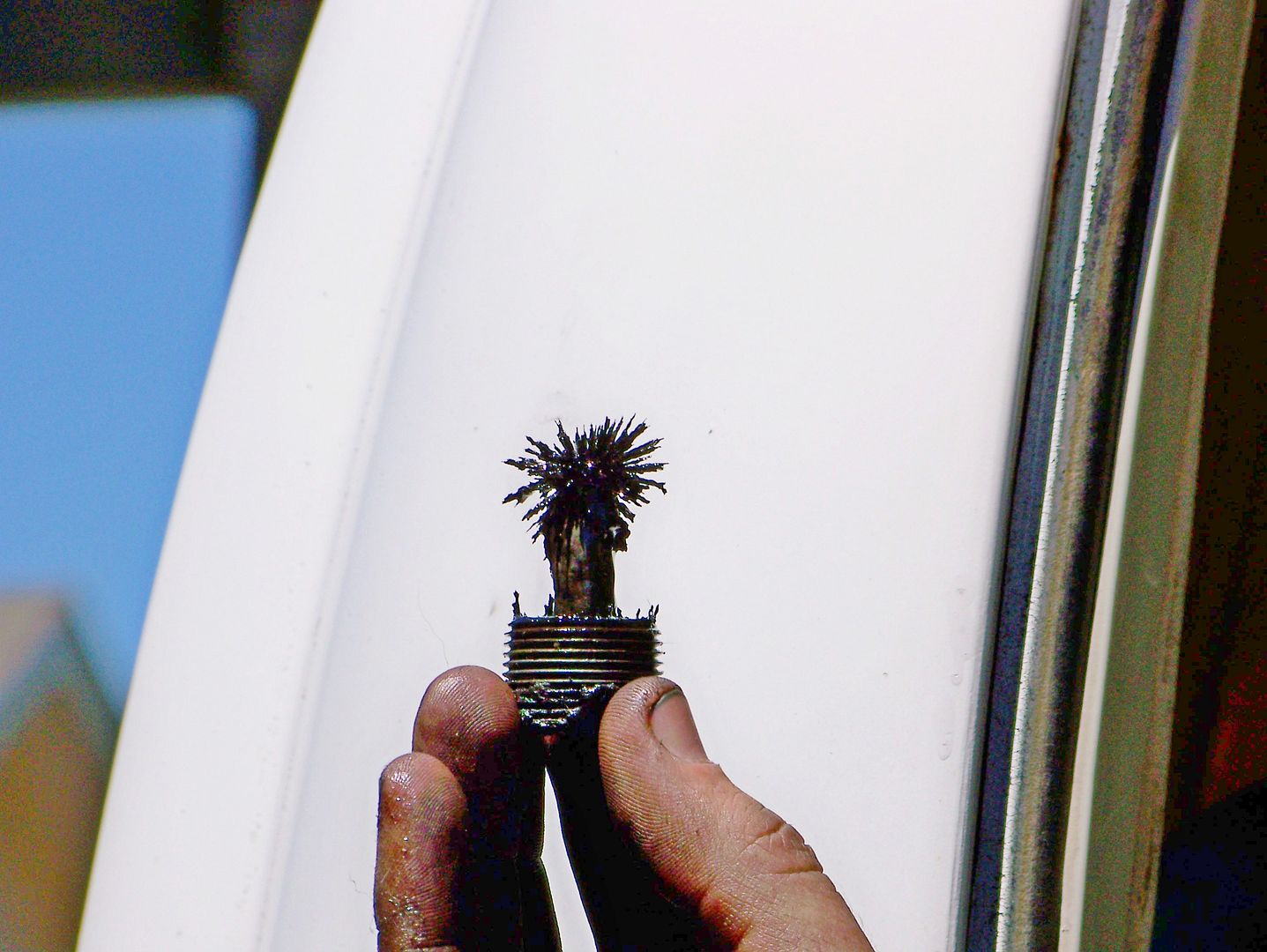 I got all panicky over a moveable flywheel, we measured .005" radial movement + another .005" axial movement. This dampened airkooledchris a tad, to think that his engine was ill as well as the transaxle.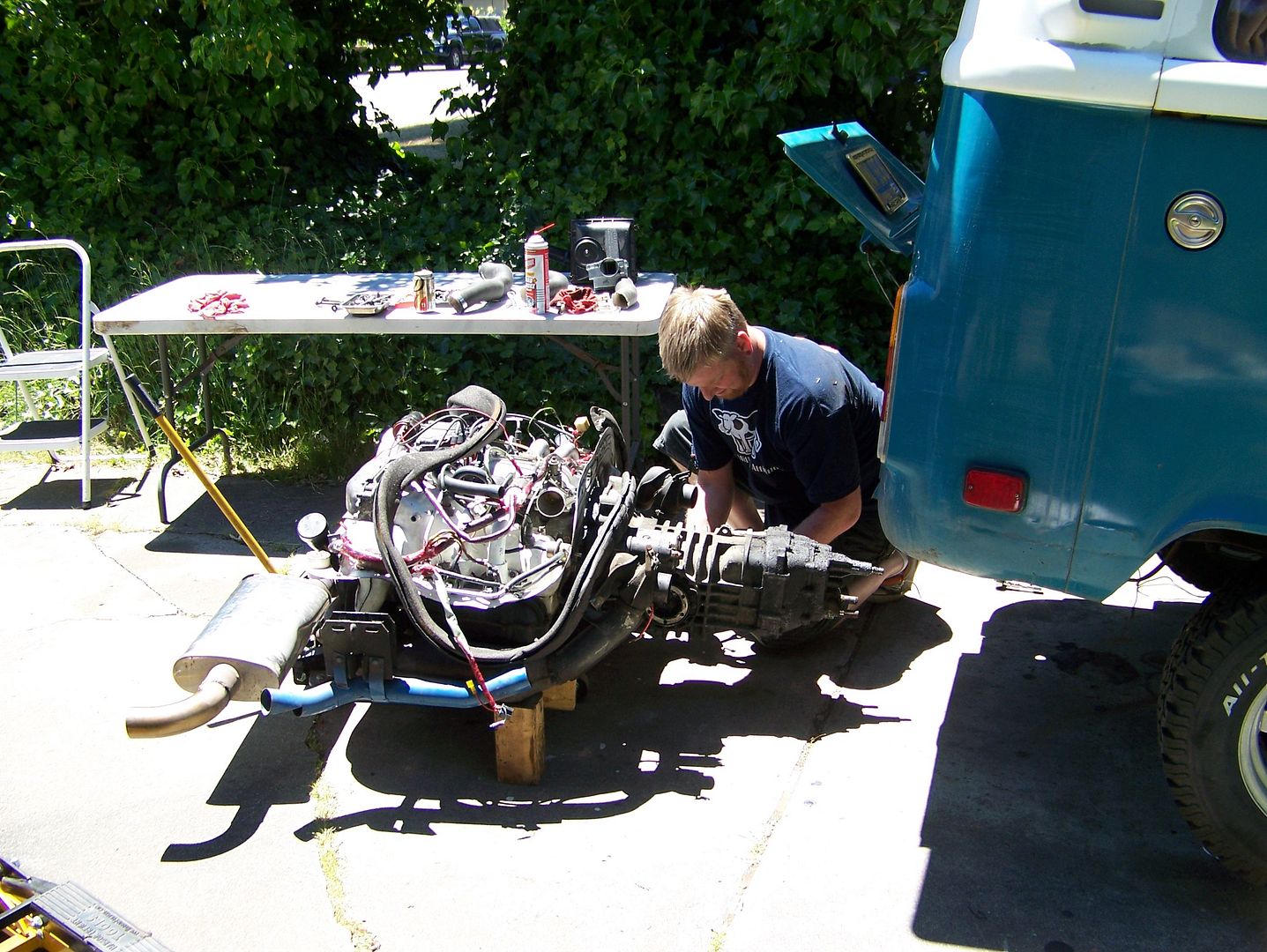 But his Volkswagen has other ideas. Our test drive with the new (used) transaxle was fine! The engine was peppy and quiet with no discernable main bearing thumping.
Knowing that Bleyseng and I have been having a conversation about "rev-limiting in the late bus ECU", airkooledchris' bus decided to stick its accelerator cable on the test drive so we could *hear* the most-definitely-supplied rev-limiter cutting in.
Tough day but good fun. Sunny warm Eureka gave way to close to record high temperatures as I drove down to Napa for the appointment with brewcruiser. Do you think I complained about the 108* heat and blinding sun?
You bet.