Rain, it rained and rained.The relentless cloud cover and drizzle and chill had eaten into my bones by the end of the Minnesota Contigent appointments. The brief morning tease of sunshine at the grifftenstein reassembly visit had long since departed as I hit Minnesota 169 south on the way to Anaconda.
This, for the next two and a half days . . .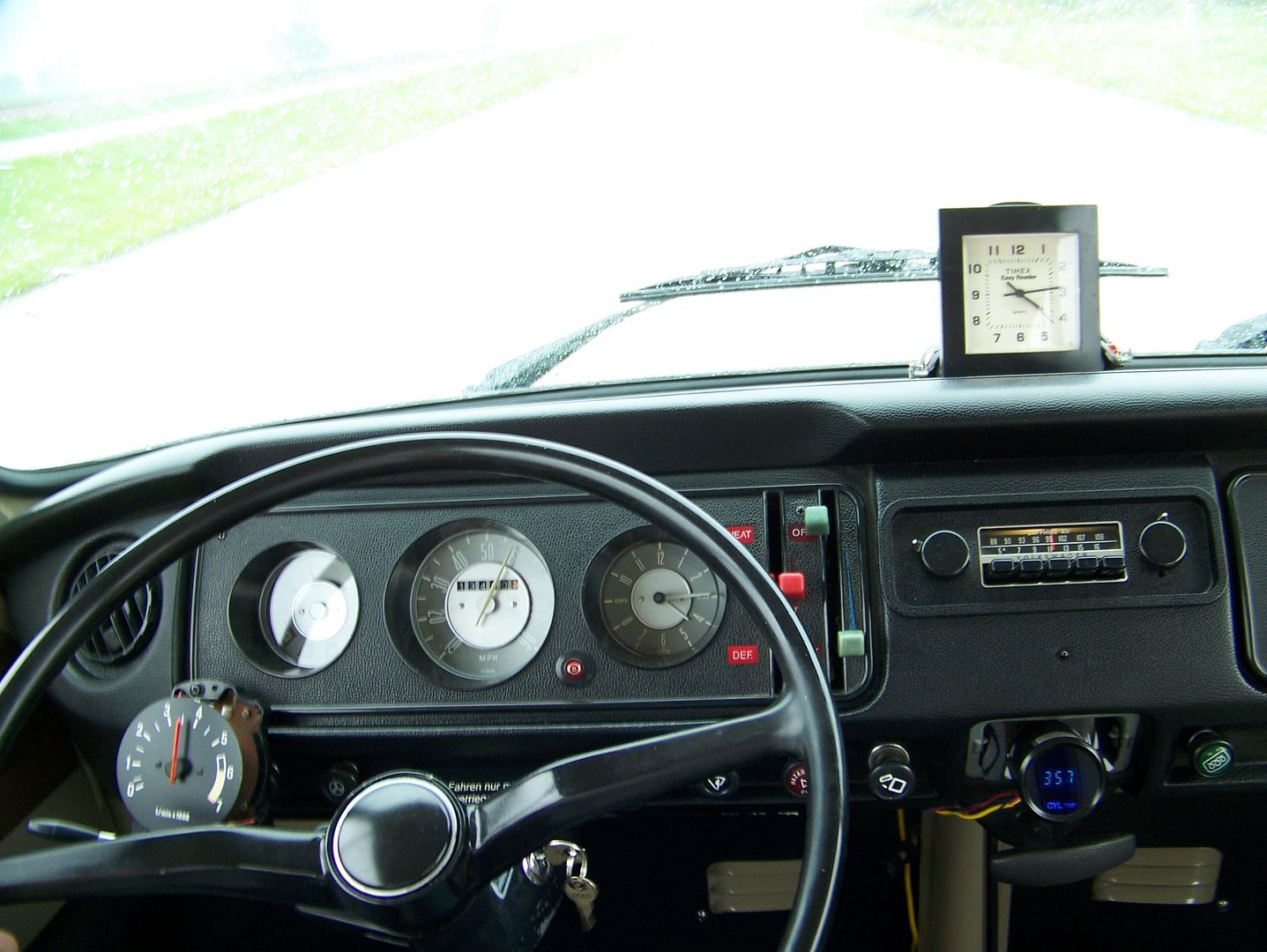 . . . and this:
and this! A cranky shot of wearing those motorized leaf-blower lawncare earmuffs to better hear the harmonic vibration range in Chloe's generator/fan that I wanted to avoid. The silly indignities of car care . . . :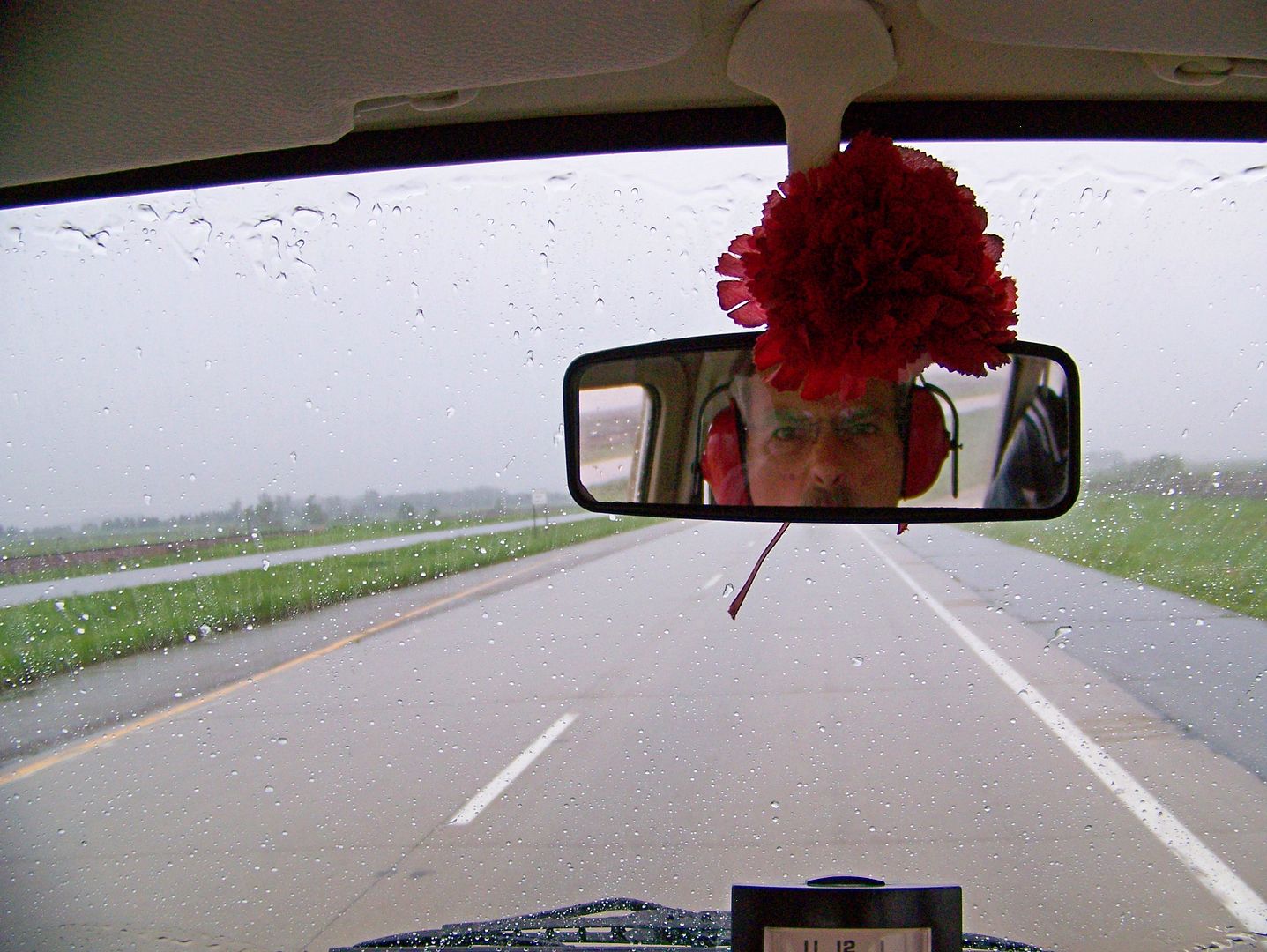 I loved it, I did. Chloe was running perfectly even with that worrisome vibration, the water was managing to stay out of the interior, and the tires cut surely through the drenched pavement with a water sprayed howl:
Green green landscapes with reflections and grey and spray and generator shriek and road warning signs: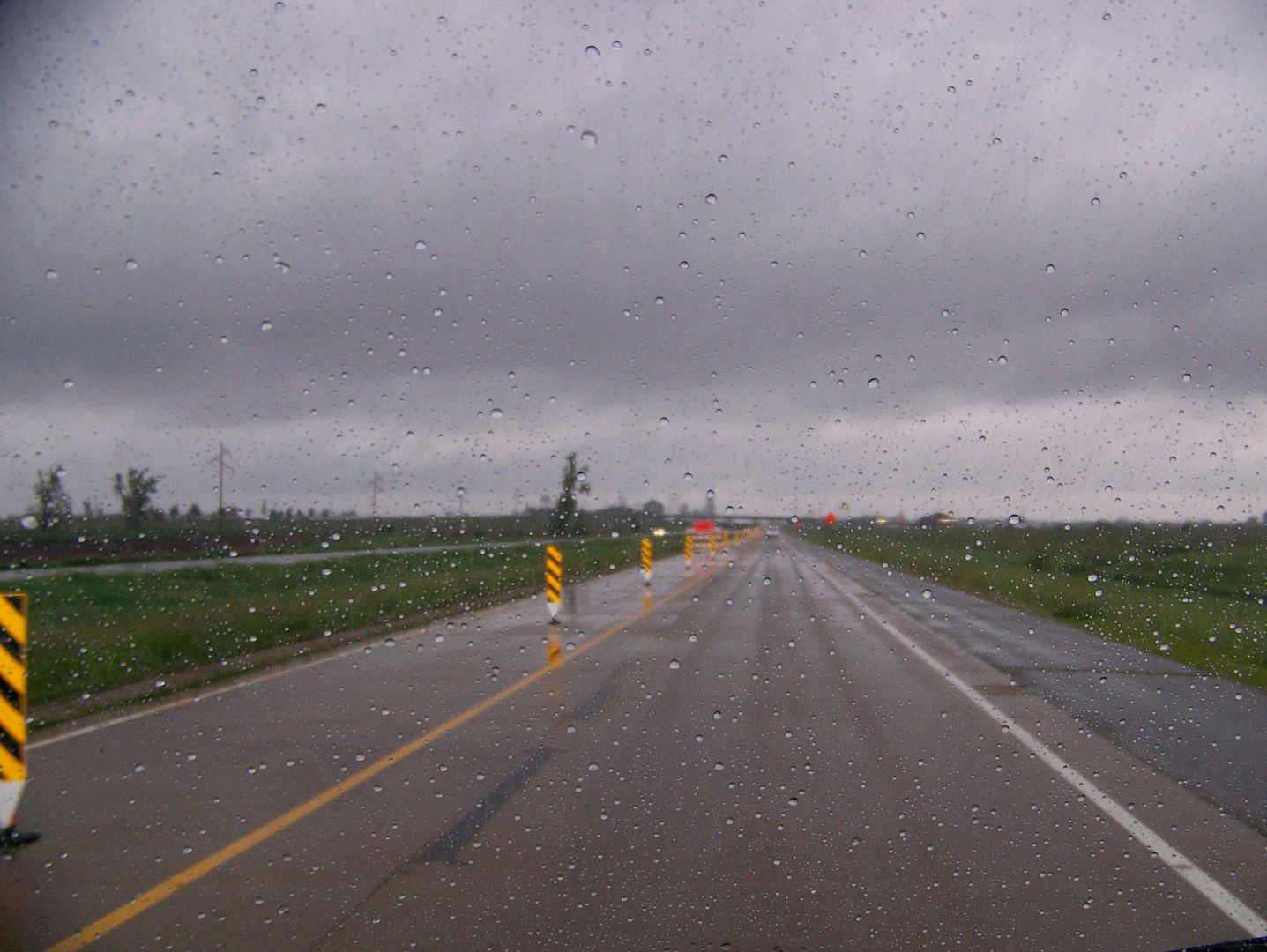 Mile after mile, this was the annual traverse of the country where itinerant east gives way to itinerant west, and a little VW 1600 engine was doing it one engine revolution at a time, here it is 7 PM: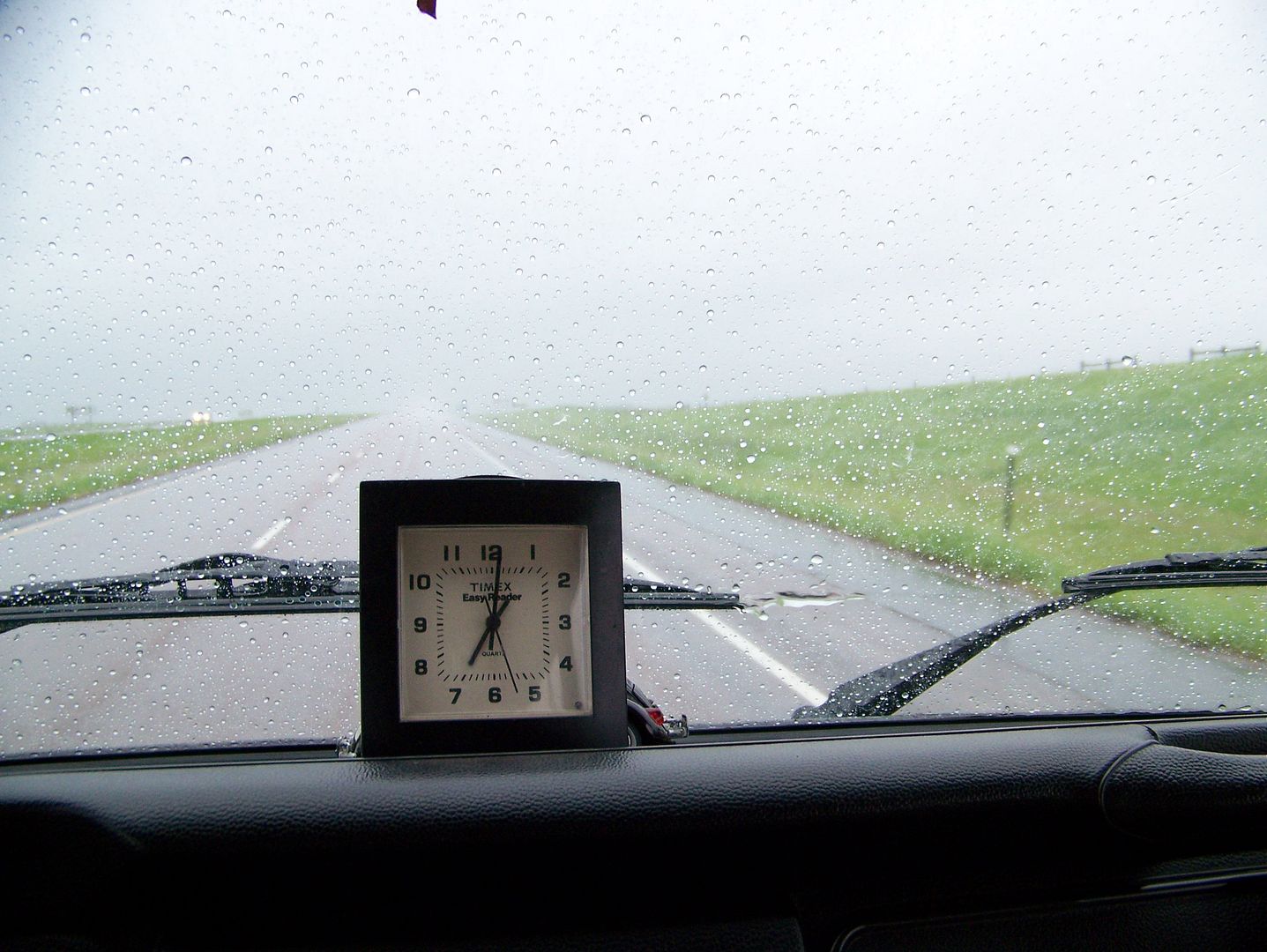 At 4 minutes past 7PM, the fields are filling with water: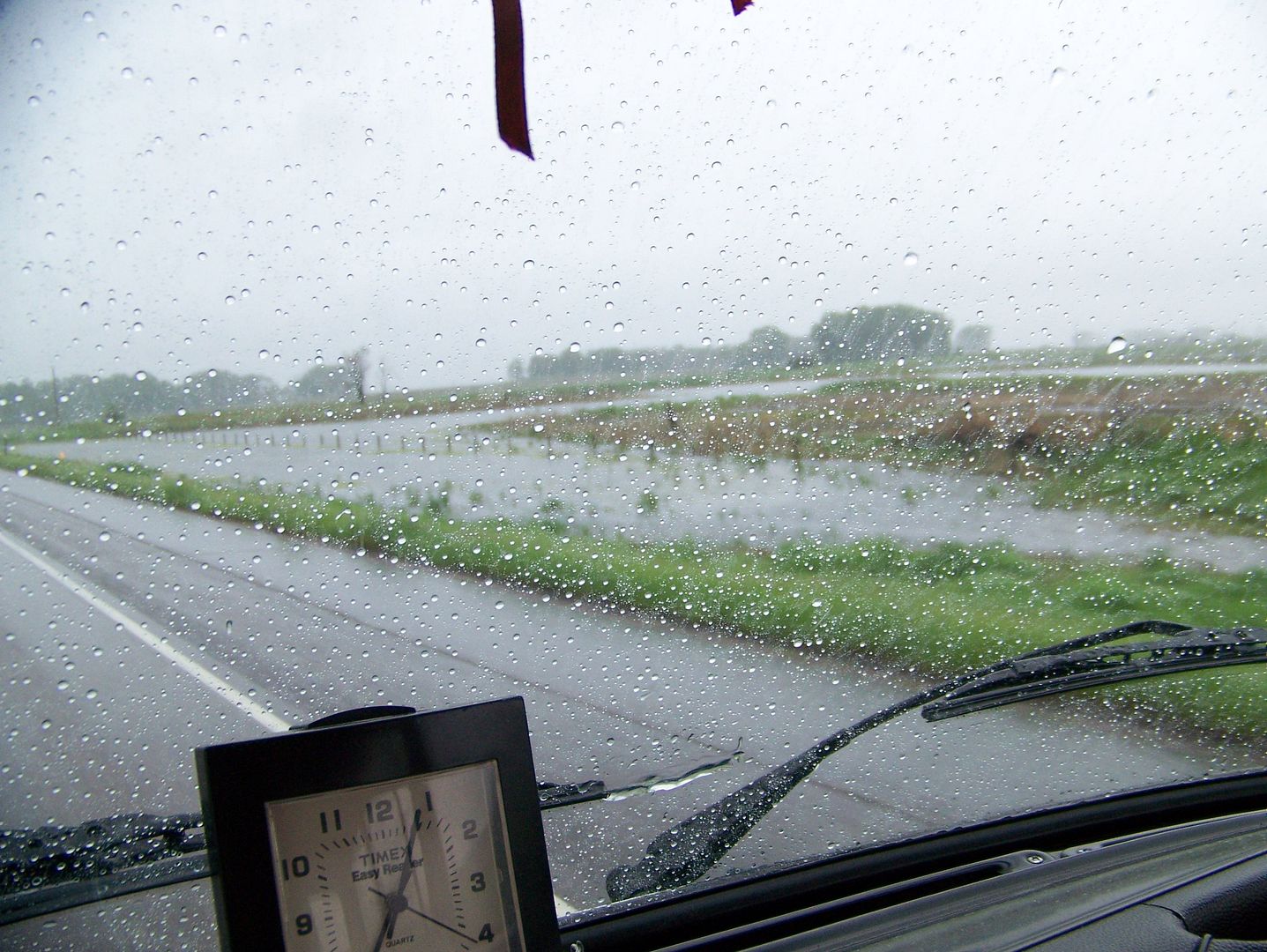 But look! After days of clouds and clouds . . . :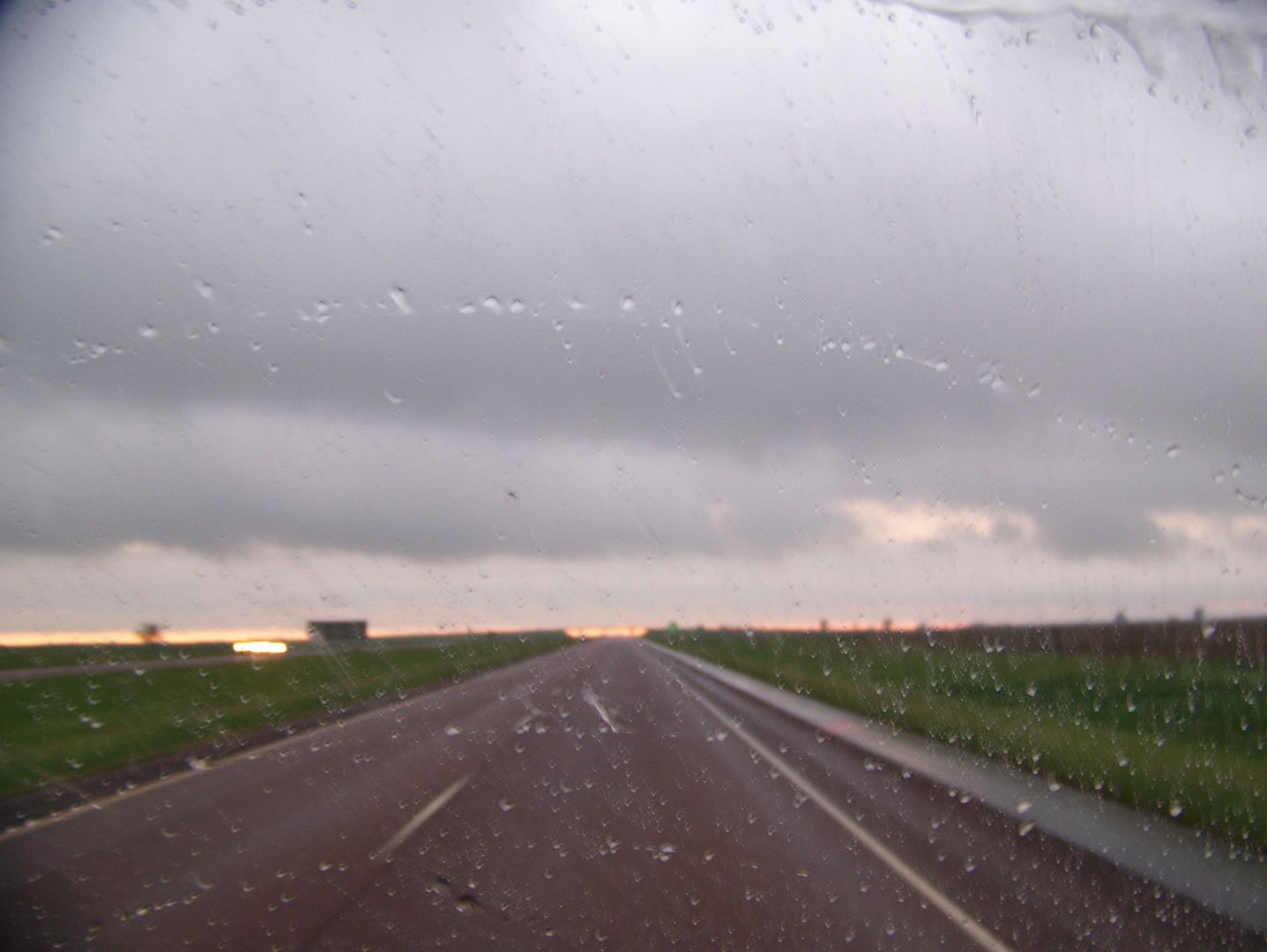 That seized me with a little jolt of extra energy to keep pressing on, like a moth towards the light: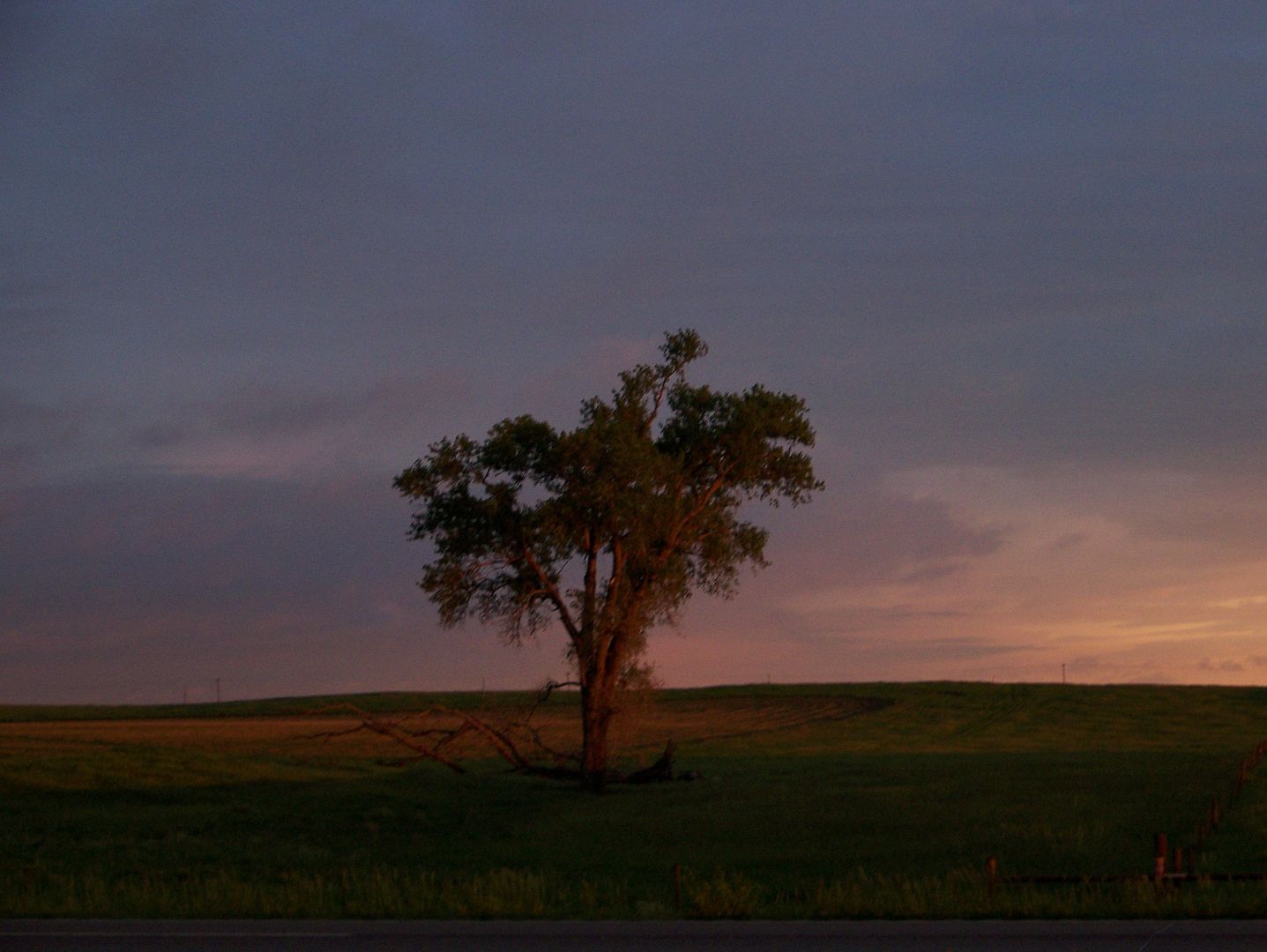 A soggy little joy welled up: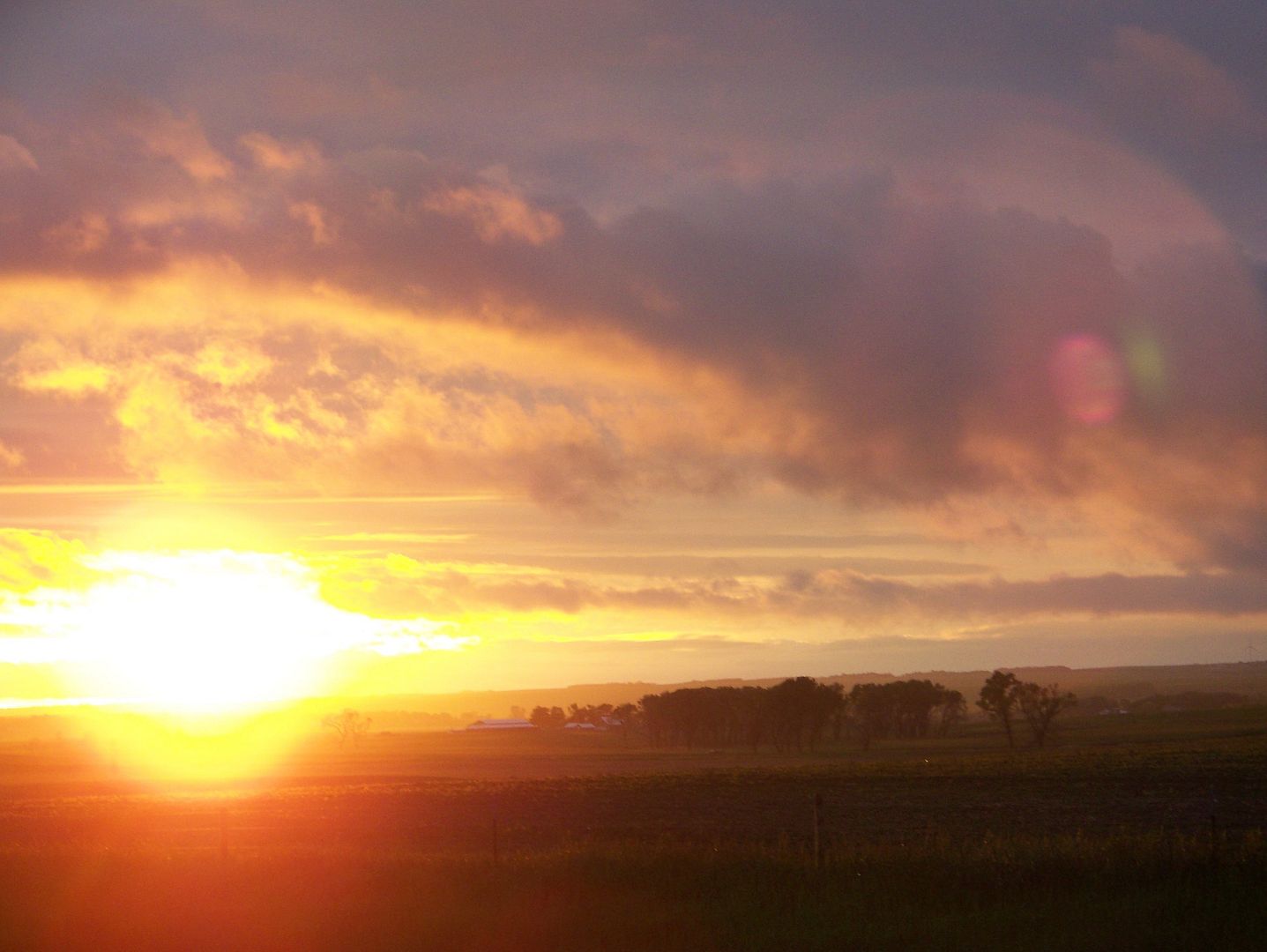 Then God, in a schmaltzy Hallmark mood I guess, gave me a rainbow:
I will not forget the power and magnificence of that sunset. And I said to myself . . . . . . :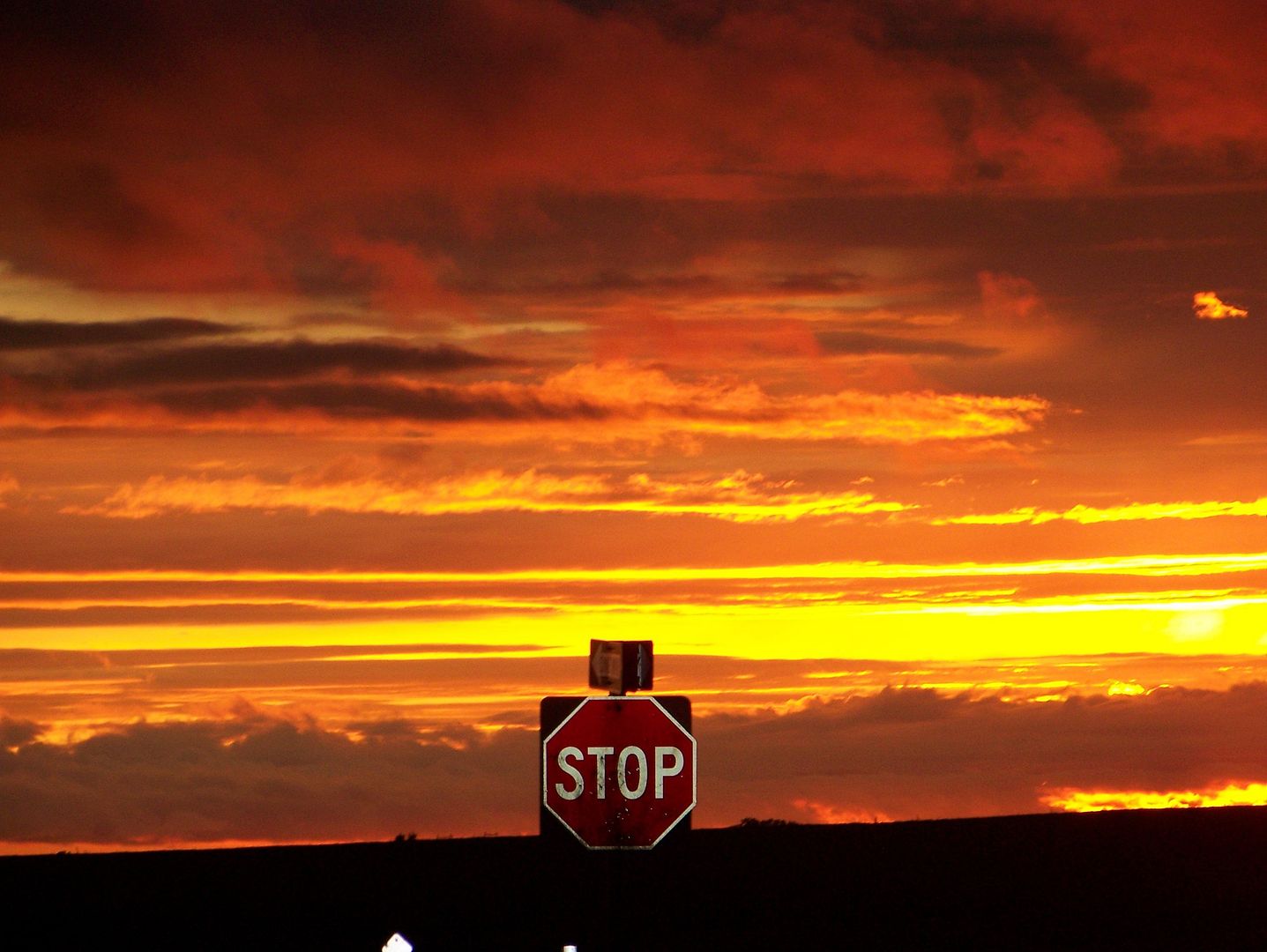 . . . . we still have hundreds of miles yet to traverse. I drove and drove, under the stars, exultant at the promise of a sunny morning. Chloe was truly the most sullied soiled excuse of a transportation conveyance I had ever driven by that last gas stop in Mitchell, South Dakota was it? The rain had smeared billions of bugs all over the front, the moon hubcaps have an aerodynamic vacuum that had deposited rings of oily looking dirt on the rims, the compliments "hey that is a nice van!" had stopped all together. I camped at a closed "lounge" (bar) and gave Chloe a Tide/Motel6 ice bucket bath at 6 AM under a full sun.
Gloriously happy just 12 hours after coming out from under the Big Clouds:
Called drober23 to arrange a synchronization of schedules near Mount Rushmore. I was about fours ahead and decided to check this weird scraping in the left rear wheel: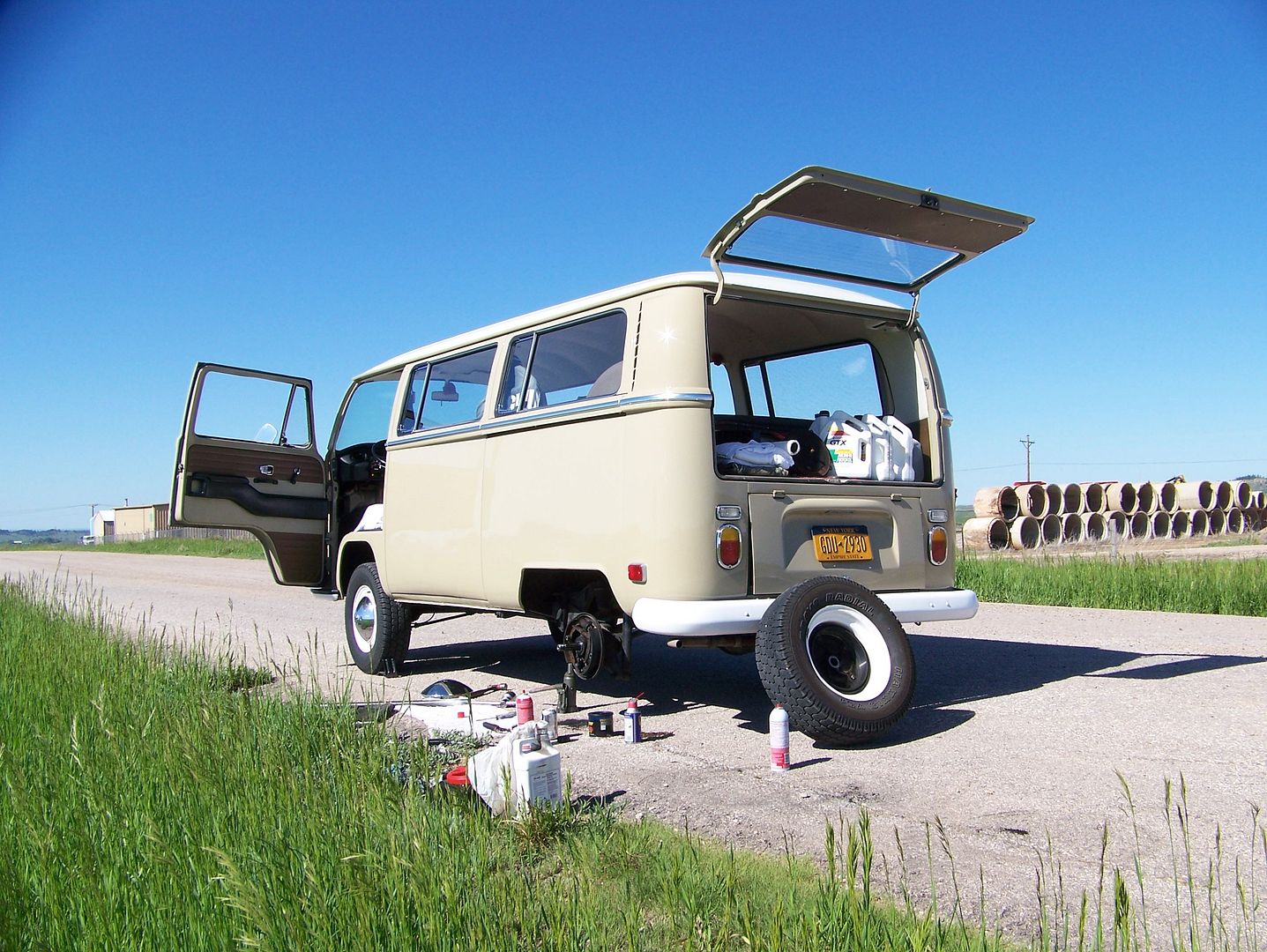 Reminded once more of the new age we live in. Photographed here is a genuine VW rear wheel bearing seal someone installed with a drift punch on the end of a pile driver: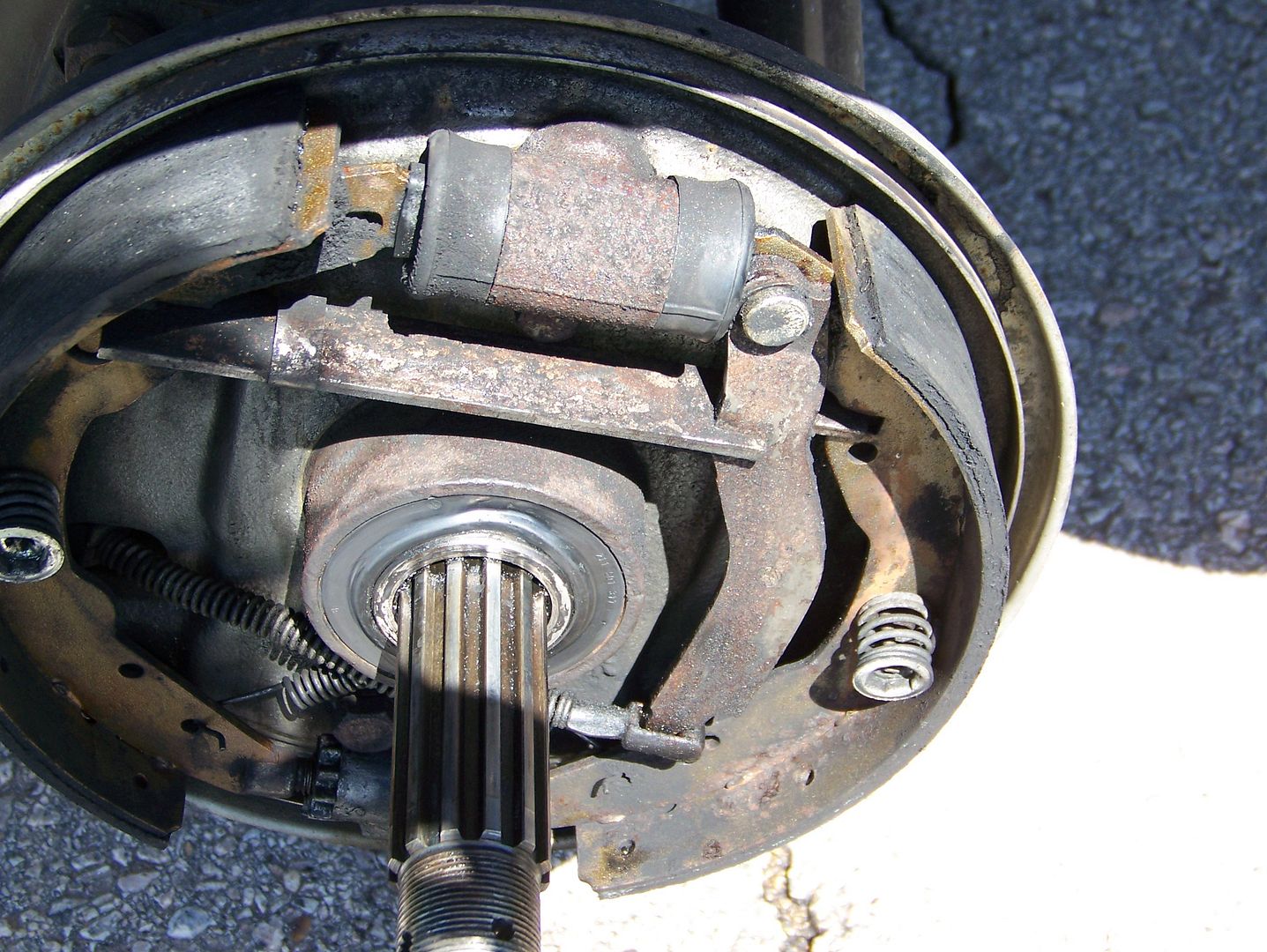 The left side "new" brake spring from the "new brake hardware kit" had snapped.
(you may remember last year's "new" brake spring failure . . .
viewtopic.php?f=66&t=11005#p193875
)
But this spring was worse. It snapped every time I tried to bend the broken end into an approximation of a "hook".
Three broken spring loops later, I managed to make a gentle enough multi-curved approximation of a brake spring end. Of course the spring was now way too short, so I had to stretch all the loops out. Thankfully, you cannot see the grotesquery, and as we all know, if you can't see it, it is perfectly OK: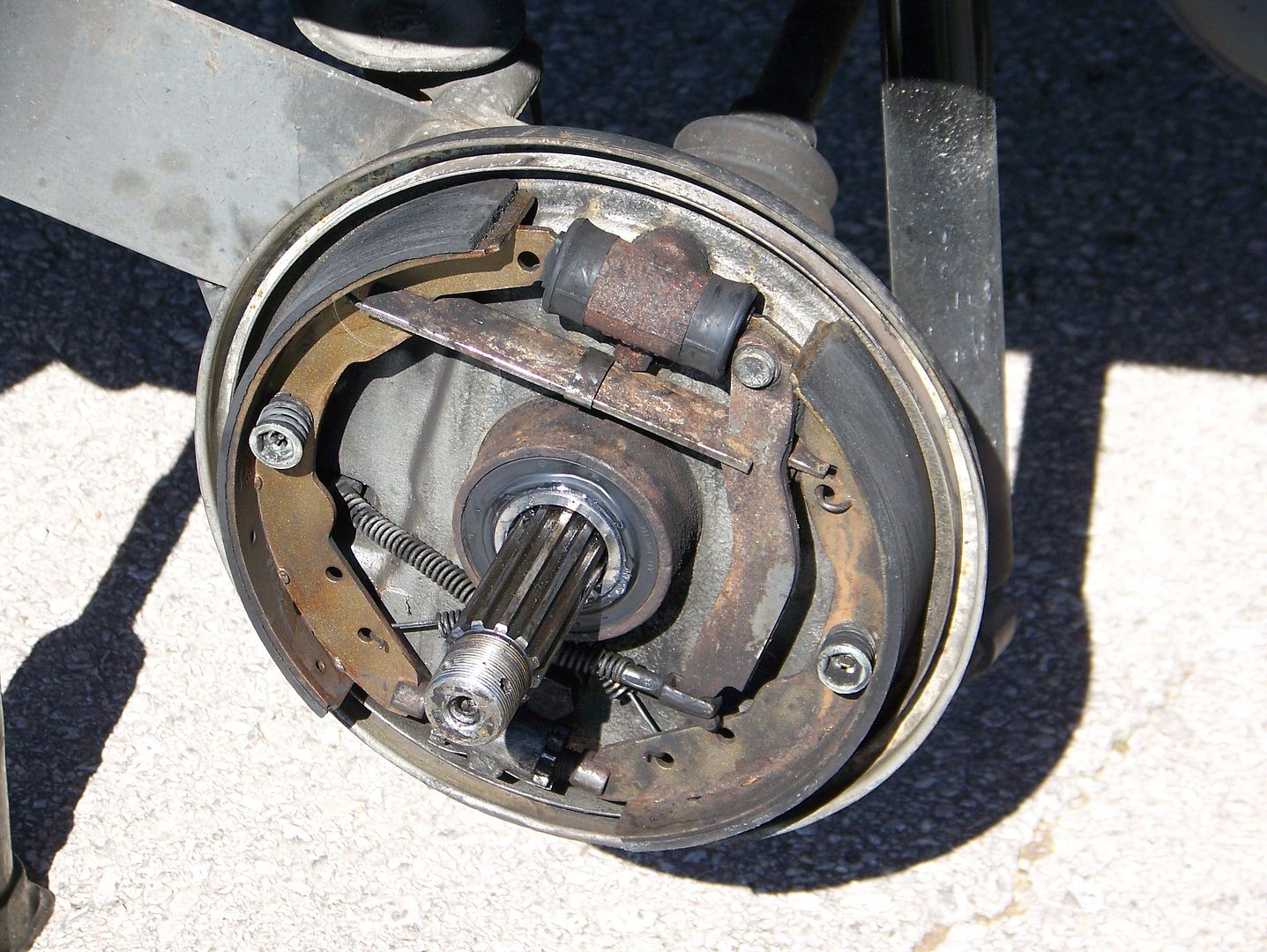 For the love of all that matters, can't we live in a world where I try my best and you try your best, and we buy parts where they try their best?
In the midst of this mess, I missed drober23 (sorry!) and had to keep moving along to Wyoming, to Montana, to Idaho, to Maupin.
You know what? There's more . . .
Colin