The mad dash has dashed. We did 1,900 miles between Pensacola and here in SouthBend, I and Chloe the mellow brown cow with a sly attitude. The first leg of an itinerary always gives me fits of nervousnessness. The first mile has to be traversed. The "what-ifs" and the known issues glow like idiot lights in my mind's eye.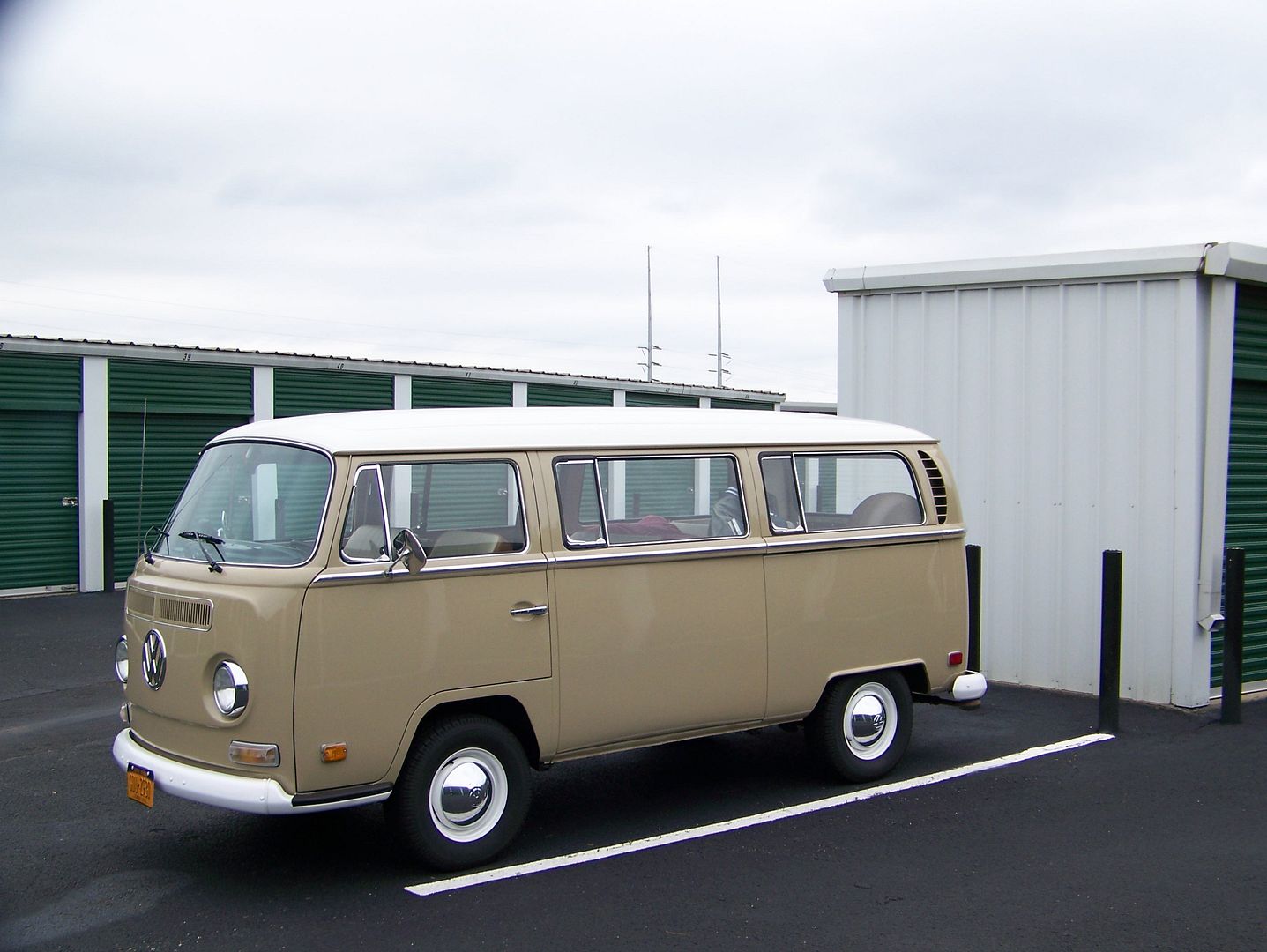 You cannot ask a 43 year-old car to just up and go all over the country just because you remember when they used to do it all the time. We don't have 1,100 VW dealers with an excellent inventory of German parts any more. As a matter of fact, the last part order from one of our few remaining vendors proved anew that we have irrevocably turned a corner into a new world of hostile indifference to quality. "We are sorry to hear that your parts arrived damaged, we need to file a report with the carrier," gave way to utterly indifferent silence when told, "the parts were damaged before you even put them in the box, what do we do now?"
So I asked this 43 year-old car to up and go all over the country anyway. I put the winter-beater, the 21 year-old "new" car, into the storage unit - "bye air-conditioning, sure gonna miss YOU." (little did I know how wrong I was) :
Changed the oil in Chloe and adjusted the valves. There's one, a left side Yuma Swap Meet Used Head, pressed into a service that it could not imagine whilst whiling away the hours in the box crammed next to its mate on the trailer hitched to the Ford Explorer. "Can you believe this? I think we have done more miles in the last year than we did in the first two decades? What is up with this guy?"
For me, of course, it is easy. I get to sit in a seat and press a pedal. I wonder if the exhaust valves resent the accelerator pedal. Then again, no I don't. This was the view for the first day of travelling, an eagle stare at the Dakota Digital gauge:
Spent a day with cheesehead once again wheedling her to switch to fuel injection and stick a quiet exhaust on her Raby engine. We did a performance test the ol' 50-60 and 50-70 time trials. Her engine gave us exactly the same times as the BobD, 7 seconds for the former and 15 seconds for the latter. Not in 3rd gear though. That is where horsepower helps, and I saw no reason to not utilize some rev capability. 50-60 in 5 seconds flat. I will try that with the BobD, now that I know the stock rev limiter back there will shut off the juice at 5,400 rpm at 69 mph in 3rd gear. Cheesehead and I are going to experiment. We are going to install my Road Warrior's ex-muffler on her Raby engine and we are going to do time trials again and we will report on any CHT changes as well.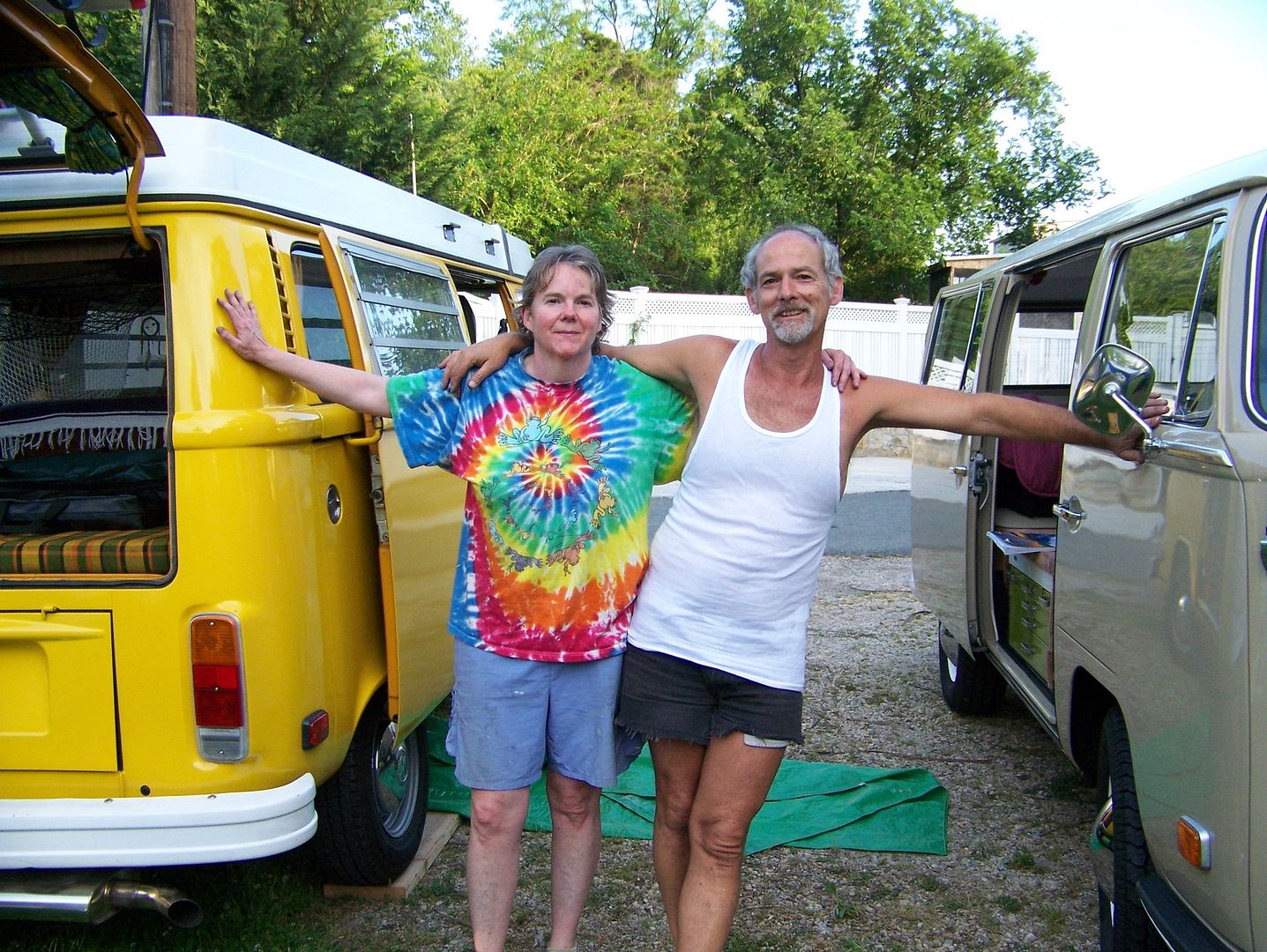 Catskills in the spring!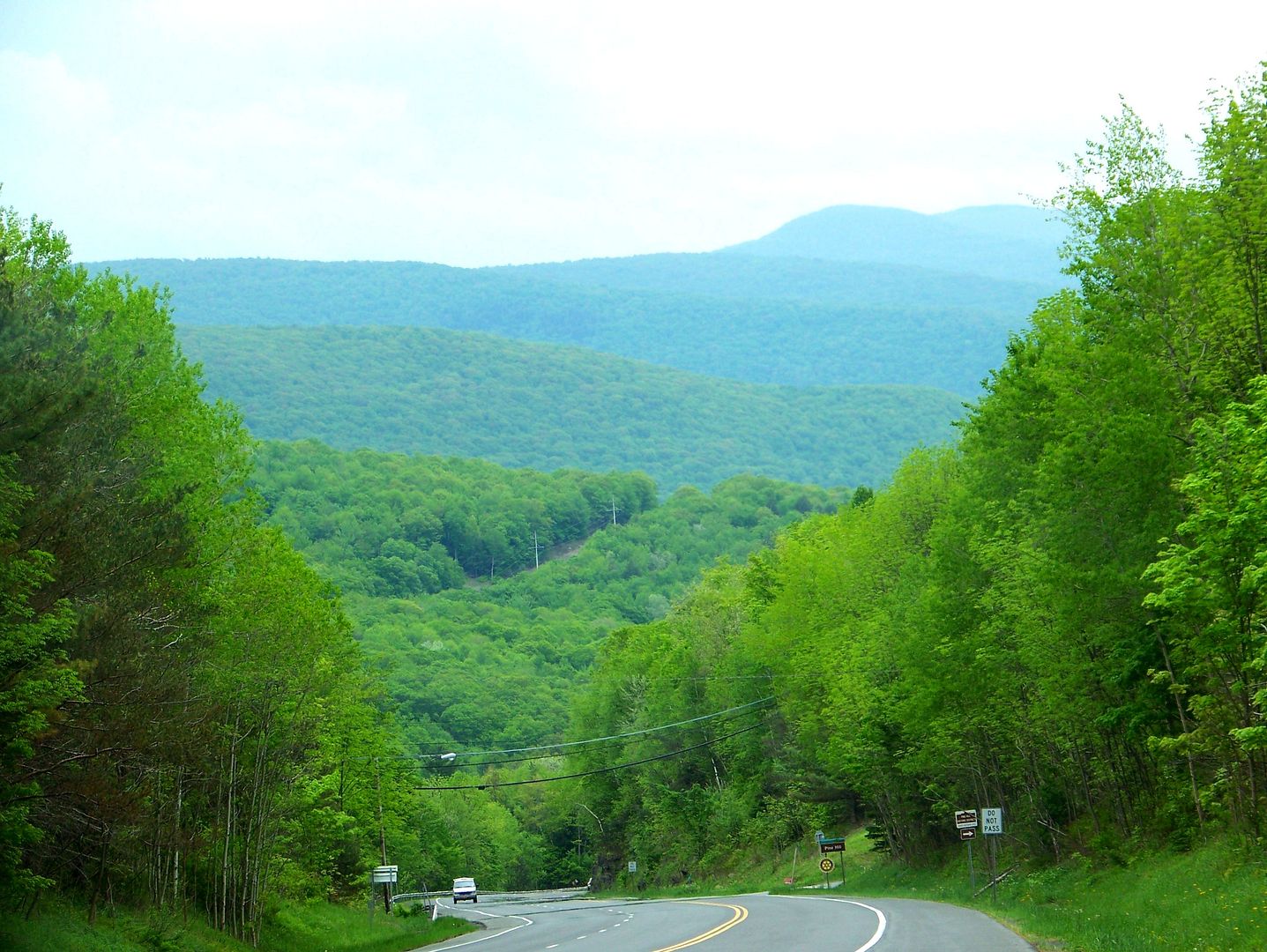 Fresh greens and yellows life coming back to life, and visiting people I love who did not hold against me the abrupt exit to Pensacola on February 19th at 10:00AM. Are you kidding? They erupted into a Rennaissance after I left, the kitchen I photographed in December is now pow! getting a remodel, and Amy joined the ranks of Toyota Prius owners and get this, let me drive it with only 36 miles on it? Average fuel economy so far? 51 mpg. Hugged them goodbye, and tried to convince Chloe the cow to please go up to Plattsburg NY to visit the folks quickquick before I had to get to western NY. Chloe waited until this: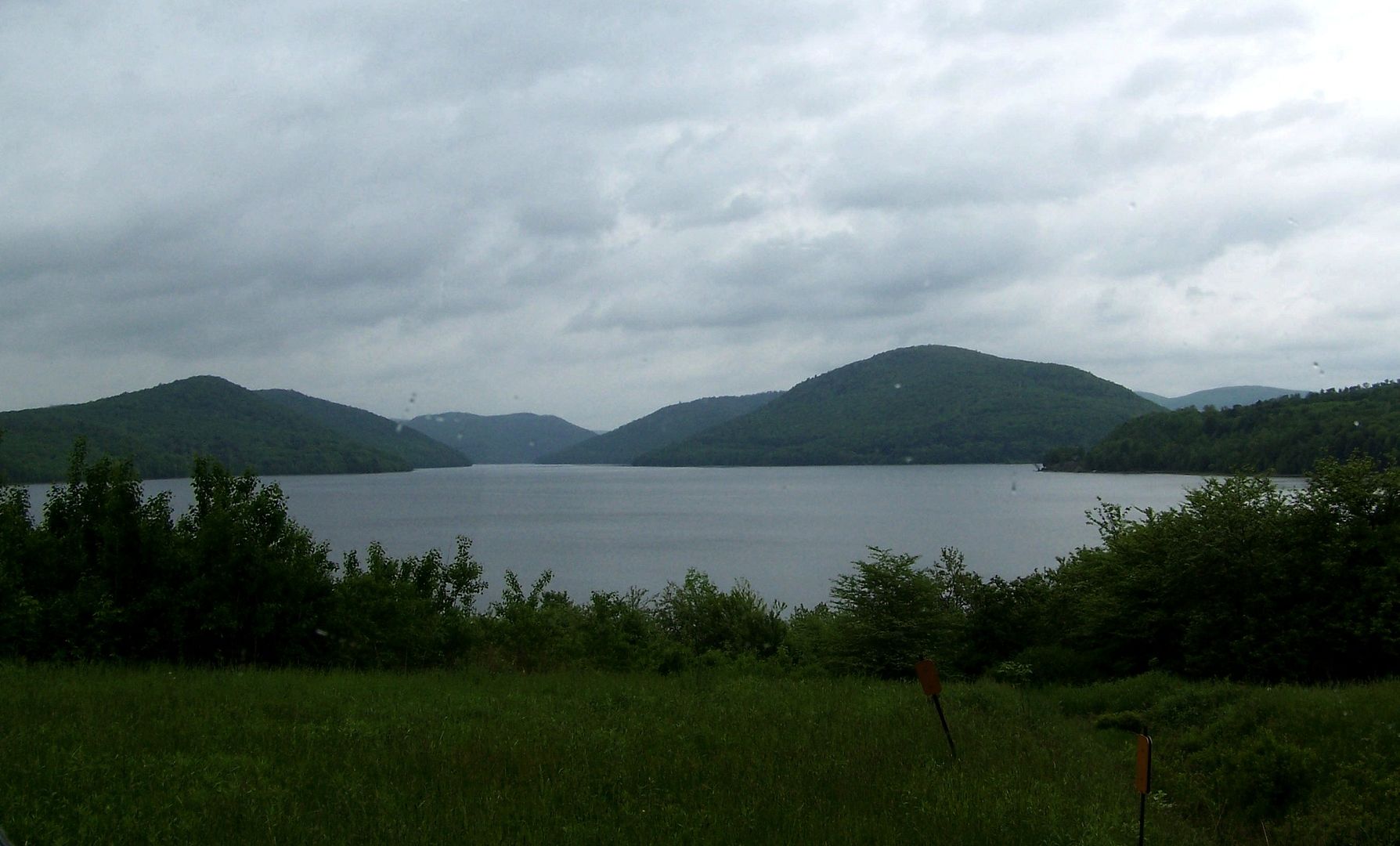 . . . and buckets of subsequent 42* rain to go all starterless on me. No starter. I sat there in the driver's seat just looking at the rivulets coursing down the windshield, " you didn't do this, Chloe, I know you wouldn't do this, not now, Chloe, start, come on, start."
No, didn't say Chloe. Chloe just sat there. Now, I am a wimp in the cold and rain, yes, but that is because I *do* go out in it. I was under that stupid old car getting absolutely drenched, and the adjustable wrench found the terminals and the starter indeed turned the engine over. You just know that at the next gas stop I had already forgotten that the starter wasn't responding to the ignition switch, right? Right. The new 30A Bosch hot-start relay that I installed at a drive-through bank window started trying to start the already started engine while I was putting away the tools, just intermittently trying to clean off the teeth on the rapidly spinning flywheel. What kind of crap???? Ripped that horrible piece of modern plasticky crap off the car and installed the old old old hot-start relay from the Road Warrior that had given me a good six or seven years, green copper terminals and pecks from countless rock hits, why, it is under the car as we type, just doing its thing.
Visited Cindy and the kids, played catch with the ten year-old soul I held one minute fresh into the world, walked with Cindy in the night under the full moon to the canal under the silhouettes of trees just recently leafed, and watched a video from spring of 2003 of her daughter age four (now 14!) and me playing "waitresses", serving her stuffed bears with a great deal of fumbling, " do you think they'll notice that these aren't the blueberry pancakes they ordered?" "Juice!" "Coffee too!" "OK, juice and coffee!" I just spilled the coffee!" "Use that dress to mop it up, we are SO sorry." And I am, too.
Mr. Officer Man pulled me over within 30 minutes of almost escaping over the border into Pennsylvania.
"You don't have an inspection sticker."
"I was trying to get over the border into Pennsylvania."
"Well, I am sorry I screwed that up for you, but I have to write a ticket."
"How much is it? Is there a surcharge?"
"Well, you know New York. They got to pay the overhead."
"Don't I know it."
"No really, I don't even get health insurance."
"YOU WHAT? IN THIS JOB? NO HEALTH INSURANCE? THAT IS AN OUTRAGE!"
"I get paid $13.00 per hour, I can't afford to buy it for myself."
"WHY? WHY? What, like your job doesn't have unique risks?? Meanwhile, Albany is looking to pass beneficial legislation for the highest bidder. "
"Oh man. Look, get out of here. Get to Pennsylvania."
And I did, on a pretty, cold day with an evil headwind. Look it up, Salamanca NY via future Interstate 86 to I-90 to Erie. Gorgeous countryside and lakes and farms and the worst road surface quality this side of Detroit.
Lake Erie above the trees, almost looks like a cloudbank: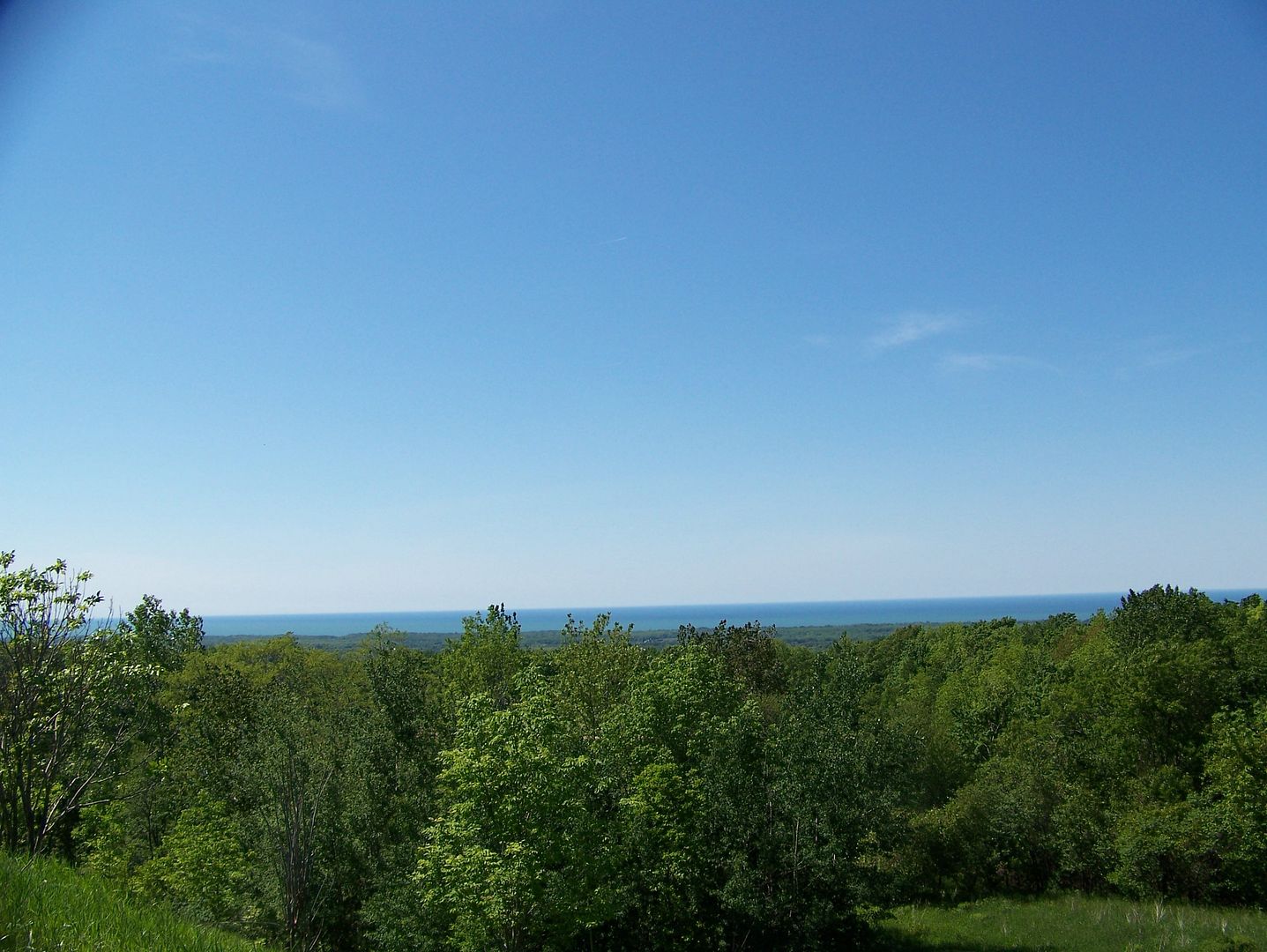 I am allowed to park wherever I want to take photographs as I see fit, even the onramp to I-90:
"What are you doing?"
"Overheated, waiting."
"I don't see any coolant!"
"Air-cooled."
Colin